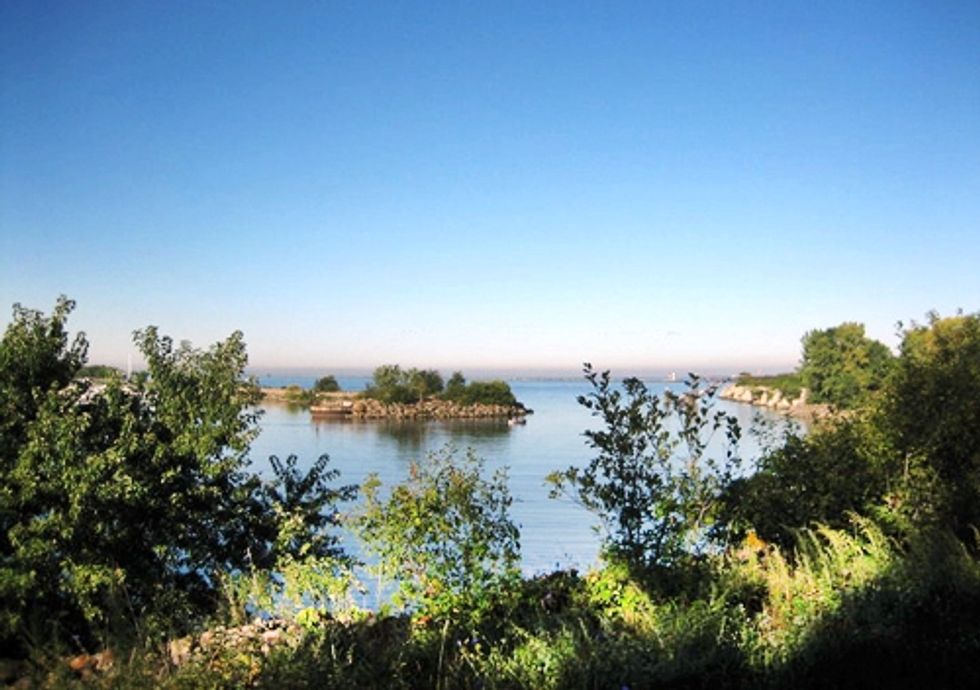 The Cleveland-Cuyahoga County Port Authority officially opened the Cleveland Lakefront Nature Preserve on Feb. 6, providing public access to a unique 88-acre urban wildlife habitat.
The preserve is a man-made peninsula on the Lake Erie shoreline and a haven for a variety of migratory birds, butterflies and animals. Located at the northern end of Martin Luther King Jr. Boulevard on Cleveland's east side, it is open during daylight hours and provides one-of-a-kind recreational and educational opportunities for children and adults. Admission is free.
"The Nature Preserve is an extraordinary asset complementing our ongoing efforts to realize the full potential of the Lakefront," said City of Cleveland Mayor Frank G. Jackson.
"The development of this unique nature preserve located in the heart of our capital city—Cleveland—is a perfect example of how we can redevelop our lakefront property and create an oasis in the middle of an urban metropolis," said Cuyahoga County Executive Ed FitzGerald. "After years of use as a dumping ground, this site will now be used to enhance the health and wellness of all of Cuyahoga County's residents living in the area known as the 'Western Reserve.' "
Speaking at the formal opening of the Preserve were: Cleveland Councilman Jeffrey Johnson, Port Authority Vice Chair Marc Krantz, Cleveland Metroparks Executive Director Brian Zimmerman, County Executive FitzGerald's Chief of Staff Matt Carroll, the Cleveland Museum of Natural History's Director of Wildlife Resources Harvey B. Webster and Port Authority CEO Will Friedman.
The Nature Preserve is a land mass that was created over time as sediment dredged from the Cuyahoga River and Cleveland Harbor was placed within dike walls along the lakeshore. From 1979 to 1999 the U.S. Army Corps of Engineers managed the site—then known as Dike 14—as a sediment disposal facility.
After the site was closed to dredge material in 1999, nature took hold, resulting in diverse habitats that include grasslands, a forest area, meadows, mudflats, shrub lands and wetlands. The environment drew birds and animals—and people who wanted to see the site opened to the public on a regular basis, particularly for bird-watching and hiking.
"I am delighted that the residents of the Ward 8 community will now be able to experience and enjoy the Cleveland Lakefront Nature Preserve," said Councilman Johnson. "It is a unique opportunity for us."
Last May the Port Authority Board voted to officially rename Dike 14 and open it as the Cleveland Lakefront Nature Preserve. Managing the Preserve to connect people and nature is also one of seven key policies in the Port's new Strategic Action Plan.
"Under our new Plan, the Port is committed to environmentally sustainable management practices in all of its operations," said Krantz, the Port's vice chair. "Today, we are opening up new land, on Lake Erie's shore, for the perpetual benefit of the residents of Greater Cleveland. As the stewards of the nature preserve, the Port is able to put environmental best practices to work in Cleveland's newest park, by enhancing public access to the lakefront and providing the community an asset that is uniquely a part of Cleveland, as well as a draw for residents and visitors."
While the site has been open periodically for special events hosted by a partnership of organizations known as the Environmental Education Collaborative, it was not open to the public on a daily basis until today. The Preserve has a 1.3 mile trail loop and is intended for walking, observing nature, research and education.
"Cleveland Metroparks is proud to partner with the Collaborative to ensure that this important natural area, in the heart of the city, is protected and available to the public," said Brian Zimmerman, executive director of Cleveland Metroparks.
The Preserve also is an important community asset that can draw residents and visitors to Cleveland's lakeshore, creating one more opportunity to foster economic development through recreation and eco-tourism.
Over time researchers and others visiting the site have identified more than 280 species of birds, 29 species of butterflies, 16 species of mammals (including red fox, coyote, mink, and deer), 2 species of reptiles, 26 Ohio plant species (including wildflowers and grasses) and 9 species of trees and shrubs.
Audubon Ohio has designated the site as an Important Bird Area (IBA), due to its location at the intersection of four migratory bird routes: Lake Erie, the shore of Lake Erie, the Cuyahoga River Valley, and the Doan Brook Valley.
"The creation of the Cleveland Lakefront Nature Preserve is the culmination of over 10 years of effort by a large and diverse group of civic activists, conservationists, birders, environmental educators and public agencies who came together to advocate a green vision for Cleveland's lakefront, a vision that that included environmental education, habitat conservation, passive recreation and public-private partnerships," said Webster of the Cleveland Museum of Natural History, which is a member of the Environmental Education Collaborative.
The Collaborative, a group of 11 environmental education organizations that was formed in 2003, has played a key role in developing education programming and promoting environmental stewardship at the site. Collaborative members have organized school field trips to the site and periodically held open houses. Its next event is the Great Backyard Bird Count on Sunday, Feb. 19 from 1 - 4 p.m.
A risk assessment completed in 2007 showed the site can safely be used for environmental education.
The City of Cleveland, Cleveland Metroparks, the Collaborative and the Ohio Department of Development worked with The Port Authority to ready the Preserve for public access. For fiscal 2011 and 2012 the Port Authority intends to spend more than $75,000 for Preserve operations as well as outreach, additional natural resources planning and physical enhancements.
In addition the Port also plans to work with the Collaborative and others to bring more school children to the Preserve for hands-on environmental education experiences.
For more information, click here. For more information on the Great Backyard Bird Count click here. 
--------
Collaborative members are: Cleveland Botanical Garden, Cleveland Metroparks, Cleveland Museum of Natural History, Cuyahoga Soil and Water Conservation District, Cuyahoga Valley National Park Association, Earth Day Coalition, The Garden Club of Cleveland, The Nature Center at Shaker Lakes, Ohio Department of Natural Resources - Cleveland Lakefront State Park, The Ohio Lepidopterists and Western Cuyahoga Audubon Society.
EcoWatch Daily Newsletter
Xsandra / Getty Images
Looking for ways to cut down on single-use plastic while grocery shopping? You may already have eco-friendly shopping bags, but bringing your own reusable produce bags is another easy swap.

According to the UN Environment Program, up to 5 trillion single-use plastic bags are used globally each year, and because of the material they're made from, most municipal recycling centers don't accept them (more on this below).
The most sustainable option is to skip the bag altogether. You can also make your own reusable produce bags out of old T-shirts. But if you'd rather purchase them new, here are our recommendations for the best reusable produce bags on the market today.
<p><em>Each product featured here has been independently selected by the writer. If you make a purchase using the links included, we may earn commission.</em></p>