This website uses cookies to ensure you get the best experience while browsing it. By clicking 'Got It' you're accepting these terms.
Otsuchi, in northern Japan, is the focal point of the hand harpoon hunt which has claimed up to 15,000 Dall's porpoises in previous years.
In the most recent hunting seasons for which information is available, Japan allocated itself a quota of 13,493 Dall's porpoises in 2013/14, 12,928 in 2014/15 and 12,364 in 2015/16. The catch, however, has been significantly less than the quota for many years. In 2016, just over a thousand porpoises were killed.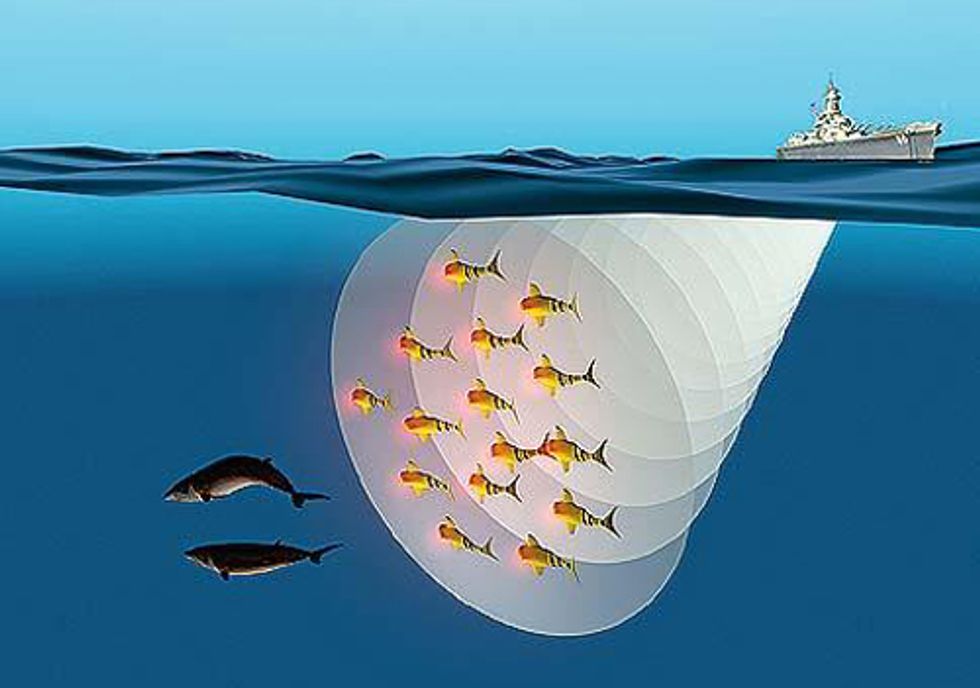 A coalition of conservation and American Indian groups sued the National Marine Fisheries Service (NMFS) Jan. 26 for failing to protect thousands of whales, dolphins, porpoises, seals and sea lions from U.S. Navy warfare training exercises along the coasts of California, Oregon and Washington.
Earthjustice, representing InterTribal Sinkyone Wilderness Council, Center for Biological Diversity, Friends of the Earth, Friends of the San Juans, Natural Resources Defense Council (NRDC) and People For Puget Sound, filed a lawsuit Jan. 26 in U.S. District Court for the District of Northern California challenging NMFS's approval of the Navy's training activities in its Northwest Training Range Complex. The lawsuit calls on NMFS to mitigate anticipated harm to marine mammals and biologically critical areas within the training range that stretches from Northern California to the Canadian border.
"These training exercises will harm dozens of protected species of marine mammals—Southern Resident killer whales, blue whales, humpback whales, dolphins, and porpoises—through the use of high-intensity mid-frequency sonar," said Steve Mashuda, an Earthjustice attorney representing the groups. "The Fisheries Service fell down on the job and failed to require the Navy to take reasonable and effective actions to protect them."
The Navy uses a vast area of the West Coast for training activities including anti-submarine warfare exercises involving tracking aircraft and sonar; surface-to-air gunnery and missile exercises; air-to-surface bombing exercises; sink exercises; and extensive testing for several new weapons systems.
"Since the beginning of time, the Sinkyone Council's member Tribes have gathered, harvested and fished for traditional cultural marine resources in this area, and they continue to carry out these subsistence ways of life, and their ceremonial activities along this Tribal ancestral coastline. Our traditional cultural lifeways, and our relatives such as the whales and many other species, will be negatively and permanently impacted by the Navy's activities," said Priscilla Hunter, chairwoman and co-founder of the InterTribal Sinkyone Wilderness Council. "Both NMFS and the Navy have failed in their obligations to conduct government-to-government consultation with the Sinkyone Council and its member Tribes regarding project impacts."
In late 2010, NMFS gave the Navy a permit for five years of expanded naval activity that will harm or "take" marine mammals and other sealife. The permit allows the Navy to conduct increased training exercises that can harm marine mammals and disrupt their migration, nursing, breeding or feeding, primarily as a result of harassment through exposure to the use of sonar.
"The Navy's Northwest Training Range is the size of the State of California, yet not one square inch is off-limits to the most harmful aspects of naval testing and training activities," said Zak Smith, staff attorney for NRDC. "We are asking for common-sense measures to protect the critical wildlife that lives within the training range from exposure to life-threatening effects of sonar. Biologically rich areas like the Olympic Coast National Marine Sanctuary should be protected."
The Navy's mid-frequency sonar has been implicated in mass strandings of marine mammals in, among other places, the Bahamas, Greece, the Canary Islands and Spain. In 2004, during war games near Hawai'i, the Navy's sonar was implicated in a mass beaching of up to 200 melon-headed whales in Hanalei Bay. In 2003, the USS Shoup, operating in Washington's Haro Strait, exposed a group of endangered Southern Resident killer whales to mid-frequency sonar, causing the animals to stop feeding and attempt to flee the sound.
"In 2003, NMFS learned firsthand the harmful impacts of Navy sonar in Washington waters when active sonar blasts distressed members of J pod, one of our resident pods of endangered orcas," said Kyle Loring, staff attorney for Friends of the San Juans. "Given this history, it is particularly distressing that NMFS approved the Navy's use of deafening noises in areas where whales and dolphins use their acute hearing to feed, navigate, and raise their young, even in designated sanctuaries and marine reserves."
"Whales and other marine mammals don't stand a chance against the Navy," said Miyoko Sakashita, oceans director at the Center for Biological Diversity.
The Navy's mitigation plan for sonar use relies primarily on visual detection of whales or other marine mammals by so-called "watch-standers" with binoculars on the decks of ships. If mammals are seen in the vicinity of an exercise, the Navy is to cease sonar use.
"Visual detection can miss anywhere from 25-95 percent of the marine mammals in an area," said Heather Trim, director of Policy for People For Puget Sound. "It's particularly unreliable in rough seas or in bad weather. We learn more every day about where whales and other mammals are most likely to be found—we want NMFS to put that knowledge to use to ensure that the Navy's training avoids those areas when marine mammals are most likely there."
The litigation is not intended to halt the Navy's exercises, but asks the Court to require NMFS to reassess the permits using the latest science and to order the Navy to stay out of biologically critical areas at least at certain times of the year.
Marcie Keever, legal director at Friends of the Earth, noted, "It has become increasingly clear from recent research that the endangered Southern Resident killer whale community uses coastal waters within the Navy's training range to find salmon during the fall and winter months. NMFS has failed in its duty to assure that the Navy is not pushing the whales closer to extinction."
Read the complaint filed Jan. 26 against the National Marine Fisheries Service by clicking here.
For more information, click here.
EcoWatch Daily Newsletter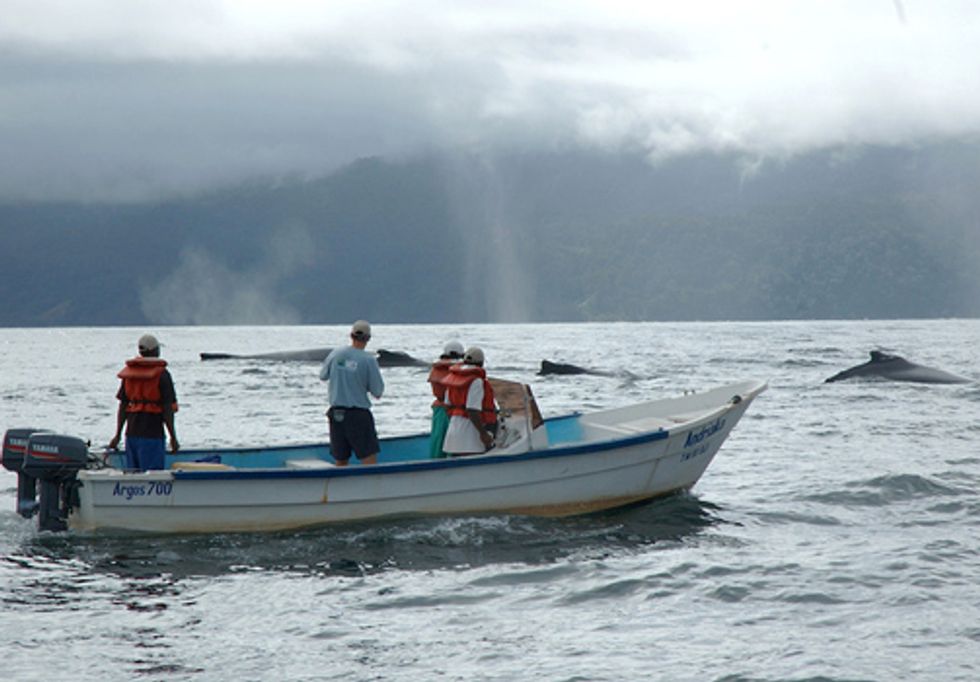 The fate of the world's great whale species commands global attention as a result of heated debate between pro and anti-whaling advocates, but the fate of smaller marine mammals is less understood, specifically because the deliberate and accidental harvesting of dolphins, porpoises, manatees and other warm-blooded aquatic denizens is rarely studied or monitored.
To shed more light on the issue, researchers from the Wildlife Conservation Society (WCS) and Okapi Wildlife Associates have conducted an exhaustive global study of human consumption of marine mammals using approximately 900 sources of information. The main finding—since 1990, people in at least 114 countries have consumed one or more of at least 87 marine mammal species. In addition to this global review, Wildlife Conservation Society scientists work in remote countries around the world to assess and actively address the threat to dolphin populations with localized, applied conservation efforts.
The new global study appears in the most recent edition of Biological Conservation. The authors include Dr. Martin D. Robards of the Wildlife Conservation Society, and Dr. Randall R. Reeves of Okapi Wildlife Associates.
"International bodies such as the International Whaling Commission were formed specifically to gauge the status of whale populations and regulate the hunting of these giants," said Robards, lead author of the new study. "These species, however, represent only a fraction of the world's diversity of marine mammals, many of which are being accidentally netted, trapped, and—in some instances—directly hunted without any means of tracking as to whether these harvests are sustainable."
In order to build a statistically robust picture of human consumption rates of marine mammals around the world, Robards and Reeves started with records on small fisheries focused on small whales (i.e. pilot whales), dolphins, and porpoises from 1975 and records of global marine mammal catches between 1966 and 1975. From there, the authors consulted some 900 other sources and consulted with numerous researchers and environmental managers, an exhaustive investigation that took three years to complete. The team only counted information with actual evidence of human consumption of marine mammals, omitting instances where marine mammals were caught (either intentionally or not) for fishing bait, feed for other animals, medicines, and other uses.
The list of marine mammals killed for human consumption includes obscure species such as the pygmy beaked whale, the South Asian river dolphin, the narwhal, the Chilean dolphin, the long-finned pilot whale, and Burmeister's porpoise. Seals and sea lions are on the list as well, including species such as the California sea lion and lesser known species such as the Baikal seal. The polar bear (a bear that is considered a marine mammal) also makes the list. Three species of manatee and its close relative the dugong, considered a delicacy in some parts of the world, are also widespread targets of human consumption.
Overall, the historical review reveals an escalation in the utilization of smaller cetaceans, particularly coastal and estuarine species since 1970, often caught as accidental "bycatch" in nets meant for fish and other species. Once caught, however, small cetaceans are being increasingly utilized as food in areas of food insecurity and/or poverty, what the authors call "fishing up the food chain."
"Obviously, there is a need for improved monitoring of species such as the Atlantic and Indo-Pacific humpback dolphins and other species," said Dr. Howard Rosenbaum, director of WCS's Ocean Giants Program. "In more remote areas and a number of countries, a greater immediate need is to understand the motivations behind the consumption of marine mammals and use these insights to develop solutions to protect these iconic species that lead to more effective management and conservation."
WCS's Ocean Giants Program works in a number of seascapes of critical importance to small cetaceans in particular. These efforts are focused on the local level to address local impacts on coastal dolphin populations, providing on-the-ground practical conservation actions to compliment the global investigative work highlighted above.
In Congo, Gabon, and Madagascar, WCS conservation scientists Dr. Salvatore Cerchio and Tim Collins are conducting scientific studies to assess the status of impacted dolphin populations, and work with local communities of traditional fishermen to reduce accidental bycatch and deliberate hunting of dolphins. In these regions, the scientists are documenting a worrying trend in increased captures and use of dolphins for food, and they are sometimes also being sold in markets better known for their association with terrestrial bushmeat.
In response, Cerchio and the WCS Madagascar team have worked with local communities to establish a local conservation association composed of fishermen, local traditional laws protecting dolphins, and development of community-based whale and dolphin watching as an alternative livelihood. On the other side of the African continent, the coasts of Gabon and Congo represent one of the last strongholds for the rare Atlantic humpback dolphin. Catches by fishermen in Gabon are extremely rare, but groups of dolphins that cross the border (a finding of recent WCS work) risk capture in coastal gillnets set by artisanal fisherman. "The Atlantic humpback dolphin may well be the rarest mammal in the Congo basin region," said Tim Collins. "Unfortunately, few have ever heard of it, least of all the fisherman eating them out of existence."
For more information, click here.