This website uses cookies to ensure you get the best experience while browsing it. By clicking 'Got It' you're accepting these terms.


The best of EcoWatch, right in your inbox. Sign up for our email newsletter!
One of my favorite events of the year is only one week away—the Cleveland International Film Festival (CIFF), celebrating 41 years. EcoWatch is a media sponsor, once again, and thrilled to sponsor the film RiverBlue.
CIFF, one of the nation's top film festivals, will showcase 202 feature films and 216 short films representing 71 countries from March 29 – April 9. Here's a synopsis of the seven eco-related films being featured this year, courtesy of CIFF:
1. RiverBlue
Narrated by Jason Priestley, the original concept for RiverBlue was to film renowned conservationist Mark Angelo as he toured rivers across the world. Not only would the film spotlight the beauty of nature, but also it would examine the effects of pollution.
By Shreya Dasgupta
Global trade has made it easier to buy things. But our consumption habits often fuel threats to biodiversity—such as deforestation, overhunting and overfishing—thousands of miles away.
EcoWatch Daily Newsletter
Researchers had been predicting a leveling off of the world's population, currently more than seven million. But Science, the journal of the American Association for the Advancement of Science, published a paper today projecting that population will continue to grow in this century and could reach 12 billion by 2100. The paper gave an 80 percent chance that world population in 2100 will be between 9.6 billion and 12.3 billion.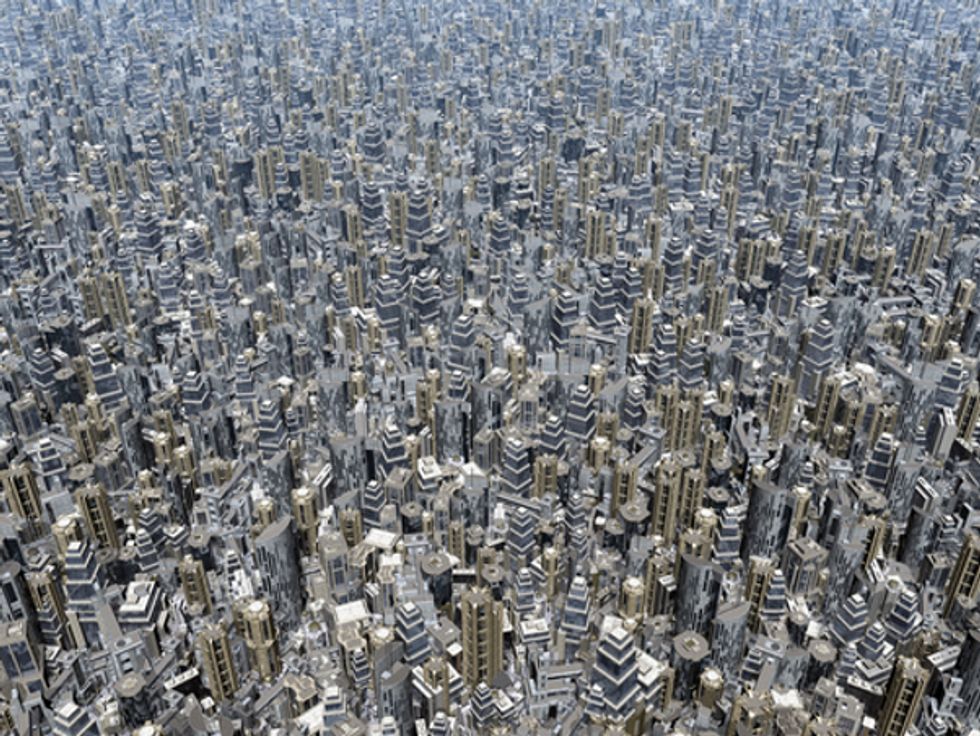 Photo credit: Shutterstock
Such population growth would have strong negative impacts on the environment and hasten climate change, due to the demand for food, water, energy, and space, as cities swallowed up open land, deserts expanded, and once-fertile land was overfarmed. It would also increase political unrest as people competed for scarce resources.
"The unsustainable growth of the human population is a key driver of many of the world's environmental problems, including global warming and the loss of wildlife around the globe," said Stephanie Feldstein, director of the Center for Biological Diversity's population and sustainability program in response to the report. "Add in our voracious appetites for land, water, meat and energy, and these newest predictions make it clear it's time for a global conversation about population growth and consumption."
Much of that growth has occurred in Africa, where future growth is predicted as well, as HIV mortality goes down and access to contraception is limited. The population there could grow from one billion to four billion. But the paper's authors suggest that population could be controlled by contraception and educating women.
The study, led by Patrick Gerland of the United Nations Population Division in New York, included both new data and new ways of looking at existing data on fertility, life expectancy and international migration.
But, while researchers believe this gave them more accurate projections than in the past, they warn not to treat these projections as inevitable.
"We're still talking about much slower population growth than we just came through," said University of Michigan population researcher David Lam. "The world population doubled between 1960 and 1999, and we're never going to do that again. The population is leveling off and it's going to eventually level off under any of these scenarios, whether that's before 2100 or after."
YOU MIGHT ALSO LIKE
Earth's Annual Resource Allotment Runs Out Today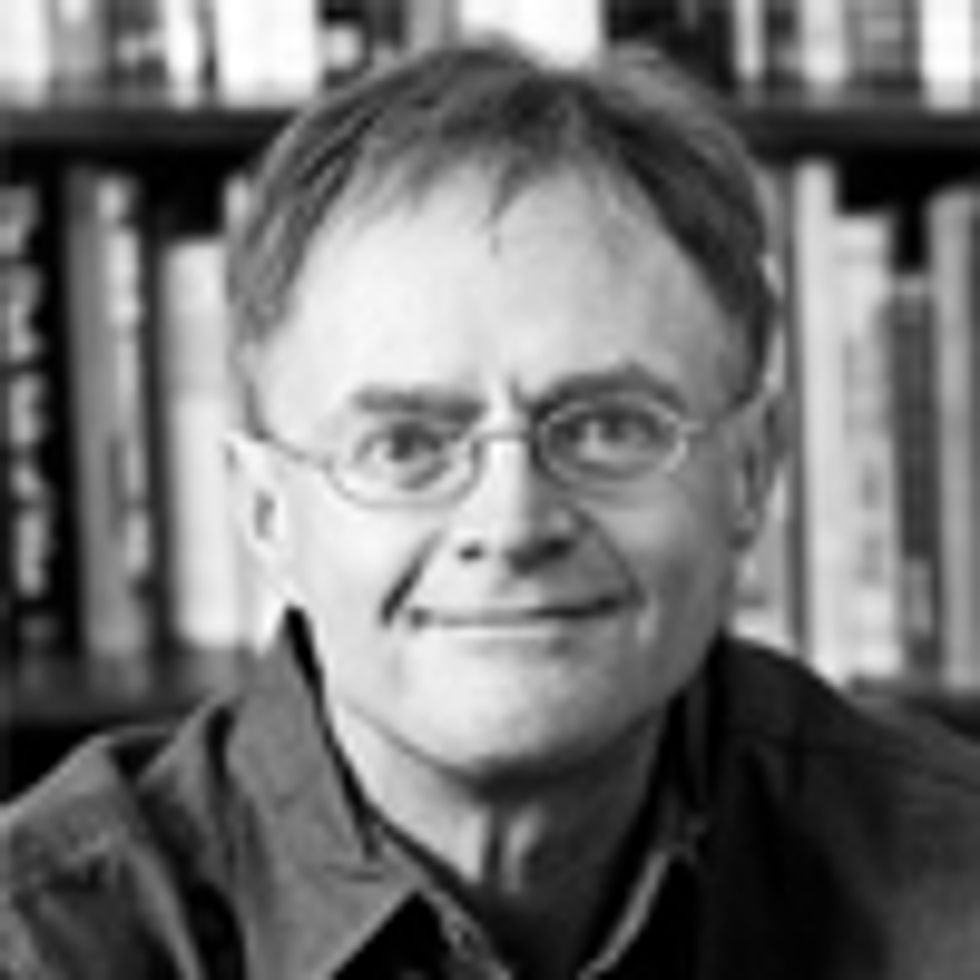 Two roads diverged in a wood, and I—
I took the one less traveled by,
And that has made all the difference.
–Robert Frost
Our contemporary world is host to two coexisting but fundamentally different—and, in at least one crucial respect, contradictory—realities. One of these might be termed Political Reality, though it extends far beyond formal politics and pervades conventional economic thinking. It is the bounded universe of what is acceptable in public economic-social-political discourse. The other is Physical Reality: i.e., what exists in terms of energy and materials, and what is possible given the laws of thermodynamics.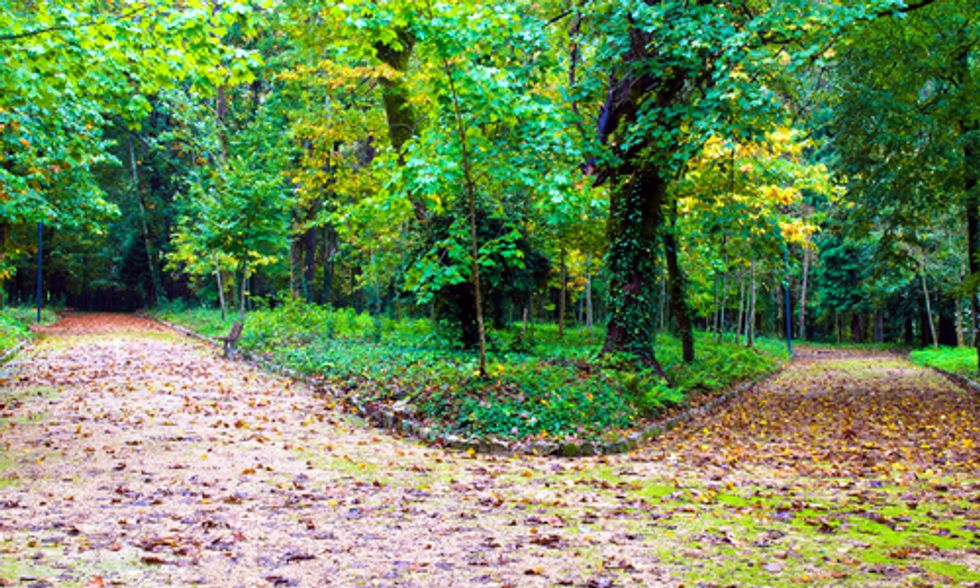 Photo courtesy of Shutterstock
For decades these two realities have developed along separate lines. They overlap from time to time: politicians and economists use data tied to measurable physical parameters, while physical scientists often frame their research and findings in socially meaningful ways. But in intent and effect, they diverge to an ever-greater extent.
The issue at which they differ to the point of outright contradiction is economic growth. And climate change forces the question.
*          *          *
The voice of political reality tells us that economic growth is necessary. We need it for job creation; we need it to enable poor people to become wealthier, to maintain technological progress, to provide returns on investments and to increase tax revenues so as to make essential government services available. Growth is even required to address environmental problems: after all, we need ever more money to fund disaster relief and renewable energy transition efforts. Only by growing the economy now can we become wealthy enough to afford to fix the problems created by past growth. Meanwhile population growth must continue because it is an essential component of GDP growth.
Within the realm of political reality, anybody who questions the importance of growth is not to be taken seriously. Such a person is obviously not a humanitarian, nor a responsible participant in mainstream political and economic discussions.
It wasn't always this way: as I've explained in my book The End of Growth, and in a brief essay on the history of consumerism, economies tended to grow slowly or not at all prior to the fossil-fueled industrial revolution. Cheap, concentrated energy enabled industrial expansion and overproduction, which in turn laid the groundwork for consumerism, globalization and financialization. Economies and governments came to expect high rates of growth, and to rely on them to fulfill increasingly extravagant promises.
The result has been—I'm choosing my words carefully—the gradual accretion of a set of widely shared assumptions that constitute a bounded ideational realm with rigidly consistent internal rules. Deviate from these rules, and there are predictable consequences. When any public person (writer, economist, scientist, whatever) demonstrates a disconnection from political reality by questioning the desirability or possibility of continued growth, the minders of the mainstream media turn their attention elsewhere.
How different physical reality is. Simple arithmetic shows that growth in population and consumption cannot continue indefinitely. In his book The No-Growth Imperative, Gabor Zovanyi offers an illustration: "If our species had started with just two people at the time of the earliest agricultural practices some 10,000 years ago, and increased by 1 percent per year, today humanity would be a solid ball of flesh many thousand light years in diameter, and expanding with a radial velocity that, neglecting relativity, would be many times faster than the speed of light." Today's global population growth rate of 1.1 percent per year is obviously unsustainable over any significant time frame. Growth in consumption levels faces similar practical limits.
Of course, long before we become a solid ball of flesh expanding at light speed while consuming galaxies of raw materials at a gulp, we will arrive at a point where the costs of further growth outweigh any real benefits. Those costs are likely to make themselves known in the forms of rising commodities prices, pollution dilemmas, biodiversity loss, crashing economies, declining real standards of living and rising levels of conflict as nations and social factions fight over scraps.
Plenty of intelligent people whose first allegiance is to physical reality believe we are near or at that point now.
*          *          *
Some on both sides of the reality divide offer to compromise. If you're an environmentalist and want to be taken seriously by politicians and economists, you propose ways to expand the economy with more environmentally responsible practices under the banner of "green growth." If you're an economist, politician, government bureaucrat or business executive and you want to be taken seriously by environmentalists, you propose ways to solve environmental problems without sacrificing growth, such as by creating limited pollution regulations, promoting "green" products or subsidizing renewable energy. Such projects and proposals help address some of the metastasizing crises resulting from humanity's still-expanding population and rates of consumption, but so far they haven't succeeded in changing worrisome consequence trends (warming climate, declining ore grades, depleting fossil fuels, disappearing biodiversity) or resolving the fundamental contradiction between the two realities.
Meanwhile many intellectuals mired in political realism reinforce the divide by arguing that physical limits are unimportant or nonexistent due to the promise of future (theoretical) technologies, resource substitution, efficiency, "dematerialization" or "ephemeralization." The late economist Julian Simon made a career of this, and his most famous follower, Bjørn Lomborg, proudly maintains the tradition. Physical realists refute such arguments as quickly as they are made, but that news doesn't travel far in the world of political realism. 
And so the disconnect continues and worsens.
Climate change has the potential to force the issue. To be sure, political realists work overtime to assure one and all that the world can reduce carbon emissions at a minimal cost, or even at a profit. (A recent example: The IPCC has released a report saying that the world can manage the climate crisis at a cost of "an annualized reduction of consumption growth by 0.04 to 0.14 … percentage points over the century.") But they do this by deliberately underestimating costs, ignoring differences in energy quality and overestimating the potential of alternatives to replace oil in the crucial transport and agriculture sectors. (The IPCC report just referenced does all these things.)
Climatologist Kevin Anderson of University of East Anglia's Tyndall Centre concludes that, if we are to reduce carbon emissions as significantly and as quickly as needed, the economy will have to contract. Anderson estimates that industrial nations must cut emissions by 10 percent per year to avert catastrophe, and figures that such rapid reduction would be, in his words, "incompatible with economic growth." Significantly, George Monbiot—a prominent voice in the world of climate change journalism—has adopted essentially the same view.
Given the dire planetary outcomes now looming, policy makers are increasingly committing themselves to doing something serious about climate change. If they do, the irresistible force and the immovable object will meet head-on. If they don't, it will be because world leaders value political realism more highly than physical survival.
*          *          *
How to reconcile these two realities? This is one of the central problems of our time—and one of the least discussed.
Clearly, we've got to get past predictable cynical responses, with physical realists shouting "You're driving us toward planetary catastrophe!" while political realists respond with, "You want to take us back to the Dark Ages!" That standoff accomplishes little.
Does this mean we should split the difference? In a word, No. In the contest between physical and political realities, it is political reality that must yield. Attempts to meet somewhere in the middle amount simply to reducing delusional thinking from absurd, world-annihilating levels to pathetic, self-immobilizing levels.
Our only hope of minimizing human suffering and wholesale ecosystem mayhem this century lies in coming to grips with the very limits that political realists spend their time seeking to hide and ignore. Their successful efforts at managing the public's perceptions and beliefs have imperiled everything worth caring about. Soon the misled mass of humanity will be grappling with consequences of attitudes and actions that were insane from the get-go, yet cheered, rationalized and normalized by nearly every respected public figure. Delusional expectations are about to crash upon the shoals of hard truth.
As we know from history, whole societies can descend into systemically delusional thinking. In the U.S., with belief in climate change having become a matter of political affiliation, and with business pages of newspapers hailing each shred of ersatz evidence of economic "recovery" (i.e., return to GDP growth), we appear already to be far along that path.
Essayist John Michael Greer argues that the lunacy of managerial elites is a symptom invariably seen when civilizations approach collapse; he believes our society is in the early stages of one of history's periodic, predictable and inevitable phases of decline, and there's essentially nothing we can do to stop the process.
I think he's right, in that economic contraction is now inevitable. This is true whether or not governments and central banks are able to blow yet another bubble (perhaps one even beyond the current stock market / real estate / fracking bubble that's set to burst the moment interest rates increase). What really matters is how contraction proceeds.
There are good arguments to be made that it's too late to change population-consumption-pollution trends now converging, and that the best course of action for those of us awake and aware of physical reality is to adapt intelligently to the phases of collapse as they occur, while building resilience in our lives and communities so as to weather coming storms (literal and metaphorical) as successfully as possible. An equally good case holds that we should continue to do everything we can to counter those trends, so that whatever future unfolds is more survivable, and so that less damage is done to the ecological web on whose integrity the lives of future generations will depend. In my opinion, both are correct.
What's needed is a contraction pathway that minimizes human suffering, averts the worst environmental impacts and yields the best ultimate outcome of sustainable and thriving human cultures situated in functioning, restabilizing ecosystems.
*          *          *
Put off, for the moment, objections that "it's too late" or "we don't have the capacity." What would be a strategy for reorienting society toward physical reality without incurring a collective psychological breakdown, so that the optimal contraction pathway can be realized?
At this late date, the following recommendations may constitute merely a speculative wish list. But just in case there is someone awake to physical reality at the Gates Foundation (which owns the only private philanthropic pile of money big enough to accomplish much of this), here are some ideas that could help avert the worst of the worst.
Start by putting effort into building a stronger consensus for action among those in the "physical reality" camp. Then pursue strategic alliances. There is a spectrum among those wedded to political reality, with denial of climate change and biological evolution at one end. Open a wider dialogue with those at the more physically realistic end of that spectrum, calmly insisting on the primacy of limits to growth while seeking common ground. Then help these reasonable folks work from the inside to transform political reality until it more closely resembles physical reality.
Dedicate major funding to a public education program in critical thinking. An Inconvenient Truth and Cosmos were helpful first volleys, but what is needed is something on a far larger scale; maintained over several years; encompassing classroom materials as well as television, YouTube and social media; and addressing the population-consumption growth dilemma as well as numeracy, ecological literacy and climate change.
Fund major culturally informed and targeted family planning campaigns throughout the world, with a special emphasis on nations with high birth rates.
There are already several movements aiding individuals and communities to adapt to a post-growth, post-carbon economic regime: localism, Transition Towns, the organics movement, Slow Food and Money, the voluntary simplicity movement and more. These need far greater support.
Such movements tend to soft-peddle critiques of our society's overarching systemic problem—the growth imperative built into our financial system, our economic system and (some would argue) even our monetary system—simply because the issue is too big for local organizations to effectively address. The emerging discourse on alternative economics, including the economics of happiness and alternative economic indicators as well as the degrowth and post-growth movements, begin to fill that gap. This discourse also needs major support and elaboration, with the goal of utterly transforming both the discipline of economics (e.g., economics textbooks and classes must begin teaching ecological, steady-state economics) and the economy itself.
At the same time, think tanks should be funded to craft and promote policies that help households and institutions adapt to a contracting economy. These might include, for example, quota rationing of energy and informal training in home-scale arts of production and repair as well as supporting local distributed renewable energy; investment in public transit, electrified transportation and nonmotorized transportation; import substitution; and relocalization of appropriate industries.
Within a contracting economy, income and wealth inequality becomes a critical political and social issue. Unless policies dictate otherwise, those with prior economic advantage tend to aggressively aggregate an ever-larger share of overall societal wealth and income, while those at the bottom of the heap descend into absolute misery. Solutions would begin with taxing financial transactions, inherited wealth, high incomes and luxury goods, with the revenues spent on building renewable energy infrastructure, redesigning food and transport systems to dramatically reduce oil dependence and helping poor folk adapt and get by. These policies must be promoted on a national and global scale with major funding and the enlisted expertise of messaging professionals.
Now for those objections—"It's too late," "We haven't the capacity." They are persuasive. The fulfillment of the above wish list (it could be lengthened considerably) is indeed a far longshot. But even minor progress along any of these lines could help change the trajectory of collapse and our chances for a desirable outcome.
If the problem of political realists is self-delusion, the predicament of many physical realists is a sense of defeat and dread. So for the sake of the latter I will conclude with a little pep talk (directed as much to myself as to readers). Too much is at stake to retire in cynical self-assurance that we are right, they are wrong; we are weak, they are strong. Yes, horrible consequences from past growth are inevitable; today's physical reality is a given. However, tomorrow's reality is still, at least to some degree, up to us. 
By Suzanne York
A new study by the Potsdam Institute for Climate Impact Research, published in the journal Proceedings of the National Academy of Sciences, found that climate change is likely to put 40 percent more people worldwide at risk of absolute water scarcity, due to changes in rainfall and evaporation.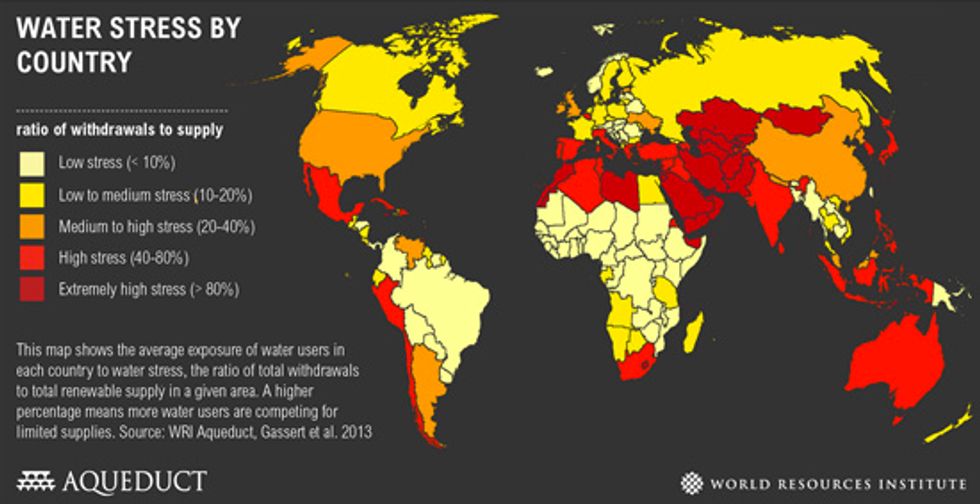 Unsurprisingly, the study noted that "Expected future population changes will, in many countries as well as globally, increase the pressure on available water resources."
With a mid-range United Nations projection of 9.6 billion people by 2050, how countries around the world manage water resources is becoming more critical with each passing day. And a changing climate is likely to play havoc with even the best laid plans.
Today, between one and two people out of 100 live in countries with absolute water scarcity (defined as less than 500 cubic meters of water available per year and per person). On average, each person consumes about 1,200 cubic meters of water each year, and even more in industrialized countries. Yet the impacts of continued population growth and increasing climate changes could bring the ratio of people living in countries with absolute water scarcity up to about 10 in 100 people.
The Mediterranean, Middle East, southern U.S. and southern China could experience "a pronounced decrease of available water;" southern India, western China and parts of eastern Africa could have an increase.
The authors of the study found that "This dwindling per-capita water availability is likely to pose major challenges for societies to adapt their water use and management."
Just last month, the World Resources Institute (WRI) released the results from its Aqueduct water project in which it found that 37 countries face "extremely high" levels of baseline water stress. This means that more than 80 percent of the water available to agricultural, domestic and industrial users is withdrawn annually—leaving businesses, farms and communities vulnerable to scarcity.
According to WRI :
…the world's water systems face formidable threats. More than a billion people currently live in water-scarce regions, and as many as 3.5 billion could experience water scarcity by 2025. Increasing pollution degrades freshwater and coastal aquatic ecosystems. And climate change is poised to shift precipitation patterns and speed glacial melt, altering water supplies and intensifying floods and drought.
Greater conservation and more efficient water systems (especially for industrial agriculture) will help. Also incorporating traditional and indigenous methods of water storage and usage that is applicable to each community and/or region will be needed. But what is most needed is global action on climate change to reduce global greenhouse emissions and thereby put the world on a path toward a more sustainable future.
There is too much at stake, and water is too precious of a resource to not implement policies to help countries, communities and families adapt to the coming changes.
Visit EcoWatch's CLIMATE CHANGE page for more related news on this topic.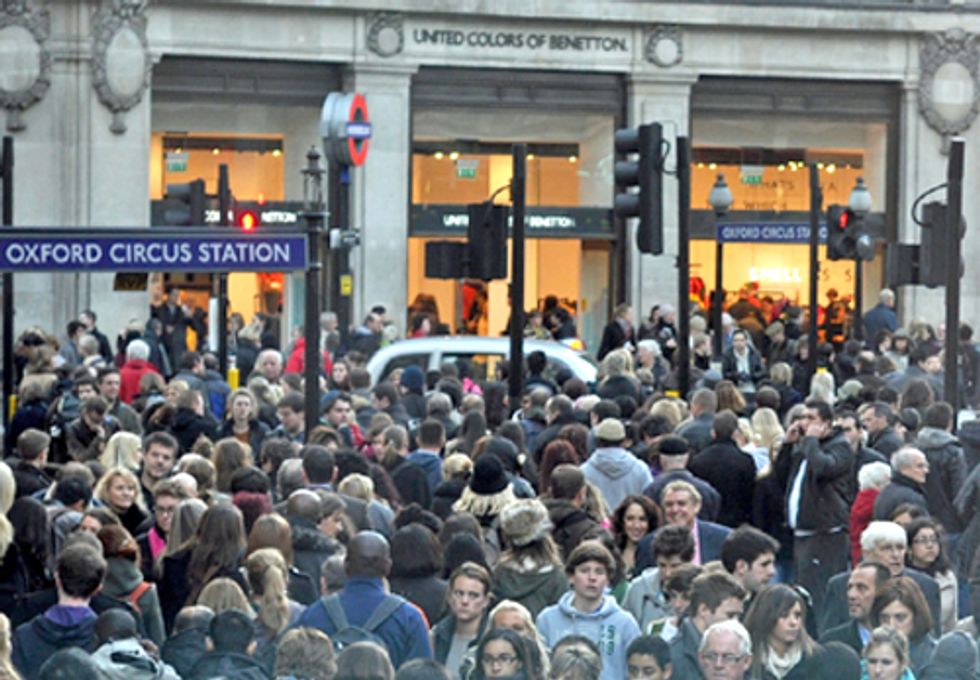 By Michael D. Lemonick
Talk to people who care about the environment and you'll hear plenty about pollution, deforestation, sustainability and climate change. What you won't hear is the word "population," unless it refers to populations of endangered species. 
But if you think about it, the Earth's booming human population is at the root of just about every environmental crisis that threatens the natural world. Last Oct. 31, Earth's population reached 7 billion people (unofficially, because there's no way to pinpoint the actual day, but it was in the ballpark). Every last one of them taps into the planet's resources as they eat, work and create waste in a myriad of different forms. By 2027 we'll be up to 8 billion, and the U.N. predicts we'll hit 9 billion in 2047.
Even now, however, the pressure on Earth's resources is already extreme, and more people will only make it worse. Deforestation and other forms of habitat destruction, for example, are mostly the result of all those billions of people clearing land for places to live and grow food. Destroy natural habitats and you throw ecosystems out of whack, to say nothing of wiping species off the planet at such an alarming rate that scientists believe we may be seeing Earth's sixth mass extinction (the previous five were caused by things like asteroid impacts or gigantic volcanic eruptions). All those billions of people burning wood and coal and oil, for heating, transportation, electricity and manufacturing, moreover, generate air pollution, including heat-trapping greenhouse gases.
Most of us never stop to think about the flip side of that equation, however: if the world had significantly fewer people, all of these strains on the planet would be much less. Two thousand years ago, the world's population stood at about 300 million people, according to the U.N., and by 500 years ago, that number had climbed to half a billion, or one fourteenth of today's population.
What if it had just stayed there? Would our current environmental problems be slashed by a factor of 14? Well, OK, probably not. Back in 1500, even the richest people had a standard of living far below what people in the U.S. have now: they had no electricity, no motorized transportation, a monotonous and not very nutritious diet. As a result, their impact on the planet was far less than what a half-billion people living at modern U.S. standards would be—and even so, the impact of pre-industrial civilization was hardly zero.
It's also true that in the modern world, the richest people consume vastly more resources, and contribute vastly more to the planet's environmental ills, than the poorest. By some estimates, fully 50 percent of all human CO2 emissions come from the richest 500 million people, while the poorest 3 billion generate a mere 7 percent. If those billions can raise their standard of living significantly, as they have every right to do, the impacts of all that consumption and those emissions will become vastly worse.
It would be simplistic, then, to put all the blame for the planet's environmental woes on population. Nevertheless, it's clear that if the Earth's population were to magically drop from 7 billion to, say, 1 billion  ("magically," because you could do it with a horrifying disease or some other catastrophe, but I'd just as soon not), most of the issues environmentalists worry about would become easier to manage, even though they'd hardly disappear.
So why aren't policymakers talking more about population? Why aren't the media reporting more about it? One reason is that it's a very touchy subject. Plenty of religious leaders have a real problem with family planning in any form, and China's infamous one-child policy has led to forced abortions, forced sterilization and, thanks to a strong preference for boys, a severe gender imbalance. In large part, it was his opposition to the excesses of the one-child policy that got Chinese activist Chen Guangcheng in trouble with authorities earlier this year.
The issue of population is, in short, more than a little radioactive. Besides, fertility rates have been dropping in recent decades thanks largely to the education of women, so the problem clearly isn't as bad as it could be. In fact, the U.N. was projecting 15 billion people by the middle of this century only a couple of decades ago, so we're moving in the right direction. But the U.N. also acknowledges that just the slightest uptick in those rates could drive the number drastically upward again. A problem that appears to have stabilized could destabilize very quickly.
That's why at least one environmental group has taken on the issue of overpopulation: last year, the Center for Biological Diversity began talking about population growth as a key factor in environmental degradation. According to an article in the New York Times, the group is, among other things, handing out condoms in packages with endangered animals on them and emblazoned with slogans including "Wrap with care, save the polar bear," and "Wear a condom now, save the spotted owl."
OK, it's a bit silly (although not as silly as this condom promo video from India), and there's nothing much we can do to reduce the population by any significant amount. But as July's World Population Day approaches, it's worth remembering that the sheer number of people on Earth makes every threat to the environment worse than it would otherwise be.
And it wouldn't be a bad thing if more of us were talking about it.
For more information, click here.