By Katie Rucke
Genetically modified organisms (GMOs) are the answer to ending world hunger, at least according to the former leader of the Roman Catholic Church, Pope Benedict XVI.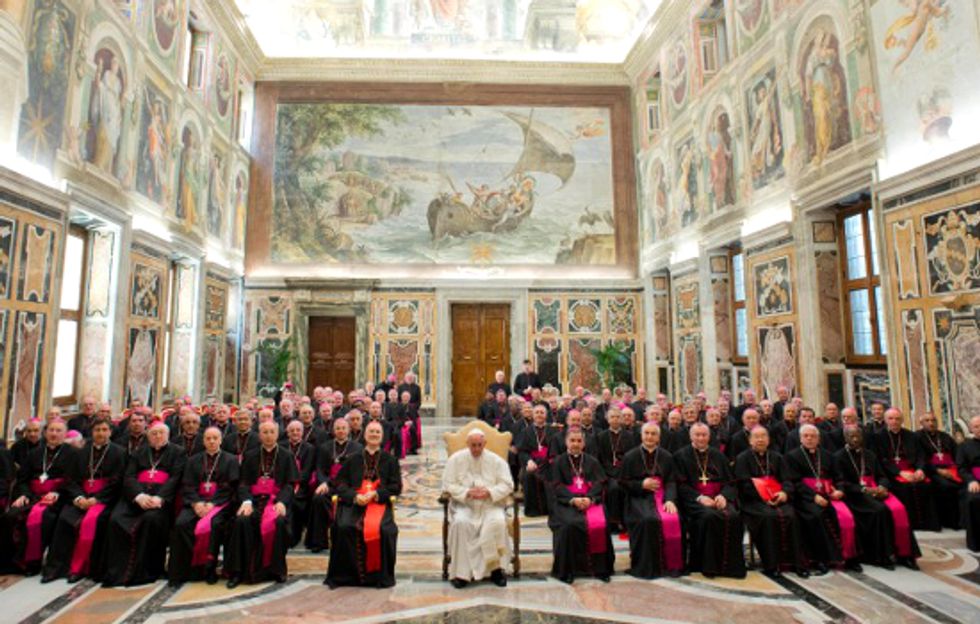 According to a 2009 WikiLeaks cable from the U.S. embassy in the Vatican, it was discovered that "Vatican officials remain largely supportive of genetically modified crops as a vehicle for protecting the environment while feeding the hungry," as a result of lobbying efforts by the U.S.
The cables from the U.S. embassy indicated that if the U.S. could convince the church that GMOs were good, the church would be able to convince its members. This would be a boost for the GMO industry since the Catholic Church claims more than 1 billion members.
Given that GMOs have caused controversy around the world recently as questions arise about their impact on human health, it's uncertain whether the church will be able to convince all its members GMOs are a good thing.
According to the American Academy of Environmental Medicine, doctors should recommend non-GMO diets to all persons, since some animal studies have suggested that diets with GMO foods can lead to organ damage, gastrointestinal and immune system disorders, accelerated aging and infertility.
Several countries have banned the use of GMO ingredients or require labeling for products containing them. In the U.S., home to the big agriculture businesses that created GMOs, there is no GMO ban and Americans have just begun to demand GMO products be labeled as such.
Though the 2009 WikiLeaks cable revealed the Catholic Church was in favor of GMOs, Monsignor James Reinert, a member of the Vatican Council of Justice and Peace, noted that the Catholic Church has come to a "consensus on the need for GMOs with one caveat."
"The Vatican cannot force all bishops to endorse biotechnology," he said, "particularly if their opposition has to do with concerns over protecting profits of large corporations who hold the patents for the crops, versus feeding the hungry."
Poor Health Epidemic Brought On By GMOs?
Some observers think GMO products, introduced by biotechnology companies such as Monsanto in 1996 to work toward ending world hunger and malnutrition, could be connected to an increase in the percentage of Americans with chronic illnesses, food allergies and disorders such as autism, reproductive disorders and digestive problems.
Reports from the International Assessment of Agricultural Knowledge, Science and Technology for Development also indicate that GMO crops do not necessarily increase yields.
According to the report, "assessment of the technology lags behind its development, information is anecdotal and contradictory, and uncertainty about possible benefits and damage is unavoidable." In addition the report states that GMOs "have nothing to offer the goals of reducing hunger and poverty, improving nutrition, health and rural livelihoods, and facilitating social and environmental sustainability."
The three most common GMO crops grown today include corn, soybeans and cotton. According to the Organic Valley Co-Op, the corn and soybeans are animal feed crops and nations that don't consume a lot of meat won't benefit from their use.
Science seems to have also poked holes in the church's argument that GMOs protect the environment. In order to grow GMO crops, farmers have to use hazardous pesticides to remove weeds and keep insects away from the crops.
However, studies indicate that farmers with GMO crops not only have to use more pesticides when they have GMO crops, but have to use more hazardous pesticides.
These pesticides and herbicides have been found to harm birds, insects, amphibians, marine ecosystems and soil organisms. Studies have also found herbicides reduce biodiversity and pollute water.
Not only are these chemicals unsafe, they are expensive. According to the Organic Valley Co-Op, "the only farmers that can afford the seeds and chemicals are those from first-world countries or the wealthy landowners from developing countries, who grow the crops for export, not to feed the poor."
New Pope, New Stance?
While the Catholic Church's initial pro-GMO stance was issued under Pope Benedict XVI, the church's current leader, Pope Francis, has yet to share his view on GMOs.
According to Al Jazeera, Pope Francis is a trained chemist, which gives him more information on the scientific aspect of consuming GMOs than his predecessor. Another factor that may influence Francis is his Argentinian heritage.
Argentina relies heavily on genetically modified crops. But a new documentary demonstrates the high usage of Monsanto-manufactured GMO seeds in the Latin American nation has caused issues with land ownership in addition to health problems.
Filmmaker Glenn Ellis summarized the documentary by saying that "… [D]octors and scientists claim that babies are being born with crippling birth malformations and that in recent years the incidence of childhood cancer has soared. It is a phenomenon, they say, that has coincided with the introduction of Monsanto's seed."
Visit EcoWatch's GE FOOD page for more related news on this topic.

EcoWatch Daily Newsletter
waterlust.com / @tulasendlesssummer_sierra .
Each product featured here has been independently selected by the writer. If you make a purchase using the links included, we may earn commission.
The bright patterns and recognizable designs of Waterlust's activewear aren't just for show. In fact, they're meant to promote the conversation around sustainability and give back to the ocean science and conservation community.
Each design is paired with a research lab, nonprofit, or education organization that has high intellectual merit and the potential to move the needle in its respective field. For each product sold, Waterlust donates 10% of profits to these conservation partners.
Eye-Catching Designs Made from Recycled Plastic Bottles
waterlust.com / @abamabam
The company sells a range of eco-friendly items like leggings, rash guards, and board shorts that are made using recycled post-consumer plastic bottles. There are currently 16 causes represented by distinct marine-life patterns, from whale shark research and invasive lionfish removal to sockeye salmon monitoring and abalone restoration.

One such organization is Get Inspired, a nonprofit that specializes in ocean restoration and environmental education. Get Inspired founder, marine biologist Nancy Caruso, says supporting on-the-ground efforts is one thing that sets Waterlust apart, like their apparel line that supports Get Inspired abalone restoration programs.
"All of us [conservation partners] are doing something," Caruso said. "We're not putting up exhibits and talking about it — although that is important — we're in the field."
Waterlust not only helps its conservation partners financially so they can continue their important work. It also helps them get the word out about what they're doing, whether that's through social media spotlights, photo and video projects, or the informative note card that comes with each piece of apparel.
"They're doing their part for sure, pushing the information out across all of their channels, and I think that's what makes them so interesting," Caruso said.
And then there are the clothes, which speak for themselves.
Advocate Apparel to Start Conversations About Conservation
waterlust.com / @oceanraysphotography
Waterlust's concept of "advocate apparel" encourages people to see getting dressed every day as an opportunity to not only express their individuality and style, but also to advance the conversation around marine science. By infusing science into clothing, people can visually represent species and ecosystems in need of advocacy — something that, more often than not, leads to a teaching moment.

"When people wear Waterlust gear, it's just a matter of time before somebody asks them about the bright, funky designs," said Waterlust's CEO, Patrick Rynne. "That moment is incredibly special, because it creates an intimate opportunity for the wearer to share what they've learned with another."
The idea for the company came to Rynne when he was a Ph.D. student in marine science.
"I was surrounded by incredible people that were discovering fascinating things but noticed that often their work wasn't reaching the general public in creative and engaging ways," he said. "That seemed like a missed opportunity with big implications."
Waterlust initially focused on conventional media, like film and photography, to promote ocean science, but the team quickly realized engagement on social media didn't translate to action or even knowledge sharing offscreen.
Rynne also saw the "in one ear, out the other" issue in the classroom — if students didn't repeatedly engage with the topics they learned, they'd quickly forget them.
"We decided that if we truly wanted to achieve our goal of bringing science into people's lives and have it stick, it would need to be through a process that is frequently repeated, fun, and functional," Rynne said. "That's when we thought about clothing."
Support Marine Research and Sustainability in Style
To date, Waterlust has sold tens of thousands of pieces of apparel in over 100 countries, and the interactions its products have sparked have had clear implications for furthering science communication.
For Caruso alone, it's led to opportunities to share her abalone restoration methods with communities far and wide.
"It moves my small little world of what I'm doing here in Orange County, California, across the entire globe," she said. "That's one of the beautiful things about our partnership."
Check out all of the different eco-conscious apparel options available from Waterlust to help promote ocean conservation.
Melissa Smith is an avid writer, scuba diver, backpacker, and all-around outdoor enthusiast. She graduated from the University of Florida with degrees in journalism and sustainable studies. Before joining EcoWatch, Melissa worked as the managing editor of Scuba Diving magazine and the communications manager of The Ocean Agency, a non-profit that's featured in the Emmy award-winning documentary Chasing Coral.