When it rains in cities or suburban areas with lots of roads and rooftops, rainwater is unable to soak into the ground. Instead, it flows along the surface where it picks up pollutants like sediment, chemicals, oil, grease or heavy metals. The runoff then flows into storm drains where it ultimately ends up in nearby rivers, lakes and streams.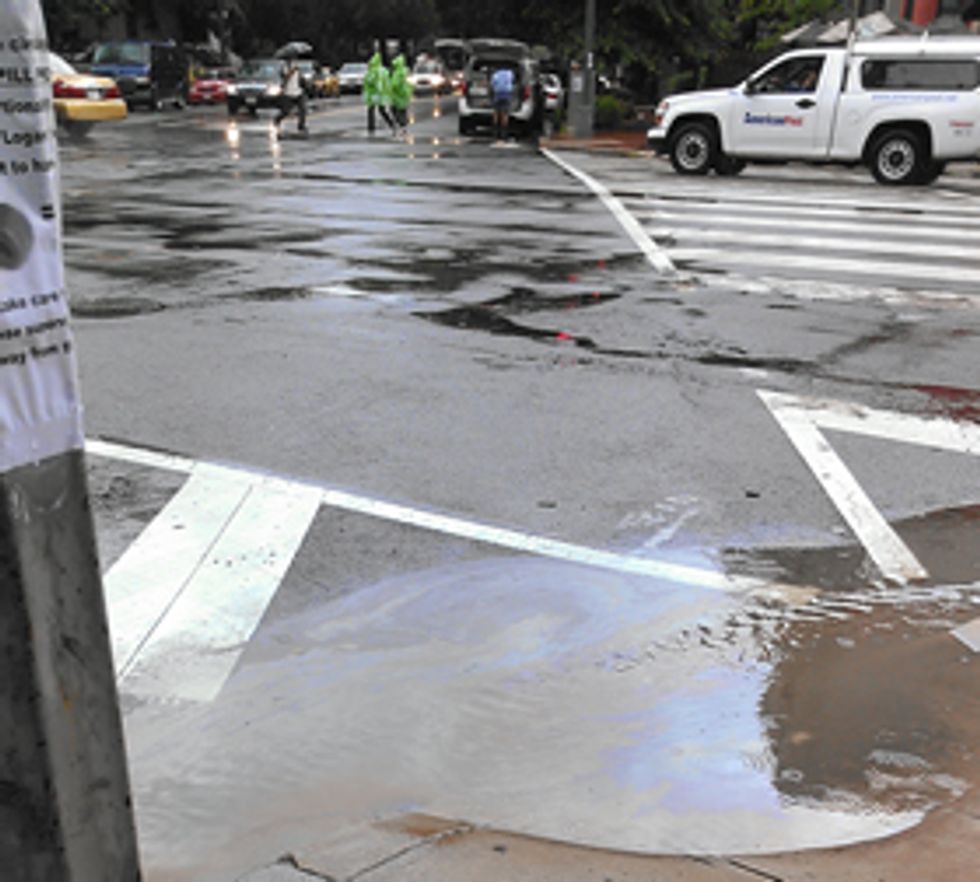 From basement backups to beach closures to sewage overflows, polluted runoff can have big costs for communities. The Federal Emergency Management Agency estimates that polluted urban runoff contributes to 25 percent of economic losses from flooding, totaling nearly $1 billion every year. The Environmental Protection Agency (EPA) has found that between 1.8 million and 3.5 million people are estimated to become sick from recreational contact with raw sewage discharges into waters every year.
In particular, large paved areas of commercial and industrial facilities built decades ago are significant contributors of polluted runoff yet are seldom required to control or treat it in ways that really protect our local waters. Taxpayer dollars already support public infrastructure to manage runoff and these existing sites are not doing their fair share.
Studies have consistently demonstrated that these sites accumulate large quantities of pollutants such as copper, lead, zinc, phosphorus and nitrogen. Although little management is required, runoff from these areas carries harmful contaminants into local waters that degrade drinking water supplies, cause beach closures and threaten fish habitat. Large volumes of runoff also contribute to local flooding, shutting down roads and exacerbating basement backups at additional costs to communities and local businesses.
Given that more than half of the hardened surfaces in our urban areas consist of buildings and parking lots (53.9 percent according to the U.S. Geological Survey), it will be practically impossible to attain clean water goals without controlling the runoff that leaves these sites.
Today, American Rivers, Anacostia Riverkeeper, Anacostia Watershed Society, Blue Water Baltimore/ Baltimore Harbor Waterkeeper, California Coastkeeper Alliance, Conservation Law Foundation, Natural Resources Defense Council, PennFuture, Potomac Riverkeeper and the Shenandoah Riverkeeper submitted petitions to the Environmental Protection Agency (EPA) that call on the Agency to use its existing authority to better manage runoff from existing commercial, industrial and institutional areas. 
These petitions are based on facts we all know—that rainwater running off the pavement and rooftops in these areas pollutes our waters.  They call on EPA to carry out the responsibility assigned to it by Congress in 1987, known as residual designation authority, to take steps that will create cleaner waters by reducing polluted runoff and keeping it out of storm sewers and local waterways.
These contributors should be held accountable for their contributions to pollution through runoff and help share the cost of managing their stormwater rather than placing the burden solely on the taxpayer. These sites can share in the cost of solutions to solve the problems they are helping create.
Visit EcoWatch's WATER page for more related news on this topic.
——–

EcoWatch Daily Newsletter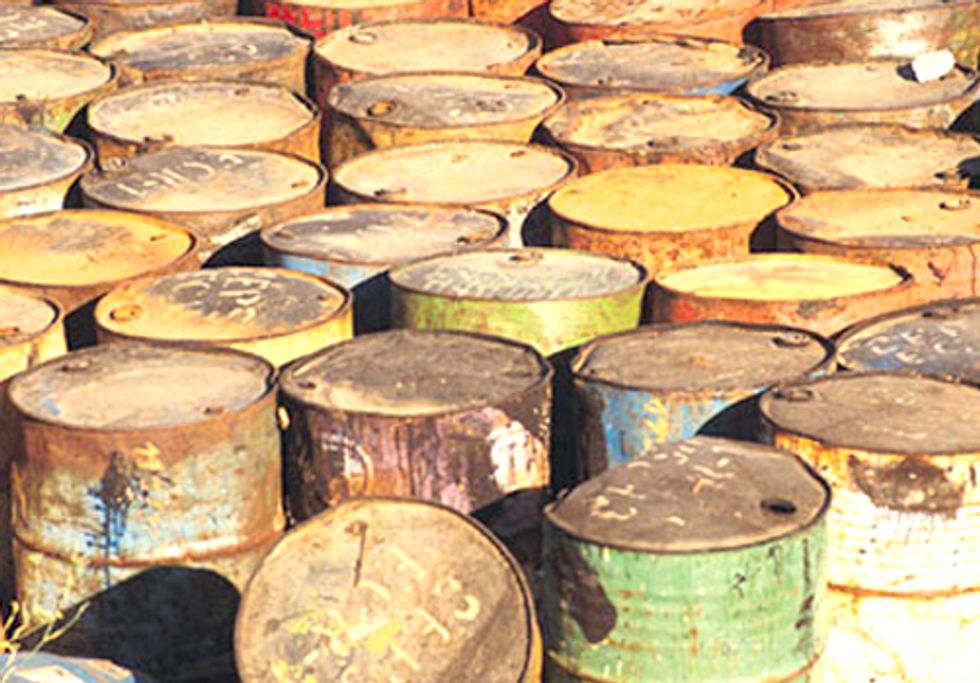 By Gina Solomon
Used with permission of NRDC – Switchboard
There are so many toxic chemicals and pollutants in our air, water, food and consumer products that it's easy to just focus on one at a time and get stuck in the details of each specific case. But sometimes it's helpful to step back and look at the big picture.The National Academies of Science (NAS) did precisely that nearly three years ago in a landmark report on protecting people from toxic chemicals. The report, entitled Science and Decisions: Advancing Risk Assessment, contained a series of clear recommendations directed at government agencies such as the U.S. Environmental Protection Agency (EPA) and the Food & Drug Administration (FDA), about how to use science to protect health. Unfortunately, the NAS recommendations have largely been ignored by both the EPA and the FDA. As we approach the third anniversary of the NAS report, it's a good time to look at the four most important recommendations from this impressive panel of scientists. Here's a summary based on their recommendations:
Identify and incorporate variability in human exposure and vulnerability into health assessments, so that all people are better protected.
When information is missing or unreliable, use science-based default assumptions that protect health, rather than waiting for more data, to speed up the chemical assessment and decision-making processes. There should be a clear set of criteria for when to depart from default assumptions.
In assessing the risk of chemicals, incorporate information about the potential impacts of exposure to multiple chemicals. Consider other factors, such as exposure to biological and radiological agents, and social conditions.
Because the population is exposed to multiple chemicals and there is a wide range of susceptibility to chemical exposures, it cannot be presumed that any—even low level—exposures are risk-free. It should be assumed that low levels of exposures are associated with some level of risk, unless there are sufficient data to contradict this assumption.
Since not very many people will want to read the full 424 page NAS report, the committee's recommendations are summarized and interpreted in a new NRDC and SEHN issue paper entitled, Strengthening Toxic Chemical Risk Assessments to Protect Human Health. Incorporating the recommendations of the NAS scientists into current decisions would substantially change the way the EPA and FDA are approaching a host of key issues.
For example:
Just this week, the President of the American Association for the Advancement of Science (AAAS) stated that she was "scared to death" by the anti-science movement ...spreading, uncontrolled, across the U.S. and the rest of the western world." It is becoming increasingly clear that the anti-science movement is fueled and funded by a small group of major corporate interests and individuals. Read more in this recent expose in the Guardian. The goal of the attack on science is to stop much-needed government regulations on toxic chemicals and other pollutants (such as greenhouse gases) that harm health. One sign of the success of the anti-science movement is that this important NAS science report has been sitting unheeded for nearly three years. It's time for the EPA and FDA to sit up and take notice.
For more information, click here.
If you're like many busy Americans, you may feel the need for an extra boost of energy to stay focused and perform at your best throughout the day. Whether you experience the age-old 3 p.m. slump at your desk, or you need an extra jolt to power through a morning workout, you may be looking for a natural way to increase your energy levels.
<p>Caffeine happens to be the most-consumed energy booster in the world. From coffee to tea to chocolate, about 90% of Americans consume caffeine in some form every day. And increasingly, people are turning to energy drinks to satisfy their energy needs. </p><p>Energy drink consumption is especially high among young adults. In a 2016 <a href="https://supplements101.net/energy-drink-statistics/#:~:text=In%202016%2C%20the%20sales%20of,drinks%20on%20a%20regular%20basis." rel="noopener noreferrer" target="_blank">survey</a>, over one-third of 18- to 29-year-old respondents said they consumed energy drinks on a regular basis. </p><p>There are dozens of energy and sports drink companies out there to meet this growing demand for a regular energy boost. From flashy cans packed with bold flavors to all-natural alternatives, it can be difficult to cut through the noise and choose the right caffeine source for you. </p><p>That's why we're reviewing the top five healthy energy drinks that will give you a moderate level of caffeine without added sugars and artificial ingredients. </p><h2>The Downside of Mainstream Energy Drinks</h2><p>Step into most gas stations, and you'll find a fantastically colorful, shiny, and attention-grabbing display of canned energy drinks. These cans and bottles are slapped with powerful names like "Rockstar" and "Red Bull!". But often, hidden behind the neon graffiti-scribbled cans are ingredients best avoided for the sake of your health. </p><p>Most mainstream energy drinks are packed with high amounts of caffeine, sugar, and other undesirable ingredients. According to the <a href="https://www.mayoclinic.org/healthy-lifestyle/nutrition-and-healthy-eating/in-depth/caffeine/art-20045678#:~:text=Up%20to%20400%20milligrams%20(mg,widely%2C%20especially%20among%20energy%20drinks." rel="noopener noreferrer" target="_blank">Mayo Clinic</a>, adults should aim to consume no more than 400mg of caffeine a day. </p><p>To put that into perspective, a 1-ounce shot of espresso contains about 64 milligrams of caffeine. A regular cup of coffee has about 70 to 100 milligrams. Some energy shots contain more than 400 milligrams of caffeine in a single serving.</p><p>Overdoing your caffeine intake can have negative impacts on your health. The extent to which you experience side effects will depend on your tolerance for the drug, age, and genes. Signs of too much caffeine include headaches, anxiety, an elevated heart rate, muscle jitters, irritability, and frequent urination. </p><p>Added sugar is another common unhealthy ingredient in mainstream energy drinks. The American Heart Association recommends that adult men consume no more than 37 grams of sugar per day and women consume no more than 25 grams. However, a single serving of many mainstream energy drinks can easily contain 27 or more grams of added sugars per serving. </p><p><a href="https://www.health.harvard.edu/heart-health/the-sweet-danger-of-sugar" rel="noopener noreferrer" target="_blank">Studies</a> show that consuming excess added sugars (those that aren't naturally occurring in fruits and vegetables) can have serious health implications. For most Americans, these added sugars come from flavored drinks, cereals, baked goods, and other processed foods, including energy drinks. </p><p>All of this sugar adds up to an increased risk for obesity, diabetes, and heart disease. In one 15-year Harvard study, participants who consumed 17-21% of their daily calories from added sugars increased their risk of death from cardiovascular disease by 38% compared to individuals who consumed 8% of their calories from added sugar. </p><p>Obesity, heart disease, high blood pressure, and cardiovascular disease are all leading causes of death in the US. By choosing no- to low-sugar healthy energy drinks without large amounts of caffeine, you can reduce your intake of added sugars and avoid overdoing your caffeine intake. </p><h2>What to Look for in a "Healthy" Energy Drink</h2><p>So how can you be sure your daily pick-me-up is a healthier option that will still sustain your energy levels? Start by reviewing the caffeine and sugar content. Many natural energy drinks on the market are sugar-free and made with natural caffeine sources. For example, matcha green tea is an herbal source of caffeine that has other nutritional benefits for overall wellness like antioxidants. </p><p>In addition to the caffeine and sugar content, many healthy energy drinks are fortified with essential nutrients that have positive health effects. You may get the added benefit of antioxidants from black tea, for example. </p><p>As always, be sure to read the label of any energy drink carefully and with an eye to added sugars, preservatives, and other artificial ingredients. And remember that caffeine is a natural diuretic, so it's important to watch your hydration and drink plenty of water. </p><h2>Best Healthy Energy Drinks</h2><p class="media-headline"><strong>Zevia Soda Zero Calorie </strong><br></p> <p><br></p> <div class="rm-shortcode amazon-assets-widget" data-rm-shortcode-id="8eda0b2a1fca95e74536fe933917a0c8" contenteditable="false"> <a href="https://www.amazon.com/dp/B01NBDS05U?tag=ecowatch-20&amp;linkCode=ogi&amp;th=1&amp;psc=1" target="_blank"> <img type="lazy-image" data-runner-src="https://m.media-amazon.com/images/I/51K6VHfVdbL.jpg" class="amazon-assets-widget__image widget__image"> </a> </div> <p><br></p><p>We like that this Zevia's zero-calorie option is made with clean ingredients. You won't find artificial colors, preservatives, soy, or sodium in these cans. With six simple ingredients, including carbonated water, you can rest assured that every sip is wholesome and good for you. Zevia offers a higher caffeine content than other healthy energy drinks, so it's a good option for someone with a higher caffeine tolerance or who reaches for just one serving of caffeine a day. </p><p><strong>Strength: </strong>120mg of caffeine per can</p><p><strong>Why buy:</strong> Sugar-free; Zero calorie; Non-GMO Project Verified; Kosher; Vegan</p><p><br></p><p class="media-headline"> <strong>Sambazon Organic Amazon Energy Drink</strong></p><p><strong><br></strong></p><div class="rm-shortcode amazon-assets-widget" data-rm-shortcode-id="85c4853615e47cd7cbb10a107aacb6a2" contenteditable="false"> <a href="https://www.amazon.com/dp/B06XMQD3GG?tag=ecowatch-20&amp;linkCode=ogi&amp;th=1&amp;psc=1" target="_blank"> <img type="lazy-image" data-runner-src="https://m.media-amazon.com/images/I/51xnTTJ62CL.jpg" class="amazon-assets-widget__image widget__image"> </a> </div> <p>We love that this drink is both low in calories and sugar (with only 6 grams per serving) while providing other important vitamins. The green tea and yerba mate that give each can its 120 mg of caffeine come with potent antioxidants and vitamin C. This is another slightly more caffeinated option if you're looking for a stronger jolt from your healthy energy drink without the excess sugars and artificial ingredients you'll find in mainstream high-caffeine options. With fruity Amazon-inspired flavors like acai berry and pomegranate, Sambazon ensures every sip is delicious and refreshing. </p><p><strong>Strength: </strong>120mg per can </p><p><strong>Why buy:</strong> Made with guarana, yerba mate &amp; green tea; USDA-Certified Organic; Non-GMO; Vegan; Gluten-free; Kosher</p><p><br></p><p class="media-headline"> <strong>Sunshine Good Energy Drink</strong></p><p><br></p><div class="rm-shortcode amazon-assets-widget" data-rm-shortcode-id="6eb3213e344554c1cf64811f99368be2" contenteditable="false"> <a href="https://www.amazon.com/dp/B00ETBR7MU?tag=ecowatch-20&amp;linkCode=ogi&amp;th=1&amp;psc=1" target="_blank"> <img type="lazy-image" data-runner-src="https://m.media-amazon.com/images/I/41WwiS5or4L.jpg" class="amazon-assets-widget__image widget__image"> </a> </div> <p>This brightly colored can is not only enticing, but it's also good for you. It has a moderate amount of caffeine (about the same amount as a cup of coffee) for a light buzz that won't cause a crash. This low-calorie option (60 calories per can) is especially great for plant-based diets, which can often lack essential b vitamins, especially vitamin B12. Sunshine Energy Drinks are fortified with B12, and the clementine flavor also offers 100% of your daily Vitamin C requirements.</p><p><strong>Strength:</strong> 70mg caffeine per can</p><p><strong>Why buy:</strong> Made with organic green coffee beans; Added B12; Contains electrolytes; 100% of your daily Vitamin C</p><p><br></p><p class="media-headline"> <strong>GURU Lite Organic Low Calorie Energy Drink with Green Tea</strong></p><p><br></p><div class="rm-shortcode amazon-assets-widget" data-rm-shortcode-id="4ab4b338d9d1410089b9f5d9f9be8a35" contenteditable="false"> <a href="https://www.amazon.com/dp/B01ESPB2UY?tag=ecowatch-20&amp;linkCode=ogi&amp;th=1&amp;psc=1" target="_blank"> <img type="lazy-image" data-runner-src="https://m.media-amazon.com/images/I/51vJnEDA4XL.jpg" class="amazon-assets-widget__image widget__image"> </a> </div> <p>GURU's Lite Energy drink is brewed with antioxidant-packed green tea and hydrating carbonated water. This vegan energy drink includes the added bonus of natural sweeteners and vitamin sources. Every can is made with ginseng, echinacea, guarana, and sweetened with stevia and monk fruit for a lightly sweet, nutrient-packed sip. Plus, GURU has an environmentally-friendly commitment to using natural, organic ingredients in this low-sugar, lightly caffeinated energy drink.</p><p><strong>Strength:</strong> 100mg caffeine per can</p><p><strong>Why buy: </strong>Non-GMO; Vegan; No artificial sweeteners; Organic</p><p><br></p><p class="media-headline"> <strong>Raspberry Sparkling Yerba Mate </strong></p><p><br></p><div class="rm-shortcode amazon-assets-widget" data-rm-shortcode-id="425712ca3a2ade8e1f15a1ad7241b81c" contenteditable="false"> <a href="https://www.amazon.com/dp/B07LGC3C6M?tag=ecowatch-20&amp;linkCode=ogi&amp;th=1&amp;psc=1" target="_blank"> <img type="lazy-image" data-runner-src="https://m.media-amazon.com/images/I/51+ABrjenML.jpg" class="amazon-assets-widget__image widget__image"> </a> </div> <p>Clean Cause donates 50% of its profits from sales of this USDA Certified Organic energy drink to support addiction recovery. The company's mission is to support recovery from alcohol and drug addiction through sustainable funding. Clean Cause brews its energy drinks from the dried leaves of yerba mate, a vitamin-rich South American plant that is naturally high in caffeine and antioxidants. Every serving offers plant-based polyphenols, a group of antioxidants shown to reduce inflammation and reduce the risk of many chronic diseases.</p><p><strong>Strength: </strong>160mg per can (two servings)</p><p><strong>Why buy:</strong> USDA Certified Organic; Natural caffeine from yerba mate; Four fruity, sparkling flavors</p>
From Your Site Articles
Related Articles Around the Web