The Rybnik Power Station in Rybnik, Poland on Sept. 20, 2018. Poland gets 80% of its power from coal.
Hans Permana / Flickr
After marathon talks in Brussels, the leaders of European Union member states – bar Poland – agreed early Friday to commit to going carbon neutral by 2050.
Reposted with permission from DW.
EcoWatch Daily Newsletter
Cezary P / Wikimedia Commons / CC BY-SA 4.0
By Chloe Farand
The Polish government has implemented a terrorism alert in the province where the annual UN climate talks are about to start.
Climate campaigners are warning of a tense atmosphere in and around the city of Katowice in southern Poland, where the global climate negotiations, known as COP24, are due to kick off on Monday.
Katowice, a city of around 300,000 people—and the smallest city to host the UN climate talks yet—is about to welcome nearly 30,000 people for the climate conference, including heads of state, government representatives and UN officials.
Over the weekend, Polish Prime Minister Mateusz Morawiecki has signed an order declaring an ALFA alert—the first of four increasing terrorism security levels—across the entire southern province of Silesia, where Katowice is located, and the city of Krakow.
'ALFA' Alert
In a statement, the government confirmed the heightened security measures had been introduced in connection with COP24 and will remain in force for the entire length of the talks, until Dec. 15.
The heightened alert has seen increased controls implemented across the affected areas, with residents are asked to report any suspicious situation or individual.
It also means enhanced security forces will be deployed in cases of emergency and that officers can control and check vehicles as well as access private communications.
The Polish border police also confirmed that Poland's borders with Germany, Lithuania, the Czech Republic and Slovakia had temporarily been restored and that the border could only be crossed in designated areas, with further checks being carried out at ports and airports.
The measures are due to last for the entirety of the climate conference with random checks being carried out for people entering Poland.
Od dziś do 16 grudnia na granicy wewnętrznej prowadzona jest tymczasowo przywrócona kontrola graniczna. Oznacza to,… https://t.co/5LxPHqLEwy

— Straż Graniczna (@Straż Graniczna)1542865381.0
Tense Atmosphere

The news comes after DeSmog UK revealed earlier this year that the Polish Parliament approved a bill that banned all spontaneous protests in Katowice during the talks. The ban does not apply to demonstrations organized inside the conference center.
The law provides a raft of initiatives to "ensure safety and public order" and allows police to "collect, obtain, process and use information, including personal data about people registered as participants of the COP24 conference or cooperating with its organisation, without the knowledge and consent of the people involved."
Patryk Bialas, a newly elected independent councillor for Katowice and a long-standing climate activist, told DeSmog UK that the mood in Katowice "was very bad."
Bialas also said that residents in Katowice were already experiencing high levels of security.
"There are already a lot of police on the streets and officers are telling people to keep away of the city center during the talks," Bialas said, adding that police officers recently interrupted a training session about the climate negotiations he had organized with Katowice residents.
"No one is talking about the COP in the public debate. The general knowledge of what this meeting is about is very low in Poland. On the other hand, the government is sending very strong coal-friendly propaganda, presenting the climate summit as another global economic congress," he added.
A March for Climate has been organized in Katowice on Dec. 8 with the permission of the local authorities and it is unclear whether other events could take place in the city center.
"There will be protests during the talks outside the conference center in Katowice but also all around Poland but many Poles are afraid of taking part," Bialas said. "There is a possibility protesters could face prison if they break the ban on spontaneous protest."
Deterrence
The impacts of Poland's crackdown on spontaneous protest and the gathering of all participants' data is having an impact far beyond Katowice.
Sébastien Duyck, a senior attorney at the Center for International Environmental Law, told DeSmog UK that there were "strong tensions" around the law.
UN institutions and civil society groups have been in discussions with the Polish Presidency over the controversial law, but the discussions did not result in any amendments to the text.
Duyck added that the data collection powers granted to the police under the law had led some climate campaigners from developing countries with no democratic institutions not to attend the conference in Katowice, fearing repercussions in their own countries.
The Asia Pacific Forum on Women, Law and Development (APWLD), a Thailand-based network of feminists and grassroots climate organizations, described the bill as "setting a dangerous precedent" and one that "undermines human rights and fundamental freedoms."
In a statement, APWLD member Banamallika Choudhury, from India, warned: "This clamp down on civil society space and freedom of expressions is a sign of increasing influence of the profit earning actors who do not want to change the system of exploitation that is leading to climate change.
"By closing spaces for voices of the people to come into global platforms like the COP, the profit-making exploitative industries and the states continue business as usual at the cost of the planet."
People are mad as hell and not gonna take it anymore: citizen #climate actions will become common while politicians… https://t.co/PrZagAXUYA

— Rocky Kistner (@Rocky Kistner)1542636408.0
Reposted with permission from our media associate DeSmogBlog.

From Your Site Articles
Related Articles Around the Web
waterlust.com / @tulasendlesssummer_sierra .
Each product featured here has been independently selected by the writer. If you make a purchase using the links included, we may earn commission.
The bright patterns and recognizable designs of Waterlust's activewear aren't just for show. In fact, they're meant to promote the conversation around sustainability and give back to the ocean science and conservation community.
Each design is paired with a research lab, nonprofit, or education organization that has high intellectual merit and the potential to move the needle in its respective field. For each product sold, Waterlust donates 10% of profits to these conservation partners.
Eye-Catching Designs Made from Recycled Plastic Bottles
waterlust.com / @abamabam
The company sells a range of eco-friendly items like leggings, rash guards, and board shorts that are made using recycled post-consumer plastic bottles. There are currently 16 causes represented by distinct marine-life patterns, from whale shark research and invasive lionfish removal to sockeye salmon monitoring and abalone restoration.

One such organization is Get Inspired, a nonprofit that specializes in ocean restoration and environmental education. Get Inspired founder, marine biologist Nancy Caruso, says supporting on-the-ground efforts is one thing that sets Waterlust apart, like their apparel line that supports Get Inspired abalone restoration programs.
"All of us [conservation partners] are doing something," Caruso said. "We're not putting up exhibits and talking about it — although that is important — we're in the field."
Waterlust not only helps its conservation partners financially so they can continue their important work. It also helps them get the word out about what they're doing, whether that's through social media spotlights, photo and video projects, or the informative note card that comes with each piece of apparel.
"They're doing their part for sure, pushing the information out across all of their channels, and I think that's what makes them so interesting," Caruso said.
And then there are the clothes, which speak for themselves.
Advocate Apparel to Start Conversations About Conservation
waterlust.com / @oceanraysphotography
Waterlust's concept of "advocate apparel" encourages people to see getting dressed every day as an opportunity to not only express their individuality and style, but also to advance the conversation around marine science. By infusing science into clothing, people can visually represent species and ecosystems in need of advocacy — something that, more often than not, leads to a teaching moment.

"When people wear Waterlust gear, it's just a matter of time before somebody asks them about the bright, funky designs," said Waterlust's CEO, Patrick Rynne. "That moment is incredibly special, because it creates an intimate opportunity for the wearer to share what they've learned with another."
The idea for the company came to Rynne when he was a Ph.D. student in marine science.
"I was surrounded by incredible people that were discovering fascinating things but noticed that often their work wasn't reaching the general public in creative and engaging ways," he said. "That seemed like a missed opportunity with big implications."
Waterlust initially focused on conventional media, like film and photography, to promote ocean science, but the team quickly realized engagement on social media didn't translate to action or even knowledge sharing offscreen.
Rynne also saw the "in one ear, out the other" issue in the classroom — if students didn't repeatedly engage with the topics they learned, they'd quickly forget them.
"We decided that if we truly wanted to achieve our goal of bringing science into people's lives and have it stick, it would need to be through a process that is frequently repeated, fun, and functional," Rynne said. "That's when we thought about clothing."
Support Marine Research and Sustainability in Style
To date, Waterlust has sold tens of thousands of pieces of apparel in over 100 countries, and the interactions its products have sparked have had clear implications for furthering science communication.
For Caruso alone, it's led to opportunities to share her abalone restoration methods with communities far and wide.
"It moves my small little world of what I'm doing here in Orange County, California, across the entire globe," she said. "That's one of the beautiful things about our partnership."
Check out all of the different eco-conscious apparel options available from Waterlust to help promote ocean conservation.
Melissa Smith is an avid writer, scuba diver, backpacker, and all-around outdoor enthusiast. She graduated from the University of Florida with degrees in journalism and sustainable studies. Before joining EcoWatch, Melissa worked as the managing editor of Scuba Diving magazine and the communications manager of The Ocean Agency, a non-profit that's featured in the Emmy award-winning documentary Chasing Coral.
Amidst a carpet of green lichen, flowers blossom on a fallen tree trunk in the Bialowieza forest. Konrad Skotnicki / Greenpeace
By Janice Pereira, Unearthed
Despite repeated warnings from the European Union, the Polish government continues to defy orders to stop logging operations in the ancient Bialowieza forest.
It started more than a year ago as a formal request by the European Commission, asking Poland to stop logging activity that violates the bloc's wildlife protection laws. Now the battle between the European Commission and the Polish government is being fought in the highest court of the European Union.
The relationship hasn't improved. The commission has accused the Polish government of not respecting interim orders issued by the European Court of Justice (ECJ) to stop logging, and state that they have satellite images and other evidence to prove it. Now they have asked the ECJ to impose penalties on Poland for not respecting it.
In recent weeks, the Polish government has reacted angrily, accusing the Commission of "spreading lies" and "manipulating the facts."
They told Unearthed that: "These activities are carried out in accordance with the decision of the Court of Justice of the European Union as well as Polish and European law."
Meanwhile, the forest continues to be cut down.
The ECJ's interim measures permit the Polish government to fell trees where there is a threat to public safety. However, forest patrols carried out by Greenpeace Poland in August found evidence of loggers violating the EU Court's decision in 16 out of 30 forest areas.
Logging in Bialowieza forest, one of Europe's last lowland natural forests.Grzegorz Broniatowski / Greenpeace
The Bialowieza forest is a biodiversity hotspot: a Unesco World Heritage site and the best-preserved lowland forest in Europe. It's home to the largest free-roaming population of European bison, as well as several rare species of birds, hundreds of insects and thousands of mushrooms.
The Bialowieza forest, one of Europe's last primeval forests, is the world's last refuge for European Bison.Adam Wajrak / Greenpeace
The Bialowieza forest is home to several rare bird species, including the white-backed woodpecker. Adam Wajrak / Greenpeace
Bark Beetle

The Polish authorities and the state forestry service insist the intensive logging is necessary to protect the forest from a spruce bark beetle outbreak and the fire risk posed by dead wood.
Last year the Polish environment ministry approved an increase in logging limits in order to deal with the beetles and dead tree trunks. This saw the limit increase threefold: from 63,000 m3 to 188,00 m3. Around 80,000 m3 of forest is estimated to have been cleared since.
However, studies have found that the practice of logging trees in areas of damaged forest is destructive to the environment. Rafal Kowalczyk, the Head of the Mammal Research Institute in Bialowieza, says the parts of the forest which have been protected as a national park are "continually existing, not dying," which shows that bark beetle outbreaks do not threaten the forest.
The richness of dead wood in the Bialowieza forest provides a habitat for a high diversity of fungi. Adam Wajrak / Greenpeace
Public Safety

The Polish environment ministry told Unearthed that they are carrying out "indispensable measures intended to protect endangered Natura 2000 habitats and species, and to ensure public safety."
They say that the dead tree trunks pose an "incomparable" threat to public safety.
The state forestry website reported: "During the few last months the cases of dead trees fallen onto the tourist trails or forest roads have been reported; several times they missed the passing cars or people only by a hair's breadth."
But Adam Wajrak, a journalist writing on nature in Bialowieza disputes this.
"This is bullshit," he claimed. "There is no evidence that someone has been harmed walking, picking mushrooms or watching the birds".
For the Polish authorities, he said "the most safe forest is a forest without trees."
Even where felling for public safety is justified, Kowalczyk said "the 100-year-old tree stems should be cut and left, not taken out" as those trees provide an important habitat for the forest's deadwood-dependent organisms. Instead, the trees are taken off the site and sold.
A truck transporting trees from the Białowieża Forest in Poland. Such transports are against European law—the European Court of Justice decided that trees from the Bialowieza Forest should not be logged, but also not removed from the forest, even where logging is carried out legally. Rafal Wojczal / Greenpeace
Motivations

The Polish government have been accused by the European Commission and environmental groups of logging trees that are 100 years and older, an act which is illegal under EU law. Back in April the European Commission said, "logging is already being carried out in the forest, including the removal of 100-year and older trees and operations in the habitats which according to the Natura 2000 management plan should be strictly protected."
When asked why the Polish government refuses to stop logging operations in the forest, Kowalczyk said "it's to show who is in charge of this area in Poland." The notion that Bialowieza is a symbol for power has been voiced elsewhere.
Wlodzimierz Cimoszewicz, a former Poland prime minister, speaking to The Economist, said of Bialowieza: "Whoever controls it, controls the country."
Logged area in Bialowieza forest, one of Europe's last lowland natural forests.Grzegorz Broniatowski / Greenpeace
Breaking the Stalemate

While the logging shows no signs of slowing down, the legal challenges continue.
Environmental lawyers at ClientEarth, together with partner NGOs, have been arguing since 2015 that increased logging in the Bialowieza Forest is illegal and threatens the ecosystem.
But the Supreme Administrative Court in Poland has ruled that the logging limits are set by the environment ministry and therefore cannot be appealed to the courts.
This gives courts in Poland no opportunity to verify whether the decision to log in Bialowieza is lawful, and has the same implications for other Polish forests managed by the state.
Consequently, for those unable to access justice through the Polish courts, EU intervention is the only means where the law can be used to ending the destruction of forest in Bialowieza.
The rest will be down to any pressure that the Polish people can put on politicians.
The decision by the European Court of Justice on whether or not they will impose penalties on Poland is expected in the coming days.
Reposted with permission from our media associate Unearthed.
Poland—home to some of the most bike-friendly cities in the world—unveiled a gorgeous, glowing bike path near Lidzbark Warminski in the Mazury region last week to help nighttime cyclists get from A to B.
Poland debuts its first bicycle path that lights up at night.Gazeta Wyborcza screen grab
The 100-meter track, created by construction company TPA Instytut Badan Technicznych in Pruszkow, is still in test phase.

Next Nature Network reported that the bike path illuminates at night thanks to blue luminophores, a synthetic material that emits light after being charged by the sun. The color blue was chosen for the path because the engineers thought it would best suit the scenic Mazury landscape.
TPA president Ruttmar told Polish publication Gazeta Wyborcza that the material used for their track can emit light for more than 10 hours, meaning it can radiate throughout the whole night and re-charge the next day as it absorbs the sun's rays.
Pierwsza w Polsce ścieżka rowerowa, która świeci się nocą. Świetny pomysł! #Mazury https://t.co/4o4Hq97u1d

— Paweł Jagiełło (@Paweł Jagiełło)1475516829.0
The engineers drew inspiration from a similar solar-powered bike path in the Netherlands known as the "Starry Night" bike lane that was unveiled by Studio Roosegaarde about two years ago.

The two paths, however, are different in a notable way. While the Dutch path lights up via solar-powered LEDs, the Polish path requires no additional power supply, Waldemar Królikowski, director of the Board of Regional Roads in Olsztyn, said.
5 new, revolutionary #solar innovations: http://t.co/Oms4hoB4aI via @EcoWatch http://t.co/b6LLkNJqgy

— Rainforest Alliance (@Rainforest Alliance)1432289711.0
According to Inhabitat, TPA designed the path with sustainability in mind. The company is also researching ways to optimize production costs since this illuminated bike path indeed costs more than conventional ones.

Check out the bike lane in the video (in Polish) below.

Activists from across the world came together this past Saturday to be part of a global movement calling for an end to the age of coal and standing together for a clean energy future.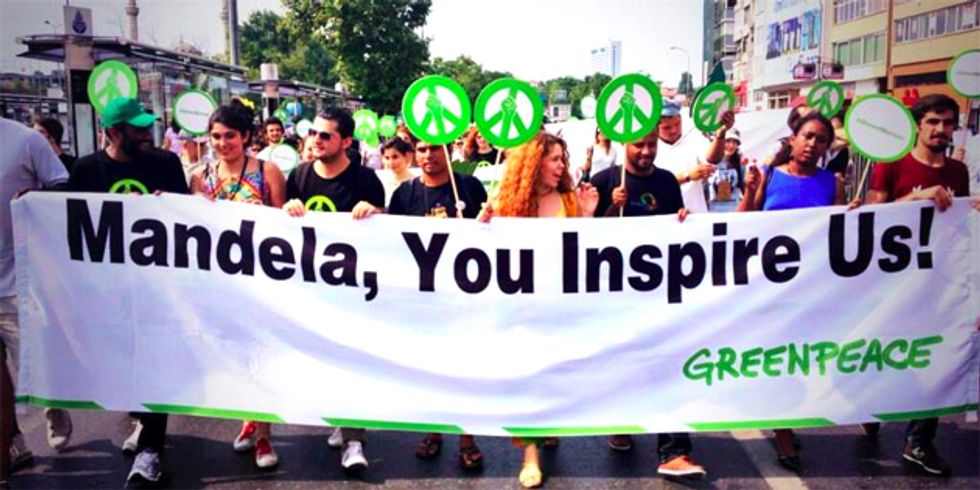 From the U.S. to the Philippines, Australia to Turkey and South Africa to Italy; Local, national and international organizations came together with individuals in the streets to stand against the world's dirtiest form of energy, which has dominated the energy sector for too long.
In Turkey, youth activists from across the globe attending Global Power Shift, joined with local groups in Istanbul, carrying a banner which read "Mandela, You Inspire Us" in tribute to the former South African president, they marched through the city's streets.
Meanwhile in South Africa, more than 100 activists met in Johannesburg's Gandhi Square with a symbolic anti-coal installation calling on the government to unplug coal power.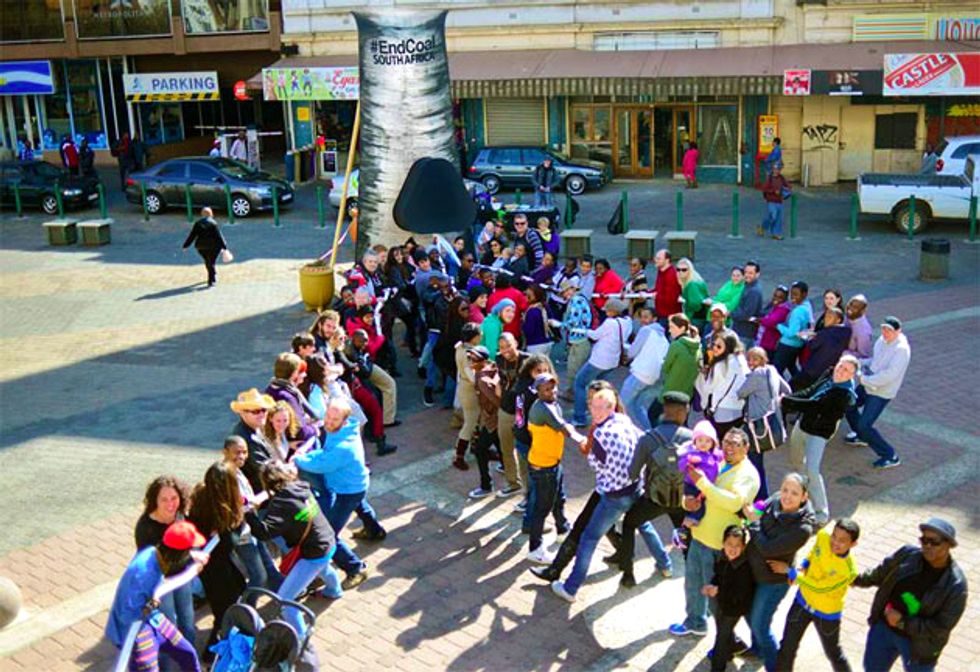 In Italy, Greenpeace activists displayed a huge floating banner reading "No Carbone—Quit Coal" in the sea alongside the Enel coal power station in Civitapvecchia, close to Rome, while an installation on dry land aimed to highlight the human impacts of the coal industry.
And in India, the day of action brought groups together from across the Vidharbha region affected by coal mining to share their frustrations, and come up with ideas on how to help each other to end the age of coal in their communities.
Burning coal remains the biggest contributor to climate change, which is already causing devastation and human suffering around the globe as intense storms, droughts and water shortages hit.
This year, the world passed a historic milestone, as concentrations of greenhouse gases passed the 400 parts per million threshold—reaching levels not seen for 3 million years.
Meanwhile, organizations from the World Bank to the International Energy Agency have warned against the impact that continued investments in fossil fuels would have on the planet, and health professionals continue to warn about the health impacts of coal—what they have named, "the silent epidemic."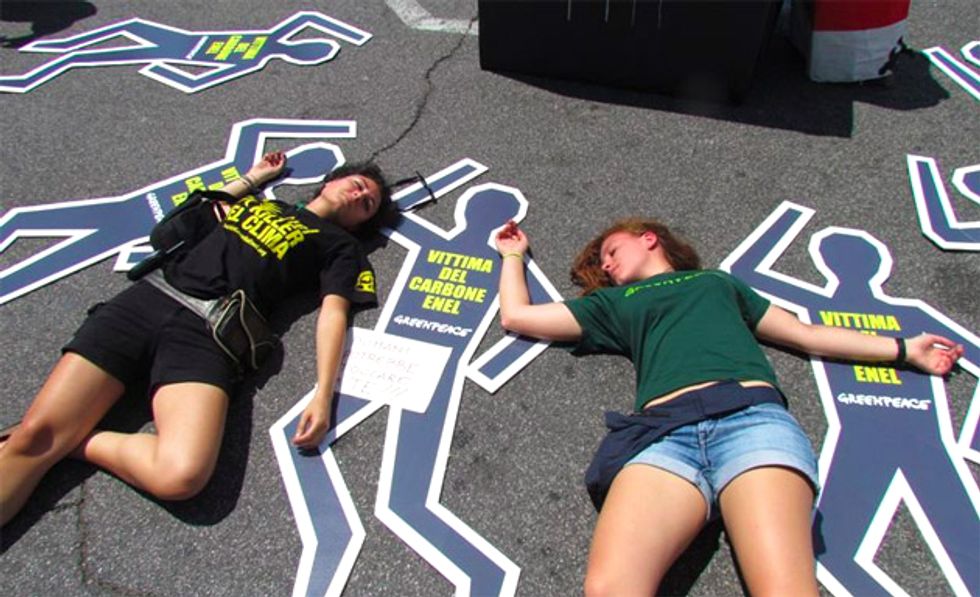 Despite such warnings, 1,200 new coal plants and mega coal mines are planned in countries across the world including China, India, Australia, Indonesia, the U.S., Poland and Germany. If allowed to go ahead, these could push the planet beyond the point of no return.
This weekend, activists showed they would not longer stand by allow the advancement of coal to threaten their futures. Standing together, they called for an end to the use of the dirty fuel and to put pressure on governments to switch to clean, sustainable, renewable energy.
The day of action was supported by a coalition of more than 50 national and international organizations that span the globe, including Greenpeace, 350.org, Avaaz, CoalSwarm.org, Environmental Justice Organisations, Liabilities and Trade, Friends of the Earth International and Sierra Club's International Climate Program.
Visit EcoWatch's COAL and RENEWABLES pages for more related news on this topic.

By J. Matthew Roney
Even amid policy uncertainty in major wind power markets, wind developers still managed to set a new record for installations in 2012, with 44,000 megawatts of new wind capacity worldwide. With total capacity exceeding 280,000 megawatts, wind farms generate carbon-free electricity in more than 80 countries, 24 of which have at least 1,000 megawatts. At the European level of consumption, the world's operating wind turbines could satisfy the residential electricity needs of 450 million people.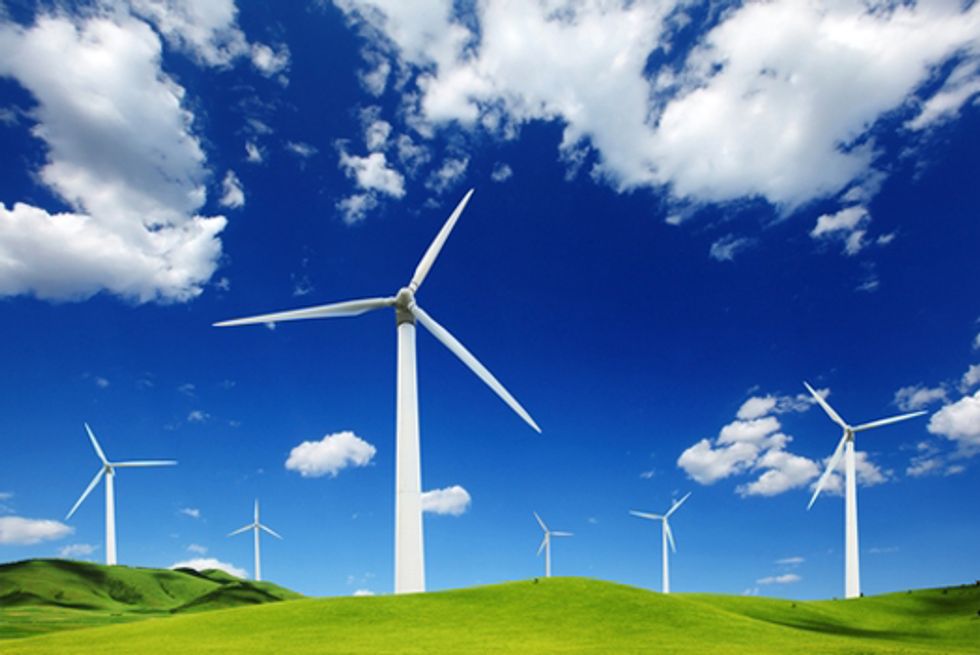 Photo courtesy of Shutterstock
China installed some 13,000 megawatts of wind in 2012, according to the Global Wind Energy Council (GWEC). This was a marked slowdown from the previous two years, when new installations averaged 18,000 megawatts annually. Reasons for the drop-off include concerns about project quality and inadequate electricity transmission and grid infrastructure, which prompted the government to approve fewer projects and to restrict lending. Still, all told, China leads the world with 75,000 megawatts of wind capacity: more than a quarter of the world total.
In a country more readily associated with coal-fired electricity and nuclear power ambitions, wind reached some impressive milestones in China's energy mix in 2012. Wind-generated electricity increased more than coal-fired electricity did for the first time. Even more remarkable, the electricity produced by wind farms over the course of the year exceeded that produced by nuclear power plants. And this is just the beginning: with massive wind projects under development across its northern and eastern provinces, and 19 ultra-high-voltage transmission projects connecting windy rural areas to population centers (all to be completed by 2014), more milestones lie ahead in China. Consulting firms GTM Research and Azure International project that China will reach 140,000 megawatts of wind by 2015 and nearly 250,000 megawatts by 2020.
The U.S. wind industry made headlines too. More new wind electricity generating capacity was added in 2012 than any other generation technology, including natural gas—a record 13,100 megawatts. An incredible 5,200 megawatts, spread among 59 wind farms, came online in December alone as developers raced to qualify for the federal production tax credit before it was set to expire at the end of the year. The U.S. remains second only to China, with 60,000 total megawatts of wind capacity—enough to power more than 14 million U.S. homes.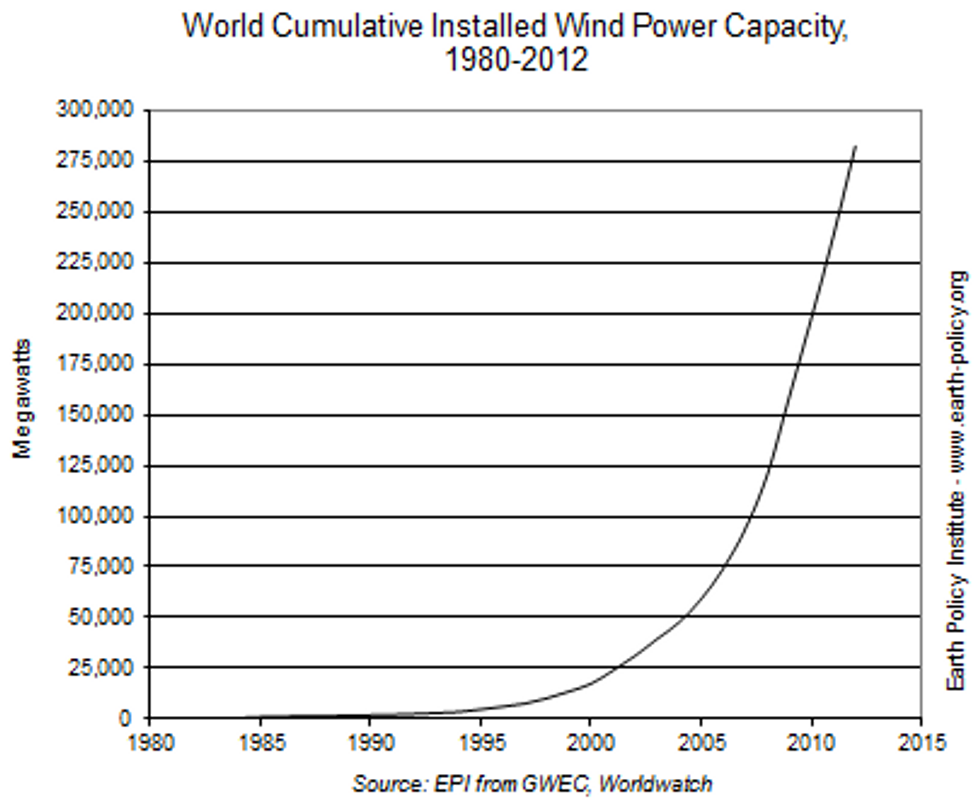 Several U.S. states have more installed wind capacity than most countries do. The 12,200 megawatts in Texas and the 5,500 megawatts in California, for example, would rank them sixth and eleventh, respectively, on the world wind power list. In Texas, a further 21,000 megawatts of wind projects are under consideration, much of which could be accommodated by the "Competitive Renewable Energy Zones" high-voltage transmission projects scheduled for completion by the end of 2013. These new lines will connect wind-rich West Texas and the panhandle with high-demand markets to the east. (See data).
Wind farms generated at least 10 percent of the electricity produced in nine states in 2012, up from five states the year before. Iowa and South Dakota got nearly a quarter of their electricity from wind. Oregon's 845-megawatt Shepherd's Flat wind farm, commissioned in 2012, is North America's largest. But in Carbon County, Wyoming, a project of up to 3,000 megawatts is under development.
To the north, Canada's 6,500 megawatts of wind power are sufficient to meet the electricity needs of nearly 2 million households. As Ontario, the country's most populous province, works to phase out coal-fired power by 2014, its wind generation is growing—in fact, Ontario's wires carried more electricity from wind than from coal for the first time in 2012.
The European Union (EU) added more megawatts of wind in 2012 than it did natural gas, coal, or nuclear, even as fiscal austerity measures cut renewable energy incentives. Several EU member states lead the world in the share of electricity they get from wind farms. Spain and Portugal typically have a 16 percent wind share. In Germany, whose 30,000 megawatts of wind capacity are the third highest in the world, the national wind share is 11 percent. Four of Germany's northern states now get roughly half of their electricity from wind.
But it is Denmark that sets the bar for wind's role in electricity production. The Danish Wind Industry Association reports that wind farms generated 30 percent of Denmark's electricity in 2012, up from 28 percent in 2011. The government pledged in late 2011 to boost this share to 50 percent by 2020.
Looking eastward, Romania and Poland each added roughly 900 megawatts of wind in 2012, reaching 2,500 and 1,900 megawatts, respectively. Turkey's goal is to reach 20,000 megawatts of wind in the next 10 years, nearly 10 times its current capacity.
Aside from China, India is the other big Asian wind market. With more than 18,000 megawatts installed, India ranks fifth worldwide in wind capacity. The government plans to spend roughly $8 billion on grid and transmission upgrades by 2017 through its "green energy corridors" plan. This is sorely needed in a country where nearly 300 million people do not have access to electricity.
Latin America, Africa, the Middle East and Oceania have enormous wind potential but little actual development thus far. Activity in each of these regions, however, indicates seriousness about harnessing the wind. In Latin America, Mexico more than doubled its wind capacity to almost 1,400 megawatts in 2012. Brazil, where wind installations grew 75 percent in 2012, could add another 1,500 megawatts in 2013 to reach 4,000 megawatts total.
Just 100 megawatts of wind were installed in all of Africa in 2012, split between Ethiopia and Tunisia. Kenya's long-awaited 310-megawatt Lake Turkana wind farm, which could generate more than 10 percent of national electricity, has suffered multiple setbacks but may begin construction in 2013. No new wind projects came online in the Middle East. Jordan is looking to grow its currently negligible wind power to 1,200 megawatts by 2020, however, and plans are also under way in Israel and Saudi Arabia.
In Australia, the goal is to get 20 percent of electricity from renewable sources by 2020. Half of the country's current 2,600 megawatts of wind is in the state of South Australia, where wind farms generated 24 percent of all electricity in 2012. The January 2013 commissioning of the 420-megawatt Macarthur wind farm in the state of Victoria gets the country halfway to its expected 30 percent wind growth for the year.
Most of the world's installed wind capacity is land-based; just 2 percent—roughly 5,400 megawatts—has been built offshore. Recently, however, offshore development has accelerated, more than tripling over the last five years. Ten of the 12 countries with offshore wind farms are European. The United Kingdom hosts more than half of the world's offshore capacity and aims for 18,000 megawatts of offshore wind by 2020; its offshore wind resources are actually estimated to be 16 times larger than its electricity consumption. In Denmark, some 15 percent of electricity is expected to come from offshore wind farms by 2014.
China and Japan are the only offshore wind producers outside of Europe, hosting 390 megawatts and 25 megawatts, respectively. With 130 megawatts installed in 2012 alone, China has quickly amassed the world's third largest offshore capacity figure; the country's near-term offshore targets are 5,000 megawatts by 2015 and 30,000 by 2020. In the wake of the 2011 disaster at the Fukushima nuclear power plant, Japan is looking to harness more of its offshore wind, a resource plentiful enough to meet national electricity needs nearly three times over. And in South Korea, numerous offshore projects are under way, as the country's wind industry aims to reach 23,000 megawatts of wind power by 2030.
According to Navigant Research, new wind installations worldwide will fall to some 40,000 megawatts in 2013. This would be the first instance in at least 17 years when annual additions did not increase year-to-year. Much of this deceleration will likely be the result of a slowdown in U.S. development. Still, the annual market is expected to rebound in 2014 as costs continue to fall, as major players recover, and as newcomers in Africa, the Middle East and the Baltic region begin to realize their wind ambitions. GWEC and Greenpeace International project at least 425,000 megawatts of wind capacity worldwide by 2015—enough to generate electricity for all of Central and South America. The world is starting to realize that wind's potential is almost without limit.
Visit EcoWatch's RENEWABLES page for more related news on this topic.
——–
Click here to tell Congress to Expedite Renewable Energy.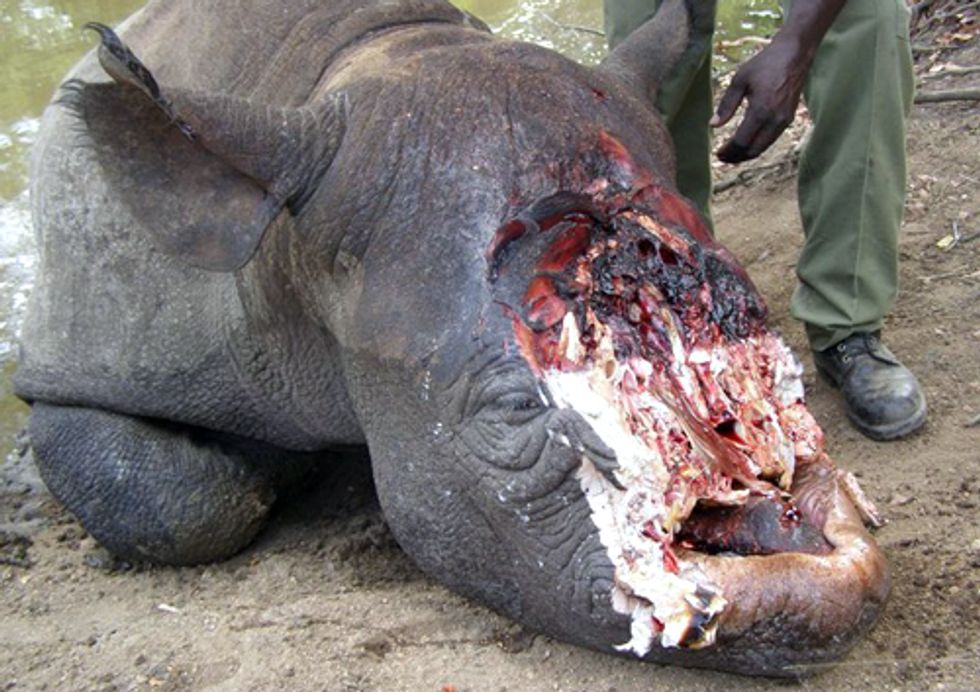 Photo courtesy of Anti-poaching Unit, Zimbabwe
Escalating levels of poaching and illegal trade in rhino horns are seriously undermining rhino conservation efforts, putting the survival of these species at risk—according to a report by International Union for Conservation of Nature (IUCN) and TRAFFIC.
 
The report examines the conservation status and trade in African and Asian rhino species.
 
"The findings of the report are alarming," says Tom Milliken, a rhino expert from TRAFFIC. "Today, rhino poaching and illegal horn trade are at their highest levels in over 20 years, threatening to reverse years of conservation effort, particularly in Africa. There is no doubt that rhino species are facing a serious crisis."
 
According to the report, by the beginning of 2011 there were 20,165 White Rhinoceros (Ceratotherium simum) and 4,880 Black Rhinoceros (Diceros bicornis) in Africa. However, at least 1,997 rhinos were poached between 2006 and September 2012 and over 4,000 rhino horns have been illegally exported from Africa since 2009, with an estimated 92 percent of these coming from rhinos specifically killed to obtain their horn.
 
South Africa, home to 83 percent of Africa's rhinos and 73 percent of all wild rhinos worldwide, is the principal source of rhino horns in illegal trade. A record 668 rhinos were poached there in 2012, according to official government figures released in January 2013.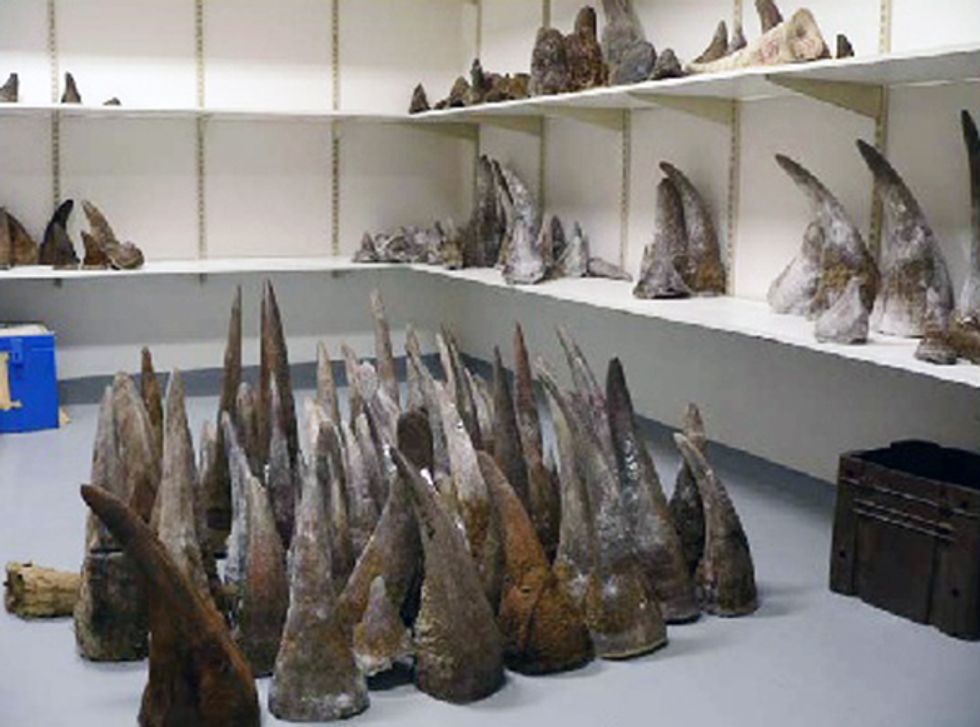 Photo Courtesy of Simon Milledge/TRAFFIC
Illegal trade in rhino horns involves highly organized, mobile and well-financed criminal groups, mainly composed of Asian nationals based in Africa. These networks have recruited pseudo-hunters including Vietnamese citizens, Thai prostitutes and proxy hunters from the Czech Republic and Poland to obtain rhino horns in South Africa on the pretense of trophy hunts for illegal commercial trade. Pseudo-hunting has significantly reduced as a result of a decision to prevent nationals of Vietnam from obtaining hunting licenses and changes to South African law in April 2012. However, there remains a continued need to ensure that only bona fide hunters are granted permits, according to the report.
 
"Rhinos are killed for their horns, which are seen as highly desirable status symbols in parts of Asia, notably Vietnam, but also increasingly in China," says Bibhab Kumar Talukdar, Chair of IUCN Species Survival Commission's (SSC) Asian Rhino Specialist Group. "Horns are also increasingly used for non-traditional purposes such as hangover cure and body detoxifier, especially in Viet Nam."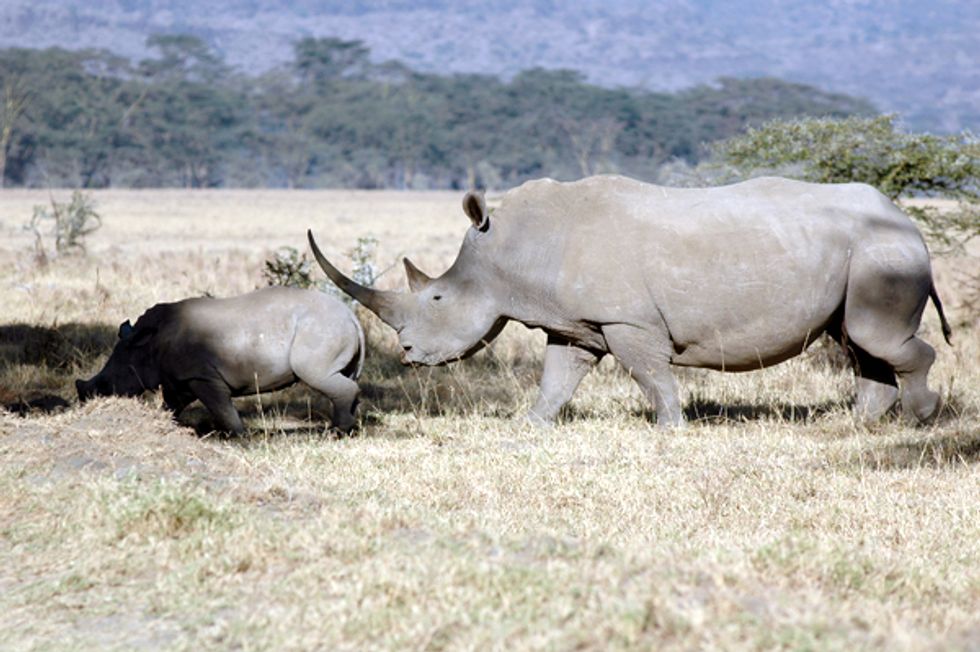 White Rhinoceros (Ceratotherium simum). Photo courtesy of Jean-Christophe Vié
In Asia, although conservation action in Nepal and India has resulted in increased numbers of the Greater One-horned Rhinoceros (Rhinoceros unicornis), the situation in Indonesia and Malaysia remains serious for the world's two rarest rhino species—the Sumatran Rhinoceros (Dicerorhinus sumatrensis) and the Javan Rhinoceros (Rhinoceros sondaicus). The Javan Rhinoceros, with only around 35 to 45 surviving individuals, is confined to a single park in Indonesia after the last animal of its Indochinese subspecies, Rhinoceros sondaicus annamiticus, was found dead, its horn removed, in Vietnam in 2010. The report calls for enhanced protection and biological management of the remaining Sumatran and Javan Rhinoceros to prevent their extinction.
 
Thefts of rhino horns from museums and zoos have increased worldwide, creating the need for improved law enforcement, monitoring and enhanced information management with regards to rhino numbers, sales and translocations, the report finds.
 
"Trade in rhino horns is a global problem that needs to be addressed by the international community by putting pressure on those countries that are driving illegal trade in rhino horn and those with inadequate wildlife legislation, such as Mozambique," says Richard Emslie, from IUCN SSC African Rhino Specialist Group. "At the same time, increased poaching is negatively affecting rhino conservation incentives and budgets, threatening future rhino population growth."
 
The report was compiled by the IUCN SSC African and Asian Rhino Specialist Groups and TRAFFIC, the wildlife trade monitoring network. It was mandated by Convention on International Trade in Endangered Species (CITES) and aims to inform the rhino horn debate at the 16th meeting of the Conference of the Parties to CITES, taking place in March 2013 in Bangkok, Thailand.
Visit EcoWatch's BIODIVERSITY page for more related news on this topic.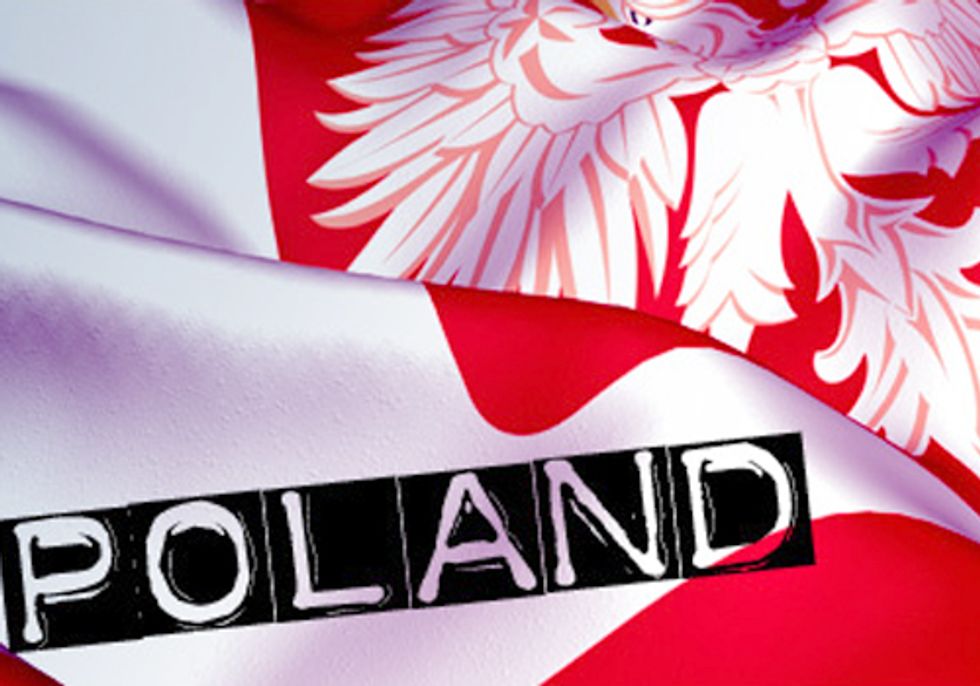 Today, a wide range of Polish and international non-governmental organizations and academics gathered in Warsaw, Poland, to critically assess the ambition of the Polish government to develop its potential shale gas resources on a large scale.
After a long string of corporate conferences on the topic, the Boell Foundation in Warsaw and Food & Water Europe offered a platform to concerned citizens and groups to air the legitimate concerns about the environmental and economic impacts of fracking. The title of the conference was Blessing or curse? Understanding the risks and impacts of fracking in Poland.
A common theme throughout the presentations was the lack of a balanced debate in Poland about the risks and negative impacts involved in the large-scale extraction of shale gas. The Polish government and the domestic and foreign shale gas companies have painted a rosy picture about shale gas in the U.S., exaggerating its benefits while downplaying the costs, especially for local communities.
"Food & Water Europe strongly believes that citizens should be able to engage in an open debate about a whole range of issues, including and especially in discussions on energy policy," said Geert De Cock, policy officer for Food & Water Europe. "Decisions on a country's energy mix have all too often been taken behind closed doors and only after consulting a limited number of actors, such as utility and fossil fuel companies. Decisions on energy policy and shale gas in particular will have long-lasting effects for Poland. A thorough debate is needed and that can only happen if all voices are heard."
"Shale gas has been promoted as the one and only option to help Poland transition to a low-carbon energy mix," added Monika Walencka, energy program coordinator at the Boell Foundation. "The Heinrich Boell Foundation, Warsaw was keen to explore the role of shale gas with experts in the field of climate and energy. Exploring alternative options for Poland, which exclude a large-scale development of another fossil fuel source like shale gas, are essential to avoid a carbon lock-in Poland's energy mix and high emissions for decades to come."
This conference helped to clarify that key concerns about how the environmental and health impacts of large-scale shale gas activities remain unaddressed. Without a transparent and wide-ranging political debate on this issue, Poland might end up in a situation like in the U.S., where regulators are forever engaged in a catching up with a booming shale gas industry.
Other countries in Europe have adopted a wide range of positions on shale gas, ranging from a ban on the use of hydraulic fracturing to a moratorium to commissioning a number of studies on how to best deal with the risks and impacts of fracking. Poland would greatly benefit from more thoroughly engaging with such work, which is being done elsewhere in Europe and in Brussels in particular. The wait-and-see approach of Polish officials will become increasingly untenable, as fracking for shale gas will provoke resistance of local communities, having to live with the reality of hundreds of shale gas wells in their area.
Visit EcoWatch's FRACKING page for more related news on this topic.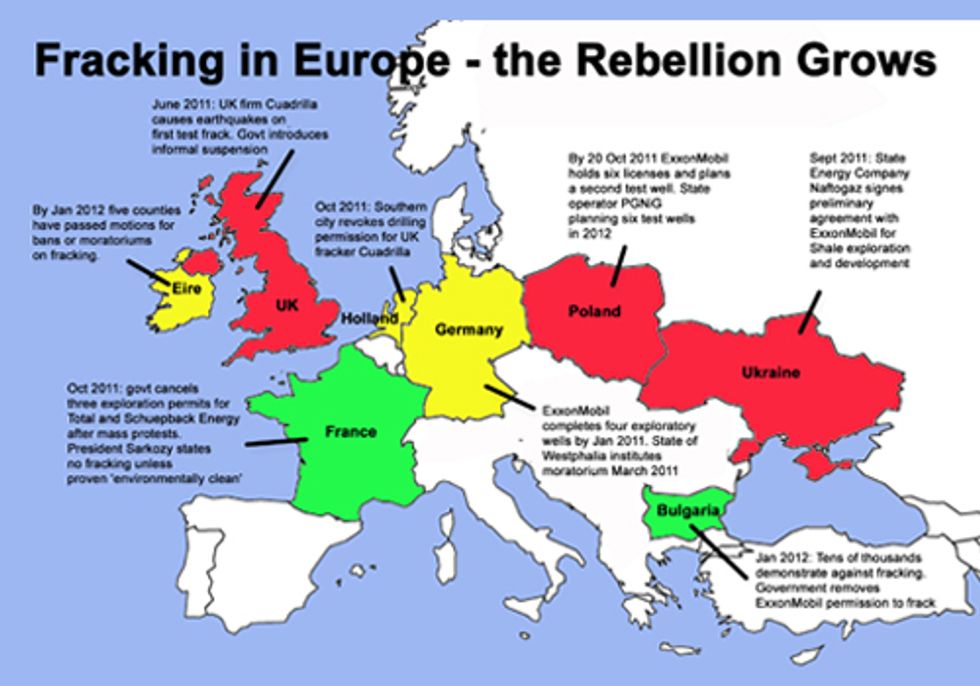 Recent media reports from Poland show that heavy-handed tactics such as spying and undercover operations are being used against groups and individuals who question shale gas development. Shale gas companies have sent spies to anti-fracking meetings and reported their findings to the highest levels of the Polish government and internal security services, according to reports in a Polish daily newspaper.
Food & Water Europe today urged Polish Members of the European Parliament who are active in the policy debates on shale gas in Brussels to distance themselves from such tactics and to acknowledge that the work of environmentalists and local groups are based on legitimate environmental and economic concerns about the impacts of fracking.
"Food & Water Europe strongly believes that citizens should be able to engage in an open debate about a whole range of issues, including and especially in discussions on energy policy," said Wenonah Hauter, executive director of Food & Water Watch. "Decisions on a country's energy mix have all too often been taken behind closed doors and only after consulting a limited number of actors, such as utility and fossil fuel companies. Decisions on energy policy and shale gas in particular will have long-lasting effects for Poland and the EU. A thorough debate is needed and that can only happen if all voices are heard."
On Oct. 4, the daily newspaper Gazeta Prawna reported that one of the shale gas investors had sent spies into local communities that have expressed concerns about the environmental impact of fracking. Gazeta Prawna was able to access a government document, which stated the following: "The Ministry of Foreign Affairs received from one of the energy companies, engaged in exploration of shale gas, a copy of the record of a discussion among anti-shale associations (...) the content of the enclosed information indicates a significant radicalization of positions of NGOs in relation to shale gas." The press office of the Ministry confirmed that the public safety authorities received such as document due to the alleged intention of anti-fracking groups "to breach public security and order."
So far, energy companies as well as the Polish government have offered their own positive 'spin' on the supposed benefits of large-scale unconventional gas and have consistently downplayed the risks involved. "In view of this manifest bias in the Polish 'debate', local communities increasingly find that their concerns about the environmental and health impacts of shale gas activities are not taken seriously," said Hauter. "This lack of an independent, science-based assessment of risks involved in shale gas in Poland is the reason why numerous local associations there are not welcoming this industry with open arms."
In addition, Polish citizens now also have to fear violations of their fundamental right "to receive and impart information and ideas without interference by public authority," as guaranteed by Article 10 of the European Convention on Human Rights. Food & Water Europe is concerned that the Polish government perceives critical questions from civil society about shale gas as an attempt "to breach public security and order."
This belief in the benefits of an open debate has led Food & Water Europe—in cooperation with the Polish Boell Foundation—to organize a conference to discuss with the Polish public and media the negative impacts and the risks involved in developing shale gas resources on a large scale. The conference is entitled Naiveté or rationality? Understanding the risks and impacts of fracking in Poland and will take place in the afternoon of Oct.22.
Visit EcoWatch's FRACKING page for more related news on this topic.