This website uses cookies to ensure you get the best experience while browsing it. By clicking 'Got It' you're accepting these terms.
Man lying on plastic infested coast of Villa El Salvador near Lima, Peru in May.
Jordan Beltran / Unsplash
The government of India is set to impose a nationwide ban on plastic bags, cups and straws on October 2, officials announced, in its most sweeping measure yet to eradicate single-use plastics from cities and villages that have ranked among the world's most polluted.
Did you know that nearly a month, India's National Capital Region—a massive swath of land that includes the nation's capital territory, Delhi—outlawed disposable plastic? On Jan. 1, the National Green Tribunal (NGT) enacted a ban on one-time use items such as plastic grocery bags and cups for the region's 54 million inhabitants, the world's second largest urban agglomeration.
The initiative puts America's local and state plastic bag bans to shame, not to mention our bans on plastic bag bans.
The Delhi government was ordered to "take steps for storage and use of plastic materials with effect from January 1, 2017."
As Fast Company reports, three waste-to-energy plants in Delhi were singled out for the air pollution they caused from burning plastic waste:
"Delhi's three main trash dumps—Okhla, Gazipur and Bhalswa—are 'a depiction of mess that can be created for environment and health of people of Delhi,' said India's National Green Tribunal (NGT) chairperson Swatanter Kumar at the tribunal.
"Delhi uses waste-to-energy plants to produce electricity, and when those plants burn plastic waste, they spew pollution into the air. And if it isn't burned, the plastic ends up clogging the Yamuna, the second largest tributary river of the Ganges."
The plants will be fined around $7,300 for each act of non-compliance.
Many have questioned how easy it will be to enforce such an order. Shopkeepers and street vendors found themselves unprepared and even unaware of the ban.

"Instead of targeting us, the authorities should stop the factories that make these items," an unnamed stationery shop owner in Meherchand Market told The Hindu. "We have already started keeping cloth bags instead of plastic ones, but we haven't been able to fully stop using plastic as customers ask for it."
Environmentalists, however, have applauded the ban.
"These plastic materials end up clogging drains and some make their way into the Yamuna. There are several studies that prove how dangerous this is. The order of the NGT was much needed, but its implementation will be key," forestry and wildlife expert Manoj Misra told the same publication.
India's latest plastic ban cannot come soon enough. A 2015 study ranked India as the 12th biggest plastic polluter in the world, but expected it to bump up to No. 5 as its economy grows.
EcoWatch Daily Newsletter
It took nearly a decade of grassroots organizing to ban the sale of plastic water bottles on public property in San Francisco, according to Nick Guroff of the nonprofit Corporate Accountability International. Finally, in early March 2014, the city's Board of Supervisors voted unanimously to pass a bottle-banning ordinance introduced a year earlier; Mayor Edwin M. Lee signed it into law shortly thereafter.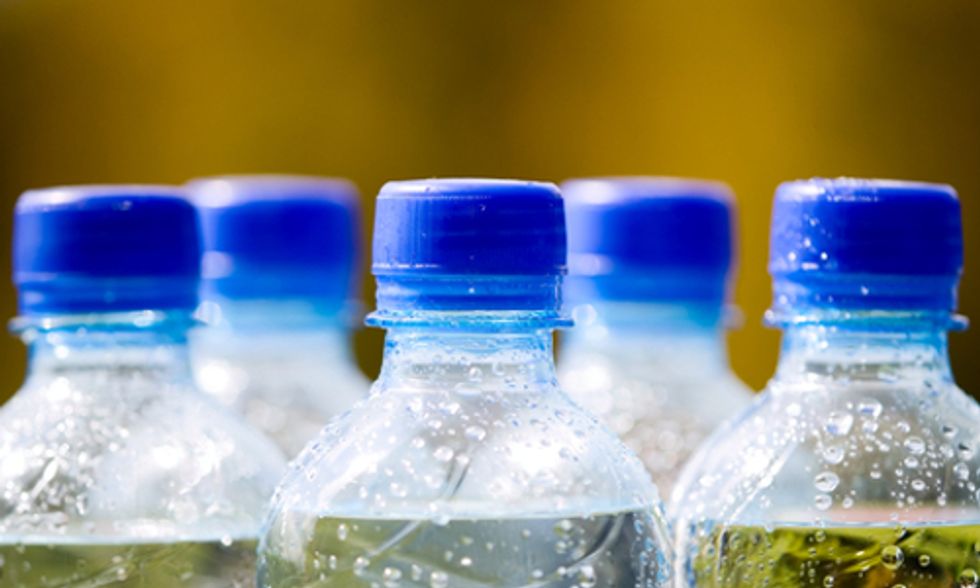 The ban is set to go into effect in October 2014, and will be the first of its kind in the nation. Photo courtesy of Shutterstock
As Eve Andrews wrote in an article at Grist.org, "San Francisco might have done it just a little bit to make every other American city look even worse. (Oh, come on! You were thinking it too!)"
Still, we're cheering for this ecological victory in "Frisco."
Set to take effect in October 2014, it's the first law of its kind to be adopted by a major U.S. city.
"Where we have public spaces, either in buildings or in parks and other open space—these are places that we don't want the sale or distribution of plastic water bottles," said David Chiu, the city official who introduced the ordinance last year.
Instead, the city is encouraging residents to use metal or other reusable bottles, Chiu said. As with bans on plastic grocery bags in many cities, the goal is to promote sustainability by cutting down on needless and ecologically harmful waste.
In the video below, created by Center for a New American Dream, San Franciscans talk about how they got the new law passed and how it will be implemented.