Man lying on plastic infested coast of Villa El Salvador near Lima, Peru in May.
Jordan Beltran / Unsplash
The government of India is set to impose a nationwide ban on plastic bags, cups and straws on October 2, officials announced, in its most sweeping measure yet to eradicate single-use plastics from cities and villages that have ranked among the world's most polluted.
EcoWatch Daily Newsletter
Did you know that nearly a month, India's National Capital Region—a massive swath of land that includes the nation's capital territory, Delhi—outlawed disposable plastic? On Jan. 1, the National Green Tribunal (NGT) enacted a ban on one-time use items such as plastic grocery bags and cups for the region's 54 million inhabitants, the world's second largest urban agglomeration.
The initiative puts America's local and state plastic bag bans to shame, not to mention our bans on plastic bag bans.
Michigan Bans Local Plastic Bag Bans https://t.co/8KCCuqIDvq @Plastic_Bag_Ban @SaveOurShores

— EcoWatch (@EcoWatch)1483152906.0
The Delhi government was ordered to "take steps for storage and use of plastic materials with effect from January 1, 2017."
As Fast Company reports, three waste-to-energy plants in Delhi were singled out for the air pollution they caused from burning plastic waste:
"Delhi's three main trash dumps—Okhla, Gazipur and Bhalswa—are 'a depiction of mess that can be created for environment and health of people of Delhi,' said India's National Green Tribunal (NGT) chairperson Swatanter Kumar at the tribunal.
"Delhi uses waste-to-energy plants to produce electricity, and when those plants burn plastic waste, they spew pollution into the air. And if it isn't burned, the plastic ends up clogging the Yamuna, the second largest tributary river of the Ganges."
The plants will be fined around $7,300 for each act of non-compliance.
Many have questioned how easy it will be to enforce such an order. Shopkeepers and street vendors found themselves unprepared and even unaware of the ban.

"Instead of targeting us, the authorities should stop the factories that make these items," an unnamed stationery shop owner in Meherchand Market told The Hindu. "We have already started keeping cloth bags instead of plastic ones, but we haven't been able to fully stop using plastic as customers ask for it."
Environmentalists, however, have applauded the ban.
"These plastic materials end up clogging drains and some make their way into the Yamuna. There are several studies that prove how dangerous this is. The order of the NGT was much needed, but its implementation will be key," forestry and wildlife expert Manoj Misra told the same publication.
India's latest plastic ban cannot come soon enough. A 2015 study ranked India as the 12th biggest plastic polluter in the world, but expected it to bump up to No. 5 as its economy grows.
waterlust.com / @tulasendlesssummer_sierra .
Each product featured here has been independently selected by the writer. If you make a purchase using the links included, we may earn commission.
The bright patterns and recognizable designs of Waterlust's activewear aren't just for show. In fact, they're meant to promote the conversation around sustainability and give back to the ocean science and conservation community.
Each design is paired with a research lab, nonprofit, or education organization that has high intellectual merit and the potential to move the needle in its respective field. For each product sold, Waterlust donates 10% of profits to these conservation partners.
Eye-Catching Designs Made from Recycled Plastic Bottles
waterlust.com / @abamabam
The company sells a range of eco-friendly items like leggings, rash guards, and board shorts that are made using recycled post-consumer plastic bottles. There are currently 16 causes represented by distinct marine-life patterns, from whale shark research and invasive lionfish removal to sockeye salmon monitoring and abalone restoration.

One such organization is Get Inspired, a nonprofit that specializes in ocean restoration and environmental education. Get Inspired founder, marine biologist Nancy Caruso, says supporting on-the-ground efforts is one thing that sets Waterlust apart, like their apparel line that supports Get Inspired abalone restoration programs.
"All of us [conservation partners] are doing something," Caruso said. "We're not putting up exhibits and talking about it — although that is important — we're in the field."
Waterlust not only helps its conservation partners financially so they can continue their important work. It also helps them get the word out about what they're doing, whether that's through social media spotlights, photo and video projects, or the informative note card that comes with each piece of apparel.
"They're doing their part for sure, pushing the information out across all of their channels, and I think that's what makes them so interesting," Caruso said.
And then there are the clothes, which speak for themselves.
Advocate Apparel to Start Conversations About Conservation
waterlust.com / @oceanraysphotography
Waterlust's concept of "advocate apparel" encourages people to see getting dressed every day as an opportunity to not only express their individuality and style, but also to advance the conversation around marine science. By infusing science into clothing, people can visually represent species and ecosystems in need of advocacy — something that, more often than not, leads to a teaching moment.

"When people wear Waterlust gear, it's just a matter of time before somebody asks them about the bright, funky designs," said Waterlust's CEO, Patrick Rynne. "That moment is incredibly special, because it creates an intimate opportunity for the wearer to share what they've learned with another."
The idea for the company came to Rynne when he was a Ph.D. student in marine science.
"I was surrounded by incredible people that were discovering fascinating things but noticed that often their work wasn't reaching the general public in creative and engaging ways," he said. "That seemed like a missed opportunity with big implications."
Waterlust initially focused on conventional media, like film and photography, to promote ocean science, but the team quickly realized engagement on social media didn't translate to action or even knowledge sharing offscreen.
Rynne also saw the "in one ear, out the other" issue in the classroom — if students didn't repeatedly engage with the topics they learned, they'd quickly forget them.
"We decided that if we truly wanted to achieve our goal of bringing science into people's lives and have it stick, it would need to be through a process that is frequently repeated, fun, and functional," Rynne said. "That's when we thought about clothing."
Support Marine Research and Sustainability in Style
To date, Waterlust has sold tens of thousands of pieces of apparel in over 100 countries, and the interactions its products have sparked have had clear implications for furthering science communication.
For Caruso alone, it's led to opportunities to share her abalone restoration methods with communities far and wide.
"It moves my small little world of what I'm doing here in Orange County, California, across the entire globe," she said. "That's one of the beautiful things about our partnership."
Check out all of the different eco-conscious apparel options available from Waterlust to help promote ocean conservation.
Melissa Smith is an avid writer, scuba diver, backpacker, and all-around outdoor enthusiast. She graduated from the University of Florida with degrees in journalism and sustainable studies. Before joining EcoWatch, Melissa worked as the managing editor of Scuba Diving magazine and the communications manager of The Ocean Agency, a non-profit that's featured in the Emmy award-winning documentary Chasing Coral.
It took nearly a decade of grassroots organizing to ban the sale of plastic water bottles on public property in San Francisco, according to Nick Guroff of the nonprofit Corporate Accountability International. Finally, in early March 2014, the city's Board of Supervisors voted unanimously to pass a bottle-banning ordinance introduced a year earlier; Mayor Edwin M. Lee signed it into law shortly thereafter.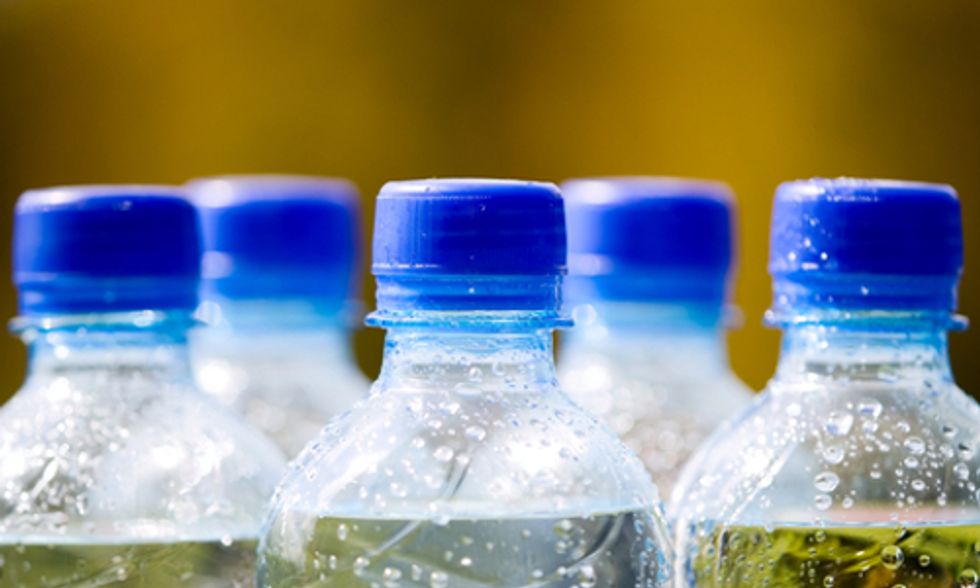 The ban is set to go into effect in October 2014, and will be the first of its kind in the nation. Photo courtesy of Shutterstock
As Eve Andrews wrote in an article at Grist.org, "San Francisco might have done it just a little bit to make every other American city look even worse. (Oh, come on! You were thinking it too!)"
Still, we're cheering for this ecological victory in "Frisco."
Set to take effect in October 2014, it's the first law of its kind to be adopted by a major U.S. city.
"Where we have public spaces, either in buildings or in parks and other open space—these are places that we don't want the sale or distribution of plastic water bottles," said David Chiu, the city official who introduced the ordinance last year.
Instead, the city is encouraging residents to use metal or other reusable bottles, Chiu said. As with bans on plastic grocery bags in many cities, the goal is to promote sustainability by cutting down on needless and ecologically harmful waste.
In the video below, created by Center for a New American Dream, San Franciscans talk about how they got the new law passed and how it will be implemented.