By Fiona Nicholls
Good news! Plastics bans across the world have been hitting the headlines lately.
From the U.S. to India to Morocco, governing bodies are taking control of the plastic pollution problem, bringing in either complete bans on plastic or bans on specific forms like polystyrene.
1. Karnataka, India
In March this year, the Indian state of Karnataka completely banned the use of plastic across the state. No wholesale dealer, retailer or trader can now use or sell plastic carrier bags, plastic plates, plastic cups, plastic spoons, cling film or anything of the sort. Since the ban came into effect four months ago 39,000kg of illegal plastic has been seized from Bengalaru, the state capital.
They even made sure to ban microbeads while they were at it! Go Karnataka!
2. The U.S. (Okay, So There's a Few Places in the U.S.)
Back in 2007, San Francisco became the first U.S. city to ban plastic shopping bags and in 2014, the city banned plastic water bottles on city properties. Last month, San Francisco joined Los Angeles and Portland and enforced a ban on styrofoam. Styrofoam is the material used for packaging peanuts, the contents of beans bags (do people still have bean bags?). It's expanded polystyrene, also known as thermocol.
Polystyrene is a problem plastic because it's very difficult to recycle. In the U.S., it's largely used for packaging eggs, meats and fruit and so a ban on this particular form of plastic will have a larger impact that you may first think.
In July 2015, Honolulu, Hawaii introduced a ban on single use plastic bags (with small exceptions, e.g. for medical use). The bill was passed by County Councils, rather than by the state legislature, which was a real victory for the local grassroots organizations. People power!
3. Coles Bay, Tasmania
Leading the way back in 2003, Coles Bay, Tasmania was the first town in Australia to ban disposable plastic bags. During the first year of the ban 350,000 fewer plastic bags were used in the area.
4. Ethiopia
In 2011, Ethiopia passed a ban preventing the manufacture and import of disposable (aka single use) plastic shopping bags. This ban was in conjunction with a decision to develop wind power and geothermal energy projects, as part of Ethiopia's Green Growth Strategy.
5. France
Last month, France brought in a ban on single-use plastic bags ('less than 10L capacity' and with a thickness of less than 50 microns, you know ... microns!), like the ones handed out by major supermarkets globally. This is part of a wider EU crackdown on plastic use, acknowledging that plastic has a major impact on the environment and must be addressed.

6. Morocco
Morocco is (or was) the world's second largest consumer of plastic bags after the U.S.. Their ban is pretty comprehensive, it includes a stop on the production, import, sale and distribution of plastic bags, prompting a major rush on plastic bag stockpiling just before coming into effect. The resistance to the ban shows just how ingrained plastic and plastic bags are in our day-to-day habits and highlights the importance of a ban. Go Morocco!
These are just a few of the main plastics bans in place across the world, which is great, so why is it important? Plastic in the oceans is a real problem, already, huge gyres swirl with polluting plastic. And we've seen the dire consequences of marine life mistaking plastics for food. Greenpeace is campaigning hard to end plastic pollution in our oceans. Add your name to the Plastics Pledge to help cut plastic pollution!
Fiona Nicholls is an oceans campaigner with Greenpeace UK.
EcoWatch Daily Newsletter
England has cut its plastic bag use by 85 percent ever since a 5 pence (7 cent) charge was introduced last October, according to government figures.
England's plastic bag usage has dropped significantly ever since a 5p levy was introduced last year. Flickr
The Department for Environment, Food & Rural Affairs (DEFRA) announced that 6 billion fewer plastic bags were taken home by shoppers in England. The levy also resulted in a £29 million ($38 million) donated to charity and other good causes thanks to the charge.
"This is the equivalent to the weight of roughly 300 blue whales, 300,000 sea turtles or three million pelicans," DEFRA said about the eliminated bags.
People will take 6 billion fewer single-use plastic bags this year #reusebags https://t.co/lbWcBaMG4V https://t.co/u9dovKEPez

— Defra UK (@Defra UK)1469909717.0
To arrive at the 6 billion figure, officials calculated that the seven main retailers in England (Asda, Co-operative Group, Marks & Spencer, Morrison's, Sainsbury's, Tesco and Waitrose) passed out 7.6 billion bags in 2014. However, after the 5 pence charge was enacted, the retailers handed out just over half a billion bags in the first six months.
According to the Guardian, the bag fee was introduced to help reduce litter and protect wildlife. The idea also came about because English consumers were steadily using more and more bags every year, as you can see in the chart below.
Plastic bag use set to plummet 90% in England since 5p charge started https://t.co/CDzE98uXvD https://t.co/Xi5WZSlWFM

— Jess Shankleman (@Jess Shankleman)1469874878.0
Environment Minister Therese Coffey said taking 6 billion plastic bags out of circulation is "fantastic news for all of us."

"It will mean our precious marine life is safer, our communities are cleaner and future generations won't be saddled with mountains of plastic," she added.
Incidentally, England is the last member of the UK to adopt the scheme—Scotland, Wales and Northern Ireland had already been charging for bags for years. Wales, for instance, stopped giving out free plastic bags back in 2011, cutting usage by 71 percent between 2011 and 2014, WalesOnline reported.
The publication noted that Northern Ireland has had a bag tax since April 2013 with the the number of bags issued by supermarkets falling from 190 million to 30 million in 2014. Scotland's similar legislation in 2014 slashed plastic bag usage by 80 percent.
Government bans or fees on these single-use items are clearly working, and they come at a crucial time for our oceans. A startling report from earlier this year warned that if plastic pollution continues at the current rate, there will be more plastic than fish in the ocean by 2050.
Morocco Bans Plastic Bags - EcoWatch https://t.co/rsXO8fJsf9 @SaveOurShores @Plastic_Bag_Ban

— EcoWatch (@EcoWatch)1469670906.0
"Around eight million tonnes of plastic makes its way into oceans each year, posing a serious threat to our natural and marine environment—experts estimate that plastic is ingested by 31 species of marine mammals and more than 100 species of sea birds," DEFRA said.
"It shows small actions can make the biggest difference, but we must not be complacent as there is always more we can all do to reduce waste and recycle what we use," Coffey noted.

We can all do our part in slashing or eliminating our plastic footprint.
"The plummeting plastic bag use demonstrates the huge benefits just a small change in our everyday habits can make. It means less damaging plastic finding its inevitable way into our waterways and countryside. This is a massive boon for nature and wildlife," Andrew Pendleton of Friends of the Earth told the Guardian.
"With attention now turning to the millions of non-recyclable coffee cups that go to landfill and to oversized boxes and excess packaging as a by-product of online shopping, the government and forward-thinking businesses have a golden chance to cut waste and reduce resource use in a sensible way that consumers welcome," he added.
4 Billion @Starbucks ToGo Cups Thrown Away Each Year; Will Recyclable Cup Reduce This?https://t.co/NgclArGMcv @PlasticPollutes @storyofstuff

— EcoWatch (@EcoWatch)1469204447.0
waterlust.com / @tulasendlesssummer_sierra .
Each product featured here has been independently selected by the writer. If you make a purchase using the links included, we may earn commission.
The bright patterns and recognizable designs of Waterlust's activewear aren't just for show. In fact, they're meant to promote the conversation around sustainability and give back to the ocean science and conservation community.
Each design is paired with a research lab, nonprofit, or education organization that has high intellectual merit and the potential to move the needle in its respective field. For each product sold, Waterlust donates 10% of profits to these conservation partners.
Eye-Catching Designs Made from Recycled Plastic Bottles
waterlust.com / @abamabam
The company sells a range of eco-friendly items like leggings, rash guards, and board shorts that are made using recycled post-consumer plastic bottles. There are currently 16 causes represented by distinct marine-life patterns, from whale shark research and invasive lionfish removal to sockeye salmon monitoring and abalone restoration.

One such organization is Get Inspired, a nonprofit that specializes in ocean restoration and environmental education. Get Inspired founder, marine biologist Nancy Caruso, says supporting on-the-ground efforts is one thing that sets Waterlust apart, like their apparel line that supports Get Inspired abalone restoration programs.
"All of us [conservation partners] are doing something," Caruso said. "We're not putting up exhibits and talking about it — although that is important — we're in the field."
Waterlust not only helps its conservation partners financially so they can continue their important work. It also helps them get the word out about what they're doing, whether that's through social media spotlights, photo and video projects, or the informative note card that comes with each piece of apparel.
"They're doing their part for sure, pushing the information out across all of their channels, and I think that's what makes them so interesting," Caruso said.
And then there are the clothes, which speak for themselves.
Advocate Apparel to Start Conversations About Conservation
waterlust.com / @oceanraysphotography
Waterlust's concept of "advocate apparel" encourages people to see getting dressed every day as an opportunity to not only express their individuality and style, but also to advance the conversation around marine science. By infusing science into clothing, people can visually represent species and ecosystems in need of advocacy — something that, more often than not, leads to a teaching moment.

"When people wear Waterlust gear, it's just a matter of time before somebody asks them about the bright, funky designs," said Waterlust's CEO, Patrick Rynne. "That moment is incredibly special, because it creates an intimate opportunity for the wearer to share what they've learned with another."
The idea for the company came to Rynne when he was a Ph.D. student in marine science.
"I was surrounded by incredible people that were discovering fascinating things but noticed that often their work wasn't reaching the general public in creative and engaging ways," he said. "That seemed like a missed opportunity with big implications."
Waterlust initially focused on conventional media, like film and photography, to promote ocean science, but the team quickly realized engagement on social media didn't translate to action or even knowledge sharing offscreen.
Rynne also saw the "in one ear, out the other" issue in the classroom — if students didn't repeatedly engage with the topics they learned, they'd quickly forget them.
"We decided that if we truly wanted to achieve our goal of bringing science into people's lives and have it stick, it would need to be through a process that is frequently repeated, fun, and functional," Rynne said. "That's when we thought about clothing."
Support Marine Research and Sustainability in Style
To date, Waterlust has sold tens of thousands of pieces of apparel in over 100 countries, and the interactions its products have sparked have had clear implications for furthering science communication.
For Caruso alone, it's led to opportunities to share her abalone restoration methods with communities far and wide.
"It moves my small little world of what I'm doing here in Orange County, California, across the entire globe," she said. "That's one of the beautiful things about our partnership."
Check out all of the different eco-conscious apparel options available from Waterlust to help promote ocean conservation.
Melissa Smith is an avid writer, scuba diver, backpacker, and all-around outdoor enthusiast. She graduated from the University of Florida with degrees in journalism and sustainable studies. Before joining EcoWatch, Melissa worked as the managing editor of Scuba Diving magazine and the communications manager of The Ocean Agency, a non-profit that's featured in the Emmy award-winning documentary Chasing Coral.
The San Diego City Council voted Tuesday to ban single-use plastic bags at grocery stores, pharmacies and corner markets.
The goal of the new ordinance is to encourage shoppers to use reusable bags, decreasing the number of plastic checkout bags used every year. San Diego goest through roughly 700 million plastic bags a year, with only 3 percent of them being recycled, The San Diego Union-Tribune reported.
"The vast majority of plastic bags we see are entangled in the brushes next to our rivers and streams," said Kristin Kuhn, community engagement manager for San Diego Coastkeeper. "After every rain event, these bags clog and choke our city's already damaged waterways."
The city's ban would require grocery stores and other food retailers to charge at least 10 cents for each paper bag or for a sturdier bag, which often cost more.
"Stakeholders have worked tirelessly with local jurisdictions throughout the state to find a solution that makes sense for both the environment and businesses," said Sophie Barnhorst, policy coordinator for the San Diego Regional Chamber of Commerce. "A ban on plastic and a charge for paper has the potential to achieve maximal environment gain with minimal business disruption."

San Diego's ban—which drew wide support from advocacy organizations such as the Surfrider Foundation's San Diego County chapter and San Diego Coastkeeper as well as the chamber of commerce—makes it the 150th municipality in the Golden State.
Plastic Bag Ban Approved in San Diego! https://t.co/d8F0sqaIGg via @KOGORadio @SurfriderSD #banthebag https://t.co/DlC6g56wA8

— Surfrider Foundation (@Surfrider Foundation)1468969506.0
A second reading of the ordinance will happen in a few weeks. Large food stores will have six months to comply with the ordinance while smaller drug and convenience stores will have approximately a year.

San Diego has distributed about 40,000 reusable shopping bags to mainly low-income neighborhoods, food banks, schools and libraries to help prepare residents for the ordinance.
[Editor's note: Gov. Brown signed SB 270 on Sept. 30, making the plastic bag ban official.]
The California Senate voted 22-15 late last night to pass a statewide ban on single-use plastic bags. The bill, SB 270, will phase out single-use plastic bags in grocery stores and pharmacies beginning July 2015, and in convenience stores one year later, and create a mandatory minimum ten-cent fee for recycled paper, reusable plastic and compostable bags.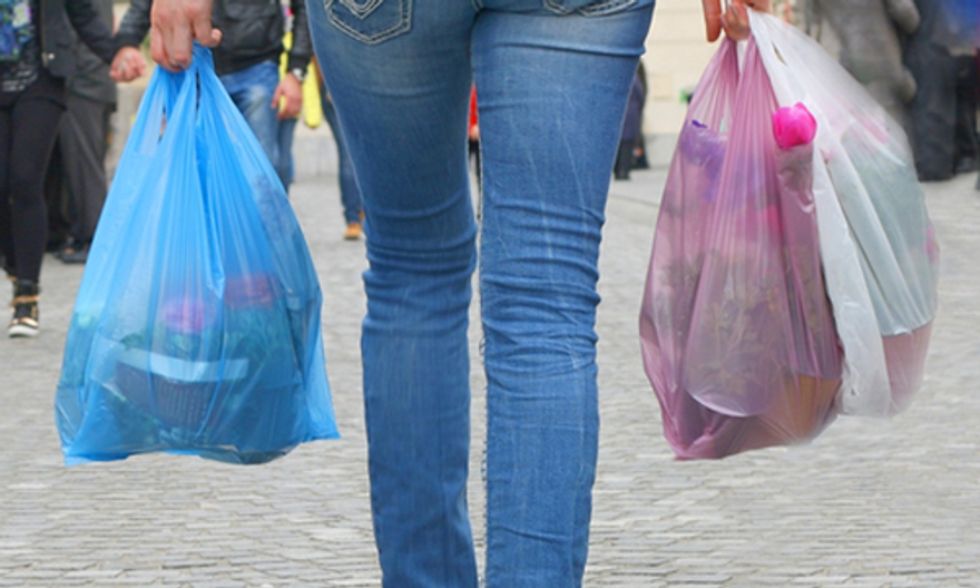 Photo credit: Shutterstock
The bill, which passed both houses of the California State Legislature now heads to the Governor's desk. If signed, California will become the first state in the U.S. to ban what advocates call "the most ubiquitous consumer item on the planet."
Senators Alex Padilla, Kevin de León and Ricardo Lara authored the measure that will implement a ban while promoting recycling and California manufacturing, and provides financial incentives to maintain and retrain California employees in affected industries.
"In crafting this compromise, it was imperative to me that we achieve the goals of doing away with single-use plastic bags, help change consumer behavior, and importantly, support and expand California jobs," said Senate President pro Tempore-elect Kevin de León (D-Los Angeles). "SB 270 is a win-win for the environment and for California workers."
Senate Bill 270 will:
Increase the use of recycled content for reusable plastic bags to promote recycling and California manufacturing.  In 2016, bags will be required to have 20 percent recycled content and in 2020 be made of 40 percentrecycled content.

Support recycling of agriculture plastic film which is currently sent to landfills.

Require large grocery store chains to take back used bags for continued recycling.

Require third party certification of reusable plastic bags to ensure compliance with bag standards which support California manufacturing.

Grandfathers existing local ordinances related to grocery bags.
More than 120 California local governments have already banned single-use plastic bags with more than 1 in 3 Californians already living somewhere with a plastic bag ban in place, in an effort to drive consumers towards sustainable behavior change.
The Clean Seas Coalition, a growing group of environmentalists, scientists, California lawmakers, students and community leaders has worked since 2008 to reduce sources of plastic pollution, and help pass this legislation.
"Data from the over 121 local plastic bag bans, like Los Angeles City, Los Angeles County, San Jose and San Mateo has proven that bans are effective at reducing litter and changing consumer attitudes, and have refuted industry's claims of apocalyptic impacts on jobs and poor communities," said Leslie Tamminen, director Seventh Generation Advisors and facilitator for the Clean Seas Coalition. "A state plastic bag ban saves taxpayers huge amounts of money spent on litter cleanup, and protects the environment." 
Plastic bags create a direct threat to wildlife, like the Pacific leatherback sea turtles, that mistake the bags for food. A study of more than 370 leatherback sea turtle autopsies found that one in three had plastic in their stomach, most often a plastic bag. Plastic bags are also one of the most common items littered on California's beaches according to Ocean Conservancy's annual beach cleanup data, according to Ocean Conservancy.
"This important step forward shows that we can achieve lasting victories for ocean and environmental health," said Nathan Weaver, oceans advocate with Environment California. "Nothing we use for a few minutes should pollute our ocean for hundreds of years. I congratulate Senators Padilla, de León, and Lara for their victory today, and I thank them for their leadership to protect our environment."
"The experience of over 120 cities shows that this policy works," concluded Weaver. "I urge Governor Brown to sign SB 270 into law."
YOU MIGHT ALSO LIKE
Plastic Bag Bans Spread Across U.S.
The Global Downfall of the Plastic Bag
Proof Positive It's Time to Ban Plastic Bags
The most hazardous plastics and certain plastic bags should be banned by 2020, as part of an EU strategy to reduce plastic waste in the environment, says the European Parliament in a resolution voted yesterday. The EU should also introduce binding plastic waste recycling targets, Members of European Parliament (MEPs) add.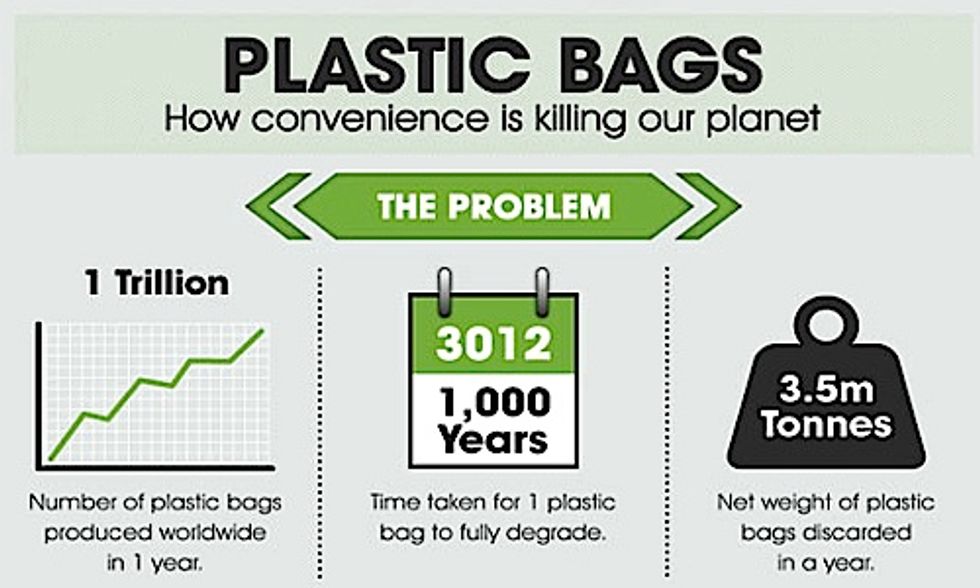 The resolution, a call for action further to a European Commission green paper, was passed by a show of hands. In it, MEPs stress that plastic waste is damaging the environment due both to weak enforcement of EU legislation on waste and to the lack of specific EU laws on plastic wastes, despite their particularities.
Rapporteur Vittorio Prodi (S&D, IT), whose text was adopted by show of hands, said:
Parliament has shown the way to deal with the huge problem of the detrimental impact of plastic waste on the environment and human health. We said today that we want to change bad habits and account for our products, from production through to final disposal. By putting these products to good use and recycling them as much as possible, we close the loop and give effect to the concept of a 'circular' economy. This will also help to clean up our seas and land, while creating more job opportunities.
MEPs propose that specific binding targets for collecting and sorting up to 80 percent of waste should be included in EU legislation. Mandatory criteria for recycling, and harmonized ones for collecting and sorting waste, should be framed to ensure fair competition, they say, adding that the current EU directive on packaging waste should also be reviewed.
Priority to Recycling and Composting
Parliament calls on the European Commission to make proposals by 2014 to phase out the landfilling of recyclable and recoverable waste by 2020 and discourage the incineration of this waste. It also urges that plastic waste should not be used for energy recovery unless all other possibilities have been exhausted.
MEPs believe that the most dangerous plastics should be withdrawn from the market. The use of single-use plastic bags should be phased out wherever possible. They also call for bolder steps to tackle illegal exports and dumping of plastic waste.
Solid Economic Potential, Still Unexploited
MEPs stress that the economic potential of recycling plastics is still largely unexploited. Only 25 percent of plastic wastes are currently recycled. Fully enforcing EU legislation on waste could save €72 billion a year, boost the annual turnover of EU waste management and recycling firms by €42 billion and create more than 400,000 jobs by 2020, say MEPs.
Visit EcoWatch's BIODIVERSITY page for more related news on this topic.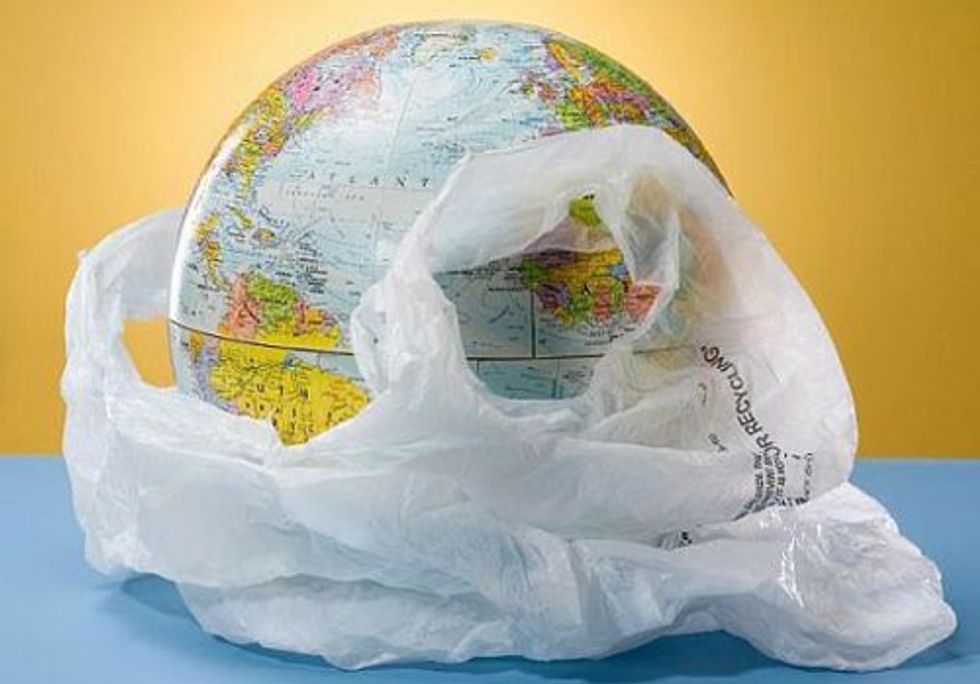 More than 70 percent of respondents to a European Commission public consultation have voted in favour of a ban on the distribution of plastic bags. Green groups Seas at Risk and European Environmental Bureau (EEB) say the commission should act now on this overwhelming support and implement a ban across Europe.
The public consultation was intended to explore options to reduce the use of plastic bags and options to improve the requirements of biodegradability under European Union (EU) law.
More than 15,500 responses were gathered by the commission with just over 15,000 replies from EU citizens.
The results of the consultation show that more than 70 percent of respondents agree that a ban on plastic bags across the EU is needed, with only 12 percent agreeing that current requirements on compostability and biodegradability in the Packaging Directive were appropriate.
"Plastic bags are a menace to the marine environment and this consultation has shown that European citizens have had enough of them," said Chris Carroll of Seas At Risk. "The commission must listen to this resounding support for a ban and implement one across Europe as soon as possible. The commission must also now look at how to reduce the use of other single use and disposable products and packaging that often end up as waste in the marine environment."
"With more than two thirds of respondents supporting a ban of single use plastic bags, a clear signal is being sent to European institutions—it's time for longer lasting products and for effective legal instruments supporting waste prevention," said Stephane Arditi of the European Environmental Bureau.
For the full results of the public consultation, click here.
For more information, click here.