Shailene Woodley, star of The Fault in Our Stars and the Divergent series, was arrested Monday morning while protesting the Dakota Access Pipeline in Sioux County, North Dakota.
Screenshot from Shailene Woodley Facebook page.
Woodley was streaming live on her Facebook page Monday during a peaceful protest at Standing Rock. The protest was in response to the DC Circuit Court of Appeals ruling on Monday that lifted a temporary injunction on the pipeline, allowing construction to resume.
Appeals Court Refuses to Halt Construction on #DakotaAccessPipeline https://t.co/LtgiZaVjAb #NoDAPL #StandingRock @MarkRuffalo @LeoDiCaprio

— EcoWatch (@EcoWatch)1476123050.0
back on Standing Rock. last night US district court of appeals denied injunction to halt #DAPL construction. https://t.co/SRYyd7gyXH

— Shailene Woodley (@Shailene Woodley)1476108323.0
The actress and environmental activist was trying to head back to her RV to go back to camp, when she noticed it was surrounded by police and a riot vehicle. As she approached her RV, she was stopped by police dressed in riot and military gear. After speaking with them, she was told on camera that she was being arrested for criminal trespassing. A spokesman for the Morton County Sheriff's Department said she was also arrested for engaging in a riot. Her mother was with her at the time.
When she asked why she was being arrested and no one else, and whether it was because people know who she is, the officer who appeared to be in charge said it was because she was identified.

As she was being put in handcuffs, Woodley explained to a person off-camera that she was being arrested for trespassing down by the pipeline where hundreds of others had gathered, but that she left as soon as police arrived and was told to leave.
"It's because I'm well-known, it's because I have 40,000 people watching it," she said.
These Celebrities Take a Stand Against #DakotaAccessPipeline via @EcoWatch https://t.co/ClAbSWpPZA #DakotaPipeline

— YEARS (@YEARS)1473537665.0
Twenty-six other protesters were also arrested, according to media reports.

Protesters and members of more than 90 Native American nations and tribes have been encamped on the Missouri River since May fighting against the construction of the 1,170-mile pipeline that would transport 470,000 barrels of crude oil across four states, including sacred sites and burial grounds.
Woodley has been very vocal on social media about her feelings on the Dakota Access Pipeline and has been at the protests on a consistent basis which she recently talked about on Late Night With Seth Meyers along with Bernie Sanders.
"It's been remarkable. It's one of the greatest experiences of my life," she said.
"This is the first time that you have this many tribes gathered in one place, standing together united, to stand up for not only their rights, but human rights, and the access to clean water—all they're doing is protecting clean water," she added.
Woodley said while the temporary halt on the pipeline's construction the Obama administration did is "beautiful," it's not a win. A win, she said, is for them to say we're not moving the pipeline to another location, but we're going to stop it, like the Obama Administration did with Keystone XL.
Until then, we're sure to see Woodley out there again as she continues to fight for Native American rights and the Dakota Access Pipeline.
EcoWatch Daily Newsletter
In a setback for the Standing Rock Sioux Tribe and their supporters, on Sunday evening, one hour before the start of the second presidential debate, the DC Circuit Court of Appeals lifted an injunction that had stopped construction on the Dakota Access Pipeline, allowing work to resume.
The $3.7 billion, 1,170-mile pipeline would transport 470,000 barrels of crude oil across four states, which include sacred sites and burial grounds documented by the tribe.
"We are troubled by the court's decision, but as water protectors and land defenders, our resolve to stop this Bakken frack-oil pipeline will not be diminished," Tom Goldtooth, executive director of the Indigenous Environmental Network, said. "This fight is far from over."

Thousands rally nationwide demanding permanent end to Dakota Access Pipeline https://t.co/ggbnwf6G9Z via @EcoWatch #climate

— climatehawk1 (@climatehawk1)1473901264.0
Last month, after a federal judge rejected the tribe's challenge to halt construction on lands near their reservation, the Obama administration stepped in and revoked its authorization to construct the pipeline on federal land bordering or under Lake Oahu. The U.S. Army Corps of Engineers is conducting a review that it says will be completed within weeks.

In its order, the court noted, "But ours is not the final word. A necessary easement still awaits government approval—a decision corps' counsel predicts is likely weeks away; meanwhile, intervenor DAPL has rights of access to the limited portion of pipeline corridor not yet cleared—where the Tribe alleges additional historic sites are at risk."
"The Standing Rock Sioux Tribe is not backing down from this fight," Dave Archambault II, chairman of the Standing Rock Sioux Tribe, said on Facebook. "We are guided by prayer, and we will continue to fight for our people. We will not rest until our lands, people, waters and sacred places are permanently protected from this destructive pipeline."

While the court said the tribe hadn't met the strict requirements of Section 106 of the National Historic Preservation Act to force a halt to construction, it did express sympathy for the tribe saying, "We can only hope the spirit of Section 106 may yet prevail." Section 106 requires federal agencies to consult with tribes about any potential impact on their cultural and historic sites, and specifically directs agencies to "respect tribal sovereignty."
Archambault told NBC News, "It seems they are coming to the same conclusion as the federal government in acknowledging there is something wrong with the approvals for the pipeline. We see this as an encouraging sign."

waterlust.com / @tulasendlesssummer_sierra .
Each product featured here has been independently selected by the writer. If you make a purchase using the links included, we may earn commission.
The bright patterns and recognizable designs of Waterlust's activewear aren't just for show. In fact, they're meant to promote the conversation around sustainability and give back to the ocean science and conservation community.
Each design is paired with a research lab, nonprofit, or education organization that has high intellectual merit and the potential to move the needle in its respective field. For each product sold, Waterlust donates 10% of profits to these conservation partners.
Eye-Catching Designs Made from Recycled Plastic Bottles
waterlust.com / @abamabam
The company sells a range of eco-friendly items like leggings, rash guards, and board shorts that are made using recycled post-consumer plastic bottles. There are currently 16 causes represented by distinct marine-life patterns, from whale shark research and invasive lionfish removal to sockeye salmon monitoring and abalone restoration.

One such organization is Get Inspired, a nonprofit that specializes in ocean restoration and environmental education. Get Inspired founder, marine biologist Nancy Caruso, says supporting on-the-ground efforts is one thing that sets Waterlust apart, like their apparel line that supports Get Inspired abalone restoration programs.
"All of us [conservation partners] are doing something," Caruso said. "We're not putting up exhibits and talking about it — although that is important — we're in the field."
Waterlust not only helps its conservation partners financially so they can continue their important work. It also helps them get the word out about what they're doing, whether that's through social media spotlights, photo and video projects, or the informative note card that comes with each piece of apparel.
"They're doing their part for sure, pushing the information out across all of their channels, and I think that's what makes them so interesting," Caruso said.
And then there are the clothes, which speak for themselves.
Advocate Apparel to Start Conversations About Conservation
waterlust.com / @oceanraysphotography
Waterlust's concept of "advocate apparel" encourages people to see getting dressed every day as an opportunity to not only express their individuality and style, but also to advance the conversation around marine science. By infusing science into clothing, people can visually represent species and ecosystems in need of advocacy — something that, more often than not, leads to a teaching moment.

"When people wear Waterlust gear, it's just a matter of time before somebody asks them about the bright, funky designs," said Waterlust's CEO, Patrick Rynne. "That moment is incredibly special, because it creates an intimate opportunity for the wearer to share what they've learned with another."
The idea for the company came to Rynne when he was a Ph.D. student in marine science.
"I was surrounded by incredible people that were discovering fascinating things but noticed that often their work wasn't reaching the general public in creative and engaging ways," he said. "That seemed like a missed opportunity with big implications."
Waterlust initially focused on conventional media, like film and photography, to promote ocean science, but the team quickly realized engagement on social media didn't translate to action or even knowledge sharing offscreen.
Rynne also saw the "in one ear, out the other" issue in the classroom — if students didn't repeatedly engage with the topics they learned, they'd quickly forget them.
"We decided that if we truly wanted to achieve our goal of bringing science into people's lives and have it stick, it would need to be through a process that is frequently repeated, fun, and functional," Rynne said. "That's when we thought about clothing."
Support Marine Research and Sustainability in Style
To date, Waterlust has sold tens of thousands of pieces of apparel in over 100 countries, and the interactions its products have sparked have had clear implications for furthering science communication.
For Caruso alone, it's led to opportunities to share her abalone restoration methods with communities far and wide.
"It moves my small little world of what I'm doing here in Orange County, California, across the entire globe," she said. "That's one of the beautiful things about our partnership."
Check out all of the different eco-conscious apparel options available from Waterlust to help promote ocean conservation.
Melissa Smith is an avid writer, scuba diver, backpacker, and all-around outdoor enthusiast. She graduated from the University of Florida with degrees in journalism and sustainable studies. Before joining EcoWatch, Melissa worked as the managing editor of Scuba Diving magazine and the communications manager of The Ocean Agency, a non-profit that's featured in the Emmy award-winning documentary Chasing Coral.
Last week's Colonial Pipeline spill has prompted Alabama Gov. Robert Bentley and Georgia Gov. Nathan Deal to both declare states of emergency over gasoline shortages on Thursday.
Aerial photo of two of the three mine water retention ponds at the site of a pipeline leak that spilled an estimated 250,000 gallons of gasoline in Shelby County, Ala. The retention pond on the right is where the gasoline has been contained.Colonial Pipeline
The Sept. 9 break has leaked 6,000 barrels (approximately 250,000 gallons) of fuel into Shelby County, Alabama, the operator estimated, up from its original estimation of 1,000 barrels. The cause of the leak is currently unclear.

Colonial Pipeline, the largest refined products system in the nation, operates 5,500 miles of underground pipe and above ground storage tanks and pump stations, delivering more than 100 million gallons of refined petroleum products a day. Their customer base is an estimated 50 million Americans, between Houston and New York City.
CNN Money said that the disruption "threatens to drive up prices and leave service stations without fuel to sell."
This is a VERY, VERY, VERY big deal: 900k b/d of #gasoline supply to US East Coast missing because of #Colonial pipeline shutdown #OOTT

— Javier Blas (@Javier Blas)1474031347.0
In response to the spill, the Alpharetta, Georgia-based company closed its main gasoline line, Line 1, that runs from refineries in the Gulf Coast to the East Coast. About 500 employees and contractors are currently working to clean up the site and repair the impacted segment of pipe.
The Birmingham Business Journal reported that most of the spilled gasoline has been contained in a nearby mining retention pond as workers skim the pond to remove the gasoline. Underflow dams are also being constructed to prevent gasoline seepage into the nearby Cahaba River.

However, Billy McDanal, a landowner living near the river, spoke to AL.com over his concerns about the spill.

"That's our water," he said. "I guess in a way I am worried about the drinking water."
Colonial Pipeline initially said that the line would be running by this weekend but delays this week caused by gasoline vapors on site has slowed operations.
"Working in close consultation with local, state and federal officials, Colonial Pipeline continued around-the-clock response operations on location in Helena, Alabama, into the evening yesterday," the company announced on Sept. 15. "However, work activity was intermittent overnight due to unfavorable weather conditions that caused gasoline vapors to settle over the site. Operations are resuming as officials deem conditions safe. The top priority of the unified response effort remains the safety and protection of the public, responders, and the environment."
The U.S. Environmental Protection Agency "is aware of the incident and has established a joint incident command with state and local authorities," the Business Journal noted.

AL.com reported that Colonial Pipeline is working with conservation groups Cahaba Riverkeeper and Tri-State Bird Rescue and Research to minimize the spill's environmental impact.

Cahaba Riverkeeper David Butler told AL.com that the company has been "aggressive" in its response and is "genuinely concerned about protecting the river."
"Every concern we've had, they've addressed with really no pushback," Butler said. "As bad as any situation like this is, all you can really ask is that they be responsible and accountable and I certainly haven't found any fault in their response so far."
The burst is expected to affect prices at the pump. Colonial Pipeline said that parts of Georgia, Alabama, Tennessee, North Carolina and South Carolina "will be the first markets to be impacted by any potential disruption in supply."
Patrick DeHaan, senior petroleum analyst at GasBuddy, told the Wall Street Journal that with supplies tightening, retail gasoline prices could spike by 5 to 20 cents a gallon.
#GasPrices may rise 5-15c in GA, NC, TN, VA and 10-20c in SC over the next week due to supply/pipeline outage. Some stations may run out.

— Patrick DeHaan (@Patrick DeHaan)1473970536.0
The company has restarted Line 2, its distillate line, due to the shutdown of Line 1.

"To minimize potential supply disruptions caused by the interruption to Line 1, Colonial Pipeline has executed a contingency plan to move gasoline on Line 2, which normally carries distillate such as diesel, jet fuel and home heating oil to points north," Colonial said.
Reuters reported that Friday's spill was the largest on the Colonial line in 20 years. In 1996, 22,800 barrels of fuel oil leaked in South Carolina.
By Andy Rowell
There is good news and bad news for those fighting the Dakota Access Pipeline (DAPL).
First the bad news. A week ago I wrote about the outrageous attacks by security personnel on those protesting against the pipeline by using dogs and pepper spray.
Some of the most powerful footage of the incident was fronted by veteran Democracy Now! journalist, Amy Goodman, who had been on site to witness the despicable attacks.

Goodman opened her report by stating:
"On Saturday in Dakota, security guards working for the Dakota Access Pipeline company attacked Native Americans with dogs and pepper spray as they resisted the $3.8 billion pipeline's construction."
The footage went viral and lead to outrage from across the world including on CBS, NBC, NPR, CNN, MSNBC and Huffington Post. A colleague who has watched Goodman's reporting for decades said it was the most passionate they had ever seen her broadcasting live.
Well now in a travesty of American justice, Democracy Now! announced over the weekend that an arrest warrant had been issued in North Dakota for Goodman. She has been charged with criminal trespassing, a misdemeanor offense.

It is totally outrageous that the U.S. authorities are trying to silence such a journalist as Goodman.
"This is an unacceptable violation of freedom of the press," Goodman said in a statement. "I was doing my job by covering pipeline guards unleashing dogs and pepper spray on Native American protesters."
Meanwhile, the day before, after an injunction by the Standing Rock Sioux was denied, the federal government stepped in immediately afterwards to halt construction of the pipeline.
For now at least.

Federal Agencies Step in After Judge Denies Tribe's Request to Stop Dakota Access Pipeline https://t.co/lPgJEriHb6 @NoTarSands @ukycc

— EcoWatch (@EcoWatch)1473672020.0
The Department of Justice, the Department of the Army and the Department of the Interior issued the following statement:
"In recent days, we have seen thousands of demonstrators come together peacefully, with support from scores of sovereign tribal governments, to exercise their First Amendment rights and to voice heartfelt concerns about the environment and historic, sacred sites. It is now incumbent on all of us to develop a path forward that serves the broadest public interest."
It continued:
"The Army will not authorize constructing the Dakota Access Pipeline on Corps land bordering or under Lake Oahe until it can determine whether it will need to reconsider any of its previous decisions regarding the Lake Oahe site under the National Environmental Policy Act (NEPA) or other federal laws."
"Therefore, construction of the pipeline on Army Corps land bordering or under Lake Oahe will not go forward at this time ... This case has highlighted the need for a serious discussion on whether there should be nationwide reform with respect to considering tribes' views on these types of infrastructure projects."
Reaction was mixed on the ground as people poured over the fine print behind the headline news. Indeed, as usual, the devil is on the detail.
The Standing Rock Sioux Tribe replied that the announcement sets the "stage for a nationwide reform, establishing consultation with tribes regarding the need for meaningful tribal input for all pipeline projects in the future. This federal statement is a game changer for the tribe and we are acting immediately on our legal options, including filing an appeal and a temporary injunction to force DAPL to stop construction."
"The feeling on the ground is one of mixed emotion. People are very upset that the tribe's injunction motion was denied," said one of the leading female activists, Kandi Mossett, who pointed out that the request to stop construction near the contentious site, was just that: a request.
Indeed, as DesmogBlog pointed out, even though the government has requested that the pipeline be stopped: "The federal government can't stop Energy Transfer from proceeding to construct the Dakota Access Pipeline on private land, which is why it asked DAPL to voluntarily halt construction there."
The Red Warrior Camp was more dismissive and posted online: "Nothing has changed for the thousands of people who came from thousands of miles on prayers and fumes to stop this pipeline. Stay peaceful without backing down."
One blogger Kelly Hayes noted:
"Let's reflect on that for a moment: A company that recently sicced dogs on Water Protectors, including families, who stepped onto a sacred site to prevent its destruction, is being asked to voluntarily do the right thing … Right now, all that's being asked is that they play their part in a short term political performance aimed at letting the air out of a movement's tires."
She added:
"So what did the federal government do? Probably the smartest thing they could have: They gave us the illusion of victory … But if you raise a glass to Obama and declare this battle won, you are erasing a battle that isn't over yet. And by erasing an ongoing struggle, you're helping to build a pipeline."
So for now the struggle continues, and the protests are going global. There will be demonstrations across the U.S. Tuesday and solidarity ones across the globe, including in London at 6 p.m. For more details go here.
Related Articles Around the Web
By Larry Buhl and Steve Horn
Friday afternoon brought a roller coaster of emotions for the Standing Rock Sioux Tribe and supporters in the battle to stop construction of the Dakota Access Pipeline (DAPL) near the tribe's North Dakota reservation. Shortly after a federal judge rejected the tribe's emergency legal challenge, a joint statement by three federal agencies effectively stopped work on the pipeline until significant questions are answered about potential environmental and cultural impacts.
Multi-tribal gathering of demonstrators on the Missouri River to show solidarity against the Dakota Access Pipeline.Sacred Stone Camp
In August the tribe filed suit to challenge the Army Corps of Engineers' decision to grant permits to DAPL at more than 200 water crossings for the $3.8 billion Dakota Access pipeline project. The Sioux argued that the project violates several federal environmental laws and would threaten water supplies for millions of people who rely on the Missouri River for drinking water.
The Dakota Access pipeline would snake beneath the Missouri River at Lake Oahe, carrying 450,000 barrels of oil per day from North Dakota to Illinois. Construction has already damaged sites of significant cultural significance to the Standing Rock Sioux, and continues to threaten further sites.
Snatching Victory From the Jaws of Defeat
Minutes after U.S. District Judge James Boasberg issued a 58-page ruling Friday denying the tribe's request for a temporary injunction to halt construction, the Department of Justice, the Department of the Army and the Department of the Interior issued a joint statement to "cease to authorize construction" on federally controlled lands—essentially nullifying the court's action.
Citing concerns raised by the Standing Rock Sioux lawsuit, the joint statement reads:
"The Army will not authorize constructing the Dakota Access pipeline on Corps land bordering or under Lake Oahe until it can determine whether it will need to reconsider any of its previous decisions regarding the Lake Oahe site under the National Environmental Policy Act (NEPA) or other federal laws. Therefore, construction of the pipeline on Army Corps land bordering or under Lake Oahe will not go forward at this time. The Army will move expeditiously to make this determination, as everyone involved — including the pipeline company and its workers — deserves a clear and timely resolution. In the interim, we request that the pipeline company voluntarily pause all construction activity within 20 miles east or west of Lake Oahe."
The statement also invited Native American tribes to continue ongoing talks about their concerns regarding pipelines and similar infrastructure projects.
Breaking News: U.S. paused construction on part of a North Dakota pipeline that inspired protests https://t.co/cxj0k4pnsz

— The New York Times (@The New York Times)1473452527.0
What Happens Next is Unclear
The Corps of Engineers can block construction on its land, which does stop the contested Missouri River crossing, at least for now.
But the federal government can't stop Energy Transfer from proceeding to construct the Dakota Access pipeline on private land, which is why it asked DAPL to voluntarily halt construction there.
It is not certain that the company will voluntarily agree to stop construction in the 20-mile zone on either side of Lake Oahe. If it continues, some Native American cultural and archaeological sites could still face the risk of damage or destruction.
Dakota Access LLC's parent company, Energy Transfer Partners, has not responded to repeated requests for comment from DeSmog. The Departments of Justice and Interior said they would not comment beyond what was written in the joint press release.
Mixed Reactions
For now the tribe and their supporters are treating the joint agency statement as a victory.
"Our voices have been heard," said Standing Rock Sioux Chairman Dave Archambault II, in a statement. "The Obama administration has asked tribes to the table to make sure that we have meaningful consultation on infrastructure projects. Native peoples have suffered generations of broken promises and today the federal government said that national reform is needed to better ensure that tribes have a voice on infrastructure projects like this pipeline."
Craig Stevens, spokesman for the industry-friendly Midwest Alliance for Infrastructure Now (MAIN) said the group was disappointed with Friday's decision.
"Had the decision been different, it most certainly would have had a chilling effect on domestic infrastructure development and the U.S. economy as no sane American company would dare invest the time and resources necessary for proper consultations and approvals only to have its project shuttered halfway through," Stevens wrote.
Not everyone who opposes the pipeline is optimistic. Robin Martinez, an attorney with the National Lawyers Guild in Kansas City, told DeSmog he has mixed feelings about the implications of the joint statement.
On one hand, he said that it "not only appears to open review of the Dakota Access permits, but the underlying decision-making process when it comes to pipelines" and that "it presents an opportunity to help shape the direction of the pipeline permitting process and actually take a hard look at the environmental impacts as required under the National Environmental Policy Act."
Martinez was doubtful, though, that Dakota Access would stop bulldozing contested private land.
"Hopefully they'll do the right thing and stand down, but given what appears to be their deliberate destruction of Native American historic sites last weekend, I wouldn't count on it," he said.
Winona LaDuke, executive director of Honor the Earth, had this to say in response to Friday announcements:
"North Dakota's Governor Dalrymple and President Obama could defuse and demilitarize this, while the peaceful gathering to protect the water continues. We ask for a moral high ground, by elected officials while we continue to support the Standing Rock tribe and Lakota people to seek justice. There should be no further destruction or construction. We are asking Enbridge and Energy Partners to stop construction and respect our people."

Demonstrations to Continue
Conflict over the pipeline reached a wider national audience last weekend after video surfaced showing pipeline security workers using attack dogs and pepper spray on demonstrators.
Support and protesters have continued to flow into the Sacred Stone camp near Cannon Ball, North Dakota. Currently there are more than 100 Native American Tribes represented at the camp.
The #DAPL fight is not over: Nationwide actions to stop the Dakota Access pipeline on 9/13. Find 1 near you: https://t.co/uZYLngUurS #NoDAPL

— Sierra Club (@Sierra Club)1473473854.0
North Dakota authorities announced a mobilization of law enforcement at the protest site and National Guard members were dispatched to work security at traffic checkpoints. As of early Friday evening, no incidents had been reported at the camps, in the pipeline construction zone, or in the dozen cities around the country where protests against DAPL are taking place.
On Friday afternoon, more than six dozen youth led a run for peace to the North Dakota State Capitol in Bismarck, calling attention to their petition to stop DAPL. It was the fourth run for this youth group, who recently ran from North Dakota to Washington, DC to deliver 252,000 petition signatures.
In Des Moines, Iowa, a nonviolent civil disobedience event is scheduled for Saturday to protest the use of eminent domain to seize land for DAPL construction in that state.
On Tuesday, thousands of people will rally during the #NoDAPL Day of Action in Washington, DC and dozens of cities across the country to demand that President Obama stop the Dakota Access Pipeline. Sen. Bernie Sanders will speak alongside Tara Houska and other tribal leaders at the DC event.
"This struggle to protect the land and water, goes hand-in-hand with the struggle to defend our Rights as Indigenous Peoples," said Dallas Goldtooth of the Indigenous Environmental Network. "We ask our relatives and allies to join us in solidarity to defeat the Dakota Access pipeline."

By Andy Rowell
The contrast could not have been greater. Over the weekend, speaking on the eve of the G20 summit in Hangzhou, history was made as President Obama and Chinese President, Xi Jinping, announced that the world's biggest emitters of greenhouse gases would formally ratify the Paris agreement on climate change.
"We have a saying in America that you have to put your money where your mouth is," said Obama at the news conference, watched by the world's press.
Democracy Now!
One way to do that is to stop building fossil fuel infrastructure in order to keep fossil fuels in the ground.

And to stop it now. As Obama has been at the G20 summit, over the weekend construction work continued on the proposed route of the North Dakota Access pipeline, which, if built, will transport 570,000 barrels of fracked crude a day across the states of North Dakota, South Dakota, Iowa and Illinois.
For months First Nations, led by the Standing Rock Sioux, have been trying to stop the building of the pipeline, as it crosses the Missouri river twice, which is the tribe's man source of drinking water, as well as more than 200 smaller rivers and creeks.
Over the last few weeks, as preliminary construction has begun on the route, tensions have risen immeasurably. The Standing Rock protest site, now home to several thousand protesters, is fast becoming an international symbol of grassroots rebellion against the fossil fuel industry.
Nearly 100 tribes have now answered the call from the Standing Rock Sioux to protest against the pipeline. Some 150 have so far sent resolutions and letters of support too.
This is becoming one of the defining moments in recent history of anti-oil protests. And how the American oil industry and its contractors react is being closely watched from around the world too.
On Saturday, as protesters were marching near the proposed route they saw diggers at work.
"We were walking up to the flags on the highway to sing and pray, then we found out they were starting to build again," said Ursula Young Bear, Oglala Lakota, from Porcupine, South Dakota.
What happened next is shocking as private security firms started using dogs to intimidate the anti-pipeline activists, including women and children. Several people were then attacked and bitten by the dogs being controlled by around eight private security personnel. The protestors were also attacked with pepper spray.
Today Dakota Access security attacked 30+ #NoDAPL protestors w/ pepper spray; attack dogs bit 6 others. #WaterIsLife https://t.co/UPZxzEXWSy

— Collin Rees (@Collin Rees)1472962069.0
In response the First Nations shouted: "We're Not Leaving."

One activist who took photos of the attacks was Tomas Alejo. He recalls "Today private security contractors hired by the oil companies attacked the water defenders with strike dogs and pepper spray as they attempted to halt construction on sacred land."
Footage from Democracy Now on Saturday, showed people crying from the effects of the spray, with pipeline security personnel pathetically attempting to deny using the spray. An estimated 30 people suffered temporary blindness.
The disturbing footage shows the security personnel letting go of their dogs, who then attack protesters, some of whom had bite marks from the dogs. Eventually the dogs were removed from the protest.
When asked by Amy Goodman, the presenter, why the struggle was important, the simple response from one protester, who had been maced twice and bitten said, "Because water is life … I wish they would open their eyes and have a heart."

The violence by the contractors is deeply worrying on many levels.
Firstly, it is state-sanctioned violence against peaceful protesters. The police stood idly by and did nothing.
"The cops watched the whole thing from up on the hills," said Marcus Frejo, Pawnee and Seminole, from Oklahoma City, Oklahoma. "It felt like they were trying to provoke us into being violent when we're peaceful."
This is also sliding back into its America's repressive past, something that you would think would appall President Obama.
As the New York Daily News reported recently about the height of the civil rights protests:
In May 1963, the "nation bore witness" as police in Birmingham, Alabama, aimed high-powered hoses and "snarling dogs on black men, women and even children who wanted just one thing—to be treated the same as white Americans."
The paper said these days "tore at America's conscience."
Indeed, as Sarah Manning, a reporter and First Nations activist tweeted over the weekend:
In 1493 Spaniards used war dogs to kill Natives in the name of Gold. Today Dakota Access uses attack dogs against Natives in the name of oil

— Sarah S. Manning (@Sarah S. Manning)1472940256.0
The scenes on Saturday should tear at America's conscience too.

The U.S. will burst through its emission-reduction target under the Paris climate agreement if the 19 natural gas pipelines proposed in the Appalachian Basin come to fruition, according to a new study.
Oil Change International
The report, A Bridge Too Far: How Appalachian Basin Gas Pipeline Expansion Will Undermine U.S. Climate Goals, was published today by the environmental group Oil Change International in partnership with 11 other local, regional and national organizations.
As Reuters noted from the report, these pending projects would pipe natural gas from fracking fields in Pennsylvania, Ohio and West Virginia to states from Louisiana to New York and unlock at least 15.2 billion cubic feet per day of production. Combined, these 19 proposed pipelines would enable 116 trillion cubic feet of additional gas production by 2050. Some of the pipeline operators include Spectra Energy Co, Williams Cos Inc and EQT Corp.
The Paris climate agreement signed in June set a goal limiting global warming to well below 2 degrees Celsius. The climate target in the U.S. is an emissions cut of 83 percent from 2005 levels by 2050.
However, as the authors of the report warned, these proposed pipelines would be incompatible with these goals. If they are constructed, they would blow past our emissions target 10 years early. And that's just for natural gas.
"Our calculations show that the rise in gas consumption projected by the EIA [Energy Information Administration] would alone lead to emissions that would surpass the current long-term U.S. climate target by 2040," the report said.
Proposed pipelines and potential pipeline routes from the Appalachian basin. Oil Change International
While proponents of natural gas like to argue that it's "clean" since it emits about half as much carbon dioxide as coal these proposed pipelines, which have an economic lifespan of more than 40 years, would appropriate all of the U.S. emissions budget for natural gas alone.

"Expanded natural gas production is a bridge to climate disaster," Stephen Kretzmann, executive director of Oil Change International, said. "Our report shows that even if we entirely eliminated emissions from coal and oil, the emissions from the natural gas boom alone would still blow our climate budget."

The authors of the report argue in favor of clean energy alternatives such as renewables, battery storage and grid management technology.
"It is increasingly clear that the clean energy sector is poised to transform our energy system," the report stated. "There is nothing standing in the way of building the renewable energy capacity we need to sustain our electricity needs—except maybe the entrenched interests of the natural gas industry."

It's not just #oil & #coal – natural gas boom is going to wreck our #climate if we keep #fracking. Read the report: https://t.co/5FL5nEtEwC

— Mark Ruffalo (@Mark Ruffalo)1469195630.0
The report recommends that the Federal Energy Regulatory Commission, which regulates interstate gas transmission pipeline operations, apply a climate test to future infrastructure and policy decisions.
As Reuters noted, Vermont Senator and former Democratic presidential candidate Bernie Sanders has advocated for this "climate test," which resembles the criteria President Barack Obama applied when he vetoed the Keystone XL pipeline.
Thanks to Sanders supporters, the climate test has been adopted by the 2016 Democratic party platform, even though presumptive presidential candidate Hillary Clinton once deemed natural gas a "bridge" fuel "in the transition to a cleaner energy economy."
"This should be a wake up call to anyone promoting natural gas as a bridge to a clean energy future. Put simply, it's not," Kretzmann said.

Something fairly amazing is happening at Democratic platform hearing right now

— Bill McKibben (@Bill McKibben)1468114187.0
No more all of the above. No more bridge to the future. Sun and wind are now above natural gas

— Bill McKibben (@Bill McKibben)1468114308.0
The report adds steam to the #KeepItInTheGround movement that challenges the oil and gas industry to stop drilling.

"There's a strong and vital movement of people throughout Appalachia who are standing up to protect their communities and their land from pipelines and the increase in fracking they will bring" Kretzmann said.
The partnering organizations that support the Oil Change International report include Appalachian Voices, Bold Alliance, Chesapeake Climate Action Network, Earthworks, Environmental Action, Sierra Club, 350.org, Blue Ridge Environmental Defense League, Protect Our Water, Heritage, Rights (Virginia & West Virginia), Sierra Club West Virginia Chapter and Friends of Water (West Virginia).
"Actions show the strength and commitment of people standing up to Big Gas and their reckless pipelines," Bold Alliance President Jane Kleeb said. "These people are fighting for their land, and our climate. Using eminent domain for private gain is something the Cowboy and Indian Alliance stands against. We plan on using actions, prayer and all legal tools available to stop these risky pipelines."

Carolyn Reilly, community organizer with Blue Ridge Environmental Defense League, agrees. "As a grassroots organizer, and landowner in the path of a proposed natural gas transmission pipeline, I've seen the ugliness of the corporate grab and greed," Reilly said.
"The only place gas will bridge us too is more pollution and further climate disruption," Lena Moffitt, director of Sierra Club's Beyond Dirty Fuels campaign, said. "This report highlights the magnitude of the threat our climate and communities face from further expansion of gas pipelines and plants, and shows that the only solution to meeting our global climate commitment is to keep gas—like all dirty fuels— in the ground."
It may sound like a familiar story: a proposed pipeline that will carry hundreds of thousands of barrels of Canadian oil sands crude across the Midwest prairies is embroiled in a permit controversy.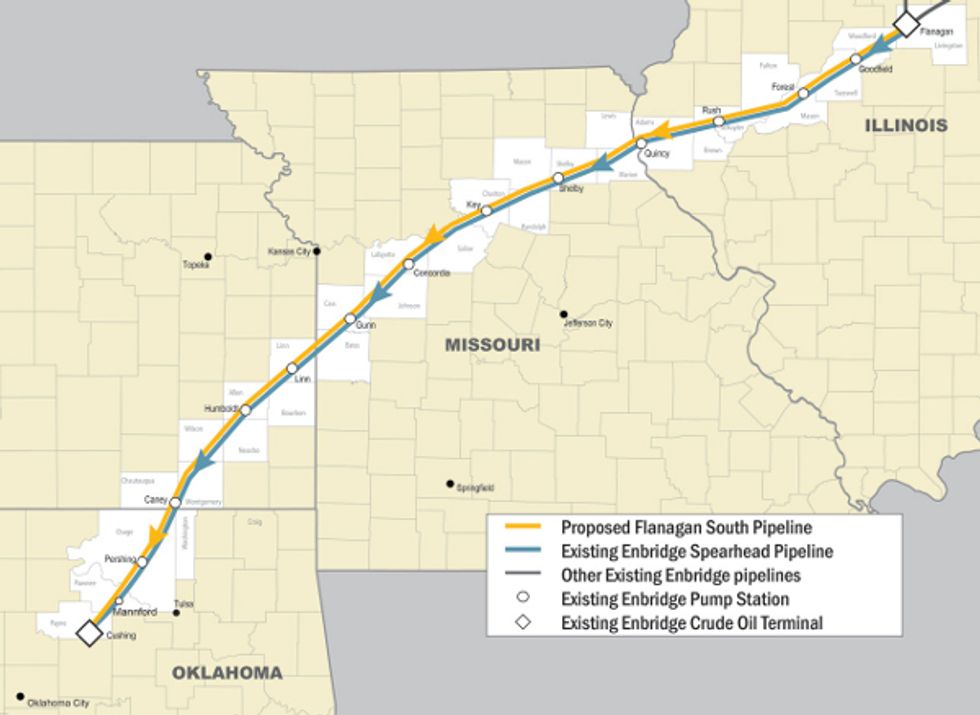 But this is not a story about Keystone XL.
Enbridge Energy's proposed Flanagan South pipeline, like Keystone XL, would connect with existing pipes to ferry crude oil from Alberta—and Montana and North Dakota—to refineries in the Midwest and the Gulf Coast. The 600 miles of 36-inch pipe would run from southwest of Chicago across Illinois, Missouri and southeast Kansas before connecting with the oil hub of Cushing, OK.
Both pipelines would have a hefty capacity: 830,000 barrels a day for Keystone XL; 600,000 barrels a day initially for the Flanagan South, and 783,000 barrels per day once combined with the Spearhead, an existing pipeline that largely runs parallel to the proposed Flanagan route.
Since Flanagan South doesn't cross an international border, it doesn't require State Department approval, the current point of contention for Keystone XL. However, Enbridge is trying to use a regulatory shortcut known as Nationwide Permit 12 that might allow it to get its pipe in the ground before it provokes the sort of opposition now marshaled against Keystone XL.
Nationwide 12
According to its website, Enbridge is aiming to begin construction in August.
Before it can get started, though, Enbridge must get approval from the U.S. Army Corps of Engineers. The Corps regulates projects that require disturbing wetlands, and Flanagan South, which would cross the Missouri and Mississippi rivers along with many smaller waterways, would require digging in wetland areas, then refilling them.
"We're looking at trying to finalize our review, probably close to August," said Lucius Duerksen, a regulatory specialist in the Corps' Kansas City office. Duerksen is coordinating the four Corps offices in Illinois, Missouri and Oklahoma that are involved in reviewing the Flanagan project.
The Corps must determine whether the Flanagan project qualifies for Nationwide Permit 12 status, allowing Enbridge to bypass the usual lengthy permit process and get to work much faster than they otherwise would. Also, under Nationwide 12, no public notification is required.
Nationwide 12 is a popular option with pipeline developers. TransCanada, developer of Keystone XL, attempted to use that process. In response, the Sierra Club filed two lawsuits. A request for a temporary injunction against granting the permit to TransCanada is before a federal appellate judge in Washington DC. A lawsuit alleging that Nationwide 12 is a violation of the Clean Water Act and the National Environmental Policy Act (NEPA) is now before a federal district judge in Oklahoma.
Flanagan is a reprise of the Keystone XL dispute, according to Doug Hayes, one of the Sierra Club staff attorneys who filed the two now-pending lawsuits.
"It's happening all over again," he said. "The Corps is completely refusing to disclose any information about this to the public."
The Sierra Club is a member of RE-AMP, which also publishes Midwest Energy News.
'We'll Do This Without Public Input'
In May, the Sierra Club filed a Freedom of Information Act request with the four Corps offices involved in the Flanagan case. The Club sought "expedited" access to documents related to the application for a Nationwide 12 permit. Expedited access puts a request at the front, rather than the back, of the queue.
Two of the offices have denied the request. The other two haven't yet responded to it, according to the Sierra Club. If the group isn't granted expedited access, Hayes said, documents most likely would not arrive for at least a year. And given that Enbridge intends to have the pipeline operating by mid-2014, any documents received in a year "will be useless information," according to Hayes.
"The Corps seems to be saying, 'We'll do this without public input, and the only way people will get information is with a lawsuit.' "
Nationwide 12 is one of 52 expedited permits, each addressing a general type of project. The nationwide permits are reviewed every five years, at which point the public is alerted and invited to comment. Then, if a given project fits the parameters of one of the permit types, it can gain approval fairly quickly with a minimum of hoops to pass through.
A pipeline project can qualify for Nationwide 12 status if, for example, it disturbs no more than a half-acre of wetland in a "single and complete project." The Corps interprets "single and complete" as the crossing of one stream, rather than an entire pipeline project.
"The way to get around that is to say that each crossing is a separate project," said Hayes, the Sierra Club's lawyer. That interpretation, in his view, "violates the intent of the Clean Water Act."
It means that pipeline developers can go the Nationwide 12 route even if they will cross hundreds or thousands of streams, provided no single one would disturb more than a half-acre of wetland. The proposed Keystone XL route would cross about 2,227 streams; Flanagan South, about 2,000.
The Nationwide 12 permit also is reserved for projects that would cause no more than what the Clean Water Act terms, "minimal individual and cumulative adverse environmental impact." In other words, "insignificant projects," Hayes said.
He wonders whether the Corps will characterize a 600-mile pipeline with 2,000 stream crossings as a small disruption. Like most major pipeline projects, Flanagan South would require a temporary construction right-of-way 85 feet wide, which it would clear and level. After burying the 36-inch wide pipe four feet below ground, a 50-foot-wide right-of-way would be maintained in a treeless state to maintain easy access to the pipeline.
If they can convince the Corps that their project fits within the general parameters of the permit language, pipeline developers can be granted Nationwide 12 status in a relatively quick and easy fashion, rather than the arduous individual permit process with its required public hearing.
'It's This Smokescreen'
Nationwide 12 was used in Louisiana and Arkansas for a 26-mile pipeline that will receive about 20 million gallons a day of treated waste from two chemical companies, one oil refinery and the wastewater treatment plant of El Dorado, AR, and then deposit it into the Ouachita River. It's projected to be completed in October.
Cheryl Slavant, the designated riverkeeper of the Ouachita RiverKeepers, said that like Doug Hayes' experience, information has been hard to come by. She receives regular e-mails from the Corps about projects affecting the Ouachita River.
The Corps, as Slavant sees it, is "allowed to pick and choose who has to follow what law. A little guy who wants to build a house has to have a public hearing. They take a sledgehammer to the little guy, and give a pass to the big guy."
"All we're trying to do is make sure people follow the law," said Greg Raimondo, a Corps spokesman in the Vicksburg office.
Slavant had her opportunity to weigh in on this and other wetland-disrupting projects a few years ago when the Corps was seeking input before renewing the Nationwide Permit 12, said Mike Miller, the pipeline project manager in the Vicksburg office.
"It's this smokescreen," said the Sierra Club's Hayes. "At each point in the process, the Corps points to an analysis they supposedly did at another point. The effect in the end is that they never analyze the environmental impact under the National Environmental Policy Act."
NEPA would require regulators to assess the likelihood and potential impact of an oil spill from a pipeline like the Flanagan. When Hayes studied the 45 pages of Nationwide Permit 12, he found "not a single mention of oil spills."
As a result, he contends that regulators have little insight as to what environmental hazards might result from pipeline projects: whether it's the 26-mile pipeline delivering waste to the Ouachita River, or the 600-mile Flanagan pipeline that next summer may be ferrying crude across the middle of the country.
Visit EcoWatch's FRACKING page for more related news on this topic.
——–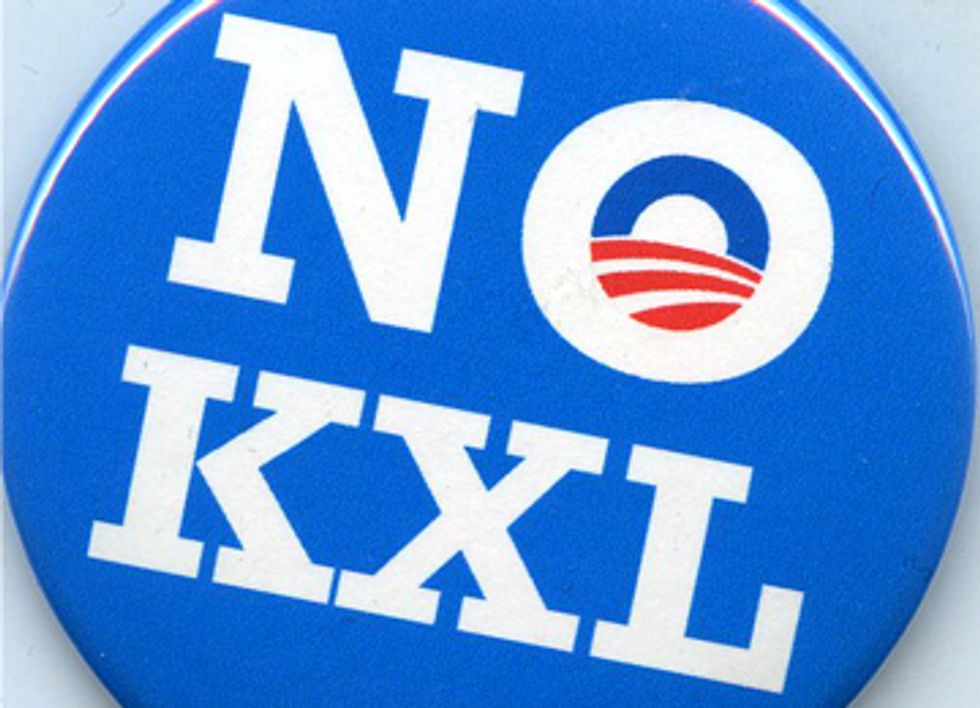 Today, President Obama made a bold proclamation that he will not approve the Keystone XL tar sands pipeline if it contributes to climate pollution. He said that "Our national interest will be served only if this pipeline does not significantly exacerbate the climate problem." It is now up to the State Department to prove that the pipeline will not increase greenhouse gas (GHG) emissions.
With this promise to the American people to reject the pipeline if it will increase climate pollution, the President has taken a huge step towards rejecting the Keystone XL, given that evidence has already shown that the pipeline will increase GHG emissions and have serious climate consequences.
The U.S. Environmental Protection Agency (EPA) said that State Department assessment of Keystone XL climate impacts must be more "complete and accurate."
"The market analysis and the conclusion that oil sands crude will find a way to market with or without the project is the central finding that supports the DSEIS's [draft Supplemental Environmental Impact Statement] conclusions regarding the project's potential GHG emissions impacts. Because the market analysis is so central to this key conclusion, we think it is important that it be as complete and accurate as possible. We note that the discussion in the DSEIS regarding energy markets, while informative, is not based on an updated energy-economic modeling effort," stated the U.S. EPA.
Eighteen of the nation's top climate scientists released a letter to President Obama urging him to reject the Keystone XL tar sands pipeline:
"We hope, as scientists, that you will demonstrate the seriousness of your climate convictions by refusing to permit Keystone XL; to do otherwise would be to undermine your legacy."


Industry insiders agree that without the Keystone XL, tar sands expansion cannot proceed as planned. Less tar sands development means less GHG emissions.
"Even if all the pipelines being planned were built, there would not be enough capacity to handle the growth that companies have laid out in their expansion plans," according to the Globe and Mail. Further evidence that capacity is lacking and tar sands will stay undeveloped is that the government of British Columbia opposed the Northern Gateway pipeline that would have shipped tar sands oil through the province.
"Canada's oil industry is facing a serious challenge to its long-term growth. Current oil production in Western Canada coupled with significant gains in U.S. domestic production have led the industry to bump up against capacity constraints in existing pipelines and refineries," according to the Financial Post.
"This is why Keystone is so important for us–because we have this refinery capable of treating our crude and today we are missing that opportunity because of that logistical constraint," said Andre Goffart, Total E&P Canada Ltd. President.
Even the State Department, in its extremely conservative analysis in the DSEIS, acknowledged that the project will increase GHGs:

"The annual CO2e emissions from the proposed Project is equivalent to CO2e emissions from approximately 626,000 passenger vehicles operating for one year."
All evidence shows that the Keystone XL will have serious climate impacts.
By Andy Rowell
President Barack Obama tweeted on Saturday that "we owe it to our kids to do something about climate change."
The tweet and its accompanying video lay the ground for Obama's major and long-awaited speech on climate tomorrow at Georgetown University.
In the video, Obama argues that: "There's no single step that can reverse the effects of climate change. But when it comes to the world we leave our children, we owe it to them to do what we can."
As the most powerful person in the free world, Obama can do more than most. His words in the video are not really new: he has made similar positive statements before, such as in his inauguration and State of the Union address. But despite the positive rhetoric, political action to tackle climate change has been limited due to the gridlock in Washington with open hostility to climate policies from the Republicans.
Due to this, the U.S. media are reporting that Obama is intending to introduce a series of executive actions, which do not need Congress's approval to be made into law. These measures will reportedly include tighter regulation of coal-fired power plants, increased energy efficiency standards and the promotion of renewable energy on public lands.
The good news is that Obama could undertake all of these policies without congressional approval. But while reducing pollution from power plants would be a welcome first step, there are other decisions that Obama can no longer duck.
First up, of course, is the pressing decision on Keystone XL (KXL). This is now seen by millions in the U.S. and abroad as the true litmus test of Obama's stance on climate. Approve the pipeline and all his positive rhetoric counts for nothing—but by rejecting it, the President would send a powerful message that we cannot afford to burn the highly polluting tar sands.
But just as important as saying no to KXL is moving away from Obama's "All of the Above" energy plan, which advocates a continued use of fossil fuels.
In that respect, as I have covered before, the President's "All of the Above" energy plan is misguided. In reality it is little more than "Drill Baby Drill" by another name. The science is telling us that we cannot have all of the above. We cannot carry on relentless oil and gas drilling.
Moreover, As Steve Kretzmann and I have written before, "The President cannot simultaneously fight climate change and support an All of the Above/Drill Baby Drill energy strategy. It would be like launching a war on cancer while promoting cheap cigarettes for kids. Leadership on climate requires understanding this."
Tomorrow the President clearly wants to show climate leadership. His intervention is welcome, but this time he must not fluff his lines. And that means no more "All of the Above," as well as no KXL.
Moreover the President could set out a clear radical vision. Over in public health, tobacco control advocates have started talking about an "endgame" for eliminating cigarettes for society, with some countries, such as New Zealand, setting definitive time-scales to do so. It is time for politicians to do the same with fossil fuels. It is time to think about becoming fossil-free and setting a timescale to achieve that goal.
Visit EcoWatch's CLIMATE CHANGE page for more related news on this topic.
——–
Click here to tell Congress to Expedite Renewable Energy

The core talking points for the supporters of TransCanada's Keystone XL pipeline center around U.S. domestic energy security and economic growth. However, Keystone is an "export pipeline" that will take tar sands oil from Alberta, Canada, and pump it down to a tax-free zone in Texas and out to foreign markets.
In other words, the European Union, China and Latin America get the oil, the foreign-owned oil companies get the cash and North Americans get a few jobs and oil spills!
It's a complicated issue for sure, so I've tried to break out the main points in an infographic. Please feel free to download and share it, use it and tear it apart. All the information has been fact-checked and verified by energy policy experts.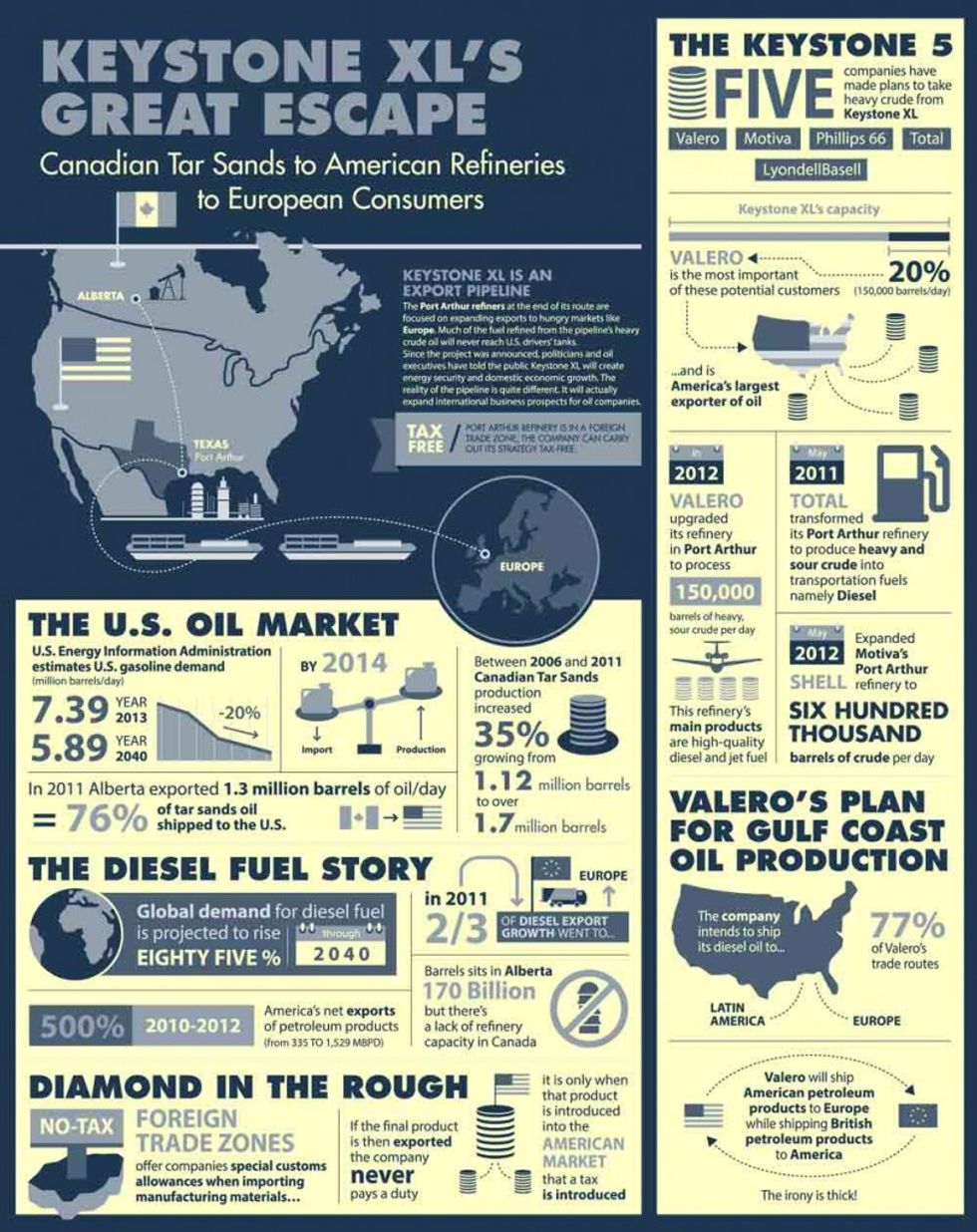 Taking into account the fundamental data from the U.S. and global oil markets, the end location of the Keystone XL, the infrastructure being built at refineries processing the bitumen and the commitment of oil companies to selling their product for the best price, it is easy to see Keystone XL offers greater energy security and economic growth, just not in America.
Europe and Latin America will have more energy security thanks to a massive fuel pipeline they can tap as long as they're willing to pay.
Additionally, oil companies will have a new bounty of profit to play with. Yes, some of that will fall back into American hands, but not as much as it would if the majority of the products to be processed in Port Arthur were sold in America, or if the refineries were not located in a Foreign Trade Zone and had to pay a tax on their products.
As for the promise of new jobs, there is a short-term influx on cash for constructing the pipeline, but the latest estimates find that there will only be about 35 permanent jobs over the long term. These pipelines, once built, demand very little maintenance. That is, of course, until there is an oil spill.
In making the final decision on whether to approve the Keystone XL pipeline, it comes down to whether President Obama is comfortable with making more cash for foreign oil companies—that are already the most wealthy companies in the world—for the long-term pay off of 35 permanent jobs and the oil spills that will inevitably occur.
Seems like a no-brainer to me.
Visit EcoWatch's KEYSTONE XL page for more related news on this topic.
——-

Early this morning, concerned community members and activists from the Texas Action Coalition for the Environment and Tar Sands Blockade attended the Pipeline and Hazardous Materials Safety Administration's (PHMSA) Pipeline Safety Public Awareness Workshop, at the Hyatt Regency in Richardson, TX. The protesters staged a tar sands spill and carried banners and signs to say that tar sands aren't being regulated and must be stopped. Activists are expected to continue demonstration outside until dusk, when they will hold lighted billboards reading "PHMSA: No Tar Sands Pipelines" and "Water > Oil."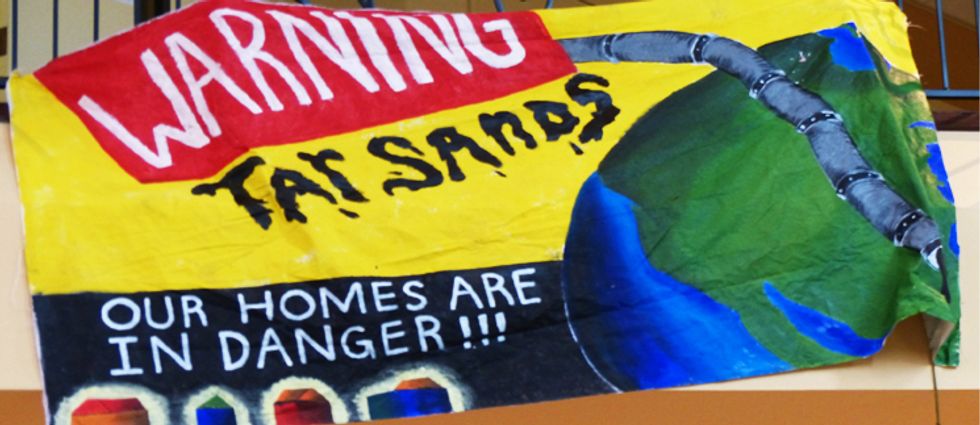 Many from across the Keystone XL pipeline route attended the workshop and aired their grievances directly to regulators, asking pertinent questions during panel "question and answer" sessions in order to draw out a complete record of the PHMSA assessment of its awareness efforts.
The sad truth is that PHMSA fails to properly regulate diluted tar sands bitumen—the deadly substance which has leaked in the hundreds of thousands of gallons from shoddily maintained pipelines regulated by PHMSA, poisoning communities like Mayflower, AR, and Kalamazoo, MI. In fact, Sen. Edward Markey recently revealed that while PHMSA issued a Corrective Action Order against ExxonMobil for the Pegasus tar sands pipeline, they allowed Exxon to use a disaster response plan that had not yet been approved without facing any consequences. Exxon did not detect and respond to the spill in Mayflower within the required time limit of the formally approved safety plan. This is just one of many examples of industry and government collusion and oversight to keep the high risk and toxicity of tar sands out of the eyes and mind of the public.
Of particular concern is the fact that tar sands (diluted bitumen or "dilbit") is a different chemical composition than crude oil, and yet it is only classified as such when it benefits the industry bottom line. On the basis that tar sands dilbit is "synthetic crude" and not crude oil, the transport of tar sands through pipelines in the U.S. is exempt from payments into the Oil Spill Liability Trust Fund. Otherwise, regulators claim that tar sands bitumen is a type of crude oil. Tar sands are far more difficult and costly to clean up and spills are more toxic to water, wildlife and affected persons as a result of the differences in composition. "Tar sands dilbit needs to be recognized and classified as different from crude oil, for the sake of public awareness and pipeline safety," says Aly Tharp, one of the organizers of today's protest.
UPDATE:
Update 3:30 pm: Blockaders have disrupted a panel titled "Affected Stakeholder Awareness Panel" to bring attention to the safety concerns of landowners and impacted residents who are not included in PHMSA's definition of stakeholders. Emergency planners on the panel are totally unaware of the differences between tar sands and conventional crude oil.
Tar sands are toxic and have the consistency of crunchy peanutbutter. This is diluted with chemicals and heated up  so the tar sands mixture can flow through a pipeline. Tar sands sinks. Emergency planners across the country still do not know how to clean up a spill.
Watch the livestream here.
Update 2 p.m.: Photo of banner drop inside hotel lobby greeting conference guests
Update 1:55 p.m.: Blockaders have moved outside chanting "no tar sands, no way, not ever not today!"
Update 1:45 p.m.: What is PHMSA? PHSMA is the regulatory agency required to inspect the pipeline during installation and is responsible for matoking sure the land is properly restored according to code developed by the American Society of Mechanical Engineers. PHSMA's code makes inspections of the pipeline during installation mandatory, not optional, since that is the only way to assure code compliance. Furthermore the Keystone XL project was mandated to supply a project-specific quality manual that details how the regulations and codes will be met.
You can read more about PHMSA and the Keystone XL in this excellent article on EcoWatch by Stefanie Spear.
Update 1:30 p.m.: Blockaders have been stopped from entering the hotel lobby by unmarked security. Blockader who was detained has been released.
Update 1:15 p.m.: One blockader has been detained. Several have been stopped outside of the hotel.
Be sure to sign this EcoWatch petition: Tell PHMSA to Immediately Investigate Anomalies in the Southern Leg of TransCanada's Keystone XL pipeline.
Click here for the latest updates on this action.
Visit EcoWatch's KEYSTONE XL page for more related news on this topic.
——-