More than 500 volunteers flocked to a remote bay in New Zealand in response to a devastating mass stranding of pilot whales.
Around 416 pilot whales beached near the base of Farewell Spit in Golden Bay overnight, of which 250 to 300 were already dead when the whales were discovered, the Department of Conservation announced in a Feb. 10 media release.
A witness told The Washington Post that the whales were "crying and sighing" as they lay stranded on the beach.
Hundreds of pilot whales have been stranded on a beach in New Zealand and most have died https://t.co/bP8WtC58jL

— Sky News (@Sky News)1486728261.0
Friday's incident was the third largest whale stranding ever recorded in New Zealand and the largest known whale stranding in the country since 1985, when 450 were stranded in Auckland, Reuters reported.
Rescuers tried to refloat the remaining cetaceans during high tide on Friday morning but only had partial success. Around 50 whales had swum out of the bay but 80 to 90 had re-stranded on the beach by the afternoon.
Andrew Lamason, Department of Conservation operations manager for Golden Bay, told The Guardian it was common for whales involved in a mass stranding to re-beach themselves because they are very social animals who like to stay in close proximity to their pod.
"We are trying to swim the whales out to sea and guide them but they don't really take directions, they go where they want to go. Unless they get a couple of strong leaders who decide to head out to sea, the remaining whales will try and keep with their pod on the beach," he said.
The rescue team has been pouring water over the re-stranded whales to try and keep them cool before floating them out at the next high tide. Children also sang songs to keep the creatures calm.
"I've never seen anything like this," a volunteer named Petra Dubois told Stuff.co.nz. "It's just so unbelievably sad to see all these bodies; so many lives gone and so many that might not survive. Just so devastating, I really don't know what to say."
Lamason explained to The Guardian that many volunteers were working around the clock in chilly temperatures and mentally traumatic conditions.
"It is cold, it's wet and some of us have been in and out of the water for nine hours now. We can only cope with robust volunteers, not ones that are going to break down, which happens quite often," he said.
According to RadioNZ, the effort to refloat the remaining 80 to 90 whales will resume Saturday. The whales will be kept comfortable and can survive for several days as long as they are kept cool and wet.
The cause of the stranding is unclear. However, Lamason said that the bay was prone to mass strandings due to the area's shallow waters that can confuse the mammals' sonar and find it difficult to get back out.
Cape Farewell is a headland in New Zealand 400 pilot whales who have become stranded at Farewell Spit in Golden Bay. https://t.co/6CEaCwe6Qo

— Tony (@Tony)1486679071.0
New Zealand is known to have the highest rate of whale strandings in the world, according to the marine environmental organization Project Jonah.
Still, the latest event came as "a shock," Project Jonah manager Darren Grover told Reuters.
In an interview with RadioNZ, Otago University zoologist Liz Slooten ruled out seismic blasting as a cause since the last survey in the area was done nearly a week ago. The blasting of seismic testing can potentially disorientate whales.
She added that the cause of the latest mysterious stranding may never be known.
According to Project Jonah, "strandings are complex events and there are many reasons why dolphins and whales may strand. In most cases the exact cause is unknown but any one of the following factors, or a combination of them, can be the cause."
Pilot whales are not considered to be endangered even though they are depleted in some areas. The American Cetacean Society stated, "There are likely to be almost a million long-finned pilot whales and at least 200,000 short-finned pilot whales worldwide."
Sea Shepherd Conservation Society is asking big-box retailer Costco to stop its purchase and sale of salmon exported from the Faroe Islands until the Faroes bring the brutal and archaic mass slaughter of pilot whales and other cetaceans, known as the "grindadráp" or "grind," to a grinding halt.
Actors Richard Dean Anderson (MacGyver), Eric Balfour (Haven), Rutger Hauer (Blade Runner), Ross McCall (24: Live Another Day), Cliff Simon (Stargate SG-1), Clive Standen (Vikings); actresses Shannen Doherty (Charmed and Beverly Hills, 90210), Perry Reeves (Entourage) and Red Hot Chili Peppers front man Anthony Kiedis have teamed with Sea Shepherd to send a letter to Costco CEO Craig Jelinek from the organization's founder, Captain Paul Watson.
Hollywood Stars Demand @Costco Stop its Purchase and Sale of Faroe Islands' Salmon... https://t.co/Sx8p8Fyvtd https://t.co/58nWarTYJ2

— Sea Shepherd SSCS (@Sea Shepherd SSCS)1468013968.0
The letter comes on the heels of last week's news that a pod of 30-50 pilot whales was slaughtered in the first grindadráp (grind) of the year, on the island of Viðoy in the Danish Faroe Islands archipelago.

The letter to Jelinek expresses concern that chain-store giant Costco is selling salmon farmed in the Faroe Islands, an archipelago of 18 isles in the North Atlantic, where hundreds of wild, migrating cetaceans are slaughtered each year.
Describing this massacre of ocean wildlife, the letter states that "entire pods of pilot whales and dolphins are driven by hunting boats to the shallow waters along the Faroe Islands. ... Those cetaceans who are not herded far enough into the shallows will have a gaff hook stabbed into their blowholes and will be pulled ashore the rest of the way by rope. The panicked and thrashing whales or dolphins are then slowly sawed into behind their blowholes with a special Faroese hunting knife and killed by the severing of their spinal cords, as each animal is brutally slaughtered before the eyes of their family members. No member of the pod is spared, not even pregnant females or juveniles."
Though Faroese whalers claim that the grind brings a quick and humane death, some of these highly intelligent and socially complex marine mammals take as long as four minutes to die, as the steely waters of the Faroes run red with blood.
The letter to Jelinek continues, "As a large and respected member of the corporate retail community, Costco should not condone these acts of brutality by economically supporting the Faroese salmon fishery. Costco can apply economic pressure to end the atrocity known as the "grind," a whale hunt that should be deemed illegal by the anti-whaling EU but yet is supported by Denmark, a part of the EU. Mr. Jelinek, Costco and you as its CEO, now have the opportunity to show your members and the international community that you represent a company of compassionate individuals who care about the fate of intelligent and sentient whales and dolphins as well as the oceanic eco-systems upon which they—and all life on Earth—depend for survival."
The grind is an outdated practice as the Faroese people have one of the highest standards of living in all of Europe and access to the same foods found in grocery stores in Denmark. In addition, Faroese health officials have warned against consumption of the pilot whale meat, especially by children and pregnant women or women of childbearing age, because it is contaminated with neurotoxins such as mercury.
Though it is the slaughter of cetaceans by the Faroese that is opposed by Sea Shepherd, the organization is calling for a boycott of salmon exported from the Faroes until the senseless grind is permanently ended.
"These compassionate celebrities have offered their desperately needed voices to the pilot whales who were killed recently in the Faroe Islands and to those who are at risk each time they pass by Faroese shores," Watson said regarding the Hollywood industry's support. "We must make it known that the blood of intelligent and social whales and dolphins stains every package of salmon from the Faroes. This archaic massacre of cetaceans, defended by the EU-member nation of Denmark, must be sunk economically. I encourage all concerned consumers to do their part by boycotting salmon from the Faroe Islands at Costco and wherever it is sold."
The appeal to boycott Costco comes just weeks after Sea Shepherd released a 22-minute documentary short on YouTube shot by McCall, chronicling his experience in the Faroe Islands, along with a companion essay he published in the Huffington Post.
Since 1983, Sea Shepherd has sent 10 campaigns to the Faroes, saving hundreds of whales and dolphins while dealing with the arrest of Sea Shepherd volunteers and the seizure of the organization's boats.

Faroese law states it is illegal to interrupt the killing and illegal to sight a pod of whales and not report it. To further protect their beloved Grind from outside interference, this year the Faroese enacted laws that prohibit Sea Shepherd crew from entering their waters and wearing Sea Shepherd shirts on land.
This year, in response, Sea Shepherd Global announced Operation Bloody Fjords, a new operation targeting the massacre of pilot whales in the Faroe Islands.
With years of footage of this bloodshed, Operation Bloody Fjords will include culling together decades' worth of photographic and video evidence to target the Grind in legal, political, commercial and economic arenas. A full-length documentary feature will also be produced.
EcoWatch Daily Newsletter
At a press conference Friday in the capital city of the Torshavn in the Faroe Islands, actress and activist Pamela Anderson joined Sea Shepherd Conservation Society to shine a spotlight on the brutal and archaic mass slaughter of pilot whales and other cetaceans known as the 'grindadrap' or 'grind' and show her support for Operation GrindStop 2014 campaign.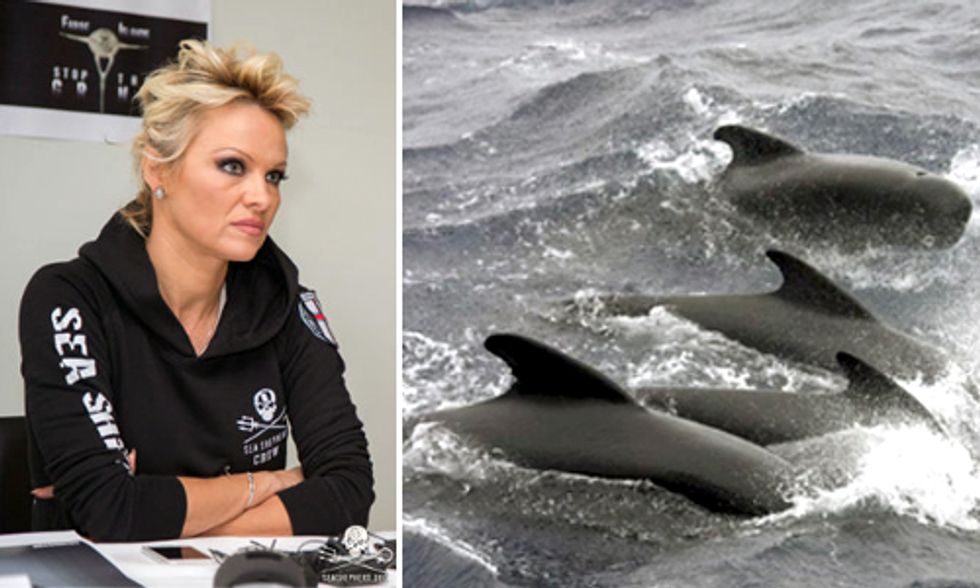 Photo credit: Sea Shepherd / Marianna Baldo
Anderson, a long-time animal protection advocate, explained that though the Faroese people once needed to kill pilot whales for food, there is no longer any need in the modern world to kill cetaceans.
"This is not for survival. There are very few things that happen like this, that are this brutal," said Anderson. "We have to put this behind us and move on, and let the whales swim freely by. And I think it's much more important for us in the future to save our oceans and the biodiversity of our oceans that the whales are very important to."
Anderson stressed how it needs to be the next generation "to end this archaic abomination called the Grindwho brings this needless grind to a halt."
"Young people probably feel pressure to follow in the footsteps of their ancestors. I think this is the perfect time to not listen to your parents, to think for yourself. Maybe there's going to be a movement like there have been movements for many other things in the world where you look inside yourself and say 'Is this something I should be doing just because my parents did it and my grandparents did it?' This is a new time and the world is at risk ... I think this is the generation that has to stand up and say 'That was then, this is now; this is what I'm going to do.'"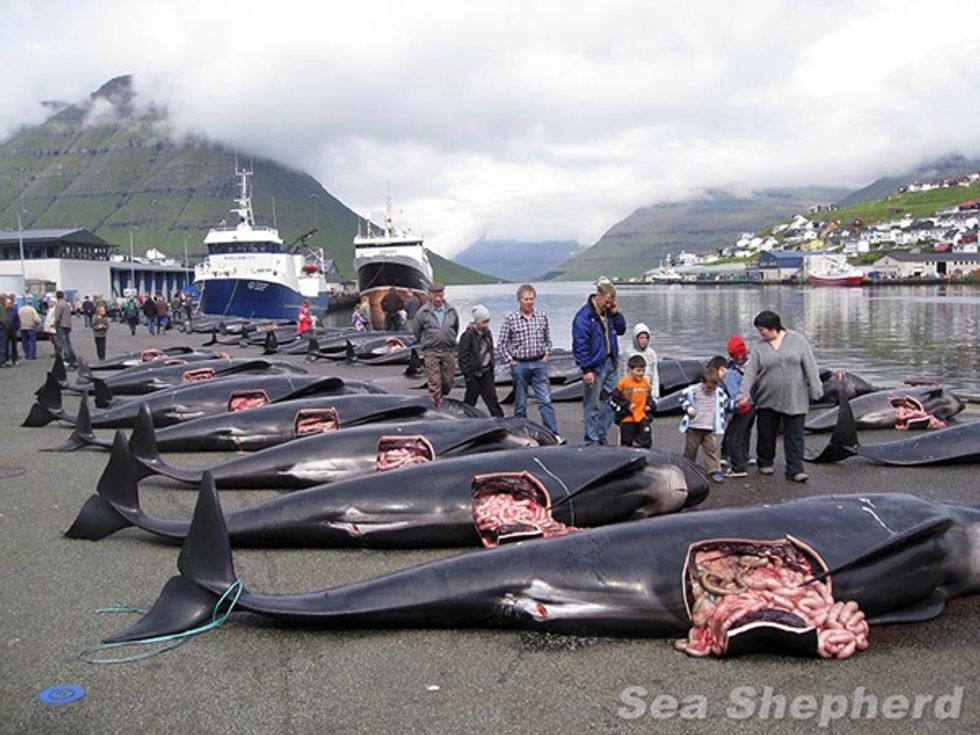 From now until Oct. 1, the traditionally bloodiest months of the hunt season, approximately 500 Sea Shepherd volunteers will patrol the land and waters of the Faroes for Operation GrindStop 2014 campaign. The only grind to take place so far this year was on May 18, before Sea Shepherd arrived in the Faroe Islands, claiming 13 pilot whales. The year before, a staggering 267 pilot whales were killed in just one grind.
"A culture and tradition that does not belong in the 21st century should be abolished," Rosie Kunneke, GrindStop 2014 onshore campaign leader for Sea Shepherd USA, said in a statement, sharing her own experiences growing up in South Africa. "I grew up in the 'culture' and 'tradition' of apartheid ... The whole world came in and attacked us, which we welcomed because that tradition and that culture didn't belong in that century, and we fought with the people outside against the government to change this. You don't need to kill pilot whales anymore. Every person I've met in the Faroes has said they don't need to do it anymore."
Sea Shepherd will take direct action to intervene and stop the grind from taking place using land, sea and air tactics as part of GrindStop 2014. Last week, Sea Shepherd's crew spotted a pod of pilot whales and guided them back out to sea, safely away from the Faroese killing bays. 
"The killing is a stain on this pristine country which no longer needs the meat of these animals to survive," said Anderson in a statement. "When we know better, we do better. And we now know that these are sentient creatures who suffer greatly not only during the slaughter but during the very stressful drive itself. They are very socially complex animals and their entire families are being killed in front of them in a manner that would never be permitted in any slaughterhouse in the world. In addition, the meat of these animals is tainted with toxic contaminants including mercury, which is particularly harmful to pregnant women and young children."
You Might Also Like
Southwest Airlines Ends Partnership With SeaWorld After 'Blackfish' Backlash
Sea Shepherd Founder to Bill Maher: 'If Oceans Die, We Die'
Shocking Court Documents Expose SeaWorld's Continued Cruelty of Orca Whales