Piglets at a pig farm on May 12, 2020 in Bijie, Guizhou Province of China. Deng Gang / VCG via Getty Images
Scientists in China have identified a strain of H1N1 that is rapidly spreading amongst workers in the country's pig farms. They warn that the fast spreading strain of swine flu has pandemic potential, if it is not contained quickly, according to The New York Times.

An outbreak of H1N1 caused widespread fear in 2009 when it killed 285,000 people around the world. The new strain is a derivative of H1N1, according to the scientists who published a paper on it on Monday in the scientific journal Proceedings of the National Academy of Sciences (PNAS).
The disease, which researchers called the G4 virus, now shows "all the essential hallmarks of a candidate pandemic virus," said the study, as CNN reported.
The researchers say that the disease is not yet an immediate problem, but they noted that pig farm workers also showed elevated levels of the virus in their blood, and that "close monitoring in human populations, especially the workers in the swine industry, should be urgently implemented," as Reuters reported.
Angela Rasmussen, a virologist at Columbia University's public health school, urged the public to remain calm and not "freak out," according to CNN.
"Our understanding of what is a potential pandemic influenza strain is limited," she posted on Twitter. "Sure, this virus meets a lot of the basic criteria but it's not for sure going to cause a hypothetical 2020 flu pandemic, or even be a dominant strain in humans."
Chinese researchers based at several institutions, including Shandong Agricultural University and the Chinese National Influenza Center, discovered the G4 virus during a pig surveillance program, according to CNN. Over a seven-year span, from 2011 to 2018, the researchers took more than 30,000 nasal swab samples from pigs in slaughterhouses and veterinary teaching hospitals across 10 Chinese provinces.
Those samples revealed 179 swine influenza viruses, but only a fraction of them posed any concern to the researchers, as several only showed up in a single year while others declined to non-threatening levels.
The strain in question though, G4 EA H1N1, has been common on China's pig farms since 2016 and replicates efficiently in human airways, according to the study. So far, it has infected some people without causing disease, but health experts worry that means the virus is lurking and mutating into something different and a sudden change can happen without warning, according to The New York Times.
Recent evidence "indicates that G4 EA H1N1 virus is a growing problem in pig farms, and the widespread circulation of G4 viruses in pigs inevitably increases their exposure to humans," the study said.
In the last three years of the study, researchers collected blood samples from workers on various pig farms and from people in nearby households. The study found that 10.4 percent of the workers and 4.4 percent of the others tested positive for G4 EA H1N1, and that 20.5 percent of workers between the ages of 18 and 35 tested positive for the virus, as The New York Times reported.
"It may be that with further change in the virus it could become more aggressive in people much as SARS-CoV-2 has done," said Ian H. Brown, the head of the virology department at Britain's Animal and Plant Health Agency and one of two scientists who reviewed the paper before it was published, in an email to The New York Times.
The good news is that there is no evidence yet that G4 could spread from person to person, the most promising sign so far, according to Carl Bergstrom, a professor of biology at the University of Washington who spoke to CNN.
"This is not a *new* new virus; it's been very common in pigs since 2016," he wrote on Twitter. "There's no evidence that G4 is circulating in humans, despite five years of extensive exposure. That's the key context to keep in mind."
Chinese Foreign Ministry spokesman Zhao Lijian told a daily news conference on Tuesday that China was closely following developments. "We will take all necessary measures to prevent the spread and outbreak of any virus," he said, as Reuters reported.
Whether or not the virus does spread in humans remains to be seen, but it is a reminder that our animal farming practices increase our susceptibility to animal diseases.
"Pig farming is a massive industry in China and pigs can be important hosts from which novel influenza viruses may emerge," said James Wood, head of veterinary medicine at the University of Cambridge, to CNN. He added that the study was a "salutary reminder that we are constantly at risk of new emergence of zoonotic pathogens and that farmed animals, with which humans have greater contact than with wildlife, may act as the source for important pandemic viruses."
EcoWatch Daily Newsletter
Warning: The video above may be upsetting to viewers.
An amusement park in China came under fire on social media this weekend for forcing a pig off a 230 foot-high bungee tower.
The footage of the incident, which took place Saturday, went viral on Weibo, the leading Chinese social media platform, as The Independent reported. Users widely condemned the incident and accused the park of "torture."
"This is animal cruelty, no doubt about it," one commenter wrote. "I recommend we tie the organiser up to do the bungee jump instead."
The video showed the pig being carried up the bungee tower with its legs bound and tied to a poll, The New York Times reported. The paper described what happened next:
The animal could be heard squealing as it was dragged toward the tower's edge, attached to a bungee cable with a cape draped over its body. Pushed off the edge, it helplessly tumbled and bounced in midair as the cord sprang back. The animal's distressed screeches continued as it dangled, suspended in the air.
The incident comes as awareness of animal welfare issues is on the rise in China, which as yet has no laws on the books against animal cruelty, BBC News reported. But the public reaction shows there is potential for this to change, according to Jason Baker, senior vice-president of international campaigns with People for the Ethical Treatment of Animals (PETA).
"Pigs experience pain and fear in the same ways that we do, and this disgusting PR stunt should be illegal," Baker told BBC News. "The Chinese public's angry response should be a wake-up call to China's policy-makers to implement animal protection laws immediately."
The Meixin Red Wine Town theme park in the southwestern municipality of Chongqing had organized the stunt to promote the opening of its bungee attraction, but the backlash prompted it to issue an apology.
"We sincerely accept netizens' criticism and advice and apologise to the public," it said in a statement reported by BBC News. "We will improve [our] marketing of the tourist site, to provide tourists with better services."
The park's owner also said the stunt was intended to help celebrate the Lunar New Year Jan. 25, after which the Year of the Pig will end and Year of the Rat will begin, The Independent reported. One commenter rejected this logic, however.
"You can't torture pigs just because the Year of the Pig has passed," they said.
Park officials said the pig was "all right" after the incident, but it was later taken to a slaughterhouse, a Chinese publication said, as The New York Times reported.
From Your Site Articles
Related Articles Around the Web
waterlust.com / @tulasendlesssummer_sierra .
Each product featured here has been independently selected by the writer. If you make a purchase using the links included, we may earn commission.
The bright patterns and recognizable designs of Waterlust's activewear aren't just for show. In fact, they're meant to promote the conversation around sustainability and give back to the ocean science and conservation community.
Each design is paired with a research lab, nonprofit, or education organization that has high intellectual merit and the potential to move the needle in its respective field. For each product sold, Waterlust donates 10% of profits to these conservation partners.
Eye-Catching Designs Made from Recycled Plastic Bottles
waterlust.com / @abamabam
The company sells a range of eco-friendly items like leggings, rash guards, and board shorts that are made using recycled post-consumer plastic bottles. There are currently 16 causes represented by distinct marine-life patterns, from whale shark research and invasive lionfish removal to sockeye salmon monitoring and abalone restoration.

One such organization is Get Inspired, a nonprofit that specializes in ocean restoration and environmental education. Get Inspired founder, marine biologist Nancy Caruso, says supporting on-the-ground efforts is one thing that sets Waterlust apart, like their apparel line that supports Get Inspired abalone restoration programs.
"All of us [conservation partners] are doing something," Caruso said. "We're not putting up exhibits and talking about it — although that is important — we're in the field."
Waterlust not only helps its conservation partners financially so they can continue their important work. It also helps them get the word out about what they're doing, whether that's through social media spotlights, photo and video projects, or the informative note card that comes with each piece of apparel.
"They're doing their part for sure, pushing the information out across all of their channels, and I think that's what makes them so interesting," Caruso said.
And then there are the clothes, which speak for themselves.
Advocate Apparel to Start Conversations About Conservation
waterlust.com / @oceanraysphotography
Waterlust's concept of "advocate apparel" encourages people to see getting dressed every day as an opportunity to not only express their individuality and style, but also to advance the conversation around marine science. By infusing science into clothing, people can visually represent species and ecosystems in need of advocacy — something that, more often than not, leads to a teaching moment.

"When people wear Waterlust gear, it's just a matter of time before somebody asks them about the bright, funky designs," said Waterlust's CEO, Patrick Rynne. "That moment is incredibly special, because it creates an intimate opportunity for the wearer to share what they've learned with another."
The idea for the company came to Rynne when he was a Ph.D. student in marine science.
"I was surrounded by incredible people that were discovering fascinating things but noticed that often their work wasn't reaching the general public in creative and engaging ways," he said. "That seemed like a missed opportunity with big implications."
Waterlust initially focused on conventional media, like film and photography, to promote ocean science, but the team quickly realized engagement on social media didn't translate to action or even knowledge sharing offscreen.
Rynne also saw the "in one ear, out the other" issue in the classroom — if students didn't repeatedly engage with the topics they learned, they'd quickly forget them.
"We decided that if we truly wanted to achieve our goal of bringing science into people's lives and have it stick, it would need to be through a process that is frequently repeated, fun, and functional," Rynne said. "That's when we thought about clothing."
Support Marine Research and Sustainability in Style
To date, Waterlust has sold tens of thousands of pieces of apparel in over 100 countries, and the interactions its products have sparked have had clear implications for furthering science communication.
For Caruso alone, it's led to opportunities to share her abalone restoration methods with communities far and wide.
"It moves my small little world of what I'm doing here in Orange County, California, across the entire globe," she said. "That's one of the beautiful things about our partnership."
Check out all of the different eco-conscious apparel options available from Waterlust to help promote ocean conservation.
Melissa Smith is an avid writer, scuba diver, backpacker, and all-around outdoor enthusiast. She graduated from the University of Florida with degrees in journalism and sustainable studies. Before joining EcoWatch, Melissa worked as the managing editor of Scuba Diving magazine and the communications manager of The Ocean Agency, a non-profit that's featured in the Emmy award-winning documentary Chasing Coral.
They go by many names — pigs, hogs, swine, razorbacks — but whatever you call them, feral pigs (Sus scrofa) are one of the most damaging invasive species in North America. They cause millions of dollars in crop damage yearly and harbor dozens of pathogens that threaten humans and pets, as well as meat production systems.
As a wildlife ecologist, I am interested in how feral pigs alter their surroundings and affect other wild species. In a recent study, members of the lab I directed through mid-2019 at Mississippi State University showed that wild pigs are a serious threat to biodiversity.

Using trail camera surveys to monitor 36 forest patches between 10 and 10,000 acres in size, we determined that forest patches with feral pigs had 26 percent less-diverse mammal and bird communities than similar forest patches without them. In other words, many wildlife species seem to be excluded from areas where pigs are present.
This finding is concerning because feral pig populations, which have been present in North America for centuries have rapidly expanded over the past several decades. Recent studies estimate that since the 1980s the pig population in the U.S. has nearly tripled and expanded from 18 to 35 states. They also are spreading rapidly across Canada.
Officials are unsure of the number of feral hogs roaming Missouri, but their damage is evident. However, new funding means more Missouri staff dedicated to h...
Marcus Lashley is an assistant professor of wildlife ecology at Mississippi State University.

Reposted with permission from our media associate The Conversation.
Animal protection groups rescued piglets from a flood at the "Big Ditch" levee in Oakville, Iowa in 2008.
Farm Sanctuary / Flickr
On Thursday the U.S. District Court for the Southern District of Iowa struck down the Iowa Ag-Gag law, holding that the ban on undercover investigations at factory farms and slaughterhouses violates the First Amendment. In 2017, a coalition of animal, environmental and community advocacy groups, including Center for Food Safety, challenged the law's constitutionality. Federal courts have similarly struck down Ag-Gag laws in Idaho and Utah as unconstitutional.
Iowa's Ag-Gag law criminalizes undercover investigations at a broad range of animal facilities including factory farms, puppy mills and slaughterhouses; preventing advocates from exposing animal cruelty, environmental harm, workers' rights infractions and food safety violations. The law achieved its goal of suppressing undercover investigations—no investigations have taken place since the law's passage in 2012.
"Ag-Gag laws unconstitutionally allow Industrial Ag to hide in the darkness, and today's decision is another important pulling back of that curtain," said Andrew Kimbrell, executive director of Center for Food Safety. "This decision is a victory for all those who support humane treatment of farm animals and safe food."
For more than a century, the public has relied on undercover investigations to expose illegal and cruel practices on factory farms and slaughterhouses. No federal laws govern the conditions in which farmed animals are raised, and laws addressing slaughter and transport are laxly enforced. Undercover investigations are the primary avenue through which the public receives information about animal agriculture operations. Iowa is the biggest producer of pigs raised for meat and hens raised for eggs in the U.S., making it critically important that investigations there are not suppressed.
"Ag-Gag laws are a pernicious attempt by animal exploitation industries to hide some of the worst forms of animal abuse in the United States," said Animal Legal Defense Fund Executive Director Stephen Wells. "Today's victory makes it clear that the government cannot protect these industries at the expense of our constitutional rights."
Center for Food Safety is also co-counsel and co-plaintiff in another case successfully striking down Idaho's Ag-Gag law in 2017, and part of ongoing cases in North Carolina and Kansas.
A copy of the decision is available upon request (please email us at [email protected]).
The plaintiffs in the lawsuit are the Animal Legal Defense Fund, Iowa Citizens for Community Improvement, Bailing Out Benji, People for the Ethical Treatment of Animals (PETA) and Center for Food Safety. They are represented by the Animal Legal Defense Fund, the American Civil Liberties Union (ACLU) of Iowa, Public Justice, the Law Office of Matthew Strugar and Center for Food Safety.
This Victorious California Ballot Measure Could Improve the Lives of Farm Animals Nationwide https://t.co/EITIAYdOCl

— SSF-BERF-DEFM (@SSF-BERF-DEFM)1541775667.0
From Your Site Articles
Related Articles Around the Web
Lester Lefkowitz / Stone / Getty Images
One of the biggest winning groups in Tuesday's midterm elections didn't even get to cast a ballot: the nation's farm animals.
California's Proposition 12, which requires farmers to give more space for hens, pigs and veal calves, passed with 61 percent of the vote, as ABC 7 News reported Wednesday.
We did it, California!!!! https://t.co/spdZK2DbNf

— Yes on Prop 12 - Prevent Cruelty CA (@Yes on Prop 12 - Prevent Cruelty CA)1541572701.0
But the new law could impact animals well outside California's borders, as The Huffington Post pointed out:

Proposition 12, also known as the Farm Animal Confinement Initiative, also will eventually ban the sale of agricultural products in California that don't meet the state's new requirements. That means the new law may influence how farmers across the country raise their animals.
The law will be implemented in two stages.
1. By 2020, all California egg-laying hens must have at least one square foot of space, and each veal calf must have at least 43 square feet of space.
2. By 2022, female breeding pigs must have at least 24 feet of space, all chickens must be raised cage-free with at least 1 square foot of space each, and all agricultural products sold in California must have been raised in conditions that meet these standards, even if they come from other states.
Thank you California! With your #YesOn12 vote, thousands of farm animals will be spared of pain and suffering from… https://t.co/7uUQ5lqVrg

— San Diego Humane Society (@San Diego Humane Society)1541600361.0
California voters already tried to legislate more room for animals in 2008 with the passage of Proposition 2. But that law didn't end up being effective enough for animal rights advocates because it only called for more space without setting numbered requirements. That meant that state officials decided that farmers could still keep chickens in cages as long as they were large enough.

But Proposition 2 provided a successful trial run to see whether its requirements for out-of-state farmers would hold up in court. Twelve states sued to stop the law from applying to producers in other states, and judges so far have rejected those suits, The Palm Springs Desert Sun reported.
However, the implementation of both laws is threatened by a provision in the House version of the Farm Bill, as The Desert Sun explained:
The so-called "King Amendment," introduced by Steve King, R-IA, whose district produces more eggs than any other in the nation, stipulates that states can't impose animal welfare standards onto products imported from other states.

King says the law would mitigate "the serious economic harm the California law is currently causing to egg producers and consumers in Iowa and elsewhere."

There is no guarantee that King's amendment will make it into the final draft, though. More than 30 senators have written a letter opposing the amendment, and the 2014 version of the Farm Bill excised similar language before passing.
While Proposition 12 was supported by a wide coalition of animal welfare and environmental groups including the Humane Society of the United States and the Sierra Club California, not all animal lovers thought it was a good idea.
People for the Ethical Treatment of Animals (PETA) opposed the proposition because, they argued, it would still allow birds to remain caged until 2022, and didn't mandate nearly enough space after that date.
"We can't and don't consider it remotely humane to confine birds to a miserly 1 square foot of space—and this wouldn't even be required until years in the future," PETA wrote in a blog post explaining its position.
@lwoodhouse Here is why PETA opposes prop 12. https://t.co/gCHFpIpCj6

— PETA: Turkeys are killed at 6mo, don't eat babies (@PETA: Turkeys are killed at 6mo, don't eat babies)1541450530.0
Cavan Images / Getty Images
By Reynard Loki
Many children play with toys that evoke the bucolic life on a farm. And many will likely visit a small local farm, where animals have space and access to sunlight and the outdoors. But most kids are probably not aware that, for the vast majority of farmed animals, life is anything but happy.
Consider the life of a chicken trapped on a factory farm. If she is one of the 9 billion chickens who suffer and die on U.S. factory farms for their meat, she is committed to a life of unending misery, fed an unnatural diet to spur abnormally rapid and painful growth. Perhaps she is one of the 26 to 30 percent of chickens raised for their meat who can't even walk normally because their skeletons are not able to support their rapidly growing bodies. She will live an average of just 42 days. If she is one of more than 300 million chickens raised in factory farms every year for their eggs, most of her beak was cut off with a scalding hot blade when she was just hours or days old. As a hen, she lives her entire life in a tiny wire "battery" cage, with up to 10 other hens. She may be sick or injured, but she will receive no medical care. She is forced to live alongside dead and dying cagemates. After about two years of this unimaginable suffering, she is considered "spent," and sent to a slaughterhouse. After her brief life, she must endure a terrible death as she is stunned in an electrified water bath before her throat is slit. (There is no law requiring chickens to be rendered unconscious before slaughter.)
Consider also the life of a mother pig trapped on a factory farm, where she is confined to a gestation crate barely larger than her own body. She is unable to turn around or even lie down comfortably for almost her entire life. Once she gives birth, she is impregnated again, in a cruel cycle that goes on for up to four years before she is killed for her meat. Her piglets are ripped from her when they are just 10 days old, and their tails cut off and their teeth clipped. Her sons have their testicles ripped out without any anesthesia or painkillers.
These are the brutal realities for millions of animals trapped on factory farms. But how do parents and teachers address these realities of our broken and inhumane food system with children? Journalist, editor and author Leslie Crawford has answered that call with two books published by Stone Pier Press, an environmental publishing house with a focus on food and sustainability. The first, Sprig the Rescue Pig, tells the story of a factory farm pig who escapes the truck bringing him to a slaughterhouse, before being rescued by a young girl and her family, who show him love and kindness. The second, Gwen the Rescue Hen, published this month, is about a chicken who escapes from an egg factory farm and is rescued by a young boy who decides to make her—and some of her fellow escapees—a part of his family. Both books include special sections filled with fascinating facts about pigs and chickens to help educate kids and adults about how incredible pigs and chickens really are.
A page from "Gwen the Rescue Hen," in which children's book author Leslie Crawford reveals the loving bonds that can form between humans and chickens. Crawford and her two children have six pet chickens at home. Stone Pier Press
In telling these heartwarming tales of resilience, compassion and love, Crawford avoids the more brutal realities of factory farming, showing simply that these farms are extremely unhappy places for such intelligent and emotional beings. She focuses instead on how truly wonderful these overlooked and poorly treated animals are—that they're way more than just bacon and nuggets.
A page from "Gwen the Rescue Hen." Stone Pier Press
In this interview, Crawford discusses what inspired her to write these books, what messages she wanted to convey to kids and parents, and what it's like living with chickens (and pigeons and a bearded dragon).

Reynard Loki: Your 13-year-old daughter Molly is an animal lover, and it was through her that you got interested in writing about animals. Tell us a little bit about Molly, how she fell in love with animals and how she helped get you to write about them.
Leslie Crawford: From the age of four, she was a fierce defender of pigeons, chasing away the little kids who chased away the pigeons. A couple years ago, she asked if we could adopt rescue King pigeons since she had learned about the organization Palomacy, which saves racing, homing and King pigeons who can't survive in the wild. (Many are the "doves" they release at ceremonies. Others escape from factory farming for squab. And others from racing pigeons.) I have six chickens and so was already more bird-minded … [so] I impulsively said yes … I'm a pretty impulsive person, which is why we now have four pigeons who live in an aviary right outside of our kitchen. Sometimes they fly into the kitchen. Yes, it's weird. Well, I don't see it as weird, but friends tell me they think it is.
Gwen the Rescue Hen is your second book about farm animals published by Stone Pier Press, following Sprig the Rescue Pig. As you developed these books, did you find inspiration from other children's books?
Absolutely. I also have a 21-year-old son, and so for 21 years, have been reading children's books. It's a particular art—children's books—and not at all obvious to get the language right and tap into the mind of a child without being condescending or cutesy. My inspirations were Roald Dahl, E.B. White (who, of course, authored the ultimate pig book, Charlotte's Web), Margaret Wise Brown, Louis Sachar. My ideal children's book is honest and funny and a bit strange. I don't think Gwen or Sprig is strange, though. We were mostly trying to help children and their parents to really see these remarkable animals. I identified a superpower that each animal has. For pigs, I chose their extraordinary sense of smell and for chickens, their remarkable vision. Pigs smell better and more than we do—they can smell truffles three feet underground. Similarly, chickens have Technicolor vision and are more alert to detail and movement than we are. These, of course, are survival techniques so they can find food (bugs!) and avoid danger.
The illustrations by Sonja Stangl are really great. How did you connect with her, and what attracted you to her work and style?
Stone Pier Press did an online audition, and after studying more than 100 portfolios, we chose Sonja. Her drawings, and her Sprig, were so beautiful, with an almost old-fashioned sensibility. She has a soft spot for farm animals and knows how to communicate this with kids and parents. She also has a great sense of story, which we drew on to craft the book.
Gwen the Rescue Hen is brand-new and available this month. How has the reception been for Sprig the Rescue Pig?
Fantastic. There are so many kids' books about animals, but not many about animals in which we are inviting the reader to really get a sense of what it's like to be a pig and to be a chicken. Animals at the mercy of a big industrialized system who are afraid and confused because they don't know our language—as I write about in Sprig—and are smart enough to figure out that something is very wrong.
We got an especially warm reception from parents who are vegetarians and vegans because there are very few [children's] books about the plight of these animals. But the bonus section on cool things to know about pigs seems to captivate everyone. (We also include one about chickens in Gwen.) Most people have no idea how smart, affectionate and curious these animals are, and they seem to like finding out. As for Gwen, the early reviews are great…. Of course, I used my own flock of six hens as inspiration.
What was the most surprising thing you've learned about pigs and chickens in writing these books?
For pigs, how astonishingly smart they are. Their IQ, by some measures, is the same as or above a three-year-old child's and dogs. In fact, they are among the smartest animals, up there with chimpanzees and dolphins. With that intelligence comes a particular emotional intelligence that is evidenced by their curiosity and sensitivity. Like dogs, they like to be scratched. They cuddle, play fetch, come when called, have been taught to paint and play video games.
As for chickens, I thought I knew everything, but I learned much more. They have remarkable eyesight and can see colors and detail that we can't. I learned that their earlobes (yes, they have them) indicate the color of their shells. They can add, subtract and recognize shapes. This is interesting since people think they are so stupid, but they have really good memories, especially for other chickens and the people they like. I already knew what strong, individual personalities they have. My [chicken] Alice B. Toklas is sassy and curious, Fullerton is skittish and shy, Jasmine is a little irritable. James is sweet but dim. In contrast to their idyllic life in my San Francisco backyard, researching Gwen, I learned much more about how farm animals by the millions, even billions, are treated, which is in the most brutal, horrific and filthy way.
I learned even more what I already knew—that they are creatures with the wide range of feelings and perceptions that, while not all like humans, are remarkable in their own right and for that reason are worthy of our empathy and respect as fellow creatures on the planet.
Have you found that there is a need for books about farm animals for children? How would kids normally learn about what's happening to animals on factory farms?
Well, most people—adults and kids—don't know what is really happening on factory farms. As for teaching kids, it's a fine line because factory farming is such a brutal system. Just as learning about that is almost too much for most adults, it absolutely is way too much for kids. So we chose to teach more about the animals themselves, the rare few that get to leave that system and live a full life as a pig at a sanctuary or a chicken in a boy's backyard. My hope is that as people become even a little more aware about factory farming, they will see the damage factory farming is doing—to animals, yes, but also to the environment, the climate and our health. Once you start putting these pieces together, those can collectively become reasons to make more of us change the way we eat.
Have you found that kids are receptive to learning about factory farms and what happens to animals inside them?
This is a delicate subject. It's so horrifying, and no one wants to give their children nightmares. With our books, the goal is to inspire conversations about where our food comes from—not by using fear or guilt, but by drawing on our compassion.
What would you tell parents who want to avoid purchasing meat produced in factory farms, or parents who are considering switching their families' diets to more plant-based eating?
I'd tell them they are helping not only the planet but themselves and their children by encouraging them to eat more fruits, vegetables and grains. Factory farming heats up our planet, pollutes waterways and air, and eats up land used to grow the grain that feeds livestock—and lots of water too. It also hurts the people who live near and work at [the farms]. Even if a family isn't vegetarian or vegan, just reducing the amount of meat and dairy we eat can make a difference, and there are so many good plant-based options these days, with many more coming to market every week.
Consumers are becoming more aware of the horrors inside factory farms. Consumer sentiment has helped push many food corporations to upgrade their animal welfare policies. Are you hopeful for the future of animals raised for food?
For so many years [Americans] were focused on efficiency. Now more people are recognizing the dangers factory farming has created for our world. One result is the surge in support for clean meat technology and the development of more tasty plant-based alternatives. There's also a new and growing awareness of the difference eating less meat can make.
What are the most important takeaways you'd like kids and parents to get from Gwen the Rescue Hen and Sprig the Rescue Pig?
That chickens and pigs deserve, as we do, to live a good life. That we recognize them as fellow creatures sharing the planet, not just products for our consumption.
In addition to your two children, you live with six chickens, four foster pigeons and a bearded dragon lizard. What have you and your kids learned from living with these animals? Do you get eggs from your chickens? I've heard that chickens make great pets; is it true?
Yes, two children (Gideon and Molly), six chickens (Jasmine, Fullerton, James T. Baxter, Matilda, Summer and Alice B. Toklas), four foster pigeons (Guru, Paix, Marco and Ajax) and Georgia, the bearded dragon. When you live with any animal, you step more into their worlds, their weird way of being that is so different than ours and so interesting. You see how pigeons court and groom each other and that they parent, the males and females sitting on the eggs in equal time, and how chickens know to go into their coop at dusk and take care of each other. You realize that it's not all about us humans!
And yes, chickens are wonderful pets. Very low-maintenance and so entertaining. I love sitting with them in the morning, petting them, feeding them grapes and safflower seeds. They are funny and happy, or so they seem to me. Just watching a chicken sitting in the dust in the afternoon sun is entertaining.
I do eat their eggs but am less and less inclined to do so. Maybe because they are my pets. I give a lot of eggs to friends. While most of my adult life I've been a roller coaster vegetarian, I'm no longer on that ride. I am a committed vegetarian, trying to be a vegan….
Is there another book in the works for this series? What's next for you?
We are focusing on getting Sprig and Gwen more out into the world. We've talked about other animals. We'll see. I have talked about McDow the Rescue Cow with Clare Ellis, the publisher of Stone Pier Press (who had the inspiration to do these children's books as a way to reach children and parents). But for now, we just want these two books to get into the hands of many happy families.
This article was produced by Earth | Food | Life, a project of the Independent Media Institute, and originally published by Truthout. Reprinted with permission. To receive a discount on Gwen the Rescue Hen and Sprig the Rescue Pig, use code GS30.

Reynard Loki is a senior writing fellow and the editor and chief correspondent for Earth | Food | Life, a project of the Independent Media Institute. He previously served as the environment, food and animal rights editor at AlterNet and as a reporter for Justmeans/3BL Media covering sustainability and corporate social responsibility. He was named one of FilterBuy's "Top 50 Health & Environmental Journalists to Follow" in 2016. His work has been published by Truthout, Salon, BillMoyers.com, EcoWatch and Truthdig, among others.
From Your Site Articles
Related Articles Around the Web
apidach / Shutterstock
By Jenny McQueen
For a city girl, I've had a lot of experience with pigs. I've visited with them in sanctuaries, given belly rubs (they love those), introduced little children to them, rescued and cared for young piglets, witnessed distressed, overheated/freezing/thirsty young pigs in slaughter trucks, and experienced the hellish conditions inside a pig breeding and pig growing facility.
Reading about the injustices meted out to food animals turned me into a vegan and then an animal rights activist. This was the 1990s, before I'd even met any farmed animals.
So what's the truth about how pigs live on farms?
The industry provides an adorable illustration of "This Little Piggy" in a sweet-looking children's booklet, "Pig Tales Fun Book." It shows piglets suckling from their mama on the grass, a vet on hand, kids playing among the pigs. The pigs are enjoying their freedom in an idyllic setting. It's an artistic rendering that the kids can color. What fun.
The reality, however, is quite different. This is from my direct experience, in Canada, a developed country.
From the outside, there are neat buildings, a clean white shed, surrounded by pristine fields. Workers park their cars and leave civilization to enter a secret world of suffering and injustice to their charges—hundreds, perhaps thousands of pigs. Their offices and kitchen area look like any workplace. Open the door to the pigs' area and your senses and emotions are assaulted.
Pigs have sensitive noses. Their cousin, the truffle hog, is prized for sniffing out precious truffles. But pigs enduring life inside an industrial farm are in absolute purgatory. Shine a flashlight into the air and it's thick with particles. I wore silver jewelry and it was tarnished just from being exposed for a few hours. The cacophony of hundreds of pigs in distress, some screaming to escape, is deafening, as are the sounds of machinery—automatic feeders, automatic air extraction. Working in this environment must be awful for the humans, too. Who would be able to take pride in work that involves brutality, suffering and dangerous conditions? Dusty cobwebs hang from the electrical fittings, a desk fan is strung up in the corridor pointed at more electrics. The building is a fire hazard.
One could argue that the female pigs kept for breeding have it the worst. They languish in either a cramped gestation or farrowing crate, where they can't turn around. They urinate and defecate in the crate, and as they have to stand in their feces, it gradually falls below the slatted floor to a big pit. They give birth on these cold hard floors, not able to nuzzle their young or create a nest as they do in the wild. If they suffer injuries, there's no vet on hand. I witnessed one pregnant pig with a huge prolapse. She was being kept in a cold room, her chart marking her due date. Females like her are forced to reproduce until their piglet production declines, and then they are brutally loaded and shipped off to slaughter.
Male pigs are mostly slaughtered young, at barely 6 months old. Some males, however, are kept for breeding and used to supply semen. I witnessed large boars confined in a small cold room, in similar cages to those of the females. They were trying but failing to escape the confines of their cages. The look of desperation in their eyes is something I will never forget. Syringes were nearby.
The baby piglets seem oblivious to their fate. They struggle to reach their mother's red, often sore, nipples. Some are obviously suffering, thin and struggling to survive. I tried to save one piglet who was shivering on the bare, cold floor. She died in my arms.
Piglets who don't thrive are swung by their feet until their heads are bashed on the concrete floor—and yes, this is standard industry practice. They endure 'modifications' such as having their tails snipped off, their testicles removed and even their teeth ripped out without any painkillers. Witnessing these atrocities, and knowing that pigs are intelligent, feeling animals breaks my heart. Locking eyes with adult pigs who are in a constant state of anxiety and distress is soul-destroying.
Direct Action Everywhere (DxE) activists have managed to rescue some individuals. We took one lucky piglet, Noel, out of a hellish place in Ontario, Canada. He had a swollen ear and needed urgent veterinary treatment. He's now safe at a sanctuary, but we had to leave behind so many others.
The public is beginning to understand what happens to animals used for food. So-called humane slaughter methods have come under scrutiny. A court in Canada recently viewed footage of the gas chambers in a pig slaughterhouse. The pigs descending into the gas were seen screaming and struggling for air.
Please share this video and help the public see the truth.
Reposted with permission from our media associate AlterNet.
From Your Site Articles
Related Articles Around the Web
A new, peer-reviewed study has been released in the June 2013 Journal of Organic Systems detailing adverse effects of genetically engineered (GE) feed on pigs. Center for Food Safety has long advocated for more robust safety testing prior to introducing GE foods into the food supply. Currently, no GE safety testing is required in the U.S. The long-term study revealed that pigs fed a GE diet suffered higher rates of severe stomach inflammation and had on average heavier uteri. The findings were biologically and statistically significant and mirror what many farmers have been reporting for years. The study was performed over the course of five years by independent researchers in Australia and the U.S.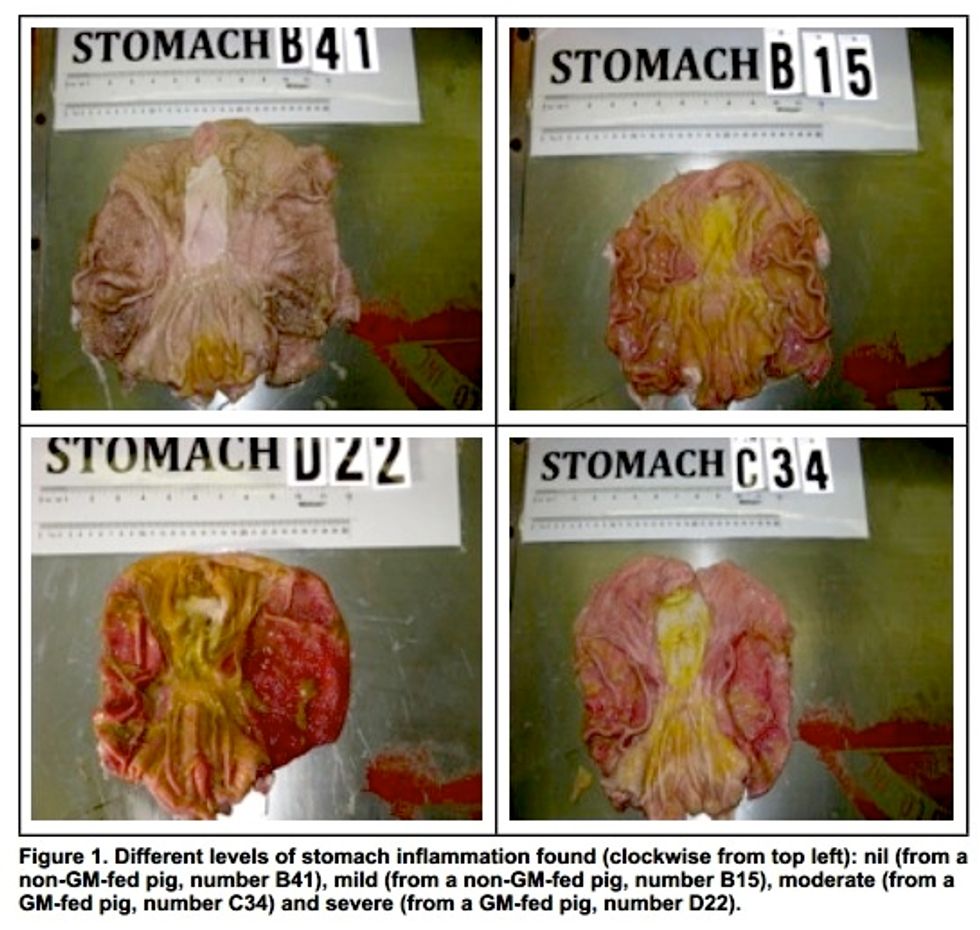 "This study raises serious questions about the long-term health impacts of genetically engineered foods," said Andrew Kimbrell, executive director of Center for Food Safety.
"It is grossly negligent that neither the companies nor the government have conducted these rigorous types of studies in the 15 years that GE products have been on the market. Until further long-term, independent studies are done, the public are unwittingly participating in the safety testing of these products."
According to the study's authors:
The research was conducted by collaborating investigators from two continents and published in the peer-reviewed Journal of Organic Systems. The feeding study lasted more than five months and was conducted in the US. 168 newly-weaned pigs in a commercial piggery were fed either a typical diet incorporating GM soy and corn (2), or else (in the control group) an equivalent non-GM diet.
The pigs were reared under identical housing and feeding conditions. They were slaughtered over 5 months later, at their usual slaughter age, after eating the diets for their entire commercial lifespan. They were then autopsied by qualified veterinarians who worked "blind"—they were not informed which pigs were fed on the GM diet and which were from the control group.
What little study has been conducted on the safety of GE foods has largely been limited to industry funded studies involving rats for only 90 days. In addition to the studies being inadequate in their rigor, the data is tightly controlled by the companies under the pretense of Confidential Business Information, limiting external review. Some independent scientists have conducted studies over the years, but much more is needed.
Visit EcoWatch's GE FOODS page for more related news on this topic.
By Janet Larsen
Half the world's pigs—more than 470 million of them—live in China, but even that may not be enough to satisfy the growing Chinese appetite for meat. While meat consumption in the U.S. has fallen more than five percent since peaking in 2007, Chinese meat consumption has leapt 18 percent, from 64 million to 78 million (metric) tons—twice as much as in the U.S. Pork is by far China's favorite protein, which helps to explain the late-May announced acquisition of U.S. meat giant Smithfield Foods Inc., the world's leading pork producer, by the Chinese company Shuanghui International, owner of China's largest meat processor. China already buys more than 60 percent of the world's soybean exports to feed to its own livestock and has been a net importer of pork for the last five years. Now the move for Chinese companies is to purchase both foreign agricultural land and food-producing companies outright.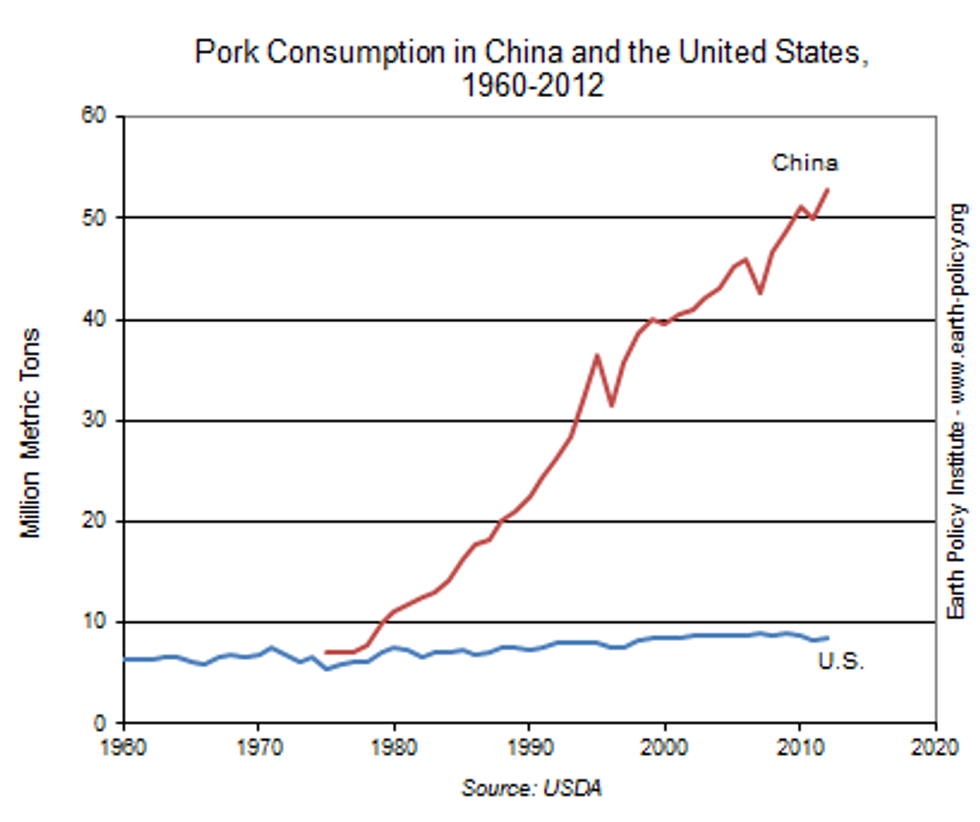 People in China ate 53 million tons of pork in 2012—six times as much as in the U.S. On a per person basis, consumption in China first eclipsed that in the U.S. in 1997, and it has never looked back. Now the average Chinese eats 86 pounds (39 kilograms) of pig meat each year, compared with 59 pounds in the U.S. As demand rises, pork is starting to shift from household, or farm-scale production into larger factory-like operations. Overcrowding in these facilities has been blamed for pollution and the spread of disease, as well as for the recent dumping of thousands of dead pigs into a river flowing into Shanghai.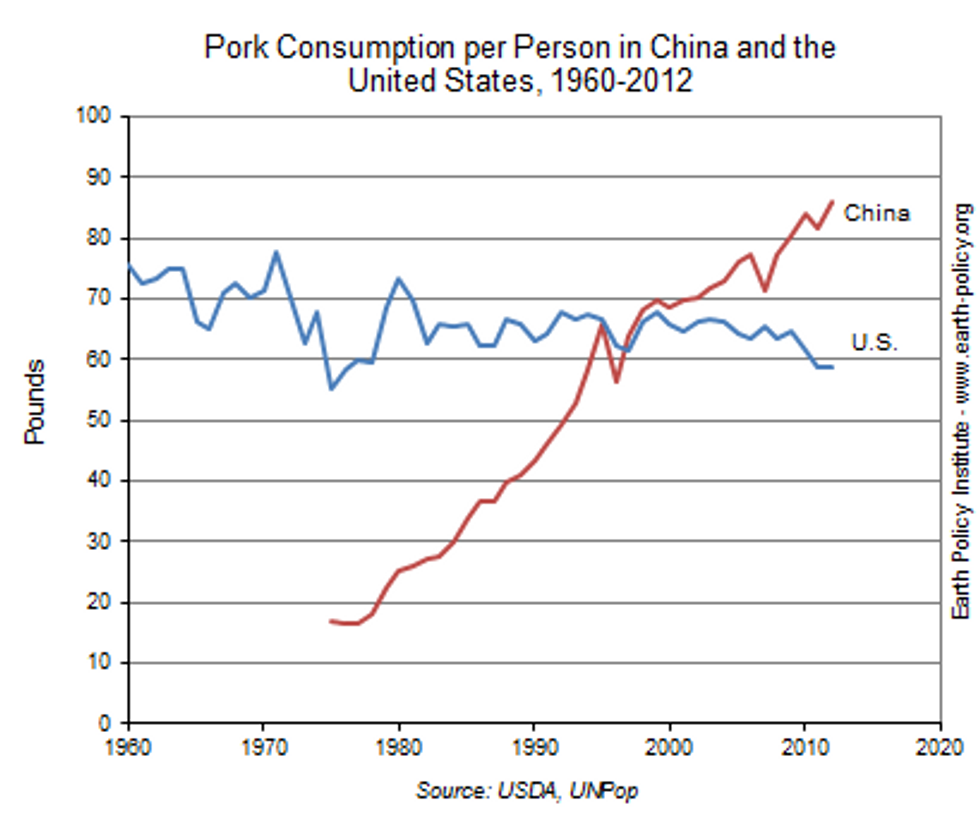 Chinese chicken production and processing have also consolidated, as sadly seen in the recent fire at a large poultry plant in northeastern China that reportedly killed at least 120 people. China's chicken intake just recently caught up with that in the U.S., with 13 million tons eaten in each country. It took China just 25 years to make the consumption leap achieved by the U.S. over a half-century.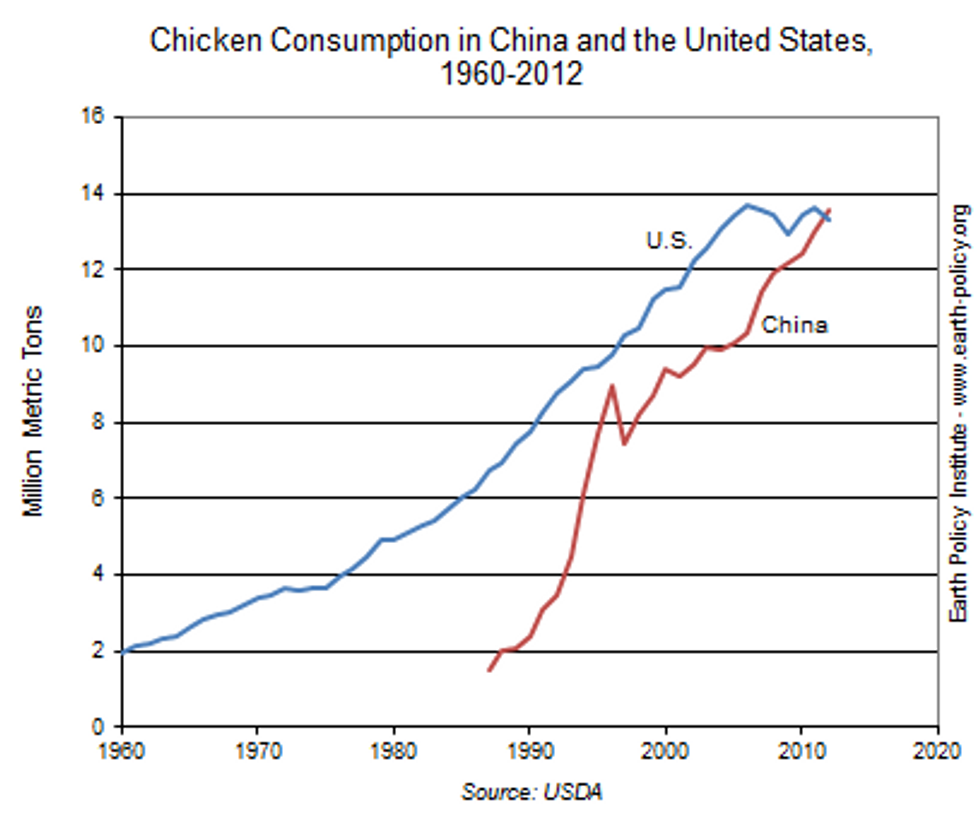 Chicken is America's meat of choice, and U.S. individual diets are four times heavier with poultry than Chinese diets are. However, as fast-food restaurants in China multiply, chicken consumption is rising. If the Chinese ate as much chicken per person as Americans do, their flocks would need to quadruple—as would the grain and soybeans used in the feed rations.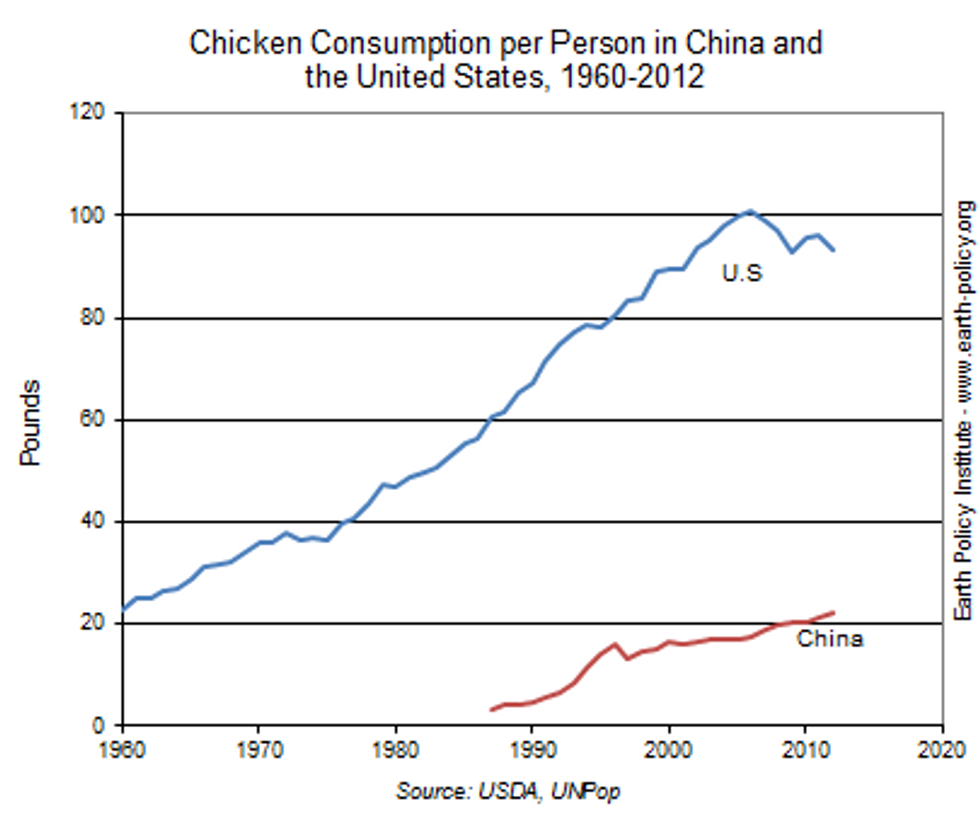 As for beef, grazing land limitations and higher costs have made this meat far less popular in China than in the U.S., with 5.6 million tons consumed in 2012, or nine pounds per person. The average American, in stark contrast, ate 82 pounds of beef that year. Total beef consumption in both countries appears to have peaked.
The Chinese eat nearly as much mutton and goat (close to seven pounds per person annually) as they do beef, while those meats barely register in U.S. diets. New steakhouses are trying to lure affluent Chinese toward red meat, but they are unlikely to reach the masses. If the Chinese ate as much beef as Americans do today, they would need 50 million tons of it, 90 percent of current world consumption.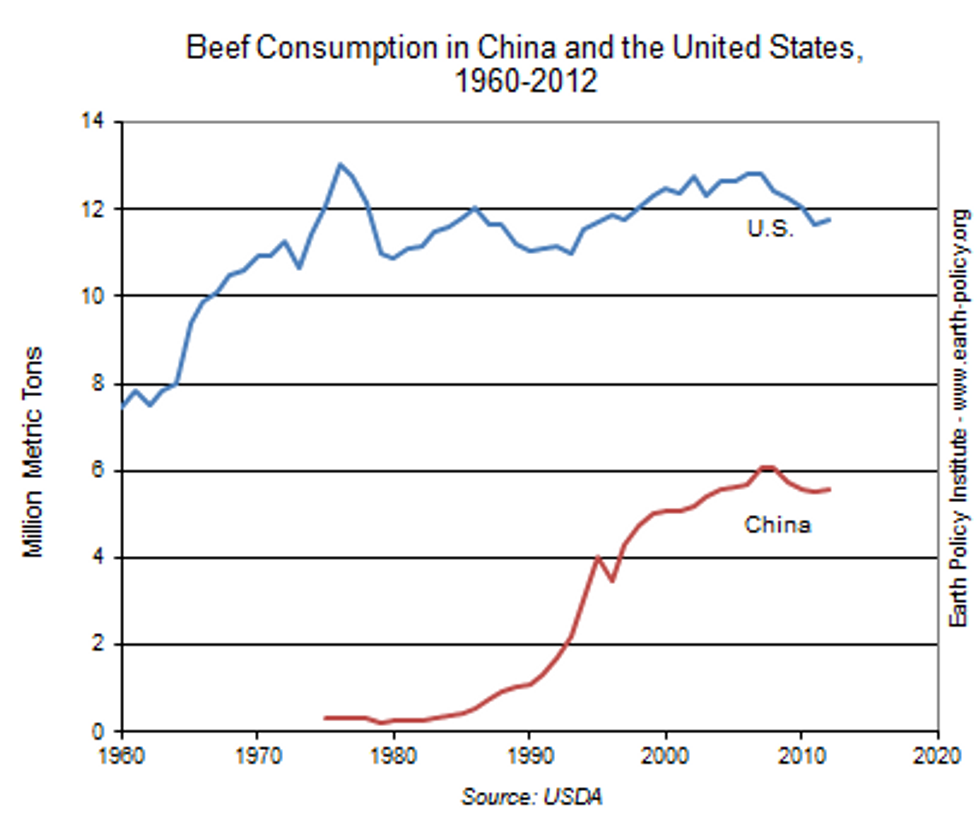 With the average income in China poised to reach U.S. levels as early as 2035, heavier beef consumption theoretically could become economically feasible. Ecologically, though, it may never be possible. Grasslands are unable to sustain herds much larger than the existing ones, as evidenced by the vast dust bowl forming in northern China, largely from overgrazing by sheep and goats. Thus, getting more beef would mean intensive use of feedlots. But cattle take more grain and soybean meal per pound than all other livestock and poultry. In recent years China has imported some grain, though imports still make up a small share of its total supply. China's soy production, however, has barely budged since 1995, while soy use (mostly for feed rations) has shot up fivefold. Imports have made up the difference.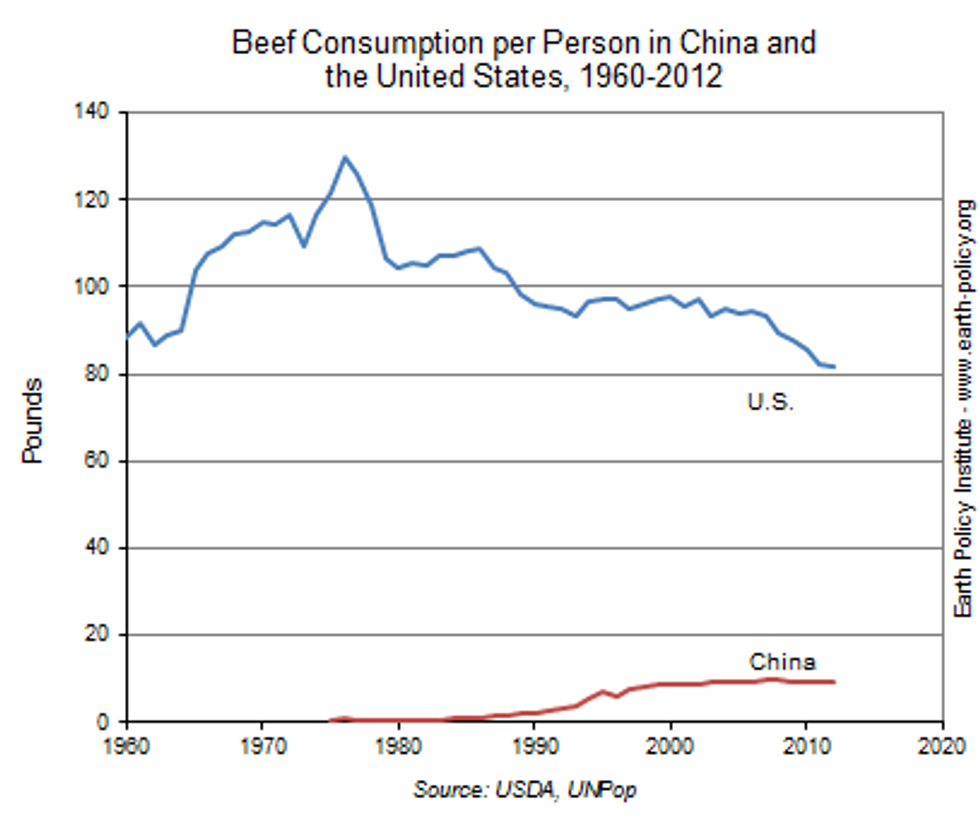 Hogs put on about twice as much weight as cattle per pound of feed, and chickens grow even faster. Smithfield Foods in the U.S. has become remarkably "efficient" at fattening hogs en masse; such expertise is a big attraction for China. Yet even though the U.S. has a better reputation on food safety than China, U.S. factory farms have their problems as well in terms of the contamination of meat and the massive quantities of waste generated by large groups of animals. The widespread use of antibiotics in U.S. industrial meat production has been linked to growing bacterial resistance to antibiotic treatment. And one feed additive still used in the U.S. to help pigs gain lean weight—ractopamine—has been banned in China because of feared negative health effects. According to reporting by Reuters, Smithfield began limiting the use of ractopamine on some, but not all, of its animals last year, with an eye on the Chinese market.
Given the existing land degradation and pollution that are making it harder for China to produce more—and safer—food, it is not difficult to see why foreign acquisition of both land and food producers is becoming increasingly attractive. Yet just as the American diet has been shown to be a dangerous export—accompanied by spreading obesity, heart disease and other so-called diseases of affluence—ramping up American-style factory meat production is not without risk.
Visit EcoWatch's FACTORY FARMING and FOOD pages for more related news on this topic.