This website uses cookies to ensure you get the best experience while browsing it. By clicking 'Got It' you're accepting these terms.
Warning: The video above may be upsetting to viewers.
An amusement park in China came under fire on social media this weekend for forcing a pig off a 230 foot-high bungee tower.
They go by many names — pigs, hogs, swine, razorbacks — but whatever you call them, feral pigs (Sus scrofa) are one of the most damaging invasive species in North America. They cause millions of dollars in crop damage yearly and harbor dozens of pathogens that threaten humans and pets, as well as meat production systems.
EcoWatch Daily Newsletter
Animal protection groups rescued piglets from a flood at the "Big Ditch" levee in Oakville, Iowa in 2008.
Farm Sanctuary / Flickr
On Thursday the U.S. District Court for the Southern District of Iowa struck down the Iowa Ag-Gag law, holding that the ban on undercover investigations at factory farms and slaughterhouses violates the First Amendment. In 2017, a coalition of animal, environmental and community advocacy groups, including Center for Food Safety, challenged the law's constitutionality. Federal courts have similarly struck down Ag-Gag laws in Idaho and Utah as unconstitutional.
Lester Lefkowitz / Stone / Getty Images
One of the biggest winning groups in Tuesday's midterm elections didn't even get to cast a ballot: the nation's farm animals.
Cavan Images / Getty Images
By Reynard Loki
Many children play with toys that evoke the bucolic life on a farm. And many will likely visit a small local farm, where animals have space and access to sunlight and the outdoors. But most kids are probably not aware that, for the vast majority of farmed animals, life is anything but happy.
apidach / Shutterstock
By Jenny McQueen
For a city girl, I've had a lot of experience with pigs. I've visited with them in sanctuaries, given belly rubs (they love those), introduced little children to them, rescued and cared for young piglets, witnessed distressed, overheated/freezing/thirsty young pigs in slaughter trucks, and experienced the hellish conditions inside a pig breeding and pig growing facility.
Reading about the injustices meted out to food animals turned me into a vegan and then an animal rights activist. This was the 1990s, before I'd even met any farmed animals.
A new, peer-reviewed study has been released in the June 2013 Journal of Organic Systems detailing adverse effects of genetically engineered (GE) feed on pigs. Center for Food Safety has long advocated for more robust safety testing prior to introducing GE foods into the food supply. Currently, no GE safety testing is required in the U.S. The long-term study revealed that pigs fed a GE diet suffered higher rates of severe stomach inflammation and had on average heavier uteri. The findings were biologically and statistically significant and mirror what many farmers have been reporting for years. The study was performed over the course of five years by independent researchers in Australia and the U.S.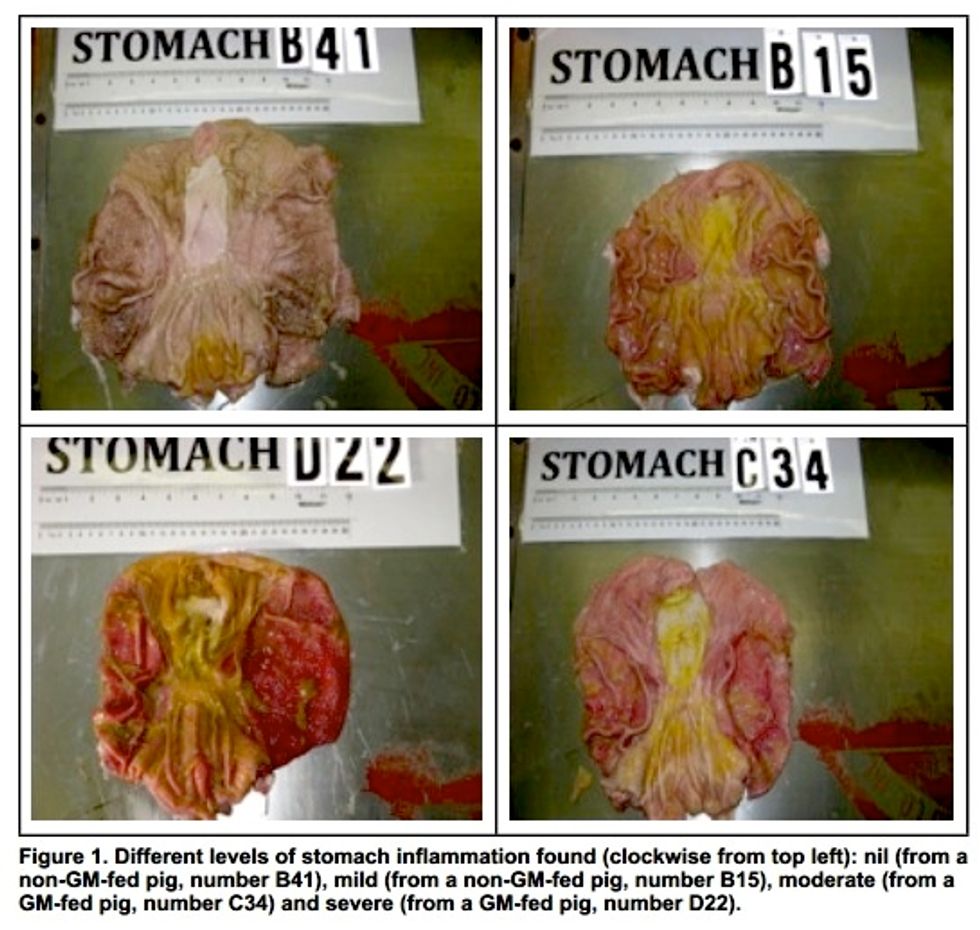 "This study raises serious questions about the long-term health impacts of genetically engineered foods," said Andrew Kimbrell, executive director of Center for Food Safety.
"It is grossly negligent that neither the companies nor the government have conducted these rigorous types of studies in the 15 years that GE products have been on the market. Until further long-term, independent studies are done, the public are unwittingly participating in the safety testing of these products."
According to the study's authors:
The research was conducted by collaborating investigators from two continents and published in the peer-reviewed Journal of Organic Systems. The feeding study lasted more than five months and was conducted in the US. 168 newly-weaned pigs in a commercial piggery were fed either a typical diet incorporating GM soy and corn (2), or else (in the control group) an equivalent non-GM diet.
The pigs were reared under identical housing and feeding conditions. They were slaughtered over 5 months later, at their usual slaughter age, after eating the diets for their entire commercial lifespan. They were then autopsied by qualified veterinarians who worked "blind"—they were not informed which pigs were fed on the GM diet and which were from the control group.
What little study has been conducted on the safety of GE foods has largely been limited to industry funded studies involving rats for only 90 days. In addition to the studies being inadequate in their rigor, the data is tightly controlled by the companies under the pretense of Confidential Business Information, limiting external review. Some independent scientists have conducted studies over the years, but much more is needed.
Visit EcoWatch's GE FOODS page for more related news on this topic.
By Janet Larsen
Half the world's pigs—more than 470 million of them—live in China, but even that may not be enough to satisfy the growing Chinese appetite for meat. While meat consumption in the U.S. has fallen more than five percent since peaking in 2007, Chinese meat consumption has leapt 18 percent, from 64 million to 78 million (metric) tons—twice as much as in the U.S. Pork is by far China's favorite protein, which helps to explain the late-May announced acquisition of U.S. meat giant Smithfield Foods Inc., the world's leading pork producer, by the Chinese company Shuanghui International, owner of China's largest meat processor. China already buys more than 60 percent of the world's soybean exports to feed to its own livestock and has been a net importer of pork for the last five years. Now the move for Chinese companies is to purchase both foreign agricultural land and food-producing companies outright.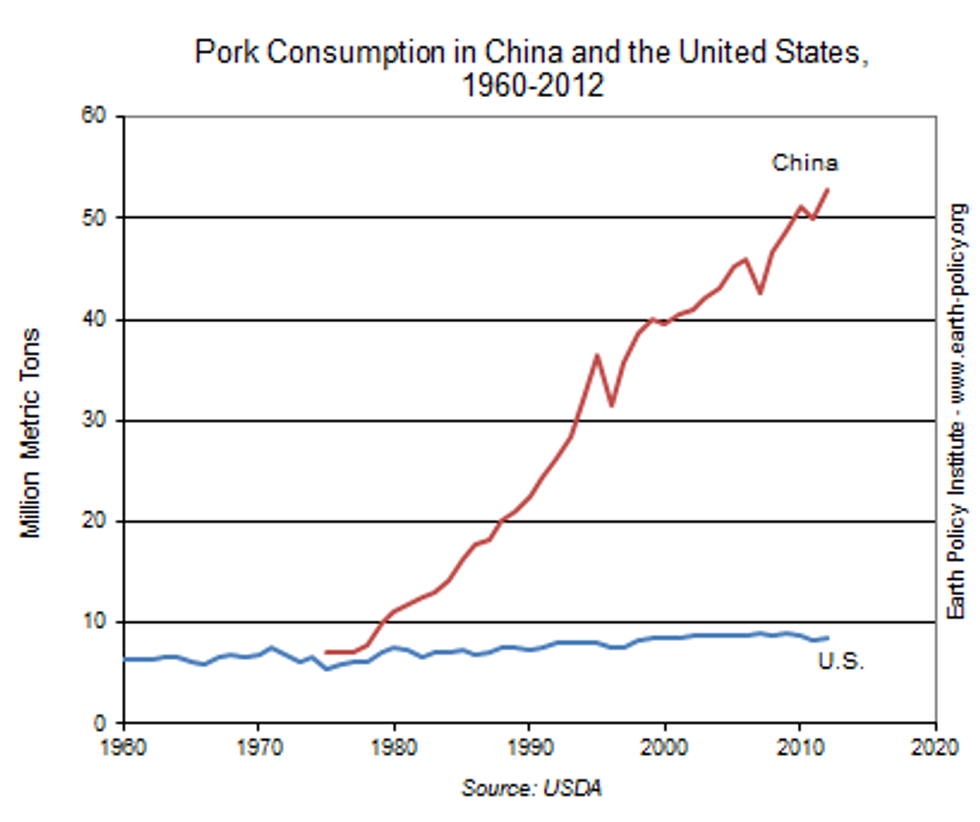 People in China ate 53 million tons of pork in 2012—six times as much as in the U.S. On a per person basis, consumption in China first eclipsed that in the U.S. in 1997, and it has never looked back. Now the average Chinese eats 86 pounds (39 kilograms) of pig meat each year, compared with 59 pounds in the U.S. As demand rises, pork is starting to shift from household, or farm-scale production into larger factory-like operations. Overcrowding in these facilities has been blamed for pollution and the spread of disease, as well as for the recent dumping of thousands of dead pigs into a river flowing into Shanghai.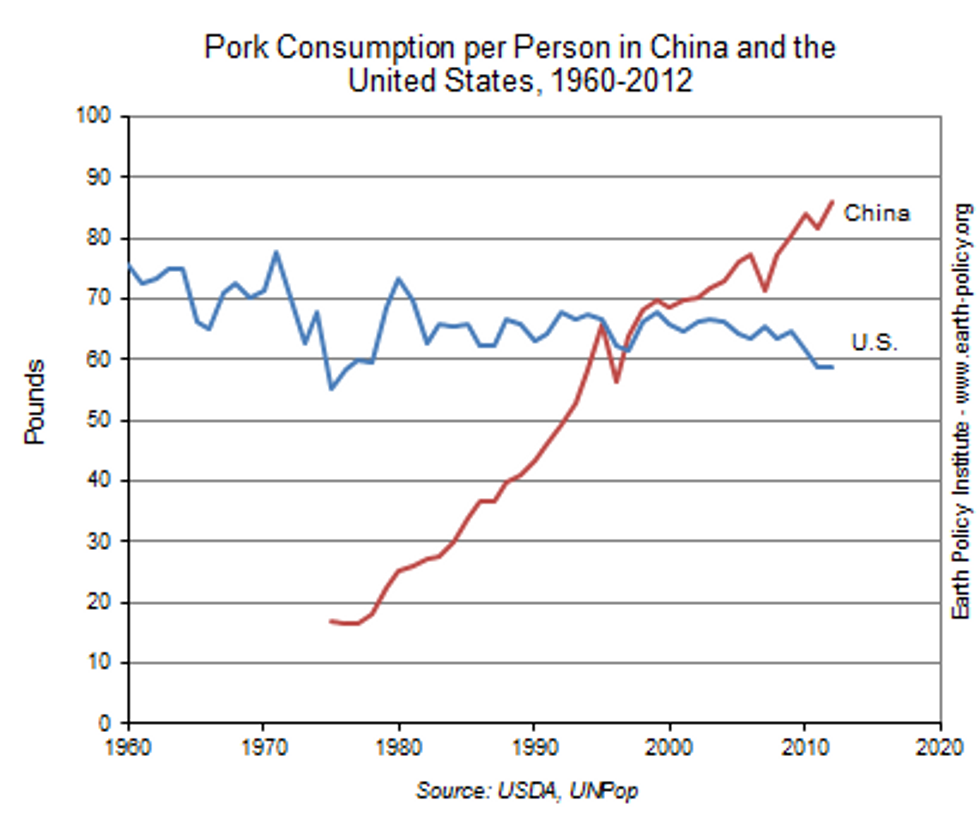 Chinese chicken production and processing have also consolidated, as sadly seen in the recent fire at a large poultry plant in northeastern China that reportedly killed at least 120 people. China's chicken intake just recently caught up with that in the U.S., with 13 million tons eaten in each country. It took China just 25 years to make the consumption leap achieved by the U.S. over a half-century.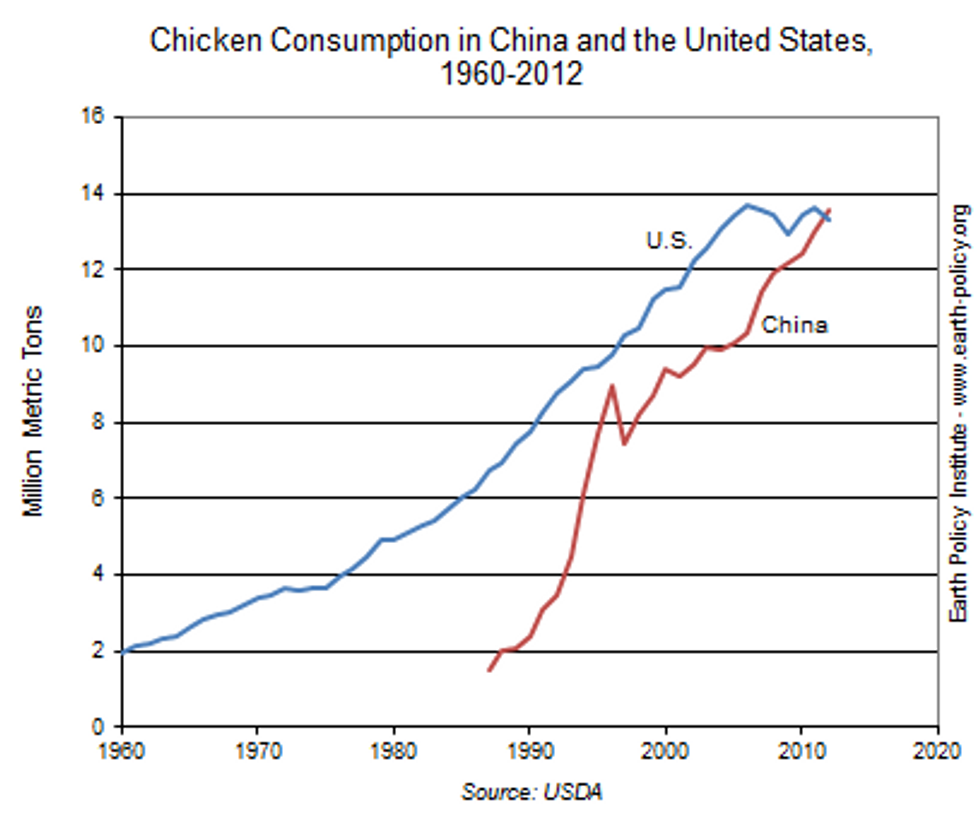 Chicken is America's meat of choice, and U.S. individual diets are four times heavier with poultry than Chinese diets are. However, as fast-food restaurants in China multiply, chicken consumption is rising. If the Chinese ate as much chicken per person as Americans do, their flocks would need to quadruple—as would the grain and soybeans used in the feed rations.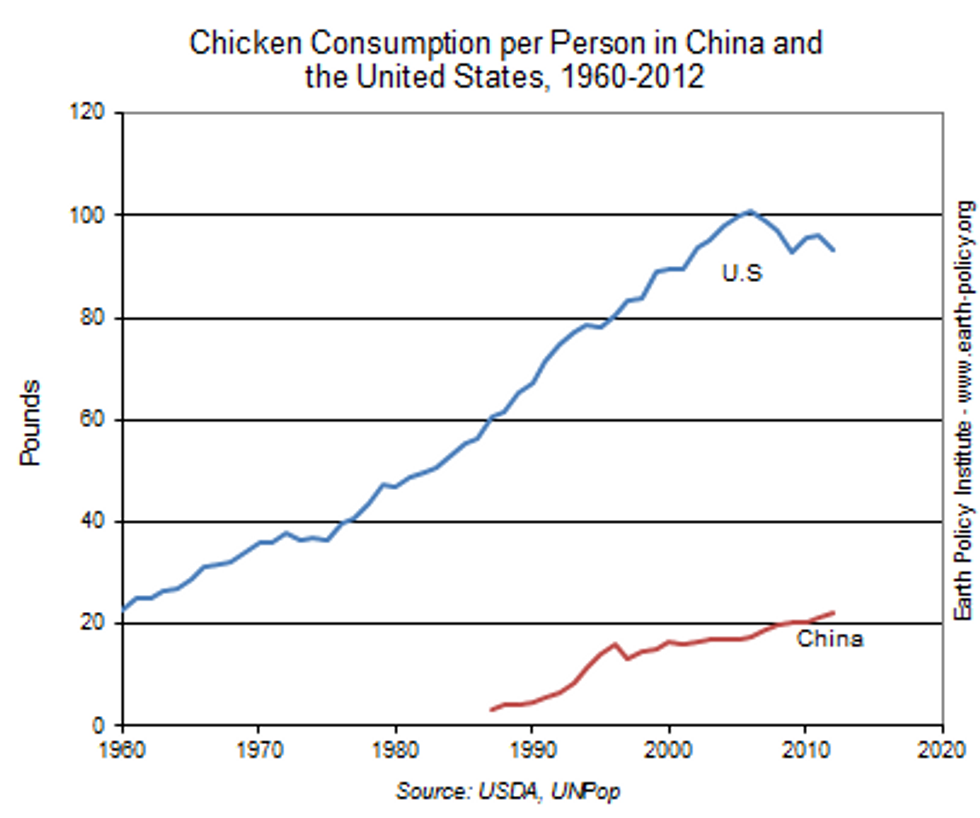 As for beef, grazing land limitations and higher costs have made this meat far less popular in China than in the U.S., with 5.6 million tons consumed in 2012, or nine pounds per person. The average American, in stark contrast, ate 82 pounds of beef that year. Total beef consumption in both countries appears to have peaked.
The Chinese eat nearly as much mutton and goat (close to seven pounds per person annually) as they do beef, while those meats barely register in U.S. diets. New steakhouses are trying to lure affluent Chinese toward red meat, but they are unlikely to reach the masses. If the Chinese ate as much beef as Americans do today, they would need 50 million tons of it, 90 percent of current world consumption.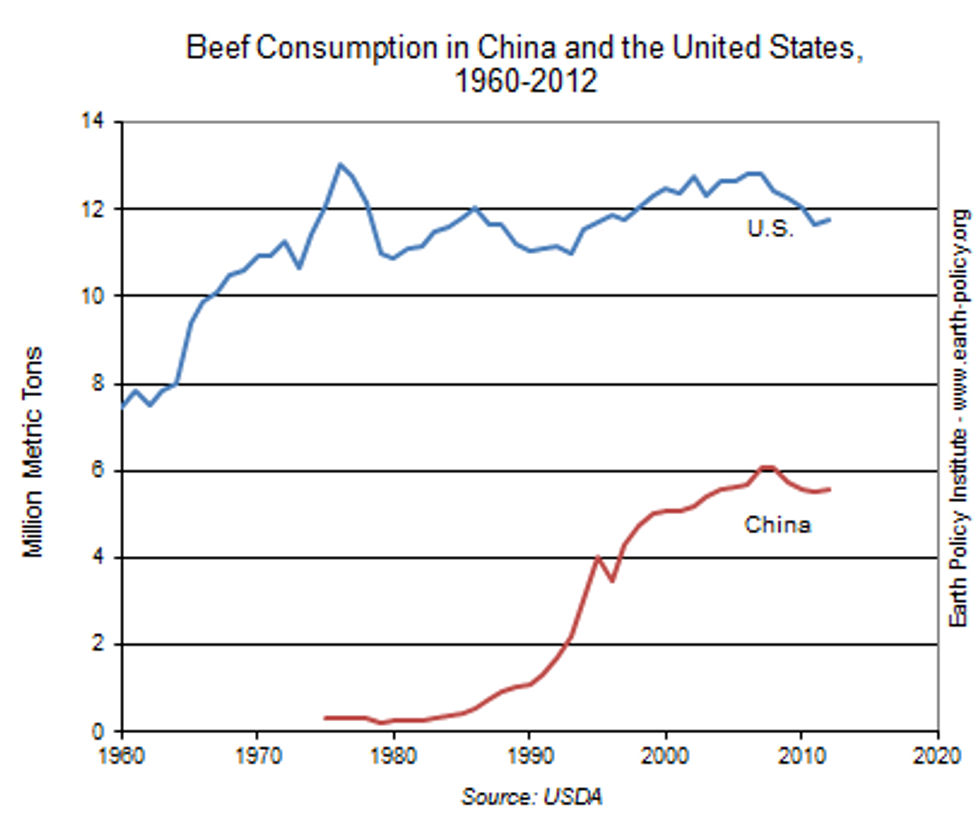 With the average income in China poised to reach U.S. levels as early as 2035, heavier beef consumption theoretically could become economically feasible. Ecologically, though, it may never be possible. Grasslands are unable to sustain herds much larger than the existing ones, as evidenced by the vast dust bowl forming in northern China, largely from overgrazing by sheep and goats. Thus, getting more beef would mean intensive use of feedlots. But cattle take more grain and soybean meal per pound than all other livestock and poultry. In recent years China has imported some grain, though imports still make up a small share of its total supply. China's soy production, however, has barely budged since 1995, while soy use (mostly for feed rations) has shot up fivefold. Imports have made up the difference.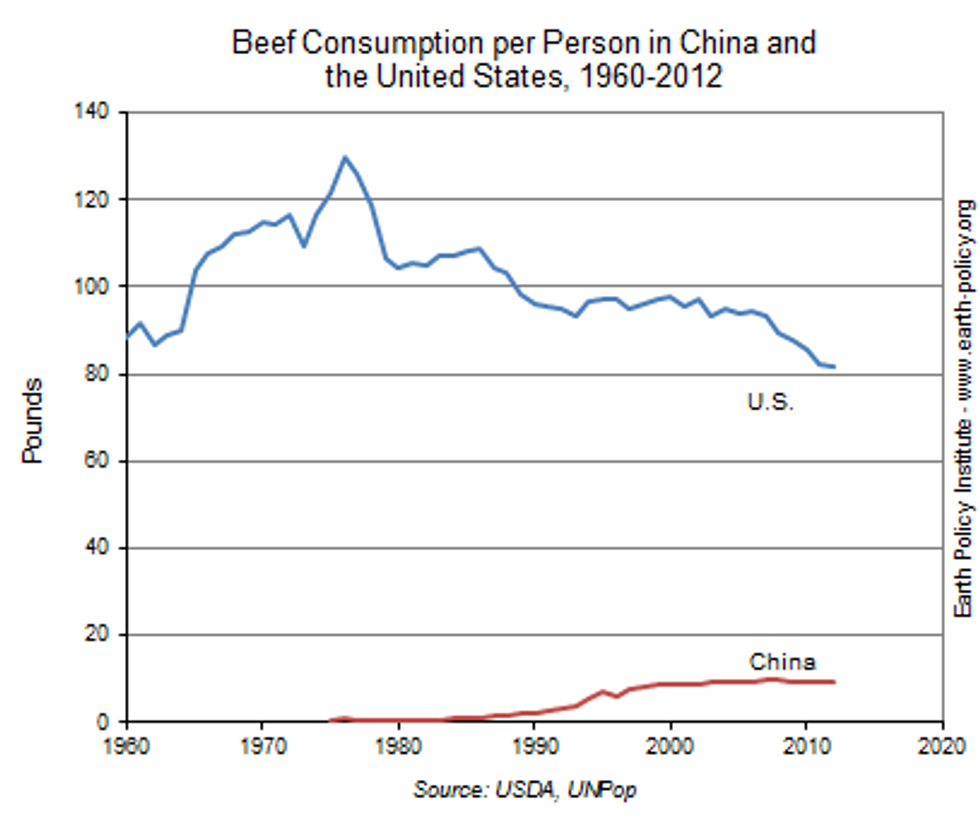 Hogs put on about twice as much weight as cattle per pound of feed, and chickens grow even faster. Smithfield Foods in the U.S. has become remarkably "efficient" at fattening hogs en masse; such expertise is a big attraction for China. Yet even though the U.S. has a better reputation on food safety than China, U.S. factory farms have their problems as well in terms of the contamination of meat and the massive quantities of waste generated by large groups of animals. The widespread use of antibiotics in U.S. industrial meat production has been linked to growing bacterial resistance to antibiotic treatment. And one feed additive still used in the U.S. to help pigs gain lean weight—ractopamine—has been banned in China because of feared negative health effects. According to reporting by Reuters, Smithfield began limiting the use of ractopamine on some, but not all, of its animals last year, with an eye on the Chinese market.
Given the existing land degradation and pollution that are making it harder for China to produce more—and safer—food, it is not difficult to see why foreign acquisition of both land and food producers is becoming increasingly attractive. Yet just as the American diet has been shown to be a dangerous export—accompanied by spreading obesity, heart disease and other so-called diseases of affluence—ramping up American-style factory meat production is not without risk.
Visit EcoWatch's FACTORY FARMING and FOOD pages for more related news on this topic.