Garry Knight / Flickr
By Jessica Corbett
A team of researchers on Tuesday released a "blistering" report on the serious public health threats—from headaches to asthma to cancer—posed by hydraulic fracturing, or fracking, a process of injecting a mix of water and chemicals into rocks to release oil and natural gas.
The study—described as "the most authoritative" of its kind—was published by Concerned Health Professionals of New York and Physicians for Social Responsibility. Researchers found that "by several measures, evidence for fracking-related health problems is emerging across the United States and Canada."
Looking to Pennsylvania—a hotbed for fracking—as an example, the report says that "as the number of gas wells increase in a community, so do rates of hospitalization, and community members experience sleep disturbance, headache, throat irritation, stress/anxiety, cough, shortness of breath, sinus, fatigue, wheezing and nausea."
"Drilling and fracking operations are also correlated with increased rates of asthma, elevated motor vehicle fatalities, ambulance runs and emergency room visits and gonorrhea incidence," according to the report, for which researchers analyzed thousands of journalistic investigations, government research and peer-reviewed scientific articles.
The report also notes that levels of benzene "in ambient air surrounding drilling and fracking operations are sufficient to elevate risks for future cancers in both workers and nearby residents," and "animal studies show numerous threats to fertility and reproductive success from exposure to various concentrations of oil and gas chemicals, including at levels representative of those found in drinking water."
Dr. Sandra Steingraber, one of the report's co-authors and a biologist who has worked as a public health advocate, told Rolling Stone, "Fracking is the worst thing I've ever seen."
"Those of us in the public health sector started to realize years ago that there were potential risks, then the industry rolled out faster than we could do our science," she said. "Now we see those risks have turned into human harms and people are getting sick.... And we in this field have a moral imperative to raise the alarm."
Climate activist and 350.org cofounder Bill McKibben said in a tweet that the new report serves as a powerful reminder that it's not just the planet that experiences harmful consequences as a result of fracking:
Big new study reminds us that climate is not the only reason to fear #fracking: "Our examination…uncovered no evide… https://t.co/w3OgoTaqKt

— Bill McKibben (@Bill McKibben)1520957359.0
This is the fifth edition of the Compendium of Scientific, Medical and Media Findings Demonstrating Risks and Harms of Fracking (Unconventional Gas and Oil Extraction), and the researchers note that "given the rapidly expanding body of evidence related to the harms and risks of unconventional oil and gas extraction, we plan to continue revising and updating the compendium approximately every year."
Reposted with permission from our media associate Common Dreams.
From Your Site Articles
Related Articles Around the Web
EcoWatch Daily Newsletter
Hundreds of Floridians gathered today to urge elected officials to pass a fracking ban, commit to increasing renewable energy sources and protect our waterways.
"Banning fracking in Florida is one of the best things we can do to protect our treasured waterways, public health and economy," said State Sen. Jack Latvala (R-Clearwater). "I stand with the 90 cities and counties in Florida that have passed ordinances or resolutions calling on us, the State Legislature, to pass this important legislation."

Nationwide opposition to hydraulic fracturing has escalated dramatically over the past year as public awareness of its impacts grows.
"The time has finally come to end this dangerous practice," said State Sen. Gary Farmer (D-Ft. Lauderdale). "This bill represents the now bipartisan recognition that Florida's unique geological makeup leaves our water supply particularly vulnerable and must be protected."
The gathering follows introduction of a bicameral, bipartisan fracking ban bill in the Florida Legislature with widespread support. Sen. Dana Young (R-Tampa), present at the event, introduced the bill into the Senate. Representative Mike Miller (R-Orlando) introduced the House ban bill on the same day. Both ban bills have received overwhelming bipartisan support, garnering dozens of cosponsors from around the state.
"The overwhelming support for a fracking ban doesn't stop here in Tallahassee; communities across the state have passed 90 local measures opposing the practice. Floridians have made it clear: we do not want fracking here," said Michelle Allen, Florida organizer with Food & Water Watch. "Just last week, the historically pro-energy, Republican Governor of Maryland came out in support of a fracking ban. We know now that people coming together can beat out Big Oil interests and win for our environment and communities, so we're looking to our legislators to listen to the will of the people in Florida and ban fracking now."

Students from Cornerstone Learning Community in Tallahassee attended in support of the legislation as well.
"We, as the future generation, understand how important it is to protect our water, animals and environment from the dangers of fracking," said Claire Encinosa, a 5th grader speaking on behalf of her class at the Cornerstone Learning Community. "Fracking will not just pollute our world but also make us sick, cause birth defects and even cancer. We want the Florida Legislature to ban fracking for the future."
Advocates also called for strong, common-sense implementation of Amendment 4, the pro-solar initiative 73 percent of voters passed last August, which makes it easier for businesses to implement solar energy.
"With the overwhelming support of Amendment 4, the doors are wide open for solar power in the Sunshine State," said Clifford Mitchem, Independent Energy Adviser for CREW, a member-owned solar cooperative. "It's now up to our legislators to help us walk through the door."
After this year's toxic algae outbreaks, just as many are calling for the preservation and protection of our precious water resources.
"Business as usual will drain our aquifers and poison what's left," said Burt Eno, president of Rainbow River Conservation. "We must balance our water permits with monitoring to ensure users don't take too much water and we need to better manage fertilizer, industrial and stormwater runoff to avoid polluting our waters."
Groups involved today, included ReThink Energy Florida, Food & Water Watch, Sierra Club, Environment Florida, Floridians Against Fracking, Physicians for Social Responsibility, Organize Florida and Florida Conservation Voters. They cited more than 900 health studies for why fracking has no place in the Sunshine State.
"Floridians continue to call on their elected officials to pass legislation banning fracking, promoting renewable energy and protecting our vital clean water supplies," said Kim Ross, president of ReThink Energy Florida.
"Floridians continue to call on their elected officials to pass legislation banning fracking, promoting renewable energy and protecting our vital clean water supplies," said Kim Ross, president of ReThink Energy Florida. "From the Keys, to Tampa, Jacksonville and Gainesville—hundreds of Floridians are here to inspire our leaders to reclaim Florida's future, environment, and health."
waterlust.com / @tulasendlesssummer_sierra .
Each product featured here has been independently selected by the writer. If you make a purchase using the links included, we may earn commission.
The bright patterns and recognizable designs of Waterlust's activewear aren't just for show. In fact, they're meant to promote the conversation around sustainability and give back to the ocean science and conservation community.
Each design is paired with a research lab, nonprofit, or education organization that has high intellectual merit and the potential to move the needle in its respective field. For each product sold, Waterlust donates 10% of profits to these conservation partners.
Eye-Catching Designs Made from Recycled Plastic Bottles
waterlust.com / @abamabam
The company sells a range of eco-friendly items like leggings, rash guards, and board shorts that are made using recycled post-consumer plastic bottles. There are currently 16 causes represented by distinct marine-life patterns, from whale shark research and invasive lionfish removal to sockeye salmon monitoring and abalone restoration.

One such organization is Get Inspired, a nonprofit that specializes in ocean restoration and environmental education. Get Inspired founder, marine biologist Nancy Caruso, says supporting on-the-ground efforts is one thing that sets Waterlust apart, like their apparel line that supports Get Inspired abalone restoration programs.
"All of us [conservation partners] are doing something," Caruso said. "We're not putting up exhibits and talking about it — although that is important — we're in the field."
Waterlust not only helps its conservation partners financially so they can continue their important work. It also helps them get the word out about what they're doing, whether that's through social media spotlights, photo and video projects, or the informative note card that comes with each piece of apparel.
"They're doing their part for sure, pushing the information out across all of their channels, and I think that's what makes them so interesting," Caruso said.
And then there are the clothes, which speak for themselves.
Advocate Apparel to Start Conversations About Conservation
waterlust.com / @oceanraysphotography
Waterlust's concept of "advocate apparel" encourages people to see getting dressed every day as an opportunity to not only express their individuality and style, but also to advance the conversation around marine science. By infusing science into clothing, people can visually represent species and ecosystems in need of advocacy — something that, more often than not, leads to a teaching moment.

"When people wear Waterlust gear, it's just a matter of time before somebody asks them about the bright, funky designs," said Waterlust's CEO, Patrick Rynne. "That moment is incredibly special, because it creates an intimate opportunity for the wearer to share what they've learned with another."
The idea for the company came to Rynne when he was a Ph.D. student in marine science.
"I was surrounded by incredible people that were discovering fascinating things but noticed that often their work wasn't reaching the general public in creative and engaging ways," he said. "That seemed like a missed opportunity with big implications."
Waterlust initially focused on conventional media, like film and photography, to promote ocean science, but the team quickly realized engagement on social media didn't translate to action or even knowledge sharing offscreen.
Rynne also saw the "in one ear, out the other" issue in the classroom — if students didn't repeatedly engage with the topics they learned, they'd quickly forget them.
"We decided that if we truly wanted to achieve our goal of bringing science into people's lives and have it stick, it would need to be through a process that is frequently repeated, fun, and functional," Rynne said. "That's when we thought about clothing."
Support Marine Research and Sustainability in Style
To date, Waterlust has sold tens of thousands of pieces of apparel in over 100 countries, and the interactions its products have sparked have had clear implications for furthering science communication.
For Caruso alone, it's led to opportunities to share her abalone restoration methods with communities far and wide.
"It moves my small little world of what I'm doing here in Orange County, California, across the entire globe," she said. "That's one of the beautiful things about our partnership."
Check out all of the different eco-conscious apparel options available from Waterlust to help promote ocean conservation.
Melissa Smith is an avid writer, scuba diver, backpacker, and all-around outdoor enthusiast. She graduated from the University of Florida with degrees in journalism and sustainable studies. Before joining EcoWatch, Melissa worked as the managing editor of Scuba Diving magazine and the communications manager of The Ocean Agency, a non-profit that's featured in the Emmy award-winning documentary Chasing Coral.
By Concerned Health Professionals of New York and Physicians for Social Responsibility
A comprehensive report, authored by Nobel Peace Prize-winning organization Physicians for Social Responsibility and Concerned Health Professionals of New York, was released Thursday demonstrating the tremendous amount of scientific evidence of the health impacts, water contamination and climate risks of fracking.
The Compendium of Scientific, Medical and Media Findings Demonstrating Risks and Harms of Fracking brings together findings and studies from scientific and medical literature, government and industry reports, and journalistic investigations.
"The available evidence overwhelmingly indicates that fracking is incredibly harmful," said Sandra Steingraber, PhD, biologist, author, Distinguished Scholar in Residence at Ithaca College and co-founder of Concerned Health Professionals of New York.
"Scientific studies have demonstrated that drilling and fracking can increase risk of cancer, respiratory conditions and migraines in communities surrounding fracking sites. Fracking pollutes the air, water and land in nearby towns and cities, and has resulted in explosions and earthquakes. There are least 17 million Americans living within one mile of a fracking site, whose lives will be negatively impacted and potentially shortened, by fracking."
Groundbreaking Study Shows Direct Link Between #Fracking & #Earthquakes https://t.co/gZa2zhmNSu @joshfoxfilm @MarkRuffalo @FrackAction @NRDC

— EcoWatch (@EcoWatch)1479485290.0
There are now more than 900 peer-reviewed studies on the impacts of fracking, the vast majority of which indicate risks and adverse impacts. The new compendium includes summary and analysis of the trends in the scientific findings over the years.

Major areas of risks and harms identified in the compilation of the science include: public health impacts, air pollution, water contamination, occupational health and safety hazards, radioactive releases, inherent engineering problems, impacts from associated infrastructure and climate change impacts.
"Each year, the empirical data yield increasing certainty that fracking is causing irrevocable damage to public health, local economies, the environment and to global sustainability," Kathleen Nolan, MD, MSL, of Physicians for Social Responsibility and Concerned Health Professionals of New York, said. "The compendium, and especially this new, fourth edition, which has drawn from a wide range of scientific studies, investigative reports, and accident reports, only reinforces the desperate need for a moratorium on fracking."
Three of the 12 major scientific trends identified in the compendium are that fracking threatens drinking water and that there is now proof of water contamination, that drilling and fracking emissions contribute to toxic air pollution and smog at levels known to have health impacts, and that public health problems associated with drilling and fracking, including reproductive health impacts and occupational health and safety problems, are increasingly well documented.
Doctors Orders: Stop #Fracking Pennsylvania https://t.co/NwgkYX5C5r @MarkRuffalo @joshfoxfilm @FrackAction @foodandwater @foe_us @greenpeace

— EcoWatch (@EcoWatch)1477918087.0
The compendium also contextualizes the issue of fracking in terms of the Paris climate agreement, noting how drilling and fracking significantly exacerbate climate change due to methane leaks and emissions and increasing reliance on fossil fuels.
196 Countries Reaffirm Commitment to #ParisAgreement, Isolating #Trump Even More https://t.co/TrEc5mBESv @350 @billmckibben @ClimateReality

— EcoWatch (@EcoWatch)1479478617.0
With the release of the compendium, a group of doctors gathered in Harrisburg, Pennsylvania to hand-deliver it and more than 100 of the most recent studies—many about public health—demonstrating the harms of fracking to Gov. Wolf. Pennsylvania is the focus of many of the scientific studies, where drilling and fracking have been linked to widespread water contamination and health impacts.
The doctors and scientists felt the need to hand-deliver the recent studies because Gov. Wolf has not publicly commented on any of them, despite the fact that many of them have documented impacts in Pennsylvania and harms to Pennsylvania residents, reflecting the high volume of fracking taking place in the state. They called on the governor to heed the science and the recent call from the Pennsylvania Medical Society for a fracking moratorium.
"As the primary author of the Pennsylvania Medical Society's resolution on a moratorium on new gas drilling, today's new edition of the compendium only confirms why we should stop drilling," said Walter Tsou, MD, former president of Philadelphia Physicians for Social Responsibility, past president of the American Public Health Association and former health commissioner of Philadelphia, and author of the Pennsylvania Medical Society's unanimous resolution for a moratorium on fracking. "The scientific evidence only points to precaution in continuing this practice."
Bob Little, MD, agrees. "In light of more than 900 scientific studies that overwhelmingly demonstrate risks and adverse impacts of drilling and fracking, Governor Wolf must implement a moratorium to stop the public health crisis that is occurring in Pennsylvania," he said.
Since the release of the first edition of the compendium in July 2014, concerns about and opposition to fracking have grown. In December 2014, the New York State Department of Health released its own years-long review of the health impacts of fracking, which served as the foundation for a statewide ban, along with an environmental review finding significant impacts.
Following New York's ban, Maryland overwhelmingly passed a two-and-a-half year moratorium on fracking. Internationally, both Scotland and Wales imposed moratoria on fracking in January and February 2015, respectively, and in July 2015 the Dutch government banned all shale gas fracking, joining a range of countries and provinces in prohibiting the practice including Bulgaria, France, Germany, Ireland, Netherlands and parts of Canada, Spain and Switzerland.
Ireland Takes Major Step Towards Nationwide Fracking Ban https://t.co/yJ0AZc2NG0 @aafracking @DontFrackNY

— EcoWatch (@EcoWatch)1477692064.0
In June 2015, the U.S. Environmental Protection Agency released a draft version of its study of the impacts of fracking on drinking water. The agency found that fracking has polluted drinking water in several communities nationwide and identified several "potential mechanisms by which hydraulic fracturing could affect drinking water resources."

And most recently, the Baltimore City Council just passed a resolution calling on the General Assembly to pass a statewide ban on fracking. A study from the Yale School of Public Health found specific fracking compounds to be tied to an increased risk of leukemia. In August, new research was released indicating that living near a fracking site is associated with increased rates of sinus problems, migraines and fatigue in Pennsylvania residents. A July 2016 Johns Hopkins study found that fracking was linked to increased asthma attacks in Pennsylvania.
Given the continuous growth in research, the compendium is designed as a living document that is publicly available on the websites for Physicians for Social Responsibility and Concerned Health Professionals of New York.
Fifteen people were arrested today at a rally this morning outside the Manhattan office of New York Sen. Charles Schumer, where they have maintained a presence for the past 60 days. With the Algonquin Incremental Market (AIM) expansion of the Spectra Energy pipeline in Westchester County, New York set to go online by Nov. 1, opponents are asking Schumer to intervene and use his influence to put a halt to the project. Schumer's office did not respond to a request for comment by EcoWatch.
Members of Resist Spectra and their supporters showed up on Third Avenue, chanting "We will not let you build this pipeline." Many sat along 780 Third Avenue, the building housing Schumer's New York City office.
The AIM project is set to carry Marcellus Shale fracked gas to New England, passing through New York State and crossing the Hudson River at scenic Stony Point.

Map of AIM expansion project carrying fracked gas from the Marcellus Shale to New England.Spectra Energy
The pipeline runs close to the aging Indian Point nuclear power plant in Buchanan. The oldest of the three reactors on site began operations in 1962, but has since been shut down. The other two operating reactors date to 1974 and 1976.

One of the opponents' main concerns is the proximity of the pipeline to the nuclear facility. The 42-inch pipeline passes within 105 feet of an electrical substation and 1,320 feet from the reactors. While it's not California, Westchester County does have a history of earthquakes and the Ramapo Fault runs near the Indian Point nuclear plant. In 1783, a magnitude 5.0 quake struck the area, and in the early morning hours of Oct. 19, 1985, a 3.6-magnitude earthquake on the Ramapo Fault system caused the plant to declare "an unusual event" but no damage was reported. The probability of a 5.0 or greater earthquake in the county in the next 50 years is estimated at 3.36 percent.

That's enough to rattle residents from Westchester to Brooklyn. Pipeline opponents point out that 20 million people live within a 50-mile radius of Indian Point. An elementary school sits just 400 feet from the pipeline.

The AIM pipeline runs within 105 feet of the aging Indian Point nuclear power plant.Resist Spectra
The specter of another San Bruno, California-type event may be weighing on those who live in the zone. In 2011, a 30-inch natural gas pipeline exploded in this Bay Area town just south of San Francisco, sending flames 1,000 feet into the sky. It destroyed 38 homes and killed eight people. On April 29, a Spectra Energy 30-inch pipeline blew up in Westmoreland, Pennsylvania, severely burning one man and damaging two homes. Roads melted from the heat.
Data from the Pipeline and Hazardous Materials Safety Administration (PHMSA) shows that 12 significant incidents have occurred on gas transmission pipelines in New York State since 2000, resulting in at $4.4 million in total costs. Spectra Energy pipelines were involved in 38 incidents in the U.S. from 1986 to 2012, according to ProPublica. The PHMSA cited Spectra for at least four violations from 2013 to 2015.
Indian Point Fire Raises Huge Concerns Over Siting of Spectra #Pipeline http://t.co/ZL5XK1DRuh @gaslandmovie @350 http://t.co/Ipa1xbpSZ0

— EcoWatch (@EcoWatch)1432041756.0
Disaster experts, public officials and health care professionals got a first-hand look at the pipeline site on Oct. 18, hosted by Physicians for Social Responsibility. A statement released by the organization following the inspection tour read:
"Requests by safety experts and public officials for emergency protocols and safety preparedness indicate no evidence of planning for a pipeline rupture or explosion adjacent to the nuclear plant. The lack of emergency training and preparedness reflects the lack of recognition of the safety experts' concerns regarding the perilous impact of a pipeline accident at that location and the imminent and permanent danger the AIM pipeline poses to the nuclear plant and the entire New York metropolitan area."
Opponents of the Spectra AIM pipeline urge Sen. Schumer to act at a rally in Manhattan this morning.Resist Spectra
In May, New York Senators Schumer and Kirsten Gillibrand urged the Federal Energy Regulatory Commission (FERC) to suspend action on the AIM project until independent health and safety reviews of the project are completed.
"I have serious concerns with the Algonquin gas pipeline project because it poses a threat to the quality of life, environmental, health and safety of residents across the Hudson Valley and New York State without any long-term benefit to the communities it would impact," Schumer said in a statement in May. The two senators again wrote to FERC on Aug. 3 requesting that the agency suspend construction.
A Bloomberg BNA analysis released in February said that the industry dominates lobbying of the PHMSA. Major companies lobbying the agency include TransCanada Pipelines Ltd., Norfolk Southern Corp., Dow Chemical Co., American Airlines and Shell Oil Co. The American Petroleum Institute, Association of American Railroads, Renewable Fuels Association and the American Farm Bureau Federation are among the Industry trade associations engaged in lobbying the PHMSA.
Aerial view of Indian Point nuclear facility with pipeline infrastructure in the foreground.Resist Spectra
"Despite repeated warnings from nuclear power and pipeline safety experts that a pipeline rupture at that sensitive location could result in a nuclear catastrophe worse than the Fukushima nuclear disaster, their insistence on a full, independent risk assessment was to no avail," Ellen Weininger of Grassroots Environmental Education told EcoWatch.

Spectra may soon help create the largest energy infrastructure company in North America if a planned merger with Enbridge goes through. Enbridge is a minority owner of the controversial Dakota Access Pipeline.
"As a physician and a public health professional, I say, unequivocally, that risks of this pipeline, as will be explicitly described by my colleagues, far outweigh the possible benefits and pose an unacceptable level of vulnerability to the men, women and children of this entire region—and beyond," wrote Dr. Irwin Redlener in a statement sent to EcoWatch. Dr. Redlener is director of the National Center for Disaster Preparedness and a professor at Columbia University.

A lawsuit challenging FERC's approval of the project is currently pending in the U.S. Court of Appeals for the DC Circuit.
Correction: This article has been updated. A paragraph has been removed, which erroneously stated that NRG Energy was the same company as Natural Resource Group. We regret the error.
More than 650,000 kindergarten through 12th grade children in nine states attend school within one mile of a fracked oil or gas well, putting them at increased risk of health impacts from dangerous chemicals and air pollution.
Moms Clean Air Force
The finding comes from a new study by Environment America Research & Policy Center that exposes the proximity of fracking near schools, hospitals, day care centers and nursing homes, risking the health of our children and other vulnerable populations.

"Schools and day care centers should be safe places for kids to play and learn," said Rachel Richardson, director of Environment America's Stop Drilling program and co-author of the report. "Unfortunately, our research shows far too many kids may be exposed to dirty air and toxic chemicals from fracking right next door."
Using data provided by the oil and gas industry and state regulators, Dangerous and Close—Fracking Puts the Nation's Most Vulnerable People at Risk, found that:

1,947 child care facilities, 1,376 schools, 236 nursing care providers and 103 hospitals are within a one-mile radius of fracked wells in the nine states examined.
More than 650,000 kindergarten through 12th grade children attend school within one mile of a fracked well.
The highest percentage of children attending school close to fracked wells is in West Virginia, where 8 percent of children spend their school days within one mile of a fracked well.
Texas has the largest number of children attending school close to a well, with 437,000 kindergarten through 12th grade students attending public or private school within one mile of a fracked well.
The report included data from nine states total including Arkansas, California, Colorado, New Mexico, North Dakota, Ohio, Pennsylvania, Texas and West Virginia.
Hospitals, nursing homes, schools and day care facilities within one mile of a fracked well, 2005 through early 2016, in Arkansas, California, Colorado, New Mexico, North Dakota, Ohio, Pennsylvania, Texas and West Virginia.Environment America
"American society aspires to protect children, the sick and the elderly," said Elizabeth Ridlington, policy analyst with Frontier Group and co-author of the report. "This report shows that we're violating that ideal because of our overwhelming dependence on fossil fuels. We've sunk to putting vulnerable populations at risk instead of making the wholesale shift to conservation and renewable energy."

Fracking creates a range of threats to our health, including creating toxic air pollution that can reduce lung function even among healthy people, trigger asthma attacks and has been linked to premature death. Children and the elderly are especially vulnerable to fracking's health risks. Children's immune systems are more susceptible to damage from toxic chemicals while older adults have weaker immune systems and more difficulty breaking down toxics chemicals in the body.
New Fracking Study Finds Children at Greater Risk of Respiratory Health Problems https://t.co/9khQK6xBHn @POTUS @GovernorTomWolf @EcoWatch

— Frack Action (@Frack Action)1463075434.0
Studies show that the closer you are to fracking, the more susceptible you are to suffering negative health effects. In Colorado, residents living within one-half mile of fracked wells were exposed to pollutants that increased their risk of illness. Researchers at University of Pennsylvania and Columbia University found that in Pennsylvania hospitalizations rates increase near fracking sites.
Health Dangers of #Fracking Revealed in Johns Hopkins Study https://t.co/XN2bg4eVhO @foodandwater @MarkRuffalo @JoshFoxFilm @ssteingraber1

— EcoWatch (@EcoWatch)1472148801.0
"Fracking is an inherently dangerous threat to public health and should not be where vulnerable children and families live," said Dr. Walter Tsou, president of Philadelphia Physicians for Social Responsibility.

"It is an unavoidable fact that as fracking operations have spread across the U.S., significant damage to our health and our environment has occurred," said Laura Burns, parent of two and field organizer for Mom's Clean Air Force in Ohio. "Our children are our future. And for the sake of our future, we need to be seeking clean, renewable energy solutions."
Given the scale and severity of fracking's impacts, fracking should be prohibited wherever possible and existing wells should be shut down beginning with those near institutions that serve our most vulnerable populations.
To better protect communities already on the front lines of drilling, stricter regulations should be adopted and federal fracking loopholes should be closed to hold the oil and gas industry to the same standards as other industry. Currently, oil and gas companies are exempt from key provisions in the Safe Drinking Water Act, the Clean Air Act, the Clean Water Act, and the Resource Conservation and Recovery Act.
"Our children's health and safety should be non-negotiable," Richardson said. "Ultimately, the only solution to this toxic health threat is to ban fracking entirely and move toward 100 percent renewable energy as swiftly as possible."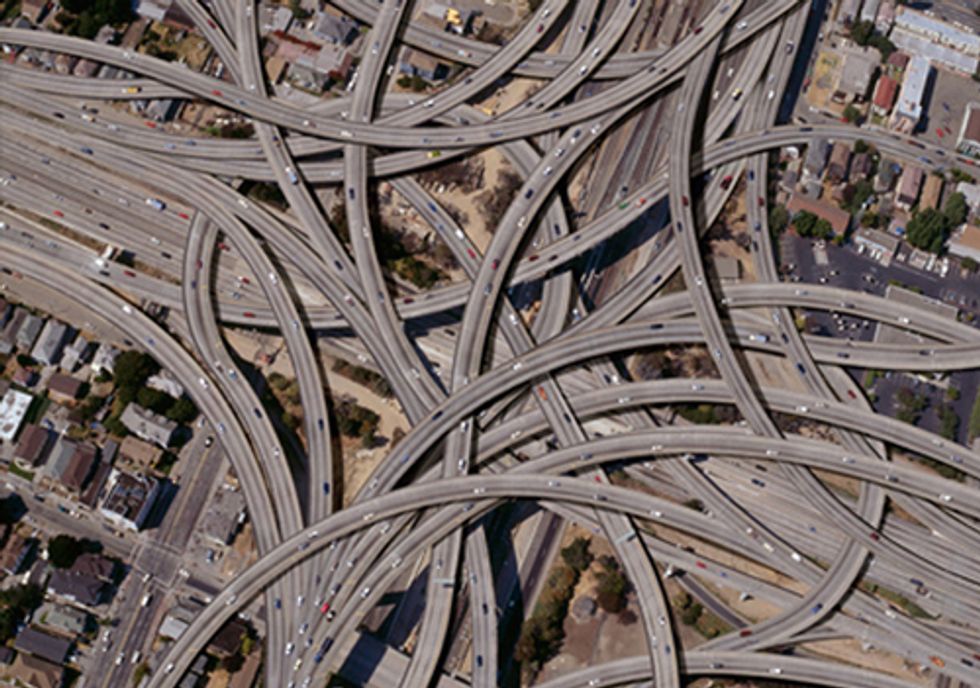 More than a million people in the Los Angeles region are exposed to undisclosed, unhealthy levels of air pollution every day, according to a lawsuit filed Jan. 3 by Physicians for Social Responsibility-Los Angeles, the Natural Resources Defense Council (NRDC), and Communities for a Better Environment.
Pollution produced by the region's millions of diesel and gasoline powered vehicles cause a heavy health burden for everyone living in Southern California, but evidence shows that it harms families and individuals living within approximately 300 yards of L.A.'s heavily-trafficked roadways even more. Although these families and other advocates have repeatedly asked for monitors to be placed along the roadways to determine exactly how much pollution comes from these roadways, the U.S. Environmental Protection Agency (EPA) has refused to do so.
"How will the EPA protect us against air pollution if they won't even measure how much is in the air?" asked Adrian Martinez, staff attorney with NRDC. "On many days, smog blankets our region as a result of the millions of tailpipes on our highways. People living near these freeways are at the greatest risk, yet lack adequate protection and the much needed air monitoring stations in these very obvious places with foul air. Regulators are actively avoiding this problem instead of addressing it, and that needs to stop."
The federal lawsuit contends EPA violated the law by allowing the South Coast Air Quality Management District to ignore high levels of air pollution breathed by those living near freeways. NRDC and local advocates have sought to ensure air monitors are placed along the region's highways to better inform the local air district about the hazardous levels of particulate air pollution, and to arm them with the information necessary to take action to protect the region's residents. 
"The science on this is clear," said  Martha Dina Arguello, executive director of Physicians for Social Responsibility-Los Angeles. "People who breathe this polluted air suffer the staggering health impacts of air pollution at every phase of life. We know that women who live near heavy traffic roadways have a greater risk of having a low birth weight child and the child is more likely to develop asthma. Over a lifetime, living with this pollution also increases the likelihood of adult onset asthma, heart attacks, cancer and premature death. The evidence strongly suggests that people—especially children and seniors—who live near these roadways are exposed to much higher levels of pollution and therefore much more vulnerable to the impacts of pollution. It's unconscionable that the  EPA refuses to collect the information necessary to protect people's health," Arguello added.
Without monitors, regulators can ignore whether air quality for the more than 1.2 million people who live near high-traffic roadways despite the Clean Air Act's mandate that all residents breathe healthy air. This litigation seeks to ensure that the EPA follows the letter.
"We've provided the EPA the studies that show that the air quality along freeways can be really bad—much worse than almost everywhere else. But they refuse to monitor our air. Why?" asked Mark Lopez of Communities for a Better Environment. "Monitors would allow all of us to know if there is a problem. If not—great!  But if there is, we can work together to address it. We just want our children and families to be safe. Why won't they collect the information needed to make sure that we're safe?" added Lopez.
For more information, click here.
—————
The Natural Resources Defense Council (NRDC) is an international nonprofit environmental organization with more than 1.3 million members and online activists. Since 1970, our lawyers, scientists, and other environmental specialists have worked to protect the world's natural resources, public health, and the environment. NRDC has offices in New York City, Washington, D.C., Los Angeles, San Francisco, Chicago, Livingston, Montana, and Beijing. Visit us at www.nrdc.org