Greenpeace USA Executive Director Phil Radford announced a campaign on Feb. 14 to make Duke Energy the clean energy company that North Carolina and the U.S. deserve. The announcement follows a protest and demonstration Feb. 13 in which 16 Greenpeace activists were arrested at a Progress Energy coal plant in Asheville, N.C. after unfurling a huge banner atop a smoke stack that read "Duke Energy: the climate needs real Progress." Duke Energy and Progress Energy are seeking a merger which would create the largest utility company in the U.S.
From Phil Radford's announcement: (For the full announcement, click here.)
"Today, I'm officially announcing our campaign to make Duke Energy the clean energy company that North Carolina and the United States deserve.
"We must shine a light on Duke's activities in 2012 because this is a make or break year for the climate, and Duke is at the center of it. The merger alone is enough to warrant an extra level of scrutiny—and has in fact been delayed this far by FERC (The Federal Energy Regulatory Commission) because of concerns about the company holding an energy monopoly in North Carolina. North Carolina ratepayers don't have a choice about where they get their energy. Despite a committed local movement opposing the most recent rate hike, they're seeing a 7.2 percent increase on their electricity bills in March, not to pay for an investment in renewable energy, but to invest more in new coal projects like the Cliffside plant. Enough is enough—Duke ratepayers have said loudly and clearly that they don't want to pay for more investments in dirty energy.
"And Duke Energy also holds a unique position in energy politics right now. It is currently the third largest emitter of CO2 in the U.S.—and that's before it takes on Progress Energy's dirty fleet. CEO Jim Rogers has spoken openly about the threat of climate change and pollution controls for coal plants, and yet Duke holds a membership in the industry group ERCC (Electric Reliability Coordinating Council), a group that was aggressively lobbying against the recently passed Mercury Rule.  It's no secret that Duke's money and influence—$6.5 million in lobbying dollars in 2010—could have a significant impact in U.S. energy policy. To top it all off, this year, Rogers has been the lead fundraiser for the Democratic National Convention, to be held in Charlotte where Duke Energy is based, lending the Democrats $10 million dollars to pay for the convention.
"On 60 Minutes in 2009, Jim Rogers said, "I remember the first time I took a helicopter to look down at a power plant like this, I was 41 years old, and I said, 'Oh my goodness, I'm responsible for that?'" He is. As long as Rogers guides the decisions of Duke Energy, he's responsible for dozens of polluting plants around the country that compromise our children's health and the health of our climate, and the mountains that are blown up to mine the coal he burns in these plants. He's responsible for the 15,714 asthma attacks, 1,447 heart attack, and 951 premature deaths Duke's coal plants cause every year. And Duke is soon to be responsible for Progress's fleet and the pollution that comes with it.
"We're asking Duke Energy to:
Not renew a single new contract for mountaintop removal coal
Deliver at least a third of Duke's energy from renewable sources by 2020.
Quit coal altogether by 2030.
"Our communities and our climate can't wait any longer for real action on the climate."
For more information, click here.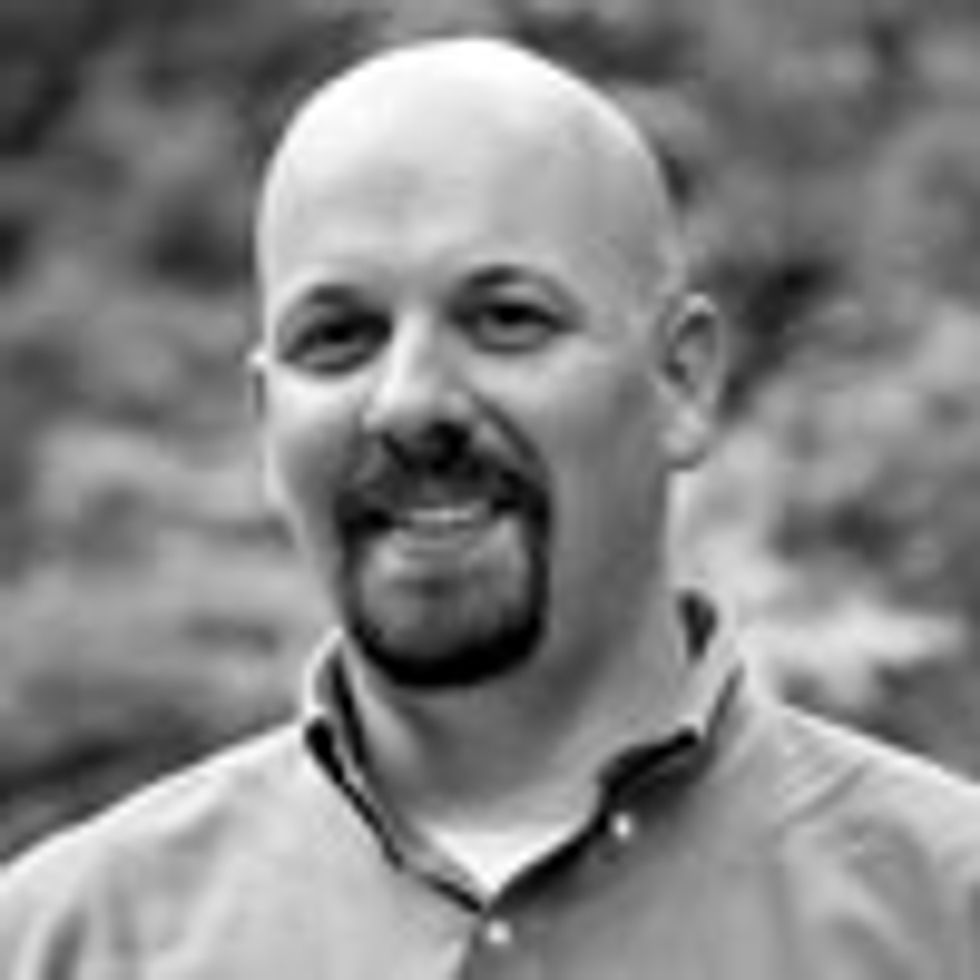 Today is a great day for the future of the IT sector.
Over the past few years, we've campaigned hard against Facebook to get them to commit to clean energy—specifically, we wanted them to change their siting policy—the decisions that they make about how to power their massive football-stadium-sized data centers.
When you go onto Facebook or Twitter or iTunes, your stuff—photos and music, status updates and party invitations—has to be stored somewhere. It's not something we all spend a lot of time thinking about, but that's how we use computers, and how we're going to use them in the future. It's called "the cloud." It's growing fast—right now if the cloud were a country, it would be the fifth largest country in the world in terms of global warming emissions.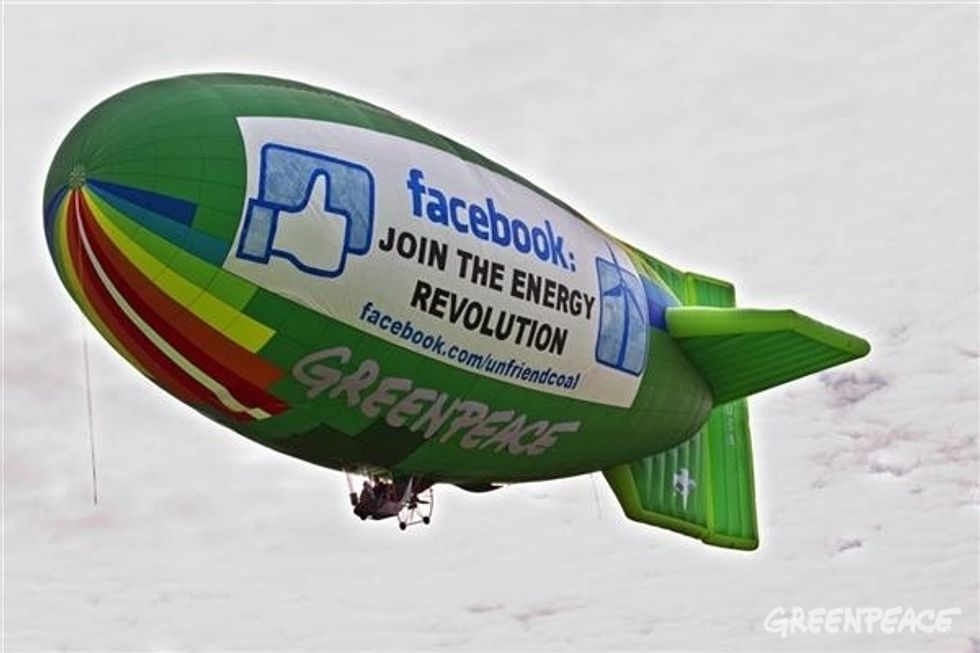 All that information is stored in massive data centers, which look like huge warehouses straight out of the Matrix. And more often than not, those data centers are powered by coal.
Like anyone else, I love Facebook. It's changed the way we can talk to our supporters on the web—I can log in and see how people are engaging with our campaigns, what excites them and what motivates them, and what changes they want to see in the world.
We've won historic victories by relying on the power of Facebook—victories against major brands that happened virtually overnight. On our Facebook campaign, we set the Guinness Record for number of Facebook comments on a page in 24 hours. When I, or any of our activists, use Facebook, we want to know that we're not contributing to the very problems that we're fighting.
What we're asking of corporations like Facebook is actually pretty incredible—we want them to be ambitious. We don't just want them to "do no evil," (as Google says)—we want them to do good. In fact, with the failure of the recent negotiations in Durban and America's inability to pass climate legislation, we're asking companies like Facebook to look far into the future, think about what's good for their business and what's good for the planet.
We're asking them to be champions, and they're stepping up and doing it.
Facebook has raised the bar for everyone, and we're now looking for companies like Apple, Twitter and Microsoft to make their next move. What's even more incredible is now that Facebook is demanding clean energy, utilities, like Duke Energy, are going to have to supply it.
This is the future of campaigning—big business isn't going anywhere, so we want them on our side. We think corporations can be the good guys, if people demand it. We've asked them to step up and they've done it.
Since the beginning of our seafood supermarket campaign, along with other organizations, we've gotten 15 major supermarket chains around the country to improve their sustainable seafood policies. Just this year we've gotten two of the largest toy companies, Hasbro and Mattel, to stop sourcing their paper from Asia Pulp and Paper, a major contributor to Indonesian deforestation. And just this week, GE and Ben & Jerry's were successful in pressuring the U.S. Environmental Protection Agency to make green refrigerants legal in the U.S., a step that will make a huge difference for the climate.
There's so much more to come in 2012—we're working to get the major tuna brands to use better fishing methods. We've got even more planned for the IT sector because we want to be able to use our gadgets, tweet and live our 21st century lives knowing that the cloud is cleaner.
And, as we say at Greenpeace all the time—no permanent allies, no permanent enemies. We're committed to standing up for the truth and pushing corporations to be their absolute best—not just dollar-driven profiteers, but true members of our global community. Sometimes that means flying an airship over their headquarters (yup, we did that with Facebook too!) and sometimes it means standing together to ask for better solutions. So here's to 21st century campaigning and unlikely allies. And thank you Facebook for helping us make history!
Read the agreement between Greenpeace and Facebook by clicking here.
EcoWatch Daily Newsletter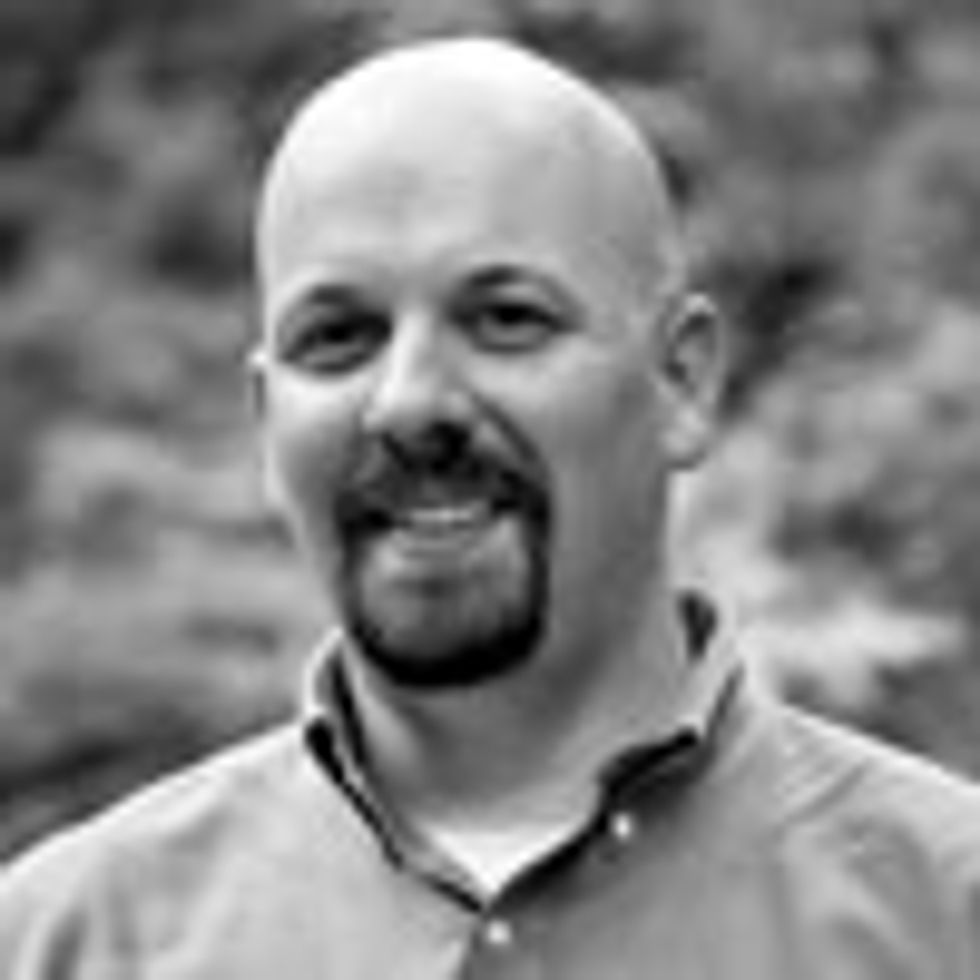 On Dec. 6, President Obama's staff held a hearing on their proposed 5 year oil leasing plan. A plan that would open up drilling in the Arctic. I was there with Cindy Shogan of Alaska Wilderness League, rallying people to urge the President to stop risking the Arctic and the support of young environmental voters.
When the BP Deepwater disaster happened, I saw firsthand the destruction that oil drilling causes on the environment.
Miles of oil-covered coastline destroyed the original beauty of the Gulf coast. Billions of dollars that people depended upon to feed their families were never earned. Oil-covered birds were suffering. Dolphins would swim near our Greenpeace ship under a sheen of oil. Around the Gulf, it was reported that when the dolphins surfaced, they would accidentally breathe in the oil, and you could hear them making a sound like coughing. The Gulf coast, still recovering from Hurricane Katrina, fell further into despair. The people's livelihoods—from fishing to tourism—were destroyed.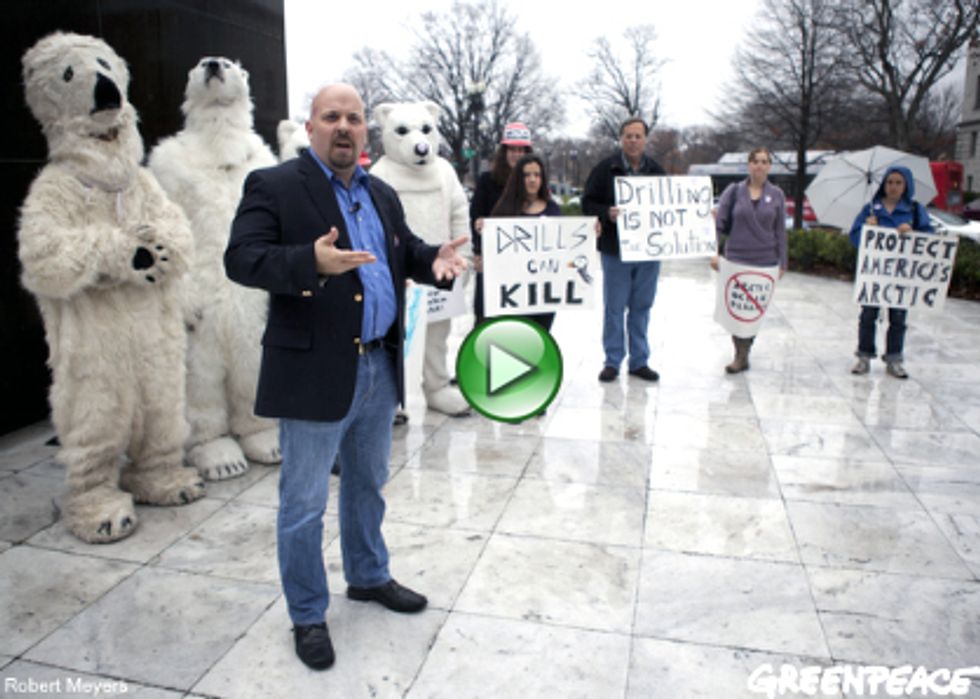 Now President Obama is proposing that we open Alaska for drilling, and in doing so, he is taking two monumental risks.
First, he is risking the fragile, untouched ecosystems that are more vulnerable to an oil spill than those in the Gulf. The Arctic is home to polar bears, bowhead whales, walruses, ice seals and hundreds of species of birds. The Coast Guard calls an oil spill in the Arctic "a nightmare scenario." The reason that it will be so difficult, if not impossible, to "clean" an Arctic oil spill is because the area is pitch black for half of the year and the water is covered with sheets of floating ice. If BP could only clean about 3 percent of the oil spilled in the Gulf, it seems unlikely that Shell and Obama, in Arctic conditions, could do any better.
The second risk the President is taking is the fact that once again, like with his initial efforts to promote the Keystone Pipeline that would have shipped Tar Sands through the U.S., he is risking the hours, passion and contributions of his supporter base, particularly young voters.
These Arctic lease sales—not to mention previous decisions he has made that enable drilling in the Beaufort Sea—are potentially disastrous. They are disastrous for our environment and for the prospects of young Americans, who vote on the environment, supporting the President come election season.
It's time to protect the Earth's final frontier. We need an energy revolution and it needs to start right now. President Obama can help us take a step in the right direction by making sure the five year plan doesn't include new arctic leases.
For more information, click here.