This website uses cookies to ensure you get the best experience while browsing it. By clicking 'Got It' you're accepting these terms.


The best of EcoWatch, right in your inbox. Sign up for our email newsletter!
By Brian Bienkowski
When fish swim in waters tainted with antidepressant drugs, they become anxious, anti-social and sometimes even homicidal.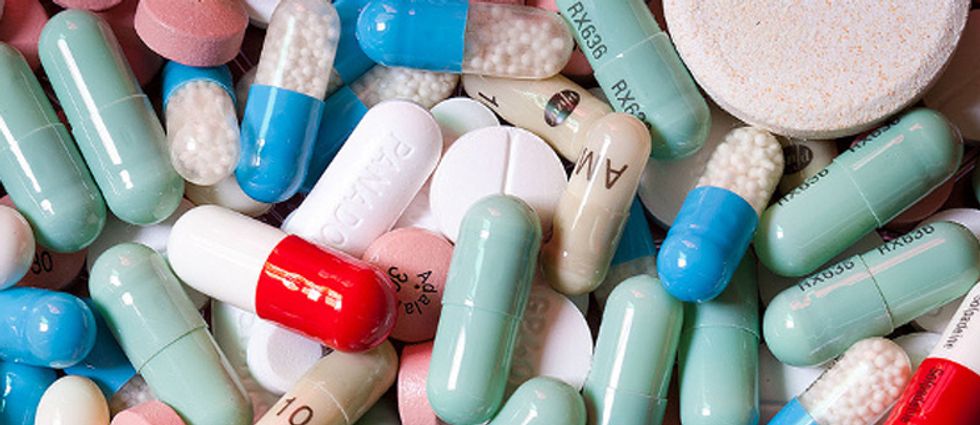 New research has found that the pharmaceuticals, which are frequently showing up in U.S. streams, can alter genes responsible for building fish brains and controlling their behavior.
Antidepressants are the most commonly prescribed medications in the U.S.; about 250 million prescriptions are filled every year. And they also are the highest-documented drugs contaminating waterways, which has experts worried about fish. Traces of the drugs typically get into streams when people excrete them, then sewage treatment plants discharge the effluent.
Exposure to fluoxetine, known by the trade name Prozac, had a bizarre effect on male fathead minnows, according to new, unpublished research by scientists at the University of Wisconsin-Milwaukee.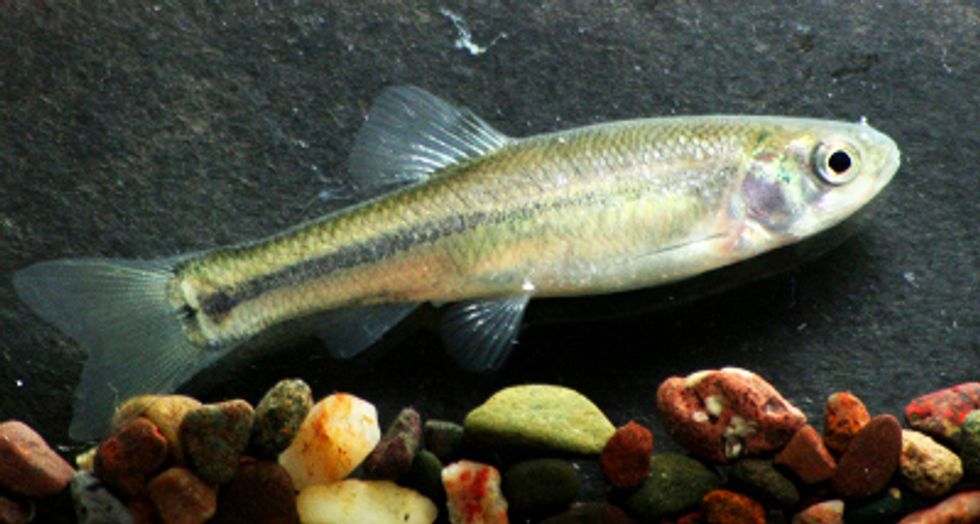 Male minnows exposed to a small dose of the drug in laboratories ignored females. They spent more time under a tile, so their reproduction decreased and they took more time capturing prey, according to Rebecca Klaper, a professor of freshwater sciences who spoke about her findings at a Society of Environmental Toxicology and Chemistry conference last fall. Klaper said the doses of Prozac added to the fishes' water were "very low concentrations," one part per billion, which is found in some wastewater discharged into streams.
When the dose was increased, but still at levels found in some wastewater, females produced fewer eggs and males became aggressive, killing females in some cases, Klaper said at the conference.
The drugs seem to cause these behavioral problems by scrambling how genes in the fish brains are expressed, or turned on and off. The minnows were exposed when they were a couple of months old and still developing.
There appeared to be architectural changes to the young minnows' brains, Klaper said at the toxicology conference. Growth of the axons, which are long nerve fibers that transmit information to the body, was disrupted.
The new findings build on Klaper's previous research, which tested minnows with the gene changes to see how well they avoided predators. They swam longer distances and made more directional changes, which suggests that the drugs induced anxiety.
The drugs used in the study were among the most common in sewage: Prozac, Effexor and Tegretol. The researchers tested each drug alone and in combination.
"At high doses we expect brain changes," Klaper said. "But we saw the gene expression changes and then behavioral changes at doses that we consider environmentally relevant."
However, there is too little evidence to know whether pharmaceuticals are having any impacts on fish populations in the wild, said Bryan Brooks, an environmental science professor at Baylor University who has extensively studied pharmaceuticals in streams and fish.
Any changes in reproduction, eating and avoiding prey can have devastating impacts for fish populations, Klaper said.
The most vulnerable fish populations are those downstream of sewage treatment plants, where prescription drugs consistently show up in higher levels than in other waterways. It's only within the past decade that technology has allowed plants to test for the chemicals in their wastewater and in waters downstream, though most still don't, said Steve Carr, supervisor of the chemistry research group at the Los Angeles County Sanitation Districts.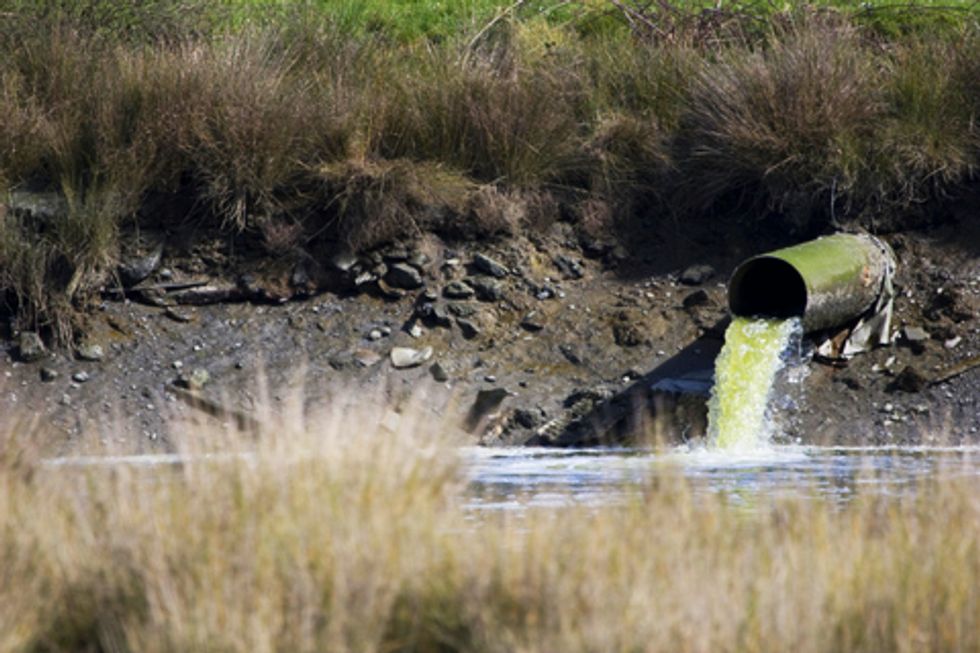 One of the antidepressants tested in the fish—Tegretol—comes into the treatment plants and goes out at near constant levels, said Eric Nelson, a senior chemist with the Los Angeles County Sanitation Districts.
That means the county's treatment technology does not seem to have any effect on the drug. It comes in and leaves in a very tight range, about 150 to 400 parts per trillion, Nelson said.
Nelson said the two other drugs tested on the fish—Prozac and Effexor—are discharged in effluent at even lower levels: between about 20 and 30 parts per trillion. In comparison, the levels that altered behavior of the lab fish were 50 times higher.
When monitoring an Iowa and a Colorado stream, the U.S. Geological Survey found most drugs at levels similar to Los Angeles County's. However, these low levels could still find their way into fish brains, according to their 2010 study.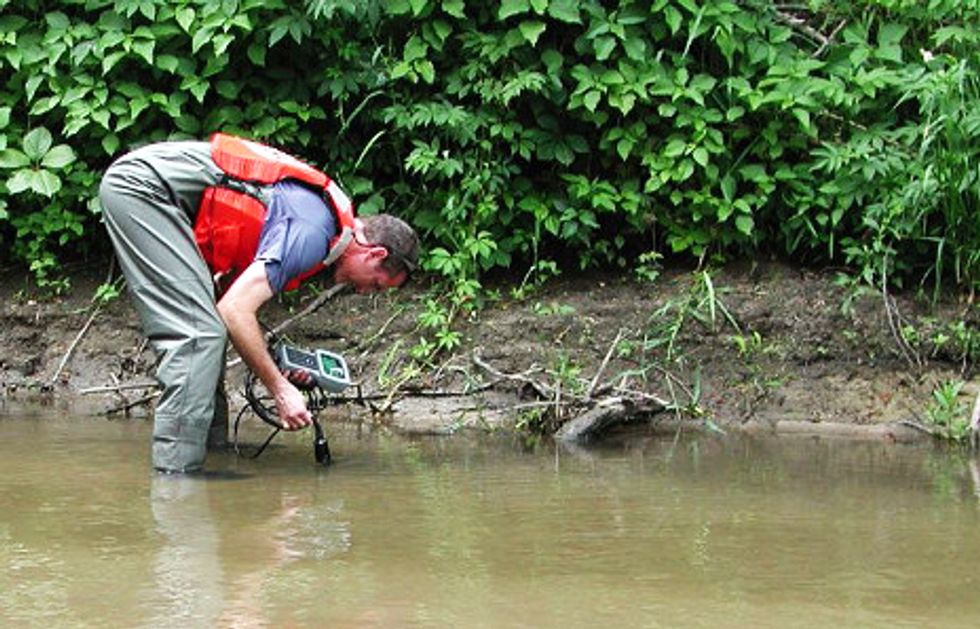 Researchers found elevated levels of pharmaceuticals in the stream water two to six miles from the sewage treatment plants. But the chemicals at the highest levels in the water were not the ones most prevalent in the fish brains.
"The fish downstream of the wastewater treatment had elevated concentrations of two antidepressants … Zoloft and Prozac," said Edward Furlong, a research chemist at the U.S. Geological Survey based in Boulder, CO. "And these were relatively low in water compared to others."
Even if the levels released into streams seem low, they are constant, which is problematic, Brooks said.
"The drugs may not be classically persistent like PCBs [Polychlorinated biphenyl]," Brooks said. "But they're pseudo-persistent. The [continuous] exposure of organisms in a stream is equivalent to a chemical that is persistent."
Some drugs bioaccumulate, or build up, in rainbow trout, according to Brooks' research. Also, rainbow trout exposed to sewage effluent have pharmaceuticals in their blood at levels as high as those that affect the brains of people, according to research in Sweden.
Brooks said the likelihood of bioaccumulation for pharmaceuticals is high. "People have to take these drugs for weeks before they start having effects. They slowly bioaccumulate in your system," which suggests bioaccumulation potential in fish, too, said Brooks.
Changes to the brain can affect all kinds of things in fish, Klaper said. And since humans have a similar brain gene structure, the findings raise questions about whether traces of these drugs in drinking water might harm human health.
The U.S. Environmental Protection Agency (EPA) considers pharmaceuticals an "emerging concern," and has concluded that the chemicals may pose risks to wildlife and humans. There are currently no federal regulations of the compounds in waste or drinking water. However, 12 pharmaceuticals are currently on the EPA's Contaminant Candidate List, which are chemicals that may require regulation under the Safe Drinking Water Act.
Studies have consistently found prescription drugs in drinking water at parts-per-trillion levels. U.S. Geological Survey scientists sampled 74 waterways used for drinking water in 25 states in 2008 and found 53 had one or more of the three dozen pharmaceuticals they were testing for in their water. Forty percent of the pharmaceuticals were found at one or more of the sites.
Fifty-four active pharmaceutical ingredients and 10 metabolites have been detected in treated U.S. drinking water, according to a 2010 EPA review.
Studies of children exposed in the womb to antidepressants taken by their mothers show effects on their motor development and a higher risk of some birth defects.
But health officials say the levels found in some drinking water are too low to cause harm.
According to a 2012 World Health Organization report, the "trace quantities of pharmaceuticals in drinking water are very unlikely to pose risks to human health." The report said that the amount found in drinking water is usually 1,000 times lower than doses expected to have an effect on a person.
But Klaper said that in light of the gene changes in fish brains, officials may need to rethink what is considered safe.
"Fish do not metabolize drugs like we do," Klaper said. "Even if environmental doses aren't thought to be much for a human, fish could still have significant accumulation, and, it appears, changes in their brain's gene expression."
Visit EcoWatch's BIODIVERSITY page for more related news on this topic.
——–
EcoWatch Daily Newsletter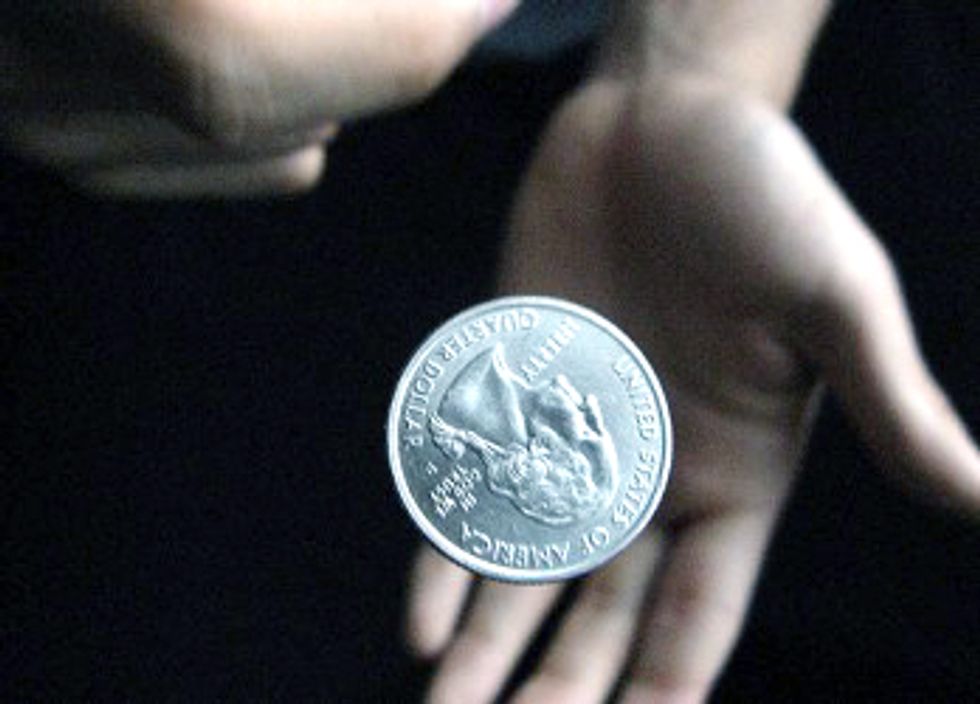 Federal decision makers need access to the best available science in order to craft policies that protect our health, safety and environment.
Unfortunately, censorship of scientists and the manipulation, distortion, and suppression of scientific information have threatened federal science in recent years.
This problem has sparked much debate, but few have identified the key driver of political interference in federal science—the inappropriate influence of companies with a financial stake in the outcome.
A new Union of Concerned Scientists report, Heads They Win, Tails We Lose, shows how corporations influence the use of science in federal decision making to serve their own interests.
Methods of Abuse
The report describes five basic methods that corporations use to influence the scientific and policy-making processes:
Corrupting the Science. Corporations suppress research, intimidate scientists, manipulate study designs, ghostwrite scientific articles, and selectively publish results that suit their interests.
Shaping Public Perception. Private interests downplay evidence, exaggerate uncertainty, vilify scientists, hide behind front groups, and feed the media slanted news stories.
Restricting Agency Effectiveness. Companies attack the science behind agency policy, hinder the regulatory process, corrupt advisory panels, exploit the "revolving door" between corporate and government employment, censor scientists, and withhold information from the public.
Influencing Congress. By spending billions of dollars on lobbying and campaign contributions, corporate interests gain undue access to members of Congress, encouraging them to challenge scientific consensus, delay action on critical problems, and shape the use of science in policy making.
Exploiting Judicial Pathways. Corporate interests have expanded their influence on the judicial system, used the courts to undermine science, and exploited judicial processes to bully and silence scientists.
Progress Made (and Still To Be Made)
In his 2009 inaugural address, President Obama promised to "restore science to its rightful place." His administration has made progress toward that goal on several important fronts—elevating the role of science in government, ordering agencies to develop scientific integrity policies, improving transparency, and strengthening conflict-of-interest policies.
Despite these positive steps, much remains to be done. The report identifies five key areas where further federal commitments to protect science from undue corporate influence are needed—protecting government scientists from retaliation and intimidation; making government more transparent and accountable; reforming the regulatory process; strengthening scientific advice to government; and strengthening monitoring and enforcement.
Beyond Government
Corporations, nonprofits, academic institutions, scientific societies, and the media also have critical roles to play in reducing abuses of science in federal decision making. These institutions should:
promote honest scientific investigation and open discussion of research results
refrain from actual or perceived acts of scientific misconduct
embrace transparency and avoid conflicts of interest
Inappropriate corporate interference in science extends its tentacles into every aspect of federal science-based policy-making. Addressing this interference will require overcoming high hurdles, but they are not insurmountable. With strong leadership and a sustained commitment, both the federal government and the private sector can rise to the challenge.
How Do They Game the System? Let Us Recount the Ways
Heads They Win, Tails We Lose is full of real-world examples of the ways corporations interfere with science. Here are just a few of the highlights:
Suppressing Research:
Hog Farm Emissions
After pork producers contacted his supervisors, a U.S. Department of Agriculture microbiologist was prevented from publishing research showing that emissions from industrial hog farms contained antibiotic-resistant bacteria.
Corrupting Advisory Panels—Childhood Lead Poisoning
A few weeks before a Center for Disease Control advisory panel met to discuss revising federal lead standards, two scientists with ties to the lead industry were added to the panel. The committee voted against tightening the standards.
Ghostwriting Articles—The Pharmaceutical Industry
A 2011 analysis found evidence of corporate authorship in research articles on a variety of drugs, including Avandia, Paxil, Tylenol, and Vioxx.
For more examples, visit our A-to-Z Guide to Political Interference in Science.
For more information, click here.
The Center for Food Safety (CFS) submitted comments strongly criticizing the U.S. Environmental Protection Agency's (EPA) disappointing failure to implement a 2010 settlement agreement it reached with environmental groups and called on the agency not to capitulate to industry pressure and weaken its much needed action. CFS's comments were also joined by Friends of the Earth.
In 2010, EPA agreed to conduct an inventory and profile the largest animal factories by requiring reporting of very basic operational information such as geographic location, ownership, quantity of manure produced, and use of manure. Despite widespread animal factory farming in the U.S., EPA never previously tracked this data, and thus has no understanding of the scope of the manure problem that is polluting our nation's waters and placing our food supply at risk. 
EPA recognized years ago that it has absolutely no handle on the billions of gallons of manure annually entering the nation's waters and food supplies from U.S. animal factories. A 2008 Government Accounting Office (GAO) report entitled EPA Needs More Information and a Clearly Defined Strategy sharply criticized the agency's lack of action. However, EPA's late 2011 draft rule only required reporting of less than half of the information required by the agreement, without explanation. Under the EPA proposal, the animal factory industry would be allowed to continue mismanagement of manure and would leave to local communities the burden of enforcing environmental laws. 
"EPA's proposal is a misguided, head-in-the-sand approach to an issue that the government has recognized as a significant problem for many years," said Elisabeth Holmes, CFS Staff Attorney.  "EPA's draft rule is contrary to the Court Settlement, the GAO Report, the Pew Commission recommendations, as well as EPA's overarching duty to protect the public and the environment."
Most of the dairy, beef, pork, chicken, turkey, and egg products sold in U.S. grocery stores—and served at institutional facilities such as schools, hospitals, nursing homes, and prisons—comes from animal factories. Animal factories raise hundreds, thousands, or tens of thousands of animals destined for human consumption in large-scale, high-density confinements and as a result produce large quantities of meat, dairy or egg products at a low economic cost. Animal factories also produce too much manure to fertilize their own fields, and the manure is so laden with pharmaceutical products, animal feed additives and heavy metals that it can actually kill crops instead of promoting soil fertility and moisture. Animal factories frequently disregard restrictions on applying manure as a fertilizer so over-applications and mis-applications result in manure, pharmaceutical products and additives escaping and flowing into drinking water supplies and rivers. Manure management is a major operational concern and a constant source of water pollution for every animal factory. Annually, a single animal factory can produce 1.6 million tons of waste, or more than 1.5 times the sanitary waste produced by the 1.5 million residents of Philadelphia, Pa. One cow can produce 20 times the amount of waste as a single human.  Animal factories store millions of gallons of manure usually in "lagoons," which are susceptible to breakage and leakage. 
The federal government claims that approximately 20,000 animal factories exist in the U.S., but other data suggests there may be as many as 238,000 animal feeding operations. Without an inventory and data tracking system the EPA cannot estimate the number of animal factories in the country or their environmental effects. 
Under the current Clean Water Act permitting structure, EPA only requires certain animal factories to report limited information. The information reported for permitting purposes does not correspond to that required by the 2010 agreement, which was designed specifically to begin meaningfully assessing the scope of the nationwide pollution problem.
"The Center for Food Safety is just as concerned with security issues facing our nation's food supply as farmers," said Holmes. "As the GAO Report and Pew Commission Report on Industrial Animal Farm Production demonstrate, this problem is an immediate threat to our waters, our health, and our food supply. EPA must require animal factories to report basic operational information that other industries have had to declare for decades, and EPA must make this information available to the public."
EPA has indicated it will respond to comments on its proposal by July 13, 2012.
Read CFS's comments by clicking here.
Read the GAO Report by clicking here.
Read the Pew Report by clicking here.
For more information, click here.
—————
The Center for Food Safety is a national, non-profit, membership organization founded in 1997 to protect human health and the environment by curbing the use of harmful food production technologies and by promoting organic and other forms of sustainable agriculture.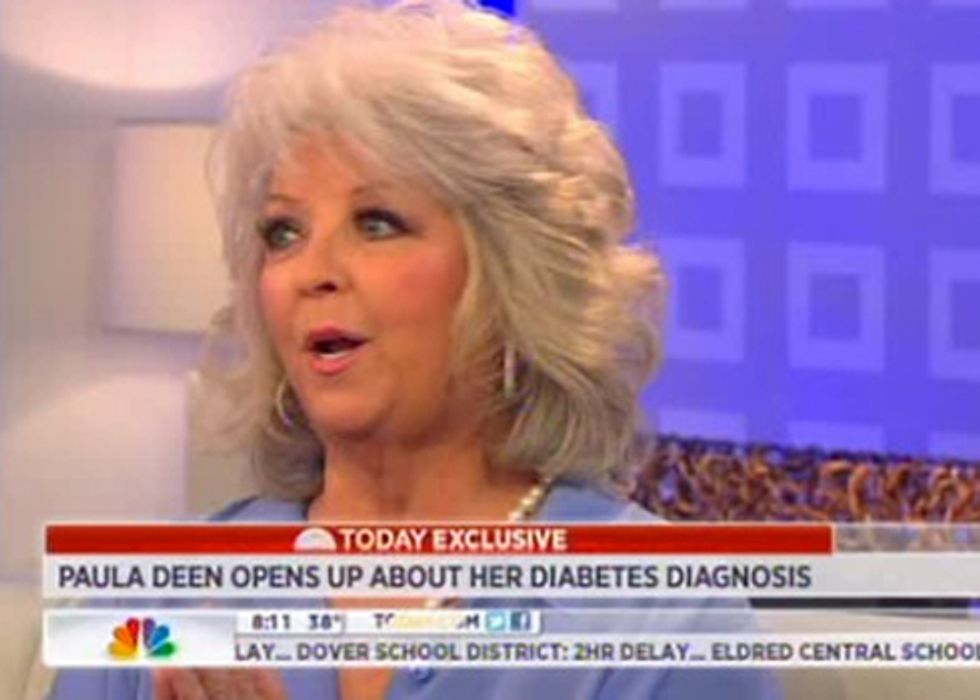 By Kristin Wartman
Paula Deen's public admission that she has Type 2 diabetes and her follow-up announcement that she is also a paid spokesperson for the pharmaceutical company Novo Nordisk, and its diabetes drug, Victoza, has sparked an interesting debate about the deeper issues surrounding our food system—especially the impact it has on the many people diagnosed with diabetes. And according to Deen's comments on the Today show, she implies to her millions of fans, that the primary ways to deal with this largely diet-related disease are through personal responsibility and pharmaceuticals.
Indeed, when Al Roker, asks her if she is going to change the way she eats and the foods she cooks, Deen says, "Honey, I'm your cook, I'm not your doctor. You are going to have to be responsible for yourself." Evading the question, Deen puts the onus back on the individual to decide what foods to eat or not, despite the fact that she promotes unhealthful and processed foods on TV. The one comment she does make about food choice is "moderation," one of the most meaningless and confusing bits of nutrition advice. In fact, this is what the industry giants often use as their defense for harmful, unhealthful foods.
Personal responsibility and consumer choice are solutions heralded by conservatives and liberals alike—the idea being that ultimately good health comes down to what we choose to buy and eat. But it's not that simple.
There are three main issues when it comes to the myth of personal responsibility about food choice and they get at the root of our nation's health crisis—The public's confusion about nutrition, the lack of time and knowledge about real home cooking, and the promotion of quick fixes like drugs, diet foods, and fads in lieu of addressing underlying causes. The Paula Deen diabetes story manages to hit on every single one of these issues.
Americans suffer from nutrition confusion, thanks to an array of conflicting and often inaccurate public health messages, misleading labels and claims on packaging, and a lack of nutrition knowledge by many doctors, dietitians, and other health care providers.
Deen's cooking, and now her public diabetes announcement, only adds to this confusion. During the Today show interview she repeatedly mentions the amount of fat in her recipes, as do many in the media reporting on the story. "For 10 years, wielding slabs of cream cheese and mounds of mayonnaise," a New York Times article begins, "Paula Deen has become television's self-crowned queen of Southern cuisine."
But real, unprocessed cream cheese and mayonnaise are not the problem. The issue that mainstream media has largely overlooked is that Deen uses the processed, packaged versions of these foods, which are full of chemicals, additives and trans-fats. Actual home cooking would require whipping these foods up herself in her kitchen using real ingredients. And that is the real story behind Deen's diabetes diagnosis—Her health problems are largely due to her reliance on packaged, processed foods that are the foundation for many of her recipes.
Even though her cooking show is called Paula's Home Cooking, there's a lot going on in her kitchen that is as far removed from home cooking as you can get. Many of her recipes include "ingredients" like Krispy Kreme doughnuts, biscuit mixes, cans of mushroom soup, and sour-cream-and-onion flavored potato chips. This is processed food cooking, not home cooking.
Heaping the blame on all the "fat" she cooks with only serves to confuse the public further. A New York Daily News article also cites fat as one of the main culprits in Deen's cooking and her diet. But the most recent research indicates that when it comes to diabetes, fat is not the problem. The problem foods are sugar, refined white flour, chemical additives, artificial sweeteners and flavors, trans-fats, and the various other chemicals and additives found in the processed foods that abound in Deen's recipes.
Now Deen is pushing the idea that taking medicine is the real solution to diabetes. On the Today show, she says, "Here's what I want to get across to people, I want them to first start by going to their doctor and asking to be tested for diabetes. Get on a program that works for you. I'm amazed at the people out there that are aware they're diabetic but they're not taking their medicine."
According to Deen, the reason she waited three years to go public with her diagnosis was because she didn't have anything to give her fans. "I could have walked out and said, 'Hey ya'll, I have been diagnosed with Type 2 diabetes.' I had nothing to give to my fellow friends out there. I wanted to bring something to the table when I came forward." So what is she bringing to the table? A sales pitch for a diabetes drug that costs $500 per month and has some seriously troubling side effects, including thyroid cancer, as Tom Philpott reports.
Just think of the kind of influence she could have wielded had she come out with a new cooking show that focused on using fresh, real food ingredients that cut way back on sugar and refined carbohydrates. In fact, if she had done so and eaten this way for the past three years she might have reversed her own diabetes diagnosis, which is entirely possible given the right diet.
But instead, Deen is getting paid to leave that task to a drug company. This isn't her first corporate sponsorship (here she peddles Smithfield ham) and I doubt it will be her last. Diabetic and diet foods can't be far behind in products she'll attach to her name.
Alas, we can't fairly discuss personal responsibility without taking into account the under-regulated advertising industry that pushes cheap, convenient, and processed foods on an overworked and cash-strapped population. Add to this the diminishing knowledge on how to shop for, cook, and prepare foods from scratch and we have a serious problem.
As Paula Deen now joins the 25.8 million other Americans suffering with diabetes, she "brings to the table" the ideas of moderation (an essentially meaningless and confusing bit of nutrition advice), personal responsibility, and the drug Victoza as the solutions. She could do so much more with all the power she wields.
Anthony Bourdain put it squarely when he said of Deen, "If I were on at seven at night and loved by millions of people at every age, I would think twice before telling an already obese nation that it's OK to eat food that is killing us." And this was before her diabetes announcement. Bourdain has also said that Deen is the "worst, most dangerous person to America." He might have a point.
For more information, click here.
—————
Kristin Wartman is a food writer living in Brooklyn. She has a Masters in Literature from UC Santa Cruz and is a Certified Nutrition Educator. She is interested in the intersections of food, health, politics, and culture. You can follow her on Twitter and read more of her writing at kristinwartman.wordpress.com.