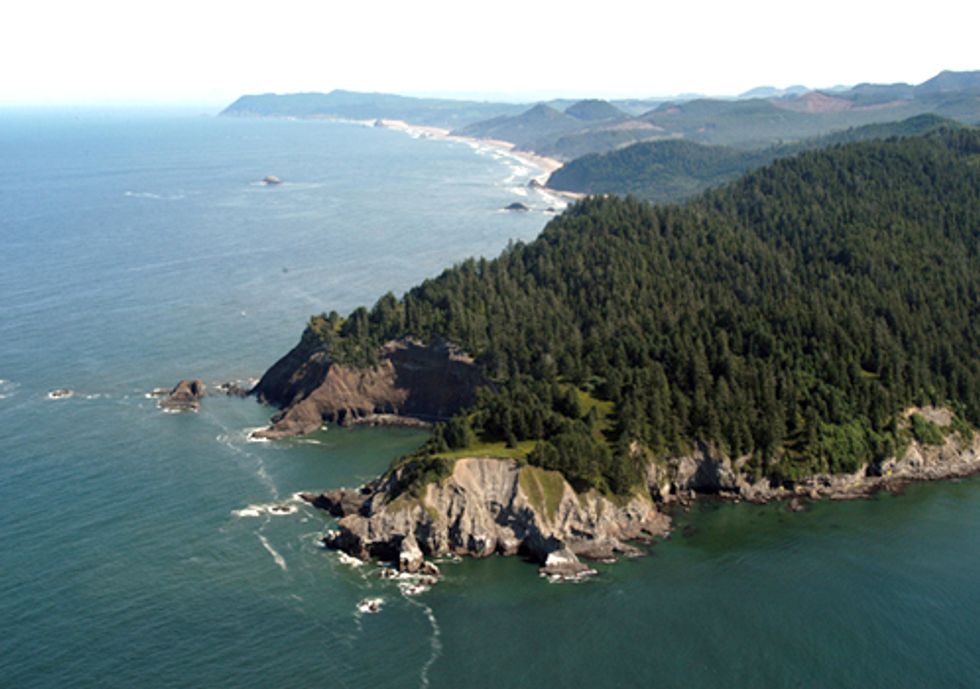 Our Ocean, a statewide coalition of Oregon conservationists, scientists, ocean users, local and businesses leaders expressed support on Feb .21 for the state legislature's action to designate three marine reserves and protected areas off Cape Falcon, Cascade Head, and Cape Perpetua.
Two other marine reserves were implemented in January, at Redfish Rocks near Port Orford and Otter Rock by Depoe Bay. Combining those with the three new sites would create an initial network of marine reserves and protected areas off the Oregon coast. Once the new law is signed by Gov. John Kitzhaber and enacted, these designations will serve as "ecological savings accounts" and provide places for plants and animals to spawn and thrive.
"This action recognizes the value and pride that Oregonians have for our ocean," said Susan Allen, manager at the Pew Environment Group and director of Our Ocean. "Safeguarding coastal waters preserves their beauty and bounty for us and our children." Our Ocean represents more than 250,000 people from a diverse group of organizations including the Oregon AFL-CIO, Oregon Shores Conservation Coalition, and the Oregon Business Association.
This designation honors the efforts by volunteers and the consensus building accomplished by coastal communities to create a suite of recommendations that balance the ecological and economic needs of each site individually, and the system collectively. The Oregon Department of Fish and Wildlife reported ocean stakeholders invested more than 25,000 hours of volunteer time in 2010 alone.
"Marine reserves around the world have demonstrated the value that protecting ocean habitats can have for building resilient local economies and coastal ecosystems," said Robin Hartmann, Ocean Policy Advisory Council (OPAC) member and ocean program director of the Oregon Shores Conservation Coalition. "This bill makes it possible to put into place a statewide flagship program that supports an enriched and productive nearshore ocean."
"The sum total of all no-take areas in Oregon's ocean will represent just roughly 3 percent of our state's 362-mile coastline now," said Paul Engelmeyer, manager of the Audubon Ten Mile Creek Sanctuary and OPAC member. "Yet combined with neighboring protected areas that make up an additional 5.7 percent of our nearshore habitats, these designations can bolster the health of the ocean and, by extension, our ability to harvest ocean resources more sustainably. We believe this legislation has potential to create a coastal legacy that our children will enjoy for many generations."
For more information, click here.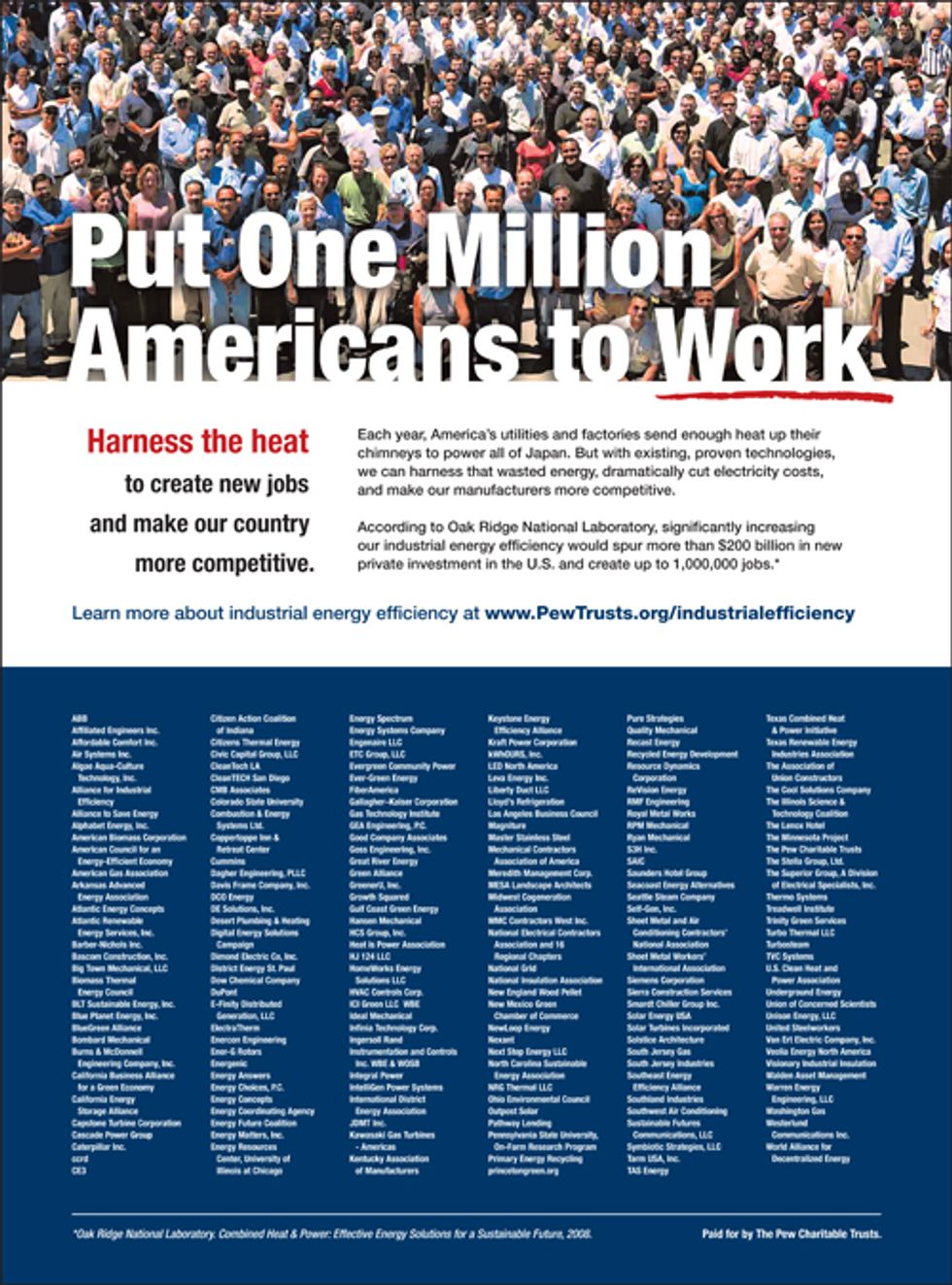 As energy is expected to play prominently in the State of the Union address, the Pew Clean Energy Program and more than 200 businesses and trade groups are touting the economic benefits of increasing industrial efficiency in a full-page advertisement Tuesday, Jan. 24, in the Hill, Politico, and Roll Call. Signers include Caterpillar, DuPont, Dow Chemical Co., Siemens Corp., American Biomass Corp., American Council for an Energy-Efficient Economy, Master Stainless Steel, Los Angeles Business Council, Texas Combined Heat and Power Initiative, and the U.S. Clean Heat and Power Association. The ad reads:
"Each year, America's utilities and factories send enough heat up their chimneys to power all of Japan. But with existing, proven technologies, we can harness that wasted energy, dramatically cut electricity costs, and make our manufacturers more competitive.
"According to Oak Ridge National Laboratory, significantly increasing our industrial energy efficiency would spur more than $200 billion in new private investment in the U.S. and create up to 1,000,000 jobs. Harness the heat to create new jobs and make our country more competitive."
To see the full size ad, click here.
Many manufacturers, hotels, campuses, and utilities across the country already recycle their waste heat—a process known as cogeneration, or combined heat and power (CHP). But much more can be done. The Oak Ridge lab estimates that the U.S. has the potential to double industrial energy efficiency, providing impressive economic benefits. Rising energy prices affect companies large and small. Using wasted heat and recycling energy can dramatically reduce costs and give businesses the flexibility to invest those savings elsewhere. Click here for more information.
Three bipartisan bills in the U.S. House deal with industrial energy efficiency, and a bill authored by Rep. Charles F. Bass (R-NH), which seeks to double CHP, has been drafted. A Senate bill authored by Jeanne Shaheen (D-NH) and Rob Portman (R-OH) on efficiency includes a CHP provision. Sens. Jeff Bingaman (D-NM) and Olympia Snowe (R-ME) are expected to submit a bill soon that also will address industrial efficiency.
And Capitol Hill will soon have its own CHP project. The Capitol Power Plant is developing a design for producing 18 MW of electricity through improved energy-efficiency processes to heat congressional buildings. The improvements will help Congress reduce energy use by up to 30 percent.
Although installation requires an initial investment, companies recoup their costs and start to see savings within a few years. For example:
The Penn England Farm employs CHP to produce electricity for its dairy operations.
The Cox Interior Inc. manufacturing plant in Campbellsville, Ky., operates a 5-MW system that saves the company $4.5 million a year. It also produces more electricity than the company needs, so Cox Interior sells about $50,000 worth of power back to the local utility.
The Sierra Nevada Brewing Co. in Chico, Nevada, installed a 1-MW system that will save the company $400,000 a year and pay for itself within five years of operation.
Lorin Industries in Michigan has recycled its wasted heat since 1943 and expanded capacity in 1990. The system saves the company $540,000 a year, and the newest addition paid for itself in just four years—largely due to the significant decrease in the company's need to purchase more costly peak electricity.
For more information, click here.
EcoWatch Daily Newsletter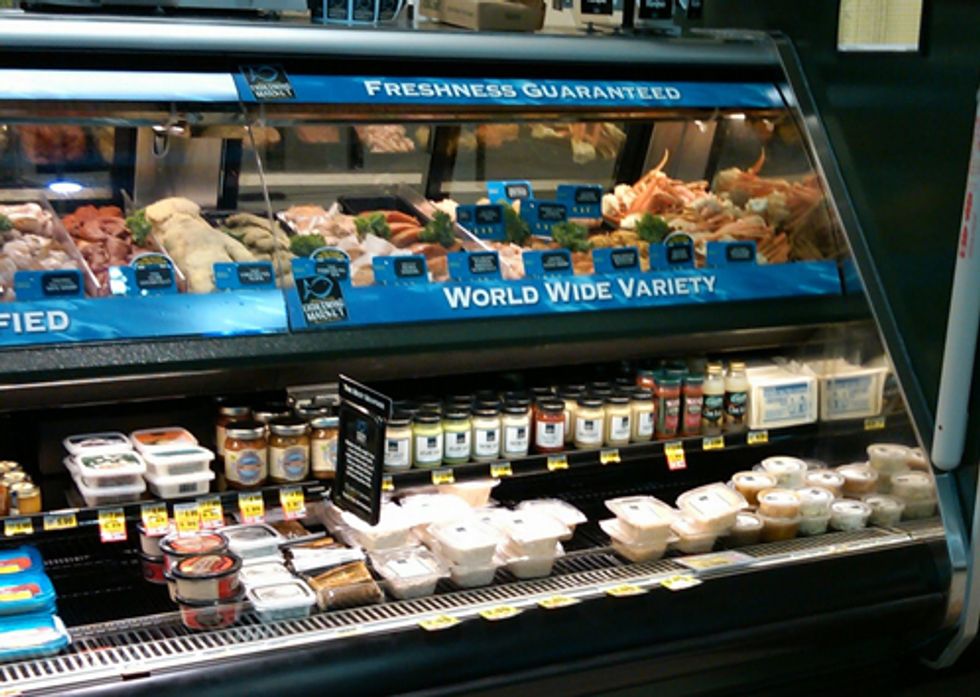 A new report released Dec. 7 by the University of Victoria ranks eco-labels intended to distinguish seafood produced with less damage to the environment. It is the first study to evaluate how eco-labels for farmed marine fish compare to unlabeled options in the marketplace.
"How Green is Your Eco-label?" is designed to help seafood buyers sort through competing sustainability claims and better identify those labels that result in farming methods with less damage to the ocean. Key findings include:
Organic labels lead the pack, although a few fall noticeably short
Many eco-labels are not much better than conventional farmed seafood options when it comes to protecting the ocean environment
Scale is a big challenge for eco-labels—For the most part, eco-labels are awarded based on an individual farm's environmental footprint. However, the cumulative environmental effects of many farms can quickly overwhelm the benefits of reductions in impacts by a single farm or small group of certified farms.
"Our research shows that most eco-labels for farmed marine fish offer no more than a 10 percent improvement over the status quo," said John Volpe, Ph.D., a marine ecologist at the University of Victoria and lead author of the report.
"With the exception of a few outstanding examples, one-third of the eco-labels evaluated for these fish utilize standards at the same level or below what we consider to be conventional or average practice in the industry."
Supported by the Pew Environment Group, the study, which was reviewed by several independent experts, uses a well-established quantitative methodology derived from the 2010 Global Aquaculture Performance Index to determine numerical scores of environmental performance for 20 different eco-labels for farmed marine finfish, such as salmon, cod, turbot and grouper. These scores were used to rank performance among the various eco-labels. The assessment did not look at eco-labels for freshwater farmed fish, such as tilapia or catfish.
The authors used 10 environmental factors to assess the eco-labels, including antibiotic use, the ecological effect of farmed fish that escape from pens, sustainability of the fish that serve as feed, parasiticide use, and industrial energy needed in aquaculture production.
"Eco-labels can help fish farmers produce and consumers select environmentally preferable seafood, but only if the labels are based on meaningful standards that are enforced," said Chris Mann, director of Pew's Aquaculture Standards Project. "Seafood buyers at the retail or wholesale level should demand that evidence of sustainability be demonstrated, not merely asserted."
The report concludes that government policies and regulations, as well as effective eco-labels, are necessary to limit the environmental impacts of production.
For more information, click here.