This website uses cookies to ensure you get the best experience while browsing it. By clicking 'Got It' you're accepting these terms.


The best of EcoWatch, right in your inbox. Sign up for our email newsletter!
Shirley Pomponi dives in shallow waters in The Bahamas to examine diverse sponges and octocorals. Don Liberatore
By Holly Binns
To Shirley Pomponi the sea sponges lining her office shelves are more than colorful specimens; they're potentially lifesaving creatures, some of which could hold the complex secrets to cures for cancers and other diseases.
The marine biotechnology expert, who is research professor and executive director of the Cooperative Institute for Ocean Exploration, Research, and Technology at Florida Atlantic University's Harbor Branch Oceanographic Institute, has spent more than 30 years studying deep-sea sponges, simple organisms that are often found in coral ecosystems in all of the world's seas.
The famous Wahweap Hoodoos at Grand Staircase-Escalante National Monument are no longer protected as a national monument. Mark Stacey / NOAA
By John Gilroy
Just a day after President Donald Trump significantly diminished the boundaries of Grand Staircase-Escalante National Monument, Rep. Chris Stewart (R-UT) introduced legislation that would reduce the protections on this unique landscape even further.
The Grand Staircase-Escalante Enhancement Act (H.R. 4558) mirrors President Trump's proclamation by creating three smaller national monuments and one national park that together would preserve roughly 60 percent of the landscape that has been safeguarded by the Grand Staircase-Escalante National Monument since its inception in 1996.
EcoWatch Daily Newsletter
The manta ray, shown here, is one of at least 37 species of sharks and rays that have been documented in the archipelago. Pelagic Life
By Matt Rand
For the health of the ocean and all who depend on it, this is big news: In November, Mexico became the latest nation to create a large, fully protected marine reserve.
The Revillagigedo Archipelago National Park, the country's largest marine protected area, is larger than the state of New York and protects 57,176 square miles (148,087 square kilometers) from fishing and other extractive activities.
An important fishing port of the French Atlantic Island Ile d'Oleron is Port La Cotinière. Robert Schüller / Flickr
As their annual end-to-the-year meeting closed on Dec. 13, the 28 fisheries ministers who sit on the Council of the European Union again set some fishing limits for Atlantic Ocean and North Sea stocks higher than scientists had advised and higher than the European Commission had proposed. Council deliberations went through the night and officials have not yet made all the details available on how 2018 fishing limits were calculated.
As in previous years, participants in the Council meeting announced that good progress had been made towards achieving the EU Common Fisheries Policy (CFP) deadline to end overfishing by 2020. We can only hope the figures bear out this optimism when a full analysis comparing the decisions to scientific advice is completed.
Logan Kock says deep-set buoy gear provides an ecologically sound approach to catching swordfish while benefiting customers and fishermen. Logan Kock
By Paul Shively
Logan Kock knows what it's like to depend on the ocean for sustenance. A few years after graduate school, he set off on a voyage from Japan to San Francisco in a 30-foot sailboat with almost nothing but the wind and water to sustain him.
"During that whole sailing thing, you are a subsistence fisherman," Kock said of his two-year journey, which also took him to numerous South Pacific islands. "You aren't near any stores. You don't have any money. So you fish all of the time."
By David Kirby
There's no doubt that melting sea ice in Hudson Bay is threatening endangered polar bears, but it might also be harmful to beluga whales, seals, narwhals and other marine mammals, scientists are warning.
The reason? Melting ice caused by climate change is carving huge swaths of open water for longer periods of time, providing Atlantic killer whales more access to the bay and its rich stocks of prey.
Melting ice caused by climate change is carving huge swaths of open water for longer periods of time, providing Atlantic killer whales more access to the bay and its rich stocks of prey.
"There has been an increase in the duration of open water by about 35 percent in the last 10 to 15 years and killer whales can now come into the bay with little to hamper them as they move around," said David Barber, the Canada research chair in Arctic system science at the University of Manitoba.

The open-water period in Hudson Bay used to last about two months each year, Barber said, but that has been extended to three months today "and we're on our way to four, five, and six months—and it will keep increasing as climate change starts to have more and more impact in the arctic."
Barber spoke by phone from Winnipeg, where he is attending ArcticNet 2016, a weeklong conference of some 800 Canadian scientists studying physical and biological systems in the Arctic, largely driven by changes in the ice cover.
Killer whales have historically avoided areas with ice because their large dorsal fins get caught underneath before their blowholes can breathe through fractures, Barber said. But ice-adapted whales, such a belugas and narwhals, have much smaller dorsal fins and can breathe though little cracks in the ice.
Longer periods of ice coverage have always afforded protection for those animals, until weather patterns started shifting.
"If ice is in the area for long periods of time, it limits how far the killer whales can come in and how long they stay there," Barber said.
In addition to climate change, freshwater entering the bay from two hydroelectric dams that generate power in the winter may be contributing to ice loss, he said.
Each summer, thousands of belugas migrate from the Hudson Strait on the eastern side of the bay to shallow estuaries on the western shore to feed and mate. The status of the western bay population, estimated at about 57,000 or 35 percent of the world's total, was upgraded to "Special Concern" in 2004 by the Committee on the Status of Endangered Wildlife in Canada, because of potential threats from shipping and hydroelectric development.
Reported sightings of killer whales, especially in the western part of the bay, have skyrocketed in recent decades, although there are no precise figures on how many more orcas are now entering the huge waterway each season.
Kristin Westdal, a marine biologist for the Pew Charitable Trusts' Oceans North Canada, along with two colleagues, began interviewing hundreds of Inuit elders and hunters in 2006 about the historical presence of killer whales in the bay.
"They are a relatively new predator," Westdal said. "Reports of sightings started in the 1950s or '60s, and there's not much history prior to that."
The frequency of sightings has also increased. "Historically it was every few years and now it's every year, fairly consistently," Westdal said, adding that some of the increase in sightings might be owing to faster and larger boats that can transverse extensive stretches of the bay.
Reports of killer whales preying on belugas are also coming in.
Westdal said a large number of belugas that had been tagged at Seal River were subsequently attacked by a killer whale pod.
"The belugas were in a tight cluster at the river's mouth, and after the event they spread out along the coastline quite a ways north and then came back to their original habitat," Westdal said.
"So they're using quite a bit more of their range than we might have thought, which is important when looking at marine conservation in the region," she said. "Their core habitat is not necessarily enough to protect that species [as] this points to potential changes in distribution should killer whale attacks continue to increase."
How much of a threat do the roving orcas pose to belugas?
"It's a difficult question to answer because the population is so large," Westdal said. "If there's any effect, it's going to be something we see in the long run. Still, a pod of 10 to 12 killer whales can do a lot of damage; they can certainly take down quite a few belugas. Over time, I think we're going see some kind of changes in population and distribution."
Westdal said there should be a similar impact on seals and narwhals.
Melting sea ice in the bay may be a boon to orcas, but it can also be hazardous. In 2013, a killer whale pod was trapped when a sudden freeze turned the open water into ice.
"Orcas are brilliant, but they don't carry calendars," said Shari Tarantino, president of the Seattle-based Orca Conservancy. "As long as there is no ice building up and food to eat, they will stay in the bay longer than they should."
Reposted with permission from our media associate TakePart.
Fish aggregating devices, also knows as FADs, generally refer to artificial structures that are deployed in the ocean to attract schools of fish. FADs function as open-ocean "meeting points" with multiple species gathering underneath them.
 While FAD fishing can be an efficient method for catching large schools of tuna, industrial-scale FAD fisheries can have significant adverse impacts on tunas and other species. Since the late twentieth century, FAD use in the world's oceans has soared due to the new technologies that have allowed for their widespread use by industrial-scale purse seine vessels targeting tuna.
Overall, information on FAD use is not widely available because information on their exact numbers and locations is considered proprietary by industrial fishing vessel operators and fleets. However, based on a synthesis of peer-reviewed literature on FADs, their widespread use has already had numerous adverse impacts, including:
Recruitment overfishing of skipjack tuna in the eastern Atlantic Ocean
Overfishing of bigeye tuna in the western and central Pacific Ocean, and potentially in the eastern Pacific
Decreased weight of tunas caught near FADs compared to tunas caught in freeschools
Increases over time in fish biomass under FADs
Reduced free-school abundance
Differences in fish sizes and ages compared to free-school caught tuna
Alterations in school movement patterns across the Pacific Ocean
Increased difficulty of properly assessing the status of individual tuna populations
High volumes of bycatch including sharks, sea turtles and juvenile tunas
Moreover, research suggests that networks of thousands of FADs could act as "ecological traps" for open-ocean species by altering their natural distribution patterns, habitat associations, migration and residence periods. Over time, the proliferation of FAD use may cause widespread alterations of these ecosystems.
Visit EcoWatch's BIODIVERSITY and FOOD pages for more related news on these topics.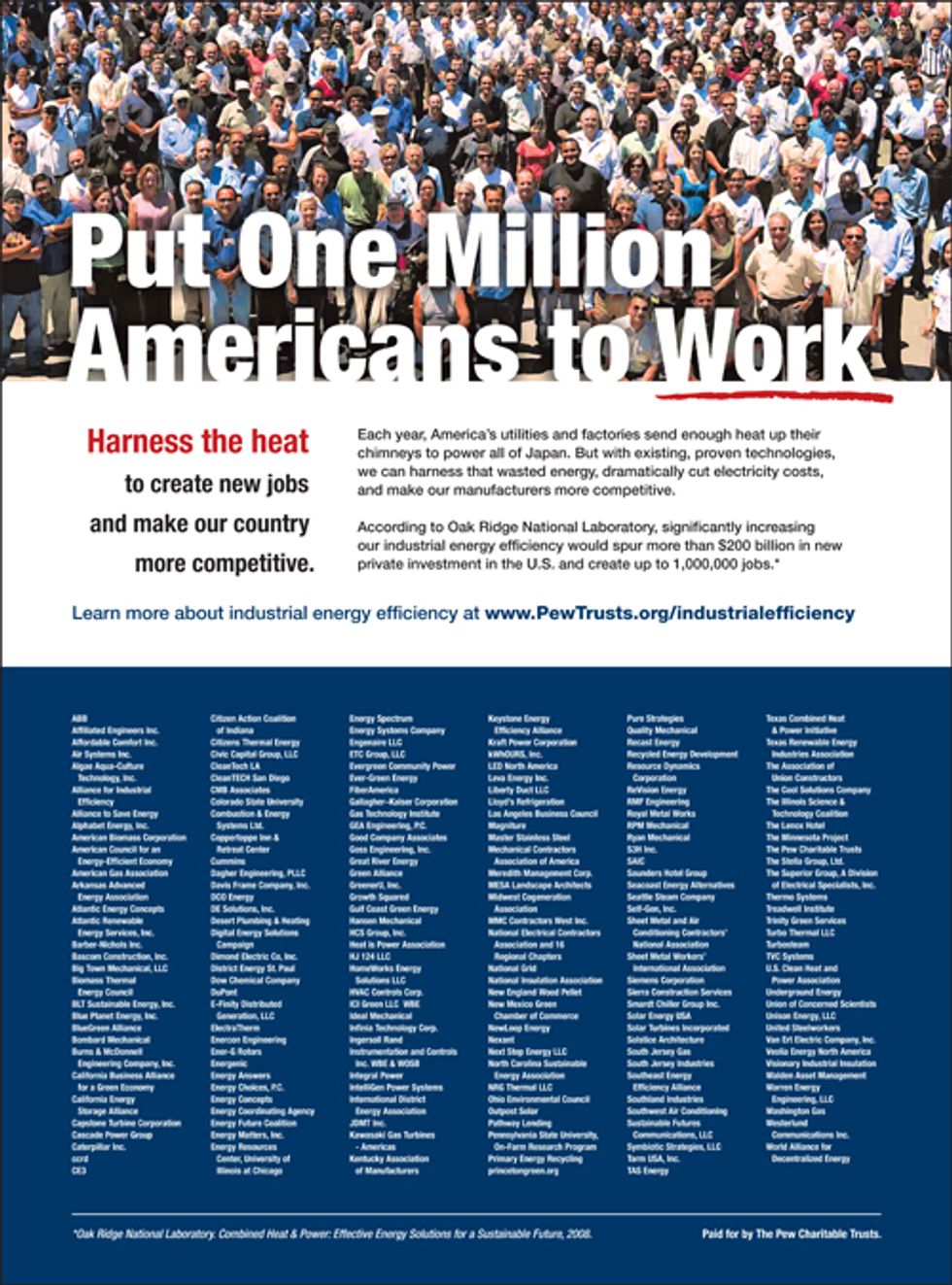 As energy is expected to play prominently in the State of the Union address, the Pew Clean Energy Program and more than 200 businesses and trade groups are touting the economic benefits of increasing industrial efficiency in a full-page advertisement Tuesday, Jan. 24, in the Hill, Politico, and Roll Call. Signers include Caterpillar, DuPont, Dow Chemical Co., Siemens Corp., American Biomass Corp., American Council for an Energy-Efficient Economy, Master Stainless Steel, Los Angeles Business Council, Texas Combined Heat and Power Initiative, and the U.S. Clean Heat and Power Association. The ad reads:
"Each year, America's utilities and factories send enough heat up their chimneys to power all of Japan. But with existing, proven technologies, we can harness that wasted energy, dramatically cut electricity costs, and make our manufacturers more competitive.
"According to Oak Ridge National Laboratory, significantly increasing our industrial energy efficiency would spur more than $200 billion in new private investment in the U.S. and create up to 1,000,000 jobs. Harness the heat to create new jobs and make our country more competitive."
To see the full size ad, click here.
Many manufacturers, hotels, campuses, and utilities across the country already recycle their waste heat—a process known as cogeneration, or combined heat and power (CHP). But much more can be done. The Oak Ridge lab estimates that the U.S. has the potential to double industrial energy efficiency, providing impressive economic benefits. Rising energy prices affect companies large and small. Using wasted heat and recycling energy can dramatically reduce costs and give businesses the flexibility to invest those savings elsewhere. Click here for more information.
Three bipartisan bills in the U.S. House deal with industrial energy efficiency, and a bill authored by Rep. Charles F. Bass (R-NH), which seeks to double CHP, has been drafted. A Senate bill authored by Jeanne Shaheen (D-NH) and Rob Portman (R-OH) on efficiency includes a CHP provision. Sens. Jeff Bingaman (D-NM) and Olympia Snowe (R-ME) are expected to submit a bill soon that also will address industrial efficiency.
And Capitol Hill will soon have its own CHP project. The Capitol Power Plant is developing a design for producing 18 MW of electricity through improved energy-efficiency processes to heat congressional buildings. The improvements will help Congress reduce energy use by up to 30 percent.
Although installation requires an initial investment, companies recoup their costs and start to see savings within a few years. For example:
The Penn England Farm employs CHP to produce electricity for its dairy operations.
The Cox Interior Inc. manufacturing plant in Campbellsville, Ky., operates a 5-MW system that saves the company $4.5 million a year. It also produces more electricity than the company needs, so Cox Interior sells about $50,000 worth of power back to the local utility.
The Sierra Nevada Brewing Co. in Chico, Nevada, installed a 1-MW system that will save the company $400,000 a year and pay for itself within five years of operation.
Lorin Industries in Michigan has recycled its wasted heat since 1943 and expanded capacity in 1990. The system saves the company $540,000 a year, and the newest addition paid for itself in just four years—largely due to the significant decrease in the company's need to purchase more costly peak electricity.
For more information, click here.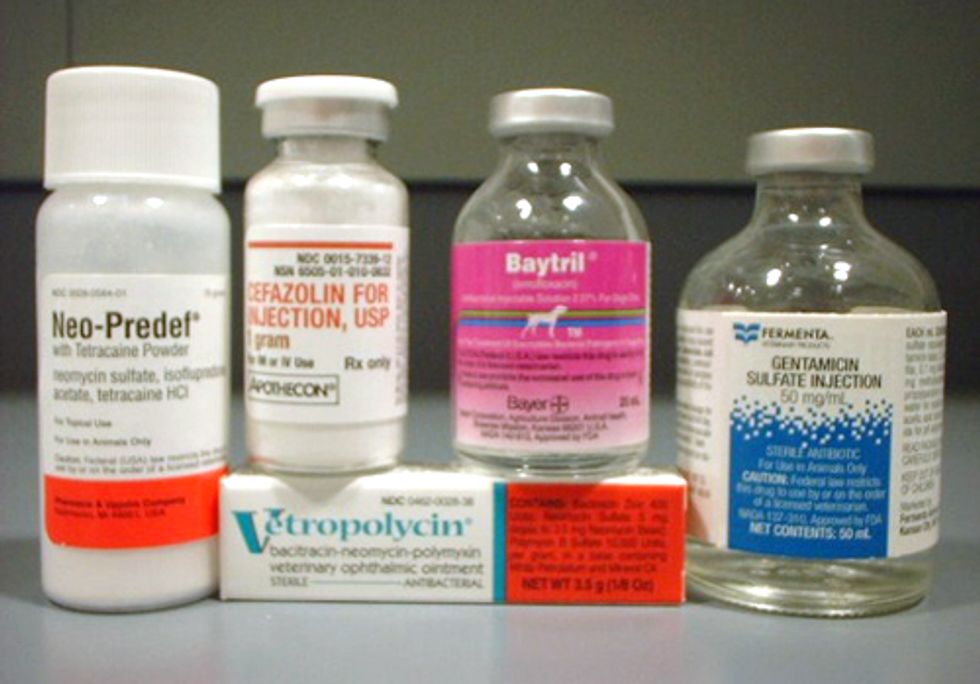 The Pew Campaign on Human Health and Industrial Farming praised the U.S. Food and Drug Administration (FDA) Jan. 4 for limiting the use of cephalosporins in food animal production.
Cephalosporins are vital treatments for children suffering from infection. Unlike other antibiotics, such as fluoroquinolones and tetracyclines, they carry no warnings or precautions for pediatric use. They also are important medicines for treating people suffering from bacterial meningitis and infections of the bone, urinary tract, and upper respiratory system, as well as those associated with cancer.
 
"We applaud FDA's move," said Laura Rogers, project director of the Pew Campaign on Human Health and Industrial Farming. "This restriction is a victory for human health, as it will help ensure we can still rely on cephalosporins to treat life-threatening infections today and in the future."
 
Although FDA has approved cephalosporins to treat some infections in food animals, the drugs often are administered in ways not specifically approved by the agency. Its rule will apply to such extralabel use of cephalosporins in meat and poultry production, which multiple studies have linked to the emergence of cephalosporin-resistant bacteria that can infect people.
 
If cephalosporins continue to be overused on industrial farms, these drugs will lose their effectiveness. As a result, many human infections will become more difficult to treat, leading to more deaths and higher health care costs.
"Today's action is a good first step," added Ms. Rogers, "and we encourage FDA to issue guidelines expeditiously that restrict the overuse and misuse of other critical antibiotics on industrial farms."
In 2010, officials from FDA, the U.S. Department of Agriculture, and the Centers for Disease Control and Prevention testified before Congress that there was a definitive link between the uses of antibiotics in food animal production and the crisis of antibiotic resistance in humans. In addition, many medical organizations including the American Medical Association, the American Academy of Pediatrics and the World Health Organization warn that this practice is putting human health at risk.
 
To ensure additional human antibiotics work when we need them, the Pew Campaign on Human Health and Industrial Farming also urges Congress to pass the Preservation of Antibiotics for Medical Treatment Act (H.R. 965, S. 1211).
A 60-day public comment will follow FDA's announcement, during which Pew will submit a formal response to the agency.
For more information, click here.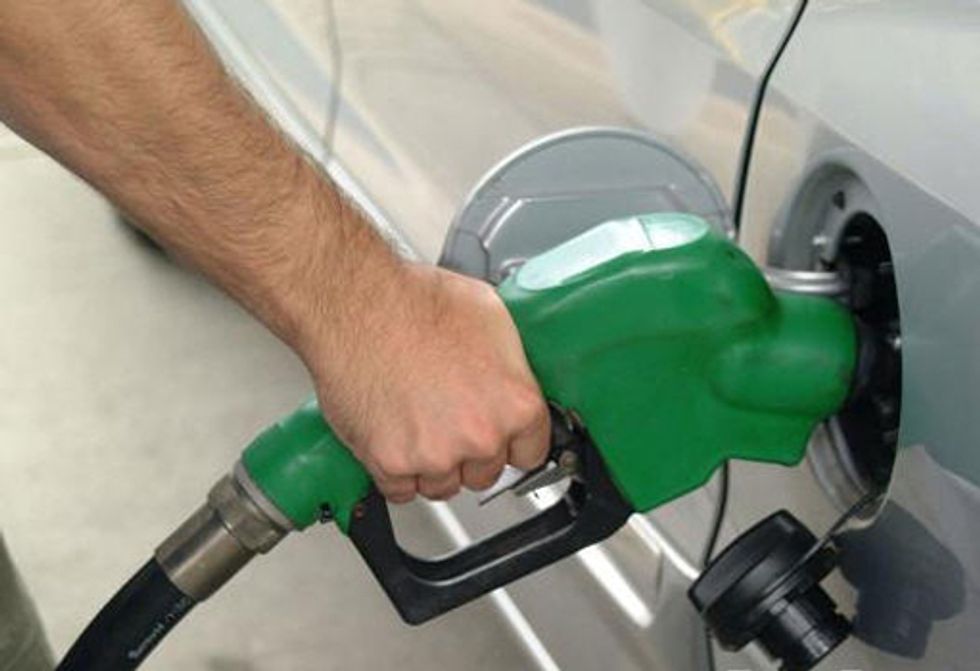 Tell President Obama that you support increased fuel efficiency for cars.
This fall, President Obama proposed increased fuel efficiency standards of 54.5 miles per gallon by 2025 for new cars and light trucks. Adopting these standards will save the average consumer up to $6,600 in fuel costs over the life of a model year 2025 vehicle. A 60-day public comment period opened Dec. 1, 2011, and ends Jan. 30, 2012.
The president needs to hear from you.

Without your comment, special interests could water down this proposal. Tell President Obama to keep the standards strong so Americans can save money at the pump, our country can import less oil, and our environment can be cleaner.

Send your comments to the president now—protect the 54.5 average mpg fuel efficiency standard.
For more information, click here.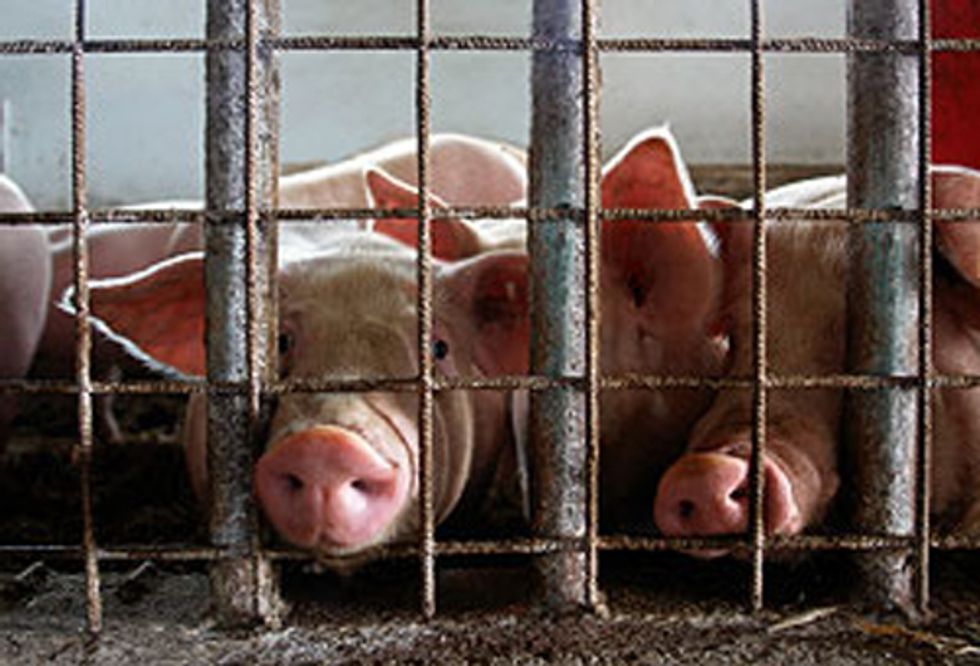 Much of the pollution in U.S. rivers and streams today comes from the manure generated by CAFOs (concentrated animal feeding operations), which confine thousands of animals on a single site.
To determine the extent of the problem and how it might be better addressed, the public and the U.S. Environmental Protection Agency (EPA) need to know more about these facilities and the waste they produce. But unlike many other industries, CAFOs do not regularly disclose facility-specific information to the EPA—and the powerful interests behind CAFOs want to keep it that way.
Under a recent settlement agreement, the EPA promised a regulation that would require CAFOs nationwide to report some basic facts, such as the location of the operation and number of animals housed.
The EPA is now asking for public comments on a proposed rule to collect some of this data from the nation's largest CAFOs. Having this information will vastly improve the agency's ability to ensure that CAFOs comply with the Clean Water Act and do not contaminate our lakes and waterways.
Gathering this information is about simple transparency and protecting the environment, but industrial animal agriculture is fighting to keep CAFOs shrouded in secrecy. The industry is pressing the EPA to withdraw the proposal or limit its application. Act now, and urge everyone you know to do the same.
Ask the EPA to finalize a rule that collects information from CAFOs across the country.
We have until Dec. 20 to get as many comments as possible.
For more information, click here.