"Stunning, just stunning, just stunning," said Sheilah Garland, shaking her head as she stared out the window of the bus rolling along a dirt road next to towering black piles of petroleum coke on Chicago's Southeast Side.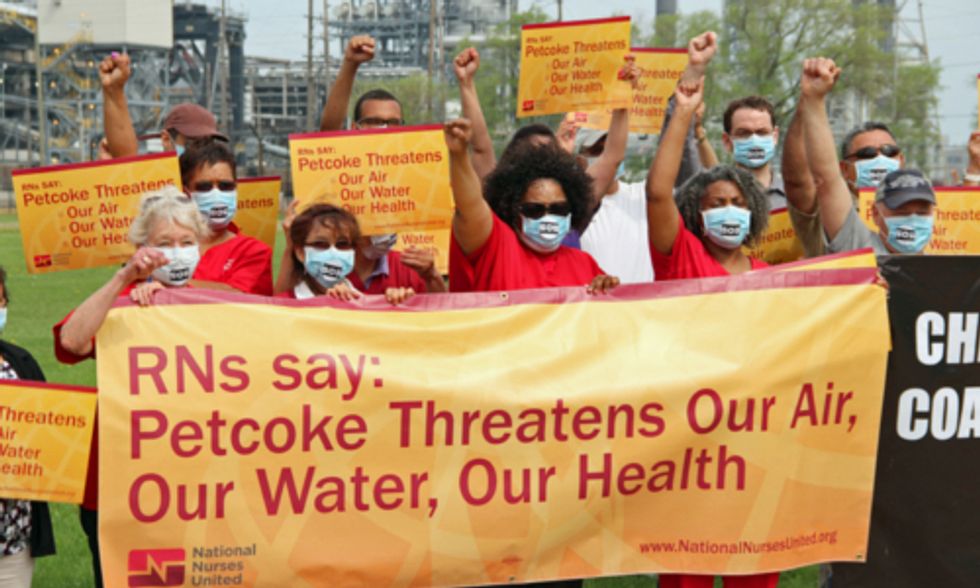 As an organizer of National Nurses United, a labor union representing about 6,000 nurses in Chicago and 185,000 nationwide, Garland has seen a lot. She represents nurses working in grueling and traumatic situations on a daily basis. And the union has picked fights with powerful politicians, including former California Gov. Arnold Schwarzenegger and Chicago Mayor Rahm Emanuel.
But Garland was shocked by the piles of petcoke, about six stories high, located across the street from homes. She was also perturbed to see employees walking onsite without respiratory masks.
The nurses union has joined local residents' fight to get petcoke transportation and storage banned in Chicago. They see it as a serious public health issue and part of their larger social justice advocacy mission.
Monday, May 12, was a day of activism for the group Global Nurses United, in honor of the 194th birthday of legendary nurse Florence Nightingale. There were events in multiple cities in 11 countries. In Chicago, petcoke was the focus.
Previously the nurses' union had joined residents marching miles from the petcoke piles to the BP oil refinery in Whiting, IN, that produces most of the petcoke stored in Chicago. And they will be with the struggle for the long haul, they said, in keeping with their national opposition to the Keystone XL pipeline and the growth of tar sands refining—which produces large amounts of the waste material.
On May 17, the nurses will join the Sierra Club, 350.org and other groups in a protest near the BP refinery, which recently completed a $3.8 billion expansion to process more tar sands.
"Nurses take this from a very personal perspective," Garland said. "We deal with patients one on one, we see it in our hospital beds, in our clinics. When young people are dying of pulmonary issues, this is very real to us."
The Chicago petcoke piles are also an attractive target for the nurses since they have been pushing for a tax on financial transactions, known as a "Robin Hood Tax," to pay for more health care and social programs. KCBX, which owns the petcoke piles, is a subsidiary of Koch Industries, often highlighted in the national campaign for the Robin Hood Tax.
'Babies Aren't Supposed to Have Asthma'
The Southeast Environmental Task Force has long hosted bus tours, highlighting both sources of pollution and of hope on this heavily industrial swath of the city once home to steel mills and now characterized by landfills, scrap metal yards and the storage of waste materials.
The task force still leads a variety of tours, including a birding expedition in May. But much of their energy is now focused on educating people about petcoke, as leaders Tom Shepherd and Peggy Salazar noted on the bus with the nurses.
The task force's efforts helped make petcoke a high-profile issue last fall, and Attorney General Lisa Madigan, Gov. Pat Quinn (D-IL) and Mayor Emanuel all made moves to regulate and limit petcoke storage. In late April the Chicago City Council passed an ordinance which limits future petcoke storage and mandates storage safeguards. But local residents say the timeline for that ordinance is too long—allowing piles to stay uncovered for two years—and it allows too much petcoke to remain in the city.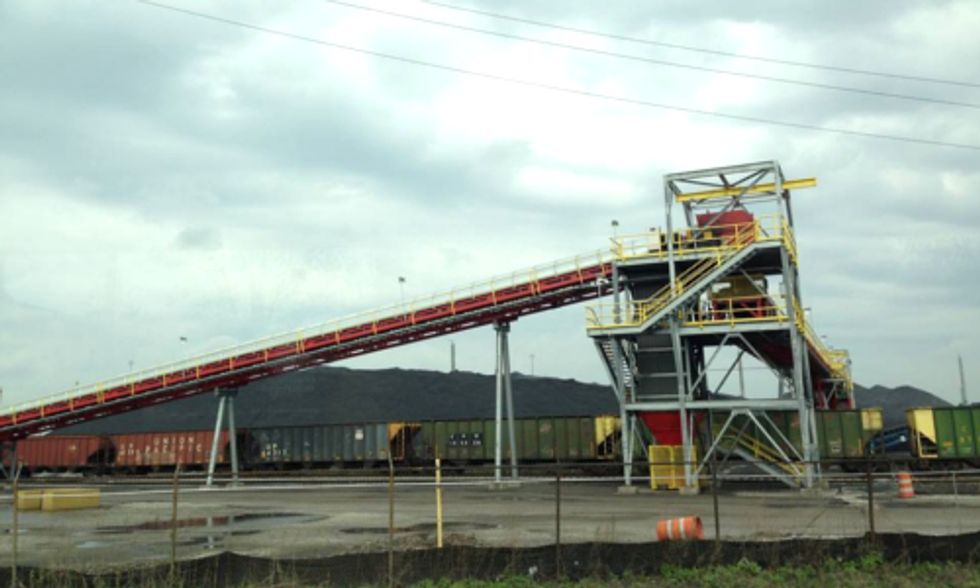 They are demanding a moratorium on petcoke storage and transport in Chicago, as the residents and nurses said in a press conference at City Hall following their tour.
Rolanda Watson is a family practice nurse at a clinic in Robbins, an impoverished, mostly African American Chicago suburb that is also home to heavy industry and near a now-shuttered oil refinery with a notorious record of pollution and accidents. Watson sees the petcoke as part of a larger environmental justice issue.
"The first thing they taught us as nurse practitioners is that we are advocates," Watson said. "We've been seeing a rise in respiratory illnesses. So many colds, sinus problems, bronchitis, COPD, pneumonias. People will say it's the weather, or something is just going around. But babies aren't supposed to have asthma. There's a reason for all this."
Watson noted that the Affordable Care Act includes a heavy emphasis on prevention of illness through lifestyle improvements. "We're trying to do prevention at the source, to prevent future exposure and the illness it causes," Watson said.
On the tour, Shepherd pointed out other industrial landmarks along the Calumet River: a now-closed limestone crushing operation that locals fear will be used as a petcoke storage site, and land owned by Beemsterboer Slag where petcoke piles have been removed since the Attorney General filed a lawsuit and reached a settlement regarding the company's lack of adequate permits and other violations.
The bus headed across the Indiana state line to the BP refinery. They also drove through Marktown, an historic enclave where BP was in the process of demolishing homes. On Whiting's quaint main street, lined with pink decorations to raise money for the fight against breast cancer, is a town sign that says, "Refining the Heart of the Community."
"Killing the heart of the community," quipped Garland.
Health and Politics
There are numerous serious known health impacts caused by particulate matter, or fine dust, which can blow off petcoke piles. A March study commissioned by the city found that the storage of bulk material can be a "significant source of dust" leading to violations of air quality standards, and that of several materials studied, petcoke was the most problematic. Petcoke also contains known carcinogens and toxic heavy metals.
Residents say that is all reason enough to ban petcoke in Chicago, even without comprehensive studies showing the health impacts of the piles.
KCBX spokesperson Jake Reint said in a statement that the company has invested $30 million in dust suppression and weather monitoring equipment since buying the facility where the piles are stored in 2012.
"KCBX has the utmost respect for our neighbors and we are committed to ensuring that our operations remain compliant with all local, state and federal regulations," Reint said.
But residents say the dust control measures are not adequate.
"The water doesn't do anything, the water doesn't work," residents called out in the bus as they watched tall spigots spray water over the piles. Shepherd noted that they are also worried about the chemicals mixed with the water for dust suppression.
"I still see dust all the time," said a local resident named Robert, who asked his last name not be used. "Why does it fall on us to prove it's a health hazard? It should be their responsibility to prove that it's not a health hazard."
Southeast Side resident Marisol Macias works as a caterer and was hired to deliver food to the bus tour. She hadn't otherwise heard about the campaign around the petcoke piles, but she said she thinks the piles are among the reasons all three of her young children have serious asthma.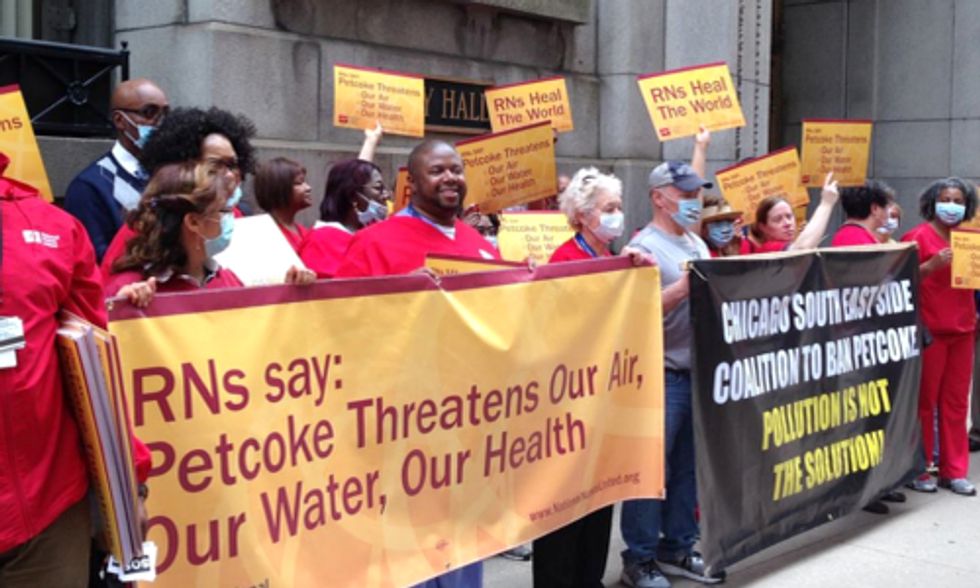 "All around here we have aunts and uncles, kids, cousins, relatives, and everyone is getting sick," said Macias, whose kids are nine months, 18 months and five years old.
On April 28, the Natural Resources Defense Council joined with the Southeast Environmental Task Force in filing a letter notifying the EPA of their intent to sue, alleging the petcoke piles violate the Resource Conservation and Recovery Act (RCRA) which governs waste disposal and storage.
Salazar and other local residents hope the nurses' involvement will give their grassroots campaign a boost.
"It validates our concerns about health," said Salazar, who grew up in the Slag Valley neighborhood near the petcoke piles. "You would hope he [Mayor Emanuel] listens—they are the experts."
The nurses union has already butted heads with Emanuel.
During the 2012 NATO summit in Chicago, the nurses received a permit for a protest march and rally that was revoked at the last minute. After a legal battle the nurses were eventually able to go through with their protest, which included a concert by Tom Morello.
During the Occupy movement protests in Chicago in 2011, Nurses Midwest Director Jan Rodolfo and another nurse were arrested while staffing a First Aid tent to serve the occupiers.
"You have families talking about kids on respirators and not being able to sell their homes," said Rodolfo, an RN. "And [with the ordinance] the mayor takes the approach of having nothing change for two years. It's as if the lives affected don't count."
"The voice of the Koch brothers was listened to and the voice of the community was ignored. It's crazy they [city officials] are patting themselves on the back when they haven't done what the community needs."
--------
YOU MIGHT ALSO LIKE
Jimmy Carter Slams Koch Brothers and 'Unpleasantly Successful' Climate Denial Campaign   
Koch Brothers Are Largest Lease Holders in Alberta Tar Sands
Infographic: Piling up Keystone XL's Petcoke
--------
EcoWatch Daily Newsletter
Chicago elected officials have vowed to crack down on the growing piles of petcoke stored by a subsidiary of Koch Industries and another company along the Calumet River on the city's far southeast side.
But at a public hearing Monday night, local residents made clear that they don't trust the City Council or Mayor Rahm Emanuel to take meaningful action on the issue.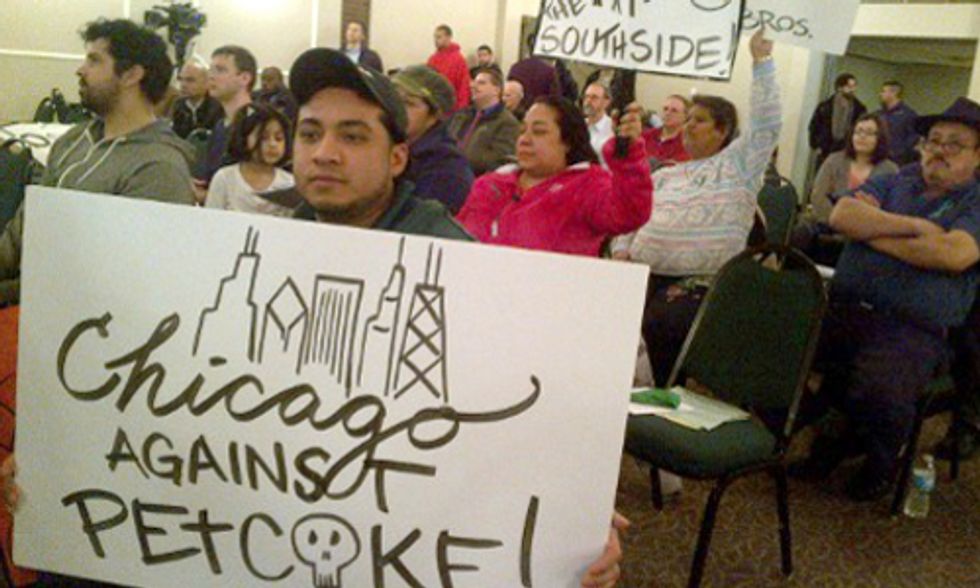 They think the city's proposed storage regulations—crafted by the public health department at the mayor's behest—would allow piles of petcoke to keep growing and polluting their neighborhood.
Alderman John Pope, who represents the Chicago neighborhoods most affected, and Ed Burke, a powerful alderman with an interest in clean air, have proposed two ordinances related to petcoke. One favored by Burke would ban petcoke storage in Chicago. The other, pushed by Pope, would impose site-specific regulations.
Emanuel last month rejected the idea of a citywide ban on petcoke storage, saying a state or federal solution is needed. On Monday, Gov. Quinn (D-IL) proposed emergency rules on petcoke storage statewide.
The proposed city rules would cover storage of solid bulk materials including petcoke, coal, ore and other materials used as fuel. Piles of salt, construction and demolition debris, waste and recycling material would not be subject to the regulations.
After the hearing Pope described the regulations as "some of the most aggressive and comprehensive" in the nation. But every resident who spoke at the meeting—as well as representatives from major environmental and health groups—described the regulations as dangerously full of loopholes and caveats. Many residents also said they think the regulations are a way for city officials to avoid considering a ban on petcoke, which residents at the hearing unanimously said they want.
Pope, like Mayor Emanuel, said a ban could mean a costly and ultimately unsuccessful court battle. As for the ordinances calling for a ban or regulations, Pope said, "we'll try to decide which one makes sense. We might do them together, or just one or the other."
In Chicago ordinances almost never pass without the mayor's support, however, so a ban appears highly unlikely.
A "Swiss Cheese" Proposal
Resident Olga Bautista described the proposed regulations as "Swiss cheese" rife with holes.
The strictest regulations would only cover large new operations that receive more than 10,000 tons every five days or store more than 100,000 cubic yards at a time. Such operations would have to enclose their piles in buildings with door flaps to ensure no dust escapes.
However, existing smaller operations would not be subject to the strictest regulations and could continue storing petcoke outdoors. They would be required to have wind barriers around the piles, spray water and/or chemical sealers on piles and run at least four dust monitors on the perimeter. Piles could not exceed 30 feet high. Loading and unloading would still have to be done in an enclosure.
Residents said the breaks for smaller, existing facilities are unacceptable.
"The Koch brothers will create 10 smaller companies tomorrow and spread it all along the river," said Carl Camacho, 33, who has lived his entire life in the neighborhood.
"Do they know how wind works?" added Bautista after the hearing. "Those barriers won't do anything."
Critics also blasted the fact that the regulations would be crafted and enforced by the city's health department, which is already considered under-staffed and resource-strapped. The Department of Environment was eliminated in 2011.
The regulations as proposed by the health department would not need City Council approval to be instituted. And most disturbingly to many critics, the regulations provide for variances that can be approved by the department—giving companies exemptions from the rules—without input from residents or City Council oversight.
Representatives of the Environmental Law Policy Center (ELPC), the Natural Resources Defense Council (NRDC) and the Respiratory Health Association of Metropolitan Chicago (RHAMC) criticized the regulations at the hearing and promised to submit detailed comments by the deadline, Jan. 24.
NRDC Midwest advocacy director Tiffany Ingram said the timeline for compliance is way too lenient, giving companies 90 days to come up with a "dust plan" and install monitors, one year to install conveyor belt covers and wind barriers around outdoor piles and two years to build enclosures.
ELPC attorney Jenny Cassel said that the allowance for variances "would allow companies to get out of almost every single one of the regulations here, and gives discretion to the commissioner to grant those variances without any input from community."
She also took exception to the laxer regulations for smaller operations. "There's no basis in public health why these smaller facilities don't pose as much as a threat as the larger ones," Cassel said.
The ELPC and NRDC are members of RE-AMP, which also publishes Midwest Energy News.
The city attorney cited a U.S. Environmental Protection Agency (EPA) study showing no specific illnesses related to petcoke. But RHAMC environmental health programs director Brian Urbaszewski stressed that blowing petcoke is particulate matter, which the EPA, World Health Organization and other agencies have found to have serious health effects.
"Science shows there is no level where you do not see a health impact," Urbaszewski said.
Critics were also furious that the regulations do not include penalties for violations. The city attorney who summarized the regulations noted that violators would be subject to the existing city fines for air pollution violations—between $1,000 and $5,000 per day. But residents said they were skeptical that fines would actually be levied.
Alderman Pope said that if the regulations are passed, residents will play a major role in enforcing them. "They are our best eyes and ears," he said.
The regulations require that trucks, barges and trains carrying material in and out of storage facilities have their loads covered, and that trucks go through a wheel wash so they don't pollute roadways. The regulations also require street-washing and vacuuming machines to clean up any residue. But many residents decried the requirement for trucks specifying that only half the load must be covered.
"The whole regulation is half-you-know-what," said Lorraine Ashby, a retired attorney, after the hearing where she had made a comment on behalf of the area's retired union Steelworkers.
"The rules seem more designed to quiet us and help people sell tarps than address the issue," said resident Anthony Martinez, who helped spark public outrage by posting a photo on Facebook of massive dust clouds blowing from the piles last summer. "Environmental justice is at the root of this issue."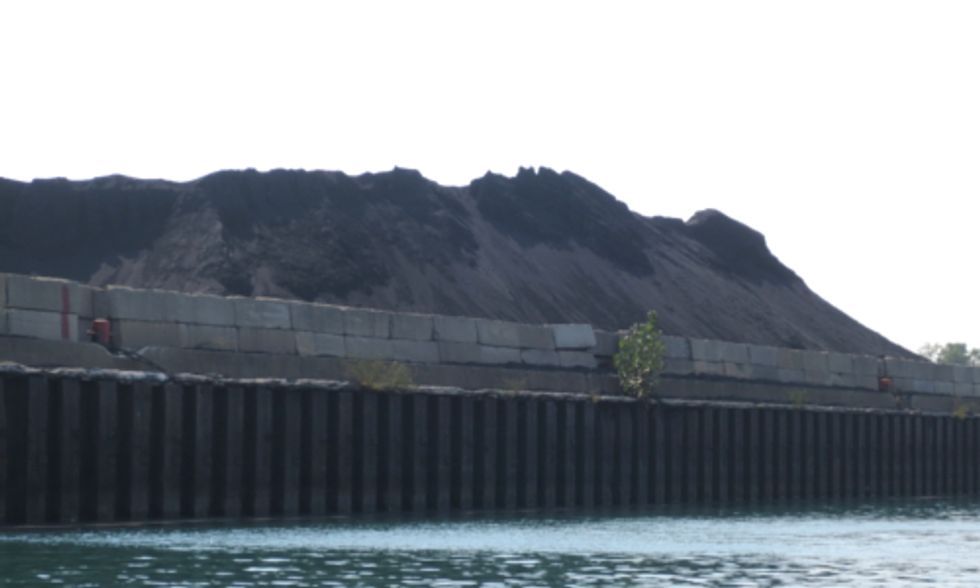 Or Too Tough?
Not a single person at the meeting commented in favor of the regulations. While about 30 residents and advocates blasted them as too lenient—and many more in the audience held signs or called out offering similar sentiments—representatives of the Koch subsidiary KCBX and the Illinois Chamber of Commerce criticized the regulations as too stringent.
Illinois Chamber Energy Council executive director Tom Wolf is concerned about the effect the regulations could have on products and industries unrelated to petcoke. And he opposes the "prescriptive nature" of the regulations—mandating specific practices.
"Regulations work best when they give companies goals they can find creative ways to meet," Wolf told Midwest Energy News. "It's goals versus tactics—there can be different solutions for different areas of the city."
Mike Estadt, KCBX operations manager, said the company would not be able to meet the setback requirements included in the regulations—that bulk storage be at least 660 feet from a childcare center and 300 feet from residences—limits that are already enshrined in city regulations regarding landfills and other operations. The setback requirements "would cause closure of our facility," he said.
The regulations also call for suspending operations when the wind is blowing at 15 miles per hour or higher—unless dust can be controlled. Estadt said that Chicago's average wind speed exceeds that level 40 percent of the time, hence the restriction would "effectively prevent us from operating."
Estadt said that in the past year the company has spent $10 million on dust controls, including about 40 water cannons that automatically respond to wind direction in determining how to spray the petcoke piles. He said that the company took 69 soil samples in the surrounding area this fall, which "showed no unusual dust particles."
A summary of the study notes that the samples in the neighborhood around the piles found the same soil composition as Chicago soil as a whole, based on federal and state surveys. And they did not find PAHs or "signature metals" of the type linked to petcoke and coal.
"It seems like our systems work," Estadt said, drawing jeers from the crowd.
A Larger Struggle
The fight over petcoke taps into a larger ongoing struggle on the far southeast side. This was once the thrumming hub of the region's steel industry, with up to 40,000 people employed in well-paying union jobs. The mills closed in the 1980s and 1990s, other industries left as well, and the area fell into economic and structural decline.
The southeast side lost population, but the families who remained retain a fierce sense of pride in their home turf. The past few years have seen an increase in proposals for locating new heavy polluting industries or waste-related operations on the southeast side. Meanwhile a proposed upscale development on the old U.S. Steel Southworks site to the east has caused many residents to feel they are being saddled with undesirable operations while being passed over for desirable investment.
The prospect of becoming a massive petcoke dumping ground affiliated with a multi-billion-dollar company epitomizes their worst fears and suspicions.
"Once the petcoke comes there will just be even more garbage sent here," said resident Richard McGraw, a retired accountant who would like to see solar farms and solar panel manufacturing on the brownfields of the southeast side. "Petcoke will speed the decline of the East Side—we'll slide into oblivion."
Rita Campbell thought the closing of the steel mills, where her husband worked, would provide clean air. But now even that silver lining is tarnished.
"You can have all the regulations in the world you want—something's going to break down, someone's going to make a mistake…and we are going to suffer for that," said Campbell, who has lived in the area for four decades. "They need to go somewhere else where there isn't housing and people living nearby."
Camacho had the last word of the evening, urging people to join a nascent coalition of local groups and citywide environmental justice organizations bent on banning petcoke.
"Take a drive through my neighborhood—where I live, where I build friendships," he told the city officials, noting that he used to play baseball and football just blocks from where the petcoke piles now stand. "We want to stay here—that's why we want these petcoke piles gone."
"The reality of it is we can't count on Rahm Emanuel," Camacho continued. "Put your faith in politicians, you'll be there alone. All we have is each other—our community."
Comments regarding Chicago's proposed bulk storage regulations can be submitted through Jan. 24 at petcokecomments@cityofchicago.org or by mail to the Chicago Department of Public Health, Attn Environmental Permitting and Inspections, 333 S State St Room 200, Chicago IL 60604.
Visit EcoWatch's ENERGY page for more related news on this topic.

In the President's recent speech on climate change, he said "our national interest will be served only if [Keystone XL] does not significantly exacerbate the problem of carbon pollution."
There are many reasons that the Keystone XL pipeline will clearly exacerbate the problem of climate pollution … but one that is often overlooked (at our peril) is the problem of petroleum coke a.k.a. "petcoke." Petcoke is a refining byproduct of tar sands oil, and when burned is substantially dirtier than coal and contributes significantly to greenhouse gas pollution.
Read below to see just how significant Keystone XL's petcoke problem would be … with enough petcoke to add emissions equivalent to 3.5 million additional cars each year, the question of whether Keystone XL's climate impact is "significant" becomes an easy one to answer.

IF KEYSTONE XL ISN'T APPROVED, IS YOUR COMMUNITY IN DANGER OF AN ALTERNATE TAR SANDS ROUTE? COMMENT BELOW:

Visit EcoWatch's KEYSTONE XL page for more related news on this topic.
——–