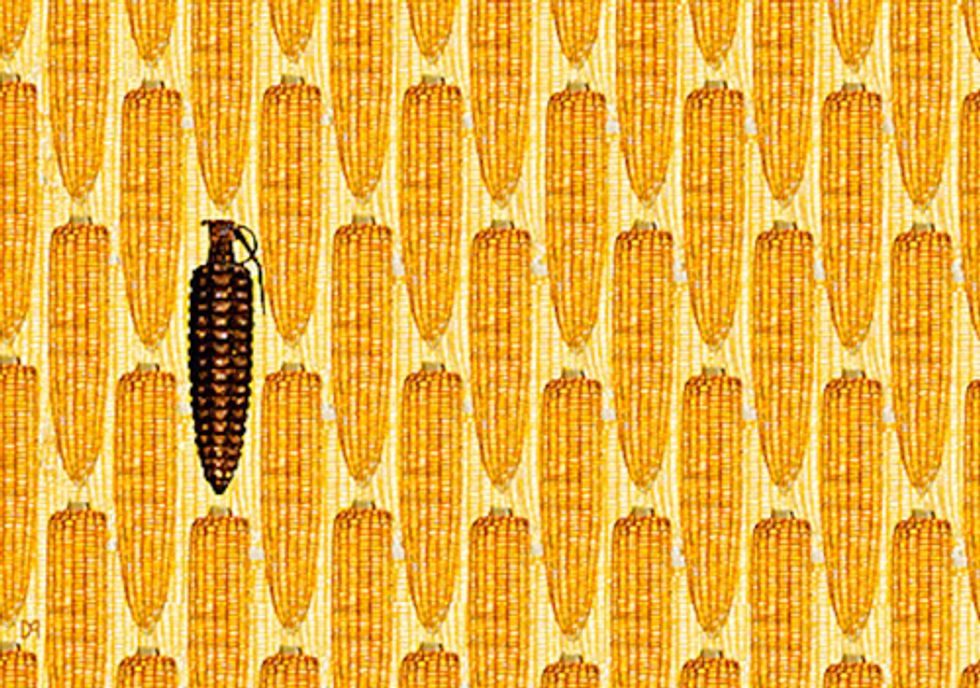 Responding to a study released last week highlighting the increased resistance of weeds to glyphosate, and the potential introduction of new corn varieties genetically engineered (GE) to be used with more highly toxic weedkillers, farmers are calling on the U.S. Department of Agriculture (USDA) to take action to protect rural economies.
If USDA deregulates 2,4 D resistant corn, farmers will once again shoulder the cost of the failed promise of GE crops.
"Widespread planting of 2,4-D corn will inevitably lead to a surge in the herbicide's use," said George Naylor, an Iowa corn and soybean farmer. "This will not only have adverse effects on public health from air and water pollution, but will also pose another economic risk to Midwest farmers whose non-2,4-D resistant crops will take the brunt of more herbicide drift."
The study in last week's edition of Bioscience projects greatly increased herbicide use and collateral damage to nearby, non-resistant crops and wild habitat. 2,4-D is well understood to drift, both directly after it is applied and through volatilization, drift that takes place long after an application. As a result, farmers growing their products within miles of cornfields where 2,4-D is applied could face crop losses and serious financial hardship. In addition, organic farmers could lose their certification for years if their fields are contaminated.
Authors of the article, relying in part on industry analysis, note that use of 2,4-D and dicamba herbicides, first used during World War II, are expected to increase ten fold over the next decade. Dow AgroSciences is the driving force behind 2,4-D-resistant seeds, while Monsanto, the dominant manufacturer of glyphosate-resistant seeds, is collaborating with the European industry giant BASF (soon moving to the U.S.) in engineering dicamba-resistant seeds. And other pesticide and biotech firms have similar products in the pipeline. For years, Dow, Monsanto, and the rest of the "Big 6", have argued that genetically engineered crops result in reduced pesticide use or can even "resist" drought, though with little to no documented success, according to independent scientists.
"Genetically engineered, herbicide-resistant seeds are the growth engines of the pesticide industry's market strategy," said Dr. Marcia Ishii-Eiteman, PhD, senior scientist at Pesticide Action Network. "Repackaging antiquated pesticides as new solutions for Midwest economies is a disaster waiting to happen."
The study also ties the increase in herbicide use to the decline of sustainable weed management. The authors note that USDA has increased funding at major universities for chemically-intensive methods while at the same time decreasing funding for agroecological methods—such as cover cropping, crop rotation and limited tillage—that are successful at improving weed control and reducing weed pressures.
At the same time, weed scientists have been raising red flags around the impending problems of resistance, the reliance on the "pesticide treadmill" and the need to invest in sustainable weed control, or Integrated Weed Management.
"It is only going to get worse," said Lee Van Wychen, director of science policy at the Weed Science Society of America in a Reuter's interview.
The Weed Society of America just announced it will focus its May 2012 meeting on finding solutions to herbicide resistance. However, concerns remain about Monsanto's efforts to undermine science and promote the next wave of GE technology, including 2,4-D and dicamba.
"I'm convinced that this is a big problem," said Dave Mortensen, professor of weed and applied plant ecology at Penn State University. "Most of the public doesn't know because the industry is calling the shots on how this should be spun."
For more information, click here.
EcoWatch Daily Newsletter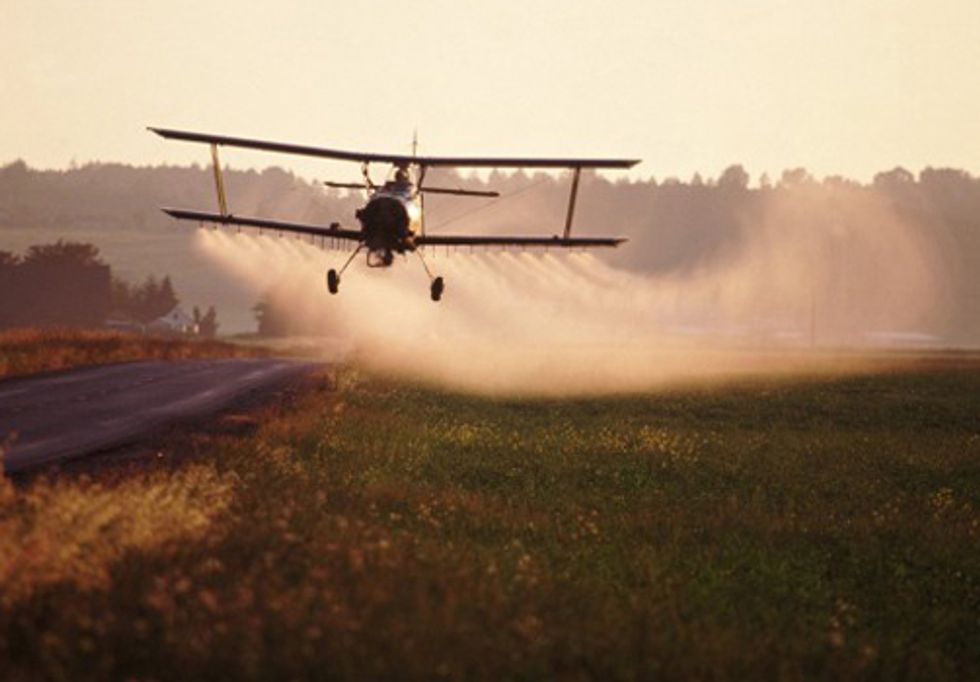 U.S. Department of Agriculture (USDA) is closing out 2011 in much the same way it started the year—approving the use of genetically modified (GM) crops designed to withstand pesticide applications. On Dec. 27, USDA's Animal and Plant Health Inspection Service (APHIS) approved the use of two more GM crops and announced the availability of assessments for two additional GM crops. The end of the year announcements, however, include a holiday bonus—the department is on the verge of approving not just glyphosate-resistant crops, but crops engineered to withstand the systemic herbicide, 2,4-D.
The move to engineering crops resistant to 2,4-D comes on the heels of reports from the field and in the lab that GM crops—and specifically, those engineered to be glyphosate tolerant—are creating herbicide-resistant weeds. Not a new concept, the "pesticide treadmill" is catching up with biotechnology breakthroughs. Chemical companies must continually develop new and stronger pesticides to combat the unwanted weeds in farmers' fields that have developed resistance to certain chemicals. The use of glyphosate-tolerant GM crops, and the accompanying use of glyphosate, has created glyphosate-tolerant weeds. Not missing a beat, chemical companies are developing GM crops resistant to stronger pesticides, such as 2,4-D.
The development of GM crops that are resistant to persistent, toxic pesticides lays to rest one of original lies told about GE crops—that their widespread use would lead to the end of toxic pesticides like 2,4-D that have been associated with the development of Parkinson's disease and other medical disorders in humans and animals.
APHIS has prepared a plant pest risk assessment and an environmental assessment on the 2,4-D resistant corn engineered by Dow, Inc., as well as assessments on a Monsanto-made soybean engineered to produce an omega-3 fatty acid. APHIS has proposed to deregulate both crops, and is accepting public comment on its determinations through Feb. 27, 2012.
APHIS also announced the full deregulation without conditions of another Monsanto-made soybean, this time with tolerance to glyphosate and a modified fatty acid profile, as well as a corn engineered by Monsanto to be drought tolerant.  (Readers may recall that a competing company, Pioneer, released drought-tolerant corn developed through conventional breeding methods earlier this year.)
In a year marked by a steady stream (and at times, a deluge) of GE crop approvals, National Sustainable Agriculture Coalition developed a policy on genetically engineered crops and livestock that supports farmer choice and enterprise, consumer choice, and a regulatory process informed by independent, open scientific assessment.
For more information, click here.
If you're like many busy Americans, you may feel the need for an extra boost of energy to stay focused and perform at your best throughout the day. Whether you experience the age-old 3 p.m. slump at your desk, or you need an extra jolt to power through a morning workout, you may be looking for a natural way to increase your energy levels.
<p>Caffeine happens to be the most-consumed energy booster in the world. From coffee to tea to chocolate, about 90% of Americans consume caffeine in some form every day. And increasingly, people are turning to energy drinks to satisfy their energy needs. </p><p>Energy drink consumption is especially high among young adults. In a 2016 <a href="https://supplements101.net/energy-drink-statistics/#:~:text=In%202016%2C%20the%20sales%20of,drinks%20on%20a%20regular%20basis." rel="noopener noreferrer" target="_blank">survey</a>, over one-third of 18- to 29-year-old respondents said they consumed energy drinks on a regular basis. </p><p>There are dozens of energy and sports drink companies out there to meet this growing demand for a regular energy boost. From flashy cans packed with bold flavors to all-natural alternatives, it can be difficult to cut through the noise and choose the right caffeine source for you. </p><p>That's why we're reviewing the top five healthy energy drinks that will give you a moderate level of caffeine without added sugars and artificial ingredients. </p><h2>The Downside of Mainstream Energy Drinks</h2><p>Step into most gas stations, and you'll find a fantastically colorful, shiny, and attention-grabbing display of canned energy drinks. These cans and bottles are slapped with powerful names like "Rockstar" and "Red Bull!". But often, hidden behind the neon graffiti-scribbled cans are ingredients best avoided for the sake of your health. </p><p>Most mainstream energy drinks are packed with high amounts of caffeine, sugar, and other undesirable ingredients. According to the <a href="https://www.mayoclinic.org/healthy-lifestyle/nutrition-and-healthy-eating/in-depth/caffeine/art-20045678#:~:text=Up%20to%20400%20milligrams%20(mg,widely%2C%20especially%20among%20energy%20drinks." rel="noopener noreferrer" target="_blank">Mayo Clinic</a>, adults should aim to consume no more than 400mg of caffeine a day. </p><p>To put that into perspective, a 1-ounce shot of espresso contains about 64 milligrams of caffeine. A regular cup of coffee has about 70 to 100 milligrams. Some energy shots contain more than 400 milligrams of caffeine in a single serving.</p><p>Overdoing your caffeine intake can have negative impacts on your health. The extent to which you experience side effects will depend on your tolerance for the drug, age, and genes. Signs of too much caffeine include headaches, anxiety, an elevated heart rate, muscle jitters, irritability, and frequent urination. </p><p>Added sugar is another common unhealthy ingredient in mainstream energy drinks. The American Heart Association recommends that adult men consume no more than 37 grams of sugar per day and women consume no more than 25 grams. However, a single serving of many mainstream energy drinks can easily contain 27 or more grams of added sugars per serving. </p><p><a href="https://www.health.harvard.edu/heart-health/the-sweet-danger-of-sugar" rel="noopener noreferrer" target="_blank">Studies</a> show that consuming excess added sugars (those that aren't naturally occurring in fruits and vegetables) can have serious health implications. For most Americans, these added sugars come from flavored drinks, cereals, baked goods, and other processed foods, including energy drinks. </p><p>All of this sugar adds up to an increased risk for obesity, diabetes, and heart disease. In one 15-year Harvard study, participants who consumed 17-21% of their daily calories from added sugars increased their risk of death from cardiovascular disease by 38% compared to individuals who consumed 8% of their calories from added sugar. </p><p>Obesity, heart disease, high blood pressure, and cardiovascular disease are all leading causes of death in the US. By choosing no- to low-sugar healthy energy drinks without large amounts of caffeine, you can reduce your intake of added sugars and avoid overdoing your caffeine intake. </p><h2>What to Look for in a "Healthy" Energy Drink</h2><p>So how can you be sure your daily pick-me-up is a healthier option that will still sustain your energy levels? Start by reviewing the caffeine and sugar content. Many natural energy drinks on the market are sugar-free and made with natural caffeine sources. For example, matcha green tea is an herbal source of caffeine that has other nutritional benefits for overall wellness like antioxidants. </p><p>In addition to the caffeine and sugar content, many healthy energy drinks are fortified with essential nutrients that have positive health effects. You may get the added benefit of antioxidants from black tea, for example. </p><p>As always, be sure to read the label of any energy drink carefully and with an eye to added sugars, preservatives, and other artificial ingredients. And remember that caffeine is a natural diuretic, so it's important to watch your hydration and drink plenty of water. </p><h2>Best Healthy Energy Drinks</h2><p class="media-headline"><strong>Zevia Soda Zero Calorie </strong><br></p> <p><br></p> <div class="rm-shortcode amazon-assets-widget" data-rm-shortcode-id="8eda0b2a1fca95e74536fe933917a0c8" contenteditable="false"> <a href="https://www.amazon.com/dp/B01NBDS05U?tag=ecowatch-20&amp;linkCode=ogi&amp;th=1&amp;psc=1" target="_blank"> <img type="lazy-image" data-runner-src="https://m.media-amazon.com/images/I/51K6VHfVdbL.jpg" class="amazon-assets-widget__image widget__image"> </a> </div> <p><br></p><p>We like that this Zevia's zero-calorie option is made with clean ingredients. You won't find artificial colors, preservatives, soy, or sodium in these cans. With six simple ingredients, including carbonated water, you can rest assured that every sip is wholesome and good for you. Zevia offers a higher caffeine content than other healthy energy drinks, so it's a good option for someone with a higher caffeine tolerance or who reaches for just one serving of caffeine a day. </p><p><strong>Strength: </strong>120mg of caffeine per can</p><p><strong>Why buy:</strong> Sugar-free; Zero calorie; Non-GMO Project Verified; Kosher; Vegan</p><p><br></p><p class="media-headline"> <strong>Sambazon Organic Amazon Energy Drink</strong></p><p><strong><br></strong></p><div class="rm-shortcode amazon-assets-widget" data-rm-shortcode-id="85c4853615e47cd7cbb10a107aacb6a2" contenteditable="false"> <a href="https://www.amazon.com/dp/B06XMQD3GG?tag=ecowatch-20&amp;linkCode=ogi&amp;th=1&amp;psc=1" target="_blank"> <img type="lazy-image" data-runner-src="https://m.media-amazon.com/images/I/51xnTTJ62CL.jpg" class="amazon-assets-widget__image widget__image"> </a> </div> <p>We love that this drink is both low in calories and sugar (with only 6 grams per serving) while providing other important vitamins. The green tea and yerba mate that give each can its 120 mg of caffeine come with potent antioxidants and vitamin C. This is another slightly more caffeinated option if you're looking for a stronger jolt from your healthy energy drink without the excess sugars and artificial ingredients you'll find in mainstream high-caffeine options. With fruity Amazon-inspired flavors like acai berry and pomegranate, Sambazon ensures every sip is delicious and refreshing. </p><p><strong>Strength: </strong>120mg per can </p><p><strong>Why buy:</strong> Made with guarana, yerba mate &amp; green tea; USDA-Certified Organic; Non-GMO; Vegan; Gluten-free; Kosher</p><p><br></p><p class="media-headline"> <strong>Sunshine Good Energy Drink</strong></p><p><br></p><div class="rm-shortcode amazon-assets-widget" data-rm-shortcode-id="6eb3213e344554c1cf64811f99368be2" contenteditable="false"> <a href="https://www.amazon.com/dp/B00ETBR7MU?tag=ecowatch-20&amp;linkCode=ogi&amp;th=1&amp;psc=1" target="_blank"> <img type="lazy-image" data-runner-src="https://m.media-amazon.com/images/I/41WwiS5or4L.jpg" class="amazon-assets-widget__image widget__image"> </a> </div> <p>This brightly colored can is not only enticing, but it's also good for you. It has a moderate amount of caffeine (about the same amount as a cup of coffee) for a light buzz that won't cause a crash. This low-calorie option (60 calories per can) is especially great for plant-based diets, which can often lack essential b vitamins, especially vitamin B12. Sunshine Energy Drinks are fortified with B12, and the clementine flavor also offers 100% of your daily Vitamin C requirements.</p><p><strong>Strength:</strong> 70mg caffeine per can</p><p><strong>Why buy:</strong> Made with organic green coffee beans; Added B12; Contains electrolytes; 100% of your daily Vitamin C</p><p><br></p><p class="media-headline"> <strong>GURU Lite Organic Low Calorie Energy Drink with Green Tea</strong></p><p><br></p><div class="rm-shortcode amazon-assets-widget" data-rm-shortcode-id="4ab4b338d9d1410089b9f5d9f9be8a35" contenteditable="false"> <a href="https://www.amazon.com/dp/B01ESPB2UY?tag=ecowatch-20&amp;linkCode=ogi&amp;th=1&amp;psc=1" target="_blank"> <img type="lazy-image" data-runner-src="https://m.media-amazon.com/images/I/51vJnEDA4XL.jpg" class="amazon-assets-widget__image widget__image"> </a> </div> <p>GURU's Lite Energy drink is brewed with antioxidant-packed green tea and hydrating carbonated water. This vegan energy drink includes the added bonus of natural sweeteners and vitamin sources. Every can is made with ginseng, echinacea, guarana, and sweetened with stevia and monk fruit for a lightly sweet, nutrient-packed sip. Plus, GURU has an environmentally-friendly commitment to using natural, organic ingredients in this low-sugar, lightly caffeinated energy drink.</p><p><strong>Strength:</strong> 100mg caffeine per can</p><p><strong>Why buy: </strong>Non-GMO; Vegan; No artificial sweeteners; Organic</p><p><br></p><p class="media-headline"> <strong>Raspberry Sparkling Yerba Mate </strong></p><p><br></p><div class="rm-shortcode amazon-assets-widget" data-rm-shortcode-id="425712ca3a2ade8e1f15a1ad7241b81c" contenteditable="false"> <a href="https://www.amazon.com/dp/B07LGC3C6M?tag=ecowatch-20&amp;linkCode=ogi&amp;th=1&amp;psc=1" target="_blank"> <img type="lazy-image" data-runner-src="https://m.media-amazon.com/images/I/51+ABrjenML.jpg" class="amazon-assets-widget__image widget__image"> </a> </div> <p>Clean Cause donates 50% of its profits from sales of this USDA Certified Organic energy drink to support addiction recovery. The company's mission is to support recovery from alcohol and drug addiction through sustainable funding. Clean Cause brews its energy drinks from the dried leaves of yerba mate, a vitamin-rich South American plant that is naturally high in caffeine and antioxidants. Every serving offers plant-based polyphenols, a group of antioxidants shown to reduce inflammation and reduce the risk of many chronic diseases.</p><p><strong>Strength: </strong>160mg per can (two servings)</p><p><strong>Why buy:</strong> USDA Certified Organic; Natural caffeine from yerba mate; Four fruity, sparkling flavors</p>
From Your Site Articles
Related Articles Around the Web