Aerial spraying of the pesticide naled in a South Carolina county, done in an attempt to prevent Zika-infected mosquitoes from gaining a foothold in the state, resulted instead in the massacre of millions of honeybees.
On one farm in Summerville, South Carolina, 46 hives were wiped out instantly, killing 2.5 million bees.Flowertown Bee Farm and Supplies Facebook
While 43 Zika cases have been reported in the state, all but one were from travelers who were infected abroad. The other was a sexually transmitted case. No one in South Carolina has been locally infected by a mosquito. Nevertheless, county officials sprayed a 15-square mile area early Sunday morning. Dorchester County officials said they announced the spraying on Friday and via a Facebook post on Saturday, but many residents said they received less than 10 hours notice.
43 cases of Zika reported in South Carolina to date. Credit: South Carolina Department of Health and Environmental Control
The scenario reprises the days of DDT spraying that prompted Rachel Carson's seminal book, Silent Spring. The 1962 book by the former U.S. Fish and Wildlife Service writer detailed the disastrous effects on birds from the widespread use of synthetic pesticides following World War II. The leading culprit, DDT, was shown to cause reproductive failure in bald eagles, ospreys, brown pelicans and peregrine falcons. Indiscriminate aerial spraying laid a film of the pesticide where birds would pick it up.

Naled, the pesticide used in South Carolina, is an organophosphate first registered for use as a pesticide in 1959. Organophosphates were developed in the 1940s as biological warfare agents. The U.S. Environmental Protection Agency (EPA) currently authorizes use of naled for mosquito control. It is currently being applied by aerial spraying to 16 million acres of the mainland U.S., including highly populated areas. The EPA says that the chemical does not pose risks to people, although it recommends staying indoors during aerial spraying.
However, the agency appears to underplay the risks to honeybees. Its website states:
Applications made between dusk and dawn, while bees are not typically foraging, can reduce exposure to honey bees.

Although we do not anticipate significant exposure to bees, beekeepers can reduce exposure to bee colonies even more by covering colonies and preventing bees from exiting colonies during designated treatment periods, or if possible, relocating colonies to an untreated site. Providing clean sources of food (supplemental sugar water and protein diets) and clean drinking water to honey bee colonies during application can further reduce exposure.

Contrary to the EPA's recommendation, however, the spraying in South Carolina took place from 6:30 - 8:30 a.m.
Toxipedia, the online toxicology encyclopedia, is far more circumspect on the potential dangers of naled. They call it a severe skin and eye irritant, and cite a study that showed exposure to the chemical resulted in chronic nervous system damage in dogs and rats. Toxipedia also states that naled is "highly toxic to many bird species especially Canadian geese" and affects reproduction in Mallard ducks. They also note that its use "puts many endangered species at risk." With respect to honeybees, they couldn't be more clear:
It is toxic to bees and stoneflies (#EXTOXNET, 1996).
In April, EcoWatch reported that the U.S. Department of Agriculture (USDA) was silencing its own bee scientists. A Feb. 7, 2014 story documented the EPA's approval of two other pesticides known to be highly toxic to bees. The EPA's action came despite the concerns of beekeepers facing colony collapse.
On one farm in Summerville, South Carolina, 46 hives were wiped out instantly, killing 2.5 million bees. Compounding the problem was the weather: hot, 90 degree temperatures caused bees to leave their hives in order to cool down. That meant the bees were active during the widespread spraying.

As many residents became aware of the insecticide spraying, they tried to contact Dorchester County Mosquito Abatement by phone, as the notices had stated. No one answered. A resident who has started a petition on change.org wrote, "To our knowledge not one phone call was returned and no answers were given." The petition asks for the spraying to be stopped, for more information on the chemicals used and for a public forum to discuss their concerns. By Tuesday, Dorchester County had issued an apology, but there is no word to date on whether they will compensate beekeepers for the destruction of their hives.
The honeybee genocide in South Carolina came as a study published on Monday by the National Academy of Sciences links high demand and federal subsidies for corn and soybean crops to the loss of grassland in the Great Plains that bees need to survive. The study says that expansion of these crops in the Northern Great Plains is "altering the landscape in ways that are seemingly less conducive to beekeeping." The area in the study is home to more than 40 percent of the U.S. bee colonies.

Honeybees are nature's best pollinators. Without them, important crops including almonds, blueberries, apples, asparagus and broccoli would be threatened. It is estimated that bees are responsible for some $19 billion of U.S. crop production. The agricultural impact of the South Carolina disaster is not yet known.
Brazil's Federal Public Prosecutor has asked the country's justice department to suspend the use of glyphosate, which is the active ingredient in Monsanto's Roundup—the world's top-selling herbicide.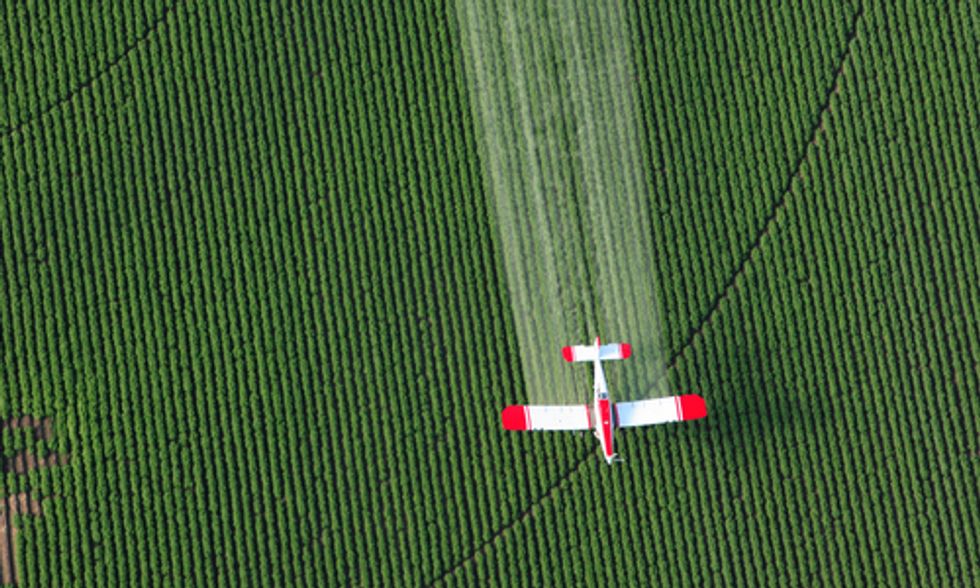 Photo courtesy of Shutterstock
In addition, the prosecutor has also targeted another herbicide known as 2,4-D and the active ingredients methyl parathion, lactofem, phorate, carbofuran, abamectin, tiram and paraquat, according to GMWatch.
Actions have already been filed within Brazil's court system, the first of which seeks to compel the National Health Surveillance Agency (ANVISA) to reevaluate the toxicity of the eight active ingredients suspected of causing damage to people's health and the environment.
The actions request a preliminary injunction which would allow the Ministry of Agriculture, Livestock and Supply to suspend the registration of the products until a final conclusion about their toxicity is reached by ANVISA.
Regarding 2,4-D, the prosecutor has asked that the National Biosafety Technical Commission prohibit the widespread sale of genetically engineered seeds resistant to the herbicide pending a final position by ANVISA.
The news comes as another huge blow to the biotech industry, following last week's unanimous ruling by Brazil's Federal Appeals Court that decided to cancel the cultivation of Bayer's Liberty Link GM Maize, according to Agro Link. 
Two weeks ago, Sri Lanka ordered a ban on glyphosate due to concerns the chemical may be linked to a mysterious kidney disease that has killed thousands of agricultural workers, according to the Center for Public Integrity.
[blackoutgallery id="327449"]
The legislature in El Salvador approved a ban on dozens of agrochemicals including glyphosate last September, but the proposal has so far not been signed into law.
--------
Related Content:
Sri Lanka Bans Monsanto Herbicide After Report Suggests Link to Deadly Kidney Disease
Monsanto Ad Banned in South Africa Due to Deceptive GMO Messaging
5 Reasons Monsanto's 'Science' Doesn't Add Up
EcoWatch Daily Newsletter
In an abrupt and surprising turn, Sri Lanka has ordered a ban on glyphosate, the active ingredient in Monsanto's top-selling herbicide Roundup, due to concerns the chemical may be linked to a mysterious kidney disease that has killed scores of agricultural workers, according to the Center for Public Integrity.
The announcement came last week after a recent International Journal of Environmental Research and Public Health study found glyphosate was the likely culprit for the illness, known as fatal chronic kidney disease of unknown origin (CKDu).
"An investigation carried out by medical specialists and scientists has revealed that kidney disease was mainly caused by glyphosate," Special Projects Minister S.M Chandrasena told reporters in Sri Lanka. "President Mahinda Rajapaksa has ordered the immediate removal of glyphosate from the local market soon after he was told of the contents of the report."
The paper, Glyphosate, Hard Water and Nephrotoxic Metals: Are They the Culprits Behind the Epidemic of Chronic Kidney Disease of Unknown Etiology in Sri Lanka?, did not offer new scientific evidence, however, it did lay out a detailed theory suggesting that the use of glyphosate in areas with heavy metals in the drinking water can lead to CKDu.
The researchers propose glyphosate becomes extremely toxic to the kidneys when it's combined with "hard" water or metals like arsenic and cadmium, either naturally present in the soil or added externally through the spread of fertilizer.
Roundup is the top selling herbicide in the world, and Monsanto said the newest study is built upon an untested theory instead of hard data.
For more than two years, the International Consortium of Investigative Journalists has examined the kidney disease that has killed tens of thousands of agricultural workers in Central America, Sri Lanka and India.
In fact, CKDu, a disease which is almost completely treatable in wealthier countries, has killed more people in El Salvador and Nicaragua than diabetes, AIDS and leukemia combined, over the last five years on record, reports Center for Public Integrity.
The legislature in El Salvador approved a ban on dozens of agrochemicals including glyphosate last September, but the proposal has so far not been signed into law.
Visit EcoWatch's HEALTH page for more related news on this topic.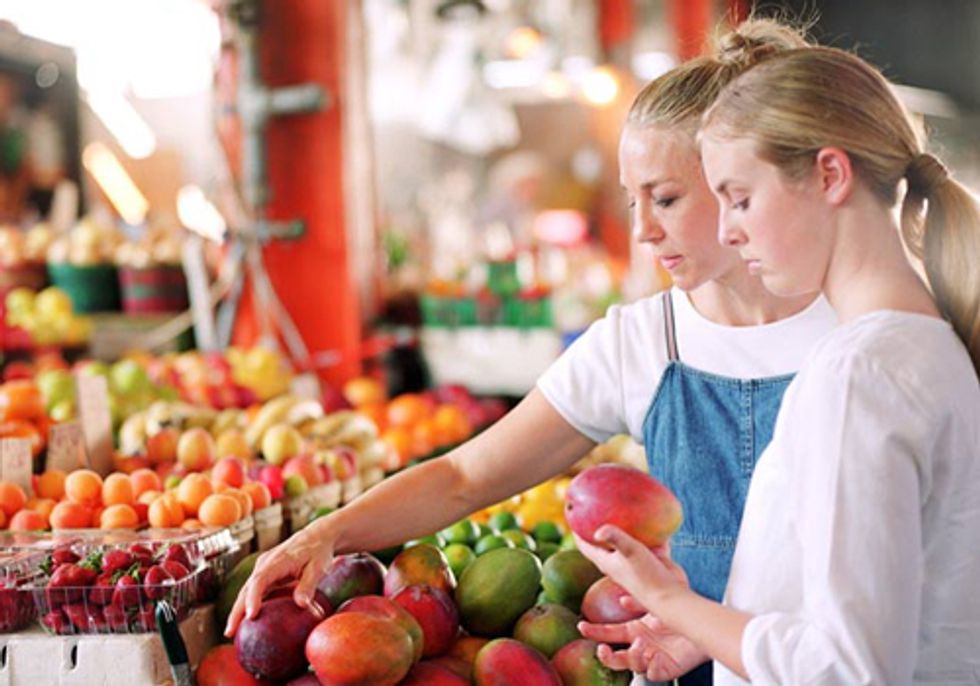 By Ken Cook
For the last two years, the pesticide lobby, especially a front group called the Alliance for Food and Farming, has waged a multi-front campaign to get the U.S. Department of Agriculture (USDA) to repackage its pesticide data with industry talking points that downplay risks and consumers' concerns. And they attacked Environmental Working Group's (EWG) Shopper's Guide to Pesticides in Produce in the bargain.
We expect to see USDA's 2010 pesticide data soon and fully expect that the agency has not caved to industry pressure. Giving you the information you need is too important. Your tax dollars paid for the government's pesticide tests. Stand with EWG today to make sure the USDA tells us the whole truth about pesticides on our food.
Last year, we launched an investigation into the Alliance for Food and Farming and its efforts to influence the USDA. We learned that:
The Alliance for Food and Farming—which represents the interests of conventional agriculture producers and pesticide companies—received a $180,000 grant from USDA in 2010 to slam "Environmental Working Group's 'dirty dozen' report," and to denounce "[c]laims by activist groups about unsafe levels of pesticides."
One top USDA official even wrote a letter endorsing the use of federal tax dollars to attack EWG. When EWG supporters like you called USDA out for funding the project with your tax money, internal documents obtained by EWG show that some USDA officials tried to do damage control, discussing whether they could rescind the grant or tone down disclosures about the project.
At the same time the Alliance for Food and Farming was preparing to attack EWG's Shopper's Guide to Pesticides in Produce, industry representatives were lobbying hard to have USDA change the way it would release pesticide data to include more industry-friendly spin downplaying the risks of pesticide residues.
More than a dozen industry representatives—including members of the Alliance for Food and Farming board of directors who led the campaign against EWG—wrote Agriculture Secretary Tom Vilsack last year telling him to prevent "environmental activists" from presenting USDA pesticide data in a way that would hurt business.
Thanks to you, the Alliance for Food and Farming's government grant was not renewed. You told the USDA that consumers (and taxpayers) want unbiased pesticide data released.
Let's do it again this year. Make sure USDA officials know they can't cave to industry pressure—Americans want to know the truth.
Take action today by clicking here to tell the USDA not to cave to industry's pressure—you want to know what you're eating.
For more information, click here.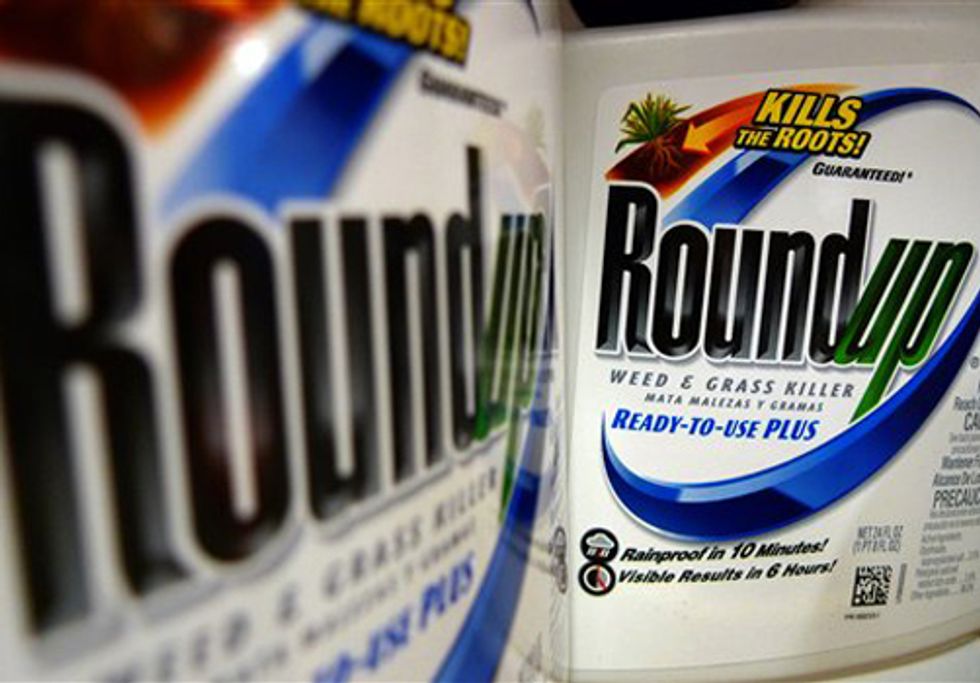 A French court has found U.S. chemical giant Monsanto Co. guilty of pesticide poisoning in the case of a French farmer who became ill after exposure to one of the company's herbicides, according to Reuters. The case is significant in that it sets precedent for other cases alleging pesticide poisoning or negligence in reporting of potential effects on human health resulting from pesticides. The court has said it will seek an expert opinion regarding the farmer's losses in order to determine the appropriate amount of damages he should be rewarded.
The case stems from an incident in which the farmer, Paul Francois, inadvertently inhaled Monsanto's Lasso pesticide when cleaning his sprayer tank on his farm in southern France in 2004. He then began experiencing memory loss, headaches, and stammering, among other neurological problems. This led to his decision to file suit against Monsanto, asserting that the company did not provide adequate warnings on the product label that would indicate these symptoms could result from exposure. The court agreed with Mr. Francois, stating that, "Monsanto is responsible for Paul Francois's suffering after he inhaled the Lasso product … and must entirely compensate him," according to Agence France-Presse (AFP).
Lasso is a general herbicide for grasses and some broadleaf weeds whose active ingredient is alachlor. Before Roundup, Lasso was one of Monsanto's biggest products and became one of the most widely used of any pesticide in the U.S. in the 1980s. Alachlor is a highly toxic chemical that is widely considered an endocrine disruptor and has been linked to kidney and liver damage as well as birth and developmental defects. It is classified by the U.S. Environmental Protection Agency (EPA) as likely to be carcinogenic in high doses. Nonetheless, it remains registered for use through the U.S. In 1987, the state of Massachusetts attempted to ban the chemical, but was fought by Monsanto, which successfully convinced the state's pesticide board to make alachlor a restricted use chemical instead of banned. The chemical was banned throughout the European Union in 2007, including in France, where the Francois incident occurred. It is registered for use in the U.S.
Numerous other cases have been filed seeking damages from chemical companies due to pesticide poisonings, but they have often suffered because of the difficulty of linking chemical exposure to a particular person's chronic illness. However, the Francois case was able to demonstrate that it was in fact the pesticide that caused harm because it was linked to a specific incident involving acute exposure, rather than long terms effects after repeated, chronic exposure. The problem with trying to prove cases regarding chronic exposure was summarized by another farmer, who told Reuters, "It's like lying on a bed of thorns and trying to say which one cut you."
A lawyer for Monsanto said the company was disappointed with the decision and that it will explore appealing to a higher court.
Monsanto and its products are currently involved in several other lawsuits, largely stemming from its line of herbicide tolerant "Roundup Ready" crops. A lawsuit filed by the Public Patent Foundation on behalf of family farmers, seed businesses, organic agricultural organizations, and environmental groups (including Beyond Pesticides) seeks to prevent the chemical company from asserting its patents and suing farmers who are unwittingly found to have incidental amounts of patented herbicide-tolerant seeds in their fields. Oral arguments in this case were heard last month.
Beyond Pesticides is also a plaintiff in another lawsuit involving genetically engineered crops led by attorneys for the Center for Food Safety (CFS), Earthjustice, and farm and environmental groups. The lawsuit filed against the U.S. Department of Agriculture (USDA) argues that the agency's 2011 unrestricted approval of Monsanto's genetically engineered alfalfa is unlawful. For more information on genetically engineered crops, see Beyond Pesticides' webpage.
Chemical companies' argument that people in the U.S. do not have a right to sue for damages associated with registered pesticides lost in the U.S. Supreme Court in 2005 in Bates et al v. Dow AgroSciences LLC. The Supreme Court ruled that citizens damaged by pesticides have the right to sue producers of these toxic products, finding that federal pesticide law does not offer adequate protection from "manufacturers of poisonous substances." Dow Chemical Company, supported by the Bush administration at the time, argued that, because its products are registered by EPA, chemical manufacturers should be shielded from litigation.
For more information, click here.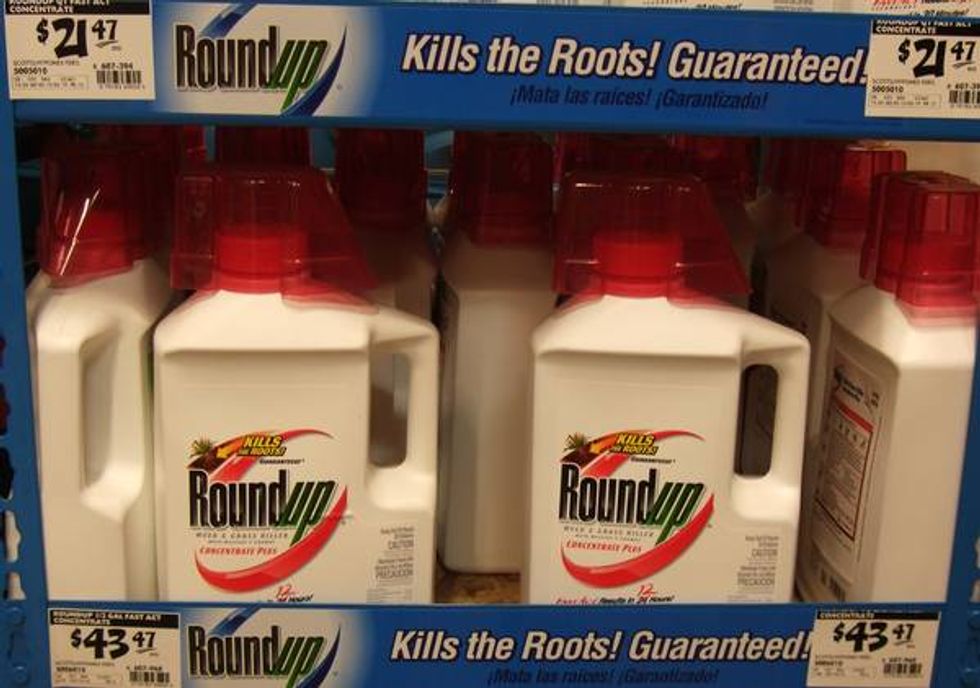 By Paul Tukey
Lips quivered on ashen faces. Hair stood on forearms. Heads shook and, in some cases, tears formed.
The result, he said, is the death of agriculture, our livelihoods and the planet as we know it. A pesticide product which was supposed to just be killing weeds, he stated bluntly, is systematically killing us.
When he was done, I snapped a photo of his final slide with my iPhone that talked about our children's futures. I knew I would soon be heading home to enjoy a holiday weekend setting out decorations, cutting down a tree and sipping hot chocolate with two precious little girls—yet I also knew my life would never quite be the same.
"Future historians may well look back and write about our time, not about how many pounds of pesticide we did or did not apply, but by how willing we were to sacrifice our children and jeopardize future generations based on false promises and flawed science, just to benefit the bottom line of a commercial enterprise."
You simply can't hear what Don Huber had to say and then go blindly about your life. At least I can't.
So this weekend I shuddered when I looked at the base of the Christmas trees, where Roundup had been sprayed to make things look clean for holiday lumberjacks. I scowled at the shelves of the garden center where the poinsettias stood like bright sentries announcing the season at hand. At the end of the row, canisters of Roundup awaited spring, when they would be as eagerly gobbled up by customers as the Christmas flowers were on this day.
We sang Christmas carols. We baked cookies and set our tree in its stand, yet as I draped lights and hung ornaments, Dr. Huber's words echoed in my ears. I kept thinking about the fact this would be my first holiday season without my grandmother and my aunt, both of whom were claimed by Alzheimer's Disease. Dr. Huber told the audience the incidence of Alzheimer's is expected to skyrocket in the next 20 years, probably because Roundup robs so many essential micronutrients from our food.
As we talked of our holiday plans and the friends and family we'll visit, our hearts ached for our lovely, amazing friend, Mary, who will spend Christmas week tethered to a chemotherapy drip. She'll make it through, because she's a ferocious fighter. But why should she have to fight so hard? Is it because when we inhale Roundup it then targets our livers, our kidneys, our hormones, our bones, our thyroids and our sex organs? And Roundup is literally everywhere in the air and water we breathe.
It's impossible not to take this personally if you let yourself think about it. Do you know anyone with autism, ADHD, endometriosis, Crohn's disease, dementia, Parkinson's? If so, then you know someone who has been affected by the atrocities of Roundup. Do you know anyone who's overweight, even obese? Of course you do, since one in three Americans now fall into that category. Well, it's not because those people are lazy, or want to eat too much, or because their grandparents were fat and the gene was passed down. It's because people don't get enough essential nutrition in their meals each day, so they eat more to compensate.
And why don't the meals have enough nutrition? It's because most of our food is grown while being sprayed with Roundup, which reaches into our bodies and soils and steals things like nitrogen, phosphorus, potassium, calcium, magnesium, sulfur, boron, copper, and especially iron, manganese and zinc. Whether you understand bodily function, or not, all you need to know is that without these essential elements in their daily essential amounts, your body stops working properly. Disease becomes rampant.
And whether you understand soil science, or not, understand this—Mother Nature is pissed off, and Mother Nature always wins.
Dr. Huber told the audience that his life changed profoundly the day he allowed SafeLawns to leak his letter to the Secretary of Agriculture to the general public last February. In that letter, he warned that a newly studied soil organism was capable of living among plants and animals, and that it was causing spontaneous miscarriage in humans. He warned that the appearance of the organism was heightened when Roundup was sprayed, as if Mother Nature were fighting back.
He was vilified. Mercilessly. Often by academics who had been his colleagues for decades.
But on Dec. 9, the 75-year-old emeritus professor—who was widely regarded in all circles as one of the planet's most respected scientists until he began pointing out a rather inconvenient truth about Roundup—showed us pictures. They were images of a sinister organism that appears to be wreaking havoc that is perhaps irreversible.
"I have practically begged our government to invest more resources into studying this organism before it's too late," he said. "To date, I'm not seeing any action being taken."
Since the government won't act against the manufacturer, Monsanto, or the sellers like Scotts Miracle Gro or your local garden center, that means it's up to you to vote with your wallet by not buying the stuff. It's up to you to understand that approximately 80 percent of our commercial food supply is grown in a Roundup Ready environment—and that to support organic food and farming is to support a planet without Roundup.
Maybe instead of Christmas cards this holiday season, you can send a strong message to your elected officials that foods genetically modified to resist Roundup ought to be banned as they are in many European communities. They call our sustenance Frankenfood.
The world has a lot of problems these days and it can come off as hyperbolic ranting to suggest that so many problems are the result of a weed killer that comes in a ready-to-use spray bottle at your local hardware store. The thing about Roundup, though, is that unlike many maladies, it's a problem we can control. We don't have to use Roundup. We don't have to eat the food produced with it.
And if we stop doing that, the problem could conceivably go away.
For our children's sake we need to make this happen now.
In the meantime, don't just take it from me. Click here for a great interview with Dr. Huber.
It encapsulates many of the similar points he made last Friday before the audience, numbering in the hundreds, who stood for a long, almost sobering standing ovation. It wasn't the kind of raucous applause we lavish on Broadway actors or athletes on a field, but rather a respectful, somber homage to a man who is daring to try to save us from ourselves.
For more information, click here.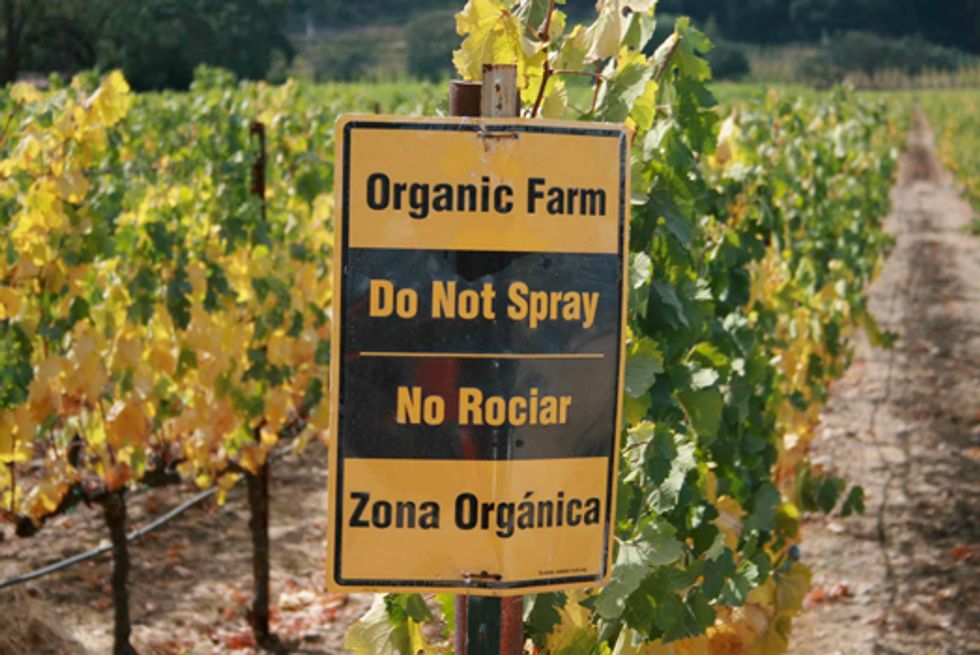 Consumers wishing to avoid chemical pesticide residues in food, water and on farms have a simple choice—organic products, the Canada Organic Trade Association (COTA) said Dec. 8. Repeated government samplings in North America and Europe have shown organic produce has much lower pesticides residues when compared to non-organic.
The Canadian Food Inspection Agency (CFIA) pesticide residue testing results made public this week support the claim that choosing organic reduces consumers' exposure to unwanted pesticides.
"We see that over 560 residues were found on non-organic apples, more than ten times the 52 found on organic apples. That would worry me if I weren't buying organic," said Matthew Holmes, executive director of COTA.
Consumers can now be assured that the government is monitoring organic products—both imports and domestic—thanks to the new Organic Products Regulations published in 2009 and fully implemented in June 2011. This new rule in Canada makes organic products the most regulated and inspected in the country, building on top of all other food safety and regulatory requirements.
"From the types of chemicals we see in this data, it's clear that this isn't a case of a farmer abusing the system, but originates from the types of chemical used on non-organic products in post-harvest situations, such as warehousing and shipping," Holmes said.
As CFIA integrates the new organic rules into its existing testing and inspection systems, it will be able to monitor these sorts of occurrences in the future and find out where they might be happening, to minimize this type of exposure for organic products in the future.
However, Holmes adds, "It's not too surprising that we're seeing some trace amounts of chemical residues. We cannot overlook the fact that these chemicals from industrial agriculture are present in our water, air and soil—that's why organic agriculture is offering consumers another choice—one that does not contribute to this toxic load in our environment and in our population."
For more information, click here.
—————
The Canada Organic Trade Association is the membership-based trade association for the organic sector in Canada, representing growers, shippers, processors, certifiers, farmers' associations, distributors, importers, exporters, consultants, retailers and others in the organic value chain. COTA's mission is to promote and protect the growth of organic trade to benefit the environment, farmers, the public and the economy.