Volunteers prepare a space to plant a permaculture herb spiral at Pine Ridge School in Magalia, California, during the Camp Fire Restoration Weekend. Gerard Ungerman
By Dani Burlison
On a bright spring afternoon in late April, roughly 75 people gathered at the first Camp Fire restoration weekend at a farm 20 miles southwest of Paradise, California. The small private farm, nestled near a sprawling cow pasture that reaches east toward the burn zone, was safe from the Camp Fire. But in Paradise, signs of the devastating fire remain: burned-out vehicles, long lines of debris-removal trucks snaking toward the highway, billboards of encouragement (and insurance company ads) for survivors, and posters thanking first responders.
After the 2018 Camp Fire ravaged the small forested town — leaving just 10 percent of homes standing — residents were left with the enormous task of rebuilding their community. For locals, that means rebuilding homes and businesses. But it also means ecological restoration of the scorched Sierra Nevada foothills.
Matthew Trumm, founder of the Camp Fire Restoration Project, hopes his project will do both.
Trumm's friends own the farm where attendees of the restoration camp gathered for three days to launch the project, taking early steps in helping land and people recover from the deadly fires.
With the weekend camp, Trumm and a dozen other camp organizers wanted to bring people together to begin organizing for long-term recovery of Paradise. Activities provided training in regenerative design and ecological restoration, including a day performing permaculture projects at Pine Ridge School in Magalia, one of few schools left standing in the Camp Fire burn zone. On the final day of the camp, committees were formed to tackle ongoing needs to rebuild infrastructure for shelter, water, and energy.
Reposted with permission from our media associate YES! Magazine.
EcoWatch Daily Newsletter
Pxhere
By Eva Perroni
Transitioning to more sustainable forms of agriculture remains critical, as many current agriculture practices have serious consequences including deforestation and soil degradation. But despite agriculture's enormous potential to hurt the environment, it also has enormous potential to heal it. Realizing this, many organizations are promoting regenerative agriculture as a way to not just grow food but to progressively improve ecosystems.
Drawing from decades of research, regenerative agriculture uses farming principles designed to mimic nature. To build healthy soils and fertile, thriving agro-ecosystems, this approach incorporates a range of practices like agroforestry and well-managed grazing. Benefits of these practices include richer soil, healthier water systems, increased biodiversity, climate change resilience and stronger farming communities.
To celebrate the ongoing work of individuals and organizations dedicated to healing agro-ecosystems around the globe, Food Tank is highlighting these 17 organizations building a global grassroots movement for better agriculture.
1. Aranya Agricultural Alternatives
Aranya Agricultural Alternatives organizes and strengthens rural farming communities in India to achieve food and nutrition security through permaculture farming practices. Sanskrit for "forest," Aranya promotes natural agricultural practices based on forests' self-regulating ecosystems. Aranya runs permaculture design courses and workshops as well as community-based projects focused on watershed and soil management, tree-based farming, diversified cropping, animal integration and seed saving.

2. Grounded
Grounded, an organization based in Cape Town, South Africa, partners with farmers across sub-Saharan Africa "to develop regenerative businesses [that] establish a healthier and more profitable balance between nature and agriculture, while shortening the value chain between producers and consumers." Their projects include restoring the natural biodiversity in the biodiversity hotspots of Madagascar, the Langkloof and the Baviaanskloof, as well as restoring natural migration routes of elephants in Zambia. Grounded is actively working to improve soil quality, increase the vegetation cover and add to the water table in these regions while promoting sustainable and profitable farming models.
Kiss the Ground is a California-based nonprofit working to regenerate land and reverse climate change through rebuilding healthy soil. They create educational curriculum, campaigns and media to raise awareness and empower individuals to purchase food that support healthy soils and a balanced climate. Kiss the Ground also works with farmers, educators, NGOs, scientists, students and policymakers to advocate for regenerative agriculture, and help drive brands and businesses to develop more sustainable supply chains worldwide. Locally, they operate a community garden in Venice, California, demonstrating urban permaculture to volunteers and homeless youth.
4. RegenAG
RegenAG is a community-based family enterprise providing farmers, professional organizations and communities with education and training to learn from the world's most innovative and effective regenerative agriculture practitioners in a wide range of fields. Their on-farm consulting and extension services teach farmers the knowledge and skills to significantly reduce inputs and effectively manage and monitor farm fertility though beneficial microbe capture and reproduction, water cycle repair, soil building and other holistic management strategies. RegenAg also holds courses, workshops and field days to showcase the success and trials of farmers who have adopted regenerative strategies on their farm.
Regeneration International (RI) provides information and resources that highlight the connection between healthy soil, regenerative agriculture and land use, food, health, healthy economies and climate change. These include a multilingual website and social media networks, an interactive online portal, consumer campaigns, events and international conferences. And every year, RI brings a delegation to the U.N. Climate Summit to raise awareness about the links between soil and climate. RI also engages in farmer training, through partnerships with Via Organica and its teaching farm and the Main Street Project's regenerative poultry project.
The Rodale Institute is known for pioneering and continually advocating for the use of regenerative agricultural practices. Founded in 1947 in Kutztown, Pennsylvania, by J.I. Rodale, the Institute has transformed 333 acres of formerly degraded farmland into highly fertile and productive land growing a variety of organic crops. The farm forms the basis for Rodale's research, education and outreach, and it is home to the longest-running comparative study of organic and chemical agriculture, started in 1981.
The Savory Network is a global group of entrepreneurial innovators and leaders working to advance regenerative agriculture, reverse desertification and combat climate change. With more than 30 hubs around the world, the Savory Network advocates, trains, implements and facilitates Holistic Management and regenerative agriculture practices in their own global and agricultural contexts. The network is an initiative of the Savory Institute, which has the broader goal of informing policymakers, establishing market incentives and increasing public awareness to support the ecological restoration of grasslands worldwide.
8. Soil Capital
Soil Capital is "a company committed to scaling and sustaining regenerative agriculture through market-based solutions." Using proven farming processes and adapted technology, they focus on maximizing farm profitability through increased soil health, resilience and the natural productivity of the farm ecosystem as a whole. Through partnerships with experienced farmers who demonstrate resource-efficient and sustainable operations, Soil Capital assists other farmers in transitioning from conventional to regenerative agricultural practices. In doing so, Soil Capital seeks to scale and replicate holistic and healthy agricultural projects worldwide.
9. Soils, Food and Healthy Communities
Soils, Food and Healthy Communities is a participatory, farmer-led organization which uses local indigenous knowledge and agroecological methods to improve food security, nutrition and soils in Malawi. Their Malawi Farmer-to-Farmer Agroecology project uses farmer-to-farmer teaching about agroecological farming methods to sustainably manage soils, improve agricultural and dietary diversity and improve incomes of 6,000 farming households in central and northern Malawi. Through the use of grains and perennial legumes, farmers fix nitrogen, nutrients and organic matter directly into the soil, improving soil fertility and enhancing environmental and food security.
Founded by leading international soil microbiologist Dr. Elaine Ingham, the Soil Foodweb Institute (SFI) provides expert analysis and advice to empower primary producers to take control of maintaining the health of their soil. SFI analyzes soil micro-organism activity and creates management plans tailored to farmers' specific soils to achieve a sustainable, productive and low-input farming system. SFI Laboratories have extended across the globe, providing services to thousands of farmers to improve the health and productivity of their soils.
11. Sustainable Harvest International
The mission of this nonprofit organization is to "preserve the environment by partnering with families to improve well-being through sustainable farming." They work in Central America promoting sustainable alternatives to slash-and-burn agriculture. Through their multi-year program, participants receive tailored training and technical assistance. Former Peace Corps Volunteer Florence Reed founded the organization in 1997 after realizing the potential for training in sustainable agriculture to help farmers provide for their families while engaging in restorative practices.
12. Terra Genesis International
Terra Genesis International is a regenerative design consultancy that includes engineers, permaculture design experts, agro-ecologists, foresters, carbon scientists and financial analysts. They help large-scale agriculture and business clients that use natural ingredients in their products to redesign their supply chains and incorporate agricultural practices that regenerate soil, increase biodiversity and boost business.
The Carbon Underground acts as an umbrella organization connecting academia, businesses, organizations, schools, governments and the general public, communicating and educating about the power of healthy soil to combat climate change. The Carbon Underground coordinates a globally interconnected set of research groups working to demonstrate the impact of sustainable agriculture, land management and regenerative enterprises as principal tools for sequestering carbon. Through their focus areas of corporate impact, education and training, policy and communications, The Carbon Underground aims to facilitate the widespread transition of farms, ranches and grasslands from industrial into regenerative enterprises.
14. The Ecological Farming Association (EcoFarm)
The Ecological Farming Association (EcoFarm) is a nonprofit organization that connects farmers, ranchers, distributors, retailers, activists and researchers for education, alliance building and advocacy. They run an annual Ecological Farming Conference that features more than 70 workshops, intensives, exhibitions and special events including seed swaps, film screenings and organic culinary fare. EcoFarm also offers a free mentoring program for apprentices and beginning farmers as well as a range of online farmer resources. EcoFarm is a broad network of grassroots leadership and has facilitated an exchange of knowledge for more than 60,000 people across the U.S.
The Land Institute focuses on developing perennial grains, pulses and oilseed crops. Their crops are grown in "ecologically intensified polycultures" that mimic the diversity of natural ecosystems. The Land Institute breeds new perennial crops and develops ways to productively grow these crops in diverse polyculture mixtures. Led by a team of ecologists and plant breeders that partner with multiple organizations worldwide, The Land Institute works to develop an agricultural system that can produce ample food while minimizing or eliminating the negative impacts of industrial agriculture.
The Timbaktu Collective works to protect, manage and restore degraded ecosystems in rural Indian village communities. The Collective works in 172 villages within the Anantapur district, reaching and serving approximately 21,000 marginalized families. Their work in ecology includes the restoration of wastelands through planting locally adapted indigenous varieties of trees, reviving traditional water-harvesting structures to conserve water, and rejuvenating soil health through organic farming practices.
17. The Traditional Native American Farmers Association
The Traditional Native American Farmers Association holds an annual Indigenous Sustainable Food Systems Design Course, providing training in ecological design, natural farming and earth restoration. The course is a holistic indigenous approach based on traditional knowledge and practices. These practices help improve air and water quality, ecosystems, nutrition and community health. The Traditional Native American Farmers Association also holds workshops and training on seed saving, beekeeping and growing medicinal herbs to enhance biodiversity and increase seed and crop vitality.
Eva Perroni was a Research & Writing Fellow at Food Tank and a freelance researcher-writer and activist focused on promoting sustainable food systems. She holds an MA in Development Studies from the University of Melbourne, maintaining a strong research focus on global food security and food and agriculture politics.
From Your Site Articles
Related Articles Around the Web
waterlust.com / @tulasendlesssummer_sierra .
Each product featured here has been independently selected by the writer. If you make a purchase using the links included, we may earn commission.
The bright patterns and recognizable designs of Waterlust's activewear aren't just for show. In fact, they're meant to promote the conversation around sustainability and give back to the ocean science and conservation community.
Each design is paired with a research lab, nonprofit, or education organization that has high intellectual merit and the potential to move the needle in its respective field. For each product sold, Waterlust donates 10% of profits to these conservation partners.
Eye-Catching Designs Made from Recycled Plastic Bottles
waterlust.com / @abamabam
The company sells a range of eco-friendly items like leggings, rash guards, and board shorts that are made using recycled post-consumer plastic bottles. There are currently 16 causes represented by distinct marine-life patterns, from whale shark research and invasive lionfish removal to sockeye salmon monitoring and abalone restoration.

One such organization is Get Inspired, a nonprofit that specializes in ocean restoration and environmental education. Get Inspired founder, marine biologist Nancy Caruso, says supporting on-the-ground efforts is one thing that sets Waterlust apart, like their apparel line that supports Get Inspired abalone restoration programs.
"All of us [conservation partners] are doing something," Caruso said. "We're not putting up exhibits and talking about it — although that is important — we're in the field."
Waterlust not only helps its conservation partners financially so they can continue their important work. It also helps them get the word out about what they're doing, whether that's through social media spotlights, photo and video projects, or the informative note card that comes with each piece of apparel.
"They're doing their part for sure, pushing the information out across all of their channels, and I think that's what makes them so interesting," Caruso said.
And then there are the clothes, which speak for themselves.
Advocate Apparel to Start Conversations About Conservation
waterlust.com / @oceanraysphotography
Waterlust's concept of "advocate apparel" encourages people to see getting dressed every day as an opportunity to not only express their individuality and style, but also to advance the conversation around marine science. By infusing science into clothing, people can visually represent species and ecosystems in need of advocacy — something that, more often than not, leads to a teaching moment.

"When people wear Waterlust gear, it's just a matter of time before somebody asks them about the bright, funky designs," said Waterlust's CEO, Patrick Rynne. "That moment is incredibly special, because it creates an intimate opportunity for the wearer to share what they've learned with another."
The idea for the company came to Rynne when he was a Ph.D. student in marine science.
"I was surrounded by incredible people that were discovering fascinating things but noticed that often their work wasn't reaching the general public in creative and engaging ways," he said. "That seemed like a missed opportunity with big implications."
Waterlust initially focused on conventional media, like film and photography, to promote ocean science, but the team quickly realized engagement on social media didn't translate to action or even knowledge sharing offscreen.
Rynne also saw the "in one ear, out the other" issue in the classroom — if students didn't repeatedly engage with the topics they learned, they'd quickly forget them.
"We decided that if we truly wanted to achieve our goal of bringing science into people's lives and have it stick, it would need to be through a process that is frequently repeated, fun, and functional," Rynne said. "That's when we thought about clothing."
Support Marine Research and Sustainability in Style
To date, Waterlust has sold tens of thousands of pieces of apparel in over 100 countries, and the interactions its products have sparked have had clear implications for furthering science communication.
For Caruso alone, it's led to opportunities to share her abalone restoration methods with communities far and wide.
"It moves my small little world of what I'm doing here in Orange County, California, across the entire globe," she said. "That's one of the beautiful things about our partnership."
Check out all of the different eco-conscious apparel options available from Waterlust to help promote ocean conservation.
Melissa Smith is an avid writer, scuba diver, backpacker, and all-around outdoor enthusiast. She graduated from the University of Florida with degrees in journalism and sustainable studies. Before joining EcoWatch, Melissa worked as the managing editor of Scuba Diving magazine and the communications manager of The Ocean Agency, a non-profit that's featured in the Emmy award-winning documentary Chasing Coral.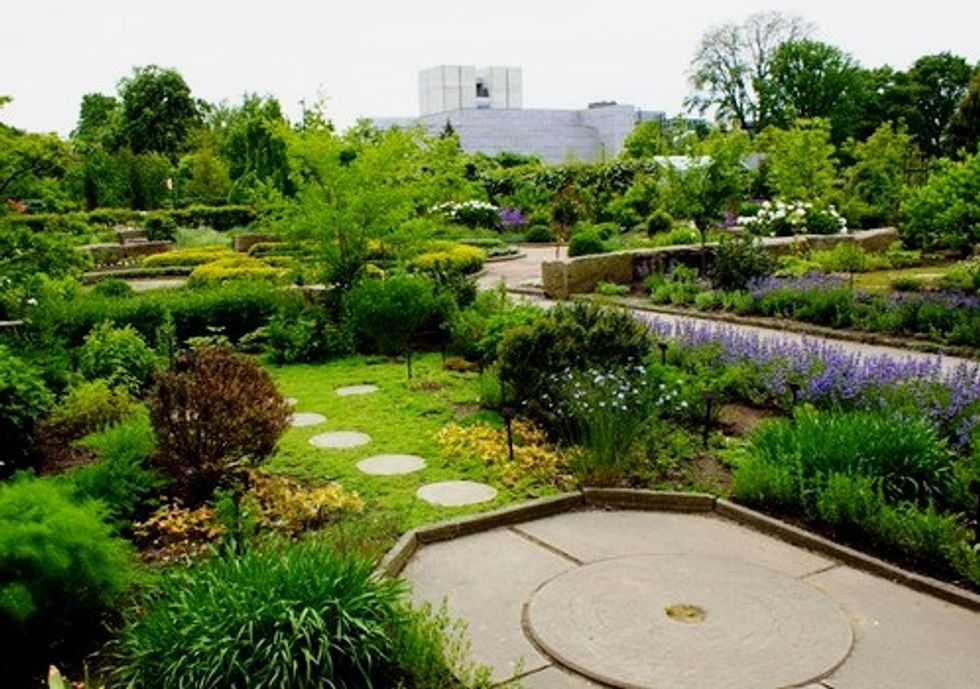 WHAT: Sustainability Symposium
WHEN: Feb. 4, 8 a.m. - 2:30 p.m.
WHERE: Cleveland Botanical Garden, 11030 East Blvd., Cleveland, Ohio 44106
Back for its seventh year, the Cleveland Botanical Garden's Sustainability Symposium is focusing on something we all require for a healthy life: healthy food. Each year, the goal of the symposium is to focus on protecting resources related to people, the planet and prosperity. By eating healthfully, we protect our most important resource—ourselves. This symposium is taking a cue from the growing field of permaculture—the science of designing productive landscapes that integrate plants, people, animals and land resources into self-sustaining ecosystems that yield crops.
Keynote speaker will be Dr. Michael Roizen of the Cleveland Clinic.
For more information and to register, click here.