Coca-Cola says it will not phase out its plastic bottles. Roberto Machado Noa / LightRocket / Getty Images
The reason? Customers like them too much, the company's head of sustainability Bea Perez told BBC News at the World Economic Forum in Davos Tuesday. Perez said that customers value the bottles because they are lightweight and easily reseal, and argued that getting rid of them would hurt sales.
"Business won't be in business if we don't accommodate consumers," she said.
Instead, the company plans to focus on recycling. It has promised to recycle as many bottles as it uses by 2030, to use 50 percent recycled materials in packaging by that date and to work with nonprofits to better collect its waste.
"So as we change our bottling infrastructure, move into recycling and innovate, we also have to show the consumer what the opportunities are. They will change with us," Perez said.
However, environmental groups have argued that recycling is not the most effective solution to the plastic pollution crisis. In a statement emailed to EcoWatch, Greenpeace USA Plastics Campaigner Kate Melges explained exactly what she thought was wrong with Perez's reasoning:
It is mighty convenient for the world's worst plastic polluter to insist that people want their single-use plastic around. Coca-Cola continues to show how out of touch it is with the environmental crises communities around the world are facing. The solution is not to simply swap one throwaway material for another or continue to fall back on recycling. The solution is for Coca-Cola and other consumer goods giants to fundamentally rethink how they're bringing products to people, centering systems of reuse and package-free options. We cannot afford the levels of inaction that Coke has shown thus far. Soon, the company will realize just how sick and tired people are of its plastic addiction.

As long as companies like Coke keep pushing the myth that their bottles are being turned into new bottles over and over again, we are never going to solve the plastic pollution crisis. In the U.S., only 29 percent of plastic bottles are collected for recycling, and almost none of that is being made back into bottles. Instead, Coke's plastic bottles are being made from fossil fuels, which is a fact they'd rather not talk about.
Coca-Cola currently produces around three million tonnes (approximately 3.3 million U.S. tons) of plastic packaging every year, according to BBC News. That comes to 200,000 bottles a minute. And currently, many of those bottles are not getting recycled.
For two years in a row, the Break Free From Plastic movement found Coca-Cola to be the brand best represented among the world's plastic waste. Their most recent October 2019 report, based on litter collected in 484 cleanups in more than 50 countries and on six continents, found that Coca-Cola left more waste than the next three companies on the list ― Nestle, Pepsi and snack-maker Mondelez ― put together.
Worldwide, people use one million plastic bottles every minute, and 91 percent of them are not recycled. Some of that unrecycled waste joins the more than eight million metric tons of plastic dumped into the world's oceans every year, threatening marine life.
"[C]orporations urgently need to do more to address the plastic pollution crisis they've created," Von Hernandez, global coordinator of the Break Free From Plastic movement, said in October. "Their continued reliance on single-use plastic packaging translates to pumping more throwaway plastic into the environment. Recycling is not going to solve this problem."
EcoWatch Daily Newsletter
Coke bottles found on Mull Beach in Scotland. Will Rose / Greenpeace
Coca-Cola, PepsiCo and Nestlé were identified as the world's biggest producers of plastic trash in global cleanups and brand audits, a new report from Greenpeace and the Break Free From Plastic movement reveals.
Over the span of nine months, an international team of volunteers sorted through 187,000 pieces of plastic trash collected from 239 cleanups in 42 countries around the world.
The results, released Tuesday, shows that these multinational food and beverage giants were the top 10 offenders:
Coca-Cola
PepsiCo
Nestlé
Danone
Mondelez International
Procter & Gamble
Unilever
Perfetti van Melle
Mars Incorporated
Colgate-Palmolive
BREAKING: @Coca-cola, @PepsiCo, and @Nestle have emerged as the top corporate polluters from 239 brand audits acros… https://t.co/QuCnYnjbOo

— Greenpeace USA (@Greenpeace USA)1539093631.0
The organizers behind the effort are calling out these brands for their contribution to plastic pollution.
"These brand audits offer undeniable proof of the role that corporations play in perpetuating the global plastic pollution crisis," Von Hernandez, global coordinator of Break Free From Plastic, said in a press release emailed to EcoWatch. "By continuing to churn out problematic and unrecyclable throwaway plastic packaging for their products, these companies are guilty of trashing the planet on a massive scale. It's time they own up and stop shifting the blame to citizens for their wasteful and polluting products."
Greenpeace Southeast Asia conducts plastic brand audit activity at Wonnapa beach, Chonburi province on World Cleanup Day, September 15, 2018.Greenpeace
In the U.S. specifically, a total of 70 cleanups determined that Nestlé, PepsiCo and Coca-Cola were the worst corporate plastic polluters, in that order.
The three companies have each pledged to cut their packaging waste. Coca-Cola has a global goal to help collect and recycle the equivalent of 100 percent of its packaging by 2030. Nestlé aims to make 100 percent recyclable or reusable packaging by 2025. PepsiCo has a goal to design 100 percent of its packaging to be recyclable, compostable or biodegradable and to reduce its packaging's carbon impact by 2025.
Awareness about the global plastic waste crisis is growing worldwide. Governments around the world have taken steps to ban single-use plastics and individuals are pledging to reduce their plastic footprint.
However, the organizers of the recent report are asking: Shouldn't corporations that package their goods in plastics shoulder some of this responsibility, too?
"We all have a role to play in tackling plastic pollution. But the reality is, individual consumers are already bearing the burden of this crisis," Greenpeace content editor Ryan Schleeter wrote in a blog post about today's report. "We're swapping plastic bottles for reusable glass and metal, ditching disposable straws, avoiding unnecessary packaging in our grocery stores, and cleaning up our beaches as best we can. But there's only so much we can do if companies don't step up and provide more sustainable choices."
Plastic on Remote #SouthAtlantic Beaches Up 10 Fold in 10 Years #PlasticPollutes @plasticpollutes https://t.co/ig6yeFf5at

— EcoWatch (@EcoWatch)1539092773.0
From Your Site Articles
Related Articles Around the Web
waterlust.com / @tulasendlesssummer_sierra .
Each product featured here has been independently selected by the writer. If you make a purchase using the links included, we may earn commission.
The bright patterns and recognizable designs of Waterlust's activewear aren't just for show. In fact, they're meant to promote the conversation around sustainability and give back to the ocean science and conservation community.
Each design is paired with a research lab, nonprofit, or education organization that has high intellectual merit and the potential to move the needle in its respective field. For each product sold, Waterlust donates 10% of profits to these conservation partners.
Eye-Catching Designs Made from Recycled Plastic Bottles
waterlust.com / @abamabam
The company sells a range of eco-friendly items like leggings, rash guards, and board shorts that are made using recycled post-consumer plastic bottles. There are currently 16 causes represented by distinct marine-life patterns, from whale shark research and invasive lionfish removal to sockeye salmon monitoring and abalone restoration.

One such organization is Get Inspired, a nonprofit that specializes in ocean restoration and environmental education. Get Inspired founder, marine biologist Nancy Caruso, says supporting on-the-ground efforts is one thing that sets Waterlust apart, like their apparel line that supports Get Inspired abalone restoration programs.
"All of us [conservation partners] are doing something," Caruso said. "We're not putting up exhibits and talking about it — although that is important — we're in the field."
Waterlust not only helps its conservation partners financially so they can continue their important work. It also helps them get the word out about what they're doing, whether that's through social media spotlights, photo and video projects, or the informative note card that comes with each piece of apparel.
"They're doing their part for sure, pushing the information out across all of their channels, and I think that's what makes them so interesting," Caruso said.
And then there are the clothes, which speak for themselves.
Advocate Apparel to Start Conversations About Conservation
waterlust.com / @oceanraysphotography
Waterlust's concept of "advocate apparel" encourages people to see getting dressed every day as an opportunity to not only express their individuality and style, but also to advance the conversation around marine science. By infusing science into clothing, people can visually represent species and ecosystems in need of advocacy — something that, more often than not, leads to a teaching moment.

"When people wear Waterlust gear, it's just a matter of time before somebody asks them about the bright, funky designs," said Waterlust's CEO, Patrick Rynne. "That moment is incredibly special, because it creates an intimate opportunity for the wearer to share what they've learned with another."
The idea for the company came to Rynne when he was a Ph.D. student in marine science.
"I was surrounded by incredible people that were discovering fascinating things but noticed that often their work wasn't reaching the general public in creative and engaging ways," he said. "That seemed like a missed opportunity with big implications."
Waterlust initially focused on conventional media, like film and photography, to promote ocean science, but the team quickly realized engagement on social media didn't translate to action or even knowledge sharing offscreen.
Rynne also saw the "in one ear, out the other" issue in the classroom — if students didn't repeatedly engage with the topics they learned, they'd quickly forget them.
"We decided that if we truly wanted to achieve our goal of bringing science into people's lives and have it stick, it would need to be through a process that is frequently repeated, fun, and functional," Rynne said. "That's when we thought about clothing."
Support Marine Research and Sustainability in Style
To date, Waterlust has sold tens of thousands of pieces of apparel in over 100 countries, and the interactions its products have sparked have had clear implications for furthering science communication.
For Caruso alone, it's led to opportunities to share her abalone restoration methods with communities far and wide.
"It moves my small little world of what I'm doing here in Orange County, California, across the entire globe," she said. "That's one of the beautiful things about our partnership."
Check out all of the different eco-conscious apparel options available from Waterlust to help promote ocean conservation.
Melissa Smith is an avid writer, scuba diver, backpacker, and all-around outdoor enthusiast. She graduated from the University of Florida with degrees in journalism and sustainable studies. Before joining EcoWatch, Melissa worked as the managing editor of Scuba Diving magazine and the communications manager of The Ocean Agency, a non-profit that's featured in the Emmy award-winning documentary Chasing Coral.
Even though Elon Musk once said that Donald Trump "doesn't seem to have the sort of character that reflects well on the United States," the Tesla/SpaceX CEO is joining the president-elect's Strategic and Policy Forum, an advisory board for the president on business issues.
Uber CEO Travis Kalanick and PepsiCo CEO Indra Nooyi were also named as strategic advisors on Wednesday.

"My Administration is going to work together with the private sector to improve the business climate and make it attractive for firms to create new jobs across the United States from Silicon Valley to the heartland," Trump said in a statement announcing the latest appointees.

Other high-profile CEOs on the 19-member Strategic and Policy Forum include Mary Barra of General Motors, Jamie Dimon of JPMorgan Chase & Co, Bob Iger of The Walt Disney Company, among others. The forum will be chaired by Stephen A. Schwarzman, who heads the investment firm Blackstone.
Members of the group will "be called upon to meet with the president frequently to share their specific experience and knowledge as the president implements his economic agenda," a media release explained.
Musk's willingness to take part in Trump's forthcoming administration—one that's filled with climate change deniers and fossil fuel barons, at that—is admittedly a head-scratcher. Similar questions were raised when Leonardo DiCaprio and Al Gore met with Trump and his daughter Ivanka. The Tesla boss is very outspoken on climate change issues and has built a renewable energy enterprise.
Elon Musk Unveils Tesla Model 3: Accelerating Sustainable Transport Is 'Important for the Future of the World' https://t.co/nTBlBqmKLE

— EcoWatch (@EcoWatch)1459735237.0
Musk is also a big proponent of a carbon tax to drive investments in clean tech. We have to "remove the effective subsidy of not pricing the damage done by carbon pollution," he said last year. Also, in an appearance in DiCaprio's climate change documentary Before The Flood, Musk said, "If governments can set the rules in favor of sustainable energy, then we can get there really quickly ... Only way to do that is through a carbon tax."
Trump, in contrast, famously believes that global warming is a hoax created by and for the Chinese. The hotelier has waged wars on windmills, calling them bird killers and a blight on the view of his luxury golf courses. As for solar, Trump said the booming sector is "so expensive" and "not working so good."
The president-elect also campaigned on slashing taxes across the board, axing President Obama's emissions regulations and exiting the historic 2015 Paris climate agreement.
11 Times Trump Said '#ClimateChange Is a Hoax' https://t.co/SOl5yV342U #debatenight @sierraclub @BillNye @elonmusk @LeoDiCaprio @algore @350

— EcoWatch (@EcoWatch)1474981280.0
However, a report from Recode suggests that Musk might use his clout to push for green initiatives. As Recode reporter April Glaser writes:
"Still, it's probably in Musk's favor to work with the incoming administration, especially as it starts to shape new policies that are dear to Musk's heart, like regulations to bring self-driving cars to U.S. roadways and whether to abide by the 2015 Paris climate agreement or pull out, a threat Trump made on the campaign trail.
"That doesn't sit well with Musk, who will likely urge the Trump administration to remain a signatory on the international climate accord. Reps for Musk did not immediately respond to request for comment."
Additionally, as Glaser notes, "Musk might be able to persuade the president-elect not to renege on the Paris agreement, which already lacks strong mechanisms for enforcement."
Glaser points out that secretary of state nominee/Exxon CEO Rex Tillerson—whose company announced its support of the Paris climate agreement and acknowledges the risks of climate change—also endorsed the idea of a national carbon tax.
Trump Taps Exxon's Rex Tillerson as Secretary of State, Confirms 'Support of Big Oil and Putin' https://t.co/OA47LMjMJ1 @OpenSecretsDC

— EcoWatch (@EcoWatch)1481666708.0
But as the New York Times argues, Tillerson might only support the Paris agreement and a carbon tax if it does not harm his company's bottom line.
"Will Mr. Tillerson try to persuade Mr. Trump to support the international climate accord reached in Paris? He might, but he would probably stress the importance of natural gas and methods to bury carbon emissions—policies that would not hurt fossil fuel industries," the newspaper of record writes.
After all, Exxon sells a product that fuels climate change and the company has spent years and millions of dollars funding climate change denial.
Yesterday, a number of Silicon Valley executives gathered at Trump's "tech summit" at Trump Tower in New York. The group included Musk, Jeff Bezos of Amazon, Timothy D. Cook of Apple, Sheryl Sandberg of Facebook, Larry Page and Eric Schmidt of Alphabet, Google's parent company, Satya Nadella of Microsoft and more.
Today's tech summit included productive discussions about job creation & economic growth. We're on track to make Am… https://t.co/IpFP8ZtYUg

— Reince Priebus (@Reince Priebus)1481745625.0
"I'm here to help you folks do well, and you're doing well right now and I'm very honored by 'the bounce'—they're all talking about 'the bounce' and I know everybody in this room has to like me a little bit, but we're going to try and have that bounce continue," Trump said at the summit. "Perhaps even more importantly we want you to keep going with the incredible innovation. There's nobody like you in the world. There's nobody like the people in this room."
Fifty eight organizations, led by the Sierra Club and ForestEthics, released an open letter today demanding that companies take climate action. The letter calls on U.S. corporations with trucking fleets join 19 leading companies in avoiding fuel from refineries that take Canadian tar sands. According to U.S. Environmental Protection Agency, tar sands release as much as 37 percent more carbon pollution than oil from conventional crude.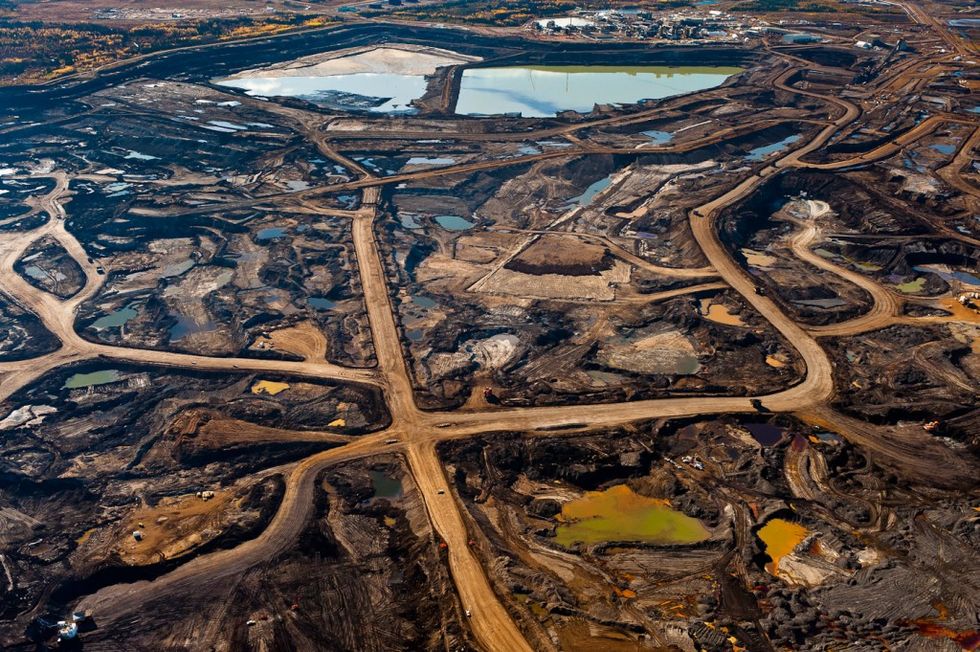 "U.S. corporations have a critical role to play in President Obama's ambitious plan to slash carbon pollution. With millions of cars and trucks, major corporations are in the driver's seat when it comes to raising fuel efficiency and rejecting the world's dirtiest fuel source," stated Michael Marx, the Sierra Club Beyond Oil campaign director.
"As Americans come face to face with the superstorms, wildfires and the other natural disasters that accompany climate disruption, it's becoming increasingly toxic for corporations to be associated with extreme climate pollution like that of the tar sands. People are demanding accountability, and smart companies will take heed," stated Todd Paglia, ForestEthics executive director.
Today's letter is part of a campaign led by the Sierra Club and ForestEthics to transform the environmental practices of some of the biggest consumers of fuel in America: corporations. This comes on the heels of Sierra Club and ForestEthics' launch of a campaign to force soft drink giants Coke, Pepsi and Dr. Pepper to stop using tar sands and raise the efficiency of their cars and trucks.
With 2.4 million members, the Sierra Club is the largest and oldest environmental non-profit in the U.S. and ForestEthics is the only international coalition exclusively devoted to creating a world where forests, wild lands and the people and wildlife that depend on them, thrive.
Visit EcoWatch's TAR SANDS page for more related news on this topic.
——–