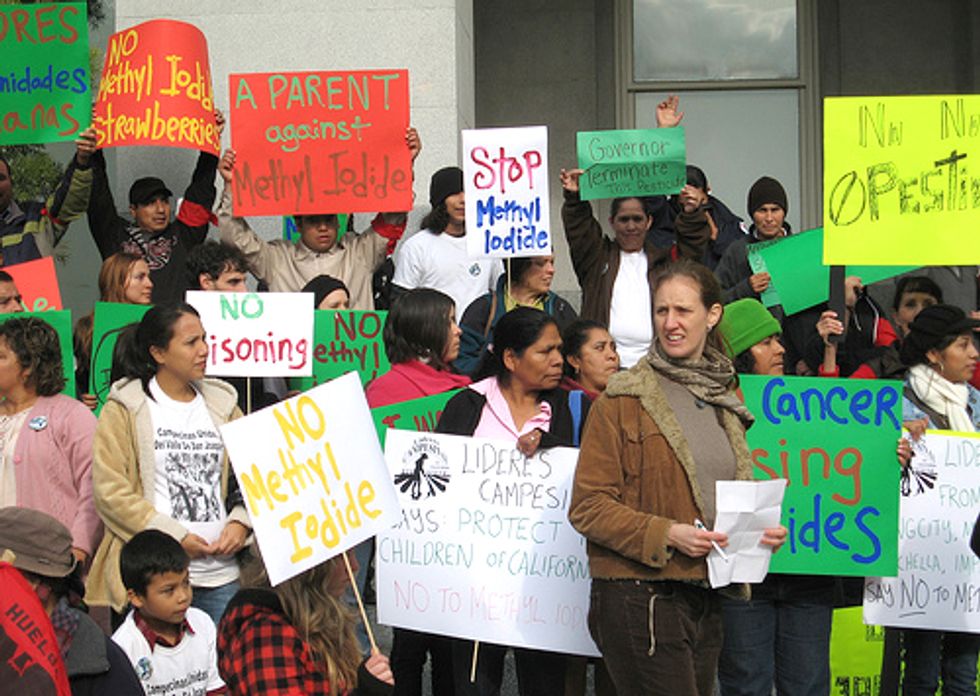 On Feb. 21, more than 60,000 people urged the new Director of the California Department of Pesticide Regulation (DPR) on his first day on the job to take action on cancer-causing pesticide methyl iodide. Representatives of environmental, health and farmworker organizations as well as tens of thousands of individuals urged Director Brian Leahy to repair the image of the tarnished department, criticized for ignoring science and failing to protect public health, by reversing the Schwarzenegger administration's controversial approval of the strawberry pesticide.
"Director Leahy must show his commitment to public health and scientific integrity by immediately suspending all uses of methyl iodide and reversing the approval of this cancer-causing fumigant," said Susan Kegley, PhD, consulting scientist for Pesticide Action Network. "In addition, he should support long-term efforts to partner with farmers and sister state agencies, to help transition away from pesticide fumigants and invest in healthy, sustainable agriculture."
Leahy, a former organic farmer and assistant firector of the Division of Land Resource Protection at the California Department of Conservation takes office after an eleven-month vacancy in the position of the state's chief pesticide regulator. He comes to office more than one year after the approval of methyl iodide—in December 2010, DPR approved the use of methyl iodide, ignoring concerns voiced by both a panel of independent scientists and the agency's staff scientists. One independent scientist has called it "one of the most toxic chemicals on earth," citing research that methyl iodide causes cancer, late-term miscarriages and contaminates groundwater.
More than 200,000 scientists, farmers, farmworkers, environmentalists and other members of the public sent comments to the U.S. Environmental Protection Agency (EPA) last May urging the federal agency to listen to the science and ban the pesticide nationally. Washington State used California's research to reject methyl iodide, and federal regulators have suggested that they are waiting on California in order to determine their next steps.
"Farmworkers are on the frontlines of pesticide exposure," said Maria Machua, spokesperson for United Farm Workers. "California's steps have immediate and direct impacts on the health and safety of farmworkers and their families living in the state, and sets precedence for farmworkers living across the country."
The petition signatures were gathered over the past two weeks, following news of Leahy's appointment, by a coalition of scientist, farmworker and environmental organizations, including the United Farm Workers, Pesticide Action Network, Environmental Working Group, Food & Water Watch, Center for Environmental Health, Change.org, Pesticide Watch, Worksafe and the coalition Californians for Pesticide Reform.
"This is an opportunity for a new day at DPR. Previous directors have all too often caved to industry pressure and rubber-stamped pesticides instead of safeguarding health and promoting a vibrant agricultural system," said Tracey Brieger, co-director of Californians for Pesticide Reform. "Sticking to the science and promoting safe alternatives will reduce pesticide use, protect children's health and support climate-friendly agriculture. With strong leadership, Leahy can make DPR an engine of innovation, economic stability and improved safety."
California leads the country in organic farming with more than 430,000 acres in production and average annual growth of 15 percent. In his new role, Director Leahy has a significant opportunity to work with growers and find opportunities to reduce pesticide use, promote organic production and strengthen California's vibrant agricultural economy.
In the first days of the Brown administration, Californians for Pesticide Reform, a coalition of more than 185 health and environmental organizations, submitted, a platform for pesticide. Healthy Children & Green Jobs: A Platform for Pesticide Reform outlines priority recommendations for how the Brown administration and Leahy can protect health and ensure the success of agriculture in California, including taking action on methyl iodide.
For more information, click here.
EcoWatch Daily Newsletter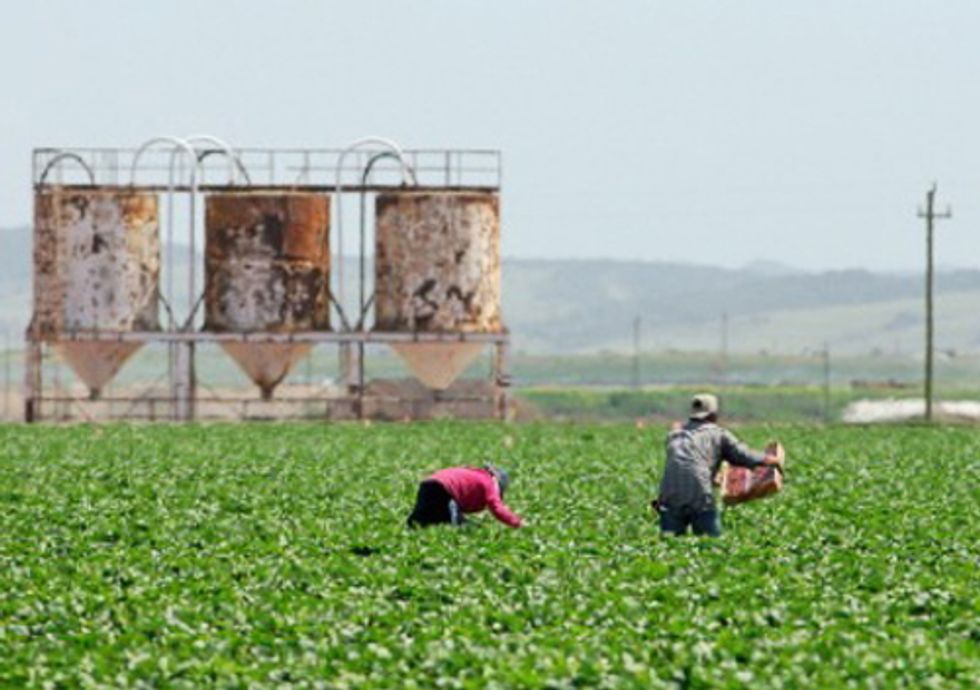 Last week, the Monterey County Board of Supervisors urged California Gov. Jerry Brown to reconsider the state's approval of the carcinogenic fumigant methyl iodide. Monterey County, one of the largest agricultural counties in California, joins Santa Cruz County in mounting pressure to re-examine the controversial decision to approve the toxic chemical as a replacement to the ozone-depleting methyl bromide. This news comes at the heels of the announcement earlier this month that Gov. Brown appointed Brian Leahy, a former organic farmer and the former assistant director at the California Department of Conservation, to head the state Department of Pesticide Regulation (DPR).
According to The Californian, agricultural interests present asked County Supervisors to take no action. However, with dozens of local farm workers in attendance pleading their case, the board passed the resolution on a 4-1 recommending that Gov. Brown take another look at the fumigant.
Methyl iodide is known to cause miscarriages, thyroid dysfunction, and cancer, and is applied to crops like strawberries and peppers. It was approved by California state pesticide regulators in December as an alternative to methyl bromide, an ozone-depleting chemical being phased out under international treaty.
In 2007, EPA fast-tracked the registration of methyl iodide for use as a soil fumigant, despite serious concerns raised by a group of over 50 eminent scientists, including six Nobel Laureates in Chemistry. These scientists sent a letter of concern to U.S. Environmental Protection Agency (EPA) explaining, "Because of methyl iodide's high volatility and water solubility, broad use of this chemical in agriculture will guarantee substantial releases to air, surface waters and groundwater, and will result in exposures for many people. In addition to the potential for increased cancer incidence, EPA's own evaluation of the chemical also indicates that methyl iodide causes thyroid toxicity, permanent neurological damage, and fetal losses in experimental animals." The letter concludes, "It is astonishing that the Office of Pesticide Programs (of EPA) is working to legalize broadcast releases of one of the more toxic chemicals used in manufacturing into the environment."
Several environmental groups sued the State of California last year in an attempt to reverse the state's approval of the chemical. Environmental advocacy groups and other opponents of methyl iodide use in the state have released documents detailing dissension in the ranks of DPR over the risk assessment of methyl iodide and its subsequent approval.
The ongoing court case helped reveal documents showing DPR manipulated data and that department scientists were worried risk managers minimized health dangers and didn't take strong enough steps to mitigate the threats. One of the released documents, a memo from one disapproving DPR scientist, chastised the agency for its cut-and-paste approach to calculations determining how big buffer zones should be to protect public health. During a hearing on Jan. 13, a California Superior Court Judge raised concerns about whether CDPR complied with its legal obligation to consider alternative options before approving the use.
Methyl iodide poses the most direct risks to farmworkers and those in the surrounding communities because of the volume that would be applied to fields and its tendency to drift off site through the air. Methyl iodide causes late term miscarriages, contaminates groundwater, and is so reliably carcinogenic that it's used to create cancer cells in laboratories. It is on California's official list of known carcinogenic chemicals and has been linked to serious risks in reproductive and neurological health. It is approved to be applied to California's strawberry fields at rates up to 100 pounds per acre on much of the state's 38,000 acres in strawberry production, totaling millions of pounds of use. Though methyl iodide will likely be used primarily on strawberries, it is also registered for use on tomatoes, peppers, nurseries, and on soils prior to replanting orchards and vineyards.
Organic certification standards require crop farmers to establish a preventive pest management strategy based on crop rotation, variety selection, biological controls, and sanitation and fertility practices. Synthetic materials that are allowed in organic crop production must satisfy a rigorous review process to insure their necessity, efficacy and safety to humans and the environment throughout their production and utilization. This review process must be updated every five years for the material to remain in use. A journal article from 2010 shows that organic farms produce more flavorful and nutritious strawberries while leaving the soil healthier and more biologically diverse than conventional strawberry farms. For more information on organic versus conventional agricultural practices, see Beyond Pesticides' guide, Organic Food: Eating with a Conscience as well as our organic program page. In addition to the personal health risks posed by pesticide residues, Beyond Pesticides urges consumers to consider the impacts on the environment, farmworker and farm families' health when making food choices.
For more information, click here.
stocknroll / Getty Images
More and more Americans are retrofitting their bathrooms with high-end bidets, allowing them to enjoy cleanliness and hygiene without creating as much paper waste. Not all bidets are created equal, however, and before deciding on a particular brand, it's important to do your homework. Take a look at our comprehensive Toto bidet review, and our reviews of Tushy and Omigo, to learn more about all of their options.

<h2>Toto overview</h2><p>Toto is a company that has been around for over 100 years. They aim to improve people's quality of life, and they do that specifically by focusing on bathrooms. To that end, Toto is known for high-quality products including toilets, faucets, showers, bathtubs, and bidets. </p><p>Toto has also expressed an admirable commitment to ecological stewardship. As <a href="https://www.totousa.com/about-toto/toto-way" target="_blank">their corporate website</a> notes, they strive to "protect the global environment by conserving finite natural resources and energy." One example of this is their donation of any imperfectly fired porcelain products for recycling and reuse as porcelain floor tile. Their <a href="https://www.totousa.com/about-toto/living-toto-library/smart-sustainable-packaging-solution" rel="noopener noreferrer" target="_blank">packaging</a> uses differing levels of recycled post-consumer paper products while their forklifts operate using <a href="https://www.totousa.com/about-toto/living-toto-library/plant-based-hydraulics" rel="noopener noreferrer" target="_blank">plant-based hydraulics</a> made from soybean oil instead of traditional hydraulic oil.</p><p>Toto is definitely a company with a superior reputation when it comes to bathroom accessories in general, and bidets in particular. Here are reviews of some of the specific products in the Toto line.</p><h2>Toto bidet reviews</h2><p>There are two different bidet product families available from Toto: standalone bidets and bidet seat attachments. Their standalone models include the Piedmont bidet, the Lloyd bidet, and the Clayton bidet, while their bidet toilet seat offerings include a wide selection in the popular Washlet line. Here are details on the three standalone options and three of the most popular bidet seat attachments.</p><p><em>Each product featured here has been independently selected by the writer. If you make a purchase using the links included, we may earn commission.</em></p><h3>Toto standalone bidets</h3><h4></h4>
<h3>Toto bidet seats</h3>