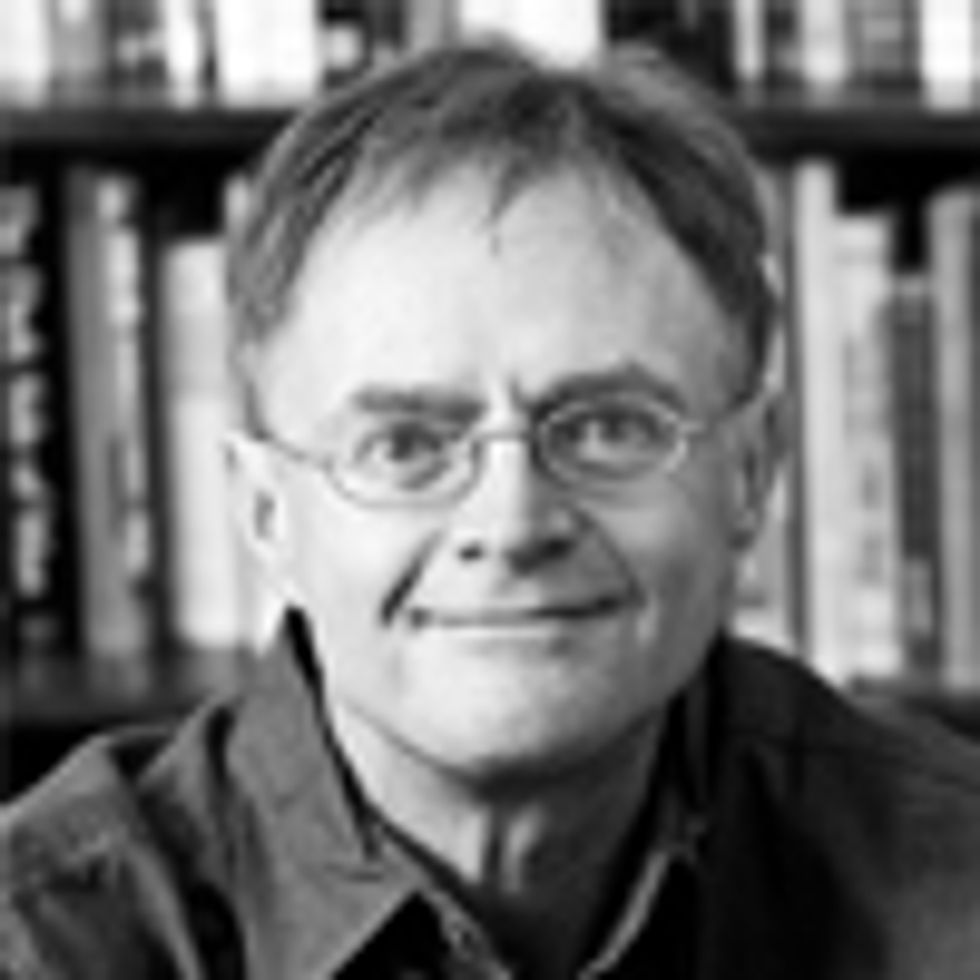 The New York Times reports that "The United States and Europe kicked off a joint effort on Tuesday intended to curb Russia's long-term ability to develop new oil resources." The new sanctions would deny Russia access to western technology needed to access polar oil and deepwater oil, as well as tight oil produced by hydrofracturing and horizontal drilling.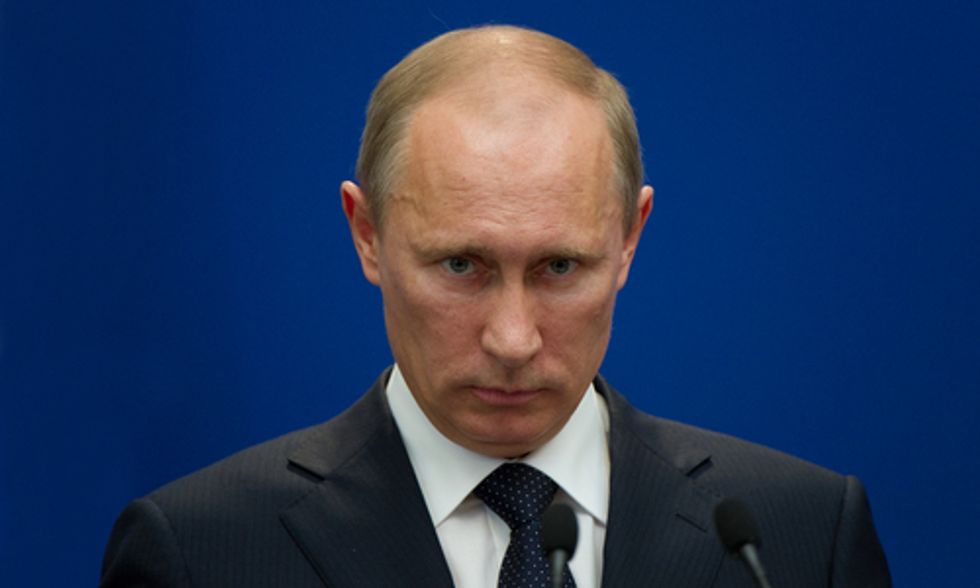 Evidently the purpose of the sanctions is merely to punish Vladimir Putin for resisting Western attempts to surround his nation with NATO bases and missiles. Frederic Legrand / Shutterstock.com
EcoWatch Daily Newsletter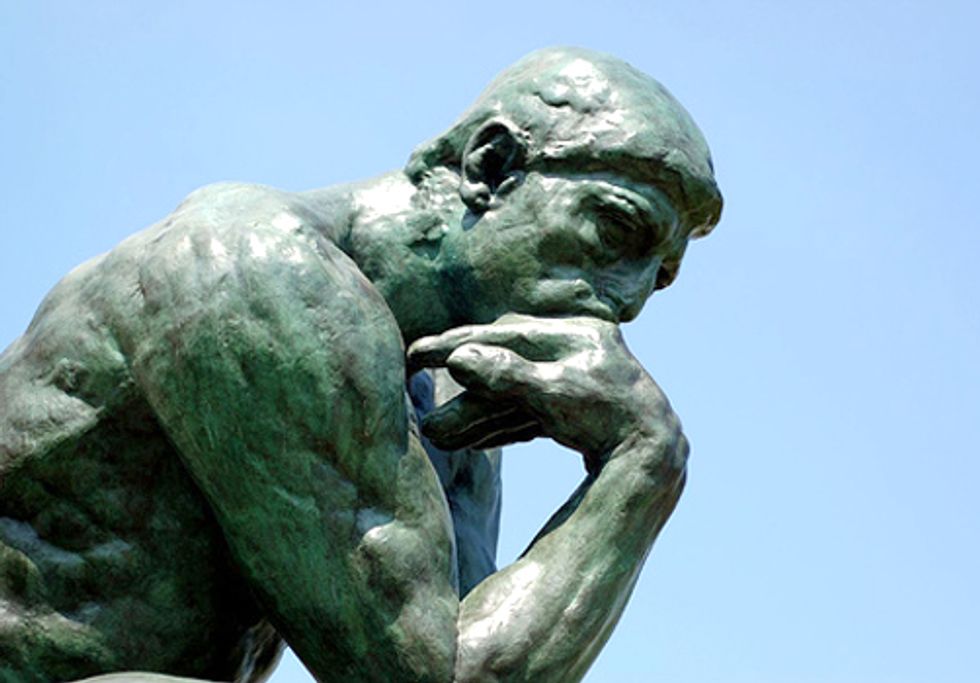 By Chris Martenson
"If you think you can or think you cannot, you are correct."
—Henry Ford
We are at a key turning moment in history. The actions that we will soon decide to take will be determined by the beliefs we hold. At a time like this, holding the wrong set of beliefs can destroy your wealth, sap your joy, and even prove to be life-shortening.
Knowing the 'right' sets of beliefs to hold is never easy, but it is especially difficult at large turning points because, by definition, most people are holding onto old beliefs. Running against the crowd is difficult for everyone and impossible for many.
Beliefs matter. A lot.
One's experiences in life and one's beliefs are closely connected, an idea that we explore in depth in our seminars. (The next ones are coming up in March and June). For instance, simply believing in the likelihood of success vastly improves the chances of good things happening to us and our accomplishing difficult tasks.
Whether it is the case that our beliefs help to shape reality, or merely how we experience it, is a distinction without a difference.
The tricky part is that our beliefs are usually hidden from us. Without conscious examination, they escape notice—lurking, shaping, and coloring our daily lives. Worse, beliefs quite often are not 'ours' in the sense that we create them by our individual thoughts and experiences. Instead, they are gifted to us by our society, culture, and media. Of course, when such beliefs are cynically shaped by those wishing to influence us (advertisers and big media come to mind), 'gifted' might not be the appropriate word.
Two very obvious efforts at shaping beliefs are currently being run in the U.S. by various parties wishing to shape our collective beliefs to their liking. One is around the 'necessity' and desirability of going to war with Iran. The second, which we will examine closely in this report, concerns Peak Oil.
Whether or not Peak Oil is true cannot possibly be in doubt. Within anything other than a geological frame of time, oil is a finite substance. When it is burned, it is gone. Without stretching our brains very far, it is easy to conclude that anything that is finite and consumed will someday be gone.
Peak Oil, then, is really an observation, not a theory.
It draws upon and has at its disposal decades of experience with individual oil fields, producing basins, and entire countries all repetitively experiencing the exact same behavior—Oil production increases up to a point, and then it decreases afterwards. This is not theory; it is a related set of facts and careful observations.
It's odd that so many people will trust a psychiatrist to administer psychoactive drugs, about which so little is actually known, yet distrust Peak Oil, an idea about which so much is definitively known. As you can see, I am of the opinion that for some people, information (or data) and beliefs have an awkward relationship at best, and a non-existent one at worst.
The only aspect of Peak Oil that is theory is the precise moment at which the world will experience its final peak in flow rates. When the peak will happen is a theory; Peak Oil itself is not. Because of this, it is flow rates that we care most about, which constitute a description of quantity. But we need to also concern ourselves with the net energy returned from the oil we expend effort to obtain, which is a matter of the quality of the oil.
Those are the two "Q's" that matter. Quantity and quality.
Given all this, note the headlines of the next two linked articles that recently appeared in the news media. Ask yourself, What sorts of beliefs are they reinforcing? And which ones they are minimizing, if not attacking?
The End of the Peak Oil Theory

Feb. 16, 2012

If you haven't noticed, the oil apocalypse has been delayed—again—and the doomsday predictors are undoubtedly eating crow while they concoct another mega disaster. "Peak oil," the theory that oil production will soon hit a peak and begin declining, sending the world into an economic disaster, failed to live up to its hype again.

It's amazing how fast perceptions of our energy future can change. One day prevailing wisdom tells us that energy costs are going to rise uncontrollably as oil production declines and new energy sources fail to live up to their promise. The next, our problems are solved, and our reliance on foreign oil appears to be evaporating before our eyes.

(Source)
Citigroup Says Peak Oil Is Dead

Feb. 17, 2012

Citigroup announced to the world Thursday that peak oil is dead. The controversial idea that world crude oil production is almost at its peak and will soon begin an irrevocable long-term decline has been laid to rest in the highly productive shale oil formations of North Dakota, with potentially big consequences for oil prices, the bank said.

"The belief that global oil production has peaked, or is on the cusp of doing so, has helped to fuel oil's more than decade-long rally," Citigroup said in a note to clients. "This is now all changing because of what is happening in North Dakota," where new technology has led to a large and unexpected surge in oil production from shale rock.

After decades of decline, "U.S. oil production is now on the rise, entirely because of shale oil production," said Citigroup. Shale oil could add almost 3.5 million barrels a day to U.S. oil production between 2010 and 2022 and has already slashed 1 million barrels a day from U.S. oil imports. One day it may allow the U.S. and Canada to be self-sufficient in oil, it said.

(Source)
Obviously the idea of Peak Oil as a concept is directly under attack in these articles, but there are a host of underlying beliefs in play as well. One concerns the ability of the U.S. (once again) to become self-sufficient in oil by applying a bit of good old-fashioned ingenuity and a healthy slathering of high technology.
Another seems to be the belief that we might not have to change our ways after all; that the energy will be there in sufficient quantity (and quality!) to support an indefinite continuation of past consumption and growth far into the future. Don't worry, be happy is the message.
Avoiding Propaganda
The definition of propaganda is "a form of communication that is aimed at influencing the attitude of a community towards some cause or position." It usually involves the selective use of facts or the avoidance of appropriate context, coupled with loaded messages and words, in order to elicit an emotional rather than rational response.
Whether the goal is to lead an otherwise unwilling populace towards war or to drive the purchase of a new car, propaganda is not only alive and well, but getting steadily better. Consider it a technology; like any technology, it is constantly being refined using the latest and greatest research, studies, and testing.
If you'd like to parse the articles further, go back and re-read them, looking for 'shaping' words that create impressions and are designed to elicit confidence, exude authority, or in other ways bypass the reader's own critical thought processes. Examples of such words and phrases would be 'controversial,' 'concoct,' and 'laid to rest.' These are not neutral words, but heavily biased ones, and we are so surrounded by them in what otherwise appear to be (and should be, ideally) informational articles that they often escape notice.
The emotions being evoked possibly include—feeling silly for holding the wrong ideas (a form of social shame), anger (at being grievously misled by those nasty "Peak Oilers"), and elation ("Yay! No changes necessary!").
These same sorts of emotional devices are constantly at work in the fields of finance, politics, investing, and advertising. Propaganda is a means to an end, and some argue that it can be beneficial if it moves us towards a better future and/or outcome.
But the risk here is that we are faced with propaganda that is sending the exact wrong messages at a very critical time.
What Could Possibly Go Wrong?
For a moment, let's accept the emotional premise of the above articles and shape our decisions around the idea that Peak Oil has been debunked and is a failed concept. What would change?
For starters, we can drop our concerns about the implications of steadily rising energy prices. Instead of buying smaller cars, more efficient homes, and placing our investments in those sectors that will prove resilient to higher energy costs, we can just go back to ignoring energy costs as a factor, content with knowing that they will be going down, not up.
Next, we can dispense with any concerns we might have had about how we will grow the economy going forward. Because you need energy—especially oil—to grow an economy, we can wholeheartedly invest in the stock market, confident that growth will once again emerge as it always has, unchanged and unfettered. Ten percent real, annualized returns are coming back.
The relief at being able to count on the future resembling the past, only bigger and presumably better, is palpable and seductive.
The only problem here is, what if that view of the future is wrong? Then what?
Everything.
All your plans for happiness, safety, wealth, and comfort go right out the window.
And the odd part is that adjusting to the idea of Peak Oil when it can nudge you towards using less energy more efficiently is just good business and good wealth preservation practice under any circumstances, with high oil prices or low. It really makes no sense to internalize any messages that seek to belittle Peak Oil. In fact, it makes sense to spot them and reject them as rapidly as possible. The risks are just too asymmetrical
Is Peak Oil Really Dead?
Okay, now it's time for a little data to put the above claims of Peak Oil being dead into proper context. In Part II of this report we'll examine the data more closely, but for now this chart from the U.S. Department of Energy should suffice to show where we are in terms of the U.S. oil production story.
Yes, the Bakken could produce as much as 2 million barrels per day (bpd) up from roughly 500 thousand bpd, maybe as much as 3 million bpd, but the U.S. imports roughly 8 million bpd today under even severe economic conditions, and as much as 10 million bpd under happier economic conditions.
The Bakken and other shale plays are simply not going to replace all of that—ever. Note, too, the slope of the line before the 'Bakken bump,' and observe that whatever gains are realized from shale oil will be fighting depletion losses from the rest of the tired fields under production.
And the Bakken will someday peak, too, and then where will we be? In the same place as before, wondering where we are going to get our next fix.
A Better Narrative
I would not mind the excitement over the Bakken as much as I do if it came along with a suitable narrative that made sense. Something along the lines of, "The Bakken is very exciting because it offers us the chance to use domestic supply to begin to move away from our national oil dependence and towards a more sustainable energy future, one where we are not shackled to the need for endless production increases to fuel exponential economic growth. This transition will even make our monetary system much more healthy and robust."
But it is never packaged that way. Instead the message is always something like, "Don't worry, be happy (and just get back to whatever it is you do, and be sure to shop a lot)!"
At the very least, the Bakken should be telling the authors of the above articles and positions something quite different than what they are relating. For one thing, the amount of technology and constant expertise involved in squeezing the oil out of the formation clearly tells us that the easy, cheap oil is gone.
The complexity is on display if one just bothers to look. Here's a prime example relating to new attempts to squeeze more oil out of the tight shale formation:
While PetroBakken is bullish on dry natural gas injection, the company isn't ruling out the possibility of injecting water-or other fluids-for future projects in other areas of the Bakken.

PetroBakken is using the pilots to test different concepts or well configurations. For example, in the second pilot-which will inject natural gas at a rate of about two million cubic feet per day—gas will be injected along the entire horizontal section of the injection well, so the flood front will hit the toe of each of four perpendicular producing wells.

"As gas breaks through at the toe of each well, we have the ability to simply plug off the toe area of the producing horizontal well and mitigate the cycling of the gas at that port," LaPrade explains.

"The front would continue to move along the horizontal producing leg to the next port, where we would again plug that port off as the gas breaks through."

Typical wells in the Bakken come in at an average 200 barrels of oil per day and decline about 70-75 per cent in the first year before flattening out at 30-40 barrels per day.

(Source)
I think this is incredible ingenuity, and I admire the creativity and engineering on display. But all of this effort to fight the natural tendency of a Bakken well to produce at 30-40 bpd clearly is not the same thing as chunking a vertical well a thousand feet down and getting 1,000 to 10,000 bpd flow rates. The cost to produce a unit of energy is much higher in the Bakken case than in traditional, historical oil plays.
That is, net energy is lower than in the past, which cycles us back to the quality argument. The difference between cheap and expensive oil is important and clearly on display here, but that subtlety has somehow eluded the authors of the above articles.
Conclusion
Efforts are underway to convince the general populace that our energy concerns are a thing of the past and that the new energy discoveries in the Bakken and other shale formations have proven Peak Oil to be a mistaken idea. Some efforts go even further and flatly state that energy independence is right around the corner.
Nothing could be further from the truth. 
There is a very clear relationship between economic growth and sufficient quantities of high quality energy. A crude measure of energy quality is its price. The lower the price for a unit of energy, the higher its quality (or net energy), but this is a very crude measure that can and often is heavily distorted by subsidies, market pressures, and other factors. As we squint at the world price for oil and note that Brent today is trading at $120 per barrel, it is clear that this high price is signaling that energy is now more expensive than it used to be.
By adopting the belief that Peak Oil has been debunked, one runs the risk of missing the larger story that our current economic model is unsustainable. And that stocks and bonds and other traditional investments that derive a large portion of their current value from expectations of future growth simply may not perform anything like they have in the past. And worse, that recent and continuing efforts to revive the old economy by printing money risk the destruction of the money system itself.
Given this all-too-human tendency to attempt to preserve the status quo, in this case by printing money, I must reiterate my advice to be sure that gold forms a significant portion of your core portfolio.   
In Part II: Preparing for a Future Defined by Peak Oil, we do the math to show that even using the rosiest estimates, there is no way for the Bakken field to get the U.S. anywhere close to "energy independence" nor stave off the arriving society-changing impact of Peak Oil. 
If that's the case, then what's to be done?
Now, more than ever, is the time to develop a full understanding of what the arrival of Peak Oil will do to world economies, financial investments like stocks and bonds, and our energy-indulgent way of living. As I have been writing for some time now, the next twenty years are certain to be quite different from the past twenty. Use the time you have now to invest in the pursuits—and there are many—that will reduce your vulnerability to the effects of rising energy costs, and learn that prosperity in such a future is possible if we lay the groundwork for it now.
For more information, click here.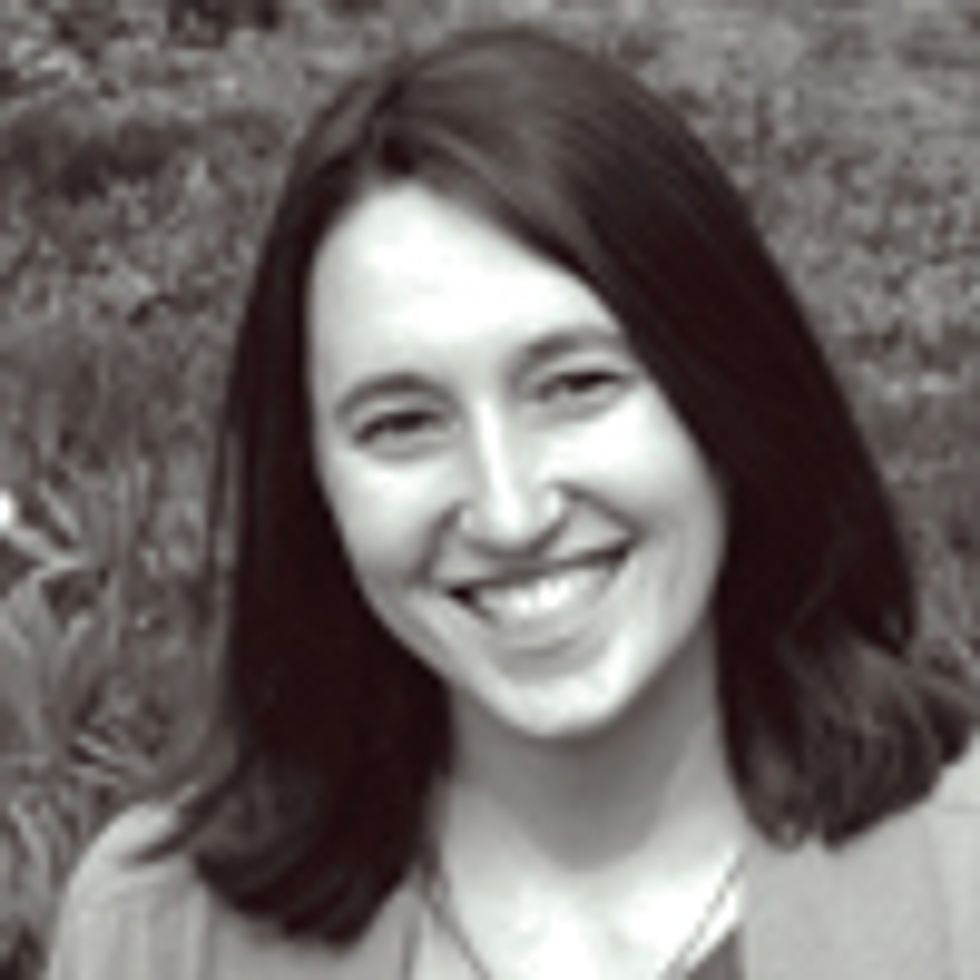 "I don't think there will ever again be sustained economic growth."  —U.S. Rep. Roscoe Bartlett (R–MD)
 "We need to recognize that the U.S. economy is no longer capable of growing at three percent per year."  —Jeff Rubin, former chief economist, Canadian Imperial Bank of Commerce (CIBC)
If there is one unshakable belief in America today it's that the U.S. economy can and must continue to grow.
That's why the messages delivered in November in Washington D.C. at a gathering of oil geologists, scientists, economists and others challenging that core belief went largely unheeded in the nation's capital.
The approximately 300 people who attended the 7th Annual Conference of the Association for the Study of Peak Oil–USA (ASPO-USA) in the shadow of the U.S. Capitol were told that economic growth is no longer possible as oil production flattens and declines, that U.S. energy independence is impossible and that domestic shale gas will fall far short of fueling American prosperity even while polluting the nation's vital aquifers.
"This is a place where facts don't have the weight I would like them to have," one congressional staffer said of Washington while meeting on Capitol Hill with a delegation from the ASPO-USA conference, held over three days at the nearby Hyatt Regency with its opening session at the Congressional Auditorium in the U.S. Capitol.
The facts presented at the conference, titled Truth in Energy, were grim. Global conventional oil production has reached a plateau after 150 years of fueling the fastest and greatest growth in history, according to various speakers, and as production heads into irreversible decline, Americans should prepare for a future of fewer jobs, less money, reduced mobility and dramatically diminished energy use.
Despite repeated conference invitations to the U.S. Department of Energy, no department representative attended, nor did a major media outlet provide coverage. Inside the Beltway, awareness of concepts like "peak oil" and "net energy" lags behind, leading to misguided and ultimately, futile, policy attempts to prolong oil-fueled prosperity.
"Oil prices affect the speed the economy can grow," Rubin, the former CIBC chief economist, told conference goers, adding that printing money through monetizing debt or quantitative easing would not fuel economic growth like cheap energy.
"With oil over $100 per barrel, the U.S. economy stops growing," echoed another speaker, Richard Heinberg, author of The End of Growth: Adapting to Our New Economic Reality. "There is no liquid fuel substitute for oil," he said.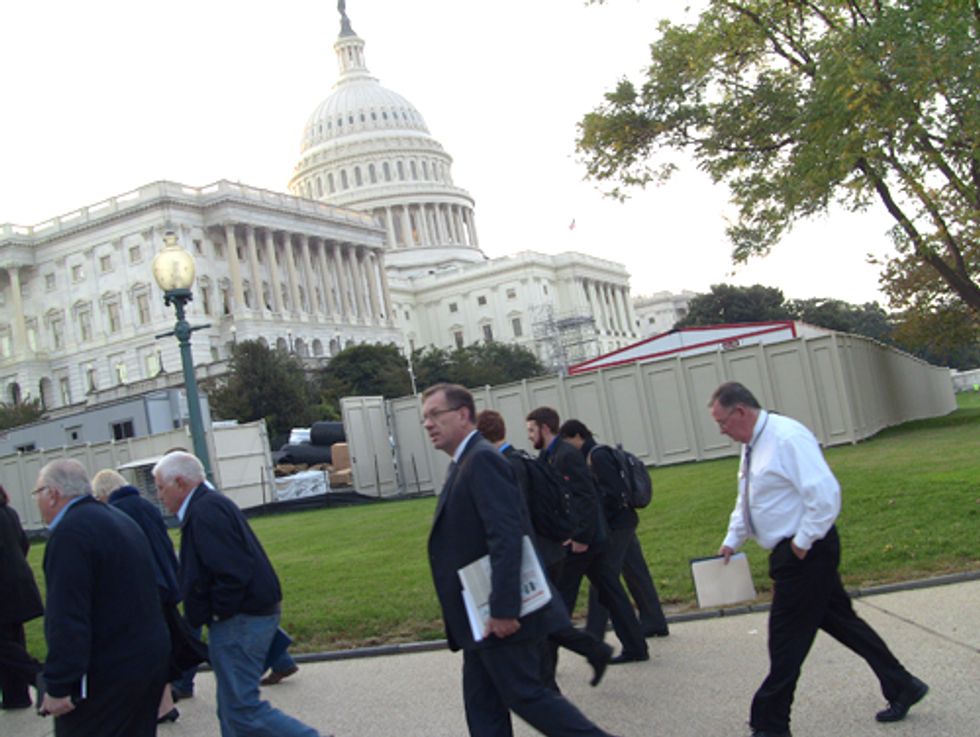 Oil reservoirs are exhausted at a predictable rate. Likewise, we can track how fast the planet's finite pool of petroleum is being depleted. And over the last few years, global oil production stagnated while the thirst for oil grew in developing (and populous) nations like China and India. This imbalance between supply and demand has given us recession-inducing high oil prices, conference goers were told. Those facts are not frequently disputed.
While not in attendance at the conference, influential energy industry consultant Daniel Yergin had his views challenged. Yergin argues that unconventional fossil fuels, new extraction techniques and biofuels will bridge the energy gap. But peak oil analysts at the conference insisted that those options are taking an increasing amount of energy inputs to yield the same amount of useful energy, a phenomenon known as declining net energy. As a result, there will be far less available energy.
In the U.S. in 1930 it took one barrel of oil equivalent to extract 100 barrels of oil from the ground. Today, the U.S. imports oil that yields just 19 barrels for each barrel of oil equivalent invested, despite advances in oil drilling technology and vast capital investments. Extracting the oil from unconventional formations like tar sand and oil shale takes even more energy and by some estimates, ethanol takes more energy to produce than it provides in fueling vehicles.
If Yergin, as well as Energy Secretary Steven Chu and Senate and House members, understood the simple concept of net energy, they might see that the growth fueled by cheap and easy-to-extract oil is coming to an end because alternatives to oil fall far short of meeting current energy demand. Such an understanding is also lacking among policy wonks who debate over small changes in efficiency as well as among environmentalists and Wall Street occupiers—all of whom live in communities lacking the resiliency and self-sufficiency to survive the end of the global growth economy.
The day before the conference began, a group of attendees, including myself as an ASPO-USA board member, met with congressional staffers to try to convince them, and their bosses, to at least be a little concerned about peak oil's growth-busting potential. Congress was not by itself to blame for this lack of concern, we said, because the U.S. Energy Information Agency (EIA) annually publishes misleading production forecasts.
The week prior, ASPO-USA held a press conference on the steps to the Department of Energy calling out the agency for its false data, demanding Secretary Chu respond to facts that fly in the face of his DOE analysis, and urging the DOE to create a plan to deal with oil supply disruptions
and long-term oil shortages.
"Pushing producers to be more transparent in their oil data sets is like slamming your head against a wall," another congressional staffer told us during the briefings. But it's one thing for OPEC and oil-producing nations like Saudi Arabia and Russia to lie to us, and another to be deceived by our own government.
During our congressional briefings, it felt like we were the ones slamming our heads against the wall. We were told that:
• Ethanol could free America from its dependence upon foreign oil (while at the conference chemical engineer and energy analyst Robert Rapier noted that turning all arable land in the world into biofuels would replace only 40 percent of global oil).
• Oil companies (while not acknowledging the growth killing potential of declining conventional oil production) are using the peak oil argument to speed development of unconventional fuels.
• We will always need to build more roads for more vehicles, that shale gas and "clean" coal will power America (and pollute the climate) for centuries, and that the strategic petroleum reserve is more than adequate to handle oil shortages, including if the strategically vital Straight of Hormuz leading into the Persian Gulf was blocked.
• In sum, there is no short-term oil supply problem, and there will be no long-term one.
It is not surprising that those in the seat of power won't touch peak oil. After all, as the energy available to our society diminishes year after year, collapse is inevitable. And collapse runs contrary to the story of American ingenuity and triumph. As retired CIA analyst and now journalist Tom Whipple pointed out at the conference, America's most dominant religion is not Christianity but the belief in economic growth, and those who contradict that core belief are heretics.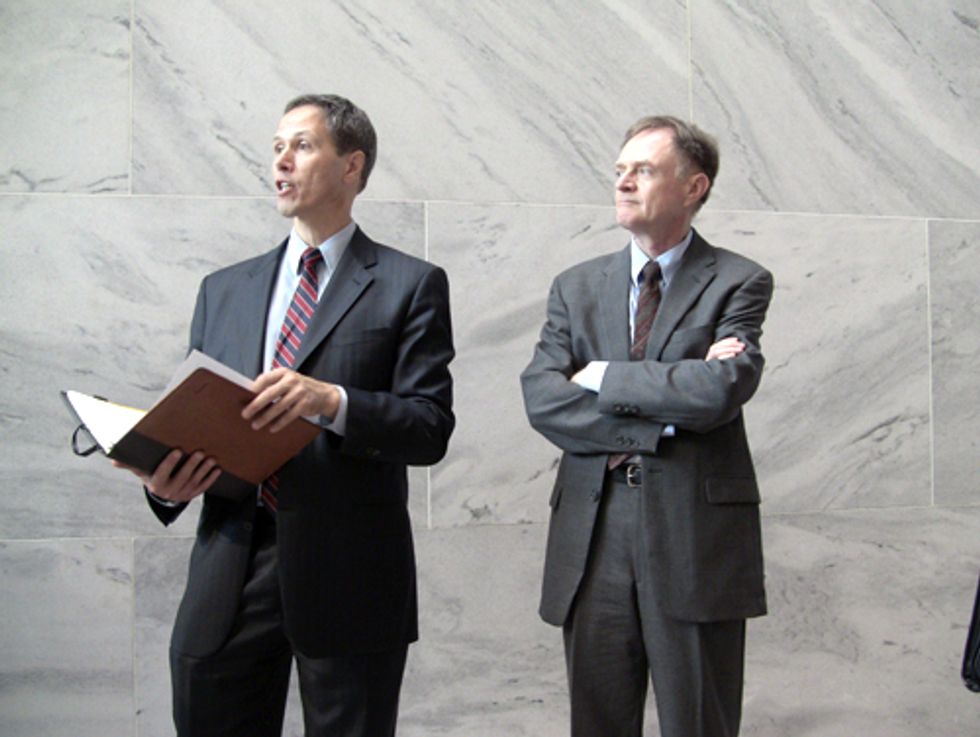 Preparing for a post-growth society might not be popular, but conference attendees nonetheless got a dose of suggestions. Agricultural researcher Wes Jackson maintained that soil is more important than oil and suggested a sustainable agricultural system based upon perennial polycultures
which use many crops within the same space to feed people, rather than rely on such annual monocultures as corn, now increasingly turned into ethanol to feed cars.
"The number one killer of our continent has been the corn plant," Jackson said, adding that this commodity crop has eroded our once nutrient-rich soils, which prospered in diverse ecosystems. "The only true economies are natural ecosystems," he said.
People have to take care of essential needs in their communities, according to several conference speakers, and should learn how to live off of contemporary energy (sun, wind, water) rather than finite, depleting ancient underground energy stores (fossil fuels).
"Our fetish in the modern world is having energy available on demand—we've built our life around that," said author and conference speaker John Michael Greer. "But the rest of the world has dealt with a world where you use energy only when it's there."
Contrary to some claims at the conference that clean, renewable energy can provide as much energy to power industrial society as fossil fuels, Greer and others argued that one way or another we will have to live with far less energy and that hoping for a green utopia, rather than building household and local resiliency in the face of peak oil, is more likely to end in misery and despair.
Greer said the "alternative to industrial society is not living in caves." As he sees it, the alternative is returning to a normal, far less energy-intense human existence.
Sociologist William Catton referred to our abnormal, energy appetite as Homo Colossus. "We were becoming a different kind of creature," he said of the dawn of the fossil-fuel era, adding that the average American today is equivalent to a 41-ton dinosaur in daily energy use.
As global oil extraction declines, economic growth halts and ecological deficits mount, Americans face a moral choice, Catton said. "We have to forgo luxuries, or others will forgo necessities," he said.