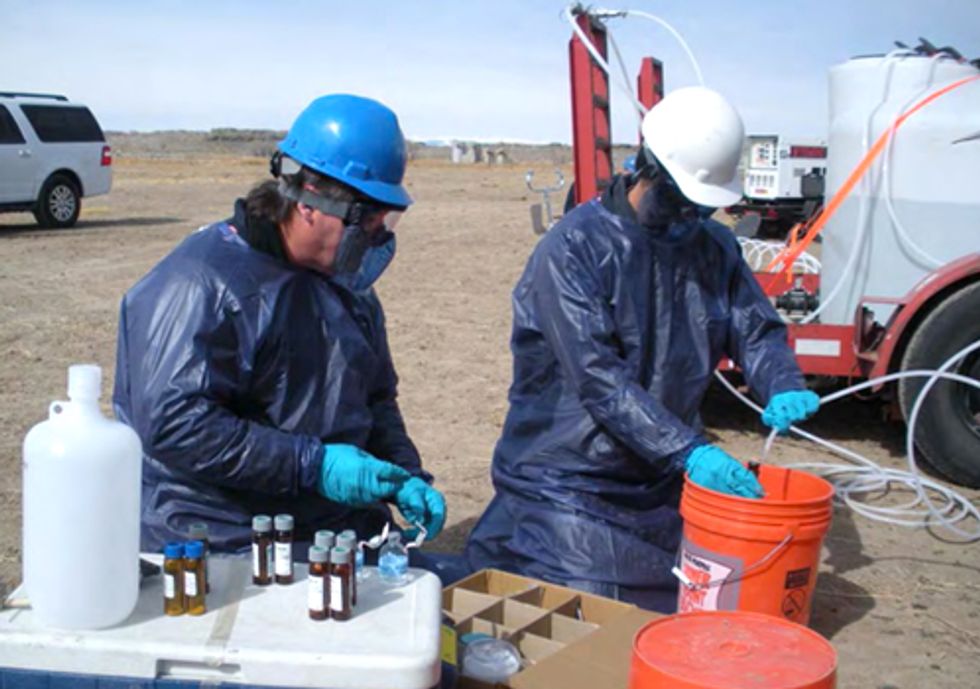 On Jan. 17, Pavillion Area Concerned Citizens (PACC) denounced attacks from the oil and gas industry and the state of Wyoming in a letter to the U.S. Environmental Protection Agency (EPA) regarding its investigation of contaminated drinking water wells in Pavillion, Wy. EPA test results show that hazardous chemicals, commonly used in oil and gas development, contaminated the wells. 
Powder River Basin Resource Council (PRBRC) and Earthworks' Oil and Gas Accountability Project applauded PACC for its letter and launched a national sign on letter campaign urging the EPA to continue with its rigorous investigation and to identify the cause of the contamination.
In December 2011, the U.S. EPA released the draft report of its scientific investigation into the connection between oil and gas development and contamination of drinking water wells. After initial testing in August 2010, the Agency for Toxic Substances and Disease Registry (ATSDR) urged residents not to drink their water or use it for cooking. If the U.S. EPA's draft is finalized with its current conclusions, it will definitively refute the oil and gas industry's claim that hydraulic fracturing has never contaminated drinking water wells.
"Pavillion residents made continual requests for help from the state of Wyoming and industry before seeking assistance from EPA to address the contamination issues. For over 10 years the state refused to help us. That's when we went to the EPA. Now it appears the state is joining the industry in fighting this study tooth and nail," said John Fenton, Powder River Basin Resource Council board member and chair of Pavillion Area Concerned Citizens.
EnCana Oil & Gas USA, which owns and operates more than 200 gas wells in the Pavillion area, denies that drilling is to blame for the contamination, stating that many of the toxins "occur naturally." On Jan. 6, EnCana sent a letter demanding that the U.S. EPA suspend the public comment period on the report claiming that the agency didn't give the company copies of all the data it used to compile the report. Also last week, the Petroleum Association of Wyoming and Wyoming Water Development Commission accused the EPA of not following its own water-testing protocols by holding several water well samples two days too long before conducting tests.
 
PACC, PRBRC and Earthworks' Oil & Gas Accountability Project have long fought to require the regulation of fracking and full and public disclosure of the chemicals used in drilling operations.
"These accusations are a political ploy to cover-up the results and bring a halt to the study," said Gwen Lachelt, director of Earthworks' OGAP. "We've seen this time and again with industry shirking responsibility and the government turning its back on the people who bear the impact of energy development in our country," Lachelt stated.
"The EPA is conducting a scientifically sound investigation of the contamination in the Pavillion area," said Wilma Subra, chemist, president of Subra Company, and board member of the State Review of Oil & Natural Gas Environmental Regulations (STRONGER). "Holding the samples for a longer time did not compromise the results. If anything, longer hold times make the results less likely to indicate contamination," Subra stated.
 
"The American public needs to see this for what it is, a planned assault to undermine the Pavillion study and smear the EPA," said Deb Thomas with Powder River Basin Resource Council. "EnCana did get one thing right. The state of Wyoming should hold their own testing events to the same standards they're demanding from EPA. The state's test results should publicly release all critical information, including all the report-related raw data. That would allow all parties and citizens to understand what regulated and non-regulated chemicals are being found in our drinking water and aquifers."
The area under investigation just east of Pavillion is home to about 160 residents in the middle of the Wind River Indian Reservation, 150 miles east of Grand Teton National Park. Residents share their farming operations with more than 200 oil and gas wells that surround their homes. Toxic chemicals were found in nearly 9 out of every 10 wells sampled. In monitor wells drilled by the U.S. EPA, benzene, a cancer-causing chemical, was found at 50 times the limit safe for human health along with numerous other toxic chemicals including 2-BE, a chemical used in fracking operations. Through the years contamination has been suspected, EnCana supplied and halted drinking water service to residents. In 2011, EnCana tried to sell its entire Pavillion/Muddy Ridge gas field to Legacy Oil & Gas out of Midland, Texas. Legacy backed out of the sale in late November.
For more information, click here.
EcoWatch Daily Newsletter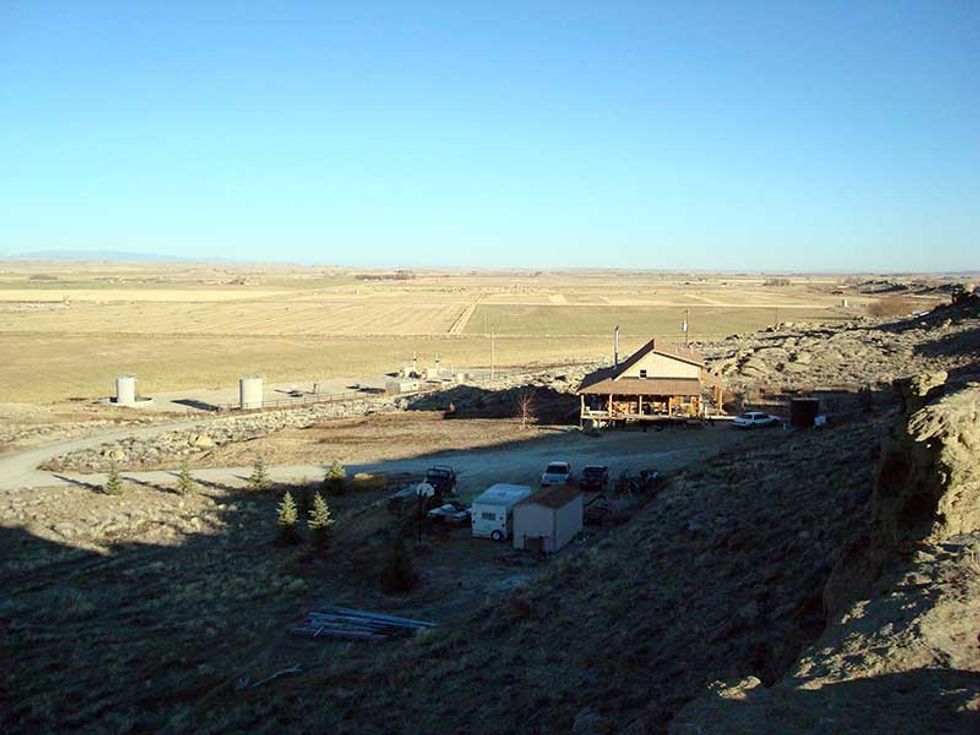 The U.S. Environmental Protection Agency (EPA) released a draft analysis of data Dec. 8 from its Pavillion, Wyoming ground water investigation. At the request of Pavillion residents, EPA began investigating water quality concerns in private drinking water wells three years ago. Since that time, in conjunction with the state of Wyoming, the local community, and the owner of the gas field, Encana, EPA has been working to assess ground water quality and identify potential sources of contamination.
EPA constructed two deep monitoring wells to sample water in the aquifer. The draft report indicates that ground water in the aquifer contains compounds likely associated with gas production practices, including hydraulic fracturing. EPA also re-tested private and public drinking water wells in the community. The samples were consistent with chemicals identified in earlier EPA results released in 2010 and are generally below established health and safety standards. To ensure a transparent and rigorous analysis, EPA is releasing these findings for public comment and will submit them to an independent scientific review panel. The draft findings announced Dec. 8 are specific to Pavillion, where the fracturing is taking place in and below the drinking water aquifer and in close proximity to drinking water wells—production conditions different from those in many other areas of the country.
Natural gas plays a key role in our nation's clean energy future and the Obama administration is committed to ensuring that the development of this vital resource occurs safely and responsibly. At the direction of Congress, and separate from this ground water investigation, EPA has begun a national study on the potential impacts of hydraulic fracturing on drinking water resources.
"EPA's highest priority remains ensuring that Pavillion residents have access to safe drinking water," said Jim Martin, EPA's regional administrator in Denver. "We will continue to work cooperatively with the state, Tribes, Encana and the community to secure long-term drinking water solutions. We look forward to having these findings in the draft report informed by a transparent and public review process. In consultation with the Tribes, EPA will also work with the state on additional investigation of the Pavillion field."
Findings in the Two Deep Water Monitoring Wells:
EPA's analysis of samples taken from the agency's deep monitoring wells in the aquifer indicates detection of synthetic chemicals, like glycols and alcohols consistent with gas production and hydraulic fracturing fluids, benzene concentrations well above Safe Drinking Water Act standards and high methane levels. Given the area's complex geology and the proximity of drinking water wells to ground water contamination, EPA is concerned about the movement of contaminants within the aquifer and the safety of drinking water wells over time.
Findings in the Private and Public Drinking Water Wells:
EPA also updated its sampling of Pavillion area drinking water wells. Chemicals detected in the most recent samples are consistent with those identified in earlier EPA samples and include methane, other petroleum hydrocarbons and other chemical compounds. The presence of these compounds is consistent with migration from areas of gas production. Detections in drinking water wells are generally below established health and safety standards. In the fall of 2010, the U.S. Department of Health and Human Services' Agency for Toxic Substances and Disease Registry reviewed EPA's data and recommended that affected well owners take several precautionary steps, including using alternate sources of water for drinking and cooking, and ventilation when showering. Those recommendations remain in place and Encana has been funding the provision of alternate water supplies.
Before issuing the draft report, EPA shared preliminary data with, and obtained feedback from, Wyoming state officials, Encana, Tribes and Pavillion residents. The draft report is available for a 45 day public comment period and a 30 day peer-review process led by a panel of independent scientists.
For more information on EPA's Pavillion groundwater investigation, click here.
For more information, click here.
Xsandra / Getty Images
Looking for ways to cut down on single-use plastic while grocery shopping? You may already have eco-friendly shopping bags, but bringing your own reusable produce bags is another easy swap.

According to the UN Environment Program, up to 5 trillion single-use plastic bags are used globally each year, and because of the material they're made from, most municipal recycling centers don't accept them (more on this below).
The most sustainable option is to skip the bag altogether. You can also make your own reusable produce bags out of old T-shirts. But if you'd rather purchase them new, here are our recommendations for the best reusable produce bags on the market today.
<p><em>Each product featured here has been independently selected by the writer. If you make a purchase using the links included, we may earn commission.</em></p>