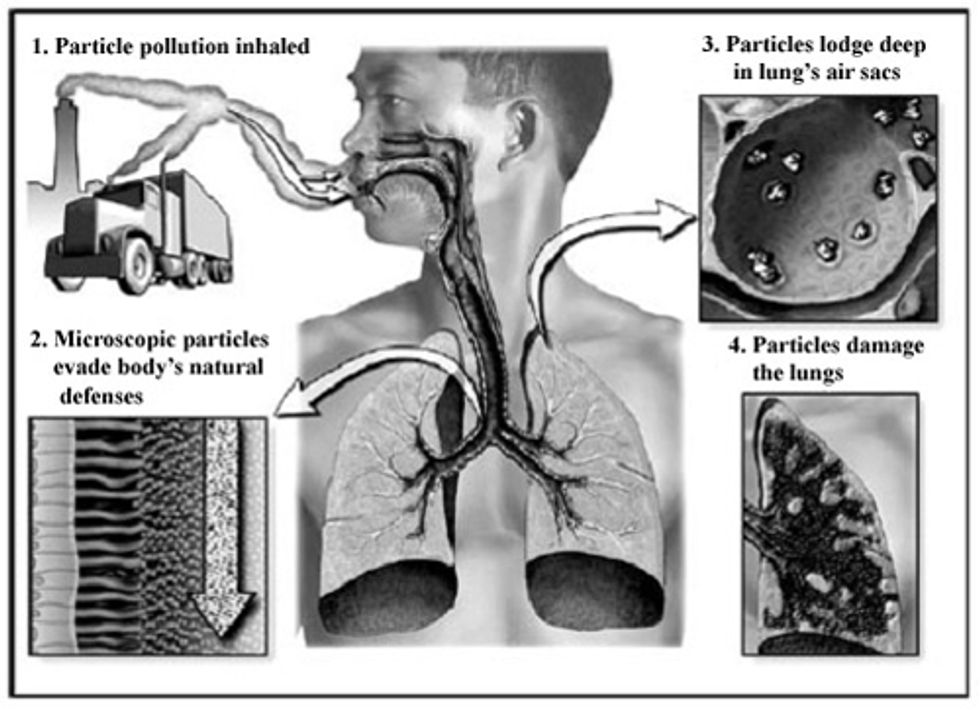 The American Lung Association and the National Parks Conservation Association filed a federal lawsuit on Feb. 14 to force the U.S. Environmental Protection Agency (EPA) to complete the required review of the need for stronger limits on the amount of soot, smoke and other airborne particles that endanger public health.
Airborne particulate matter is comprised of tiny particles of smoke, soot, metals and other chemical compounds emitted from sources like power plants, factories, and diesel trucks. Scientists say particulate matter, which can penetrate deep into our lungs, is one of the most toxic forms of air pollution.
The Clean Air Act requires EPA to review the science and update the National Ambient Air Quality standards every five years to ensure the public is protected by the best available science. The agency failed to meet the deadline in October 2011. EPA's failure to update these standards nationwide means that outdated limits remain in place even though they fail to protect public health. Those particularly hard hit by particulate pollution include children, seniors, people with lung disease, heart disease and diabetes, and low income communities. Without updated standards, millions of Americans will face continued risk from unhealthy levels of particle pollution. Stronger standards would drive cleanup measures nationwide that could prevent thousands of premature deaths annually, according to an analysis published in 2011.
The lawsuit, filed by the public interest law firm Earthjustice on behalf of both national, nonprofit organizations, asks the U.S. District Court for the District of Columbia to impose a deadline of October 2012 for EPA to complete its review of the National Ambient Air Quality Standards.
In a companion lawsuit filed last week, nearly a dozen state attorneys general also sued the EPA over this ongoing violation of the federal Clean Air Act.
"EPA let this deadline come and go but did nothing to address a growing health crisis," said Earthjustice attorney Paul Cort. "Meanwhile, thousands more Americans are getting sick and dying from the air they breathe. EPA needs to act now, do its job, and obey the law."
The health risks caused by breathing particulate matter are outlined in a recent study published by Earthjustice, the American Lung Association, and the Clean Air Task Force. The report, Sick of Soot, details how a reduction of soot in the air can prevent more than 35,000 premature deaths each year, decrease cases of aggravated asthma by more than one million, and save at least $280 billion in health care costs.
"Since the last review, we've learned a lot about how dangerous these particles are. It makes no sense to continue to base public health protections on outdated science," said Janice Nolen, assistant vice president of National Policy and Advocacy for the American Lung Association. "A stronger particulate matter standard would provide more protection to people across the nation from dangerous particles. Strengthening the standards drives the action we can take to prevent thousands of premature deaths and hundreds of thousands of asthma attacks each year. EPA needs to finish its job."
In 2006, EPA overruled its science advisors, who called for stronger pollution protections, and instead adopted the current weak particulate matter standards. In 2009, as a result of a separate legal challenge brought by these same health and environmental groups, a federal appeals court ruled that these standards were deficient and sent them back to EPA for corrective action. Since then, EPA has failed to propose new standards for particulate matter.
Airborne particulate matter is comprised of tiny particles of smoke, soot, metals and other chemical compounds emitted from sources like power plants, factories, and diesel trucks. Scientists say particulate matter, which can penetrate deep into our lungs, is one of the most toxic forms of air pollution. Particulate matter is also responsible for much of the haze that clouds many of our cities and parklands.
"These particles of pollution are a hazard not only to our health but to our environment as well," said Mark Wenzler, vice president of Climate & Air Quality Programs at the National Parks Conservation Association. "The same soot we breathe is also degrading the views, plants, and wildlife in our national parks. For the sake of our parks and their neighboring communities that depend on clean, clear air, it's time for EPA to get to work and clear the air."
For more information, click here.
EcoWatch Daily Newsletter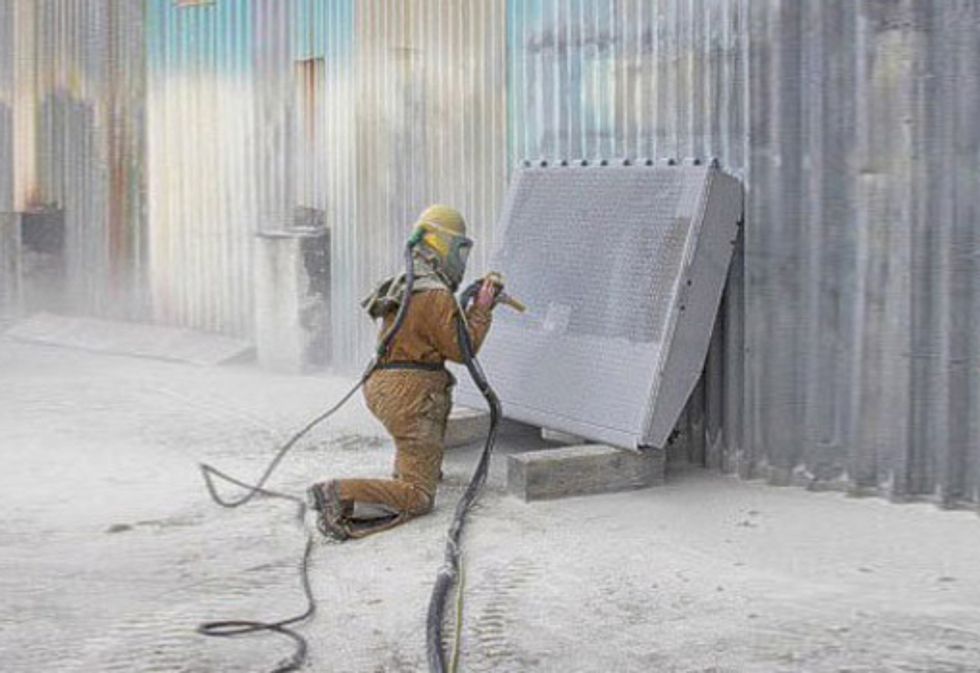 An extraordinary delay in the development of federal protections against exposure to crystalline silica is harming American workers, more than 300 public health scientists, doctors and occupational safety experts told President Obama Jan. 25.
In a letter, the group asked the president to intervene and direct the White House Office of Management and Budget (OMB) to complete its review of a proposed rule from the Occupational Safety and Health Administration (OSHA) to protect workers from exposure to the deadly dust "so that the public, workers, unions, public health experts and employers have the full opportunity to participate in the development of this important worker protection measure."  
Despite being required by executive order to complete its review of proposed rules within 90 days, OMB has held the rule for nearly a year, with no signal of when its review will be complete.
"This delay in action by OMB leaves workers at significant risk of disease and death," according to the letter. "It also prevents the rulemaking process from moving forward, obstructing public participation on this important worker safety and public health matter."
The scientists have joined the American Industrial Hygiene Association in questioning whether the delay is due to politics. The letter notes that OMB staff has held at least nine private meetings on the proposed rules, most of which involved individuals that represent companies with a direct financial stake in their outcome.
The rule has been in development for 14 years. On Dec. 21, 2011, the National Advisory Committee on Occupational Safety and Health wrote the secretaries of Labor and Health and Human Services to emphasize the importance of issuing the proposed silica rule "so that the public hearings and comment period can commence, and a final silica standard issued to protect workers from this serious workplace hazard."
"The White House's job is to coordinate the development of rules that protect the public, not to stand in their way," said Francesca Grifo, director of the Union of Concerned Scientists' Scientific Integrity Program. "The OMB is hundreds of days behind schedule, and every day these rules are delayed, more workers are at risk."
An estimated 1.7 million workers in the U.S. are exposed to respirable crystalline silica, a product of industrial processes like stonecutting, road building and sand blasting that can cause lung cancer, silicosis and other respiratory illnesses.
"Working in silica dust has left me with bad lungs," said Leonard Serafin, a former railroad worker with silicosis from San Bernardino, Calif. "Every day, I struggle to do activities because of my condition. I want to see that other people are protected from this dust—it's not fair to expose people to something this dangerous when they can be protected."
The Centers for Disease Control and Prevention report that about 200 workers die each year from silicosis, and studies estimate there are as many as 7,300 new cases of silicosis annually among U.S. workers. Most of the time, the prognosis is grim.
"When a person with silicosis starts to have trouble breathing, it is too late for effective treatment because the silica dust has caused permanent scarring of the lungs," said Dr. Robert Harrison, clinical professor of Medicine at University of California San Francisco and an occupational disease expert who signed the letter. "When I see a patient with silicosis, it's a stark reminder that our worker safety regulations are inadequate. Silicosis is 100 percent preventable."
Signers of the letter include public health and occupational safety advocates from 39 states and the District of Columbia along with several advocacy groups, including the National Council for Occupational Safety and Health, the Union of Concerned Scientists and Interfaith Worker Justice.
For more information, click here.
—————
The Union of Concerned Scientists is the leading U.S. science-based nonprofit organization working for a healthy environment and a safer world. Founded in 1969, UCS is headquartered in Cambridge, Massachusetts, and also has offices in Berkeley, Chicago and Washington, D.C.
waterlust.com / @tulasendlesssummer_sierra .
Each product featured here has been independently selected by the writer. If you make a purchase using the links included, we may earn commission.
The bright patterns and recognizable designs of Waterlust's activewear aren't just for show. In fact, they're meant to promote the conversation around sustainability and give back to the ocean science and conservation community.
Each design is paired with a research lab, nonprofit, or education organization that has high intellectual merit and the potential to move the needle in its respective field. For each product sold, Waterlust donates 10% of profits to these conservation partners.
Eye-Catching Designs Made from Recycled Plastic Bottles
waterlust.com / @abamabam
The company sells a range of eco-friendly items like leggings, rash guards, and board shorts that are made using recycled post-consumer plastic bottles. There are currently 16 causes represented by distinct marine-life patterns, from whale shark research and invasive lionfish removal to sockeye salmon monitoring and abalone restoration.

One such organization is Get Inspired, a nonprofit that specializes in ocean restoration and environmental education. Get Inspired founder, marine biologist Nancy Caruso, says supporting on-the-ground efforts is one thing that sets Waterlust apart, like their apparel line that supports Get Inspired abalone restoration programs.
"All of us [conservation partners] are doing something," Caruso said. "We're not putting up exhibits and talking about it — although that is important — we're in the field."
Waterlust not only helps its conservation partners financially so they can continue their important work. It also helps them get the word out about what they're doing, whether that's through social media spotlights, photo and video projects, or the informative note card that comes with each piece of apparel.
"They're doing their part for sure, pushing the information out across all of their channels, and I think that's what makes them so interesting," Caruso said.
And then there are the clothes, which speak for themselves.
Advocate Apparel to Start Conversations About Conservation
waterlust.com / @oceanraysphotography
Waterlust's concept of "advocate apparel" encourages people to see getting dressed every day as an opportunity to not only express their individuality and style, but also to advance the conversation around marine science. By infusing science into clothing, people can visually represent species and ecosystems in need of advocacy — something that, more often than not, leads to a teaching moment.

"When people wear Waterlust gear, it's just a matter of time before somebody asks them about the bright, funky designs," said Waterlust's CEO, Patrick Rynne. "That moment is incredibly special, because it creates an intimate opportunity for the wearer to share what they've learned with another."
The idea for the company came to Rynne when he was a Ph.D. student in marine science.
"I was surrounded by incredible people that were discovering fascinating things but noticed that often their work wasn't reaching the general public in creative and engaging ways," he said. "That seemed like a missed opportunity with big implications."
Waterlust initially focused on conventional media, like film and photography, to promote ocean science, but the team quickly realized engagement on social media didn't translate to action or even knowledge sharing offscreen.
Rynne also saw the "in one ear, out the other" issue in the classroom — if students didn't repeatedly engage with the topics they learned, they'd quickly forget them.
"We decided that if we truly wanted to achieve our goal of bringing science into people's lives and have it stick, it would need to be through a process that is frequently repeated, fun, and functional," Rynne said. "That's when we thought about clothing."
Support Marine Research and Sustainability in Style
To date, Waterlust has sold tens of thousands of pieces of apparel in over 100 countries, and the interactions its products have sparked have had clear implications for furthering science communication.
For Caruso alone, it's led to opportunities to share her abalone restoration methods with communities far and wide.
"It moves my small little world of what I'm doing here in Orange County, California, across the entire globe," she said. "That's one of the beautiful things about our partnership."
Check out all of the different eco-conscious apparel options available from Waterlust to help promote ocean conservation.
Melissa Smith is an avid writer, scuba diver, backpacker, and all-around outdoor enthusiast. She graduated from the University of Florida with degrees in journalism and sustainable studies. Before joining EcoWatch, Melissa worked as the managing editor of Scuba Diving magazine and the communications manager of The Ocean Agency, a non-profit that's featured in the Emmy award-winning documentary Chasing Coral.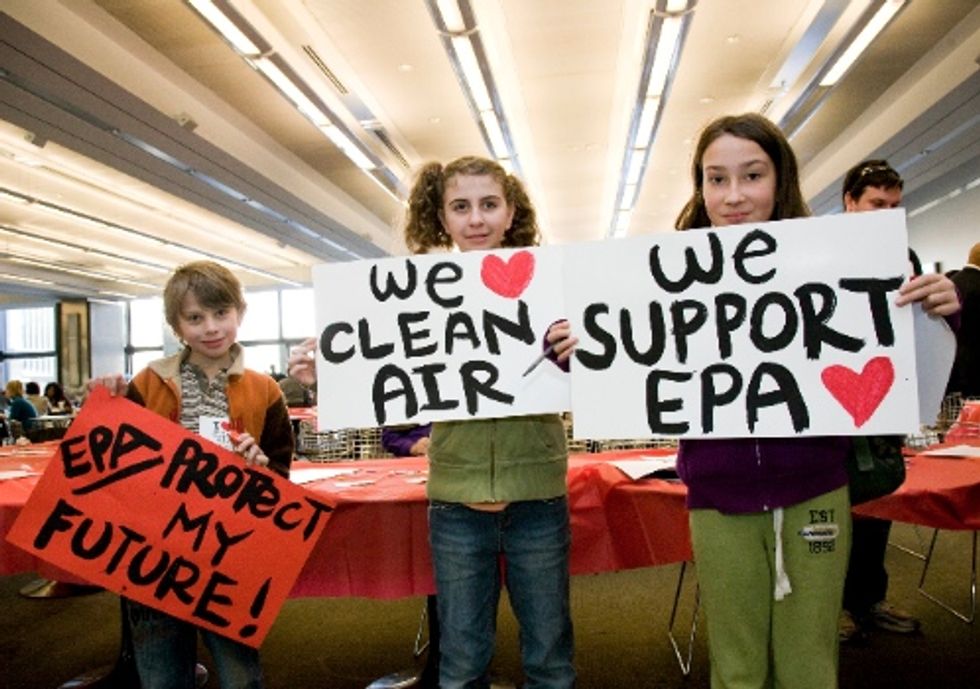 The Ohio Environmental Council (OEC) applauds the recent U.S. Environmental Protection Agency (EPA) power plant regulations that will reduce dangerous pollution such as mercury and fine particulates linked to asthma attacks, developmental disorders and preventable deaths.
"The U.S. EPA stood up against big polluter interests and did the right thing," states David R. Celebrezze, director of air and water special projects for the OEC.
The new U.S. EPA air toxic rule means that power plants will have to reduce their mercury emissions by 90 percent in three to four years. The new rules will also require scrubbers on power plants. Scrubbers are pollution reduction technology that will reduce harmful emissions of mercury, arsenic, chromium, nickel and acid gases.
Ohio's archaic fleet of power plants emit so much mercury and other pollutants, that Ohio ranks in the top five states in health impacts due to mercury and other emissions.
According to a study commissioned by the Clean Air Task Force, Ohio ranks second in the nation in state health impacts with 1,221 deaths, 835 hospital admissions and 1891 heart attacks. Additionally, Ohio ranks third in the country for state per capita mortality risk (2010 est).
"Industry will ballyhoo that this will close plants. What they don't tell you are some of these plants were probably going to close anyway," states Celebrezze.
Many Ohio metro areas rank near the top in the country in terms of city health impacts:
• #8 Cleveland-Elyria-Mentor
• #10 Cincinnati-Middletown
• #13 Columbus
In terms of metro area per capita mortality risk (est. 2010):
• #3 Steubenville-Weirton
• #5 Sandusky
• #7 Youngstown-Warren-Boardman
• #8 Mansfield
• #9 Springfield
Top power plants for health impacts (annual 2010)
• #3 in the country is the W H Sammis (Jefferson) County: 163 deaths, 124 hospital admissions, 268 heart attacks.
Mercury emissions harm public health. After mercury is emitted from power plants, it settles on plants and in our waterways. While in the water it turns into methyl mercury and is consumed by fish. Some of those fish are then consumed by people.
In Ohio, it is recommended that people eat less of certain fish species—such as smallmouth bass, walleye and largemouth bass—from many bodies of water due to high levels of mercury. In some bodies of water, it is recommended that none of the species be eaten due to elevated levels of PCBs, mercury and other contaminants. The full list can be found on the Ohio EPA's website.
People exposed to (elemental) mercury through breathing can experience harmful effects. According to the U.S. EPA "Symptoms include these: tremors; emotional changes (e.g. mood swings, irritability, nervousness, excessive shyness); insomnia; neuromuscular changes (such as weakness, muscle atrophy, twitching); headaches; disturbances in sensations; changes in nerve responses, and performance deficits on tests of cognitive function. At higher exposures, there may be kidney effects, respiratory failure and death."
Further research has demonstrated that exposing infants and children to mercury can impair their neurological development. Symptoms of methylmercury poisoning can include: peripheral vision reduction; disturbances in sensations ("pins and needles" feelings, usually in the hands, feet and around the mouth); lack of coordination of movements; impairment of speech, hearing and walking, and muscle weakness, according to the U.S. EPA.
Mercury emissions from Ohio power plants (sampling-2010):
• W.H. Sammis: 424lbs.
• Kyger Creek : 420 lbs.
• Cardinal Plant: 407 lb.
• Conesville plant: 318 lb.
• Muskingum Plant: 321 lb.
• Gavin plant: 829 lb.
• Eastlake plant: 301 lb.
• Avon Lake plant: 246lbs
Overall, Ohio power plants emitted 4,208 pounds of mercury in 2010.
The new U.S. EPA rule will prevent 130,000 child asthma attacks and 11,000 premature deaths yearly in the U.S. Additional health care savings will be $37 billion to $90 billion each year by 2016.
"Once these rules are fully implemented, Santa Claus will have fewer asthma attacks as he moves through Ohio," states Celebrezze.
For more information, click here. To learn more about the EPA's Mercury and Air Toxics Standards, click here.

--------
The mission of the Ohio Environmental Council (OEC) is to secure healthy air, land and water for all who call Ohio home. The OEC is Ohio's leading advocate for fresh air, clean water and sustainable land use. The OEC has a 40-year history of innovation, pragmatism and success. Using legislative initiatives, legal action, scientific principles and statewide partnerships, the OEC secures a healthier environment for Ohio's families and communities.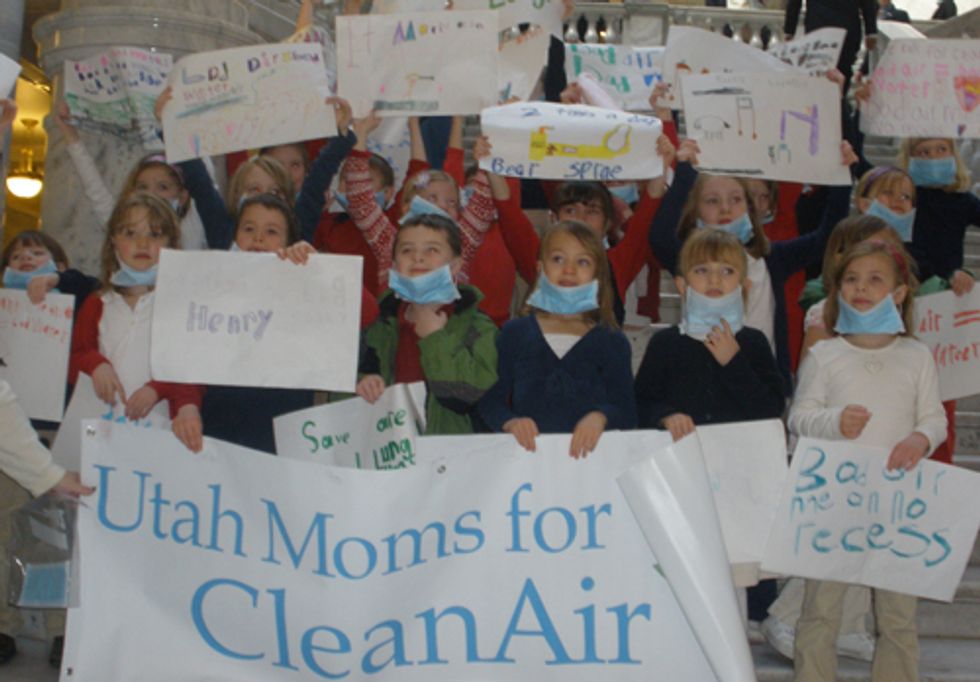 In the midst of the Wasatch Front's first air quality advisories of the winter, a coalition of doctors, moms, health and environmental groups filed suit against Kennecott Copper Dec. 19, a subsidiary of Rio Tinto, over the company's failure to protect clean air in Salt Lake County and beyond.
At issue are ongoing clean air violations at Kennecott's Bingham Canyon Copper Mine, the world's largest open pit copper mine located in western Salt Lake County in the Oquirrh Mountains. For at least the last five years, the company has violated its federal limits on ore and waste rock production. These production limits were put in place in 1994 to curb particulate matter emissions and meet health standards.
"Every Wasatch Front resident knows that our air pollution is often severe, and occasionally the worst in the nation. Rio Tinto, as a major contributor to this problem, is literally mining away our clean air. Worse, they are doing it illegally," said Dr. Brian Moench with the Utah Physicians for a Healthy Environment.
"Our families depend on clean air, plain and simple," said Cherise Udell, founder of Utah Moms for Clean Air. "All we're asking is that Kennecott take responsibility for protecting the health of our children and our future."
Currently, Salt Lake County and other Wasatch Front counties are in violation of federal health limits on particulate matter. The region has some of the worst particulate pollution in the U.S. Conservative estimates show that 1,000-2,000 Utahns die prematurely every year because of particulate pollution. According to Utah Physicians for a Healthy Environment, an organization of medical experts dedicated to protecting public health, these levels of pollution can shorten the life span of individuals by about two years.
In 1994, Kennecott agreed to limit production at its Bingham Canyon Mine to 150,500,000 tons of ore and waste rock every year to keep dust, tailpipe emissions, and other sources of air pollution in check. This limit was approved by the U.S. Environmental Protection Agency (EPA) and adopted into federal regulations. However, according to data submitted to the Utah Division of Oil, Gas and Mining, every year since 2006 Rio Tinto has violated this production limit, reaching levels as high as 192,684,252 in 2009—more than 40 million tons above the limit allowed.
Although Kennecott has claimed that production increases were authorized by the state of Utah, most recently in June of 2011 where the state approved a production increase to 260,000,000 tons annually, the increases were never approved by the EPA nor were the air quality impacts analyzed to ensure compliance with federal health standards. Under federal law, States cannot unilaterally modify federal regulations through permits.
"Although the State of Utah is an accomplice in this mess, the responsibility to protect our clean air and our health falls squarely on the shoulders of Kennecott," said Jeremy Nichols, the Climate and Energy Program director for WildEarth Guardians. "As citizens concerned over the impacts of air pollution on today's and future generations, we're saying enough is enough. It's time for Kennecott to come clean, comply with the law, and start being a part of solving our pollution problems, not making them worse."
Under the Clean Air Act, citizens have the right to enforce clean air laws in order to safeguard public health and welfare. Exercising that right, WildEarth Guardians, Utah Physicians for a Healthy Environment, and Utah Moms for Clean Air filed suit under the Clean Air Act in federal court in Salt Lake City. The suit seeks a ruling that Kennecott is violating the Clean Air Act, an order that Kennecott comply with the 150,500,000 ton/year production limit, and pay the maximum penalty of $37,500 per violation per day as allowed by federal law.
For more information, click here.