Paris officials sealed off the area around the Notre Dame Cathedral to remove lead particles that have settled after a devastating fire destroyed the iconic cathedral's roof and spire in April.
EcoWatch Daily Newsletter
Flames and smoke are seen billowing from the roof at Notre-Dame Cathedral on April 15 in Paris, France. Veronique de Viguerie / Getty Images
When Paris's Notre Dame caught fire on April 15, the flames threatened more than eight centuries of culture and history. The fire evoked shock, horror and grief worldwide. While the cathedral burned, French President Emmanuel Macron expressed determination to rebuild what the French regard as a sacred site.
Beset by divisive "yellow vest" demonstrations, the French were united by the Notre Dame fire in grief and their resolve to rebuild. Within a day, wealthy donors and companies pledged a billion dollars for restoration. The first challenge will be to determine what caused the fire so a repeat can be avoided in the rebuilding.
I wouldn't wish to diminish in any way the profound emotional impact of the Notre Dame conflagration. I have visited the great cathedral a number of times, and each time has been a deep spiritual experience. But if we had a similar response of shock and horror at the death throes of the Great Barrier Reef, the toxic state of the Ganges River, the degradation of the Amazon rainforest or the rising levels of carbon in the atmosphere that gives us air, weather, climate and seasons, think of the responses we could develop.
What prevents us from action is the perceptual framework through which we encounter the world. We all share a common sensory system to inform us about what is happening around us. Humans have increased the range of our senses with telescopes, microscopes and technology to see, hear and smell far beyond the range of our organs.
However, factors like gender, ethnicity, religion, socioeconomic position and personal experience shape the way we respond to the input from our senses. Ask a man and a woman about love, sex or family, a Bay Street financier and a Bay Street homeless person about money, the economy or welfare, a Palestinian and an Israeli about Gaza, water or Jerusalem, and chances are the responses will be radically different.
One of humankind's most important attributes for survival has been foresight — the ability to use observation, experience and imagination to look ahead and make decisions that minimize danger and take advantage of opportunity. Today, scientists and supercomputers provide powerful amplification of foresight by marshaling a vast array of information and projecting scenarios into the future. For decades, leading scientists and their organizations have warned about catastrophic changes in the chemistry of the atmosphere, depletion of oceans, spread of toxic pollutants throughout air, water and soil, acceleration of species extinction and so on.
As Ontario, Alberta, Manitoba and Saskatchewan governments vow to fight a carbon tax and pit jobs and the economy against action to reduce greenhouse gas emissions, we fail to unite in recognizing the threat of climate change to our health and survival.
Children are not yet blinded by the perceptual complications of adulthood or our verbal declarations. They see that our current trajectory is toward a radically uncertain future. Inspired in part by Swedish teenager Greta Thunberg, young people are calling on adults for real action to preserve their future. Surely that merits as profound and intense a response as the French have had to the Notre Dame fire.
We know the cause of the current ecological crisis. With our profligate use of fossil fuels and over-exploitation of renewable and non-renewable resources while putting our "wastes" into air, water and soil, we're destroying the natural systems on which we depend for health and survival. Having identified the cause, we could commit massive amounts to stop the practices that are creating the problems while searching for new ways to provide for our needs and to exploit what we call "waste."
This will call for a shift in the way we see ourselves in the world. By raising their future for consideration, children are trying to get politicians to move beyond their current priorities of re-election and party solidarity and to show businesspeople the folly inherent in the drive for ever-increasing profits and endless growth. There is no hidden agenda or ulterior motives behind their pleas. Ignoring their calls for action puts us on a road to extinction.
Repairing Notre Dame and preventing future damage is worthy, but we must also do the same with our precious natural systems and areas.
waterlust.com / @tulasendlesssummer_sierra .
Each product featured here has been independently selected by the writer. If you make a purchase using the links included, we may earn commission.
The bright patterns and recognizable designs of Waterlust's activewear aren't just for show. In fact, they're meant to promote the conversation around sustainability and give back to the ocean science and conservation community.
Each design is paired with a research lab, nonprofit, or education organization that has high intellectual merit and the potential to move the needle in its respective field. For each product sold, Waterlust donates 10% of profits to these conservation partners.
Eye-Catching Designs Made from Recycled Plastic Bottles
waterlust.com / @abamabam
The company sells a range of eco-friendly items like leggings, rash guards, and board shorts that are made using recycled post-consumer plastic bottles. There are currently 16 causes represented by distinct marine-life patterns, from whale shark research and invasive lionfish removal to sockeye salmon monitoring and abalone restoration.

One such organization is Get Inspired, a nonprofit that specializes in ocean restoration and environmental education. Get Inspired founder, marine biologist Nancy Caruso, says supporting on-the-ground efforts is one thing that sets Waterlust apart, like their apparel line that supports Get Inspired abalone restoration programs.
"All of us [conservation partners] are doing something," Caruso said. "We're not putting up exhibits and talking about it — although that is important — we're in the field."
Waterlust not only helps its conservation partners financially so they can continue their important work. It also helps them get the word out about what they're doing, whether that's through social media spotlights, photo and video projects, or the informative note card that comes with each piece of apparel.
"They're doing their part for sure, pushing the information out across all of their channels, and I think that's what makes them so interesting," Caruso said.
And then there are the clothes, which speak for themselves.
Advocate Apparel to Start Conversations About Conservation
waterlust.com / @oceanraysphotography
Waterlust's concept of "advocate apparel" encourages people to see getting dressed every day as an opportunity to not only express their individuality and style, but also to advance the conversation around marine science. By infusing science into clothing, people can visually represent species and ecosystems in need of advocacy — something that, more often than not, leads to a teaching moment.

"When people wear Waterlust gear, it's just a matter of time before somebody asks them about the bright, funky designs," said Waterlust's CEO, Patrick Rynne. "That moment is incredibly special, because it creates an intimate opportunity for the wearer to share what they've learned with another."
The idea for the company came to Rynne when he was a Ph.D. student in marine science.
"I was surrounded by incredible people that were discovering fascinating things but noticed that often their work wasn't reaching the general public in creative and engaging ways," he said. "That seemed like a missed opportunity with big implications."
Waterlust initially focused on conventional media, like film and photography, to promote ocean science, but the team quickly realized engagement on social media didn't translate to action or even knowledge sharing offscreen.
Rynne also saw the "in one ear, out the other" issue in the classroom — if students didn't repeatedly engage with the topics they learned, they'd quickly forget them.
"We decided that if we truly wanted to achieve our goal of bringing science into people's lives and have it stick, it would need to be through a process that is frequently repeated, fun, and functional," Rynne said. "That's when we thought about clothing."
Support Marine Research and Sustainability in Style
To date, Waterlust has sold tens of thousands of pieces of apparel in over 100 countries, and the interactions its products have sparked have had clear implications for furthering science communication.
For Caruso alone, it's led to opportunities to share her abalone restoration methods with communities far and wide.
"It moves my small little world of what I'm doing here in Orange County, California, across the entire globe," she said. "That's one of the beautiful things about our partnership."
Check out all of the different eco-conscious apparel options available from Waterlust to help promote ocean conservation.
Melissa Smith is an avid writer, scuba diver, backpacker, and all-around outdoor enthusiast. She graduated from the University of Florida with degrees in journalism and sustainable studies. Before joining EcoWatch, Melissa worked as the managing editor of Scuba Diving magazine and the communications manager of The Ocean Agency, a non-profit that's featured in the Emmy award-winning documentary Chasing Coral.
Mónica R. Goya
By Mónica R. Goya
Agricool is a Parisian urban agriculture tech start-up that recently raised $28 million to scale its business: growing strawberries in reclaimed shipping containers in central Paris using vertical farming methods. Since the plants are cultivated using aeroponics — that is, by spraying a mist of water and nutrients on the plants' exposed roots (as opposed to the plants growing in soil) — their process uses 90 percent less water than conventional agriculture. Pesticides aren't needed because they grow in a controlled environment, and their carbon footprint is almost nonexistent because the transportation radius is less than 20 kilometers. Additionally, they claim to be 120 times more productive than traditional, soil-based agriculture, and their LED lights are powered by renewable energy.
In terms of humidity, air quality and light, Agricool has created the perfect environment by growing strawberries in customized, reclaimed shipping containers. Every year, seven tons of strawberries are produced in each container. According to Agricool, these containers can yield 120 times as much as a field.
Mónica R. Goya
Founded in 2015 by Gonzague Gru and Guillaume Fourdinier — two friends who grew up on farms in the French countryside — Agricool's principles are based on sustainability without compromising profitability. Furthermore, their business model can be imitated anywhere. Proof of their scalability is that they operate a strawberry container in Dubai. With their latest round of investments, they are planning to add about 100 containers to their current fleet by 2021.
The final design of each shipping container looks modern, with its external shell covered by a wooden panel. One of the reasons why the company uses reclaimed containers is because they are weatherproof.
Mónica R. Goya
Vertical farming makes the most of available space. Also, the company designs and produces its own LED lights, which are tailored specifically to its needs.
Mónica R. Goya
When the right time comes, colonies of bumblebees are brought into the shipping containers for pollination.
Mónica R. Goya
Their strawberries can be purchased at Monoprix supermarkets, as well as La Grande Epicerie de Paris, one of the city's most exclusive food halls.
Lab tests are conducted to assess the sugar levels and nutrients of the fruit. According to Agricool's own lab tests and external tests, their strawberries contain 30 percent more vitamins and 20 percent more sugar than conventional ones.
Mónica R. Goya
Remy Faury is an engineer who works on the research and development team at Agricool. The company's R&D team makes up 70 percent of the company.
Mónica R. Goya
Maria Foncillas is a "cooltivatrice" or an urban farmer, at Agricool.
Mónica R. Goya
At Agricool, several varieties of strawberries are grown throughout the year. These ones, in particular, belong to the Magnum variety. The growing cycle of the fruit is two months from seed to harvest.
Mónica R. Goya
Reposted with permission from our media associate Modern Farmer.
From Your Site Articles
Related Articles Around the Web
A man stands at a 'uritrottoir' public urinal on Aug. 13 on the Saint-Louis island in Paris, as a 'bateau mouche' tourist barge cruises past. THOMAS SAMSON / AFP / Getty Images
Bright red urinals designed to be an eco-friendly solution to the problem of public peeing have become a source of controversy in Paris, CNN reported Tuesday.
The urinals are located in flower boxes and use straw to eliminate odor. The urine is then used to fertilize the plants in parks and gardens.
City officials said in a statement that a year's worth of pee from a single person has enough nitrogen, phosphorous and potassium to fertilize 400 square meters (approximately 478.4 square yards) of wheat.
But for residents of the Ile Saint-Louis, where one such urinal overlooks the Seine not far from the Notre Dame cathedral, the urinal's environmental benefits don't make up for the way it pollutes their island's iconic scenery.
Opponents have written a letter to the town hall demanding the urinal be removed, Reuters reported.
"There's no need to put something so immodest and ugly in such an historic spot," 68-year-old Venetian art store owner Paola Pellizzari told Reuters. "It's beside the most beautiful townhouse on the island, the Hotel de Lauzun, where Baudelaire lived," she said.
Ariel Weil, the mayor of the fourth district of Paris where the offending urinal is located, defended its necessity.
"If we don't do anything, then men are just going to pee in the streets," he said, according to Reuters. "If it is really bothering people, we will find another location."
There are currently four of these Uritrottoirs, a portmanteau of the French words for peeing and pavement, in locations around the city where public peeing has become a problem. A fifth is planned to join them.
But residents find the current, exposed designs, labeled clearly with signs, offensive.
"I think installing a urinal in the streets of Paris for those who don't respect their surroundings is a good idea, but in my opinion, this model is not attractive at all, and where it's been set up is not appropriate at all," one man said, according to CNN.
There is also a gendered component to the disappearance of public urinals, and their reappearance now.
British Toilet Association managing director Raymond Morris told CNN that public urinals were common in Paris since the late 1800s for men travelling to work.
However, when women began to enter the workforce, exposed urinals began to be replaced with enclosed stalls.
Gwendoline Coipeault of French feminist group Femmes Solidaires said the new public urinals unfairly forced women to surrender their urban environment to the needs of men.
"They have been installed on a sexist proposition: men cannot control themselves (from the bladder point of view) and so all of society has to adapt," Coipeault told Reuters. "The public space must be transformed to cause them minimum discomfort."
But for Morris, the problem was not that men had too many public peeing options, but that women still had too few, even after the spread of enclosed stalls. "The trouble today is the inequality for women," he told CNN.
From Your Site Articles
Related Articles Around the Web
iStock
By Rachel Hubbard
Tuesday, the city of Paris has said it will explore the possibilities of suing the fossil fuel industry. In response to the city's recent climate damage including massive recent floods, Paris is considering taking this action following in the footsteps of New York and other U.S. cities.
Paris made the commitment to divest three years ago in the run-up to COP21 where the Paris agreement was signed. The city council also aims to use its influence, as well as the mandate of president Anne Hidalgo within the C40 Cities Climate Leadership Group to convince other big cities to divest.
This month, Paris suffered once again major floods, which, according to Anne Hidalgo, poses "clearly a question of adaptation of the city to climate change." Following the floods that swamped Paris in May 2016, studies have shown that climate change has increased the chances of floods by almost twice as much.
But Tuesday's announcement shows that cities in the path of climate impacts are ready to take action.
Clémence Dubois, of 350.org France said:
"It's fantastic news that cities like New York and Paris are mobilizing to protect their citizens and hold multinational fossil fuel companies accountable for the damage they cause. This is a major breakthrough for the divestment movement and the thousands of people around the world who have pushed cities to take a stand against polluters who are destroying our climate and the planet.
Fossil fuel companies like Total, Shell, BP and Exxon are causing floods and heat waves that are intensifying in Paris, and severe floods, droughts, forest fires, rising sea levels strike in France and around the world. This wish is a crucial step towards a future free of fossils. "
On Jan. 10, the mayor of New York, Bill de Blasio, announced that the city would disinvest its pension funds of $191 billion in fuel fossil investments and sued BP, Shell, ExxonMobil, Chevron and ConocoPhillips.
With Tuesday's statement, the city of Paris affirms its solidarity with the City of New York's bold move. Major cities such as Sydney and Cape Town, as well as many European capitals such as Berlin, Oslo, Copenhagen and Stockholm have already committed to divest fossil fuels.
Could this be a start of a wave of cities divesting and institutions suing fossil fuel companies for damages?
In France, 33 other local authorities, such as Bordeaux Lille La Rochelle, Dijon have adopted divestment motions.
Clémence Dubois said:
"We will mobilize locally to ask other cities to follow: communities have more power than is believed in resistance to the fossil industry, including through their links with the 'Caisse des Depots et Consignation' who manages the pensions of their employees, officials and contractors. We will ask that this crucial public financial institution listens to this momentum that is happening throughout the country, and divests from fossil fuels."
Find out more about the Caisse des Depot campaign (in French).
With this announcement, the global pressure on the fossil fuel industry ramps up some more. To date, more than 800 institutions, including universities, religious and medical groups, have joined the divestment movement. To build on these victories, the Fossil Free movement is preparing to launch a new wave of local actions around the world to keep fossil fuels in the ground and accelerate the shift to community-run renewable energy.
Be a part of it—find out how you can take action wherever you are.
From Your Site Articles
Related Articles Around the Web
A flooded Seine River reached peak flood level early Monday morning following weeks of intense rain that has thoroughly doused Paris.
Authorities reported that the river's flooding peaked at 19.2 feet—just shy of the 20 feet reached in June of 2016, which was its highest level since 1982—and is not expected to recede until Tuesday.
The flooding has shut down subway stations and the lower level of the Louvre while also forcing hundreds of evacuations and putting tourist boats out of service along the river.
"Beyond the emergency, this flooding phenomenon, which is more and more recurrent in Paris, reminds us how important it is for our city to adapt to climate change," Paris Mayor Anne Hidalgo tweeted over the weekend.
As reported by the New York Times:
"Although some experts said it was hard to determine whether global warming was behind the current flood, others warned that a worrying pattern was emerging.
'Because of climate change, we can expect floods in the Seine basin to be at least as frequent as they are right now,' said Florence Habets, a senior researcher at the C.N.R.S., France's national center for scientific research. 'No matter what we say, the more we reduce our greenhouse gas emissions, the more we reduce our impact on droughts and floods.'"
For a deeper dive:

New York Times, NPR, Washington Post, BBC, Business Insider. Commentary: CNN, Jeffrey H. Jackson op-ed
For more climate change and clean energy news, you can follow Climate Nexus on Twitter and Facebook, and sign up for daily Hot News.
From Your Site Articles
Related Articles Around the Web
Paris smog. Damián Bakarcic / Flickr
The movement to ban the internal combustion engine is growing.
The European cities of Paris, Oxford, as well as the whole of the Netherlands, have recently announced separate proposals to phase out cars powered by fossil fuels.
France and Britain already have plans to ban diesel- and gasoline-powered cars by 2040, but cities within the countries have speedier goals.
"Transport is one of the main greenhouse gas producers ... so we are planning an exit from combustion engine vehicles, or fossil-energy vehicles, by 2030," Christophe Najdovski, an official responsible for transport policy at the office of Paris mayor Anne Hidalgo, said.
Air pollution is notoriously high in the French capital, which has been forced to issue bans on half the number of cars on the road in an effort to improve air quality.
The university city of Oxford, England has an even more aggressive goal than Paris. City officials announced a "Zero Emission Zone" that bans emitting vehicles from entering part of Oxford city center from 2020. This move could establish the world's first zero-emissions zone.
"Toxic and illegal air pollution in the city centre is damaging the health of Oxford's residents. A step change is urgently needed; the zero emissions zone is that step change," Councillor John Tanner of Oxford city council said.
"All of us who drive or use petrol or diesel vehicles through Oxford are contributing to the city's toxic air. Everyone needs to do their bit, from national government and local authorities, to businesses and residents, to end this public health emergency."
According to Reuters, starting in 2020, taxis, cars, light commercial vehicles and buses which are non zero-emission, will be banned from six streets in the city center. The zone will widen to include more streets and more vehicles until 2035 when all emitting vehicles will be blocked from entering the center.
Madrid, Mexico City and Athens also intend to ban diesel vehicles from their city centers. Earlier this week, Copenhagen's mayor proposed a ban on new diesel cars entering the city's environmental zone, a low-emission area that basically covers the whole of the capital, as early as 2019.
Finally, Electrek reported that the Dutch government presented a plan that all new cars in the Netherlands must be emission-free by 2030, basically phasing out gas-guzzlers in favor of battery-powered vehicles.
Electrek noted that the ban would only apply to brand new cars produced and sold after 2030.
It's not just Europe that's taking this leap. The Netherlands joins other countries such as India and China that are planning to ditch emitting cars. Over in the U.S., California Gov. Jerry Brown floated a similar idea.
Trump will attend France's national holiday celebrations despite disagreements with the French president. PASCAL.VAN / Flickr
By Julia Conley
As the Trump administration attempts to deflect questions from the press regarding Donald Trump Jr.'s controversial meeting during last year's campaign with a Russian lawyer, the president himself has kept a relatively low profile ahead of a scheduled trip to France this week—but the French aren't expected to give him a warm welcome as hundreds of demonstrators plan to form a "No Trump Zone" in Paris, where they will march in protest of Trump's visit and his policies.
Trump was invited by French President Emmanuel Macron to attend France's national celebration of Bastille Day, where the two would honor the cooperative relationship their countries have shared on what would also be the 100th anniversary of the U.S. entering World War I. Trump accepted the invitation despite the two leaders' disagreement on issues including Trump's decision to withdraw from the Paris agreement on climate change policy, and a frosty exchange they shared at the NATO Summit in May.
The group "Paris Against Trump" is behind the plans for a "No Trump Zone" in the Place de la Republique in the center of Paris. As the group wrote on Facebook, "Trump is not welcome in Paris. We are opposed to his positions on the climate crisis, his international politics against migrants, his sexist speeches and behavior, his Islamophobia and racist remarks, his military plans around the world and his neo-liberalism and capitalism."
Trump will apparently not be able to escape Americans who disapprove of him, as the organizers have said the group will include "an American contingent."
The planned protest will likely mirror the reception Trump got in Europe last week when he arrived for the G-20 Summit. Thousands of protesters in Hamburg greeted him with signs saying "Welcome to Hell." The protest turned violent as German riot police confronted the demonstrators with water cannons and tear gas. During his earlier stop in Warsaw, demonstrators chanted "Go Home Trump!"
Trump is unpopular across Europe. A recent Pew poll found that only 14 percent of French citizens have confidence in his ability to lead, with similar approval ratings throughout the continent.
Reposted with permission from our media associate Common Dreams.
By Mike Gaworecki
Eleven cities from around the world were celebrated recently in Mexico City at the C40 Cities Awards for their commitment to innovation in the fight against climate change.
The eleven-year-old C40 Cities Climate Leadership Group brings together officials from 85 of the world's great cities that collectively represent one quarter of the global economy. The group's focus is spurring urban initiatives that reduce greenhouse gas emissions while increasing the health, well-being and economic opportunity of the more 650 million people who call those 85 cities home.
Sponsored by Bloomberg Philanthropies and Chinese green-tech developer BYD, the C40 Cities Awards recognized the "best and boldest" work being done by mayors to fight climate change and protect their constituents from climate risks.

"The winning projects show that great progress is being made on every continent, and they serve as an inspiration to other cities," C40 President of the Board and U.N. Secretary General's Special Envoy for Cities and Climate Change Michael R. Bloomberg said in a statement. "They also show how cities can help the world meet the ambitious goals set a year ago in Paris."

A panel of former mayors and climate experts selected the ten cities that they felt had adopted the most ambitious and effective urban sustainability programs in the world—and C40 partnered with the Associated Press to capture images of each winning city's projects, allowing you a sneak peek whether you live near one of them or not.

"Today, we celebrate some of the projects that are key to delivering on the world's climate ambition and will help put us on a path to a carbon-safe future," Chuanfu Wang, chairman and president of BYD Co. Ltd, said at the awards ceremony. "We recognise the incredible human power and thoughtful consideration that goes into making these projects reality."
1. Addis Ababa, Ethiopa
The city of Addis Ababa is a winner of the C40 Awards 2016 in the Transportation Category. The Addis Ababa Light Rail Transit (LRT) Project has improved the city's public transport system and created more than 6,000 jobs. The cumulative emission reduction potential of the LRT system is forecasted at 1.8 million tCO2e by 2030.
A lady holding her baby wrapped in a white shawl is transported on an Addis Ababa LRT. Mulugeta Ayene / AP Images for C40
An Addis Ababa Light Rail Tram passes through Ethiopia's largest business district Merakto. Mulugeta Ayene / AP Images for C40
Pedestrians look out over commercial and residential buildings on the city skyline. Nearby an Addis Ababa light rail tram passes by.Mulugeta Ayene / AP Images for C40
For the third day in a row, air pollution blanketed Paris, which authorities called the worst bout for at least 10 years. The city imposed driving restrictions and made public transit free.
#Paris aujourd'hui. La preuve de la nécessité de réduire la place de la voiture en centre-ville #pollution https://t.co/R10Tdu4o2Y

— Anne Hidalgo (@Anne Hidalgo)1481035096.0
Unusually calm air failed to disperse vehicle emissions and particulates from wood fires, creating conditions that have veiled the Eiffel Tower in a gray haze.
Paris has instituted a system based on alternating odd or even license plate numbers to ban certain vehicles from city streets, effectively cutting traffic in half each day. This is just the fourth time in 20 years that Paris has taken this step, and the first time it has been in place for consecutive days.
"Cars are poisoning the air," Paris city hall transport official Herve Levife told Reuters. "We need to take preventive measures."
"We want these bans to automatically take effect when the pollution exceeds a certain level, not have to negotiate them with the government each time," Levife added.
#Paris Goes Car-Free First Sunday of Every Month https://t.co/NOd8Lc5qdt @ClimateReality @sierraclub @Greenpeace https://t.co/xmUwjLRsLx

— EcoWatch (@EcoWatch)1463503788.0
More than 1,700 drivers were issued tickets for violating the ban on Tuesday, which carries a fine of 35 Euros, or about $37.42. Hybrid and battery electric vehicles, as well as those carrying three or more passengers, are exempt.
All public transit was made free, putting a strain on commuter systems as crowds piled onto trains and buses. The city's bike-share system was also free to use.
Along with Paris, the French cities of Lyons and Villeurbanne were expected to impose similar measures.
Air quality index readings reached or exceeded 150 on Thursday, considered a "critical" level.Air Pollution in Paris: Real-time Air Quality Index Visual Map
Readings of particulate matter exceeded 80 micrograms per cubic meter. The European Union has set a maximum daily average of 50. Particulate matter, due to its small size, can be inhaled deeply into lungs. High exposure can cause asthma, lung cancer, cardiovascular disease, respiratory diseases, birth defects and premature death.
Beginning July 1, Paris banned all cars 20 years or older. Longer-term, Paris and three other cities—Athens, Madrid and Mexico City—will ban diesel engines by 2025 as announced earlier this week. Diesels area major emitter of particulate matter pollution.
In March 2015, the air quality index in Paris briefly made it the worst polluted city in the world.
By the year 2020, the City of Paris wants to add 100 hectares of vertical gardens and roofs, with a third dedicated to urban agriculture. Photo credit: The Vertical Gardens by Patric Blanc / Flickr
Earlier this summer, Paris quietly passed a new law encouraging residents to help green the City of Light by planting their own urban gardens.
Although the measure was adopted on July 1, the news has only recently made headlines in France and on U.S. sites such as Inhabitat and Condé Nast Traveler.
The initiative, "permis de végétaliser" (or "license to vegetate"), is part of Paris Mayor Anne Hidalgo's 2020 target of adding 100 hectares (247 acres) of vegetation on the city's walls and roofs, with a third dedicated to urban agriculture.
To encourage citizens to become "gardeners of the Parisian public space," any resident can now apply for a renewable three-year permit to start their own urban garden project. Participants can green the capital in various ways, from planting fruit trees to creating living walls to a rooftop garden. Upon request, the city will also provide a planting kit that includes topsoil and seeds.

Gardeners can get as creative as they want with their greenery, but they are instructed to maintain their installations sustainably and to keep the city's aesthetics in mind. They are not allowed to use pesticides and can plant only local species. Also, as Condé Nast Traveler noted, "the city has also expressed the need for 'local honey plants,' presumably to help grow the world's diminishing bee population."
The city of Paris says that its new urban gardening program is designed to encourage biodiversity, meet the need for green spaces, mitigate "heat island" effect and climate change, improve air quality and improve the thermal and acoustic comfort of buildings.

Penelope Komitès, who is in charge of green spaces, nature and biodiversity for the city of Paris, said the initiative allows Parisians to help beautify the city while improving their own quality of life at the same time.
The urban garden initiative is only one part of Hidalgo's ambitious plans of greening the French capital. The greening program also involves the creation of 30 hectares (74 acres) of public gardens, the planting of 20,000 new trees, 200 revegetation projects and the development of educational farms, orchards and vegetable gardens in schools.

In its continued efforts to fight pollution, the first Sunday of every month is a car-free day in Paris. In March, French Parliament passed a new law mandating that all new buildings constructed in commercial zones must be partially covered by plants or solar panels. France also recently banned plastic plates and cutlery, making it the first country in the world to take this step.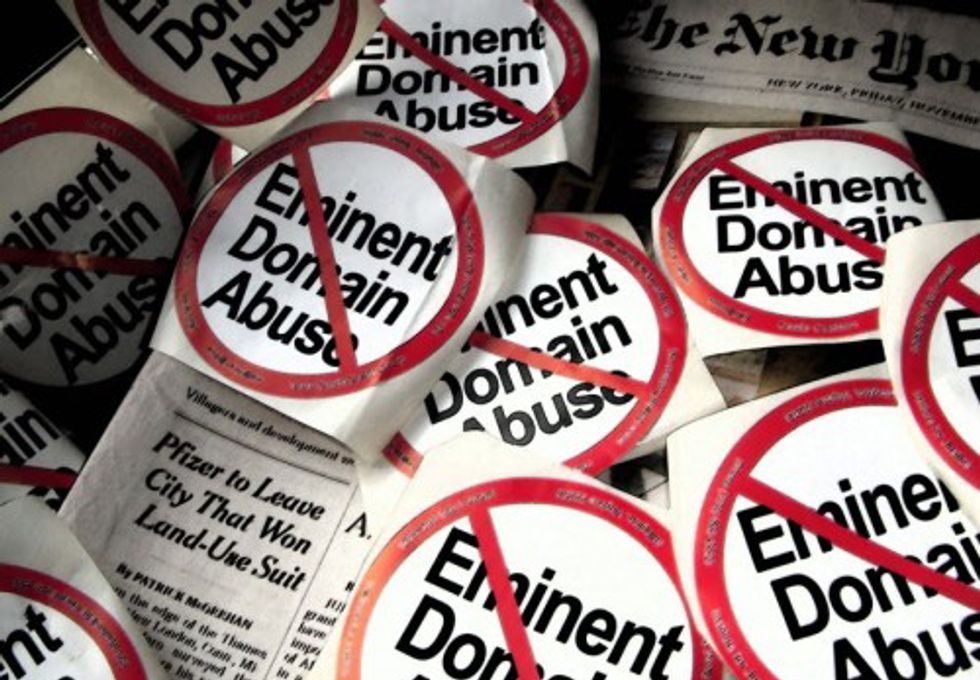 As Republicans in Congress try to use any means possible to do the bidding of their Big Oil backers and construct the Keystone pipeline at any cost, they seem to be losing many of their Tea Party constituents to eminent domain concerns. On the morning of Feb. 17, Texas Tea Party groups joined environmental activists in protest of TransCanada's eminent domain claims to land for the Keystone XL tar sands pipeline.
Texas landowner Julia Trigg Crawford has been at the center of eminent domain issues—but isn't letting go of her land without a fight. On Monday, Feb. 13, Ms. Crawford obtained a restraining order against TransCanada to protect her property. Within 24 hours, TransCanada in turn filed for the restraining order to be dissolved. Judge Bill Harris held a hearing in Paris, Texas on Feb. 17—but not before hundreds of activists from both sides of the aisle had time to rally in support of Ms. Crawford and her right to private property.
The groups demonstrated their Texas pride at the rally and hearing with their boots on and their Texas and American flags held high telling this private, foreign company—"Don't Mess with Texas." The message from both Tea Party members and landowners was clear—this is private property, and you can't take it without our permission.
"This is a private company taking land for private use and foreign profit. They are cloaking themselves in common carrier regalia and exercising eminent domain against Texas citizens but there is no evidence that they have the legal authority to seize property in Texas," said Debra Medina, former Republican gubernatorial candidate and director of We Texans.
Though TransCanada's permit was denied, the company continues to bully landowners and execute eminent domain condemnation proceedings. Groups are questioning this company's right to take land via eminent domain. The Railroad Commission has stated that it does not have the authority to grant the power of eminent domain to TransCanada.
"Everyone wants to know, by what authority or permit does this private, foreign company have the right to condemn property and start construction? We are going to tell TransCanada, don't mess with Texans, don't mess with our landowners," said Linda Curtis of Independent Texans.
For more information, click here.