The Pacific Ocean and Pacific Islands are in trouble, and not just from the recent spate of storms.
Because of climate change, oceans are facing increasing acidification, which is devastating to marine life, and islands face the threat of disappearing due to sea level rise.
But there is always hope.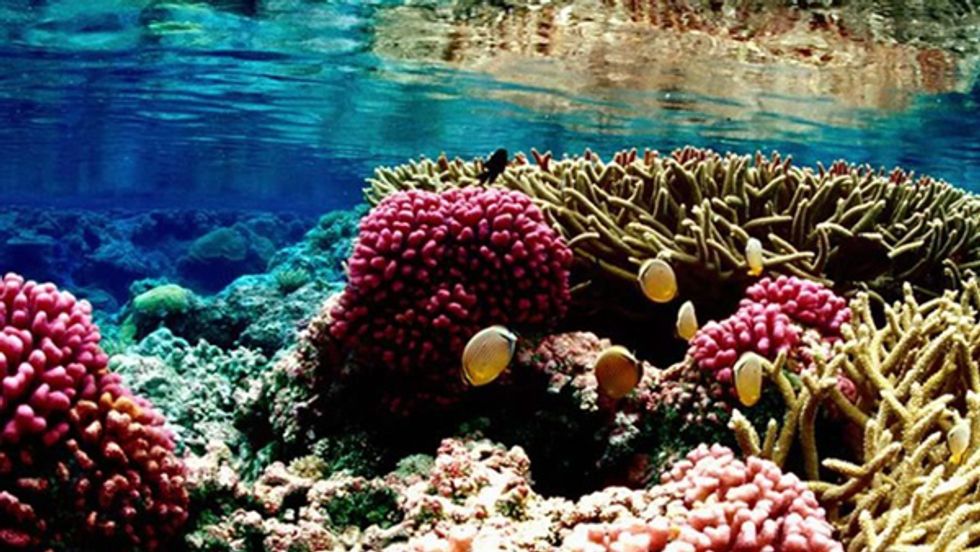 The Pacific Remote Islands Marine National Monument contains remarkably rich coral ecosystems. Photo Credit: Jim Maragos/U.S. Fish and Wildlife Service
The Pew Charitable Trusts' Global Ocean Legacy project has played a key role in urging governments to protect almost one million square miles of ocean from ecosystem threats. Their latest undertaking? Urging President Obama to expand and protect the Pacific Remote Islands Marine National Monument.
The planned expansion of the national monument, announced in June, would create an area larger than Alaska, increasing protection of U.S. waters in the Pacific by up to 671,000 square miles. Extending the boundaries would result in the world's most extensive network of marine protected areas, which, as research shows, is essential to increasing oceans species' diversity and resilience to climate change.
While the national monument expansion is still under consideration by the Obama administration, a group of Pacific Islanders called the Pacific Climate Warriors are doing their part to protect their home from the effects of climate changes, telling the world: "We are not drowning. We are fighting."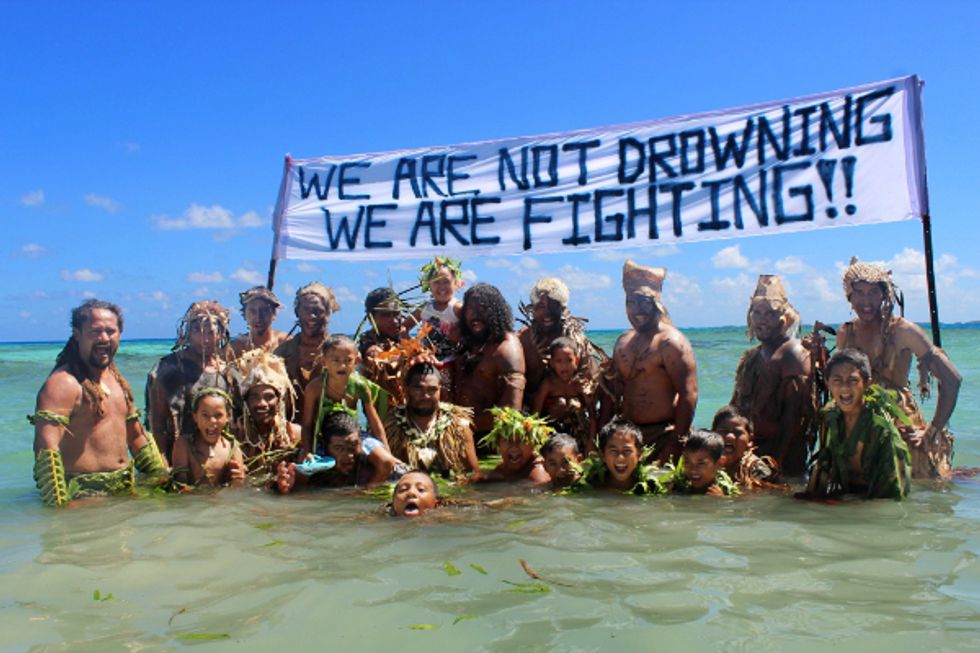 Photo credit: 350 Pacific
The Pacific Climate Warriors have been building traditional canoes in preparation for an epic journey to Australia this October, where they will stand up to those blocking climate action and to the fossil fuel industry that is destroying their homelands.
350 Pacific, active in 15 of the Pacific Island Nations, launched a video explaining the mission of the campaign:
The Pacific Warriors will travel Australia and share their story of struggle, confident that Australians will stand up and say "we will not let our neighbors drown."
As the group states:
For 20 years we've asked world leaders to take action to stop polluting the atmosphere. Unless we act now, many of our Pacific Islands face losing everything to sea level rise. We cannot wait any longer.
You Might Also Like
Rising Sea Levels Could Spark Largest Migration of Displaced People in History
How Acidification, Overfishing and Plastics Threaten the World's Oceans
EcoWatch Daily Newsletter
Like many other plant-based foods and products, CBD oil is one dietary supplement where "organic" labels are very important to consumers. However, there are little to no regulations within the hemp industry when it comes to deeming a product as organic, which makes it increasingly difficult for shoppers to find the best CBD oil products available on the market.
<p>Here you can learn about the importance of organic hemp oil, why it's better for the environment, and which CBD companies actually make trustworthy products with sustainable farming processes. origins which weigh heavily on many consumers who want to buy a product that's produced in the best way possible for not only themselves to ingest, but for the environment as well through sustainable farming methods. </p><h2>What Is CBD Oil?</h2><p>First things first, CBD stands for cannabidiol, and it's a cannabinoid found within cannabis sativa plants. This plant compound is believed to have many potential benefits, and it is primarily derived from hemp plants via a CO2 extraction process. </p><p>Since CBD is extracted from industrial hemp, which contains only trace amounts of THC (the psychoactive component in cannabis plants), this means that CBD won't make you feel high like marijuana, which has much higher levels of THC that causes psychoactive effects. Instead, the effects of CBD are much more subtle and promote a general sense of calm and relaxation in most users.</p><h2>What Makes a CBD Oil Organic?</h2><p>In terms of organic labels, perhaps the most important (and prominent) certification comes from the United States Department of Agriculture (USDA). This government organization has been labeling foods as "organic" for many years, but what exactly does this certification entail? Essentially, a label indicating that a product is "USDA Organic" or "Certified Organic" means that at least 95% of the ingredients are obtained from organic sources.</p><p>For a crop to be considered organic by the USDA, it must be grown without the use of industrial solvents, irradiation, genetic engineering (GMOs), synthetic pesticides, or chemical fertilizer. Instead, farmers rely on natural substances and <a href="https://www.usda.gov/media/blog/2012/03/22/organic-101-what-usda-organic-label-means" rel="noopener noreferrer" target="_blank">mechanical, physical, or biologically based farming</a> techniques to cultivate healthy and organic crops.</p><p>Before the passage of the 2018 Farm Bill, no hemp-derived products could be dubbed as "certified organic" since the hemp plant and its extracts were still categorized as a Schedule I Controlled Substance. However, it's still difficult for CBD companies to obtain a USDA certified organic label for their products due to the legal grey area that still surrounds CBD extracts. </p><p>Because of these challenges, and due to the fact that industrial hemp has only recently become an agricultural crop, very few CBD oils are USDA certified organic. Rather, many CBD products contain hemp extracts from plants that were grown in organic conditions but may not be federally certified.</p><h2>What are the Best Organic CBD Oil Brands?</h2><p><em>Each product featured here has been independently selected by the writer. If you make a purchase using the links included, we may earn commission.</em></p><em><br></em>