This website uses cookies to ensure you get the best experience while browsing it. By clicking 'Got It' you're accepting these terms.


The best of EcoWatch, right in your inbox. Sign up for our email newsletter!
Humpback Whales surrounded by birds and sea lions in Morro Bay, CA on Aug. 5, 2013.
Mike Baird / CC BY 2.0
At least 65 California cities and counties have taken action opposing new fossil fuel leasing in the Pacific Ocean since President Trump proposed a massive expansion of drilling in federal waters last year. That ongoing campaign now represents communities with 21.3 million Californians—more than half the state's population.
By Adam Hammell & Dana Williams
The pungent, salty air that emerged over South Bay communities last February was not a familiar whiff of wrack decomposing on our favorite beaches. In fact, it was the estimated 143 million gallons of raw sewage that raced down the rugged canyons of Tijuana, funneling directly through the mouth of the Tijuana River into the Pacific Ocean. Beachgoers, visitors, and residents of San Diego County have suffered the devastating effects of these spills for decades—yet little has been done to remedy the origins.
EcoWatch Daily Newsletter
Ben Lecomte, the first man to swim across the Atlantic in 1998, will attempt another grueling, history-making ocean crossing.
On Tuesday, the 50-year-old Frenchman and his crew will set out from Tokyo for a 5,500-mile swim across the Pacific, Reuters reported. If all goes as planned, Lecomte will arrive in San Francisco six to eight months later.
Greenpeace / Roger Grace
By Rachel Hopkins
Tropical tuna species—skipjack, bigeye and yellowfin tunas—are important economic assets for coastal communities across the globe, and even far from the ocean they are a favorite on supermarket shelves and in sushi bars. These three species—together worth close to $40 billion annually at the final point of sale—prompted eight Pacific island countries to launch World Tuna Day on May 2, 2011. In 2016, the UN officially adopted the date to highlight the importance of sustainable tuna management.
A Kemp's ridley hatchling makes its way to the water on Padre Island, Texas. Terry Ross, CC BY-SA
By Pamela T. Plotkin
On beaches from North Carolina to Texas and throughout the wider Caribbean, one of nature's great seasonal events is underway. Adult female sea turtles are crawling out of the ocean, digging deep holes in the sand and laying eggs. After about 60 days turtle hatchlings will emerge and head for the water's edge, fending for themselves from their first moments.
Radioactive contamination in the seabed off the Fukushima coast is hundreds of times above pre-2011 levels, while contamination in local rivers is up to 200 times higher than ocean sediment, according to results from Greenpeace Japan survey work released Thursday.
"The extremely high levels of radioactivity we found along the river systems highlights the enormity and longevity of both the environmental contamination and the public health risks resulting from the Fukushima disaster," Ai Kashiwagi, energy campaigner at Greenpeace Japan, said.
Greenpeace sediment sampling in Abukuma river, Miyagi prefecture, February 2016. The Abukuma has a 5,172km2 catchment15 which is largely in Fukushima prefecture, before entering the Pacific ocean in Miyagi prefecture. Greenpeace / Raquel Monton
"These river samples were taken in areas where the Abe government is stating it is safe for people to live. But the results show there is no return to normal after this nuclear catastrophe," said Kashiwagi.

Riverbank sediment samples taken along the Niida River in Minami Soma, measured as high as 29,800 Bq/kg for radiocaesium (Cs-134 and 137). The Niida samples were taken where there are no restrictions on people living, as were other river samples. At the estuary of the Abukuma River in Miyagi prefecture, which lies more than 90km north of the Fukushima Daiichi plant, levels measured in sediment samples were as high as 6,500 Bq/kg.
Greenpeace radiation specialist Jacob Namminga on board research vessel off the coast of Fukushima Daiichi, removing marine sediment sample collected by Remotely Operated Vehicle, March 2016. Greenpeace / Christian Aslund
The lifting of evacuation orders in March 2017 for areas that remain highly contaminated is a looming human rights crisis and cannot be permitted to stand. The vast expanses of contaminated forests and freshwater systems will remain a perennial source of radioactivity for the foreseeable future, as these ecosystems cannot simply be decontaminated.

Caesium-137 has a half life of 30 years and will continue to pose a risks to the the environment and human health for hundreds of years. Cs-137 contamination in seabed samples near the Fukushima plant was measured at up to 120 Bq/kg – compared to levels pre-2011 of 0.3 Bq/kg. Further, the levels of contamination found 60km south of the Fukushima Daiichi nuclear plant were comparable with those found within 4km of the plant. Numerous marine science investigations, have concluded that these higher levels are one explanation for some marine species still showing higher cesium levels than the background levels in seawater.
River systems along Fukushima and neighboring prefecture coastline discharging radioactivity into Pacific Ocean.
"The radiation levels in the sediment off the coast of Fukushima are low compared to land contamination, which is what we expected and consistent with other research," Kendra Ulrich, senior global energy campaigner at Greenpeace Japan, said. "The sheer size of the Pacific Ocean combined with powerful complex currents means the largest single release of radioactivity into the marine environment has led to the widespread dispersal of contamination."

Most of the radioactivity in Fukushima Daiichi reactor units 1-3 core fuel in March 2011 remains at the site.
"The scientific community must receive all necessary support to continue their research into the impacts of this disaster," Ulrich said.
"In addition to the ongoing contamination from forests and rivers, the vast amount of radioactivity onsite at the destroyed nuclear plant remains one of the greatest nuclear threats to Fukushima coastal communities and the Pacific Ocean. The hundreds of thousands of tonnes of highly contaminated water, the apparent failure of the ice wall to reduce groundwater contamination and the unprecedented challenge of three molten reactor cores all add up to a nuclear crisis that is far from over."
A radiation survey team onboard the research vessel Asakaze, supported by the Greenpeace flagship Rainbow Warrior, conducted underwater survey work along the Fukushima coastline from Feb. 21 to March 11 this year, as well collecting samples in river systems. The samples were measured at an independent laboratory in Tokyo.
The Pacific Ocean and Pacific Islands are in trouble, and not just from the recent spate of storms.
Because of climate change, oceans are facing increasing acidification, which is devastating to marine life, and islands face the threat of disappearing due to sea level rise.
But there is always hope.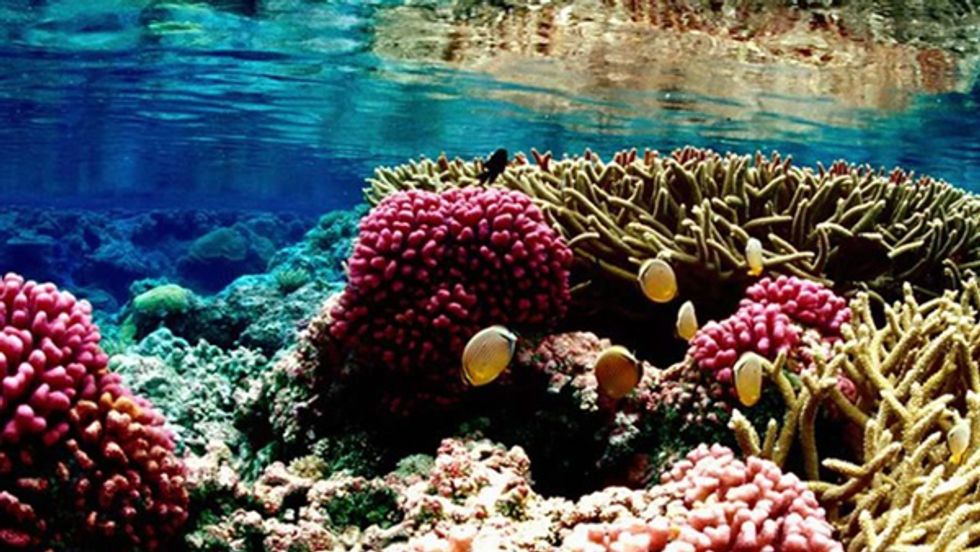 The Pacific Remote Islands Marine National Monument contains remarkably rich coral ecosystems. Photo Credit: Jim Maragos/U.S. Fish and Wildlife Service
The Pew Charitable Trusts' Global Ocean Legacy project has played a key role in urging governments to protect almost one million square miles of ocean from ecosystem threats. Their latest undertaking? Urging President Obama to expand and protect the Pacific Remote Islands Marine National Monument.
The planned expansion of the national monument, announced in June, would create an area larger than Alaska, increasing protection of U.S. waters in the Pacific by up to 671,000 square miles. Extending the boundaries would result in the world's most extensive network of marine protected areas, which, as research shows, is essential to increasing oceans species' diversity and resilience to climate change.
While the national monument expansion is still under consideration by the Obama administration, a group of Pacific Islanders called the Pacific Climate Warriors are doing their part to protect their home from the effects of climate changes, telling the world: "We are not drowning. We are fighting."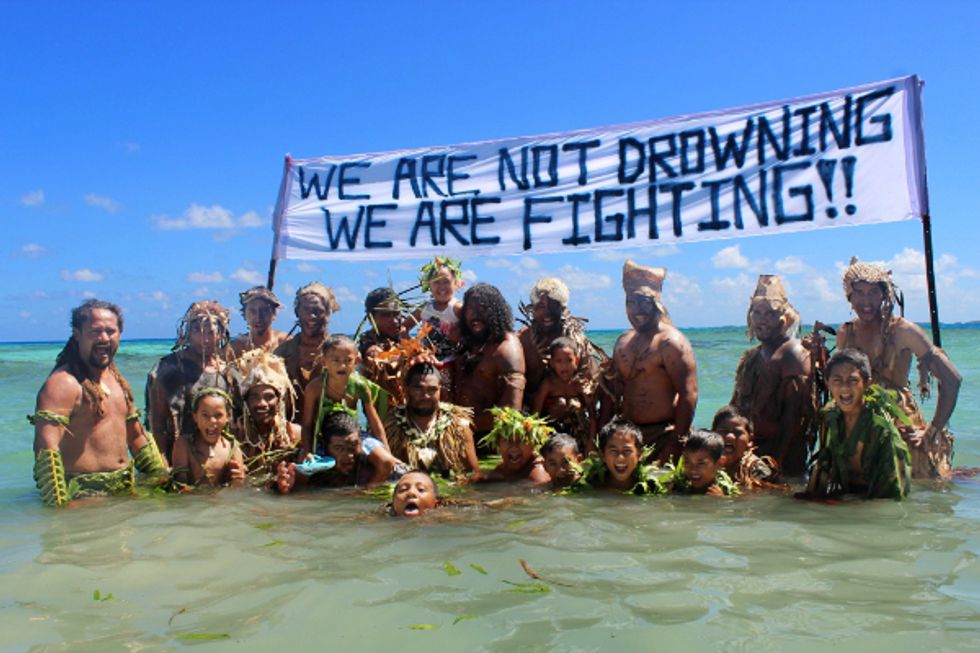 Photo credit: 350 Pacific
The Pacific Climate Warriors have been building traditional canoes in preparation for an epic journey to Australia this October, where they will stand up to those blocking climate action and to the fossil fuel industry that is destroying their homelands.
350 Pacific, active in 15 of the Pacific Island Nations, launched a video explaining the mission of the campaign:
The Pacific Warriors will travel Australia and share their story of struggle, confident that Australians will stand up and say "we will not let our neighbors drown."
As the group states:
For 20 years we've asked world leaders to take action to stop polluting the atmosphere. Unless we act now, many of our Pacific Islands face losing everything to sea level rise. We cannot wait any longer.
You Might Also Like
Rising Sea Levels Could Spark Largest Migration of Displaced People in History
How Acidification, Overfishing and Plastics Threaten the World's Oceans
Marine biologists' worst fears seem to be confirmed: coral colonies take a long time to recover from catastrophic climate events.
British and Brazilian biologists report in the Public Library of Science One (PLoS One) that the richest habitats of the sea could also be among the most vulnerable to climate change.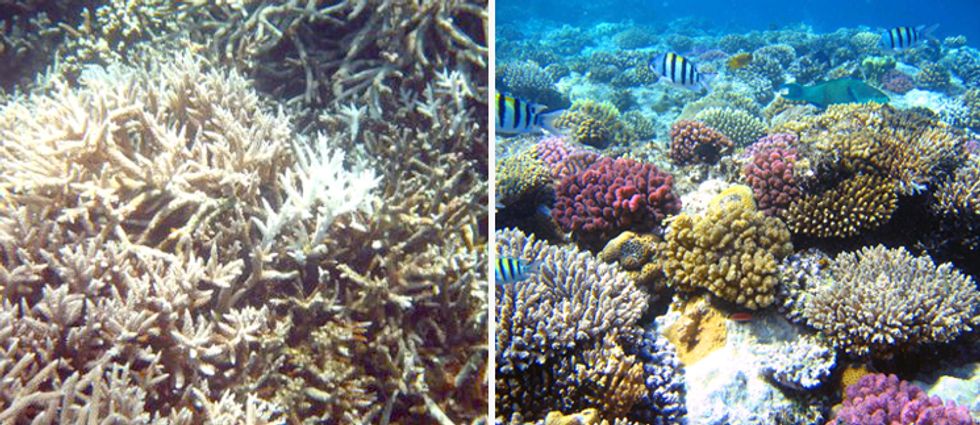 For more than 17 years, conservationists from Plymouth University in the UK worked with researchers from the Federal University of Bahia in Brazil to analyze the diversity and density of coral reefs and colonies off the coast of South America. Quite early in that 17 year span, there was an El Niño event.
El Niño is a periodic eruption of unprecedented ocean temperatures: it is a natural phenomenon and seems to have happened periodically through recorded human history, distinguished by droughts and wildfires in those places that normally expect high rainfall and floods on otherwise normally arid coasts.
Rising Temperatures
The 1997-98 event lasted for 18 months and was considered one of the most devastating of all, with sea temperatures reaching a global record. Tropical coral reefs were affected almost everywhere; there were also devastating storms and floods in California and forest fires in Borneo.
Corals are peculiarly sensitive to sea temperatures—they tend to bleach if seas get hotter—and many corals live and flourish near the limits of their tolerance. Coral reefs are also home to an estimated 25 percent of all marine species, so the loss of a reef has a serious effect on marine biodiversity, as well as on the incomes of local fishermen—and local tourist operators.
The British and Brazilian scientists monitored eight species of Scleractinian, or stony corals, and worked with the Brazilian Meteorological Office to build up a complete picture of the environmental conditions and the way in which they affected species behavior.
Slow Recovery
During 1998, all the monitored corals showed increased mortality and one species disappeared completely from the reefs for at least seven years. Then, as temperatures dropped, the corals started to grow again.
Recent measurements show that the coral colonies have fully recovered, and are now back to the levels recorded before 1998. That's the good news. The bad news is that recovery took so long.
"El Niño events give us an indication of how changing climate affects ecosystems as major changes within the Pacific impact the whole world," said one of the authors, Martin Attrill of Plymouth's Marine Institute.
"If the reefs can recover quickly, it is probable they can adapt and survive the likely changes in water temperatures ahead of us. However, we found it took 13 years for the coral reef system of Brazil to recover, suggesting they may be very vulnerable to climate-related impacts," concluded Attrill.
Visit EcoWatch's WATER and BIODIVERSITY pages for more related news on this topic.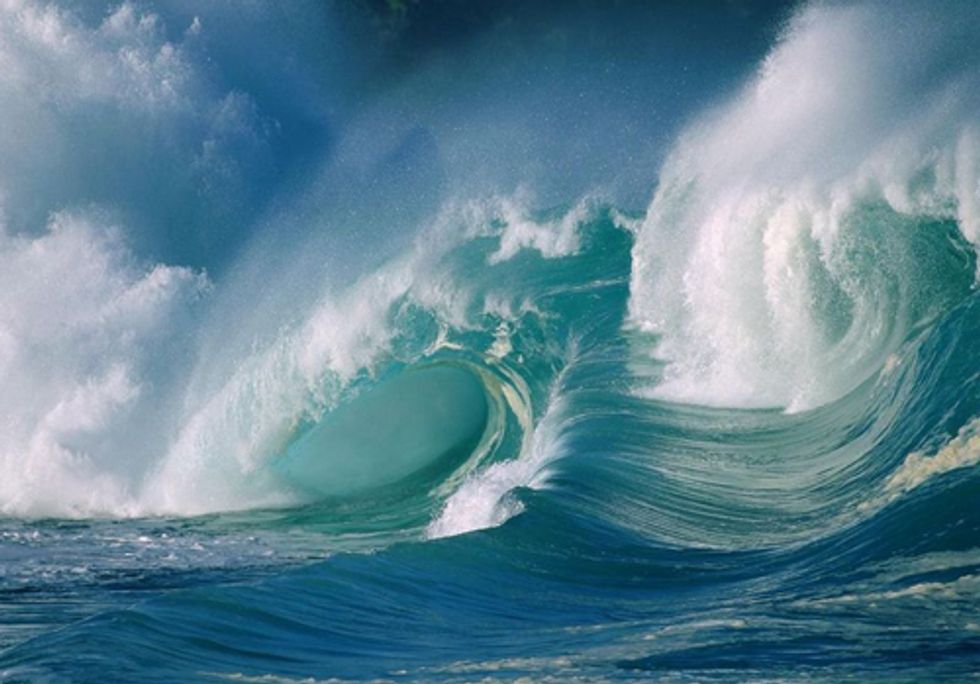 The Obama administration released a draft Implementation Plan on Jan. 12 for the National Ocean Policy. The draft provides strategic action plans for the policy's nine priority objectives. In response, Ocean Conservancy released the following statement from Emily Woglom, director of Government Affairs:
 
"We applaud the administration for following though on the landmark National Ocean Policy with the release of this draft Implementation Plan. We hope the draft plan will provide the direction and guidance needed to tackle some of the many challenges facing our ocean, including planning for offshore energy, protecting important marine habitat and addressing changes affecting the Arctic.
 
"With the plan's release, and momentum building, the administration should ensure the appropriate resources are provided to continue the much-needed work on comprehensive ocean-use planning. The next step, setting up regional planning bodies to help fight against haphazard use of ocean resources, will allow ocean uses to be coordinated and management decisions to be made on the regional level. This will be a win for all involved.
 
"Ocean Conservancy encourages everyone with a stake in the health of the ocean to participate in the comment period in order to make this process as public and transparent as possible. Input and engagement from all ocean users is vital for both this plan and future implementation of the National Ocean Policy to foster coordination for a healthier ocean. We look forward to providing detailed feedback on the plan and engaging with the National Ocean Council as the process moves ahead."
To read and submit comments on the draft Implementation Plan, see the National Ocean Council's full statement below:
National Ocean Policy Draft Implementation Plan
As part of President Obama's National Policy for the Stewardship of the Ocean, Our Coasts, and the Great Lakes, the National Ocean Council has released a draft National Ocean Policy Implementation Plan to address some of the most pressing challenges facing the ocean, our coasts, and the Great Lakes. The draft Implementation Plan describes more than 50 actions the Federal Government will take to improve the health of the ocean, coasts, and Great Lakes, which support tens of millions of jobs, contribute trillions of dollars a year to the national economy, and are essential to public health and national security.
The draft Implementation Plan will ensure the Federal Government targets limited resources more effectively to deliver demonstrable results for the American people, including predictability for users, more efficient and coordinated decision-making, and improved sharing of data and technology. For each action, the plan outlines key milestones, identifies responsible agencies, and indicates the expected timeframe for completion.
Click here to read the draft Implementation Plan.
We Want to Hear From You
Click here to provide comments on the draft Implementation Plan. The public comment period is open until midnight EST, Feb. 27, 2012.
We are relying on your input to inform development of the final Implementation Plan and help ensure the National Ocean Policy is working for our nation. We welcome your general input, and also pose the following questions:
Does the draft Implementation Plan reflect actions you see are needed to address the nine priorities for the ocean, coasts, and the Great Lakes?
What is the most effective way to measure outcomes and to detect whether a particular action in the Implementation Plan has achieved its intended outcome? Would a report card format be useful?
Comments received will be collated and posted on the National Ocean Council website. The National Ocean Council will review and incorporate comments before finalizing the plan in 2012. The plan will be reviewed annually and modified as needed based on new information or changing conditions. 
Comments may also be sent by fax to "Attn: National Ocean Council" at (202) 456-0753, or by mail to: National Ocean Council, 722 Jackson Place, NW, Washington, D.C. 20503. Allow at least 2-3 weeks additional time for mailed comments to arrive.
More on the Development of the draft Implementation Plan
The draft Implementation Plan was developed with significant input from national, regional, and local stakeholders and the general public. The National Ocean Council sought public comment from January through April 2011 and June through July 2011, and held 12 regional listening sessions around the country. In addition, the Governance Coordinating Committee, composed of state, Tribal, and local government officials, and the Ocean Research Advisory Panel, composed of expert representatives from a range of ocean sectors, provided input for the plan.
In mid-2011, the National Ocean Council released for public comment outlines for nine Strategic Action Plans that provided an initial view on how federal agencies might address the nine priority objectives highlighted in the National Ocean Policy. The outlines, by design, were draft products that served as an early and valuable point in the Implementation Plan development process for focusing public and stakeholder input.
During the public comment period that was open June 2—July 2, 2011, the National Ocean Council received more than 400 contributions from more than 200 individuals and groups. In addition, approximately 1000 individuals and groups participated in and provided comments at 12 regional listening sessions around the country. The National Ocean Council agencies evaluated more than 850 specific comments from stakeholders and the public, many representing multiple submissions of very similar comments. We considered all of the comments and accepted many, incorporating them into the draft Implementation Plan. 
Click here to read a summary of the most substantive and frequent public comments and how they are addressed in the draft Implementation Plan.
Click here to read past public comments and learn about the Strategic Action Plans.
For more information, click here.
—————
Ocean Conservancy is the world's foremost advocate for the oceans. Through science-based advocacy, research, and public education, we inform, inspire and empower people to speak and act for the oceans. Ocean Conservancy is headquartered in Washington, DC, and has offices in Florida, the Gulf of Mexico, and the Pacific, with support from more than half a million members and volunteers.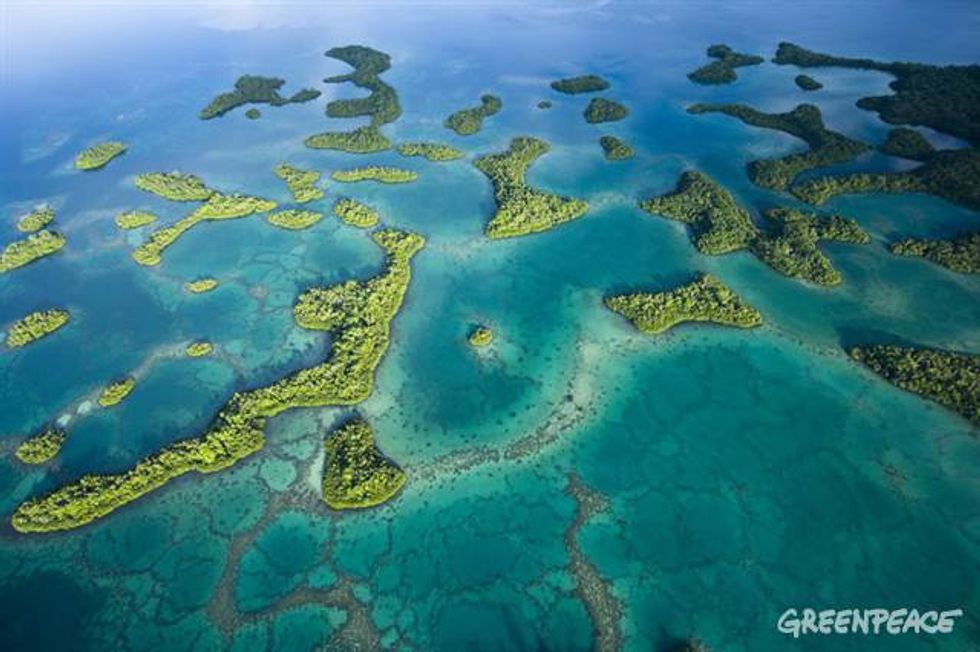 By Nathaniel Pelle
Right now, the Australian government is deciding the fate of Australia's Coral Sea. The countdown is on to protect nearly one million square kilometres of unique coral reefs, atolls and underwater canyons flanking the world-heritage listed Great Barrier Reef.
Just a few weeks back I sailed out of Port Moresby aboard the Greenpeace ship Esperanza, through the Coral Sea and then north into the western and central Pacific Ocean. These are the very same waters my grandfather patrolled as a youth in the Australian Navy during the historic Battle of the Coral Sea in the latter half of World War II.
I remember fondly his striking stories that described swimming alongside warships among remarkable abundances of marine life. His memories recalled sailors at play with swarms of dolphins, turtles, swordfish and large schools of gentle hammerhead sharks. I remember his tales of catching tuna at will with simple handlines dropped lazily from the poopdeck.
Sadly, such abundance is a rare thing to see these days. So it is with a tremendous sense of hope that I have observed the considerable efforts of regional players to preserve these waters and maybe even return them to their past richness.
The latest of these opportunities is the proposal by the Australian government to create the world's largest marine park in the Coral Sea under a once-in-a-generation bioregional planning process.
But it's not all good news—the government's draft plan leaves the majority of species-rich coral reefs, important breeding sites for tuna and marlin, and critical migration routes for turtles and whales, open to fishing. More than 20 important reefs—identified as key biodiversity hotspots—remain outside the no-take zone and are open to potentially damaging activity. Leaving these areas unprotected is a shortsighted move to appease a handful of vocal commercial and recreational fishers. Left unprotected are the crucial spawning grounds for bigeye and yellowfin tuna. This year both species were listed as vulnerable and near-threatened on the International Union for Conservation of Nature's Red List of species at risk of extinction.
For this proposal to achieve its potential, you can add your voice to the call for a genuinely historic sanctuary here.
Australia has stood by regional efforts to protect these species. With Australia's support, Pacific Island nations have banded together to close 4.5 million square kilometres of the high seas to purse seine fishing in order to safeguard their recovery.
Earlier this year, Palau—a nation that thrives on its stunning and incomparable marine ecosystem—declared its entire territorial waters a shark sanctuary and has created a network of marine national parks. The Esperanza is now in Palau assisting with enforcement of their territory. Swimming in these waters, so dense with life, I feel like I've had a taste of what the Pacific was like when my grandfather sailed it. That's what I want for the Coral Sea.
The Marshall Islands followed Palau's lead and look set to be joined by Fiji and the Cook Islands. With every one of these moves, the benefit is multiplied across the region.
It's fantastic that the Coral Sea proposal blocks oil exploration and mining for good and reduces some destructive fishing. But if Australia is to cement itself as a genuine champion of marine protection, and create a sanctuary that provides long-lasting regional benefit, it needs to greatly expand the area of the Coral Sea afforded full protection.
For more information, click here.