This website uses cookies to ensure you get the best experience while browsing it. By clicking 'Got It' you're accepting these terms.


The best of EcoWatch, right in your inbox. Sign up for our email newsletter!
Environmentalists and creative minds around the world are gearing up for this month's major climate action events.
This weekend, people in 89 countries will mobilize for the Rise for Climate global grassroots movement. It will feature 748 local events and rallies across the globe, as well as the largest-ever West Coast climate march to be held in San Francisco this Saturday.
The Pacific Ocean and Pacific Islands are in trouble, and not just from the recent spate of storms.
Because of climate change, oceans are facing increasing acidification, which is devastating to marine life, and islands face the threat of disappearing due to sea level rise.
But there is always hope.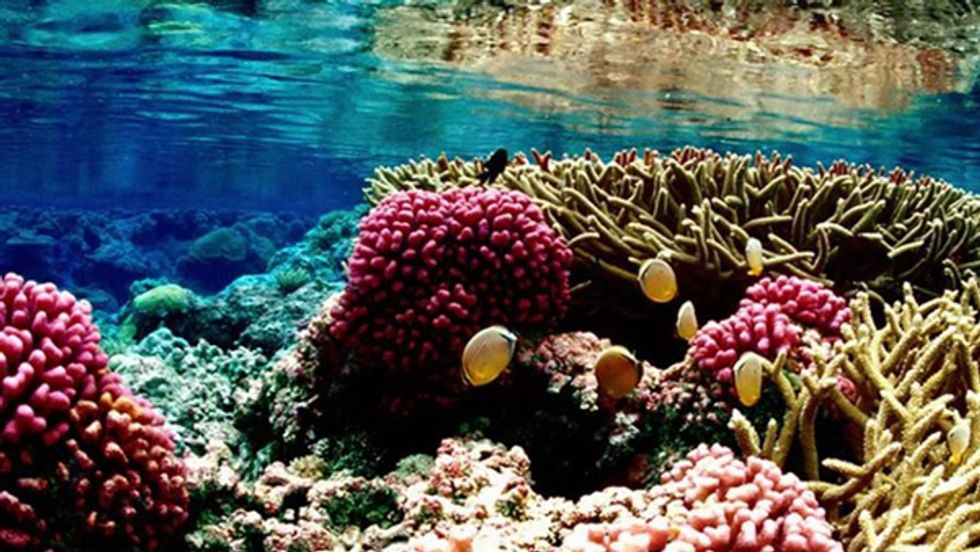 The Pacific Remote Islands Marine National Monument contains remarkably rich coral ecosystems. Photo Credit: Jim Maragos/U.S. Fish and Wildlife Service
The Pew Charitable Trusts' Global Ocean Legacy project has played a key role in urging governments to protect almost one million square miles of ocean from ecosystem threats. Their latest undertaking? Urging President Obama to expand and protect the Pacific Remote Islands Marine National Monument.
The planned expansion of the national monument, announced in June, would create an area larger than Alaska, increasing protection of U.S. waters in the Pacific by up to 671,000 square miles. Extending the boundaries would result in the world's most extensive network of marine protected areas, which, as research shows, is essential to increasing oceans species' diversity and resilience to climate change.
While the national monument expansion is still under consideration by the Obama administration, a group of Pacific Islanders called the Pacific Climate Warriors are doing their part to protect their home from the effects of climate changes, telling the world: "We are not drowning. We are fighting."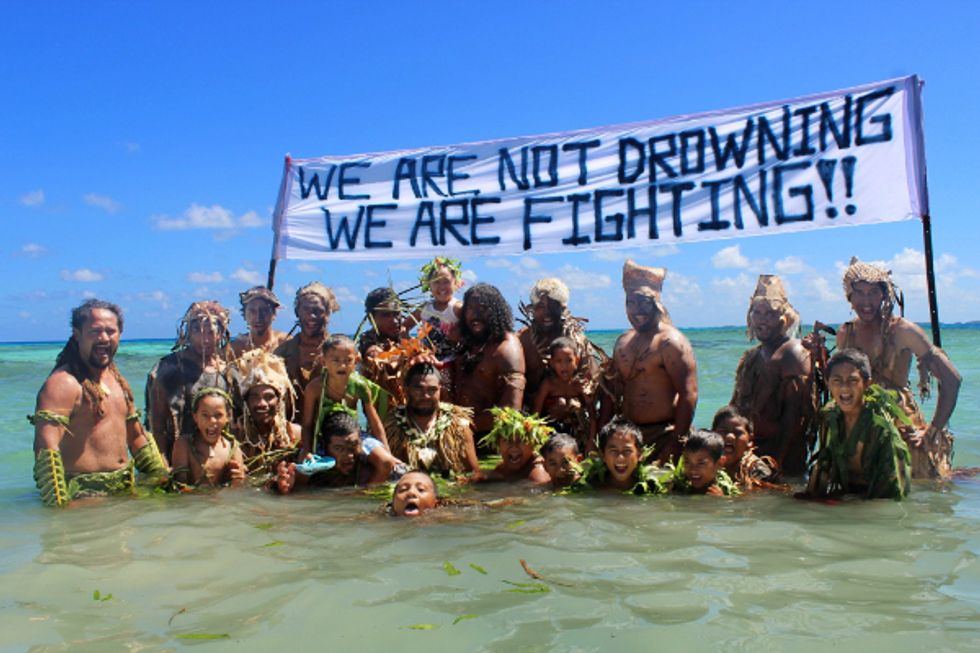 Photo credit: 350 Pacific
The Pacific Climate Warriors have been building traditional canoes in preparation for an epic journey to Australia this October, where they will stand up to those blocking climate action and to the fossil fuel industry that is destroying their homelands.
350 Pacific, active in 15 of the Pacific Island Nations, launched a video explaining the mission of the campaign:
The Pacific Warriors will travel Australia and share their story of struggle, confident that Australians will stand up and say "we will not let our neighbors drown."
As the group states:
For 20 years we've asked world leaders to take action to stop polluting the atmosphere. Unless we act now, many of our Pacific Islands face losing everything to sea level rise. We cannot wait any longer.
You Might Also Like
Rising Sea Levels Could Spark Largest Migration of Displaced People in History
How Acidification, Overfishing and Plastics Threaten the World's Oceans
EcoWatch Daily Newsletter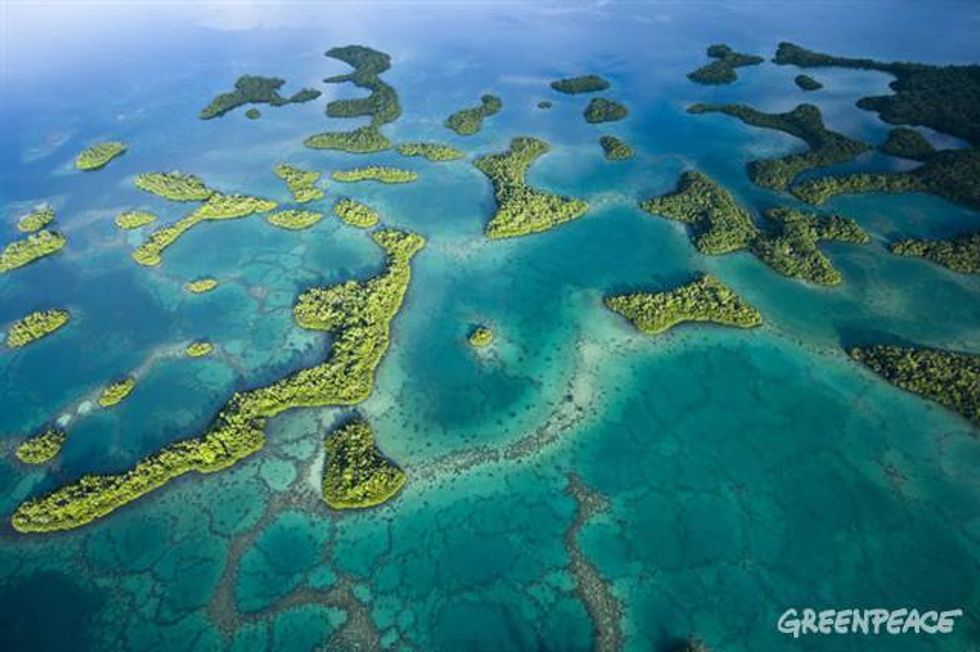 By Nathaniel Pelle
Right now, the Australian government is deciding the fate of Australia's Coral Sea. The countdown is on to protect nearly one million square kilometres of unique coral reefs, atolls and underwater canyons flanking the world-heritage listed Great Barrier Reef.
Just a few weeks back I sailed out of Port Moresby aboard the Greenpeace ship Esperanza, through the Coral Sea and then north into the western and central Pacific Ocean. These are the very same waters my grandfather patrolled as a youth in the Australian Navy during the historic Battle of the Coral Sea in the latter half of World War II.
I remember fondly his striking stories that described swimming alongside warships among remarkable abundances of marine life. His memories recalled sailors at play with swarms of dolphins, turtles, swordfish and large schools of gentle hammerhead sharks. I remember his tales of catching tuna at will with simple handlines dropped lazily from the poopdeck.
Sadly, such abundance is a rare thing to see these days. So it is with a tremendous sense of hope that I have observed the considerable efforts of regional players to preserve these waters and maybe even return them to their past richness.
The latest of these opportunities is the proposal by the Australian government to create the world's largest marine park in the Coral Sea under a once-in-a-generation bioregional planning process.
But it's not all good news—the government's draft plan leaves the majority of species-rich coral reefs, important breeding sites for tuna and marlin, and critical migration routes for turtles and whales, open to fishing. More than 20 important reefs—identified as key biodiversity hotspots—remain outside the no-take zone and are open to potentially damaging activity. Leaving these areas unprotected is a shortsighted move to appease a handful of vocal commercial and recreational fishers. Left unprotected are the crucial spawning grounds for bigeye and yellowfin tuna. This year both species were listed as vulnerable and near-threatened on the International Union for Conservation of Nature's Red List of species at risk of extinction.
For this proposal to achieve its potential, you can add your voice to the call for a genuinely historic sanctuary here.
Australia has stood by regional efforts to protect these species. With Australia's support, Pacific Island nations have banded together to close 4.5 million square kilometres of the high seas to purse seine fishing in order to safeguard their recovery.
Earlier this year, Palau—a nation that thrives on its stunning and incomparable marine ecosystem—declared its entire territorial waters a shark sanctuary and has created a network of marine national parks. The Esperanza is now in Palau assisting with enforcement of their territory. Swimming in these waters, so dense with life, I feel like I've had a taste of what the Pacific was like when my grandfather sailed it. That's what I want for the Coral Sea.
The Marshall Islands followed Palau's lead and look set to be joined by Fiji and the Cook Islands. With every one of these moves, the benefit is multiplied across the region.
It's fantastic that the Coral Sea proposal blocks oil exploration and mining for good and reduces some destructive fishing. But if Australia is to cement itself as a genuine champion of marine protection, and create a sanctuary that provides long-lasting regional benefit, it needs to greatly expand the area of the Coral Sea afforded full protection.
For more information, click here.