Environmentalists and creative minds around the world are gearing up for this month's major climate action events.
This weekend, people in 89 countries will mobilize for the Rise for Climate global grassroots movement. It will feature 748 local events and rallies across the globe, as well as the largest-ever West Coast climate march to be held in San Francisco this Saturday.
Rise for Climate participants seek a fossil-free world powered by 100 percent renewable energy. They will also demand bold action from policymakers ahead of the Global Action Climate Summit in San Francisco from Sept. 12-14.
Make art for the resistance! Join Climate Justice Ottawa in Minto Park on Sept 8 to make art communities on the fro… https://t.co/bhG6xlBBSv

— KatieRae 🌅 (@KatieRae 🌅)1535651460.0
To raise awareness for the Rise for Climate mobilizations, organizers commissioned artists from six continents to contribute pieces to the Art for Rise project that anyone can use for their own posters and demonstrations.
The featured artists hail from Brazil, Mânitow Sâkahikan territory in Canada, the Pacific Islands, Europe, Uganda and Indonesia.
One of the artists is Christi Belcourt, a Michif visual artist, Indigenous rights activist and opponent of the Trans Mountain tar sands pipeline.
"All life, even the rocks, need to be treated with respect," Belcourt said on the project website. "The sacred laws of this world are respect and reciprocity. When we stop following them, we as a species are out of balance with the rest of the world."
From left: Brazilian graffiti and street artist Mundano; Christi Belcourt of the Anishinaabeg territory in Canada; Ugandan poet and cinematographer, John Hillary Balyejusa Rise for Climate
Teleise Neemia Lesa, an artist from Samoa and New Zealand, contributed a unique symbol that showcases her solidarity with those in the low-lying Pacific Islands who are living on the frontlines of climate change, she said on the Rise for Climate website.
"There is a wealth of knowledge that has been passed down through generations of our ancestors living in harmony with nature. Through traditional indigenous practices our ancestors have taught us to respect the land and ocean," she added. "The symbols in this artwork represent powerful connections between our people, the ocean and our lands. The artwork symbolizes our hope to live in harmony with our lands and oceans."
The center of the symbol is a "Kikonang"—the Kirbati word for the coconut leaf windmill—and is a representation of a 100 percent renewable energy future in the Pacific.
Campaigners are welcome to download the artwork to build momentum for the Sept. 8 day of action. The images can be used for posters, art shows, projections, etc. Those interested are also invited to submit their own art work.
From left: Ari Aminuddin, a woodcut artist from Indonesia; Teleise Neemia Lesa, a Samoan/New Zealand born artist; Portuguese artist Daniela Paes Leão Rise for Climate
EcoWatch Daily Newsletter
The Pacific Ocean and Pacific Islands are in trouble, and not just from the recent spate of storms.
Because of climate change, oceans are facing increasing acidification, which is devastating to marine life, and islands face the threat of disappearing due to sea level rise.
But there is always hope.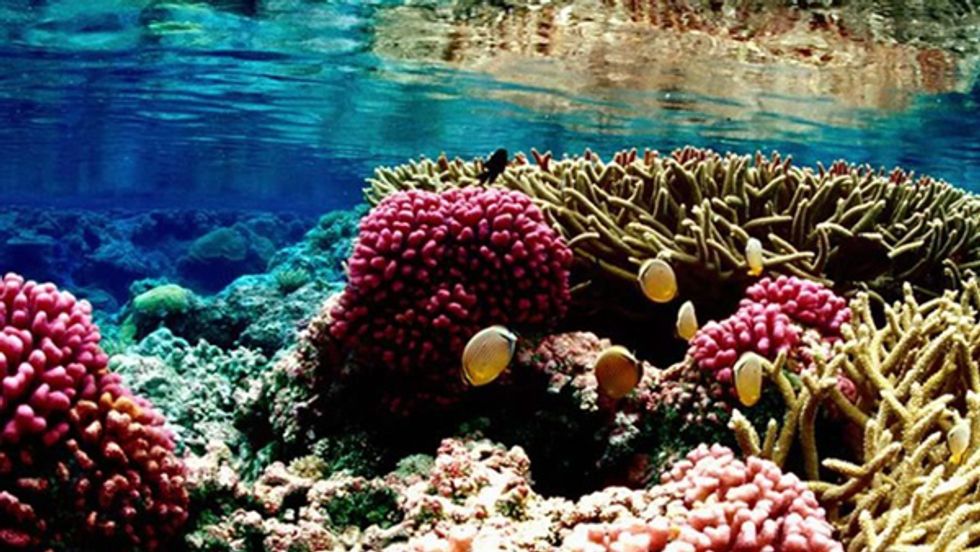 The Pacific Remote Islands Marine National Monument contains remarkably rich coral ecosystems. Photo Credit: Jim Maragos/U.S. Fish and Wildlife Service
The Pew Charitable Trusts' Global Ocean Legacy project has played a key role in urging governments to protect almost one million square miles of ocean from ecosystem threats. Their latest undertaking? Urging President Obama to expand and protect the Pacific Remote Islands Marine National Monument.
The planned expansion of the national monument, announced in June, would create an area larger than Alaska, increasing protection of U.S. waters in the Pacific by up to 671,000 square miles. Extending the boundaries would result in the world's most extensive network of marine protected areas, which, as research shows, is essential to increasing oceans species' diversity and resilience to climate change.
While the national monument expansion is still under consideration by the Obama administration, a group of Pacific Islanders called the Pacific Climate Warriors are doing their part to protect their home from the effects of climate changes, telling the world: "We are not drowning. We are fighting."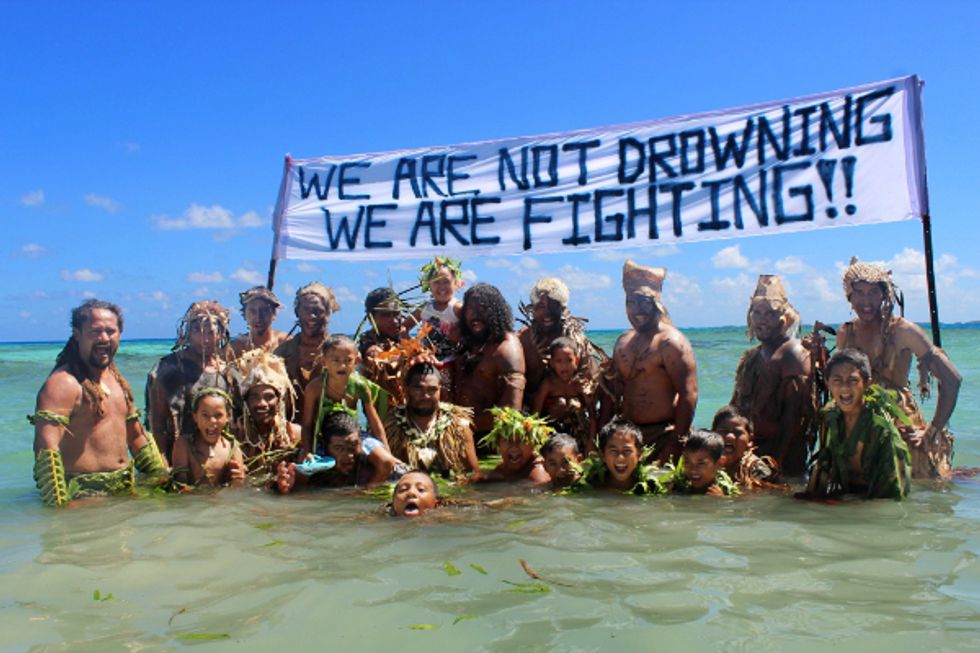 Photo credit: 350 Pacific
The Pacific Climate Warriors have been building traditional canoes in preparation for an epic journey to Australia this October, where they will stand up to those blocking climate action and to the fossil fuel industry that is destroying their homelands.
350 Pacific, active in 15 of the Pacific Island Nations, launched a video explaining the mission of the campaign:
The Pacific Warriors will travel Australia and share their story of struggle, confident that Australians will stand up and say "we will not let our neighbors drown."
As the group states:
For 20 years we've asked world leaders to take action to stop polluting the atmosphere. Unless we act now, many of our Pacific Islands face losing everything to sea level rise. We cannot wait any longer.
You Might Also Like
Rising Sea Levels Could Spark Largest Migration of Displaced People in History
How Acidification, Overfishing and Plastics Threaten the World's Oceans
waterlust.com / @tulasendlesssummer_sierra .
Each product featured here has been independently selected by the writer. If you make a purchase using the links included, we may earn commission.
The bright patterns and recognizable designs of Waterlust's activewear aren't just for show. In fact, they're meant to promote the conversation around sustainability and give back to the ocean science and conservation community.
Each design is paired with a research lab, nonprofit, or education organization that has high intellectual merit and the potential to move the needle in its respective field. For each product sold, Waterlust donates 10% of profits to these conservation partners.
Eye-Catching Designs Made from Recycled Plastic Bottles
waterlust.com / @abamabam
The company sells a range of eco-friendly items like leggings, rash guards, and board shorts that are made using recycled post-consumer plastic bottles. There are currently 16 causes represented by distinct marine-life patterns, from whale shark research and invasive lionfish removal to sockeye salmon monitoring and abalone restoration.

One such organization is Get Inspired, a nonprofit that specializes in ocean restoration and environmental education. Get Inspired founder, marine biologist Nancy Caruso, says supporting on-the-ground efforts is one thing that sets Waterlust apart, like their apparel line that supports Get Inspired abalone restoration programs.
"All of us [conservation partners] are doing something," Caruso said. "We're not putting up exhibits and talking about it — although that is important — we're in the field."
Waterlust not only helps its conservation partners financially so they can continue their important work. It also helps them get the word out about what they're doing, whether that's through social media spotlights, photo and video projects, or the informative note card that comes with each piece of apparel.
"They're doing their part for sure, pushing the information out across all of their channels, and I think that's what makes them so interesting," Caruso said.
And then there are the clothes, which speak for themselves.
Advocate Apparel to Start Conversations About Conservation
waterlust.com / @oceanraysphotography
Waterlust's concept of "advocate apparel" encourages people to see getting dressed every day as an opportunity to not only express their individuality and style, but also to advance the conversation around marine science. By infusing science into clothing, people can visually represent species and ecosystems in need of advocacy — something that, more often than not, leads to a teaching moment.

"When people wear Waterlust gear, it's just a matter of time before somebody asks them about the bright, funky designs," said Waterlust's CEO, Patrick Rynne. "That moment is incredibly special, because it creates an intimate opportunity for the wearer to share what they've learned with another."
The idea for the company came to Rynne when he was a Ph.D. student in marine science.
"I was surrounded by incredible people that were discovering fascinating things but noticed that often their work wasn't reaching the general public in creative and engaging ways," he said. "That seemed like a missed opportunity with big implications."
Waterlust initially focused on conventional media, like film and photography, to promote ocean science, but the team quickly realized engagement on social media didn't translate to action or even knowledge sharing offscreen.
Rynne also saw the "in one ear, out the other" issue in the classroom — if students didn't repeatedly engage with the topics they learned, they'd quickly forget them.
"We decided that if we truly wanted to achieve our goal of bringing science into people's lives and have it stick, it would need to be through a process that is frequently repeated, fun, and functional," Rynne said. "That's when we thought about clothing."
Support Marine Research and Sustainability in Style
To date, Waterlust has sold tens of thousands of pieces of apparel in over 100 countries, and the interactions its products have sparked have had clear implications for furthering science communication.
For Caruso alone, it's led to opportunities to share her abalone restoration methods with communities far and wide.
"It moves my small little world of what I'm doing here in Orange County, California, across the entire globe," she said. "That's one of the beautiful things about our partnership."
Check out all of the different eco-conscious apparel options available from Waterlust to help promote ocean conservation.
Melissa Smith is an avid writer, scuba diver, backpacker, and all-around outdoor enthusiast. She graduated from the University of Florida with degrees in journalism and sustainable studies. Before joining EcoWatch, Melissa worked as the managing editor of Scuba Diving magazine and the communications manager of The Ocean Agency, a non-profit that's featured in the Emmy award-winning documentary Chasing Coral.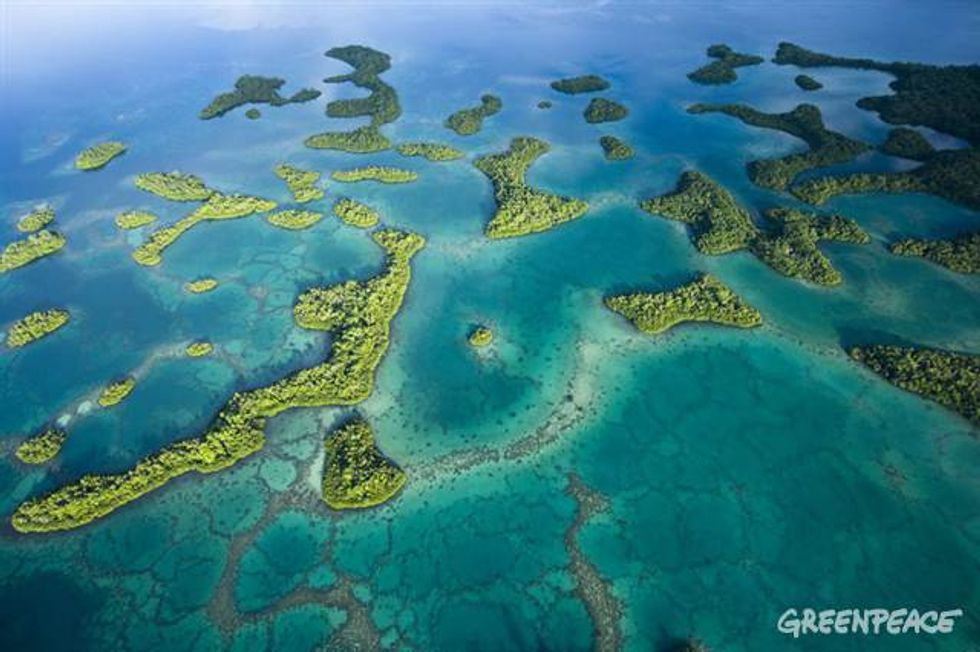 By Nathaniel Pelle
Right now, the Australian government is deciding the fate of Australia's Coral Sea. The countdown is on to protect nearly one million square kilometres of unique coral reefs, atolls and underwater canyons flanking the world-heritage listed Great Barrier Reef.
Just a few weeks back I sailed out of Port Moresby aboard the Greenpeace ship Esperanza, through the Coral Sea and then north into the western and central Pacific Ocean. These are the very same waters my grandfather patrolled as a youth in the Australian Navy during the historic Battle of the Coral Sea in the latter half of World War II.
I remember fondly his striking stories that described swimming alongside warships among remarkable abundances of marine life. His memories recalled sailors at play with swarms of dolphins, turtles, swordfish and large schools of gentle hammerhead sharks. I remember his tales of catching tuna at will with simple handlines dropped lazily from the poopdeck.
Sadly, such abundance is a rare thing to see these days. So it is with a tremendous sense of hope that I have observed the considerable efforts of regional players to preserve these waters and maybe even return them to their past richness.
The latest of these opportunities is the proposal by the Australian government to create the world's largest marine park in the Coral Sea under a once-in-a-generation bioregional planning process.
But it's not all good news—the government's draft plan leaves the majority of species-rich coral reefs, important breeding sites for tuna and marlin, and critical migration routes for turtles and whales, open to fishing. More than 20 important reefs—identified as key biodiversity hotspots—remain outside the no-take zone and are open to potentially damaging activity. Leaving these areas unprotected is a shortsighted move to appease a handful of vocal commercial and recreational fishers. Left unprotected are the crucial spawning grounds for bigeye and yellowfin tuna. This year both species were listed as vulnerable and near-threatened on the International Union for Conservation of Nature's Red List of species at risk of extinction.
For this proposal to achieve its potential, you can add your voice to the call for a genuinely historic sanctuary here.
Australia has stood by regional efforts to protect these species. With Australia's support, Pacific Island nations have banded together to close 4.5 million square kilometres of the high seas to purse seine fishing in order to safeguard their recovery.
Earlier this year, Palau—a nation that thrives on its stunning and incomparable marine ecosystem—declared its entire territorial waters a shark sanctuary and has created a network of marine national parks. The Esperanza is now in Palau assisting with enforcement of their territory. Swimming in these waters, so dense with life, I feel like I've had a taste of what the Pacific was like when my grandfather sailed it. That's what I want for the Coral Sea.
The Marshall Islands followed Palau's lead and look set to be joined by Fiji and the Cook Islands. With every one of these moves, the benefit is multiplied across the region.
It's fantastic that the Coral Sea proposal blocks oil exploration and mining for good and reduces some destructive fishing. But if Australia is to cement itself as a genuine champion of marine protection, and create a sanctuary that provides long-lasting regional benefit, it needs to greatly expand the area of the Coral Sea afforded full protection.
For more information, click here.