This website uses cookies to ensure you get the best experience while browsing it. By clicking 'Got It' you're accepting these terms.
Ivan / Moment / Getty Images
By Dan Nosowitz
There are several huge, pressing problems facing oysters in the Gulf. The Deepwater Horizon oil spill killed billions of oysters, droughts and floods upwards from the rivers that feed the Gulf have fed damaging amounts of sedimentation into the ocean, and pollution and development remain major issues. But, according to a big new report from the Nature Conservancy, there is hope—and even a plan.
Gulf Coast oysters on the half shell at Wintzell's in Mobile, AL.
donireewalker / CC BY 2.0
By Daniel R. Petrolia and William C. Walton
For Cainnon Gregg, 2018 started out as a great year. After leaving his job as an installation artist to become a full-time oyster farmer in Wakulla County, Florida in 2017, Gregg began raising small oysters in baskets or bags suspended in the shallow, productive coastal waters of Apalachicola Bay.
Raising oysters "off-bottom" this way takes a lot of time and money, but has a big potential payoff. They are destined for the high-end raw bar market, where offerings are denoted by specific appellations, like "Salty Birds" (Cainnon's oysters), "Navy Coves" (from Alabama) and "Murder Points" (also from Alabama), and can retail for twice the price of oysters harvested from traditional on-bottom reefs.
EcoWatch Daily Newsletter
Food poisoning cases linked to eating oysters and other shellfish from New England waters have jumped from five cases in 2000 to 147 in 2013. A study from the University of New Hampshire links this increase to warming ocean waters.
The culprit is a bacteria called Vibrio. It infects seafood and causes 80,000 illnesses and 100 deaths each year, according to the Centers for Disease Control and Prevention (CDC). It is most common when waters are warmer, typically from May to October. Now, as climate change is warming even the typically cool New England coastal seas, the bacteria is spreading.
''In the last 10 or 20 years, it's become very apparent that there is something going on,'' said one of the researchers, Stephen Jones, of the Northeast Center for Vibrio Disease and Ecology at the University of New Hampshire.
Vibriosis can cause vomiting, diarrhea, nausea, fever and chills. A bout typically lasts three days, but those with weakened immune systems or certain medical conditions can experience more serious symptoms.
A separate study published in August in the Proceedings of the National Academy of Sciences looked at 50 years of data from water samples in the North Atlantic. They found a direct correlation between rising water temperatures and increased Vibrio infections in both the U.S. and Europe.
Rita Colwell, one of the study's authors, told National Geographic, "We were able to show a doubling, tripling—in some cases quadrupling—of the Vibrio over that 50-year period."
Flickr/Jeremy Keith
Similar reports have come from Alaska as well.
Vibrio first made its appearance there in 2004, when 62 cruise ship passengers were sickened after eating raw oysters from Prince William Sound. A year later, the New England Journal of Medicine published a study that linked the outbreak to increased water temperatures.
The threshold level of danger comes when water reaches 59 degrees Fahrenheit. The study showed that the water temperature at the oyster farm where the infected mollusks were harvested had increased from 1997 to 2004. The temperature exceeded the critical level for the first time in July and August of 2004.
Then, Vibrio began to spread. From Prince William Sound to the Gulf of Alaska and Cook Inlet, over the next nine years 22 marine animals known to eat shellfish—sea otters, a beluga whale and a porpoise—were found to be carrying the bacteria.
The cold waters off Maine and New Hampshire have made Vibrio rare in the region. But, the Gulf of Maine is warming faster than 99.9 percent of the world's oceans. That has already decimated the lobster industry in Southern New England.
"In the North Atlantic, we are seeing a northern march of whole ecosystems toward the poles as the planet warms: predators, prey, and in the case of Vibrio, the parasites as well, moving with their hosts up the globe," said Andrew Pershing, chief scientific officer at the Gulf of Maine Research Institute.
Vibriosis isn't the only concern coming from warming waters. In recent months, Massachusetts, Maine and Rhode Island have been forced to close many areas to shellfishing due to numerous toxic algae outbreaks. They have since been reopened.
As winter approaches, colder sea temperatures reduce the risk of Vibrio bacteria. Current sea temperatures along the coast of New England are in the upper 40s to about 50 degrees, according to NOAA data, well below the danger level. Alaskan waters range from 33 degrees in Cook Inlet along the Kenai Peninsula to 45 in Prince William Sound and 46 in the Gulf of Alaska.
The CDC recommends cooking shellfish, washing your hands after contact with raw shellfish and avoiding contaminating cooked foods with raw shellfish or its juices. For those who love raw oysters, though, it may be wise to ask where they came from and check the NOAA coastal water temperatures or another app for that location. Or you can follow this common lore, which states that we should only be eating shellfish, especially oysters, in months with the letter "R."
By Tim Radford
Bad news for American gourmets: the commercial oyster industry in the Pacific Northwest has been failing for several years, and may go on failing as increasingly acid oceans put the larvae of the bivalve Crassostrea gigas seriously at risk.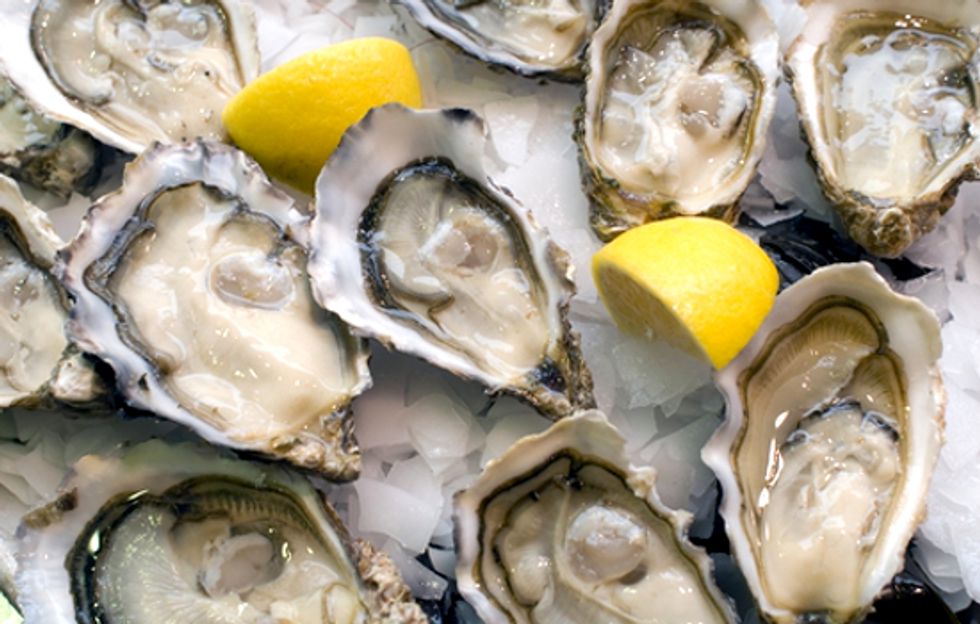 Photo courtesy of Shutterstock
The good news is that U.S. scientists now know exactly why things are going wrong in the oyster beds, which opens up the possibility of commercial hatcheries finding ways to get around the problem.
First, the facts: as carbon dioxide (CO2) levels in the atmosphere rise inexorably, so the gas dissolves in water and falls as a very weak carbonic acid rain, with a subtle but measurable change in the pH values of the planet's oceans.
There have always been dissolved gases in rainwater, but as long as pH levels remain stable, the oceans' corals and molluscs not only adapt, they subtly exploit the water chemistry to build stronger bones and shells.
Sensitive to Change
Oysters seem unusually sensitive to changes in pH, but marine biologist George Waldbusser and research colleagues at Oregon State University report in Geophysical Research Letters that the failure of the oyster harvest isn't a simple case of acid waters dissolving calcium carbonate shells.
Instead, water high in dissolved CO2 tends to alter the shell formation rates, the energy usage and ultimately, the growth and survival of young oysters.
Females tend to produce eggs by the million as water temperatures reach around 20 degrees Celsius. Once fertilized and hatched, the embryos have about two days to start building a shell. Raised CO2 levels in the water impose an extra energy cost for the little shell-builders.
Mature oysters can take their time and assemble calcium carbonate production more slowly, but larvae don't have the time. Their only energy supply is the nourishment in the egg.
"From the time eggs are fertilized, Pacific oyster larvae precipitate roughly 90 percent of their body weight as calcium carbonate shell within 48 hours," Dr. Waldbusser says. "They must build their first shell quickly on a limited amount of energy—and, along with the shell, comes the organ to capture external food."
Death Race
"It becomes a death race of sorts. Can the oyster build its shell quickly enough to allow its feeding mechanism to develop before it runs out of energy from the egg?", the report asks.
Armed with this insight into oyster bed ecology, the scientists say, there are interventions that can be introduced at hatcheries that may offset some of the effects of ocean acidification. Some hatcheries have started to "buffer" the water supplies in commercial hatcheries that supply the marine and estuary oyster beds—essentially, adding antacids to incoming waters.
However, what may be hopeful news for fish farmers may not be such good news for the wild oyster, which will no doubt experience more stress in its native waters as CO2 levels go on rising.
The research matters at one level because Pacific oyster farming is now a billion-dollar business, and at another because it exposes something of the intricate connection between sea-dwelling creatures and the chemistry of the sea.
It is also a reminder that any creature faces different hazards at every stage of its life cycle. 
"We suggest that the predictions of winners and losers in a high CO2 world may be better informed by calcium carbonate kinetics, bioenergetics, ontogeny and life-history characteristics than by shell mineralogy alone," said the report's authors.
Visit EcoWatch's CLIMATE CHANGE and FOOD pages for more related news on this topic.