This website uses cookies to ensure you get the best experience while browsing it. By clicking 'Got It' you're accepting these terms.
Renowned naturalist David Attenborough sat down with BBC Newsnight for a wide-ranging interview about the environment and how the planet cannot accommodate the "alarming rate" of human overpopulation.
"One of the reasons that the population has increased as fast as it has is that people like me are living longer than we did," Attenborough explained. "And so there are more and more people just because the expectancy of life has increased."
By Andrew D. Hwang
Humans are the most populous large mammal on Earth today, and probably in all of geological history. This World Population Day, humans number in the vicinity of 7.5 to 7.6 billion individuals.
EcoWatch Daily Newsletter
Africa's giraffe population has plunged almost 40 percent in the past 30 years. Photo credit: Center for Biological Diversity
Scientists warn in a new study that Earth is undergoing a sixth mass extinction that is "more severe than perceived."
Not only that, human activity—including pollution, deforestation, overpopulation, poaching, warming oceans and extreme weather events tied to climate change—is to blame for this massive loss in biodiversity, according to an analysis published Monday in the Proceedings of the National Academy of Sciences.
By 2030, 1.1 billion more people are expected to be living on Earth—bringing the total to around 8.5 billion.
James Cridland / Flickr
In a new report published in the journal, Nature, authors Richard T. T. Forman, a Harvard University research professor, and Jianguo Wu, a distinguished professor of sustainability science at Arizona State University, said urban expansion alters a city's 'big seven': natural vegetation, agricultural land, clean water, jobs, housing, transport and communities.

Moving forward, the authors argue we need worldwide cooperation on a new approach to planning cities that will house all of these new people and stop our increasingly heavy ecological footprint.
"It will require international and national policies for environmental protection, urban development and human migration. And each city must develop an urban regional plan," the authors wrote.

Aa far as where people can go, Forman and Wu said they see promise in large areas in the Americas, central Africa and Asia as well as pockets of Oceania due to its warm and moist climates suitable for growing crops such as cacao, coffee, palm oil, rice and corn.
They also said metropolitan regions should encourage and develop compact communities—like ones found outside Portland, Oregon, and Canberra, Australia—which provide space for sustainable communities and limits the loss of valuable land.
"Local officials and decision-makers will need policies and incentives to encourage sustainable development in these zones, particularly in rural villages, which tend to empty out as residents move to cities for work," the authors said.
The idea and execution of city planning, they said, should be reversed to focus on building structures around valuable natural resources, not on top of them.
"Society must think globally, plan regionally, then act locally," the authors concluded.
Watch here: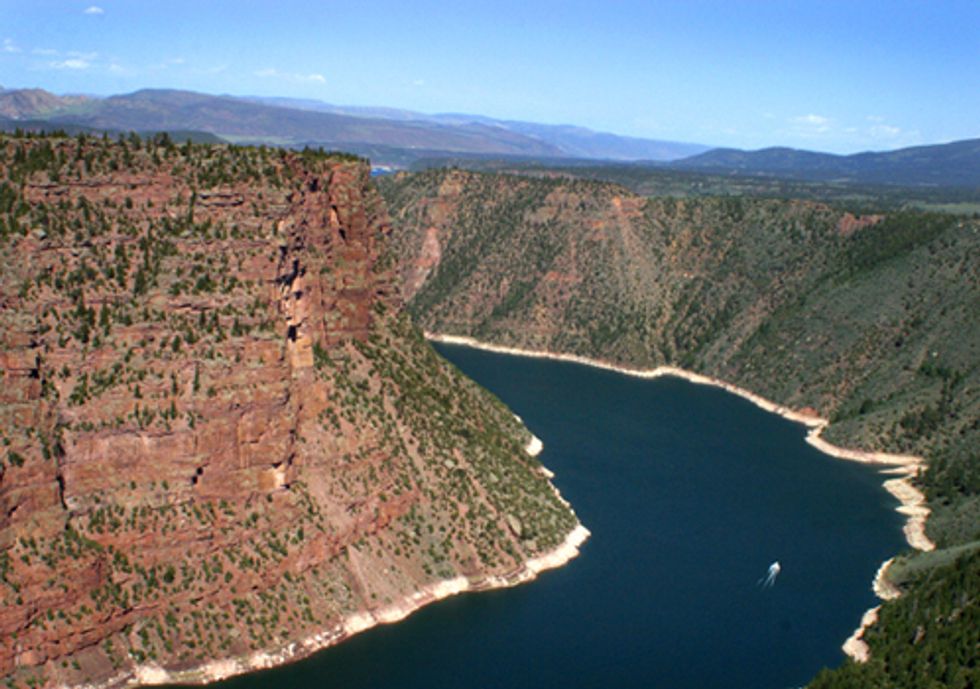 More than 5,000 public comments were sent to the Federal Energy Regulatory Commission this week opposing the proposed Flaming Gorge Pipeline, which would pump more than 250,000 acre-feet of water annually over 500 miles from Flaming Gorge Reservoir to Colorado's Front Range. The project would suck massive amounts of water out of the Green and Colorado rivers in Utah, unleashing disastrous impacts on those river ecosystems, four species of endangered fish—the Colorado pikeminnow, humpback chub, razorback sucker and bonytail chub—and human communities dependent on those rivers. The commission is currently evaluating whether to grant a preliminary permit for the project.
"Burning fossil fuels to pump river water across 500 miles to feed urban sprawl is a ludicrous idea—and that's what the public told the Federal Energy Regulatory Commission this week," said Taylor McKinnon of the Center for Biological Diversity. "It's hard to imagine a worse proposal for the already over-allocated Colorado River system that's beset by a warming climate, declining flows and disappearing native fish populations."
This week's public comments come on the heels of formal intervention in the commission's process filed last week by the Colorado River Protection Coalition—a coalition of 10 conservation groups, including the center. The coalition asserts that the Flaming Gorge Pipeline is unlikely to be permitted because it would likely violate the Endangered Species Act and adversely affect four national wildlife refuges. Part of the project would be located in a U.S. Forest Service roadless area. The coalition also argued that the permit should be denied because the applicant, Wyco, failed to meet several requirements during a previous attempt at permitting a nearly identical project with the U.S. Army Corps of Engineers.
The new batch of comments this week came from online action alerts created by the Center for Biological Diversity and Earthjustice.
"The opposition to this project is amazing," said McCrystie Adams of Earthjustice. "The pipeline would devastate the Green River and severely harm the Colorado River downstream—the public is strongly speaking out against this pipeline scheme."
Wyco previously sought a permit for the pipeline from the U.S. Army Corps of Engineers. In July 2011 the Corps terminated its review of the project because Wyco missed multiple deadlines and did not provide information requested by the Corps. A few months later, Wyco redesigned the project to include some incidental hydropower components and requested review through the Federal Energy Regulatory Commission. Despite the modifications, the project remains an energy hog—at least nine air-polluting, natural gas-fired pumping stations would be required to pump the water uphill across Wyoming and over the Continental Divide. Wyco's president has acknowledged that pumping the water uphill would use more energy than the project would create through hydropower.
Since its inception, the Flaming Gorge Pipeline has met with opposition in Colorado, Wyoming and Utah. The water would go to the Front Range of Colorado, which is projected to double in population in the next 50 years. Colorado is already a parched state with severely depleted rivers, while the majority of the water in Colorado's cities is used to keep lawns green for three months in the hot, dry summer across sprawling suburban landscapes.
The coalition's intervention comments can be downloaded here.
For more information, click here.