Pexels
By Allison Johnson
Most people who buy organic do it because they want to eat healthier. It's true – switching to an organic diet rapidly decreases exposure to a wide range of pesticides, including glyphosate (the main ingredient in Roundup). According to a new study published in Environmental Research, glyphosate levels in families' bodies dropped 70% in just one week on an organic diet. The researchers concluded that diet is a major source of glyphosate exposure and that eating organic reduces exposure.
Friends of the Earth / https://foe.org/the-study/
But the health benefits of organic agriculture extend far beyond our individual dinner plates. Organic farming offers a comprehensive alternative to chemical agriculture, and it protects our soil, air, water, wildlife, and critically – our farming communities – from toxic pesticides.
The purpose of pesticides is to kill. So it's not surprising that widespread use of these chemicals poses a serious public health threat. Diet alone exposes us to a frightening cocktail of pesticide residues, and toxic pesticides pose much more severe health threats to farming communities.
Food system workers and their families and communities – who are disproportionately Latinx and low-income – bear the brunt of harm from toxic pesticide use in agriculture. Farmworkers are at risk from direct exposure to harmful chemicals when mixing and applying pesticides, as well as while working in fields; as a result, they suffer more chemical-related injuries than any other U.S. workforce. Exposure also extends beyond the workplace. Workers can carry pesticides home on clothes, shoes, and skin, inadvertently exposing their children and other family members, and pesticide drift can harm people living, working, and learning near farms.
These exposure routes add up. And weaning our agricultural system off its addiction to toxic chemicals is an uphill battle.
We've seen recent wins on pesticide issues in the courts and in some states, but it can take decades of fighting to end the use of a single pesticide. For example, NRDC petitioned the federal Environmental Protection Agency (EPA) to end use of the brain-toxic pesticide chlorpyrifos in 2007; thirteen years later, we're still in court demanding that EPA protect public health. Meanwhile numerous similar organophosphate chemicals also remain in our fields and our bodies.
This pesticide "whack-a-mole" problem makes organic farming a potent addition to our public health toolbox, especially in farming communities: organic farmers do no use most synthetic pesticides, so organic farming eliminates a wide range of health threats posed by farming with toxic chemicals.
The health crises facing farm workers and rural communities needs urgent attention, particularly in light of the added burdens from the COVID-19 crisis. Kendra Klein and Anna Lappé got it right:
"As long as we treat organic food as if it's a shopping preference instead of a public good, we will miss the opportunity to fight for a desperately needed shift in how we farm."
We should all be able to eat without exposing anyone to toxic pesticides. That's why we support more public investment in organic in schools, in the Farm Bill, in climate policy, and beyond. The stakes are high – but the solutions are within reach.
Allison Johnson is a Sustainable Food Policy Advocate at the Natural Resources Defense Council.
Reposted with permission from the Natural Resources Defense Council.
EcoWatch Daily Newsletter
Wilfredorrh / Flickr
By Jessica Corbet
Angering organic farmers and advocates, the Trump administration announced on Monday that it will officially withdraw a rule that would have added animal welfare regulations for meat, eggs and dairy marketed as "organic."
The U.S. Department of Agriculture (USDA) killed the Organic Livestock and Poultry Practices (OLPP) final rule after deciding that it "exceeds the department's statutory authority, and that the changes to the existing organic regulations could have a negative effect on voluntary participation in the National Organic Program," according to a USDA statement.
While Greg Ibach, undersecretary for the USDA's marketing and regulatory program, claimed that "the existing robust organic livestock and poultry regulations are effective," organic farmers, animal rights advocates and consumers who have supported the enhanced regulations—which were published on Jan. 19, 2017 and would have taken effect in May—expressed disappointment with the move.
Today, the USDA withdrew rules that established standards for organic livestock production. This puts family farmer… https://t.co/rriyLyLqoH

— National Farmers Union (@National Farmers Union)1520882300.0
"The decision nullifies 14 years of policymaking in a process mandated by Congress, and marks an about-face for the agency," Lynne Curry wrote for Civil Eats. The rule would have "specified a set of standards for organic livestock and poultry designed to minimize stress, facilitate natural behaviors and promote well-being," she noted in an update to a piece she published in December. As Curry explained:
Championed throughout the organic industry—from farmers to consumer groups to retailers and animal-welfare advocates—the OLPP was intended as a course correction for the $43 billion food industry, formulated to bring organic dairy, eggs and meat production into line with consumer expectations of higher animal welfare. Trust in the organic seal depended on it, some advocates insisted.
But this latest USDA decision codifies the big rift between the majority of certified organic producers, who follow the spirit of the law, and the fewer, much larger producers who seek to gain market advantage, primarily by continuously confining animals that are required by law to have outdoor access. The USDA's ruling preserves the status quo, and fails to establish the USDA Organic label as the "gold standard" for organics that OLPP promised.

When the department moved to withdraw the rule in December, the industry group Organic Trade Association (OTA) said, "This groundless step by USDA is being taken against a backdrop of nearly universal support among the organic businesses, and consumers for the fully vetted rules that USDA has now rejected."
"It is against this overwhelming public input that USDA ignores growing consumer demands for food transparency," the group added. "It makes no sense that the Trump administration would pursue actions that could damage a marketplace that is giving American farmers a profitable alternative, creating jobs and improving the economies of our rural areas."
Monday's announcement came after the OTA requested oral hearings late last week for a lawsuit it filed against the USDA for repeatedly delaying and moving to withdraw the rule.
"Failure to implement the final rule, and its welfare provisions, will lead to irremediable damage to consumer trust in the USDA Organic seal," warned Jesse Laflamme, a supporter of the OTA lawsuit and co-founder of Pete and Gerry's Organic Eggs, which partners with over more than family-owned farms in 14 states. "Our farmers will suffer severe financial setbacks."
Reposted with permission from our media associate Common Dreams.
From Your Site Articles
Related Articles Around the Web
waterlust.com / @tulasendlesssummer_sierra .
Each product featured here has been independently selected by the writer. If you make a purchase using the links included, we may earn commission.
The bright patterns and recognizable designs of Waterlust's activewear aren't just for show. In fact, they're meant to promote the conversation around sustainability and give back to the ocean science and conservation community.
Each design is paired with a research lab, nonprofit, or education organization that has high intellectual merit and the potential to move the needle in its respective field. For each product sold, Waterlust donates 10% of profits to these conservation partners.
Eye-Catching Designs Made from Recycled Plastic Bottles
waterlust.com / @abamabam
The company sells a range of eco-friendly items like leggings, rash guards, and board shorts that are made using recycled post-consumer plastic bottles. There are currently 16 causes represented by distinct marine-life patterns, from whale shark research and invasive lionfish removal to sockeye salmon monitoring and abalone restoration.

One such organization is Get Inspired, a nonprofit that specializes in ocean restoration and environmental education. Get Inspired founder, marine biologist Nancy Caruso, says supporting on-the-ground efforts is one thing that sets Waterlust apart, like their apparel line that supports Get Inspired abalone restoration programs.
"All of us [conservation partners] are doing something," Caruso said. "We're not putting up exhibits and talking about it — although that is important — we're in the field."
Waterlust not only helps its conservation partners financially so they can continue their important work. It also helps them get the word out about what they're doing, whether that's through social media spotlights, photo and video projects, or the informative note card that comes with each piece of apparel.
"They're doing their part for sure, pushing the information out across all of their channels, and I think that's what makes them so interesting," Caruso said.
And then there are the clothes, which speak for themselves.
Advocate Apparel to Start Conversations About Conservation
waterlust.com / @oceanraysphotography
Waterlust's concept of "advocate apparel" encourages people to see getting dressed every day as an opportunity to not only express their individuality and style, but also to advance the conversation around marine science. By infusing science into clothing, people can visually represent species and ecosystems in need of advocacy — something that, more often than not, leads to a teaching moment.

"When people wear Waterlust gear, it's just a matter of time before somebody asks them about the bright, funky designs," said Waterlust's CEO, Patrick Rynne. "That moment is incredibly special, because it creates an intimate opportunity for the wearer to share what they've learned with another."
The idea for the company came to Rynne when he was a Ph.D. student in marine science.
"I was surrounded by incredible people that were discovering fascinating things but noticed that often their work wasn't reaching the general public in creative and engaging ways," he said. "That seemed like a missed opportunity with big implications."
Waterlust initially focused on conventional media, like film and photography, to promote ocean science, but the team quickly realized engagement on social media didn't translate to action or even knowledge sharing offscreen.
Rynne also saw the "in one ear, out the other" issue in the classroom — if students didn't repeatedly engage with the topics they learned, they'd quickly forget them.
"We decided that if we truly wanted to achieve our goal of bringing science into people's lives and have it stick, it would need to be through a process that is frequently repeated, fun, and functional," Rynne said. "That's when we thought about clothing."
Support Marine Research and Sustainability in Style
To date, Waterlust has sold tens of thousands of pieces of apparel in over 100 countries, and the interactions its products have sparked have had clear implications for furthering science communication.
For Caruso alone, it's led to opportunities to share her abalone restoration methods with communities far and wide.
"It moves my small little world of what I'm doing here in Orange County, California, across the entire globe," she said. "That's one of the beautiful things about our partnership."
Check out all of the different eco-conscious apparel options available from Waterlust to help promote ocean conservation.
Melissa Smith is an avid writer, scuba diver, backpacker, and all-around outdoor enthusiast. She graduated from the University of Florida with degrees in journalism and sustainable studies. Before joining EcoWatch, Melissa worked as the managing editor of Scuba Diving magazine and the communications manager of The Ocean Agency, a non-profit that's featured in the Emmy award-winning documentary Chasing Coral.
By Liza Bayless
Five years ago, when Lankenau Medical Center was confronted with evidence that it was serving the unhealthiest county in Pennsylvania, the hospital decided to embrace the findings with an unconventional approach: building a half-acre organic farm on its campus to provide fresh produce to patients.
The Deaver Wellness Farm at Lankenau Medical Center. Lankenau Medical Center
The teaching and research hospital just outside Philadelphia was in the midst of its own patient health needs assessment in 2011 when the Robert Wood Johnson Foundation released findings about health outcomes in Pennsylvania counties. Lankenau is officially located within Montgomery County, one of the state's healthiest, taking into account factors including obesity rates and access to reliable sources of food. But the campus is adjacent to and receives many patients from Philadelphia County, ranked the least healthy of all 67 counties.

"That was really telling because it showed that we were serving a really diverse patient population," said Chinwe Onyekere, associate administrator at Lankenau, of the study's revelations. The findings showed that the hospital's patients had widely varying access to healthy food and nutritional knowledge.
With more than 1.5 million people, Philadelphia is one of the largest cities in the country and consistently named one of the unhealthiest. In 2010, 32 percent of its adults and about 25 percent of its children were obese. The same year, 13 percent of the city's adults had diabetes, and Philadelphia County ranked highest among the country's largest counties for chronic illnesses like cardiovascular disease and hypertension.
Across the nation, about half of Americans are estimated to have some kind of chronic disease stemming from health risks including lack of exercise, obesity, smoking and unhealthy eating. Treatment for these illnesses, which include asthma, heart disease or diabetes, has accounted for more than 75 percent of hospital admissions and physician visits in recent years.
This has caused some hospitals to look for ways to address health needs before a patient's condition has deteriorated so much that a hospital visit is necessary. At Lankenau, that meant providing its patients with a source of healthy food.
Students learn about fresh produce at the Deaver Wellness Farm. Lankenau Medical Center
Because the doctors, nurses and other staff were not farming experts, the hospital paired with Greener Partners, a nonprofit advocate for local food systems in Pennsylvania, to build and maintain what would become the Deaver Wellness Farm. Onyekere, who heads community needs programs for the hospital, oversees the project.

Since the farm's launch in 2015, it has provided more than 4,000 pounds of organic food to hospital patients at no cost. The produce is used for educational demonstrations and served in the hospital cafeteria. From its community needs assessment, Lankenau's staff learned that many of its patients, especially from West Philadelphia, lacked access to and nutritional knowledge of fruits and vegetables. So Lankenau now facilitates pop-up markets in internal medicine and the OBGYN practice wards.
While patients wait for appointments, medical assistants bring in fresh kale, broccoli, tomatoes, eggplant, arugula and other produce for them to select. The hospital also provides recipes, and, during an appointment, physicians use the produce to show how a patient can make healthier lifestyle choices.
In the Lankenau waiting rooms, hospital employees lead nutrition courses and food demonstrations. An employee might bring in the materials for a carrot salad, discuss the nutritional significance of each of its ingredients and then chop and assemble the salad in front of patients. Afterward, patients are given the ingredients and a recipe to try at home.
A young visitor gets a taste of what we do at the #DeaverWellnessFarm at #LankenauMedicalCenter. https://t.co/jTSbIAs4B3

— ilana_grubin (@ilana_grubin)1480014835.0
For years before the farm, health educators employed by the hospital ran roughly 14 programs in a health education center with two classrooms in the middle of Lankenau's facilities. Seven thousand to 10,000 students from kindergarten through 12th grade took courses each year in physical health, like nutrition, as well as social health issues, like bullying and harassment.

Now, part of the mission of the farm is to serve as what Onyekere calls a "learning laboratory" for classes about healthy eating, and to create a hands-on experience for students to learn about nutrition, gardening and building healthy behaviors.
Outside the hospital, Lankenau—in partnership with The Food Trust and the Philadelphia Department of Public Health—incentivizes healthy food buying by providing coupons called Philly Food Bucks. These coupons for fresh fruits and vegetables are valid at more than 30 farmers markets and are given to patients who express the desire for better access to healthy foods.
"From the moment the patient walks into the door to the moment they leave the office, that whole experience is focused on improving their health," Onyekere said.
Drew Harris, director of health policy and population health at Thomas Jefferson University's College of Population Health, said that only recently have health providers begun to take accountability for addressing food insecurity among their patients. A former practicing doctor with a specialty in diabetes, he remembers having a very different philosophy about chronic diseases and overall patient health.
"Like many doctors, I probably blamed the patients for not getting well," he said. "I didn't really ask the question: Did they have the ability to follow the diet they were supposed to follow as a diabetic?"
Harris eventually became interested in the wider issues that led to chronic illness. While some patients are never taught health literacy, he said, for others "challenges in life can intervene."
"Not having food security—not knowing where your next meal is going to come from or whether you can purchase everything you need to purchase when you need to—is a major challenge," he said.
What's more, the tools for patient treatment taught in the medical profession have been so focused on prescriptions and procedures, Harris said, that doctors do not always learn the importance of stressing to their patients things like how to create a balanced diet and where to access those foods—knowledge that could keep people out of the hospital in the first place.
Though food insecurity is not a new issue, he thinks medical education is just starting to take a more holistic approach.
"There's a much stronger incentive to worry about why patients are not getting better and what we can do to avoid them getting sick in the first place, and a lot of it has to do with their social environment, their access to healthy food," he said.
Still, Harris stresses the need to pressure health providers. "Holding the medical profession more accountable for results—the quality of the care they provide—is going to make a difference," he said.
Onyekere estimates that Lankenau has provided farm produce to about 400 patients so far, and the hospital is about to launch a survey of patients to better understand the program's impact. Although she said patients have expressed that the farm is making a difference and raising awareness of how to incorporate healthy choices into daily life, the research survey will be a valuable resource for other health providers considering similar initiatives.
Going forward, Lankenau plans to grow the farm with four additional raised beds. Though this year's yield far exceeded initial expectations, staff took that as a sign that it can further increase production. Onyekere said Lankenau is also looking to donate its food to additional community partners, like local food banks.
Lankenau is not the nation's only hospital-run farm. Others include St. Joseph Mercy Ann Arbor and Henry Ford West Bloomfield Hospital, both in Michigan; and St. Luke's University Health Network in Pennsylvania. But Onyekere is aware of none that have so extensively incorporated their own organic food into hospital life.
If America is to confront its growing chronic health epidemic, that integration is key, and, as these hospitals show, is already happening. "We're beginning to move from the patient outward to look more at the neighborhood and the larger environment in which that patient lives," Harris said.
Reposted with permission from our media associate YES! Magazine.
A new report has found that U.S. land for organic farming reached 4.1 million acres in 2016, a new record and an 11 percent increase compared to 2014.
As of June 2016, the number of certified organic farms in the U.S. reached 14,979, a 6.2 percent increase of 1,000 farms compared to 2014 survey data.
The Mercaris Organic Acreage Report found that the top five states in organic cropland are California, Montana, Wisconsin, New York and North Dakota. California leads the U.S. with 688,000 acres. However, Montana has seen a 30 percent increase in organic farmland, reaching 417,000 acres in 2016, an increase of 100,000 acres since 2014 and adding 50 new organic farms.
The report also estimates that North Dakota, Colorado and New York all increased their organic farming acres by more than 40,000 since 2014. North Dakota has surpassed Oregon as the fifth leading state in organic acreage. Oregon is sixth followed by Colorado and Texas.
Scott Shander, an economist at Mercaris, attributes the increase in organic acres to farm economics and consumer demand for organic foods.
"The organic industry is growing and with lower commodity grain prices, and farmers are looking to add value and meet consumer demands," he said.

According to Alex Heilman, a sales associate at Mercaris, the number of organic acres is likely to continue increasing, especially with larger companies such as General Mills and Ardent Mills launching programs to increase organic acres.
"I think we will see more of an impact of those programs in the next few years as more farmers start the transition process (to organic)," he said.
Organic alfalfa/hay was the leading organic crop grown with more than 800,000 acres in 2016. This was followed by organic wheat, corn and soybeans with 482,000, 292,000, and 150,000 acres respectively. Organic oats reached a record level of 109,000 acres in 2016. Organic wheat showed the greatest increase with nearly 150,000 more acres since 2014 and a 44 percent increase since 2011. Plantings of organic corn increased by 58,000 acres since 2014.

The percentage of acres planted to organic crops such as wheat, corn, soybeans and oats remains small compared to conventional crops in the U.S. Organic corn accounts for only 0.31 percent of total corn acres; organic wheat was 0.9 percent of total wheat acres; organic soybeans were 0.2 percent of total soybean acres. Organic oats account for the highest percentage of an organic crop with 3.6 percent of total oat acres.
A sound argument for #organic farming by @KendraCKlein and @KariHamerschlag for @EcoWatch. https://t.co/37q2XGdmxY https://t.co/TuVHbcZx1L

— Patricia Gucci (@Patricia Gucci)1468068998.0
Acreage of both organic corn and soybeans has seen small increases as a percentage of total acres for both crops in the past few years, according to the report. This may be due to the fact that the U.S. is importing large amounts of organic corn and soybeans, which is depressing the U.S. market and prices for both crops. According Shander, 25 percent of organic corn and 75 percent of organic soybeans used in the U.S. are imported.

"It's a global market that is dictating U.S. prices," he said. "Demand for organic corn and soybeans is still growing strongly, but production in the U.S. is not growing as fast so more of the production will be international."
A new report and scorecard grades 20 of the largest food retailers in the U.S on their policies and practices regarding pollinator protection, organic offerings and pesticide reduction.
Of the top food retailers, 17 received an "F" for failing to have a publicly available policy to reduce or eliminate pesticide use to protect pollinators. Only Aldi, Costco and Whole Foods received passing grades in this category.
Four of the top food retailers—Albertsons, Costco, Target and Whole Foods—have adopted a publicly available company commitment to increase offerings of certified organic food or to disclose data on the current percentage of organic offerings or organic sales.Friends of the Earth
"U.S. food retailers must take responsibility for how the products they sell are contributing to the bee crisis," said Tiffany Finck-Haynes, food futures campaigner with Friends of the Earth. "The majority of the food sold at top U.S. food retailers is produced with pollinator-toxic pesticides. We urge all major retailers to work with their suppliers to eliminate pollinator-toxic pesticides and to expand domestic organic offerings that protect pollinators, people and the planet."

Today's report, Swarming the Aisles: Rating Top Retailers on Bee-Friendly and Organic Food, comes amid mounting consumer pressure on food retailers to adopt more environmentally-friendly sourcing policies.
A coalition led by Friends of the Earth and more than 50 farmer, beekeeper, farmworker, environmental and public interest organizations sent a letter urging the food retailers to eliminate pollinator-toxic pesticides and increase the U.S. Department of Agriculture certified organic food and beverages to 15 percent of overall offerings by 2025, prioritizing domestic, regional and local producers. This effort follows a campaign by Friends of the Earth and allies that convinced more than 65 garden retailers, including Lowe's and Home Depot, to commit to eliminate bee-toxic neonicotinoid pesticides.
Bees and other pollinators are essential for one in three bites of food we eat and without them grocery stores would run short of strawberries, almonds, apples, broccoli and more. A growing body of science points to the world's most widely-used insecticides, neonicotinoids, as a leading factor in pollinator declines and glyphosate, the most widely-used herbicide worldwide, as a key culprit in monarch butterfly declines.

Bill Nye on Glyphosate: 'We Accidentally Decimated the Monarch Butterfly Population' http://t.co/Nt8EZdXDYf @gmoinside @StarTalkRadio

— EcoWatch (@EcoWatch)1437702616.0
New data from a YouGov Poll released today by Friends of the Earth and SumOfUs found that 80 percent of Americans believe it is important to eliminate neonicotinoids from agriculture. Among Americans who grocery shop for their household, 65 percent would be more likely to shop at a grocery store that has formally committed to eliminating neonicotinoids. The poll also revealed that 59 percent of American grocery shoppers believe it is important for grocery stores to sell organic food and 43 percent would be more likely to shop at a grocery store that sells more organic food than their current grocery store. The full poll results are available on request.

"Over 750,000 SumOfUs members have spoken out advocating that U.S. Hardware stores take action to protect our pollinators. And after years of pressure, Home Depot and Lowe's have finally enacted more bee-friendly policies," said Angus Wong, lead campaign strategist at SumOfUs, a consumer watchdog with ten million members. "And the findings of this poll show that a vast majority of consumers want to eliminate neonicotinoids from their grocery stores too. This is why food retailers must commit policies that protect our bees immediately."
The report found that while consumer demand for organic and pesticide-free food continues to show double-digit growth, only four of the top food retailers—Albertsons, Costco, Target and Whole Foods—have adopted a publicly available company commitment to increase offerings of certified organic food or to disclose data on the current percentage of organic offerings or organic sales. In addition to these retailers, Aldi, Food Lion, part of the Delhaize Group and Kroger disclosed data on the current percentage of organic offerings or organic sales. None of the retailers have made a publicly available commitment to source organic from American farmers.
7 Bees Facing Extinction Added to Endangered Species List for First Time https://t.co/rE1pFqB9bi @bpncamp @BurtsBees

— EcoWatch (@EcoWatch)1475532319.0
"To protect pollinators, we must eliminate pollinator-toxic pesticides from our farming systems and expand pollinator-friendly organic agriculture," said Dr. Kendra Klein, staff scientist at Friends of the Earth. "Organic farms support 50 percent more pollinator species than conventional farms. This is a huge opportunity for American farmers. Less than one percent of total U.S. farmland is in organic production—farmers need the support of food retailers to help them transition dramatically more acreage to organic."

Sixteen of the top 20 food retailers were predominately unresponsive to Friends of the Earth's requests for information via surveys, calls and letters. Primary sources of information for this scorecard include publicly available information, including company websites, company annual reports, U.S. Securities and Exchange Commission filings, corporate social responsibility and sustainability reports, press coverage and industry analyses.
By Kate Reed
Food Tank, in partnership with the Chicago Council on Global Affairs and the University of Chicago Booth School of Business, is hosting the 1st Annual Chicago Food Tank Summit on Nov. 16.
This event will feature more than 40 different speakers from the food and agriculture field. Researchers, farmers, chefs, policymakers, government officials and students will come together for interactive panels, networking, and delicious food, followed by a day of hands-on activities and opportunities for attendees.
Food Tank recently had the opportunity to speak with Kevin Cleary, CEO of Clif Bar & Company, who will be speaking at the summit.
Kevin Cleary, CEO of Clif Bar & CompanyClif Bar & Company
Q: What initiatives have you launched recently, or are planning to launch, that will further your company's sustainability efforts?
A: One of our most exciting new sustainability initiatives is the launch of our new 275,000-square foot bakery in Twin Falls, Idaho, which is slated to open in late spring. The Clif Bar Baking Company of Twin Falls will help us meet the growing demand for our organic energy and nutrition bars. It's the first bakery we've built and we're excited to bring new jobs to a region through a business that will increase the availability of nutritious, organic food and have a low environmental footprint.
The bakery will not only be an inspiring place to work—with elegant design elements and landscaping—but will also be good for the planet focusing on zero waste, water conservation and energy efficiency. We anticipate the bakery will receive one of the highest LEED building certifications.
Sustainable aspects of the bakery will include 100-percent energy generation from renewable resources, cutting-edge processes and packaging systems to maximize energy efficiency, heat capture technology, "smart lighting" systems, a "cool roof" for improved energy efficiency and lower greenhouse gas emissions and organic landscaping with habitats for bees and butterflies.
Q: What drives you and your company to push for sustainability?
A: At Clif Bar, we gauge our success not on one, but on five bottom lines. We call them our Five Aspirations, and one of them is Sustaining the Planet. These aspirations are at the very core of how we operate as a business—they guide each of our decisions and we measure ourselves annually on how we perform against each aspiration or bottom line.
The guiding principle of our Planet Aspiration is to conserve and restore our natural resources, growing a business that works in harmony with the laws of nature. That principle helped lead us to transition to organic ingredients beginning in 2003, to commit to operating a climate neutral business, to build a headquarters that meets the highest green building standards and to start the Clif Bar Family Foundation, whose efforts include sponsoring a Seed Matters initiative to improve the viability and availability of organic seed.
Q: What is the biggest food related issue facing our planet right now? How is your company working to solve that problem?
A: Today, we have a food system that is facing a combination of rapid population growth, unpredictable patterns of weather and diminishing quantity and quality of natural resources of soil and water. Instead of diversifying the agricultural tools and technologies needed to address these issues, we've over-investing our public tax dollars into a narrow portfolio of agrichemical "solutions." It is an investment that will cost us dearly in the future—both in the depletion of natural resources and public health.
Today, organic receives less than one percent of public funding for agricultural research. So, it is no wonder that less than one percent of U.S. agriculture is organic. We need to make it easier for farmers to transition to organic and we need to do a better job of setting them up for success.
For Clif Bar & Company, it starts with organic ingredients. Since 2003, we've purchased more than 637 million pounds of organic ingredients and today, 73 percent of our all the ingredients we use are organic. To help support organic farming into the future, Clif Bar has spearheaded a five-year, US$10 million investment to create the nation's first endowed chairs in organic research at five U.S. universities, funded 14 graduate fellowships in organic plant breeding and given more than US$1.5 million to support the development of organic seed.
Can #Organic Farming Feed the World? https://t.co/tC7pYsensx @foe_us @Food_Tank @nongmoreport @RodaleInstitute @nutiva @ClifBar @NaturesPath

— EcoWatch (@EcoWatch)1467379580.0
Q: Do you have any enlightening stories to share of collaboration between your business and other businesses or organizations that have changed your business practices?
A: We partner with many organic farmers to purchase the organic ingredients they grow for the foods we make—farmers who grow organic grains, fruits and nuts ranging from oats to almonds to cranberries. Our growth sometimes strains the available supply of certain organic ingredients so we've been looking for innovative ways to work with our farmers to address that issue.
For example, we source fig paste from a family farm in California that grows organic and conventional figs. With our growth as a business, we told them we need an additional one million pounds of organic figs a year. They could only meet our needs if they transitioned several hundred acres from conventional to organic farmland—a transition process that would take three years.
In a unique contract for us—for its length and its goal to help a farmer transition land from conventional to organic farming—we guaranteed the family that we'll buy all of their organic figs for seven years after they complete the transition of their farm acreage to organic. That's a win for both of us, so we entered into a 10-year agreement. That agreement alone is going to increase the amount of organic fig acreage in the U.S. by 20 percent.
Q: What changes would you like to see from the U.S. government to support sustainability in the food system?
A: As a country, we need to make deeper investments in the well-being of our rural communities in general and the future of organic agriculture specifically. We'd love to see:
State and federal incentives for landowners to provide long-term leases of agricultural land. Longer leases would provide stability for all forms of agriculture, but they're especially important to organic farmers who need three years to transition to organic.
Increased financial support for farmers who want to transition to organic. Offering a one-time investment to support a transition to organic would help farmers bridge three-year transition period while avoiding a long-term, subsidy-based system.
Increased public funding for organic research and extension services, especially in plant breeding. Organic is often criticized for not providing competitive yields, but most organic farmers start at a disadvantage because they are not using seed developed for organic production systems.
Q: What was a turning point in your company and why?
A: In 2001, Clif Bar's owners, Gary Erickson and Kit Crawford, turned down a US$120 million offer to sell the company. With the decision to stay independent, Gary and Kit had the chance to catalyze a new, different way of doing business—one that focused on five bottom lines, instead of just one. Our Five Aspirations—sustaining our business, brands, people, community and the planet—serve as our guiding principles for every decision we make whether it's working to reduce our environmental footprint, giving back to the community or creating a healthy and inspiring place to work.
Q: What three things do you want your customers to know about your company?
A: Kit Crawford, Clif Bar's owner and co-Chief Visionary Officer, captured it best when she said, at Clif Bar our goal is to "…run a different kind of company … the kind of place we'd like to work, that makes the kind of food we'd like to eat, that strives for a healthier, more sustainable world, the kind of world, we'd like to pass on to our children." These are the four things that we aspire to every day.
Kate Reed is a Food Tank Intern, working towards her dual masters MPH and MBA. She is currently a registered dietitian in the Chicagoland area. She is passionate about nutrition, public health and improving the lives of others.

In 431 B.C. Hippocrates said, "Let food be thy medicine and medicine be thy food"
More than 2500 years later, we are inundated with advertisements boasting the latest, greatest cure-all super drug. From a young age, we learn that it doesn't matter how or what we eat, there is a quick fix around the corner for whatever ails us—whether we're obese, have high blood pressure or bad cholesterol—just to name a few of the issues plaguing our society.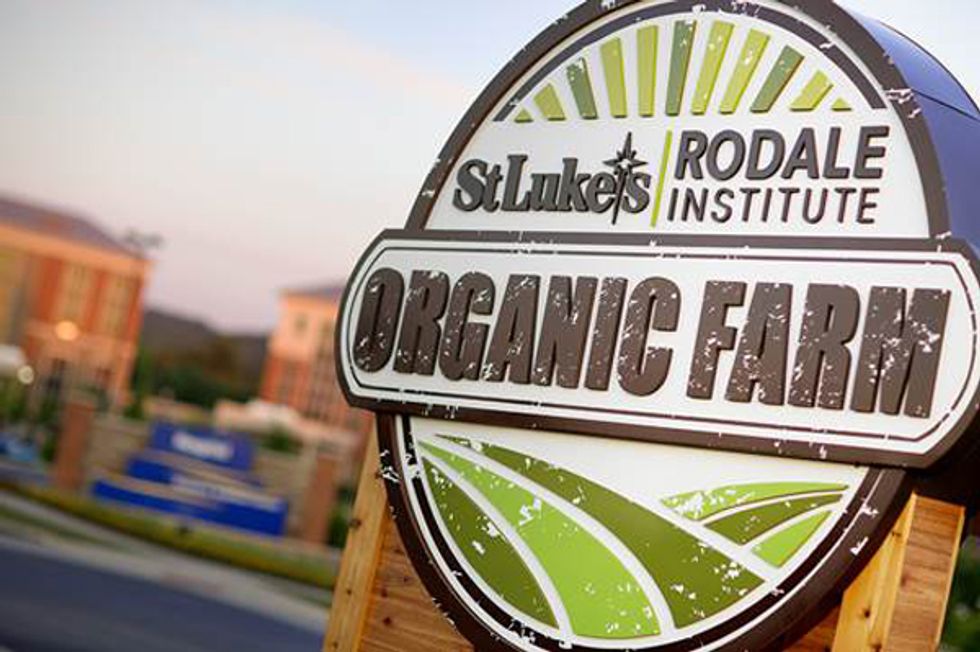 A sign directs visitors and patients to the St. Luke's Rodale Institute Organic Farm, adjacent to the hospital. Photo credit: Bill Noll
It now seems almost revolutionary to think that we can change our health by changing the food we eat.
But, one hospital in Pennsylvania thought just that.
In 2014, Rodale Institute, in partnership with St. Luke's University Health Network, launched a true farm to hospital food program.
The Anderson Campus at St. Luke's has more than 300 acres of farmland, much of which had historically been farmed conventionally with crops like corn and soy. The hospital administration recognized the impact that providing fresh, local organic produce could have on patient health and approached Rodale Institute to transition the land to organic and farm vegetables to be used in patient meals as well as in the cafeteria.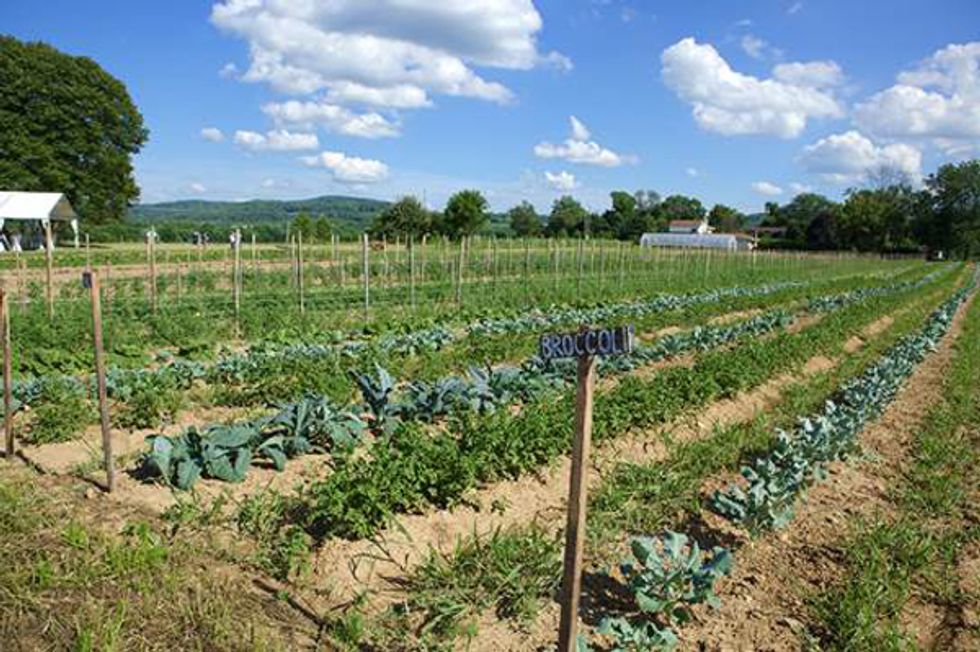 The five acre farm at the St. Luke's Anderson campus in Bethlehem, PA. Photo credit: Bill Noll
Lynn Trizna, or Farmer Lynn, as she's known around St. Luke's, provides food to all six hospitals within the network. This year, she is growing five acres of vegetables with plans to expand to ten acres in 2015. She estimates about 44,000 lbs of produce from her farm will be served in the hospital, just this season. She is paid a salary through Rodale Institute and has employed three staff members, all aspiring farmers.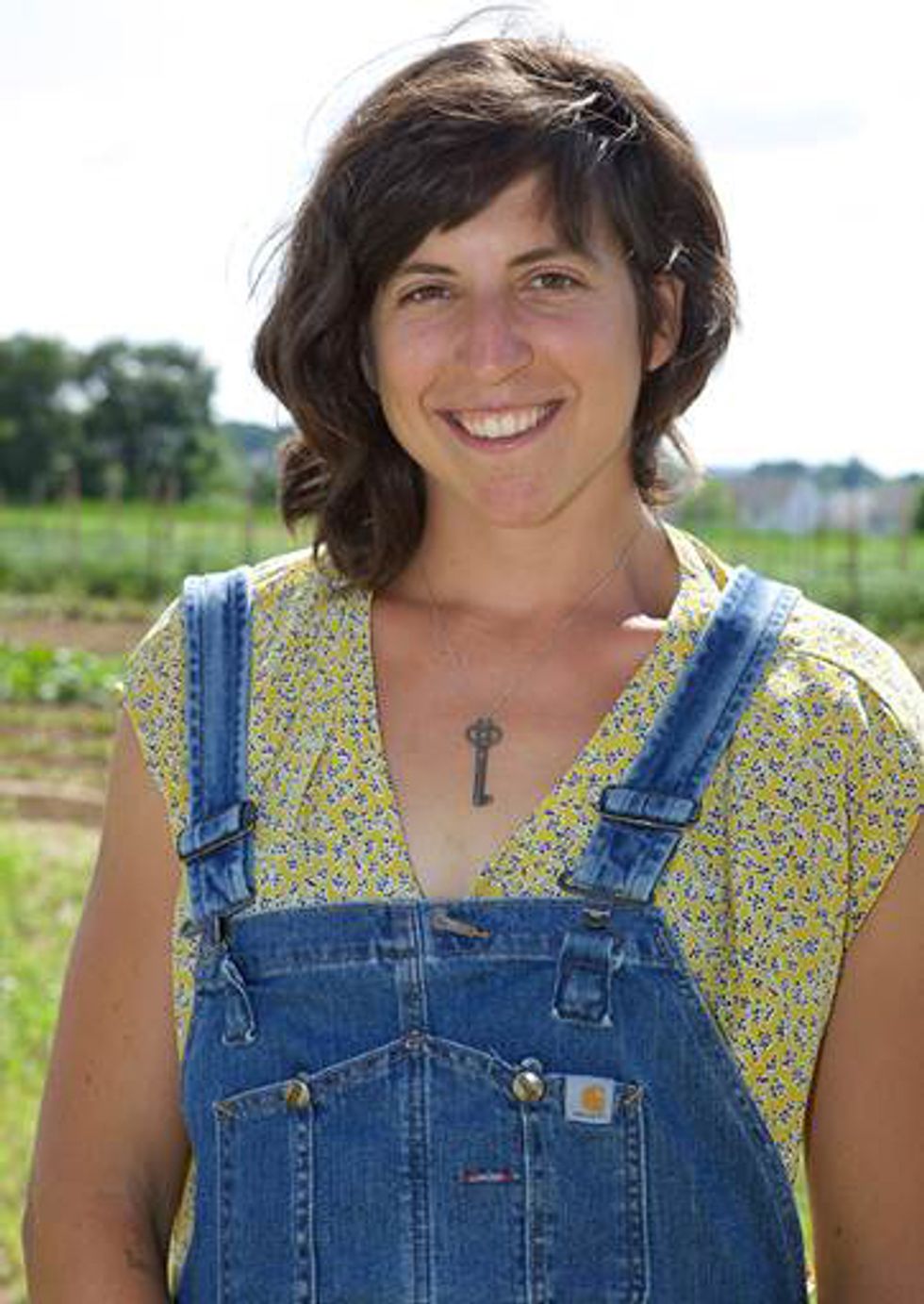 Farmer Lynn Trizna. Photo credit: Bill Noll
With a three-year plan in place, Rodale Institute and St. Luke's see the potential for expansion. We envision growing the program to include fifteen to twenty farmers—supporting new farmers who don't have access to land; greenhouses that allow for year round production of produce; and a small batch cannery, ensuring that we can enjoy the harvest, even in the coldest months of winter.
We have created this model with the belief that it can, and should, be replicated at every hospital throughout the U.S.
So, the next time you're feeling a bit under the weather, stop—think of us and Hippocrates' words of wisdom. Maybe you'll then look to the garden for a cure, instead of the medicine cabinet.
YOU ALSO MIGHT LIKE
9 Ways to Use the 'Swiss Army Knife' of Essential Oils
Why You Should Drink Organic Coffee
The U.S. Food and Drug Administration (FDA) has extended the comment period to Nov. 22 for its proposed produce and preventive-control rules that are part of the Food Safety Modernization Act (FSMA).
The agency decided to extend the deadline because the web page where comments were being collected had bouts of being offline, out-of-service or not accepting comments. Many members of the National Sustainable Agriculture Coalition (NSAC), for example, reported difficulty accessing the comments website.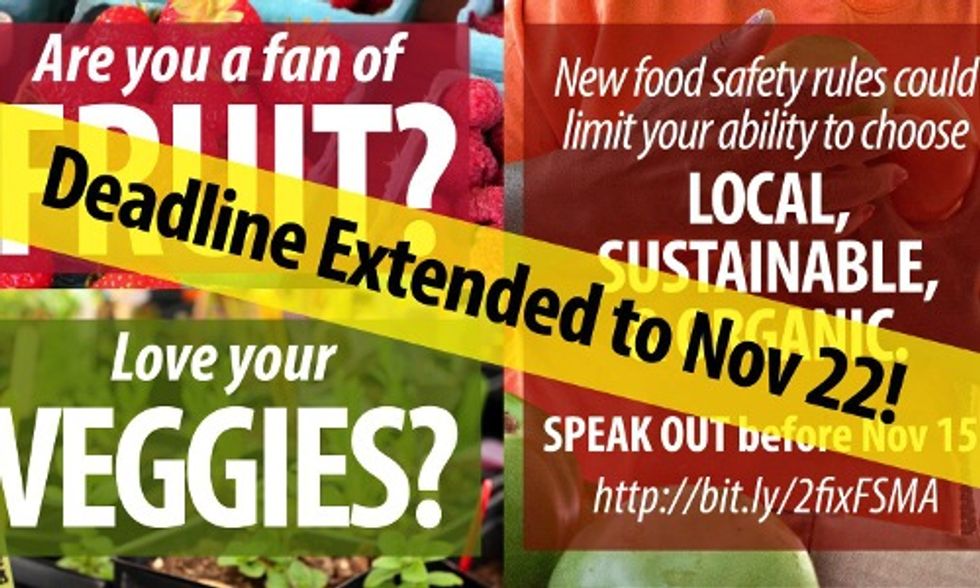 Despite these problems, the federal government has received more than 11,500 comments on the produce rule and more than 5,240 on preventive controls for processing foods, Food Safety News reported.
"The extension is good news," organic grower Anne Schwartz, owner of Blue Heron Farm in northwest Washington state, told Food Safety News. "It was difficult to navigate around the website, and there are a lot of confusing and complicated issues."
Schwartz added that the extension will benefit mid-sized and smaller growers, who now have time to pay attention to the issue. "Unlike the larger farms, they don't have any staff to work on this during the growing season," she said.
These mid-sized and smaller growers have expressed concern about the new rules, saying the supply of organic, local produce will be greatly reduced and many small farms will go out of business if the FSMA goes into effect as currently written.
Small-scale growers say the food safety rules are designed with larger, more complex and tightly-coupled food systems in mind without regard to how they would impact smaller producers. 
"FDA's food safety regulations will impact the agricultural landscape for decades to come," said Brian Snyder, executive director of NSAC member-organization Pennsylvania Association for Sustainable Agriculture and co-chair of NSAC's Food System Integrity Committee. "At stake in these regulations is nothing less than the ability of family farmers and local food businesses to supply burgeoning consumer demand for fresh fruits and vegetables, as well as value-added products like artisan cheese and other preserved farm products."
FSMA was signed into law in 2011 to preserve the safety of the U.S. food supply and was the largest overhaul in federal food safety regulation since 1938. The law introduced new regulations for produce farms and facilities that processed food for human consumption.
The rules are meant to prevent food-borne illnesses, which have affected one in six Americans a year over the last decade, by preventing or quickly identifying food-borne pathogens before they contaminate the food supply.
Information about the proposed regulations, who is affected, and what the top issues are, as well as instructions for how to submit comments to FDA are available at NSAC's FSMA Action Center.

Chemicals sprayed on bananas to control pests and disease are making their way into the bodies of the emaciated crocodiles who live near banana plantations in Costa Rica, says a new study that illustrates the environmental impact of pesticide use—and gives another reason to buy organic foods, even those with inedible peels.
Crocodiles who live near Costa Rican banana plantations are sickly, and researchers suspect pesticides are either directly responsible or impacting the crocs' environment enough—by killing off or reducing their food supply—to make them ill.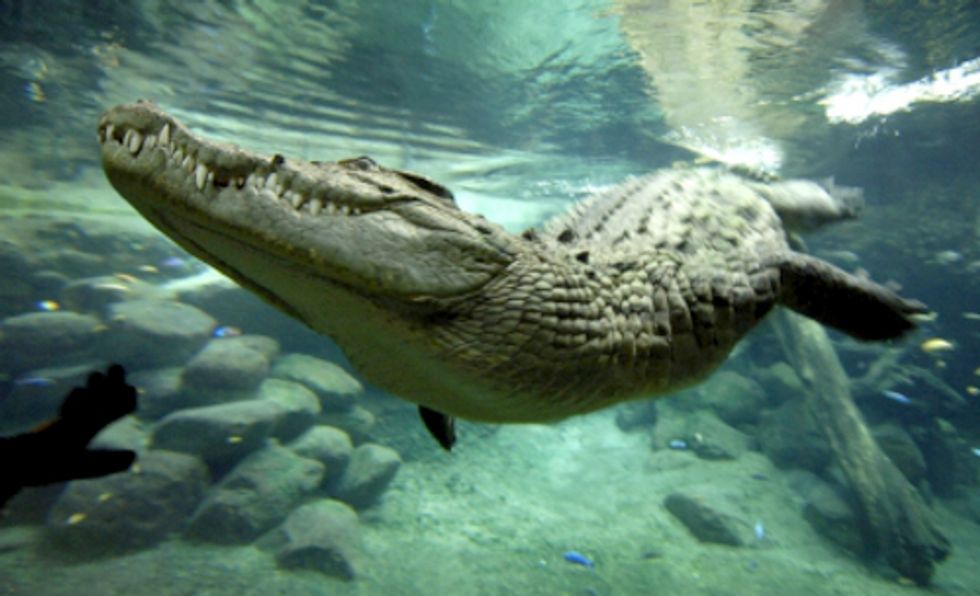 "The animals are very, very thin—about 50 percent thinner than those away from the plantations," said study co-author Peter Ross, an aquatic ecotoxicologist and associate professor at the University of Victoria in British Columbia, in a National Geographic story. The study found that crocodiles that live closest to the plantations had the highest concentration of pesticides in their body, and those that live further away had less.
Costa Rica is a prime location for banana production and as a key export, bananas play an important role in the nation's economy. In 2011, Costa Rica exported 2 million tons of bananas, valued at more than $700 million.
Demand for the fruit is increasing, and so is pesticide use.
Bananas, which lack the genetic diversity to fight off pests, receive some of the heaviest doses of any crop in the world. In the last two decades, pesticide use in Central America has doubled, and Costa Rica ranks second in the world for intensity of pesticide use. 
Lack of infrastructure and enforcement regulating the use of these chemicals have contributed to environmental contamination in Costa Rica. The country's frequent heavy rains wash the pesticides from areas such as banana plantations into nearby waterways.
The crocodiles studied in the research are spectacled caiman, fish-eating crocodilians that inhabit freshwater habitats in tropical regions of the Americas. The authors say their results indicate that pesticide use in banana plantations is impacting a high-in-the-food-chain species inhabiting one of the most important wilderness areas in Costa Rica.
The fact that caiman are being impacted indicates other aquatic organisms are going to be affected as well, said Paul Grant, the study's lead author. "There's fairly strong evidence that pesticides, whether it's indirect or directly, are eroding caiman habitat."
The study was published in the November issue of the journal Environmental Toxicology and Chemistry.
Yesterday, the Food and Drug Administration (FDA) released a draft guidance document to clarify how egg producers, including organic farmers with outdoor access, can comply with its 2009 egg safety rule aimed at reducing salmonella contamination in the nation's egg supply.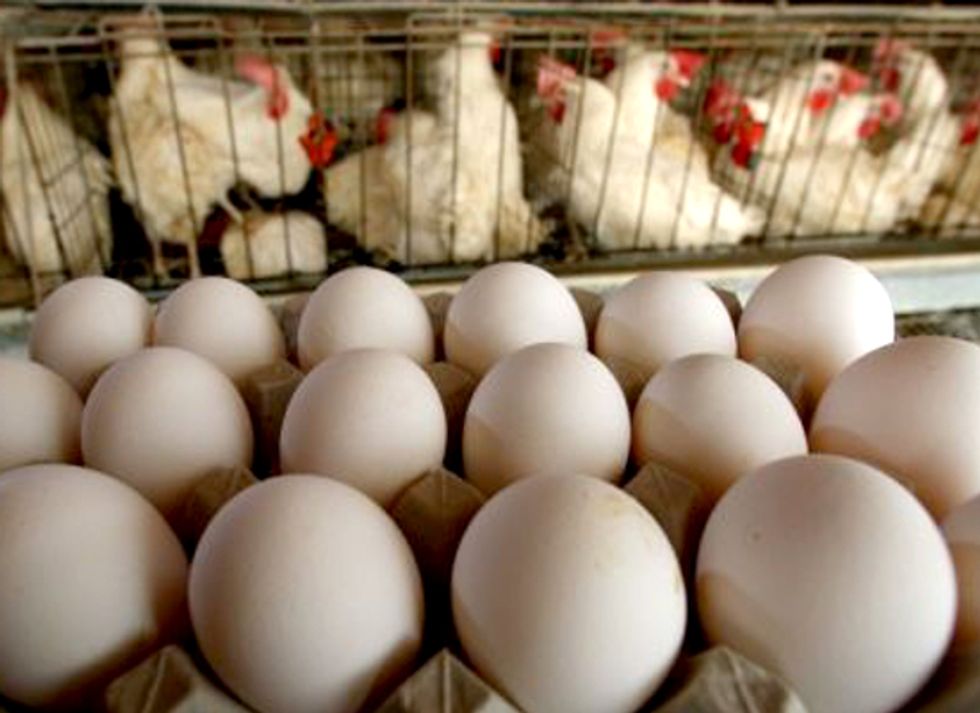 Since organic producers are required by federal standards to grant outdoor access to their laying hens, the guidance applies to all organic egg producers. The FDA, which collaborated with the U.S. Department of Agriculture's (USDA) National Organic Program in promulgating their guidance, recognizes minute covered porches—which do not afford true and meaningful outdoor access to laying hens—as one of four possible organic production systems and thereby legitimizes their use.
Already the focus of controversy and threatened lawsuits, the USDA has been widely criticized for allowing giant "organic" factory farms, confining as many as 100,000 birds to a building, to skirt the requirements for outdoor access by employing tiny screened porches, often with a capacity of only one-three percent of the confined birds. The USDA is currently allowing these giant poultry operations to claim these structures as the legally required "access to the outdoors."
"This is collusion between two Obama administration agencies to significantly and permanently weaken the integrity of the organic standards," says Mark Kastel, codirector of The Cornucopia Institute.
"By giving the OK to use covered porches as 'outdoor access,' and putting additional burdens on producers with legitimate outdoor runs or pasture, the recommendations in this food safety document decisively tilt the playing field to industrial-scale producers," added Kastel.
Some in the organic community had been concerned that the FDA would require impractical swabbing and disinfecting of the outdoor areas but the draft guidance puts these concerns to rest.
However, other prevention and control measures that are included in the guidance could force organic producers to devote significant additional resources, or may even make it impossible for pastured poultry operations to comply.
Stephanie Alexandre, a producer of certified organic, pastured eggs near Crescent City, CA, objects to the draft guidance.
"It's ironic that federal regulators would apply such scrutiny, and costly and labor-intensive requirements, to my farm when there is abundant published, peer-reviewed research indicating that the real danger to society, from salmonella contamination in eggs, comes from giant industrial operations, generally with caged birds, not with modest sized flocks of pastured poultry," said Alexandre.
For example, despite weak scientific evidence that contact with wild birds is a significant risk factor for salmonella contamination, the FDA requires organic producers to minimize contact with other birds. The agency recommends noise cannons, temporary confinement, netting, or even structures with roofs (porches) which would be cost prohibitive for most organic producers with meaningful outdoor access.
Some of the recommended measures would discourage chickens from using the outdoor space. For example, while noise cannons would be effective in scaring wild birds, they would also scare the laying hens and effectively make the outdoor area an inhospitable environment for the organic birds.
"In effect, the FDA's proposed recommendations would steer organic egg producers toward the use of porches, which would be the most effective and cost-efficient way to ensure complete compliance with the rule," Kastel explained. "Why would farm operators invest the extra labor and expense to meet the FDA requirements, and put their birds outside, when they can create a token structure, attached to their main building, and continue to confine their animals?"
"The recommendations in this draft guidance essentially give organic producers a textbook of excuses for why their birds can legally be confined in industrial settings," says Kastel. "To create the safest and most nutritious eggs, we should be encouraging more and better use of outdoor space for laying hens so that they can exhibit their true, native behavior. But this FDA document does just the opposite."
The Cornucopia Institute was already investigating a legal action against the USDA for its unwillingness to enforce the law requiring outdoor access for chickens. It is the farm policy organization's contention that confining birds to small adjacent structures on massive industrial-scale "farms," does not meet the federal legal mandate.
In what now appears to be a cynical ploy, the USDA had asked the National Organic Standards Board (NOSB)—the expert citizen panel that Congress created to advise the Secretary of Agriculture—to develop standards to help enforce the requirement for outdoor access.
The NOSB completed a years-long process of collaborating with industry representatives and forwarded a series of recommendations to USDA leadership that would have required a minimum amount of square footage, and other requirements, like the number and size of doors, that would have facilitated enforcement of the outdoor access provisions.
Recently, leadership at the USDA's National Organic Program informed organic stakeholders that they would not follow through with amending poultry/livestock regulations, incorporating the NOSB's recommendations, because it was currently "not a priority."
"The lack of enforcement action by the USDA has helped shift the lion's share of production of organic eggs to giant agribusinesses, which mostly produce conventional eggs, at the expense of family-scale farmers who are producing a superior product in an environmentally responsible manner and treating their livestock humanely," stated Cornucopia's Kastel.
"We will not stand by while the most dedicated and responsible, and law-abiding, organic producers are placed at a competitive disadvantage by the arbitrary and capricious behavior of the current administration's leadership at the USDA and FDA."
The FDA has opened a 60-day public comment period for input pursuant to their draft guidance on compliance with the salmonella safety rule for producers with outdoor access for laying hens.
The Cornucopia Institute will soon release an action alert and briefing paper so interested organic stakeholders can make informed comments on the draft guidance.
If organic farmers and consumers interested in protecting the integrity of the organic label, and possibly the country's safest agricultural producers, are not already Cornucopia members, they can either join by visiting the organization's website.
Visit EcoWatch's FACTORY FARMING page for more related news on this topic.
———

A new, peer-reviewed study has been released in the June 2013 Journal of Organic Systems detailing adverse effects of genetically engineered (GE) feed on pigs. Center for Food Safety has long advocated for more robust safety testing prior to introducing GE foods into the food supply. Currently, no GE safety testing is required in the U.S. The long-term study revealed that pigs fed a GE diet suffered higher rates of severe stomach inflammation and had on average heavier uteri. The findings were biologically and statistically significant and mirror what many farmers have been reporting for years. The study was performed over the course of five years by independent researchers in Australia and the U.S.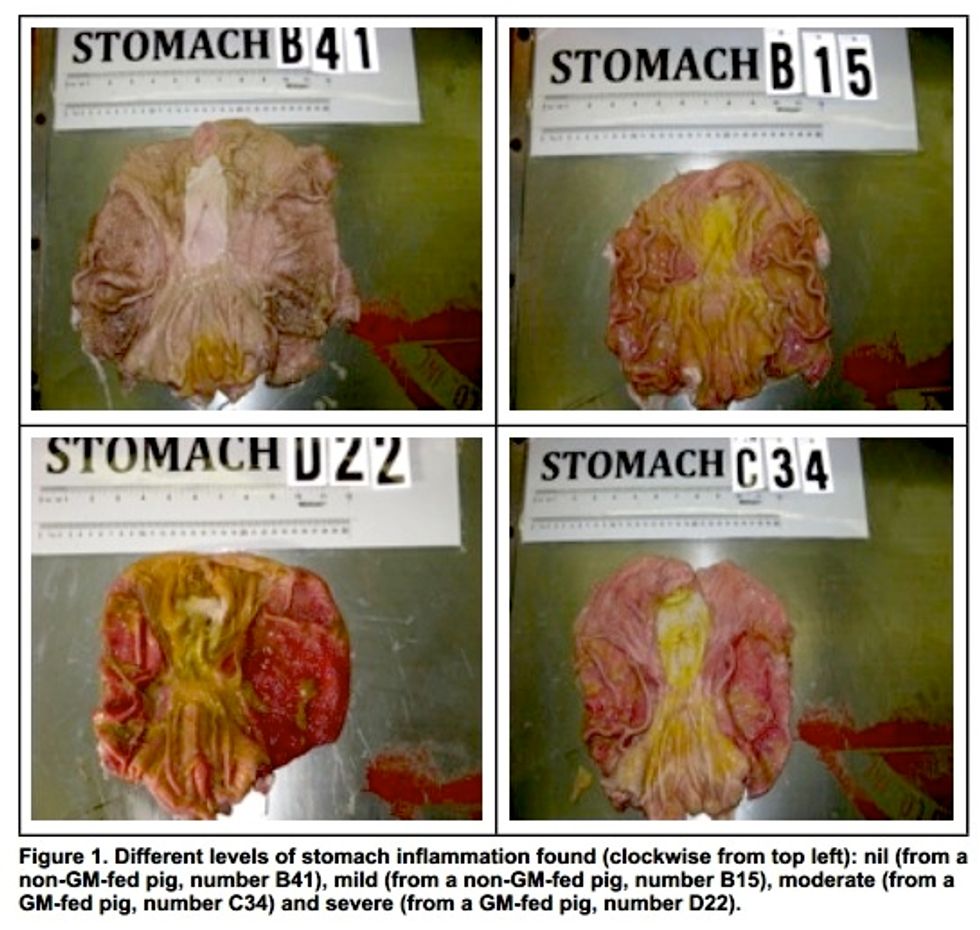 "This study raises serious questions about the long-term health impacts of genetically engineered foods," said Andrew Kimbrell, executive director of Center for Food Safety.
"It is grossly negligent that neither the companies nor the government have conducted these rigorous types of studies in the 15 years that GE products have been on the market. Until further long-term, independent studies are done, the public are unwittingly participating in the safety testing of these products."
According to the study's authors:
The research was conducted by collaborating investigators from two continents and published in the peer-reviewed Journal of Organic Systems. The feeding study lasted more than five months and was conducted in the US. 168 newly-weaned pigs in a commercial piggery were fed either a typical diet incorporating GM soy and corn (2), or else (in the control group) an equivalent non-GM diet.
The pigs were reared under identical housing and feeding conditions. They were slaughtered over 5 months later, at their usual slaughter age, after eating the diets for their entire commercial lifespan. They were then autopsied by qualified veterinarians who worked "blind"—they were not informed which pigs were fed on the GM diet and which were from the control group.
What little study has been conducted on the safety of GE foods has largely been limited to industry funded studies involving rats for only 90 days. In addition to the studies being inadequate in their rigor, the data is tightly controlled by the companies under the pretense of Confidential Business Information, limiting external review. Some independent scientists have conducted studies over the years, but much more is needed.
Visit EcoWatch's GE FOODS page for more related news on this topic.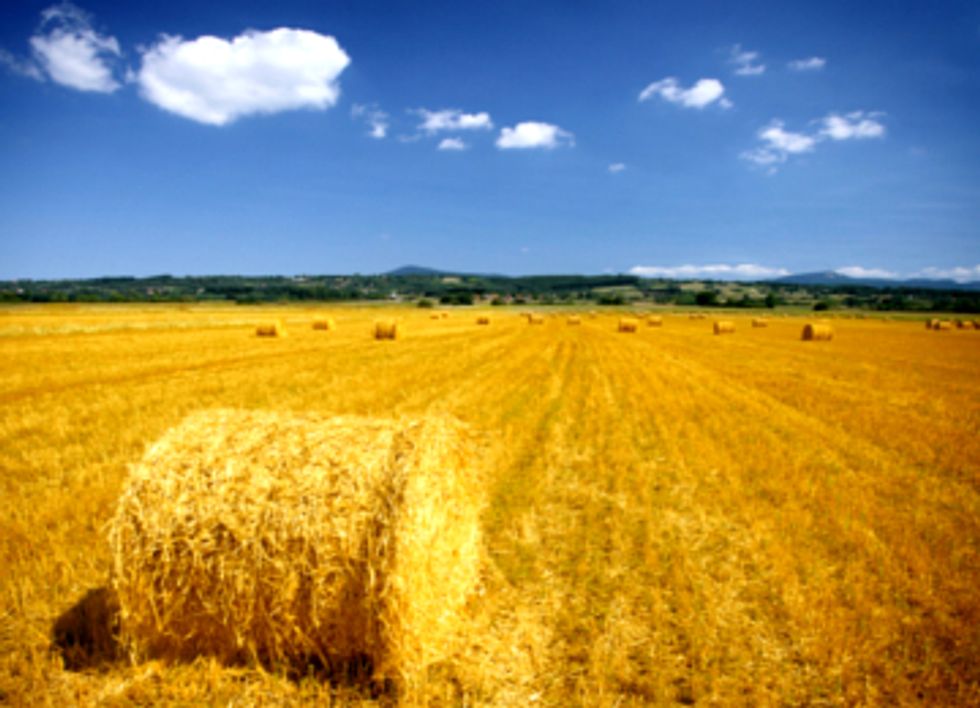 Photo courtesy of Shutterstock
Last Thursday, June 6, the Senate voted 75-22 to limit debate on its version of the 2013 Farm Bill, setting up a final vote on passage of the bill for this evening. Fifty-three Democrats and 22 Republicans voted to limit debate—or, to invoke "cloture" —and 22 Republicans voted against.
The vote to limit debate became necessary after Senate leaders failed to come to an agreement on a list of farm bill amendments to consider. Since consideration by the full Senate of the Committee-passed farm bill started in mid-May, over 200 amendments have been filed to the bill. Of the amendments filed to the bill, the Senate has considered only 14 and has adopted eight. This includes the National Sustainable Agriculture Coalition-supported amendment led by Sens. Coburn (R-OK) and Durbin (D-IL) to reduce crop insurance subsidies for millionaires that passed by a vote of 59-33.
Chairwoman Stabenow (D-MI) had been trying to secure a unanimous consent agreement on a shorter list of amendments to receive votes, but Senators kept objecting to consideration of certain amendments unless others were also considered. This led to the need to limit debate on the bill, especially since the Senate Majority Leader Reid (D-NV) wants to move on to debate other bills, including immigration reform. The immigration reform bill debate started Friday and picks up again on Tuesday.
The successful vote to limit debate on the farm bill also severely limits the number and types of amendments to be voted on. Currently, only two more Senate votes are expected on the Senate farm bill—one on a rural broadband amendment by Senator Leahy (D-VT) and the other on final passage of the bill.
If that proves to be the case and the only votes tonight are on the Leahy broadband amendment and then final passage, the Senate will not get the opportunity to vote on a number of priority sustainable agriculture amendments. These include:
The Brown amendment on local food and rural development
The Casey amendment on beginning farmer microloans
The Harkin amendment to modernize the interest rate for Farm Service Agency real estate loans
The Leahy amendment on conservation payments for organic farmers
The Udall amendment on water conservation
The Grassley amendment on antitrust enforcement
The Tester amendment on public plant breeding research
The Shaheen amendment on revenue insurance premium subsidy limits
It is unclear whether there will also be a manager's amendment that packages a variety of amendments that have bipartisan support and are relatively uncontroversial. It may still prove possible, but given the heated backroom debate and all the jockeying this week over amendments, it could very well be that no additional changes will be considered.
It is widely expected that the Senate will pass its version of the 2013 Farm Bill on Monday by a substantial bipartisan majority. A number of significant unknowns remain about the path to completion of the 2013 Farm Bill, but both the Senate and the House are taking steps to move the bill forward before the current extension expires on Sept. 30. The full House is expected to take up consideration of the House Agriculture Committee-passed farm bill during the week of June 17.
The National Sustainable Agriculture Coalition continues to support a manager's amendment that would allow at least some of the less controversial amendments to move forward.
Visit EcoWatch's FARM BILL and SUSTAINABLE AGRICULTURE pages for more related news on this topic.