This website uses cookies to ensure you get the best experience while browsing it. By clicking 'Got It' you're accepting these terms.


The best of EcoWatch, right in your inbox. Sign up for our email newsletter!
Kasatka, a female orca who lived in captivity for nearly four decades, was humanely euthanized Tuesday night at SeaWorld San Diego. She was approximately 41 years old.
The ocean park announced that the mother of four, grandmother of six and great grandmother of two died at approximately 8:15 p.m. "surrounded by members of her pod, as well as the veterinarians and caretakers who loved her."
www.youtube.com
Kyara, a killer whale born at SeaWorld San Antonio just three months ago, died Monday at the park, as reported in this video from Newsy. Kyara is the last orca to be born in captivity under the SeaWorld breeding program, which shut down in 2016.
In a statement, SeaWorld said the cause of death was "likely pneumonia" and that "Kyara had faced some very serious and progressive health issues over the last week."
EcoWatch Daily Newsletter
www.youtube.com
According to Bloomberg, "SeaWorld Entertainment Inc. received a subpoena earlier this month from regulators investigating disclosures and public statements by executives, including comments about the Blackfish documentary that caused a public backlash against the confinement of orcas.
The tragic story of Lulu, a beloved orca found dead and entangled in fishing gear last year, has taken a turn for the worse.
Meet Takara, a 25-year-old pregnant orca living in SeaWorld San Antonio in Texas. Takara's newborn, expected to arrive in Spring 2017, will be the last remaining orca to live its life in SeaWorld's tanks after the ocean park announced in March it would end its captive orca breeding program after years of campaigning from animal welfare groups and concerned citizens.
SeaWorld has faced intense criticism since the release of Blackfish, a documentary telling the story of orca whales kept in captivity at SeaWorld theme parks in California, Florida and Texas. Now court documents discovered by People for the Ethical Treatment of Animals (PETA) reveal that SeaWorld is pumping these marine animals full of psychotropic drugs.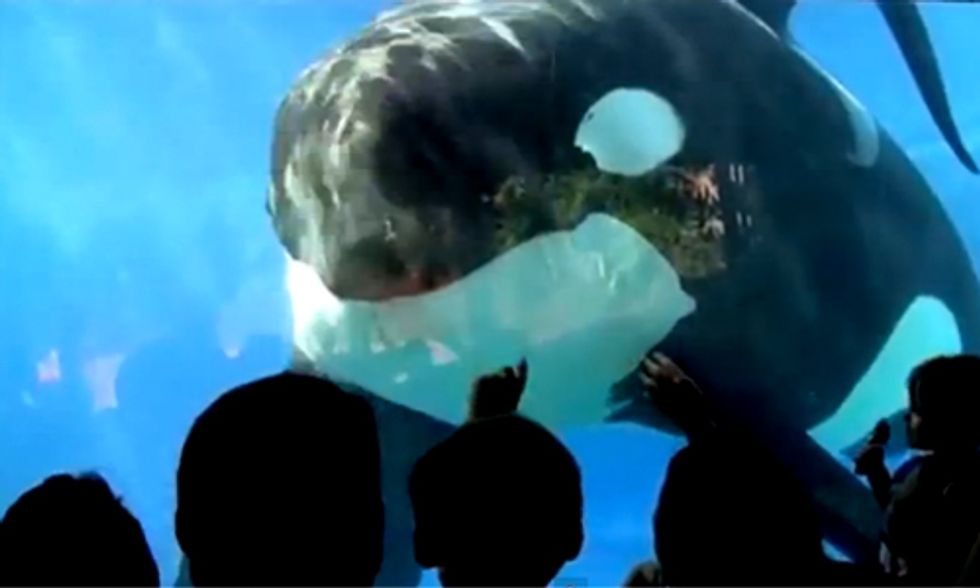 A sworn affidavit (see below) filed in the Ontario Superior Court of Justice during a dispute between SeaWorld and Marineland over the transport of the killer whale Ikaika, revealed that trainers give their orcas the psychoactive drug benzodiazepine, a class of drugs that includes Xanax and Valium.
Jared Goodman, director of Animal Law at PETA, told BuzzFeed that he believes the leaked documents will play a key role in SeaWorld's future.
"The veterinary records show that orcas at SeaWorld are given psychotropic drugs to stop them from acting aggressively towards each other in the stressful, frustrating conditions in which they're confined instead of funding the development of coastal sanctuaries—the only humane solution," Goodman said.
Blackfish, mostly through the testimony of former SeaWorld employees, shows how the whales, frustrated and bored with their captivity, lash out from time to time in acts of aggression, which eventually led to the deaths of two trainers—Keltie Byrne and Dawn Brancheau—as well as a young man who had snuck into the park at night.
"They do not cope with being kept in these tanks. They survive to some degree, but they don't thrive to any degree," said Ingrid Visser, founder of the Orca Research Trust.
"They show stereotypical behaviors that are abnormal, repetitive behaviors like head bobbing, chewing on concrete, and self mutilation by banging the side of their heads on the side of the tank, and there isn't a single orca living in captivity where you cannot see one of these behaviors, and in many of them you see multiple examples of these behaviors."
Haven't seen Blackfish yet? It's now steaming on Netflix.
Seaworld v. Marineland Aff of Lanny Cornell by Justin Carissimo
——–
YOU ALSO MIGHT LIKE
Sea World Responds to Blackfish Documentary, Sea Shepherd Set the Record Straight
Blackfish Director Challenges SeaWorld to Debate
Blackfish Documentary Exposes Industry Cruelty of Orca Whales in Captivity
——–