Kasatka, a female orca who lived in captivity for nearly four decades, was humanely euthanized Tuesday night at SeaWorld San Diego. She was approximately 41 years old.
The ocean park announced that the mother of four, grandmother of six and great grandmother of two died at approximately 8:15 p.m. "surrounded by members of her pod, as well as the veterinarians and caretakers who loved her."
"All of us at SeaWorld are deeply saddened by this loss, but thankful for the joy she has brought us and more than 125 million park guests," the statement continued.
The 10 remaining killer whales currently living in the San Diego facility "appear to be doing well, but we're monitoring and watching for any changes in their behavior," SeaWorld said.
Kasatka's was captured off the coast of Iceland on October 26, 1978 when she was less than two years old. Conservation organization Dolphin Project notes that with her death, only three wild-caught orcas remain at SeaWorld parks in the United States—Ulysses and Corky in San Diego, and Katina in Orlando.
Kasatka had been undergoing treatment for lung disease after being diagnosed with a bacterial respiratory infection in 2008.
"Despite their best efforts, her health and appetite significantly declined over the past several days despite continually tailored treatments," SeaWorld said. "Kasatka's veterinarians and caretakers made the difficult decision to humanely euthanize her to prevent compromising her quality of life."
However, questions remain about her passing. An article and photos posted by Dolphin Project in June showed Kasatka appearing lethargic and perhaps struggling with an infection from open lesions. Former SeaWorld trainer John Hargrove, a SeaWorld whistleblower who appeared in the 2013 documentary Blackfish, posted photos of the apparent injuries on social media.
He also tweeted last night, "I screamed for the media to demand an independent lab do the tests because they can't be trusted.They will never release her necropsy report"

Hargrove told Times of San Diego in June that SeaWorld was "doing everything known to science to keep her alive" to avoid another orca death in quick succession, including Kyara, who died in July at just 3 months old and was the last orca born in captivity at SeaWorld, and Tilikum, who died in January.
Tilikum was made famous in Blackfish for killing a SeaWorld trainer in Orlando. His story brought the issues surrounding captivity and the animal amusement industry into the national conversation.
Kasatka, who gave birth to Tilikum's son Nakai in 2001 through artificial insemination, has also shown aggression to humans. In 2006, she grabbed trainer Ken Peters underwater during a performance in California. Peters survived the incident and later said that the risks with working with the whales are "acceptable."

Following years of criticism, SeaWorld announced in May 2016 that it would cease all of its orca breeding programs. The company now cares for a total of 21 orcas at its three facilities in San Diego (10), Orlando (6) and San Antonio (5).
SeaWorld has posted a tribute video of Kasatka following her death. Watch here:
EcoWatch Daily Newsletter
www.youtube.com
Kyara, a killer whale born at SeaWorld San Antonio just three months ago, died Monday at the park, as reported in this video from Newsy. Kyara is the last orca to be born in captivity under the SeaWorld breeding program, which shut down in 2016.
In a statement, SeaWorld said the cause of death was "likely pneumonia" and that "Kyara had faced some very serious and progressive health issues over the last week."
In response to Monday's sad news, People for the Ethical Treatment of Animals (PETA) Vice President Colleen O'Brien issued this statement:

"SeaWorld executives have dollar signs where their eyes should be, but even they can't ignore that 3-month-old Kyara died on #BoycottSeaWorldDay while Academy Award nominee James Cromwell was preparing to lead PETA supporters in a takeover of SeaWorld's orca show. Forty orcas have now died on SeaWorld's watch—it's time for the abusement park to move the remaining animals to seaside sanctuaries before the death toll hits 41."
Cromwell's protest at SeaWorld San Diego emphasized that all 40 orcas to die at SeaWorld had their lives cut short because they were in captivity.
"Orcas deserve a full life in the ocean, not a life sentence of swimming endless circles until they drop dead from disease," Cromwell said. "My friends at PETA and I want SeaWorld to move these intelligent animals to seaside sanctuaries without delay."
Last August, EcoWatch reported that PETA was trying to persuade SeaWorld to let Kyara's pregnant mother, Takara, give birth in a seaside sanctuary.
waterlust.com / @tulasendlesssummer_sierra .
Each product featured here has been independently selected by the writer. If you make a purchase using the links included, we may earn commission.
The bright patterns and recognizable designs of Waterlust's activewear aren't just for show. In fact, they're meant to promote the conversation around sustainability and give back to the ocean science and conservation community.
Each design is paired with a research lab, nonprofit, or education organization that has high intellectual merit and the potential to move the needle in its respective field. For each product sold, Waterlust donates 10% of profits to these conservation partners.
Eye-Catching Designs Made from Recycled Plastic Bottles
waterlust.com / @abamabam
The company sells a range of eco-friendly items like leggings, rash guards, and board shorts that are made using recycled post-consumer plastic bottles. There are currently 16 causes represented by distinct marine-life patterns, from whale shark research and invasive lionfish removal to sockeye salmon monitoring and abalone restoration.

One such organization is Get Inspired, a nonprofit that specializes in ocean restoration and environmental education. Get Inspired founder, marine biologist Nancy Caruso, says supporting on-the-ground efforts is one thing that sets Waterlust apart, like their apparel line that supports Get Inspired abalone restoration programs.
"All of us [conservation partners] are doing something," Caruso said. "We're not putting up exhibits and talking about it — although that is important — we're in the field."
Waterlust not only helps its conservation partners financially so they can continue their important work. It also helps them get the word out about what they're doing, whether that's through social media spotlights, photo and video projects, or the informative note card that comes with each piece of apparel.
"They're doing their part for sure, pushing the information out across all of their channels, and I think that's what makes them so interesting," Caruso said.
And then there are the clothes, which speak for themselves.
Advocate Apparel to Start Conversations About Conservation
waterlust.com / @oceanraysphotography
Waterlust's concept of "advocate apparel" encourages people to see getting dressed every day as an opportunity to not only express their individuality and style, but also to advance the conversation around marine science. By infusing science into clothing, people can visually represent species and ecosystems in need of advocacy — something that, more often than not, leads to a teaching moment.

"When people wear Waterlust gear, it's just a matter of time before somebody asks them about the bright, funky designs," said Waterlust's CEO, Patrick Rynne. "That moment is incredibly special, because it creates an intimate opportunity for the wearer to share what they've learned with another."
The idea for the company came to Rynne when he was a Ph.D. student in marine science.
"I was surrounded by incredible people that were discovering fascinating things but noticed that often their work wasn't reaching the general public in creative and engaging ways," he said. "That seemed like a missed opportunity with big implications."
Waterlust initially focused on conventional media, like film and photography, to promote ocean science, but the team quickly realized engagement on social media didn't translate to action or even knowledge sharing offscreen.
Rynne also saw the "in one ear, out the other" issue in the classroom — if students didn't repeatedly engage with the topics they learned, they'd quickly forget them.
"We decided that if we truly wanted to achieve our goal of bringing science into people's lives and have it stick, it would need to be through a process that is frequently repeated, fun, and functional," Rynne said. "That's when we thought about clothing."
Support Marine Research and Sustainability in Style
To date, Waterlust has sold tens of thousands of pieces of apparel in over 100 countries, and the interactions its products have sparked have had clear implications for furthering science communication.
For Caruso alone, it's led to opportunities to share her abalone restoration methods with communities far and wide.
"It moves my small little world of what I'm doing here in Orange County, California, across the entire globe," she said. "That's one of the beautiful things about our partnership."
Check out all of the different eco-conscious apparel options available from Waterlust to help promote ocean conservation.
Melissa Smith is an avid writer, scuba diver, backpacker, and all-around outdoor enthusiast. She graduated from the University of Florida with degrees in journalism and sustainable studies. Before joining EcoWatch, Melissa worked as the managing editor of Scuba Diving magazine and the communications manager of The Ocean Agency, a non-profit that's featured in the Emmy award-winning documentary Chasing Coral.
www.youtube.com
According to Bloomberg, "SeaWorld Entertainment Inc. received a subpoena earlier this month from regulators investigating disclosures and public statements by executives, including comments about the Blackfish documentary that caused a public backlash against the confinement of orcas.
"The investigation by the U.S. Department of Justice and Securities and Exchange Commission will also look at trading in the Orlando, Florida-based company's securities before and during August 2014, according to a filing Friday. SeaWorld said it's cooperating with the probe, and its board organized a special committee of independent directors, with their own legal counsel, to deal with the matter."
Watch the Newsy video above to learn more.
The tragic story of Lulu, a beloved orca found dead and entangled in fishing gear last year, has taken a turn for the worse.
Experts with the Scottish Marine Animal Stranding Scheme found the killer whale had "shocking levels of PCBs," or polychlorinated biphenyls, a banned but highly pervasive toxic chemical.
"The levels of PCB contamination in Lulu were incredibly high, surprisingly so," Dr. Andrew Brownlow, head of the Scottish Marine Animal Stranding Scheme and veterinary pathologist at Scotland's Rural College, told BBC News. "They were 20 times higher than the safe level that we would expect for cetaceans to be able to manage."
"The threshold where we think that there is some form of physiological effect caused by PCBs is around 20-40mg/kg stored within the tissues," Brownlow said.
But Lulu had a level of PCBs of 957mg/kg, putting her as "one of the most contaminated animals on the planet in terms of PCB burden," Brownlow said.
Lulu was estimated to be at least 20 years old when she died, which is why she might have built up such high PCB levels.
As one of the last remaining killer whales in the UK, Lulu's death has raised fears of extinction for the population. There may be only eight remaining individuals in the killer whale's pod.
The long-term survivability of this group of UK killer whales is now being questioned, as the remaining animals might be similarly contaminated.
Lulu was found dead on Jan. 3, 2016 on the Scottish island of Tiree with deep lesions on her body. After a necropsy was performed, experts concluded that Lulu had been "chronically entangled" in abandoned fishing gear for several days and likely drowned from entanglement.
But it was suggested that PCBs could have contributed to her demise since the chemicals are known to affect the brain.
"It is potentially plausible that there was some effect of the PCBs that was in some way debilitating her so she wasn't strong enough or even aware enough to deal with this entanglement (in fishing line)," Brownlow said. "We very rarely see entanglement in killer whales—actually this is one of the first cases we have documented."
The chemicals can also cause infertility and could explain why Lulu never reproduced.
"That's certainly what we found in the case of Lulu," Brownlow explained. "Having examined her ovaries, there was no evidence that she had ever been reproductively active or had ever had a calf."
Scientists have not observed any calves born the UK's waters in 25 years.
"Lulu's apparent infertility is an ominous finding—with no new animals being born, it is now looking increasingly likely that this small group will eventually go extinct," Brownlow told The Guardian.
Meet Takara, a 25-year-old pregnant orca living in SeaWorld San Antonio in Texas. Takara's newborn, expected to arrive in Spring 2017, will be the last remaining orca to live its life in SeaWorld's tanks after the ocean park announced in March it would end its captive orca breeding program after years of campaigning from animal welfare groups and concerned citizens.
But in a new push from People for the Ethical Treatment of Animals (PETA), the animal rights group is calling on SeaWorld to allow Takara to give birth in a seaside sanctuary so that her calf will never have to see the inside of a concrete tank.
On its SeaWorld of Hurt website, PETA details the "tragic" story of Takara's life. In the wild, orcas often live with their mothers for life but Takara herself was born in captivity in SeaWorld San Diego in 1991. Her parents—Kasatka and Kotar—were caught in Iceland in 1978. Kasatka, Takara's mother, is currently at SeaWorld San Diego. Takara's father, Kotar, died in 1995 in San Antonio after a pool gate he was playing with accidentally closed onto his head and caused a fractured skull.

Takara has already given birth to four other calves, two of which were taken to other parks. Her daughter Kohana was born in 2002 when Takara was 11. At the age of 3, Kohana was transferred to the notorious Loro Parque in Spain in 2006. Her son, Trua, was born in 2005 and now lives in Florida. Takara's youngest children, Sakari and Kamea, born in 2010 and 2013 respectively, live with their mother in San Antonio.
In an Instagram video from Liberate Cetaceans, footage shot in December shows young Kamea possibly signaling to her mother, Takara, that she wants to nurse. Judging by the date the video was taken, is it likely that Takara was already pregnant. Liberate Cetaceans alleges that SeaWorld allowed Takara to get pregnant even though she was still nursing Kamea.
"Why did SeaWorld choose to breed (or allow to breed) a female with an already dependent calf?" the post reads. "What an incredibly immoral decision."
The post follows:
Takara is well known for being hormonal, unpredictable, and generally unpleasant during the early stages of pregnancy. This means Kamea will be at risk of being ignored and neglected or even attacked. When the new calf comes, Takara's focus will be on the calf and not Kamea. A still very dependent Kamea may find herself without her mother's affections/ attention and will have no other mature females to turn to for comfort. If Kamea is still nursing when the new calf comes along, not only will this put incredible stress on Takara, but this will also mean the calves are competing for milk.
On SeaWorld's own website, it states that "most killer whale calves born at SeaWorld generally nurse for about a year, but may continue to nurse occasionally for as long as two years. This corresponds with observations in the wild."
Crunching the math, Liberate Cetaceans brought attention to the frequency in which Takara has given birth while at SeaWorld's parks, a rate that appears to be unnatural in the wild.

In the wild females typically give birth to a calf every 6-10 years and have 4-6 calves in their lifetime. This will be Takara's fifth calf and (if born this year) her third calf in just 6 years! So many pregnancies close together will put a lot of pressure on her body. As wild females tend to have their first calf at 14/15 and Takara is 24 (first impregnated at 11) she should have only had 2 calves (maximum) at this point in her life, not 4 with another on the way! Takara had one Kohana taken from her when she was only 3, and was moved whilst pregnant away from her only male calf, Trua, who was also 3 at the time.
SeaWorld states on its website, "based on limited data collected from populations at sea and in zoological facilities, a female may bear a calf every 3 to 5 years. In some cases, a female may not have another calf for 10 years."

EcoWatch reached out to SeaWorld for comment on both PETA's campaign and the Liberate Cetaceans post. The company had not responded as of press time, but did respond via email Wednesday with this statement:
SeaWorld made historic decisions to make this the last generation of orca whales, end theatrical performances with the whales and partner with the Humane Society of the United States [HSUS]. Society has changed and we've changed with it. Unfortunately, it appears PETA hasn't.
Placing any of the orcas we care for into their proposed sea cages would expose them to disease, pollution and other man-made and natural disasters. PETA's ideas are simplistic and don't take into account that the majority of the whales at SeaWorld were born in human care or have spent almost their entire lives at our facilities. We're focusing our resources on real issues that help far more animals, like working with HSUS to fight commercial whaling, shark finning, and continuing our efforts to rescue, rehabilitate and release injured and sick animals to the wild. Read more here.
SeaWorld has faced intense scrutiny ever since the 2013 documentary Blackfish exposed the plight of orcas in captivity. The film has sparked a massive public outcry against keeping these large creatures in small tanks since in the wild they swim up to 100 miles per day.

SeaWorld has previously said that their killer whales would not survive in the wild if they were to be released. "SeaWorld has not collected an orca from the wild in almost 40 years, and the vast majority of our orcas were born under human care. These orcas have never lived in the wild and could not survive in oceans that include environmental concerns such as pollution and other man-made threats."

Alongside its announcement to cease captive orca breeding, SeaWorld is also phasing out its theatrical "Shamu" show. Instead, SeaWorld visitors will get to see the orcas in redesigned pools that have a more naturalistic setting. Guests will get to observe the creatures through "educational encounters" starting in the San Diego park in 2017, followed by the parks in San Antonio and Orlando.

In a sad twist, around the same time SeaWorld made the two announcements, Tilikum, the killer whale at the center of the Blackfish, was found to be in deteriorating health. SeaWorld's teams are treating him for what they believe is a bacterial infection in his lungs, the company said on its Facebook page.
SeaWorld's Famous Whale and 'Blackfish' Star Is Dying https://t.co/UDPduvbYQj @seashepherd @pamfoundation @WWF @peta https://t.co/eM8beMgDll

— EcoWatch (@EcoWatch)1457541556.0
SeaWorld has faced intense criticism since the release of Blackfish, a documentary telling the story of orca whales kept in captivity at SeaWorld theme parks in California, Florida and Texas. Now court documents discovered by People for the Ethical Treatment of Animals (PETA) reveal that SeaWorld is pumping these marine animals full of psychotropic drugs.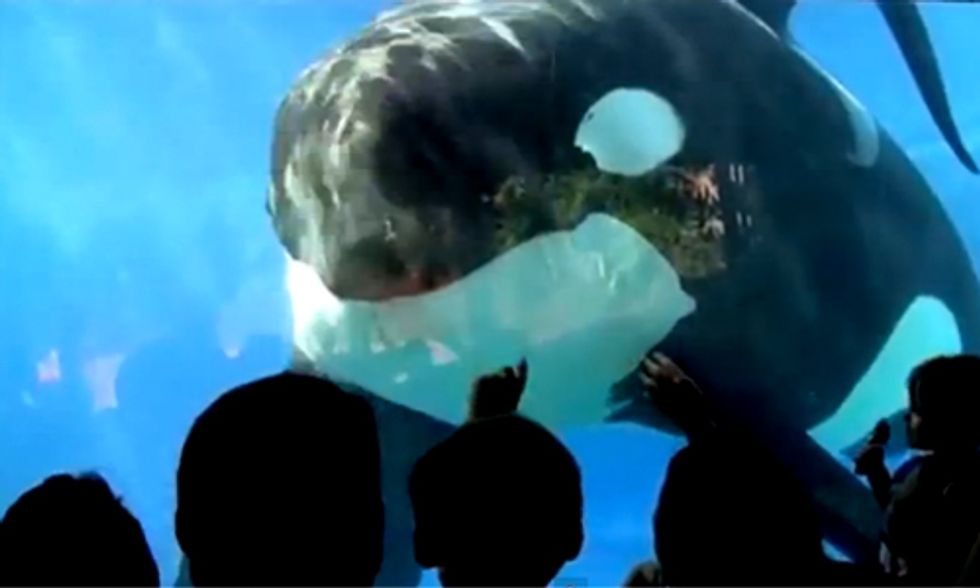 A sworn affidavit (see below) filed in the Ontario Superior Court of Justice during a dispute between SeaWorld and Marineland over the transport of the killer whale Ikaika, revealed that trainers give their orcas the psychoactive drug benzodiazepine, a class of drugs that includes Xanax and Valium.
Jared Goodman, director of Animal Law at PETA, told BuzzFeed that he believes the leaked documents will play a key role in SeaWorld's future.
"The veterinary records show that orcas at SeaWorld are given psychotropic drugs to stop them from acting aggressively towards each other in the stressful, frustrating conditions in which they're confined instead of funding the development of coastal sanctuaries—the only humane solution," Goodman said.
Blackfish, mostly through the testimony of former SeaWorld employees, shows how the whales, frustrated and bored with their captivity, lash out from time to time in acts of aggression, which eventually led to the deaths of two trainers—Keltie Byrne and Dawn Brancheau—as well as a young man who had snuck into the park at night.
"They do not cope with being kept in these tanks. They survive to some degree, but they don't thrive to any degree," said Ingrid Visser, founder of the Orca Research Trust.
"They show stereotypical behaviors that are abnormal, repetitive behaviors like head bobbing, chewing on concrete, and self mutilation by banging the side of their heads on the side of the tank, and there isn't a single orca living in captivity where you cannot see one of these behaviors, and in many of them you see multiple examples of these behaviors."
Haven't seen Blackfish yet? It's now steaming on Netflix.
Seaworld v. Marineland Aff of Lanny Cornell by Justin Carissimo
——–
YOU ALSO MIGHT LIKE
Sea World Responds to Blackfish Documentary, Sea Shepherd Set the Record Straight
Blackfish Director Challenges SeaWorld to Debate
Blackfish Documentary Exposes Industry Cruelty of Orca Whales in Captivity
——–