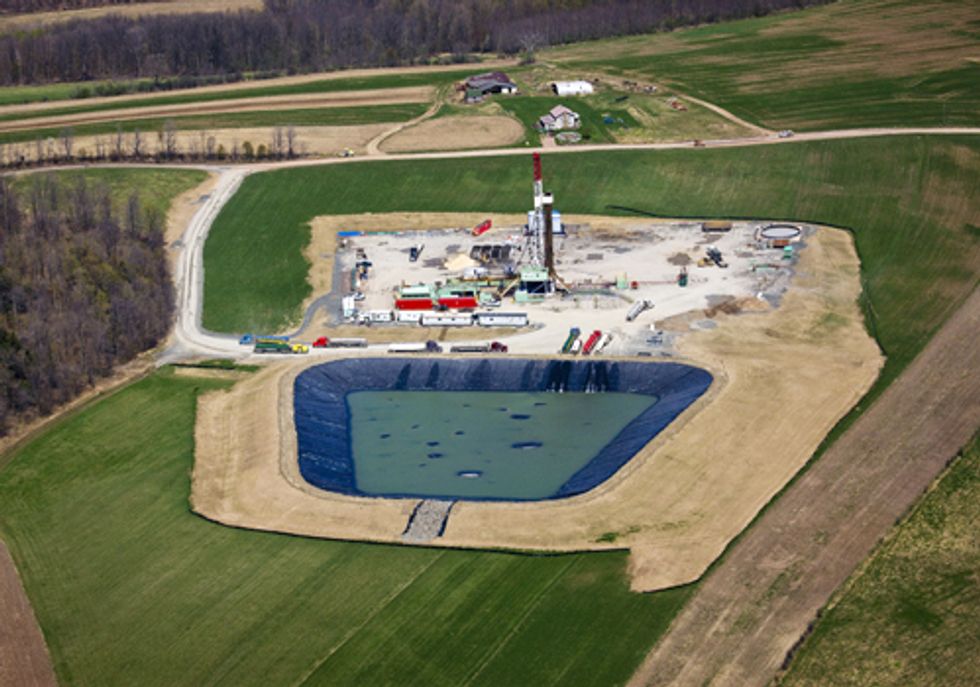 On Feb. 7 in the Senate and Feb. 8 in the House, the Pennsylvania legislature voted in favor of HB 1950, a compromise gas development bill that was hammered out behind closed doors under the heavy hand of Gov. Tom Corbett. Under the guise of providing "impact fees" to municipalities where gas operations occur, the legislature effectively supported a takeover of municipalities by the state and the gas industry by gutting established and effective local planning and zoning rights.
Through provisions contained in the bill, municipalities will no longer be able to play a central, critical role in protecting the health, safety, and welfare of residents and determining which uses of land are most beneficial.
The bill requires that all types of oil and gas operations (except for natural gas processing plants)—unlike any other commercial or industrial business—be allowed in all zoning districts, even in residential neighborhoods and near schools, parks, hospitals and sensitive natural and cultural resource protection areas. As a result, people could be forced to live only 300 feet away from a gas well, open frack waste pit, or pipeline, despite growing evidence that such development causes pollution, damages health, and lowers property values.
The bill also mandates a one-size-fits-all ordinance that supersedes all existing ordinances and prevents municipalities from adopting any zoning provisions that are stricter than the weak, mandated standards.
"The Pennsylvania legislature has let the gas industry take over, despite the terrible consequences that drilling is having in communities across the Commonwealth. This so-called impact fee bill brings no net fiscal gain to Pennsylvania residents; it robs us of the ability to protect what is most locally valuable—our health, safety and resources—and gives gas operators the right to run all over our communities. This is unjust and exposes the true allegiances of the bill's supporters—self-interested gas developers and their backers," said Maya van Rossum, the Delaware Riverkeeper.
 
"Today, many legislators and Gov. Corbett told Pennsylvania residents that protecting their health and rights matters far less to them than the gas industry's demands," said Nadia Steinzor, Marcellus regional organizer for Earthworks' Oil and Gas Accountability Project. "They and other supporters of this bill turned a blind eye on the widespread damage caused by drilling and a deaf ear to calls from citizens for change, while doing the bidding of companies that want to drill anywhere, anytime."
"If legislators were looking to pass a proposal that will allow more gas drilling near people's homes, and the parks, playgrounds and schools where our children play and spend their days, then 'Mission Accomplished,'" said Erika Staaf of PennEnvironment. "Sadly, this is just one more case of powerful interests dominating the political process, and the lack of leadership on both sides of the aisle to do anything about it."
"A poorly-regulated gas industry will be able to drill in residential neighborhoods, bringing thousands of gallons of toxic chemicals, thousands of tractor trailers, round the clock noisy, polluting drilling, all as little as a football field away from homes, day care centers, and playgrounds," said Jeff Schmidt, director of Sierra Club's Pennsylvania Chapter. "The legislators who voted in favor of HB 1950 have abandoned any pretense that they are acting in the public interest. We will make sure the public knows who sided with the drillers and who sided with citizens when they go to the polls for this year's elections."
"This bill represents a huge step backwards in protection for Pennsylvania towns and the environment," said Myron Arnowitt, Pennsylvania State director for Clean Water Action. "The state override of local zoning ordinances will greatly increase the threats to communities from all aspects of gas extraction. Never before has one industry been given full rights to do as they please, without recognizing the needs of other businesses, residents and our environment. 2012 is an election year, and we will be devoting our energy to ensuring that the voters of Pennsylvania are aware of which legislators voted to give away our control over an industry that has contaminated our air, land and water."
"The legislators who voted for HB 1950 made a short-sighted decision that puts the health and safety of Pennsylvania's communities at risk," said Josh McNeil, executive director of Conservation Voters of Pennsylvania. "They voted against the interests of their constituents and should expect those constituents to return the favor in the November election."
For more information, click here.
EcoWatch Daily Newsletter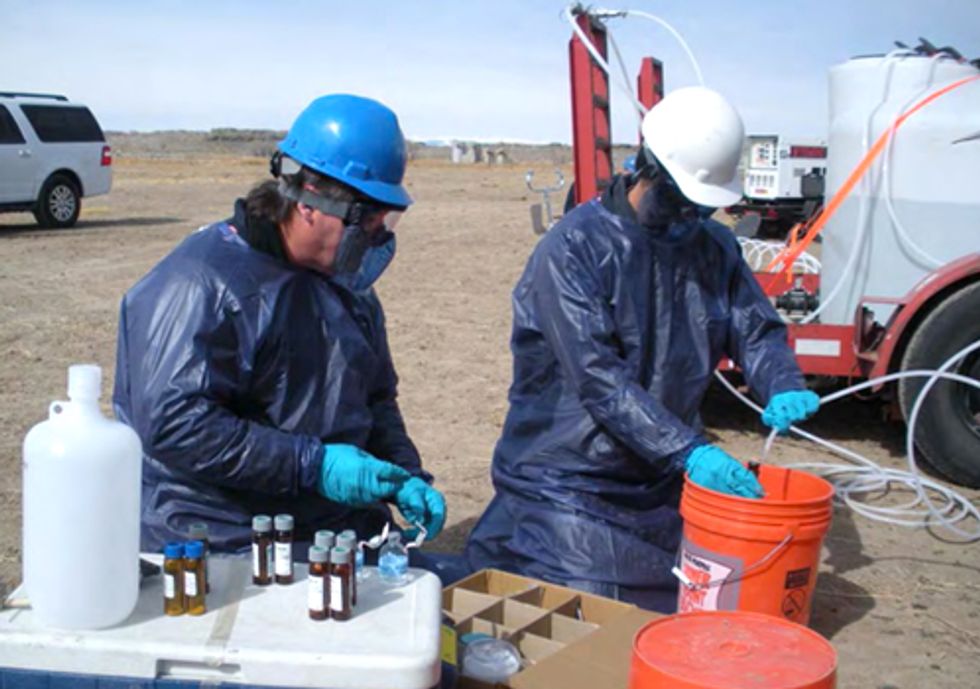 On Jan. 17, Pavillion Area Concerned Citizens (PACC) denounced attacks from the oil and gas industry and the state of Wyoming in a letter to the U.S. Environmental Protection Agency (EPA) regarding its investigation of contaminated drinking water wells in Pavillion, Wy. EPA test results show that hazardous chemicals, commonly used in oil and gas development, contaminated the wells. 
Powder River Basin Resource Council (PRBRC) and Earthworks' Oil and Gas Accountability Project applauded PACC for its letter and launched a national sign on letter campaign urging the EPA to continue with its rigorous investigation and to identify the cause of the contamination.
In December 2011, the U.S. EPA released the draft report of its scientific investigation into the connection between oil and gas development and contamination of drinking water wells. After initial testing in August 2010, the Agency for Toxic Substances and Disease Registry (ATSDR) urged residents not to drink their water or use it for cooking. If the U.S. EPA's draft is finalized with its current conclusions, it will definitively refute the oil and gas industry's claim that hydraulic fracturing has never contaminated drinking water wells.
"Pavillion residents made continual requests for help from the state of Wyoming and industry before seeking assistance from EPA to address the contamination issues. For over 10 years the state refused to help us. That's when we went to the EPA. Now it appears the state is joining the industry in fighting this study tooth and nail," said John Fenton, Powder River Basin Resource Council board member and chair of Pavillion Area Concerned Citizens.
EnCana Oil & Gas USA, which owns and operates more than 200 gas wells in the Pavillion area, denies that drilling is to blame for the contamination, stating that many of the toxins "occur naturally." On Jan. 6, EnCana sent a letter demanding that the U.S. EPA suspend the public comment period on the report claiming that the agency didn't give the company copies of all the data it used to compile the report. Also last week, the Petroleum Association of Wyoming and Wyoming Water Development Commission accused the EPA of not following its own water-testing protocols by holding several water well samples two days too long before conducting tests.
 
PACC, PRBRC and Earthworks' Oil & Gas Accountability Project have long fought to require the regulation of fracking and full and public disclosure of the chemicals used in drilling operations.
"These accusations are a political ploy to cover-up the results and bring a halt to the study," said Gwen Lachelt, director of Earthworks' OGAP. "We've seen this time and again with industry shirking responsibility and the government turning its back on the people who bear the impact of energy development in our country," Lachelt stated.
"The EPA is conducting a scientifically sound investigation of the contamination in the Pavillion area," said Wilma Subra, chemist, president of Subra Company, and board member of the State Review of Oil & Natural Gas Environmental Regulations (STRONGER). "Holding the samples for a longer time did not compromise the results. If anything, longer hold times make the results less likely to indicate contamination," Subra stated.
 
"The American public needs to see this for what it is, a planned assault to undermine the Pavillion study and smear the EPA," said Deb Thomas with Powder River Basin Resource Council. "EnCana did get one thing right. The state of Wyoming should hold their own testing events to the same standards they're demanding from EPA. The state's test results should publicly release all critical information, including all the report-related raw data. That would allow all parties and citizens to understand what regulated and non-regulated chemicals are being found in our drinking water and aquifers."
The area under investigation just east of Pavillion is home to about 160 residents in the middle of the Wind River Indian Reservation, 150 miles east of Grand Teton National Park. Residents share their farming operations with more than 200 oil and gas wells that surround their homes. Toxic chemicals were found in nearly 9 out of every 10 wells sampled. In monitor wells drilled by the U.S. EPA, benzene, a cancer-causing chemical, was found at 50 times the limit safe for human health along with numerous other toxic chemicals including 2-BE, a chemical used in fracking operations. Through the years contamination has been suspected, EnCana supplied and halted drinking water service to residents. In 2011, EnCana tried to sell its entire Pavillion/Muddy Ridge gas field to Legacy Oil & Gas out of Midland, Texas. Legacy backed out of the sale in late November.
For more information, click here.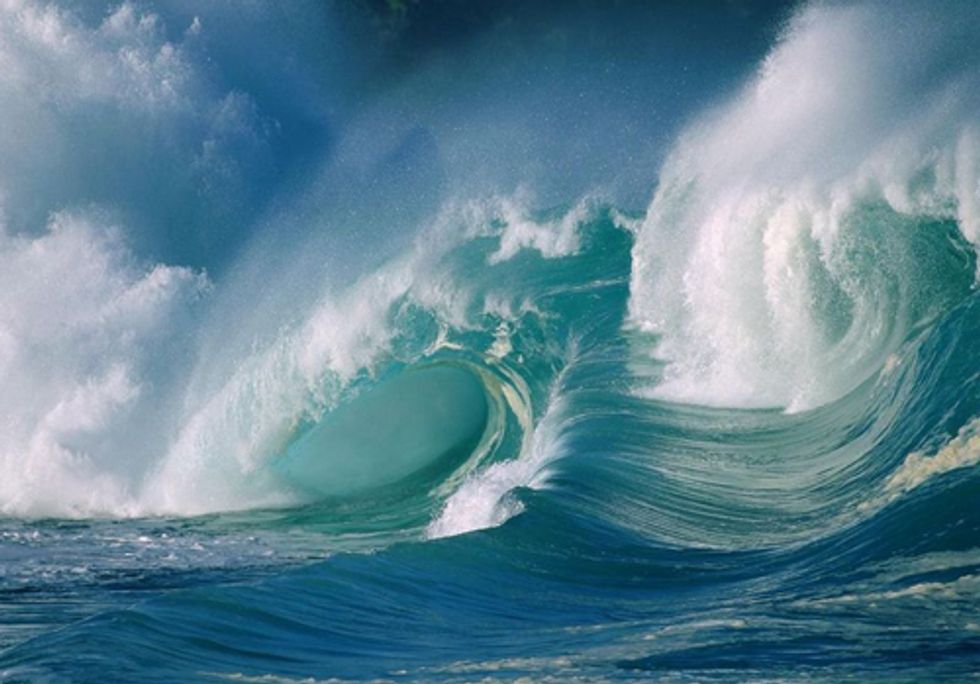 The Obama administration released a draft Implementation Plan on Jan. 12 for the National Ocean Policy. The draft provides strategic action plans for the policy's nine priority objectives. In response, Ocean Conservancy released the following statement from Emily Woglom, director of Government Affairs:
 
"We applaud the administration for following though on the landmark National Ocean Policy with the release of this draft Implementation Plan. We hope the draft plan will provide the direction and guidance needed to tackle some of the many challenges facing our ocean, including planning for offshore energy, protecting important marine habitat and addressing changes affecting the Arctic.
 
"With the plan's release, and momentum building, the administration should ensure the appropriate resources are provided to continue the much-needed work on comprehensive ocean-use planning. The next step, setting up regional planning bodies to help fight against haphazard use of ocean resources, will allow ocean uses to be coordinated and management decisions to be made on the regional level. This will be a win for all involved.
 
"Ocean Conservancy encourages everyone with a stake in the health of the ocean to participate in the comment period in order to make this process as public and transparent as possible. Input and engagement from all ocean users is vital for both this plan and future implementation of the National Ocean Policy to foster coordination for a healthier ocean. We look forward to providing detailed feedback on the plan and engaging with the National Ocean Council as the process moves ahead."
To read and submit comments on the draft Implementation Plan, see the National Ocean Council's full statement below:
National Ocean Policy Draft Implementation Plan
As part of President Obama's National Policy for the Stewardship of the Ocean, Our Coasts, and the Great Lakes, the National Ocean Council has released a draft National Ocean Policy Implementation Plan to address some of the most pressing challenges facing the ocean, our coasts, and the Great Lakes. The draft Implementation Plan describes more than 50 actions the Federal Government will take to improve the health of the ocean, coasts, and Great Lakes, which support tens of millions of jobs, contribute trillions of dollars a year to the national economy, and are essential to public health and national security.
The draft Implementation Plan will ensure the Federal Government targets limited resources more effectively to deliver demonstrable results for the American people, including predictability for users, more efficient and coordinated decision-making, and improved sharing of data and technology. For each action, the plan outlines key milestones, identifies responsible agencies, and indicates the expected timeframe for completion.
Click here to read the draft Implementation Plan.
We Want to Hear From You
Click here to provide comments on the draft Implementation Plan. The public comment period is open until midnight EST, Feb. 27, 2012.
We are relying on your input to inform development of the final Implementation Plan and help ensure the National Ocean Policy is working for our nation. We welcome your general input, and also pose the following questions:
Does the draft Implementation Plan reflect actions you see are needed to address the nine priorities for the ocean, coasts, and the Great Lakes?
What is the most effective way to measure outcomes and to detect whether a particular action in the Implementation Plan has achieved its intended outcome? Would a report card format be useful?
Comments received will be collated and posted on the National Ocean Council website. The National Ocean Council will review and incorporate comments before finalizing the plan in 2012. The plan will be reviewed annually and modified as needed based on new information or changing conditions. 
Comments may also be sent by fax to "Attn: National Ocean Council" at (202) 456-0753, or by mail to: National Ocean Council, 722 Jackson Place, NW, Washington, D.C. 20503. Allow at least 2-3 weeks additional time for mailed comments to arrive.
More on the Development of the draft Implementation Plan
The draft Implementation Plan was developed with significant input from national, regional, and local stakeholders and the general public. The National Ocean Council sought public comment from January through April 2011 and June through July 2011, and held 12 regional listening sessions around the country. In addition, the Governance Coordinating Committee, composed of state, Tribal, and local government officials, and the Ocean Research Advisory Panel, composed of expert representatives from a range of ocean sectors, provided input for the plan.
In mid-2011, the National Ocean Council released for public comment outlines for nine Strategic Action Plans that provided an initial view on how federal agencies might address the nine priority objectives highlighted in the National Ocean Policy. The outlines, by design, were draft products that served as an early and valuable point in the Implementation Plan development process for focusing public and stakeholder input.
During the public comment period that was open June 2—July 2, 2011, the National Ocean Council received more than 400 contributions from more than 200 individuals and groups. In addition, approximately 1000 individuals and groups participated in and provided comments at 12 regional listening sessions around the country. The National Ocean Council agencies evaluated more than 850 specific comments from stakeholders and the public, many representing multiple submissions of very similar comments. We considered all of the comments and accepted many, incorporating them into the draft Implementation Plan. 
Click here to read a summary of the most substantive and frequent public comments and how they are addressed in the draft Implementation Plan.
Click here to read past public comments and learn about the Strategic Action Plans.
For more information, click here.
—————
Ocean Conservancy is the world's foremost advocate for the oceans. Through science-based advocacy, research, and public education, we inform, inspire and empower people to speak and act for the oceans. Ocean Conservancy is headquartered in Washington, DC, and has offices in Florida, the Gulf of Mexico, and the Pacific, with support from more than half a million members and volunteers.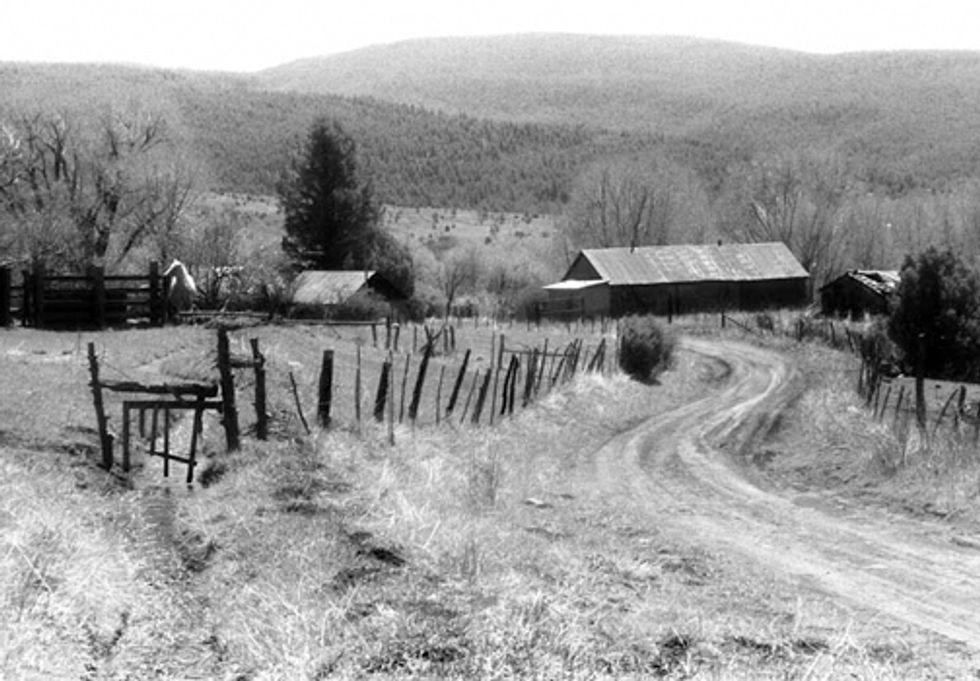 By Kathleen Dudley
What is it that holds this county apart from other places in this vast landscape? The silence at dawn and dusk when all is still, when my awareness of my breath and heartbeat alert me to my aliveness? Is it possibly the prolonged dry and windy seasons that tear and strew everything about with hell's might?
Or could it be the baking heat that draws insects to our parched fields and gardens when that is the last assault we can bear? Or is it the people who have lived here, then and now, who made their mark so deeply into the heart and soul of this land we call Mora County, New Mexico?
Could the land and the people be what is bringing about my own spiritual evolution and awakening my thirst for all that this community has valued for generations?
In a land of mountains, forests, fertile wet valleys and vast open plains, these Hispanic and Indigenous Jicarilla Apache people hold onto their ancestral values and nurture the old ways in spite of the onslaught of the 21st century. This has been a stunning glimpse for me into what I would call the mastery of self-determination and a healing gift for mankind.
Mora County's population is 5,200 with 67 percent of its residents Spanish-speaking, who live in small community villages on ranches and farms. It is a place where people barter and help one another because this is a community that understands its connection to one another, as well as their relationship to the land.
All 1,944 square miles of the county's rural landscape is unadulterated by industrial development, making it one of the last few places in the U.S. where a land-based culture has yet to look into the eyes of corporate industry.
But that is all about to change if Royal Dutch Shell has its way and industrializes this landscape for its hidden natural gas and the money it will bring them. But the citizens of Mora County appear to be aware of what could happen if the oil companies, who currently hold more than 144,000 acres of mineral leases, begin to drill.
They have heard from San Juan County, New Mexico ranchers, who like themselves, are caretakers of their ancestral lands, who have told them that if Mora County citizens "let the oil companies start their engines here, it will be all over for them" and that they would be "lucky to get a job as a dog catcher" or to safely drink their well water, let alone breathe clean air. 
Most of the oil and gas wells that are proposed for Mora County would use the method of hydraulic fracturing, better known as fracking. Fracking is a means of natural gas extraction employed in deep natural gas well drilling. Once a well is drilled, millions of gallons of water, sand and toxic chemicals are injected, under high pressure, into a well. The pressure fractures the shale and props open fissures that enable natural gas to flow more freely out of the well.
The outrage over fracking for the people of Mora County reflects their understanding of all that natural gas development entails. Folks from Farmington, New Mexico, where more than 14,000 operating oil and gas wells have turned their once agricultural land into an industrial zone, speak about the proliferation of prostitution, amphetamine labs, housing shortages, arrests, and high asthma and cancer rates among children. Other reports reveal that in Pavilion, Wyoming, the aquifers now contain benzene, 2-BE and other carcinogenic chemicals where natural gas drilling is taking place. In these communities, there is often a significant rise in the cost of living that ultimately displaces local people from their land.
The people in Mora County understand what is at stake. The bottom line is our knowledge that the local culture will fade as their language is displaced and their ancestral adobes are ploughed under and built over with high rises and country homes in the mad frenzy to welcome the fossil fuel development.
Not unlike other communities, there is caution about how to move forward in the midst of such an affront. However, a citizen committee presented the three-member Mora County Commission with the Mora County Community Water Rights and Local Self-Government Ordinance in September 2011, which was modeled after Pittsburgh, Pennsylvania's CELDF rights-based ordinance that bans oil and gas drilling and fracking. It contains a "Community Bill of Rights," exerting people's inalienable rights to clean water, air, land, health and safety. And, at the core of the ordinance, it exerts the right to local self-government and prohibits harm by industry and writes out corporate "personhood."
This ordinance is outside the box of U.S. corporate-government intention, and today, more than 140 communities have passed these ordinances into law. With the brilliance of the Community Environmental Legal Defense Fund (CELDF), who developed and crafted these community rights-based ordinances, Mora County is exerting their rights to continue to protect all that has been long valued, and to stand in solidarity with the communities across the U.S. who have passed these before them.
Will what has continued to hold the people to their rural landscape and culture in Mora County weather the onslaught of this current corporate-government siege? Will the commission exert their authority on behalf of their ancestors and children? While this land holds sacred the water, people, air and animals, it will take the courage and moral compasses of each the Mora Commissioners to protect these ancestral rights.
For more information, click here.