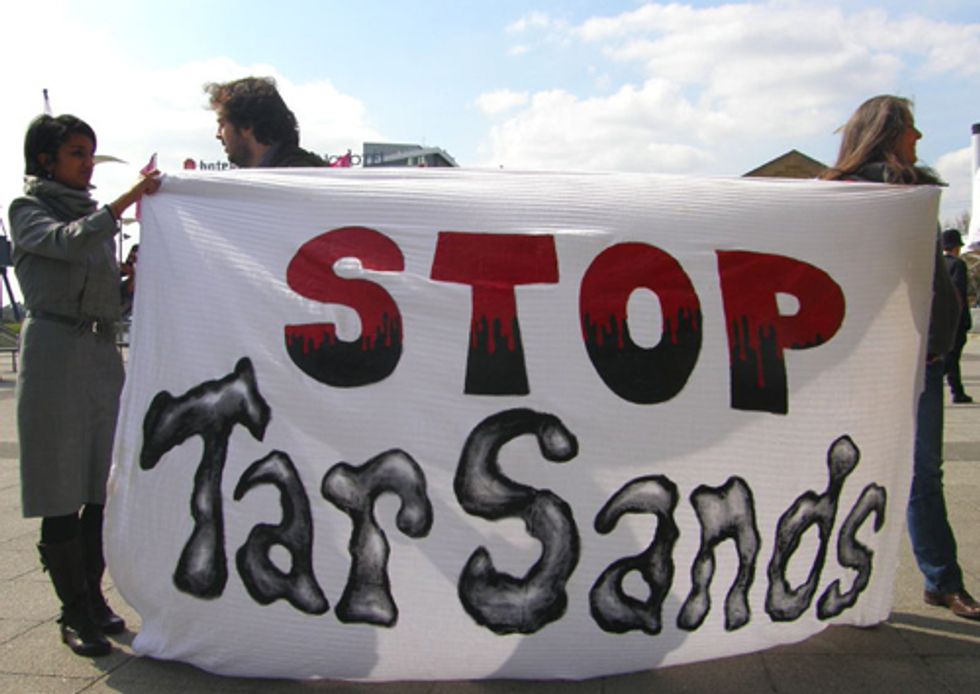 There's breaking—and disturbing—news about the Keystone XL pipeline. Big Oil is bringing it back, and with a vengeance.
The Senate may vote as early as this week to force construction of the dirty tar sands oil pipeline—and once again, it's up to you to stop this bill.
Last month, President Obama rejected the Keystone XL tar sands pipeline, which TransCanada spent $1.3 million lobbying for in 2011. We knew Big Oil wouldn't give up, and sure enough, they're still at it, using their money to force the pipeline down our throats, thwart the president, and pass this bill.
Email your senators today and tell them to oppose any legislation that would approve the Keystone XL pipeline.
With Big Oil and the lawmakers they've bought and paid for allied against us, we face a tough fight. This bill could pass. But by standing together, we beat their millions in round one, and we can do it again in round two.
It's obvious that Big Oil will do almost anything to buy influence and get their way on Capitol Hill—they have to, since no project as dangerous as Keystone XL could ever pass on the merits alone.
This pipeline would carry the world's dirtiest fossil fuel, tar sands oil, from Canada to Texas, where it would be shipped overseas. To build the pipeline, TransCanada has to seize private land from ranchers and farmers, and then expose what's left to the threat of oil spills and leaks. Clean water, clean air, agriculture, and our shared climate would all be put at risk for what have been greatly exaggerated benefits.
There's no reason the public should sacrifice so much just so Big Oil can increase their already-record profits. We may not have $1.3 million to lobby Congress—but we do have 1.4 million members and supporters like you.
Take thirty seconds to tell Sen. Scott Brown (R-MA) and Sen. Rob Portman (R-OH) to put our public health before Big Oil profits. Oppose this and any other attempt to approve the Keystone XL pipeline.
Big Oil is used to getting their way, no matter what that means for the rest of us. But together, we can send a powerful message—write your senators today.
For more information, click here.
EcoWatch Daily Newsletter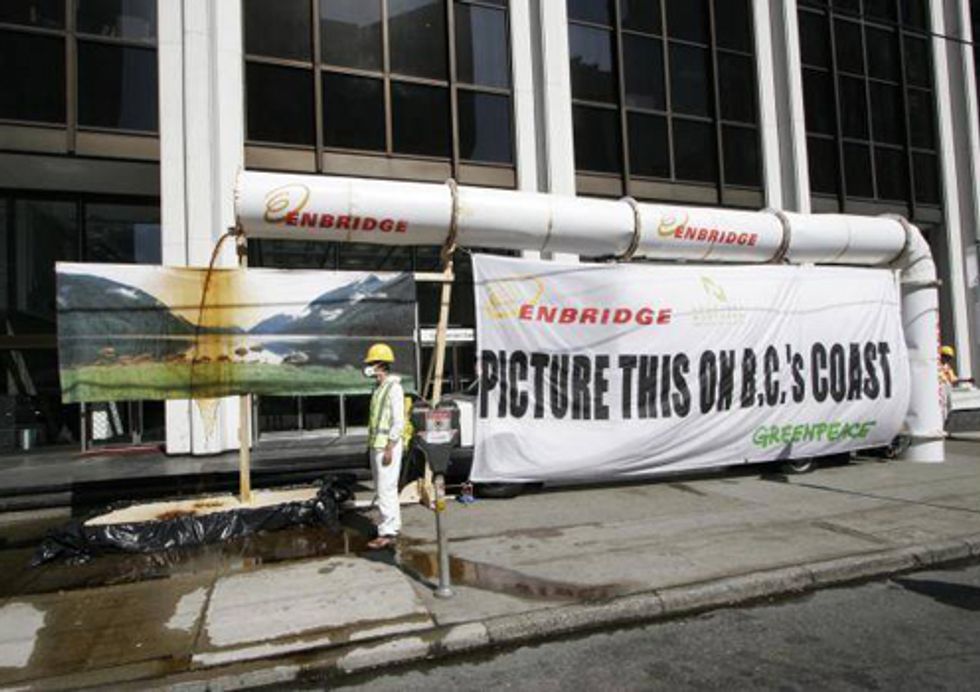 Imagine it—Pollution from tanker traffic. An impossible-to-rule-out oil spill. Destruction of pristine habitat for sea otters, killer whales, puffins, seabirds and even iconic spirit bears.
That's what's awaiting British Columbia's northern coast and hundreds of species of birds, animals and marine life that thrive in this region if we don't take action right now.
A controversial proposed pipeline would carry oil from the tar sands in Alberta to a port at Kitimat, British Columbia. After travelling nearly 1,170 km through pristine wilderness and First Nations homelands, tar sands oil would be loaded on tankers bound for Pacific markets. To get there, they must first navigate the perilous northern B.C. coast, travelling the same wildlife-filled waters where the Queen of the North ferry sank in 2006. Is this pipeline in the public's best interest?
If given a go-ahead, the pipeline project would:
Fragment the boreal forest, home to birds and other wildlife, including woodland caribou and grizzly bears.
Expose the Great Bear Rainforest, home to wolves and the iconic spirit bear, and 30 internationally recognized Important Bird Areas teeming with marine birds, fish and other animals to potential oil spills and pollution from increased tanker traffic.
Risk irreversible harm to the livelihoods of many coastal and aboriginal communities.
Canada's wildlife depends on us to speak up on their behalf and put a stop to the Northern Gateway Pipeline project before it's too late. Add your voice and send your letter today.
For more information, click here.
Westend61 / Getty Images
Residential solar energy companies are helping more and more homeowners upgrade their properties to clean energy sources. Solar energy companies can equip you with the technology you need to harness the amazing power of the sun and reduce your need for fossil fuels. In this article, we'll review some of the most trustworthy providers and installers of solar power.
Our picks for the best solar companies
The first step in the process is researching some of the top companies in the solar industry. Here are the ones that stood out in our research.

Each product featured here has been independently selected by the writer. If you make a purchase using the links included, we may earn commission.
How we chose the best solar energy companies
How did we determine which solar power companies to recommend?

To begin with, we took a deep dive into each company's offerings, assessing them for the following criteria:
Range of services offered
Pricing/affordability and financing options
Extent of service area
Solar panel efficiency
Warranty
Temperature coefficient (e.g., how much high temperatures affect efficiency)
Additionally, we weighed membership and certification by professional associations like the Solar Energy Industries Association (SEIA). Affiliation with these groups is a good indicator that a solar energy company is reputable, and that their work is up to the highest standards within the industry.
The best solar energy companies
schmidt-z / Getty Images
With these criteria in mind, consider our picks for the best solar panel providers and installers in the industry.

If you're looking for a company that can walk you through the process of upgrading to solar power for an easy and convenient experience, look no further than to SunPower. The company offers:
A "design studio" app, allowing you to safely and seamlessly design your own solar power system so that you can see a visual of what the finished product will look like once installed.
Online calculators that make it easy for you to determine about how much electricity you will save once you upgrade to solar panels.
Virtual consultations, allowing you to chat one-on-one with a solar power expert and to ask any questions you might have.
SunPower offers leading solar panels and energy storage technology to homeowners across dozens of states. And, they are also the preferred solar partner of many major businesses, including Walmart, FedEx, and Lowes.

Why buy: SunPower is a reliable solar energy company with an impressive tech portfolio and an extremely easy, intuitive process.
Upgrading to solar power can seem a little intimidating, but SunRun is out to bring simplicity. Their approach makes it extremely straightforward to select a custom solar energy plan for your household. Here's what to know about SunRun:
They offer virtual consultations with solar energy experts, making it simple to explore your options and determine which solar set-up is right for your home energy needs.
Each system they design is completely customized to address the customer's needs. SunRun doesn't do "one size fits all" solar equipment options.
Their guarantee, the best in the industry, offers extraordinary peace of mind that your solar system will prove durable and reliable.
SunRun also leads in terms of flexible financing options, making solar power accessible and affordable.
Why buy: With SunRun, the name of the game is customization. This is one of the best solar installation companies to turn to for solar power solutions that are truly made with you in mind.
You probably associate Tesla with their electric vehicles, but did you know that the company also produces high-efficiency solar panels? Depending on your needs and your budget, Tesla can hook you up with an array of solar panels or even a solar roof, making it easy to cut electricity costs and power your home via the sun's vital energy.
Some fast facts about choosing solar power from Tesla:
They offer a price match guarantee and affordable financing options.
Their advanced solar panel technology offers a low profile, a sleek style, and long-term durability.
Home battery backups allow you to save solar power and then access it on demand, whenever you need it.
Why buy: Tesla offers sophisticated solar products for what the company claims is the lowest price of any national provider, which they back with a price-match guarantee. Plus, all of their solar panels come with a solid 25-year performance guarantee.
LG is another well-known tech company that is also a leader in solar energy. Some of their solar panels use a bifacial solar module that captures energy from two directions to increase their efficiency. While they are a solar panel manufacturer, they can also help you with the installation process by finding an LG Pro installer in your area.
They offer an online "solar concierge" service that allows you to evaluate your home energy needs and to compare different options for going solar.
LG offers a 25-year warranty, not only on their technology but also on the work their of their solar installers.
They offer a range of solar panels and supporting products, and they supply you with plenty of information to make a fully informed choice.
Why buy: LG is a company that knows technological innovation. Their award-winning solar energy products are reliably efficient, well-priced, and designed for maximum efficiency.
Panasonic has one of the most impressive tech portfolios in the solar energy industry. Their products boast some of the highest conversion efficiency rates, along with the lowest degradation rates. And they back everything with a generous warranty.
Some additional reasons to choose Panasonic:
They offer a range of solar panels to choose from. With Panasonic, you'll find that you have plenty of options.
They also provide a lot of great online support and consumer education, ensuring you'll get the most out of your solar technology.
Why buy: Panasonic is a solar panel company with products that are tough to beat. Both their pricing and warranties are very appealing, and their HIT high-performance solar panels offer some of the best power conversion rates of any product.
Vivint is a company that offers a full spectrum of services, including solar power consultation, design, and installation. A few reasons why homeowners trust their solar power needs to the Vivint team:
Everything Vivint does is customized. They tailor everything to fit your roof and to help you achieve your home energy goals.
They make the entire process simple, handling all of the little details for you. This includes securing permits, filing the right paperwork, etc.
They emphasize safety, using only the highest caliber of solar panels and backing everything with a world-class warranty.
Why buy: Vivint is noteworthy for their focus on customization, their commitment to safety, and their one-stop-shop solar power solutions. In addition to solar panel installation, they also offer other specialized technology, including solar-powered electric vehicle chargers.
Enphase is another company that stands out, both for their robust technology as well as for their commitment to customization. Their microinverter technology makes their solar system safer by reducing the likelihood of arc fault fires.
They design their solar technology with safety in mind, including fire safeguards that other companies can't match.
Their solar panels are built for durability and can hold up even through the most extreme kinds of weather.
Enphase uses smart technology to update itself; all you need to do is connect it to your home Internet.
They also have one of the best apps in the solar industry, making it simple to monitor your home energy use.
Why buy: Enphase is a company of innovators, and their solar portfolio has a lot to offer. Their system is also modular, meaning you can easily add more panels to your system as you need them.
This solar power provider has won recognition not just for their excellent technology, but also for their sincere commitment to sustainability and to ecological stewardship. And don't let the name throw you off: Though Canadian Solar is based in Canada, they provide solar power solutions in the U.S. and other countries.
Some additional facts about Canadian Solar:

They offer a wide range of products, from energy converters to storage solutions.
Their solar panels boast exceedingly high energy efficiency rates.
Canadian Solar has won a number of awards for its first-class innovations, and one of their products even set a world record for conversion efficiency in 2020.
Why buy: This company has a proven track record of technological excellence, plus a real commitment to ecological stewardship. They also closely monitor their supply chain to ensure that no goods or materials used in their products come from prohibited forms of labor.
First Solar boasts an impressive track record of advocacy for solar power and for renewable energy sources. And, thankfully, they back their advocacy with some excellent solar technologies.
A few reasons to choose First Solar solar panels:
Their technology offers an outstanding temperature coefficient, meaning they won't lose performance during high temperatures.
Their solar cells are among the most reliable and most efficient in the clean energy sector.
First Solar also offers a lot of post-purchase, post-installation help, as needed.
Why buy: First Solar is a great option for anyone who's serious about renewable energy, and who wants the best performance from their solar panels.
The biggest drawback to Go Solar is that, right now, their work is limited to just a few states. But if you happen to live in that part of the country, you're in luck. Go Solar's panels are uniquely calibrated to take advantage of the western region's abundant sunlight. Some additional reasons to pick Go Solar include:
They offer free home solar assessments.
They custom-design solar systems to meet the needs of your home.
They have some of the most trusted installers in the solar power industry.
Why buy: For solar solutions that are tailored to the climate of the American West, definitely consider Go Solar. Plus, with their Give Solar International partnership, they give an equivalent solar panel system to a family in Uganda for each system sold.
How does a solar energy system work?
schmidt-z / Getty Images
As you explore the different options for embracing solar power, it may be helpful to have a baseline understanding of how solar energy systems actually function.

Generally speaking, solar energy systems involve solar panels installed on your roof. These panels absorb the sun's energy, storing it in what are known as photovoltaic cells. These cells convert the solar energy into direct current (DC) energy, then use an inverter to convert that DC energy into alternate current (AC) electricity. AC electricity is what you need to power all your home appliances.

It's important to note that, before you purchase solar panels, it's worthwhile to meet with a solar energy consultant who can tell you more about how many panels your home will require, and also to let you know how those panels should be ideally positioned on the roof.
One more note: If you're concerned about the affordability of solar power, it's important to remember that most solar energy companies provide a host of options, including flexible financing and solar lease options for a system rather than purchase it outright. As you talk with different solar energy companies, don't hesitate to inquire about these leasing and financing options.

Benefits of solar energy
Installing solar panels on your home can yield a number of benefits. Here are just a few examples.
Cleaner energy
One of the main reasons why homeowners choose to install solar cells is that it allows them to truly embrace clean energy sources. Rather than depend on fossil fuels and power plants, you can power your home with renewable energy that comes straight from the sun. This can be a highly effective way to minimize your environmental footprint.
Solar tax credits and rebates
There are a number of ways in which choosing renewable energy can save you money, starting with the fact that there are so many rebates and tax credits available. Essentially, both the federal government and many state governments want to encourage people to "go green" as much as possible, and they will make it worth your while by allowing you to claim these important tax incentives. Some utility companies also offer rebates that can help pay for the upfront costs of solar projects.
Lower electricity bills
Of course, embracing solar power will also help you save money by slashing your electricity bills. Most solar energy companies offer online calculators that allow you to see for yourself how much money you'll save over time, simply by changing to a renewable energy source. There is also an option called a power purchase agreement (PPA) that can allow you to host a solar or renewable energy system from a utility provider in exchange for lowered energy rates. If your solar panel system generates excess energy, the utility will then purchase that energy from you in the form of a net metering credit on your bill.
Make a smart choice about solar power
There are obviously a lot of perks to choosing solar energy for your home. And yet, it can also be a rather daunting process, simply because there are so many solar energy companies to choose from.

Using our guidelines and rankings, start doing your due diligence, seeking the solar power company that's right for you. Remember to look for a company that's well-regarded within the industry and get a consultation before you buy. Always be sure to ask some direct questions about the financing options that are available to you.
Josh Hurst is a journalist, critic, and essayist. He lives in Knoxville, TN, with his wife and three sons. His writing on natural health, nutrition, and supplements has appeared in Health, Shape, and Remedy Review.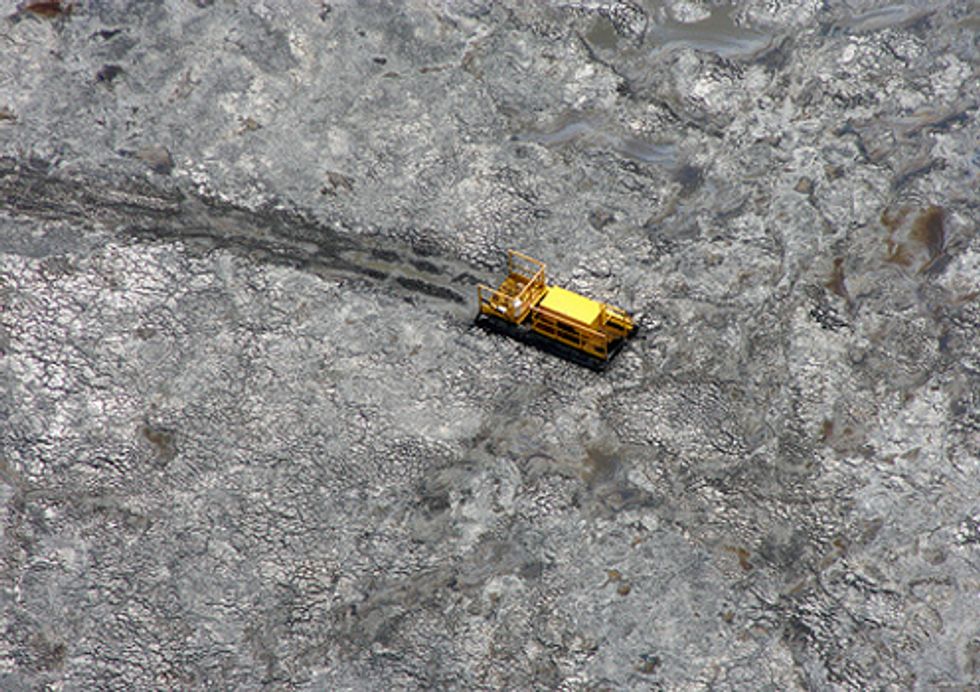 By Nathan Lemphers
As the news broke on the afternoon of Jan. 18 that the U.S. government had denied the application of the proposed Keystone XL pipeline, speculation quickly followed about the future of the proposed Northern Gateway pipeline—a controversial and risky project that would see oilsands crude piped to the craggy northwest coast of British Columbia, then shipped by tanker to overseas markets.
The speculation was no-doubt driven by Prime Minister Stephen Harper's response to the decision, in which he reiterated Canada's intentions to find new customers for oilsands outside the U.S. (Harper had, until recently, called the approval of the Keystone XL pipeline a 'complete no-brainer' and his government has become a vocal proponent of the Northern Gateway project as well.)
As the pipeline debate on this side of the border shifts to the fate of the Northern Gateway proposal, the U.S. government's rejection of the Keystone project shows that Canada faces real barriers in getting oilsands to market—and, despite what some pundits say, those barriers are not just political.
Not just an issue of access
Access to markets isn't the only challenge facing the oilsands. Access to investment capital is a critical component to an industry with incredibly high start-up costs. Imperial Oil's Kearl Mine is a case in point, with the total budget now ballooning to a record $28.5 billion.
In a 2010 report by the Fraser Institute on barriers to energy development in North America, the authors concluded that uncertainty around environmental regulations is very likely to cause some investors to be cautious about investing in the oilsands.
Businesses thrive when they have a predictable regulatory environment, and the oilsands industry is no different. The heads of companies need to know, for example, what royalties will need to be paid, what labour laws they must consider, and what accounting standards they will be required to follow.
The problem for the oilsands industry is there are many environmental aspects of operations that do not yet have clear regulations, such as tailings management, greenhouse gas emissions, reclamation, species at risk, wetlands and regional planning. This lack of regulation, and the resultant environmental challenges, is the driving factor behind the poor reputation Canada has internationally when it comes to energy development. Meantime, federal-provincial jurisdictional battles add to the lack of clarity.
Rather than constantly playing defense, Canada could proactively address our customers' concerns about the impacts of oilsands development by improving how environmental issues are regulated. If the federal and Alberta governments could provide more certainty about their expectations of how the oilsands are to be managed environmentally—and ensure those standards are being met—then the oilsands may start to look like a more attractive investment, and a more attractive product.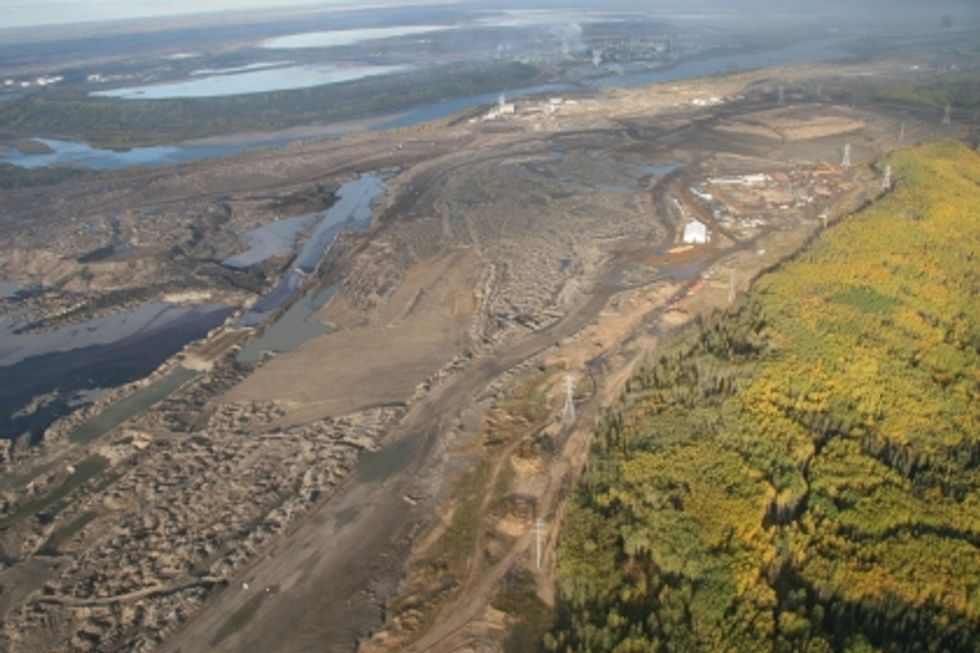 The Harper government's efforts to wield the threat of shipping to Asia as a political club against the U.S. is not new—although, following the Jan. 18 surprise decision, the Premier of Alberta also played up the prospects of taking oilsands elsewhere. A steady increase in Chinese demand for oilsands crude in the future is taken as a given among energy circles in Calgary, and to question otherwise is to challenge orthodoxy.
Playing China as an economic trump card appears rather presumptuous, however, given increasing concern that the oilsands are losing fashion in China. And it's likely the current challenges facing the development of oilsands pipelines are not increasing optimism among potential customers in Beijing.
Compared to what we have to offer in Canada, China has access to higher-quality hydrocarbons from much closer sources. Even the chief energy researcher for a state-owned Chinese oil company agrees—"The oil sands are too costly and too polluting. Gas has a brighter future…Shale gas is much cheaper and cleaner."
What's the rush?
The denial of Keystone XL "only will embolden those opposed to Gateway and other new project developments," said Enbridge CEO Pat Daniels. Despite the long faces from some proponents of oilsands pipelines, there's no rush to push these projects ahead. Alberta will not be landlocked in bitumen for at least another eight years, given industry production forecasts and current pipeline capacity. Moreover, some of the existing pipelines can be twinned or additional pump stations built to increase throughput.
From a capacity perspective, the argument for Gateway in a world without Keystone XL is weak.
Economic arguments in perspective
It is hard to miss the drumbeat of the economists in favour of Gateway these days, most of whom cite the benefits of diversifying export markets. Indeed, many Canadian and foreign-owned oilsands companies stand to benefit from the project.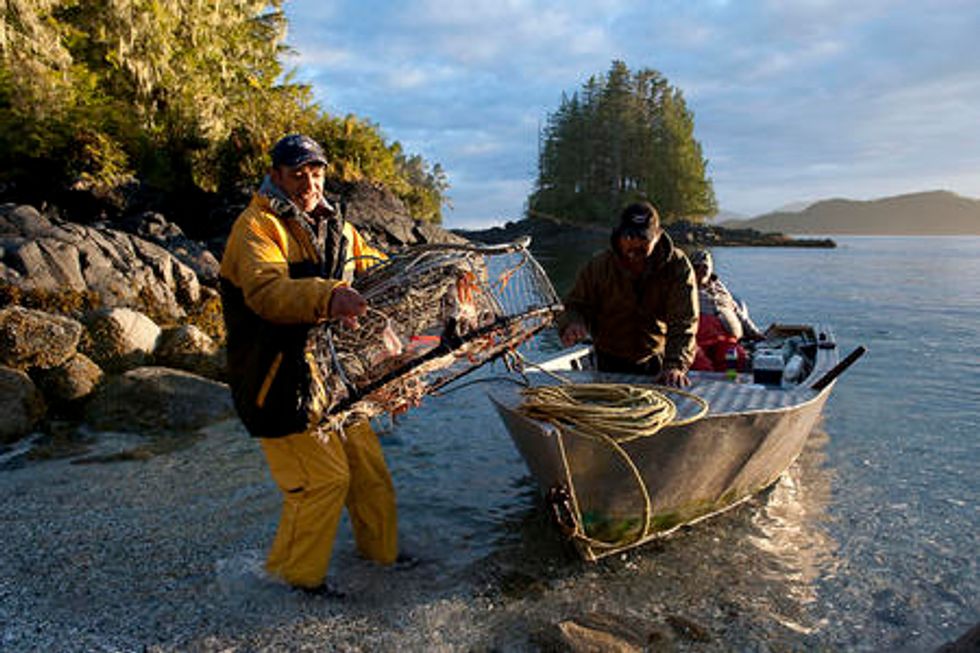 But while economic diversification on its own is a sound and prudent economic principle, it is critical to consider the broader picture.
The Obama administration considered more than simply the economic aspects of the Keystone XL pipeline. They also listened to and considered the perspectives of a host of Americans that had real concerns about the pipeline and the oil that it would be shipping.
In the same way, the Harper government would be wise to learn from Keystone XL and consider multiple perspectives, including those labeled as 'radical'. First Nations, British Columbians and environmental organizations are not radical for wanting to have a balanced and credible review process that is informed by more than the private economic interests of a handful of oil companies.
Due public process is critical to making an informed decision. For one thing, the process for Keystone XL showed that energy companies are capable of responding to public concerns and adjusting their plans when required to by a government that takes those concerns seriously.
The Obama administration's decision to reject the Keystone XL application ought to be a clarion call for the Canadian government to ensure due process is respected for the Gateway hearings. Only by thoroughly examining the risks, along with the benefits, of the proposed Gateway pipeline can the government arrive at a decision that will be in the interest of Canadians.
For more information, click here.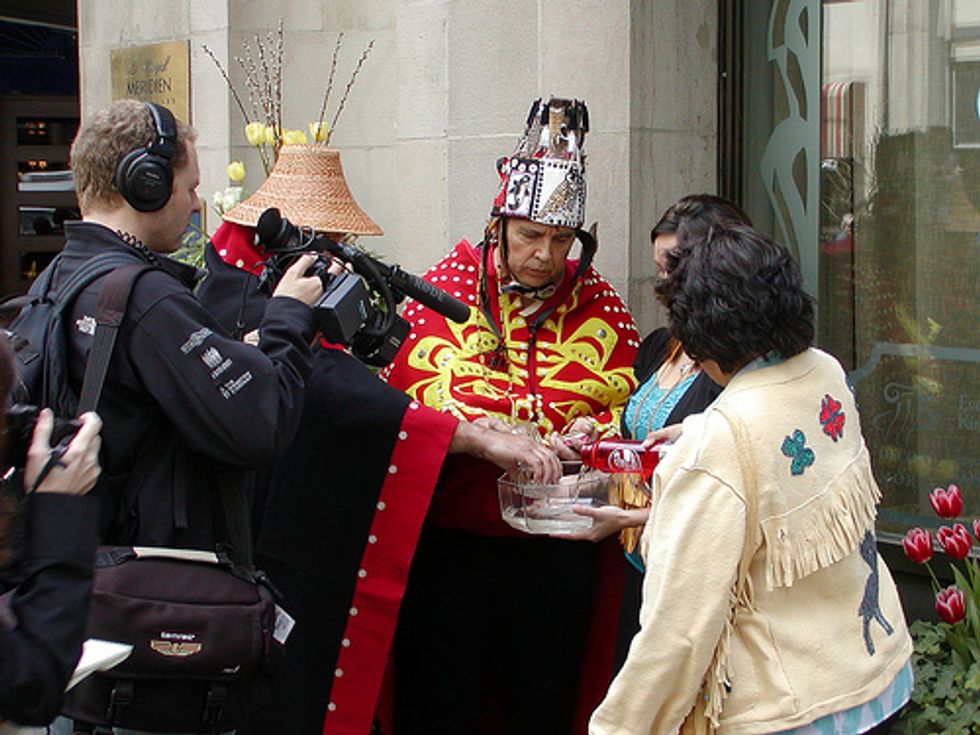 First Nations, whose unceded territory encompasses the entire coastline of British Columbia (B.C.), have formed a united front, banning all exports of tar sands crude oil through their territories, and effectively all of B.C.—whether by Enbridge in the north or Kinder-Morgan in the south.
Several new First Nations signed the Save the Fraser Declaration in a Vancouver, B.C. ceremony, expanding First Nations opposition in western Canada to more than 130 Nations. These First Nations form an unbroken wall of opposition from the U.S. border to the Arctic Ocean. This is the first time that First Nations have come together publicly to declare a ban on oil tankers and pipelines on both the north and south coasts.
"North or south, it makes no difference. First Nations from every corner of B.C. are saying absolutely no tar sands pipelines or tankers in our territories," said Chief Jackie Thomas of Saik'uz First Nation, a member of the Yinka Dene Alliance. "We have banned oil pipelines and tankers using our laws, and we will defend our decision using all the means at our disposal."
It is impossible for oil pipelines to go around opposed First Nations, and their consent to pipelines and tankers in their territories is required by international law. The announcement—on the first anniversary of the Save the Fraser Declaration—comes in response to recent calls from the Harper government and oil executives to push through pipeline and tanker projects against the wishes of British Columbians and First Nations.
"The government can talk all it wants about pushing tar sands oil pipelines and tankers through B.C. There is no way our Nations will allow it," says Chief Art Adolph, representing the St'at'imc Nation. "If they are serious about respecting our rights, the government of Canada must stop pushing the oil companies' line that this is in the public interest, and the government of B.C. should step up to the plate too and begin protecting our rivers and coastlines from further environmental damages that violate our basic human rights. Especially now, when Canada is a global embarrassment for failing to address climate change and systemically ignoring Indigenous rights."
The Save the Fraser Declaration, signed by more than 61 First Nations, bans tar sands oil pipelines throughout the Fraser River watershed. It also prohibits tar sands crude oil tankers in the ocean migration routes of Fraser River salmon. Until now, the declaration has been used to fight Enbridge's northern pipeline plans. Now it's being recognized by First Nations as effectively banning tar sands crude oil exports on the whole coast, including the south. Adding to the chorus last week, the Union of B.C. Indian Chiefs—representing most First Nations in B.C.—passed a resolution endorsing the Save the Fraser Declaration and the Coastal First Nations Declaration, and expressly recognizing that they prohibit the transportation of tar sands crude by pipeline and tanker anywhere in B.C.
The Coastal First Nations declared a ban on crude oil tanker traffic on the north coast of B.C. in 2010. Harold Yeltatzie, president of the Coastal First Nations, stated, "The Coastal First Nations support the First Nations communities along the Fraser, Bulkley and Skeena rivers in their fight to ban crude oil pipelines in their territories." Yeltatzie added that the ban on crude oil tankers on B.C.'s coast must be maintained, saying, "The consequences of a catastrophic oil spill on our people and our culture cannot be calculated or compensated."
"We won't let government and industry play First Nations off one another with their usual divide and conquer strategies. We are drawing the line in B.C. and First Nations are more united than ever before to stop the threat of oil spills," said Chief Na'Moks, on behalf of the Wet'suwet'en hereditary chiefs, who signed the Declaration Dec. 1 on behalf of his people (who are not members of the Yinka Dene Alliance). "We have stood against tar sands pipelines from day one and we join with our brothers and sisters today in a shared commitment to put a stop to them."
For more information, click here.