Pete Markham
By Andy Rowell
Goldman Sachs, the investment bank at the heart of the global economy still doesn't get it.
The bank, once famously described as "a great vampire squid wrapped around the face of humanity," has a blinkered and fundamentally flawed vision when it comes to the future of the oil industry.
Monday, Bloomberg reported that the hugely influential investment bank had issued a report on the "Seven Sisters," the world's largest oil companies and the bank argues that having "survived a life-changing crisis," the companies are "now poised to reap the rewards."
Having shed costs as prices plummeted, Big Oil is now "in a sweet spot with rising oil prices and low operating costs, leaving them with the biggest cash-flow growth in two decades and boosting earnings," according to Goldman's report.
Goldman's Michele Della Vigna told Bloomberg: "We see this as the start of a new golden age for Big Oil's reborn Seven Sisters," with a "favorable environment for returns in the commodity."
This analysis is dangerously defective in that it seems to envisage a world where Big Oil can carry on drilling unimpeded for decades. But the bank has forgotten about climate change, stranded assets, shareholder actions and the growing number of lawsuits against Big Oil for their role in climate change, widely seen as the #Exxonknew scandal. Indeed, recently Arnold Schwarzenegger said he was planning on suing the companies for "murder."
Schwarzenegger to Sue Big Oil for 'Murder' by @Andy_Rowell of @EcoWatch: https://t.co/5ZSwRmm9YA

— Michael E. Mann (@Michael E. Mann)1520960013.0
Furthermore, the website Business Green reported last week about another report, produced jointly by the environmental think tank E3G and the Oxford Sustainable Finance Programme. The top line says it all: "New research released today suggests the only commercially viable future for oil majors in a carbon constrained world is a gradual winding down of their operations or a quick sell off of assets."
The report had simulated a scenario under which the Seven Sisters had to shift their business models in line with what was agreed in Paris—a 2 C warming—which could put a whopping $2.3 trillion of oil and gas industry projects at risk as they are "incompatible" with a 2 C world.
As Business Green reported "It found that oil firms' best chance of commercial survival is to rapidly diversify from fossil fuels into alternative technologies such as renewable energy, and gradually retire upstream fossil fuel assets."
This is far from a new dawn as you can get. "Out of five possible strategies, only 'managed decline' and 'first one out' are commercially viable options for International Oil Corporations," said Business Green.
Indeed, Monday one of the Seven Sisters, Royal Dutch Shell, produced its annual "Sky scenario" report which outlined how we might collectively achieve the Paris agreement emission targets.
"Introducing Sky—an ambitious scenario to hold the increase in the global average temperature to well below 2 C. This requires a complex combination of mutually reinforcing drivers being rapidly accelerated by society, markets and governments," said Shell.
Shell outlines, amongst others, "a change in consumer mindset means that people preferentially choose low-carbon, high-efficiency options to meet their energy service needs," a "step-change in the efficiency of energy use," plus carbon pricing, a massive increase in renewables, and unprecedented expansion of Carbon, Capture and Storage and vast reforestation.
No doubt others will pick apart Shell's plans for being unrealistic and flawed, especially around its own continuing investment in fossil fuels and issues such as carbon pricing and Carbon, Capture and Storage, but the main point is that the company's own analysts believe that the days of Big Oil are numbered.
And pressure is building day by day for the companies to divest: Monday, the Financial Times reported that shareholders are "preparing a renewed push" for Shell to "adopt more ambitious goals for tackling climate change." The company is expected to face a shareholder resolution at its AGM calling for a "radical shift" away from fossil fuels.
Mark Van Baal of Follow This, who is leading the shareholder action, told the Financial Times: "More and more institutional investors want companies they invest in to commit to Paris. Because they foresee that they cannot make a decent return on their capital in a world economy disrupted by devastated climate change."
Maybe someone should tell the Goldman Sachs vampire squid that too, before they advise too many investors about this wonderful new golden era for Big Oil. Because that era is now history.
Reposted with permission from our media associate Oil Change International.
From Your Site Articles
Related Articles Around the Web
EcoWatch Daily Newsletter
A student-led campaign is calling for a shift of $4 billion from oil subsidies to make higher education more affordable for all.
#4billion4us launched a petition on change.org advocating the shift in funding. The petition, which launched today, currently has 73,166 supporters out of a goal of 75,000.
The petition reads:
Every year, billions of dollars in taxpayer money goes to subsidize one of the most profitable industries in human history: the oil industry. In 2014 alone, oil companies received more than $4 billion from US taxpayers, despite raking in hundreds of billions of dollars in profits. Meanwhile, we have a student debt crisis in our country. Millions of Americans face mountains of debt to get the education needed to make a good living.
It's time to shift our priorities. We should be making college more affordable, not lining the pockets of the oil industry.
Imagine if we spent that $4 billion funding higher education for students, ensuring they are not saddled with ridiculous amounts of debt just as they are starting to build a future.
The American Dream is built on helping the next generation do better than the last. We are failing on that promise when youth are saddled with more than a trillion dollars in student debt. Society benefits more from affordable higher education than from oil companies' profit margins. Join me in telling Congress to end the subsidies for the oil industry and instead invest in making higher education affordable.
It's time to move from big oil to big ideas! Let's make sure our Representatives hear our voices and invest in our future!
Major celebrities and activists are supporting the petition, including Leonardo DiCaprio, Keegan-Michael Key and Robert F. Kennedy, Jr.
Great @Change petition to shift $4 billion of oil subsidies to student debt relief. Sign now: https://t.co/11owByrkRq #4billion4us

— Leonardo DiCaprio (@Leonardo DiCaprio)1468185509.0
Let's help our future! https://t.co/0f4NplqhpC https://t.co/i5OKZtrjnm

— Keegan-Michael Key (@Keegan-Michael Key)1468338283.0
The National Wildlife Federation and Natural Resource Defense Council are also supporting the the petition.
waterlust.com / @tulasendlesssummer_sierra .
Each product featured here has been independently selected by the writer. If you make a purchase using the links included, we may earn commission.
The bright patterns and recognizable designs of Waterlust's activewear aren't just for show. In fact, they're meant to promote the conversation around sustainability and give back to the ocean science and conservation community.
Each design is paired with a research lab, nonprofit, or education organization that has high intellectual merit and the potential to move the needle in its respective field. For each product sold, Waterlust donates 10% of profits to these conservation partners.
Eye-Catching Designs Made from Recycled Plastic Bottles
waterlust.com / @abamabam
The company sells a range of eco-friendly items like leggings, rash guards, and board shorts that are made using recycled post-consumer plastic bottles. There are currently 16 causes represented by distinct marine-life patterns, from whale shark research and invasive lionfish removal to sockeye salmon monitoring and abalone restoration.

One such organization is Get Inspired, a nonprofit that specializes in ocean restoration and environmental education. Get Inspired founder, marine biologist Nancy Caruso, says supporting on-the-ground efforts is one thing that sets Waterlust apart, like their apparel line that supports Get Inspired abalone restoration programs.
"All of us [conservation partners] are doing something," Caruso said. "We're not putting up exhibits and talking about it — although that is important — we're in the field."
Waterlust not only helps its conservation partners financially so they can continue their important work. It also helps them get the word out about what they're doing, whether that's through social media spotlights, photo and video projects, or the informative note card that comes with each piece of apparel.
"They're doing their part for sure, pushing the information out across all of their channels, and I think that's what makes them so interesting," Caruso said.
And then there are the clothes, which speak for themselves.
Advocate Apparel to Start Conversations About Conservation
waterlust.com / @oceanraysphotography
Waterlust's concept of "advocate apparel" encourages people to see getting dressed every day as an opportunity to not only express their individuality and style, but also to advance the conversation around marine science. By infusing science into clothing, people can visually represent species and ecosystems in need of advocacy — something that, more often than not, leads to a teaching moment.

"When people wear Waterlust gear, it's just a matter of time before somebody asks them about the bright, funky designs," said Waterlust's CEO, Patrick Rynne. "That moment is incredibly special, because it creates an intimate opportunity for the wearer to share what they've learned with another."
The idea for the company came to Rynne when he was a Ph.D. student in marine science.
"I was surrounded by incredible people that were discovering fascinating things but noticed that often their work wasn't reaching the general public in creative and engaging ways," he said. "That seemed like a missed opportunity with big implications."
Waterlust initially focused on conventional media, like film and photography, to promote ocean science, but the team quickly realized engagement on social media didn't translate to action or even knowledge sharing offscreen.
Rynne also saw the "in one ear, out the other" issue in the classroom — if students didn't repeatedly engage with the topics they learned, they'd quickly forget them.
"We decided that if we truly wanted to achieve our goal of bringing science into people's lives and have it stick, it would need to be through a process that is frequently repeated, fun, and functional," Rynne said. "That's when we thought about clothing."
Support Marine Research and Sustainability in Style
To date, Waterlust has sold tens of thousands of pieces of apparel in over 100 countries, and the interactions its products have sparked have had clear implications for furthering science communication.
For Caruso alone, it's led to opportunities to share her abalone restoration methods with communities far and wide.
"It moves my small little world of what I'm doing here in Orange County, California, across the entire globe," she said. "That's one of the beautiful things about our partnership."
Check out all of the different eco-conscious apparel options available from Waterlust to help promote ocean conservation.
Melissa Smith is an avid writer, scuba diver, backpacker, and all-around outdoor enthusiast. She graduated from the University of Florida with degrees in journalism and sustainable studies. Before joining EcoWatch, Melissa worked as the managing editor of Scuba Diving magazine and the communications manager of The Ocean Agency, a non-profit that's featured in the Emmy award-winning documentary Chasing Coral.
Recipients of the Nobel Peace Prize are calling for the rejection of the Keystone XL tar sands pipeline. A letter from 10 Nobel Peace Prize winners addressed to both President Obama and Secretary of State Kerry announced by the Nobel Women's Initiative was inspired by the Laureates' concern for the rapidly expanding Canadian tar sands.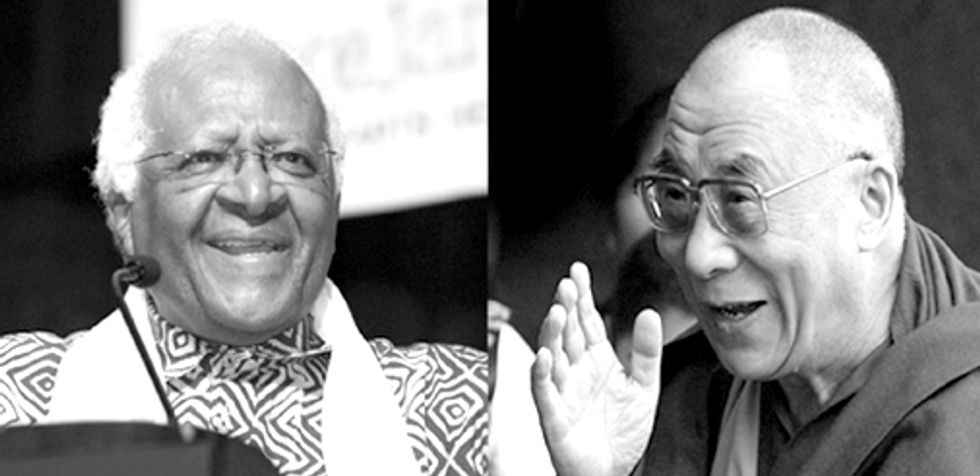 As wildfires burn out of control in Colorado adding to record-breaking weather across the nation, the Laureates said "as leaders who have spoken out strongly on these issues, we urge you, once again, to be on the right side of history and send a clear message that you are serious about moving beyond dirty oil."
The letter sent today followed an earlier letter sent in 2011 also calling for a rejection of Keystone XL. When the great moral leaders of our time, including Archbishop Tutu, call for a rejection of tar sands in the face of catastrophic climate change, it is time for the U.S. to reject the Keystone XL tar sands pipeline, a linchpin enabling the tripling of expansion of this dirty oil. 
Like millions of others, we were buoyed by words in the President's second inaugural address: "We will respond to the threat of climate change, knowing that failure to do so would betray our children and future generations." Mr. President and Secretary Kerry, this is an opportunity to begin to fulfill that promise. While there is no one policy or action that will avoid dangerous climate change, saying "no" to the Keystone XL pipeline is a critical step in the right direction. Now is the time for unwavering leadership.—Nobel Laureates Letter, 2013
The climate impacts of a world that accommodates tar sands expansion are unimaginable. If industry and the Canadian and Albertan governments had their way we would be on track for six degrees centigrade of global warming—triple the two degree limit that the President has promised to avoid.
The International Energy Agency, among many other respected bodies, has found that in order to prevent catastrophic global warming of over two degrees centigrade we must leave two thirds of fossil fuels in the ground.—Nobel Laureates Letter, 2013
In addition to the climate pollution, the tar sands are doing irreversible damage to water, air, land, animals and communities in Northern Alberta and along their pipeline routes where the question of a spill is not if but when.
Recent tar sands oil spills in Kalamazo, MI, and Mayflower, AR, have served as a harsh reminder that shipping the world's dirtiest oil will never likely be safe enough for human health and the environment. —Nobel Laureates Letter, 2013
President Obama and Senator Kerry have both been clear about the urgency and importance of dealing with climate change, and recognizing that as the world's largest polluter, the U.S. is a critical player in ensuring a safe future for generations to come. The Keystone XL tar sands pipeline debate has illustrated the two pathways we face as a country. One locks us into decades of dirty fossil fuels, taking us down a path of negatively affecting millions of lives and livelihoods. And on other pathway we build real energy security based on clean and renewable energy that will protect our economy, our people and future generations.
The Laureates acknowledged the President was under pressure to approve Keystone XL, especially by big oil interests.
We also recognize the pressure from forces in your own country. The Keystone XL pipeline will not benefit or improve the lives of Americans, but nevertheless we understand that the politics of action on climate are not easy. We believe you are the kind of leaders who can stand up to those interests when necessary, to do what is right for the world and for future generations. —Nobel Laureates Letter, 2013
The decision on the Keystone XL tar sands pipeline has emerged as an issue of international interest. It is about standing up to big oil and rejecting the expansion of some of the dirtiest oil on earth. President Obama and Secretary Kerry: It is time to say no to the Keystone XL tar sands pipeline once and for all.
Visit EcoWatch's KEYSTONE XL page for more related news on this topic.
——-
Maryann Lesert
With nothing short of a cultural shift at stake, Michigan's second Common Ground retreat, held June 1-2, was bittersweet—and everyone knew it. Sixty-some activists representing 40-some groups working to end fracking in Michigan—or, if not calling for an outright ban, then calling to take pause and scrutinize the process using the precautionary principle—took part.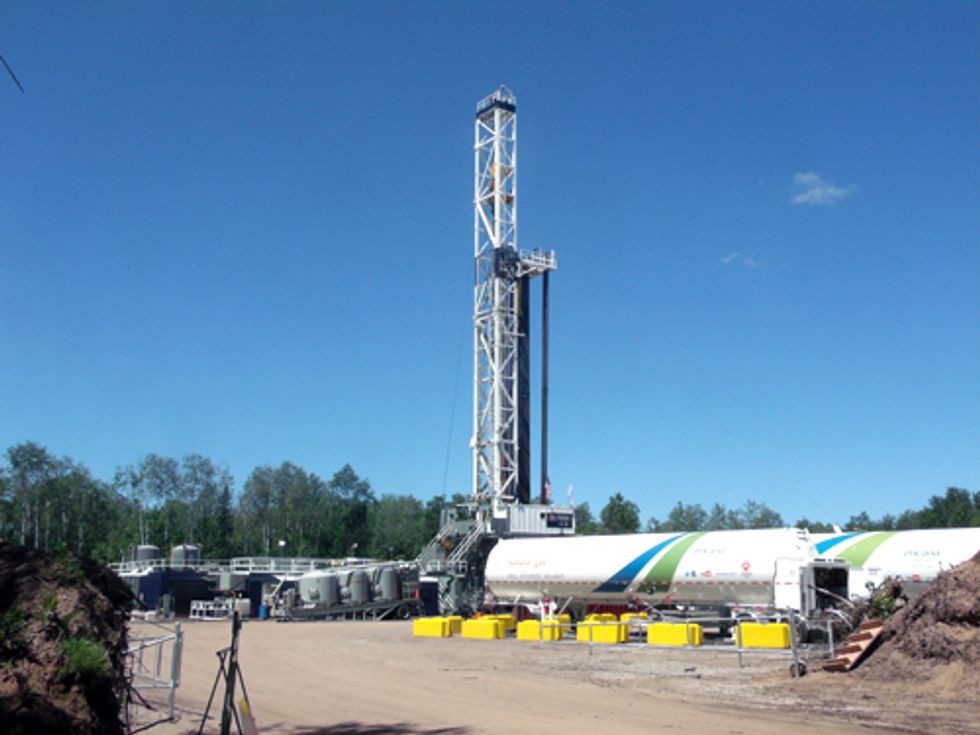 How can a group of chemical engineers, social workers, active and retired teachers, artists, carpenters and lawyers impact an industry that has been expanding its power and writing its own rules since J.D. Rockefeller had his men park abandoned railroad cars on the tracks of his competitors during the first oil boom of the 1800s? After all, Ida Tarbell's landmark 1904 History of Standard Oil didn't stop the building of an oil and gas empire. What can a loosely tied but committed group of activists, over a hundred years later, do to stop an industry bent on unconventional and perhaps even more destructive methods?
It may sound overly simplistic, but first and foremost, they can support each other with their commitment and their presence.
It's no surprise in a state defined by water—Michigan has over 12,000 lakes and an oft quoted saying, "You're never more than six miles from a lake"—that water was a repeated theme as new grassroots groups, such as Don't Frack West Michigan and Citizens for Responsible Resource Management, introduced themselves alongside 30-year veterans such as the Kalamazoo River Protection Association and Muskegon's Save Our Shoreline.
"Because we have the Great Lakes all around and under us, we should be the first ones out there protecting water," said Misty Shehan of Michigan Citizens for Water Conservation (MCWC). MCWC have made themselves known since they won a case widely known as the "Nestle case," challenging and eventually limiting water withdrawals made by Nestle's (formerly Ice Mountain) bottled water operation. Then along came fracking.
Frack wells in Michigan are using eight to 21 million gallons of fresh water per horizontal run, water that frackers are allowed to draw at no cost other than the cost of drilling a water well on the frack well pad. Michigan's Department of Environmental Quality (DEQ) assures the public that water withdrawals are monitored by a software tool called the Water Withdrawal Assessment Tool (WWAT), but the WWAT is not a legally binding regulation.
The problem, according to Common Ground's most experienced water researchers, might be phrased this way: The WWAT doesn't do squat. Which brings Common Ground to a task their predecessors in Pennsylvania, New York and Ohio have learned well: They have some myth busting to do.
"The DNR [Department of Natural Resources] and the DEQ are not the watchdogs the public thinks they are. They facilitate the industry and powerful lobbyists, whether that's timber or oil and gas," said Joanne Crowley, co-founder of Don't Frack Michigan. "And they're making a lot of money off Michigan's water and resources."
"We're not going to let the DEQ keep us trapped in their 'There's never been any contamination due to hydraulic fracturing in Michigan' argument," added JoAnne Beemon, co-founder of Don't Frack Michigan. "Every time a well is fracked, millions of gallons of water are contaminated and then removed from the Great Lakes hydrological cycle—forever."
Neither is Common Ground going to be divided by the industry's or the Michigan Chamber of Commerce's messages that environmental groups working to ban fracking in Michigan are "irresponsible" extremists. The group discussed the Committee to Ban Fracking in Michigan's ban effort in depth and affirmed the need to support all strategies—since securing a moratorium or putting restrictions on local truck traffic or providing all-important images and stories from communities affected by fracking are each important steps toward getting the public to support a turn away from fracking and other fossil fuel extraction methods.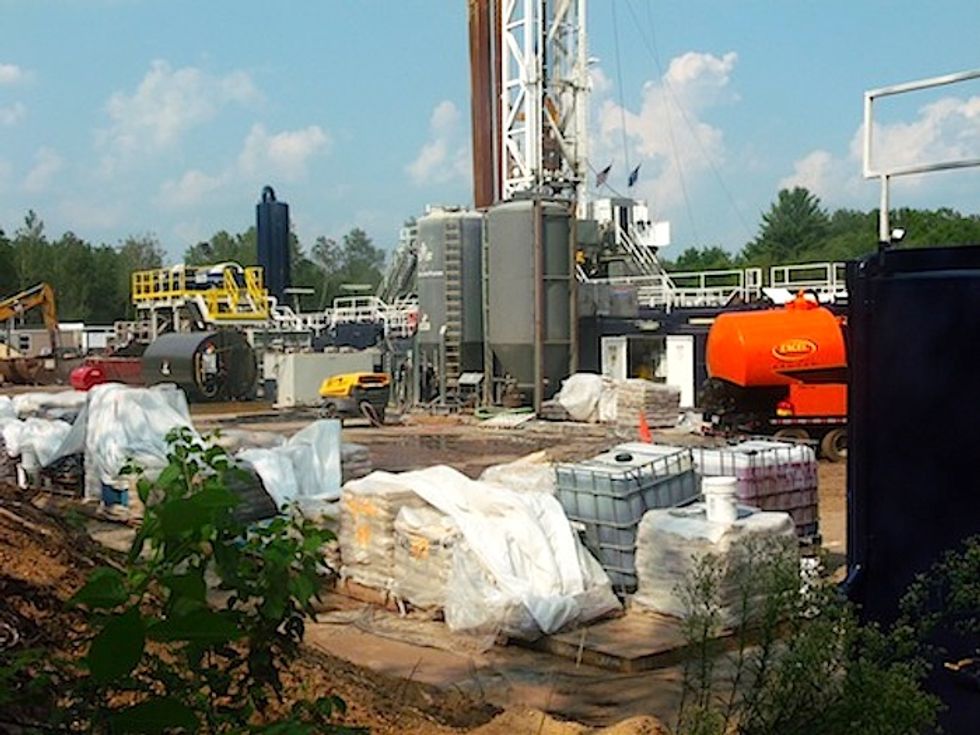 In short, Michigan is heeding the warnings they've heard about divisiveness.
They heard it from Cal Tillman, the former mayor of Dish, TX, featured in Gasland, when he visited northern Michigan in August 2012 with pictures, maps and confirmation of the industry's typical density once the shale operations prove productive. "Only the industry benefits if you're divided," Tillman told attendees.
They heard it from Kevin Heatley, a Pennsylvania restoration ecologist who lives above the Marcellus shale. "The industry's right about one thing," he said in Lansing. "Fracking is going to fundamentally change everything you know and value about your communities, and you'd better be ready."
Paul Brady, who along with Matt Wandel developed the website respectmyplanet.org, demonstrated the site's capability. At the February meeting, the site was in the design stages. Now the site functions as a one-stop source for photographs, video clips, oil and gas leasing maps and MDEQ permits for frack well sites around the state.
Aaron Wissner, a middle school computer applications teacher and founder of Local Future, put the work of the second retreat in perspective. "I'm trying to share the things I can do, right here, right now, to make state-wide sharing and communication easier." By the end of day two, Wissner had helped each of five newly formed work groups organize a web space to do just that: Share research and resources with ease.
As hugs marked the close of another long but mostly productive weekend, Beemon joked, "I wish our signs could say, 'Save our water.' 'Save our air.' 'Save our democracy.'"
But, thanks to the support building in the larger group, no single group needs to do or say it all.
Visit EcoWatch's FRACKING page for more related news on this topic.
——–
Sign the petition today, telling President Obama to enact an immediate fracking moratorium: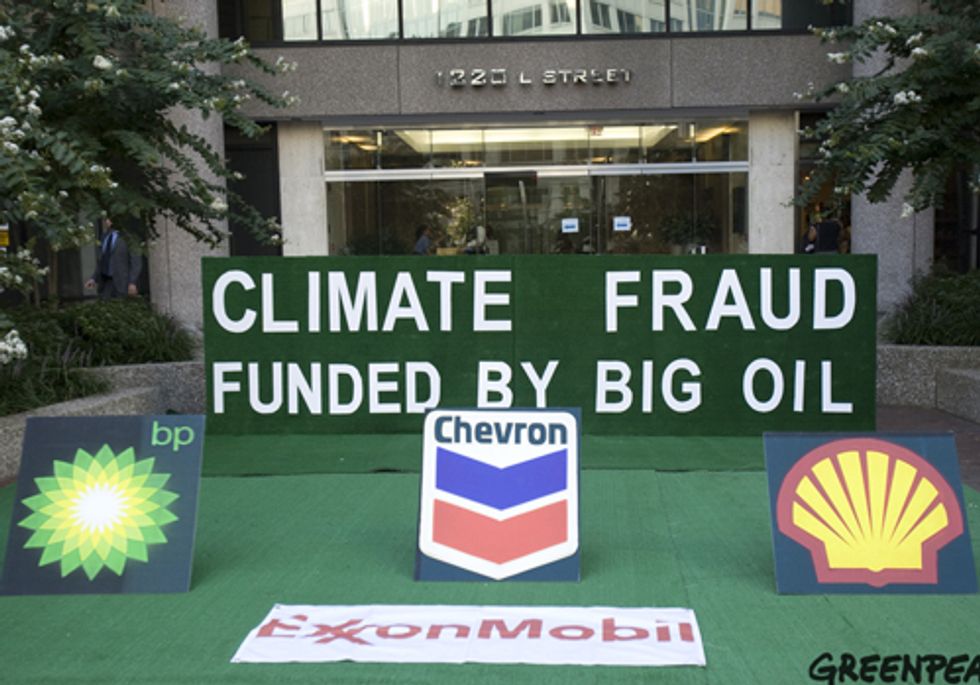 By Kert Davies
Recently, Greenpeace got a rare look behind the curtain at how Big Oil stages citizen support for huge oil companies, when activists got inside a television commercial shoot in Washington, D.C. The American Petroleum Institute (API), and their public relations firm Edelman, were filming a new series of television commercials that we learned API plans to air nationally on CNN starting in January. The ads, aimed at the 2012 elections, will aim to demonstrate authentic citizen support for the oil industry's agenda.
Greenpeace disrupted API's astroturf commercial plans by not following instructions and going off script, declaring support for a clean energy future and demanding an end to political interference by the oil industry's lobbyists and PR firms.
Inside API's Secretive Commercial Shoot
Details of the CNN January ad campaign as described by API and other clips are posted below.
Activists (or citizens) were led through the wardrobe and makeup process, approved for looks by representatives from API and Edelman Blue Advertising, before waiting their turns to go on set. Participants were required to be registered voters, explained an API representative, to protect API from opponents who may inquire if actors stating "I vote" are actually eligible to do so. Other recruited actors were being watched by the industry representatives during their takes, repeating lines like "That (energy independence) will come from our own energy resources—like oil and natural gas."
Late in the morning, the API Edelman team filmed three unexpectedly honest 'citizens' who made clear the script did not represent their real opinions on energy. Greenpeace researcher Connor Gibson of the PolluterWatch project repeated their scripted line, "I vote," then declared, "But I am a clean energy citizen. I will not believe the lies and influence peddling of the American Petroleum Institute, which would leave you to believe that I am a citizen that is okay with giving my tax payer dollars to billionaires and millionaires that run oil companies, the most profitable industry on the planet." Gibson stressed movement away from a "perpetual petroleum future" and finished his speech by telling Edelman Blue President Robert McKernan "we need clean sources of energy, like wind and solar." Listen to Gibson's full declaration and read the transcript, below.
In addition to Gibson, two other participants refused to recite API's script. Peter Roquemore of the Sierra Student Coalition and Gabe Elsner, deputy director of the Checks and Balances Project showed up to the shoot with the expectation that they would provide their own assessments of American energy. Both decided not to participate once they were fed oil industry talking points on camera.
API's New Vote 4 Energy Ad Campaign Exposed
In a taped conversation with the activists, an API communications advisor described the upcoming Vote 4 Energy advertising package in great detail. "This is scheduled to launch in January in a commercial on CNN, so it'll be a national spot. API—American Petroleum Institute—bought into an election package, so anytime CNN does anything like covering the presidential debates, cover a caucus, anything like that, those will be the kinds of programs where the commercial is seen," the advisor said. The commercial debuts Jan. 1. How much the deal with CNN cost remains an open question.
The API rep also said, "we are shooting a ton of people so, you know, you may make the cut, you may not, it all depends on the demographic." Earlier in the morning, API agents were overheard expressing a need for more people of color in the commercials, noting that black and Asian demographics tend to disagree with Big Oil's warped political positions. API has been caught in the past photo-shopping print ads to include racial minorities in purchased iStock Photo to make their already fabricated supporters appear more diverse.
API Busted—Staging Grassroots Support for Dirty Energy
More than two years ago, Greenpeace obtained a confidential memo from American Petroleum Institute CEO Jack Gerard, asking API member oil companies to support a campaign to fake a grassroots movement called "Energy Citizens." Under the guise of this astroturf group, Big Oil would pay for public events similar to Tea Party rallies in support of their absurd wishlist—killing global warming legislation, unrestricted offshore oil drilling, increased tar sands development through the Keystone XL pipeline, expanded hydraulic fracturing, and no form of accountability for their immense contributions to climate change.
Luckily, the leaked memo was revealed on the front page of the Financial Times and covered in the Washington Post, Guardian and on Huffington Post. The New York Times called it "Another Astroturf Campaign," revealing what a fluke Energy Citizens was before Chevron had the chance to bus its employees to API's first round of staged rallies, the majority of which were organized by oil lobbyists. Greenpeace called attention to API's tactic by installing astroturf on the front entrance of API's Washington, D.C. headquarters, featuring the logos of its largest members—ExxonMobil, Chevron, Shell and British Petroleum and the banner CLIMATE FRAUD: FUNDED BY BIG OIL.
Given the nature of API's newest commercial shoot, its Energy Citizens rallies where participants had to be instructed to clap (see Turf Wars), and its repeated use of iStock Photos to boost the perception of public support for Big Oil, it is reasonable to question the authenticity of similar PR moves like the "1'm One" or "One in a Million" advertising campaigns, also run by PR company Edelman, which purport to show real people who work for the oil industry.
The American Petroleum Institute, the top lobbying firm for the oil and gas industry, has spent at least $30 million peddling its dirty influence to our federal government in the last five years, and recently announced it would start funneling oil money to politicians. With its $200 million Big Oil budget, API has played a key role in the industry's climate denial movement by funding junk scientists like Willie Soon and coordinating a public relations strategy to create doubt over climate change.
Recordings from Inside the American Petroleum Institute Vote 4 Energy Commercial Shoot
API explains the commercial deal with CNN (click to listen)
API: "Just so you know, I don't know how much they told you, but this is scheduled to launch in January in a commercial on CNN, so it'll be a national spot...API--American Petroleum Institute, uh, bought into an election package so anytime CNN does anything like covering the presidential debates, cover a caucus, anything like that, those will be the kinds of programs where the commercial is seen."
API reveals commercial debut date (click to listen)
Greenpeace Activist: "So what date is this going to launch?"
API: "Um, January first."
API says chance of being in commercial "depends on the demographic" (click to listen)
API: "And so to your point though, we are shooting a ton of people so, you know, you may make the cut, you may not, it all depends on the demographic."
API explains concern over "opponents" (click to listen)
API: "And I'm sure they checked with you but you're a registered voter and all that stuff?" 
Gibson: "Yeah, they asked me. I don't know how you check that, but I am."
API: "We, um...the only reason is really a lot of the, you know, the script is saying "I vote," "I vote for energy," "I vote for..." so, we at least want to be genuine in the sense that you are a registered voter. As you can imagine, there are some opponents of the oil and natural gas industry and so we always have to be very careful of, you know, what our opponents could use against us. And that is, you know, if they found out that we were using people who aren't actually registered voters, or not even eighteen, or whatever, so..."
Production staffer explains how lines are fed to participants (click to listen)
"No they put them in costumes and then the makeup lady takes care of them and then they walk them out, and all they do is the director feeds them the lines and he talks them through it. It's…he'll [Gibson] be fine."
Transcript of Greenpeace activist going off API script (click to listen)
Director, prompting the first scripted line: "Smile, deep breath... 'I vote.'"
Gibson: "I vote. But I am a clean energy citizen. I do not believe in the lies and influence peddling of the American Petroleum Institute, which would lead you to believe that I am a citizen that is okay with giving my taxpayer dollars to the billionaires and millionaires that run oil companies, the most profitable industry on the planet. The American Petroleum Institute is peddling its influence to make you think people like me are fully in support of [a] perpetual petroleum future. 'Energy Citizens' is an astroturf front group created by the American Petroleum Institute to make it sound like there is citizen support for petroleum in our energy future, and we need clean energy – like wind and solar."
For more information, click here.