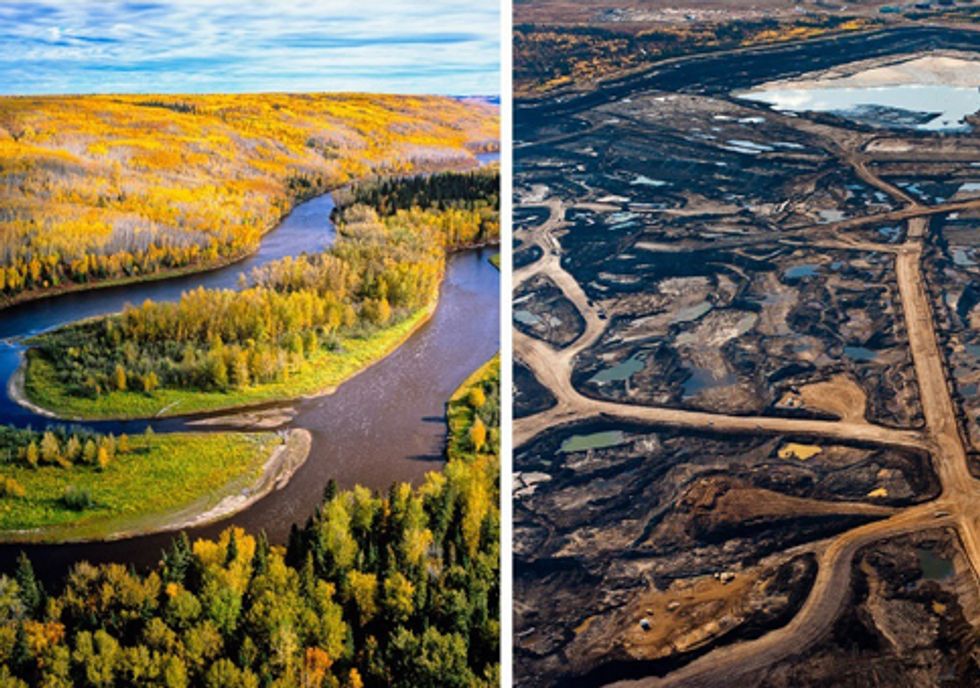 By Jill Fitzsimmons & Emilee Pierce
In the media storm surrounding TransCanada's proposed Keystone XL pipeline, news outlets have largely focused on the employment impacts of the project, often parroting discredited industry statistics in the process. But jobs are only a part of the story. A review of recent testimonies, tax records and local news reports shows that, on many other important issues at stake, TransCanada has been advertising one thing to its stakeholders and delivering another. What follows is a list of stories that many national news outlets missed:
1. TransCanada Used Aggressive Tactics With Landowners. TransCanada touts a commitment to "treating all landowners who may be affected by our project honestly, fairly and with mutual respect." But while the permit application for the Keystone XL pipeline was still pending, TransCanada sent letters to landowners along the pipeline route threatening to use eminent domain to seize their land if they did not agree to sign easements within 30 days. Landowners reportedly found this approach to be "very intimidating" and felt "bullied" by TransCanada. The Nebraska Farmers Union has repeatedly spoken out against TransCanada's "less than ethical" tactics, and, according to The New York Times, East Texas landowners said "they had never seen a company behave as aggressively as has TransCanada." Additionally a U.S. government official called the use of eminent domain "presumptuous" because the pipeline had not yet been approved. This story has been reported by the local press but largely ignored by the national media.  
2. TransCanada Didn't Deliver On Previously Promised Tax Revenue. TransCanada has promised that Keystone XL will generate $5.2 billion in property tax revenue for the U.S. states located along its route. But the company made similar promises about the first leg of the Keystone pipeline, and 2010 tax records show that it failed to deliver. In its first year of operation, Keystone 1 generated less than half ($2.2 million) of the $5.5 million projected for Nebraska, and only a third ($2.9 million) of the estimated $9 million in state property taxes for South Dakota. In Kansas, TransCanada is exempt from property taxes for a decade, which will cost the state $50 million in public revenue, according to local officials.

3. TransCanada Reversed Its Position On Rerouting. In response to concerns about the environmental impact of the Keystone XL pipeline on Nebraska's ecologically sensitive Sandhills region, TransCanada initially claimed that rerouting the project would be "impossible." But the next month, following the Obama administration's announcement that a decision on the pipeline would be delayed, TransCanada changed its tune. On Nov. 14, TransCanada announced that "the route will be changed and Nebraskans will play an important role in determining the final route."
4. TransCanada Will Import Much Of The Steel For The Pipeline. TransCanada has claimed that the Keystone XL pipeline would create 7,000 manufacturing jobs in the U.S. But an independent analysis called that figure "unsubstantiated and misleading" because TransCanada has already signed contracts to purchase "almost half" of the pipeline materials from companies abroad. TransCanada has acknowledged that it has already spent $1.9 billion on 100 miles of pipe, which is now being stored in yards and warehouses. After receiving information from pipeline company Welspun Tubular that some of the steel pipe for the project was produced in India, Democrats on the House Energy and Commerce Committee asked TransCanada to "immediately disclose where the steel to be used in Keystone XL is manufactured." Citing TransCanada's history of using low-quality, foreign-made steel to build U.S. pipelines—even as unemployed American manufacturers sat idly by—the United Steelworkers union also said it would only support TransCanada's application for the Keystone XL pipeline if steps were taken to ensure "a domestic supply chain." 
5. TransCanada Said Its Pipeline Would Increase Oil Prices In The Midwest. In the U.S., TransCanada has advertised the Keystone XL pipeline as a path to energy security. But a 2010 analysis prepared for the Department of Energy concluded that the Keystone XL pipeline will not have a significant impact on U.S. dependence on oil from the Middle East. Furthermore, even if the oil stayed here it would not protect the U.S. from price volatility since "the oil market is globally integrated," in the words of the Congressional Research Service. In fact, despite promises of a stable, affordable U.S. energy supply, TransCanada told Canada's National Energy Board that the pipeline would increase crude oil prices in the Midwest. "The resultant increase in the price of heavy crude is estimated to provide an increase in annual revenue to the Canadian producing industry in 2013 of U.S. $2 billion to U.S. $3.9 billion," TransCanada said.
For more information, click here.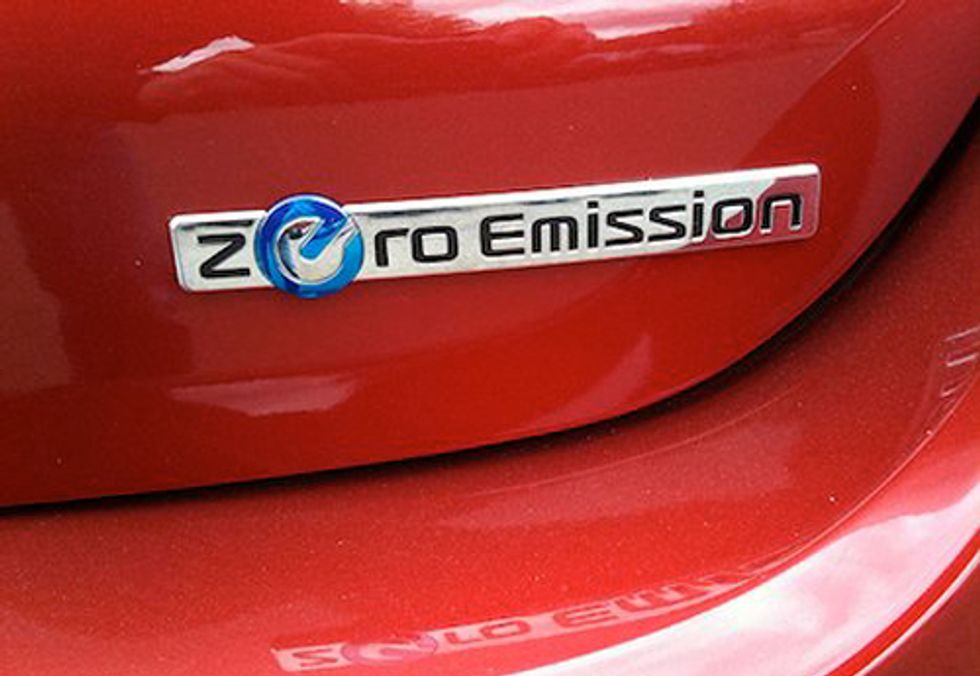 With the help of our supporters, the Union of Concerned Scientists (UCS) has long led the fight to break our dangerous oil dependence and address global warming by strengthening fuel efficiency and pollution standards for cars and trucks. We stand on the verge of historic progress with the Obama administration's recently proposed fuel efficiency and global warming emissions standards for vehicles sold between 2017 and 2025. These standards would save consumers billions of dollars at the gas pump, prevent millions of tons of global warming emissions, and save as much oil in 2030 alone as we currently import from Saudi Arabia and Iraq.
Automakers have the technology to make all new cars, trucks and SUVs cleaner. But just as opportunity knocks, automakers and their allies are working behind the scenes to weaken the standards with loopholes that could increase pollution and oil dependence.
The U.S. Environmental Protection Agency (EPA) and the Department of Transportation (DOT) are currently accepting public comments on the proposed standards, and they need to hear from citizens like you, not just industry lobbyists.
Take action today and tell the Obama administration to move forward with strong clean car standards and oppose harmful industry-backed loopholes. The comment period expires on Feb. 13, 2012.
Click here to learn more about the new clean car standards and about the UCS Clean Car Standards Resource Center.
For more information, click here.
EcoWatch Daily Newsletter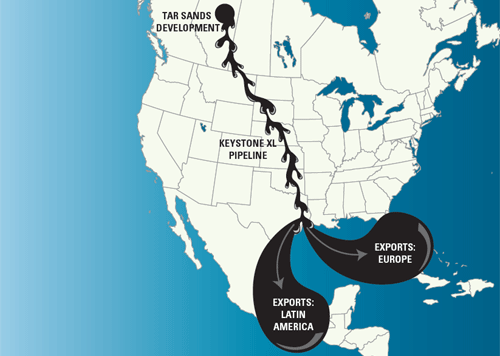 Sen. Mitch McConnell (R-KY) claimed recently that the Keystone XL Pipeline "doesn't require a penny of our taxpayer money—all the president has to do is approve it." But our research reveals many places that the pipeline project benefits from many taxpayer subsidies.
The refineries that are linked to the Keystone XL tar sands pipeline as committed shippers will receive between $1 billion and $1.8 billion in tax breaks. They are paid specifically for investing in equipment to process the heavy sour oil the pipeline promises to deliver.
The largest of these refineries, Motiva, is half owned by Saudi Refining Inc., and will receive between $680,000 and $1.1 billion in U.S. taxpayer support.
Keystone XL, like all oil industry projects, is enabled by substantial taxpayer subsidies. Three of the refineries that are planning to process the pipeline's oil have invested in special equipment to handle the extra heavy tar sands oil. According to our conservative estimates, the U.S. taxpayer is subsidizing these investments to the tune of $1.0-1.8 billion. Here's how it works.
Tar sands oil is not like most other crude oil. It is a semi-solid bituminous sludge that has to be diluted with much lighter oil in order to be transported by pipeline. Once it arrives at a refinery, the diluent is removed and the bitumen is refined into petroleum products using special equipment. The equipment required includes cokers and hydrocrackers.
In anticipation of the Keystone XL pipeline, three refineries in Port Arthur, Texas have added this equipment in order to be able to profitably process the bitumen. Their goal is to maximize their production of high value fuels such as gasoline and diesel rather than be left with less valuable fuels such as residual oil (for shipping and industrial burners) and Petroleum Coke, a coal like substance that is burned in aluminum smelters and the like. Heavy oil yields high proportions of these less valuable fuels if you do not have the specific equipment to increase the higher value yield.
Special tax rules apply to these investments that are unique to the refining industry. Title 179C of the tax code allows the refining companies to deduct the value of these investments from their tax returns at a highly accelerated rate. Rather than spread the expense over the lifetime of the equipment, say 20-30 years, the refiners are allowed to expense (i.e., deduct from their taxable income) 50 percent in the first year and expense the rest through the next 9 years. This is tantamount to a massive interest free loan from the taxpayer to big oil refiners, making it cheaper for them to process a particularly dirty form of foreign oil. In the case of the three Port Arthur refineries preparing to process Keystone XL crude, we calculate this to cost the taxpayer between $1.0 billion and $1.8 billion.
In the case of the Valero Port Arthur refinery's hydrocracker project, the company has described the project to investors as one that will enable the refinery to process Canadian heavy oil into diesel and jet fuel for the export market. See below.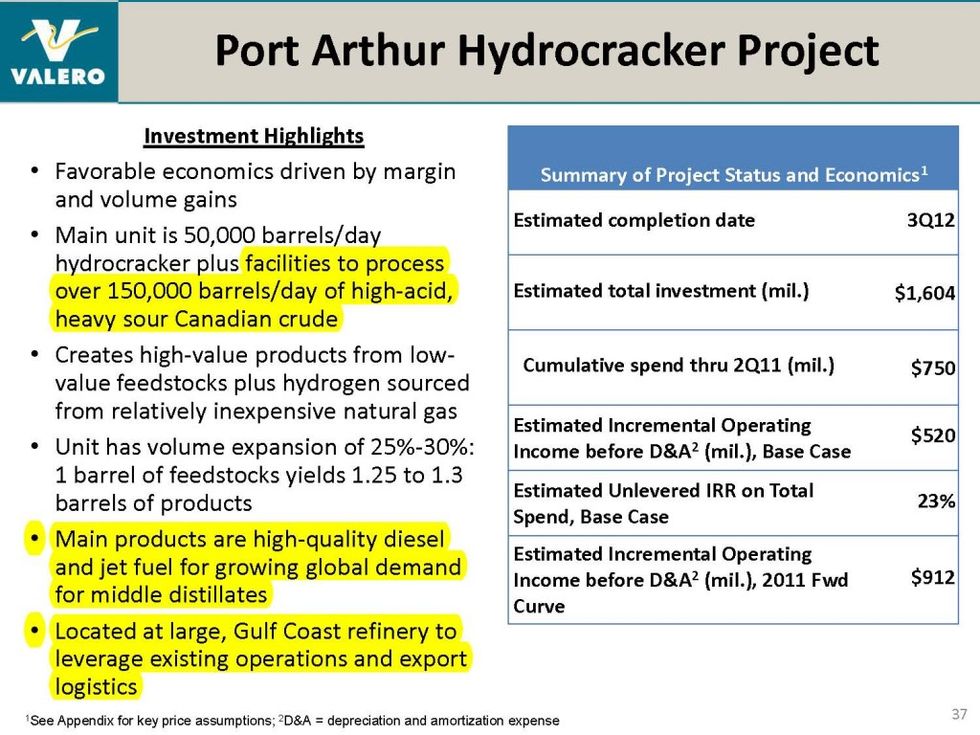 Does that look like the 'national interest' to you?
Of the three refineries involved, two of them, Valero Port Arthur and Total Port Arthur made these investments explicitly to process Canadian heavy oil that would be delivered by Keystone XL. Both companies are committed shippers on the pipeline, meaning they have signed contracts committing them to a specific proportion of the pipeline's capacity.
The other refinery, Motiva Port Arthur, jointly owned by Shell and Saudi Aramco, is expected to take some Keystone XL oil but it is also expected to use the new equipment to process large quantities of heavy sour oil imported from Saudi Arabia.
When the work finishes later this year, this refinery will become the largest in the U.S. It will have the capacity to process up to 325,000 barrels per day of heavy sour oil. The U.S. is not a significant producer of heavy sour oil. Countries that are expected to increase their production of this difficult-to-process crude include Canada (tar sands), Venezuela, Colombia, Saudi Arabia and Kuwait among others. So the subsidy received by this refinery is directly to enable the processing of a particularly dirty form of oil that is not produced in America.
Hmm, what was it pipeline proponents, including the owners of these refineries, were saying about reducing dependence on oil from hostile and unstable countries?
The special tax treatment of refinery investments that allows the 50 percent accelerated depreciation was introduced in the 2005 Energy Policy Act and was targeted at refinery investments that expand the capacity of the refinery. However, in August 2011, the act was amended specifically to extend the tax break to refinery investments that enable the refinery to process tar sands oil or enable an increase in capacity to refine tar sands oil if the new equipment is commissioned between 2008 and 2014. All of these projects qualify.
We have calculated the value to these three companies of this accelerated depreciation for the investments listed in the table below. These investments were made specifically to process heavy sour oil in refineries closest to the terminus of the proposed Keystone XL pipeline and owned by companies who are known committed shippers on the pipeline.
Finally, all the refineries that will receive Keystone XL tar sands crude operate in a Foreign Trade Zone (FTZ), which gives tax benefits to companies that use imported components to manufacture items within the U.S. (FTZ Act – 19 USC 81a-81u). Usually, refineries importing oil tax-free will still pay taxes when selling the refined products into the U.S. market. By both importing into and exporting from foreign trade zones the companies will avoid paying tax on the product sales. In other words, it's a great deal for the oil industry, and a raw deal for the taxpayer.
Nobody in the oil industry can claim that Keystone XL, or any other oil and gas project, is free of taxpayer support. The subsidies we have revealed here are just a few examples among many forms of fiscal support to Keystone XL and the tar sands industry. Further, the full costs of our oil addiction in terms of health, environment and security are never included in an official analysis of these projects.
The public has the right to both know how our money supports Big Oil and see a thorough evaluation of any proposal the oil industry has for expanding its infrastructure. Such an examination would throw light on the true costs of expanding fossil fuel infrastructure at a time when we need to reduce our dependence on oil, rather than simply trumpeting the short term benefits to companies involved. Now that the project has been stopped, the true cost of Keystone XL is only just coming to light.
For full details of our analysis, click here.
For more information, click here.
Table—Three refinery refit projects intended for processing Keystone XL oil
| | | | |
| --- | --- | --- | --- |
| Project | Company | Investment ($millions) | Value of accelerated depreciation ($millions) |
| Port Arthur Hydrocracker Project | Valero | 1,604 | 156-273 |
| Port Arthur Coker | Total S.A. | 2,200 | 214-375 |
| Port Arthur Expansion | Motiva Enterprises (Shell and Saudi Aramco) | 7,000 | 680-1,192 |
| Total |   | 10,804 | 1,050-1,840 |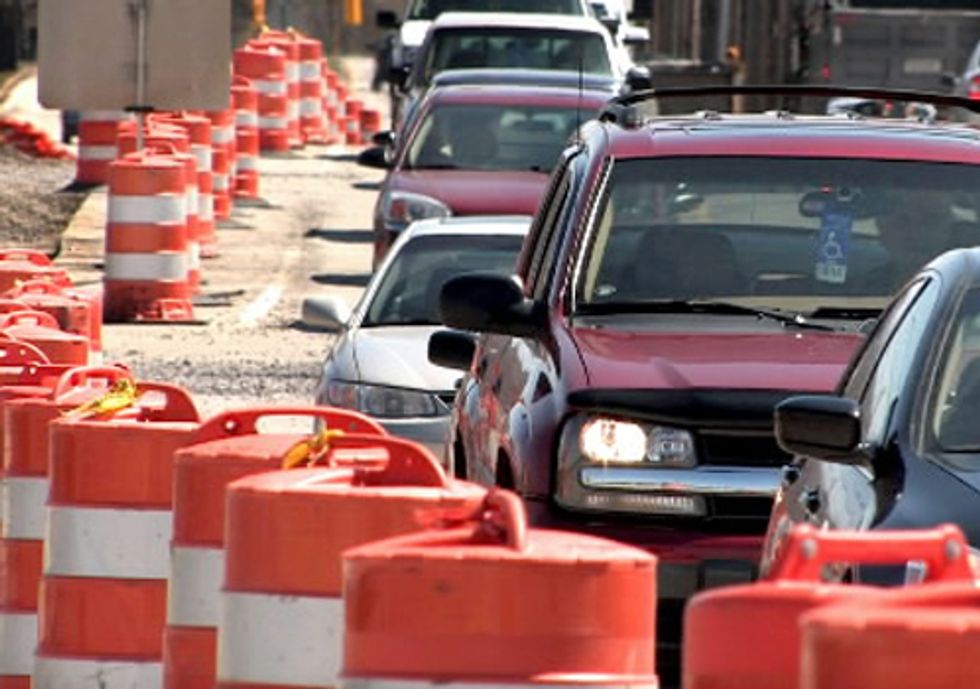 Rep. Dave Camp (R-MI), chairman of the House of Representatives' Ways and Means Committee on Feb. 2 proposed eliminating dedicated federal funding for mass transit, moving funds currently used for mass transit and putting them instead toward building new highways. This proposal for the bill comes on top of provisions from other House committees that would not only force us to consume more oil, but actually open new, destructive drilling throughout the country. 
Environment America Transportation Advocate John Cross issued this statement in response:
"We are stunned that Rep. Camp is proposing to eliminate all dedicated funding for public transit—guaranteeing that America becomes more dependent on oil. Big Oil is the winner in every step of this process at the expense of the air we breathe, the places we love, and the Americans who take more than 10 billion trips on public transit every year. 
"The House has now proposed eliminating all dedicated federal funds for any form of transportation other than highways, roads and airports in an attempt to throw clean transportation choices under the bus. This comes on top of the blatant gift to Big Oil of proposing that we pay for new highways by granting the oil companies the right to drill off our coasts and in the Arctic National Wildlife Refuge and to develop destructive oil shale. 
"When it comes to transportation, this House is taking us down a dead end road to pollute our air, threaten our climate, endanger our country's treasured spaces, and grant oil corporations' every wish."
For more information, click here.