Two bedrock principles have guided the work and advocacy of American sportsmen for more than a century. First, under the North American Model of Wildlife Conservation, wildlife in the U.S. is considered a public good to be conserved for everyone and accessible to everyone, not a commodity that can be bought and owned by the highest bidder. Second, since President Theodore Roosevelt's creation of the first wildlife refuges and national forests, sportsmen have fought to protect wildlife habitat from development and fragmentation to ensure healthy game supplies.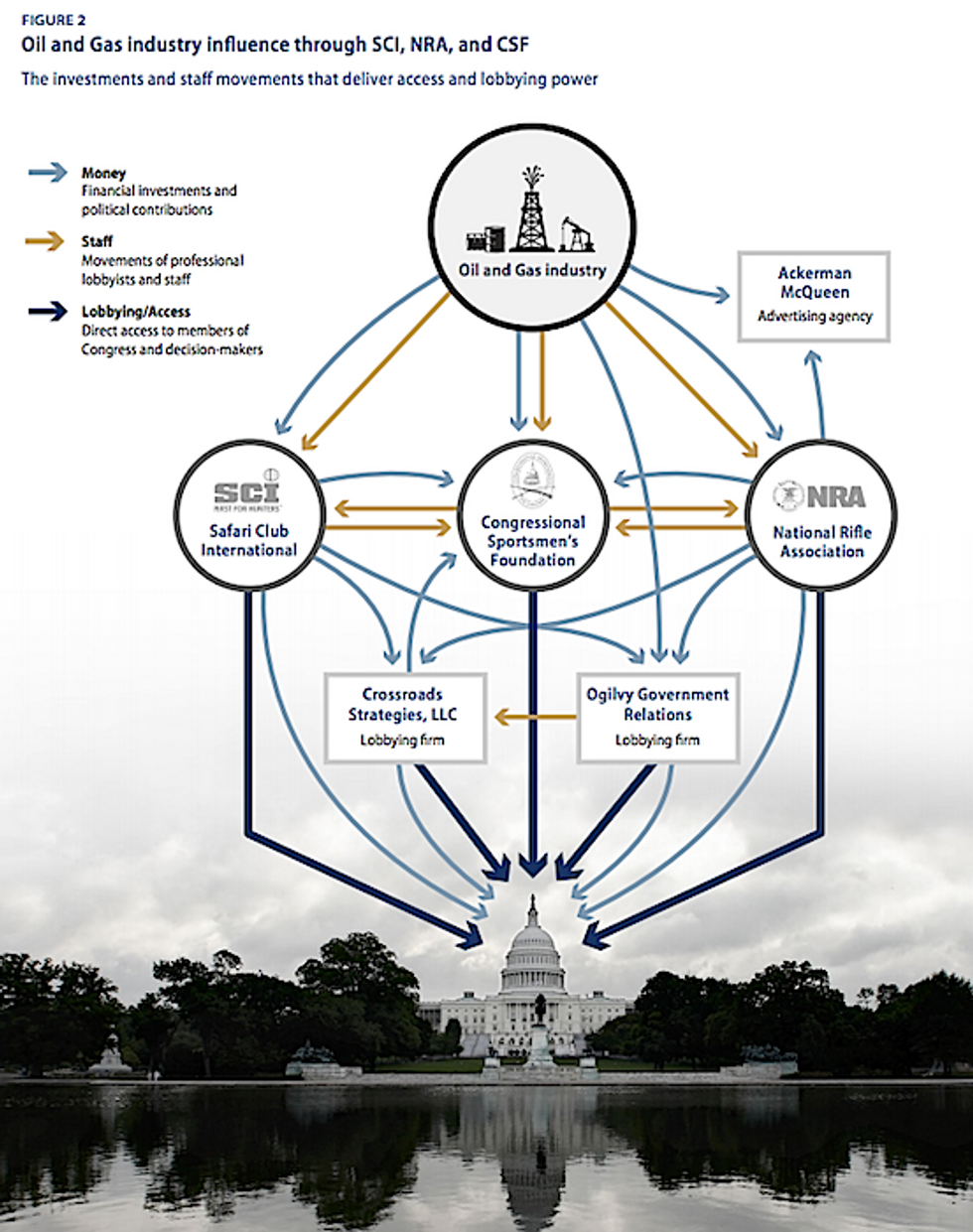 These two principles, however, are coming under growing fire from an aggressive and coordinated campaign funded by the oil and gas industry.
As part of a major effort since 2008 to bolster its lobbying and political power, the oil and gas industry has steadily expanded its contributions and influence over several major conservative sportsmen's organizations, including Safari Club International (SCI) the National Rifle Association (NRA) and the Congressional Sportsmen's Foundation (CSF). The first two organizations have assumed an increasingly active and vocal role in advancing energy industry priorities, even when those positions are in apparent conflict with the interests of hunters and anglers who are their rank-and-file members. The third group, the Congressional Sportsmen's Foundation, is also heavily funded by oil and gas interests and plays a key role in providing energy companies, SCI, the NRA, gun manufacturers and other corporate sponsors with direct access to members of Congress.
The growing influence of the oil and gas industry on these powerful groups is reshaping the politics, policies and priorities of American land and wildlife conservation.
In a new report, Center for American Progress identifies three high-profile debates in which the growing influence of the oil and gas industry in SCI, CSF, the NRA and other conservative sportsmen groups could play a decisive role in achieving outcomes that are beneficial to energy companies at the expense of habitat protection, science-based management, and hunter and angler access to wildlife and public lands.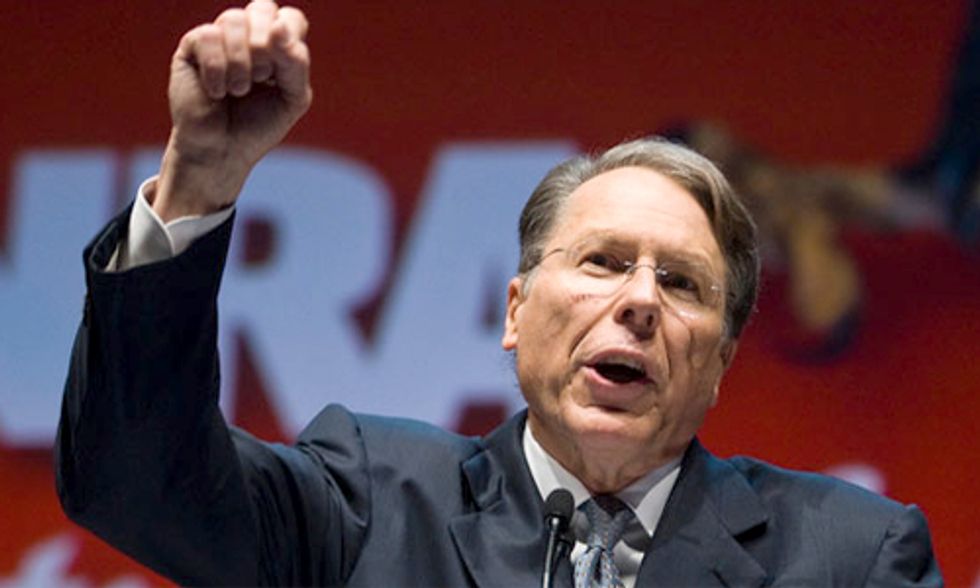 These areas to watch are:
Endangered and threatened wildlife in oil- and gas-producing regions: The case of the greater sage grouse and the lesser prairie chicken
The backcountry: How the oil and gas industry and its allies are working to undo protections of roadless areas and wilderness study areas
Public access and ownership: The movement to privatize public lands and wildlife
The oil and gas industry's growing investment in conservative sportsmen groups is already yielding ever-greater influence over legislation and policy decisions that benefit the industry's financial interests at the expense of hunters and anglers. Understanding and tracking this powerful lobbying alliance is of increasing importance to those who believe that American sportsmen can and should continue to be the standard-bearers for our nation's conservation tradition defend the principles that have guided North American land and wildlife stewardship for more than a century.
--------
YOU MIGHT ALSO LIKE
Idaho Residents Protest Auction of Public Lands for Oil and Gas Drilling
Victory: Judge Rejects Livestock for Wild Bison in Montana
Mining and Fracking Public Lands Creates 4.5 Times More Carbon Than They Can Absorb
--------
EcoWatch Daily Newsletter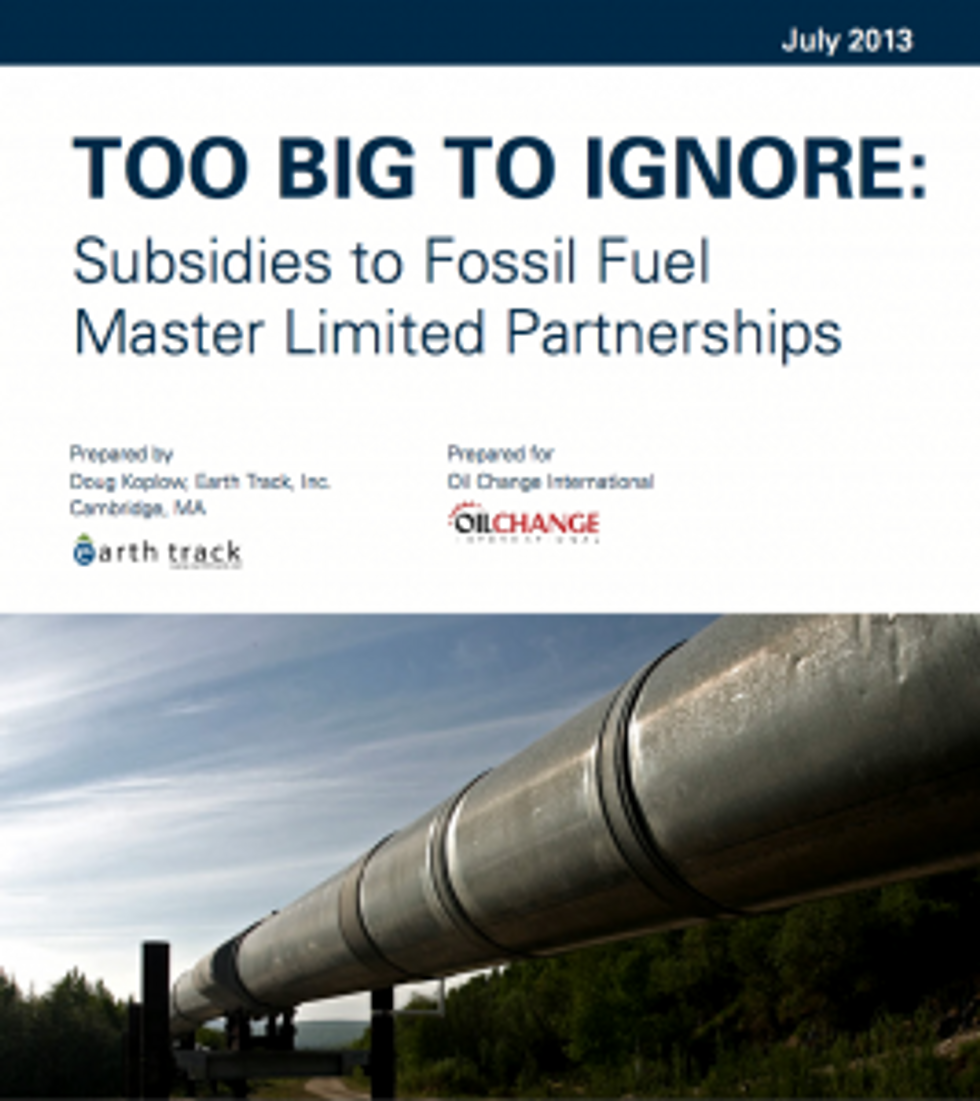 A new report released today by Oil Change International and Earth Track exposes a largely unaccounted for subsidy to the fossil fuel industry, valued at roughly $4 billion per year and growing.
New analysis quantifies the value of tax avoidance by the fossil fuel industry through a corporate structure called "master limited partnerships (MLPs)." Though eliminated for most U.S. industries more than a quarter century ago, special rules protected eligibility for fossil fuels, and have allowed a growing range of oil and gas activities to escape corporate income taxes entirely.
The report, Too Big to Ignore: Subsidies to Fossil Fuel Master Limited Partnerships, finds that the oil, gas and coal sectors have increasingly dominated the MLP universe, now comprising well over three-quarters of the total. Existing estimates of the taxpayer costs associated with fossil fuel MLPs are deceptively low, reducing the pressure to end this tax break once and for all.
MLPs, such as those created by Enbridge, Sunoco and TransCanada, not only enable firms to escape corporate income taxes on profits, but also to delay most tax payments on distributions to partners by many years. As Forbes has said, MLPs are an "income and a tax shelter rolled into one investment."
The MLP structure, according to the new report, cost the U.S. treasury as much as $13 billion in lost tax revenue between 2009 and 2012, a figure six times larger than previous estimates. Fossil fuel interests continue to convert to MLPs at an alarming rate through asset spin-offs, mergers and by seeking expanded eligibility granted not only by Congress, but also through rather secretive Internal Revenue Service (IRS) rulings.
"Not only does the U.S. oil boom imperil our communities and climate, but the increasing use of master limited partnerships allows the industry to pay even less of its share of the taxes needed to support those same communities," said David Turnbull, campaigns director of Oil Change International. "The fossil fuel industry is busy destroying our air, water, land and climate, all the while finding new ways to avoid taxes."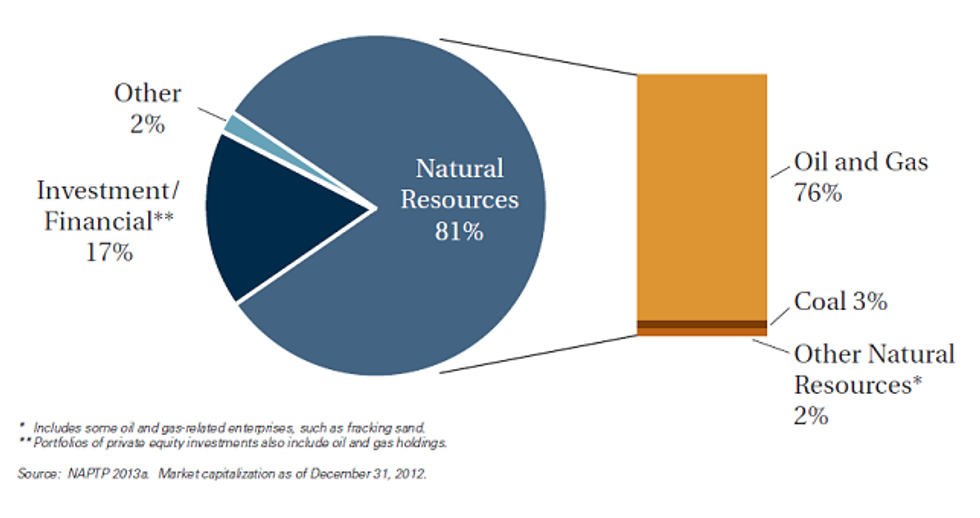 "Tax subsidies to fossil fuels through master limited partnerships go against both the fiscal and environmental interests of our country, yet are repeatedly overlooked in most federal oversight reports on subsidies," said Doug Koplow of Earth Track, the report's author. 
"Though recent efforts have looked to expand master limited partnership subsidies to some renewable energy resources, the evidence suggests that the fossil fuel sector will continue to capture the vast majority of the MLP subsidies even with an expansion," Koplow continues. "In the context of the climate crisis we face, the continuation of this subsidy to fossil fuels is inappropriate regardless of any potential benefits to new industries."
Visit EcoWatch's ENERGY page for more related news on this topic.
——–
SHARE YOUR THOUGHTS BELOW: Should these subsidies be applied to the renewable energy industry as well, or eliminated all together?
——–
By Amy Mall
A scathing new investigation from EnergyWire confirms the worst fears of citizens across the country who live near fracking sites: state regulators are not doing everything they can to prevent oil and gas companies from repeatedly violating the law. EnergyWire spent months analyzing state records.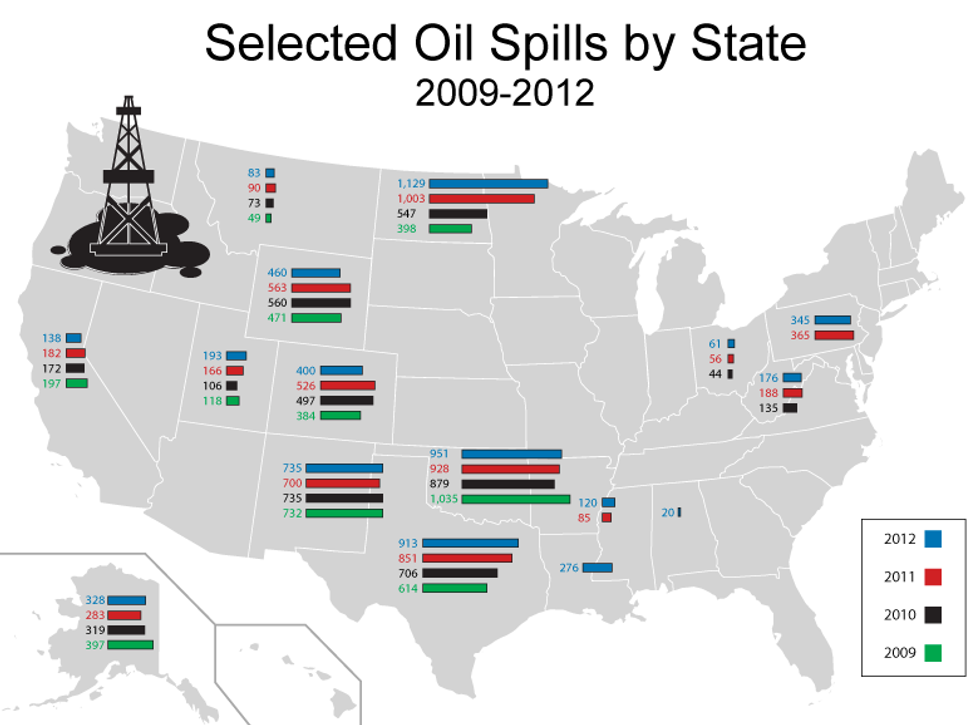 While the extensive investigation uncovers numerous violations, below are some of the most appalling findings:
Texas: In the last fiscal year there were 55,000 violations. If that weren't shocking enough, the state only sought enforcement for two percent of them.
Pennsylvania: In 2012, state regulators levied fines for only 13 percent of violations.
Wyoming: In 2012 there were 204 recorded oil and gas spills but only ten producers were fined. EnergyWire highlights a 2012 blow-out, where chemicals were spewed into the air near homes for three days with reported impacts to human health and the environment, but the operator was not fined one penny. One organic farmer reported that the air was so polluted that she couldn't see the barn from 200 feet away, there was a petroleum sheen in the water in their stock tank, and one of her daughters had nosebleeds for 29 straight days.
New Mexico: EnergyWire reports that regulators haven't issued one fine since 2009, when a judge ruled that the state doesn't have the authority to do so.
As EnergyWire summarized: many mishaps, few fines.
Local communities across the country are rightfully working to protect their citizens with rules, moratoria and bans that go beyond state standards. Industry fights these efforts with money and litigation, but it's no surprise that local governments want to take action when oil and gas companies are repeat offenders. Pro-industry regulatory systems need to be reformed, with stiff penalties to encourage meaningful changes in business practices. We also need stronger federal laws and enforcement, not only change at the state level.
Visit EcoWatch's FRACKING page for more related news on this topic.
——–

By Sharon Kelly
America is in the midst of the biggest onshore oil and gas rush in recent history, with excitement spreading across the U.S. Oil and gas companies have cashed in on this frenzied excitement by courting huge investments domestically and abroad.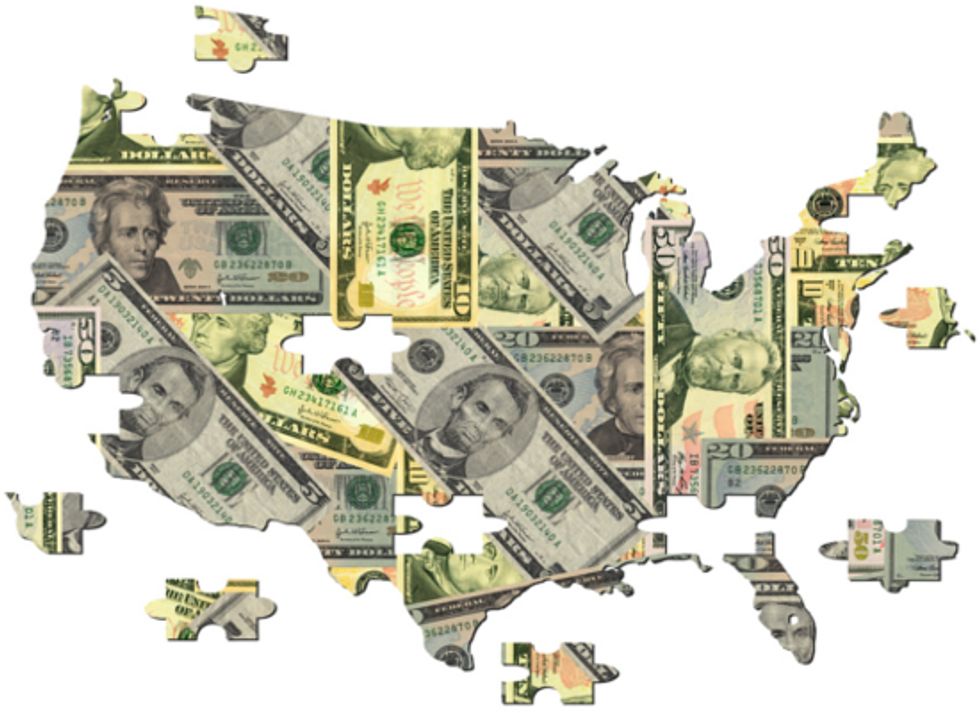 But a growing chorus of independent analysts and law enforcement agencies have their doubts and have questioned whether shale drillers are over-hyping their financial prospects and overestimating how much oil or gas they can profitably pull from the ground. Just this week, one of America's biggest agricultural lenders, the Netherlands-based Rabobank, announced that it would no longer lend money to companies that invest in shale gas extraction (nor to farmers worldwide who lease their land to these drillers).
The way that oil and gas companies describe their prospects in their financial statements matters because investors—and not just the uber-wealthy ones but also pension funds, university endowments, average folks with retirement savings or 401(k)s—can lose catastrophically if the information they rely on is faulty.
This matters to taxpayers too, since lawmakers need accurate information when making long-term decisions about the industry subsidies and tax breaks granted to encourage the drilling boom. The shale fracking rush could prove to be an expensive bust for taxpayers if oil and gas wells do not perform as promised.
Concern that companies have been over-exuberant about shale led Wall Street's two top cops, the Securities and Exchange Commission (SEC) and the New York Attorney General to investigate whether oil and gas companies have been "overbooking" their reserves (translation: inflating their appeal by promising investors more fossil fuels than their wells can actually deliver).
One company in particular—Chesapeake Energy—has attracted the most attention from these investigators.
In the drilling industry, Chesapeake is known for being more aggressive than many of its competitors in its "land grab" strategies, its use of book-keeping methods to obscure costs, even in its legal and public relations posture toward local communities that try to block drilling.
Last year, Chesapeake came under renewed heavy scrutiny after then-CEO Aubrey McClendon's $1.1 billion in personal loans, an undisclosed private hedge fund and extensive perks were revealed by an award-winning Reuters investigation.
Little has leaked out about the SEC and New York Attorney General probes. One company, Goodrich Energy, announced in September 2012 that the SEC probe into their reserves was over, but no other companies made similar announcements.
Recently, with little fanfare, Chesapeake announced a move that underscores the importance of these concerns and also offers another example of the revolving door that has characterized relations between the oil and gas industry and the regulatory agencies that are supposed to police them.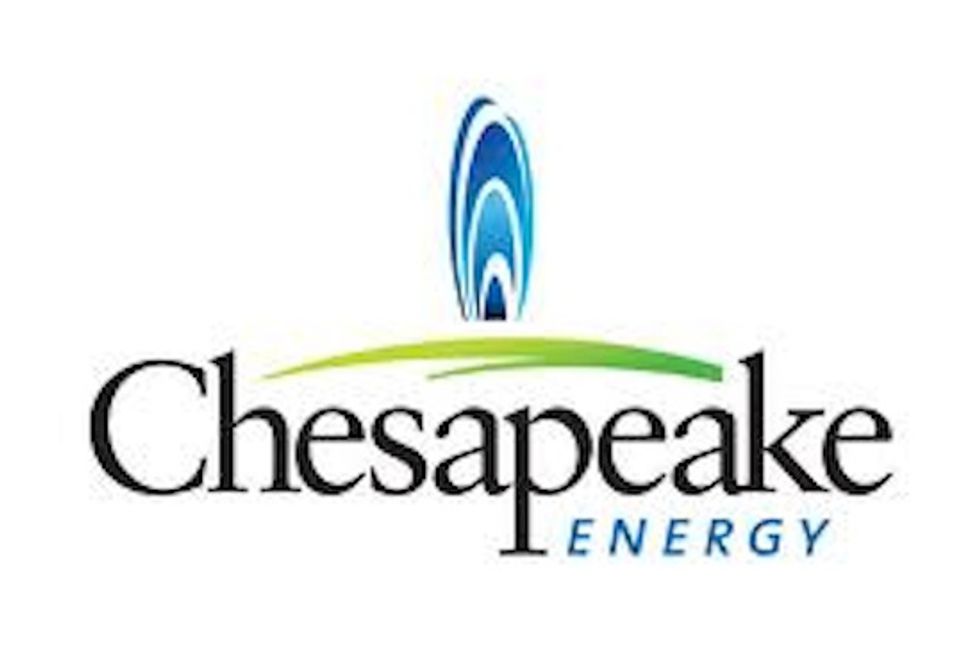 The SEC's Revolving Door Problem
On June 17, Chesapeake Energy announced it had appointed a new chief Compliance Officer, Patrick K. Craine. Craine is an accomplished attorney—he was a partner at a major law firm, Bracewell & Guiliani, where he specialized in white collar criminal defense, regulatory enforcement and internal investigations.
But hands down his greatest value to Chesapeake will be the role Craine played at the SEC. A former prosecutor, Craine handled many oil and gas cases at the SEC and, according to his law firm bio page, "prosecuted the largest oil and gas reserves restatement case in history."
Companies that hire former regulators often dismiss concerns about revolving doors, arguing that no one knows the rules better than the people who used to administer them. Their specialized knowledge and experience in interpreting rules is invaluable to companies who want to follow the rules in good faith and navigate complicated regulations, they say.
But since the financial collapse in 2008, watchdogs have honed in on the problems that can result when former prosecutor go to work for the industries they once investigated – especially at the SEC.
"Former employees of the Securities and Exchange Commission routinely help corporations try to influence S.E.C. rule-making, counter the agency's investigations of suspected wrongdoing, soften the blow of S.E.C. enforcement actions, block shareholder proposals and win exemptions from federal law," the Project on Government Oversight (POGO) wrote in a report released earlier this year.
In a companion report, POGO highlighted the ways that revolving doors can lead to a situation political scientists call "regulatory capture."
When the people who are supposed to police an industry are too cozy with the people representing that industry, they can pick up their world view. They can come to identify strongly with the people they are supposed to be overseeing, undermining their ability to take tough measures. And current regulators can unconsciously give former colleagues who now work for the industry greater deference or leeway because of their shared past.
That's why many federal agencies have ethics rules that attempt to guard against regulatory capture. But last year, the SEC's own Inspector General investigated how the SEC guards against conflicts of interest caused by revolving doors and concluded that the agency's ethics rules on these matters were riddled with loopholes.
And when it comes to policing the colossally wealthy and politically powerful oil and gas industry, the SEC is especially outgunned as its staff of enforcement specialists consists of little more than a handful of experts.
A Little-Noticed SEC Rule Change
In some ways, the SEC has helped create some of the very problems it is now investigating at Chesapeake and other drilling companies.
At the end of 2008, the SEC loosened rules that govern how oil and gas companies can calculate their reserves. The new rules from the SEC allowed more leeway in predicting how much oil and gas their wells, particularly unconventional oil and gas wells like shale or coal bed methane, could produce. This was a boon for drilling companies like Chesapeake in their effort to attract investment.
This little-noticed SEC rule change—one of the Bush Administration's last moves before leaving office—allowed companies license to more optimistically book unconventional oil and gas, including shale gas and shale oil.
The impact of this rule change on the shale gas industry was enormous and immediate.
"The final SEC rules have demonstrably created a situation where there is room for interpretations" that allow unconventional oil and gas companies to book larger reserves, a July 2012 Society of Petroleum Engineers paper by Ruud Weijemars concluded, adding that "a difference in reserves reporting 'culture' has emerged between U.S. independents—engaged in unconventional-gas developments—and the oil majors."
After the SEC changed its rules, a huge gulf emerged between the ways that these independents booked their reserves and how conventional oil and gas companies applied the rules.
"Digging deeper into company reports reveals some additional cause for concern about the certainty of economic production from shale gas reserves," Weijemars wrote in his peer-reviewed paper.
A company-by-company review led to a damning conclusion for the unconventional gas industry. Weijemars found that "throughout 2009, companies such as Petrohawk, Devon, Chesapeake and EOG could not produce gas with an operational profit. The 51 percent increase of 2009 proved reserves from U.S. shale producers therefore cannot be explained by economic fundamentals."
He said instead, that companies appeared to be making money through financial engineering and the use of creative financing. Forty percent of Chesapeake's 2009 operational income didn't come from selling gas, but instead came from derivative trading. (Weijemars is not alone in having doubts about Chesapeake's prospects—last year a report by ITG Investment Research calculated that Chesapeake could only deliver 70 percent of the oil and gas it was promising.)
"Today's reality is that nearly all North American shale-gas projects are losing money faster than can be generated from operational income," Weijermar and Joost van der Linden wrote in First Break, a journal that covers applied geophysics, petroleum geoscience and reservoir engineering, "which means losses must be compensated" using various financing techniques and selling off acreage.
The SEC is the federal agency that should be asking hard questions, uncovering information like this and making sure the numbers provided to investors add up. And indeed, Chesapeake has found itself under numerous inquiries that will keep former-SEC prosecutor Patrick Craine's hands full. But so far it's not clear how aggressively the SEC will police Chesapeake's reserve claims —or similar claims by the rest of the shale oil and gas industry—or whether any results will simply be buried.
Meanwhile, market analysts are increasingly finding red flags in the industry's publicly-disclosed data. These concerns have even drawn the attention of Congress.
 
"Shale wells deplete alarmingly," testified energy analyst Deborah Rogers in May before the Senate Committee on Energy and Natural Resources. Rogers, who was recently appointed an adviser to the U.S. Department of the Interior's Extractive Industries Transparency Initiative which is looking into some of these issues, described a pattern where companies like Chesapeake need to drill more wells just to keep gas flowing out and cash flowing in.
She also explained why this pattern is not just financially worrisome.
"The collateral damage in the form of air toxics, ground water depletion, encroachment, road damages and potential aquifer ruination in the United States could be immense," she said, "and will only continue to rise as more and more wells need to be drilled."
Visit EcoWatch's FRACKING page for more related news on this topic.
——–
Pavillion-area citizens, landowners and environmental groups today condemned Gov. Mead's (R-WY) announcement that the state is assuming control from the U.S. Environmental Protection Agency (EPA) of the investigation into groundwater contamination by fracking-enabled oil and gas development near Pavillion, WY.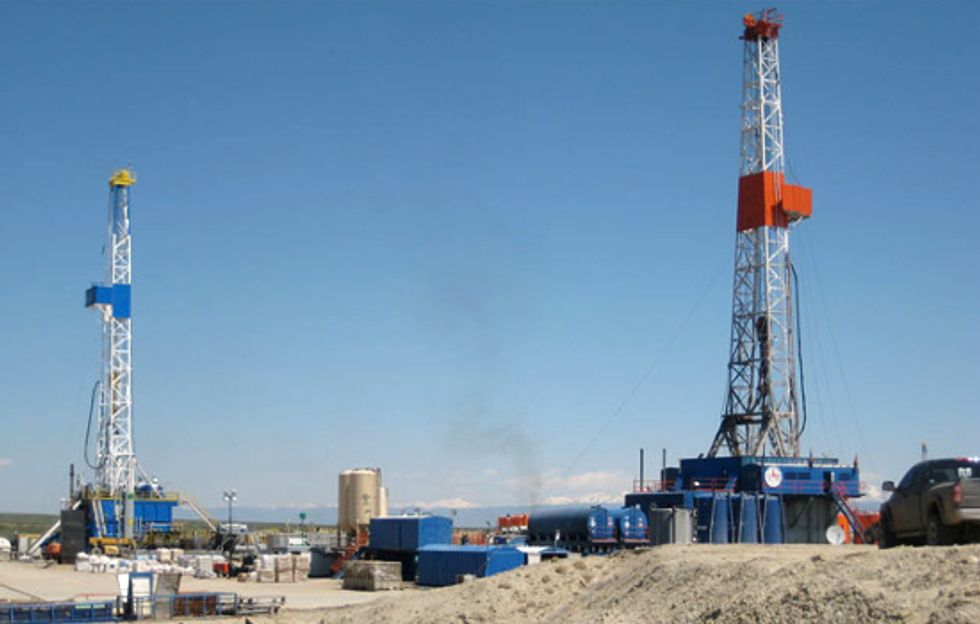 In the announcement, the Governor congratulated EPA and Encana—the company operating in the Pavillion area—for working with him to "chart a positive course" for the investigation.
"We went to the EPA for help after the State of Wyoming and Encana refused to address the public health impacts of unbridled development in the Pavillion area," said Pavillion farmer John Fenton. "Now Encana has bought its way back in and is working with the state on a strategy to cover up the mess they've created."
"Our government's priority is clearly to protect industry rather than Wyoming citizens, our health and our property values. Gov. Mead, the Obama administration and Encana have decided what is best for our community without consulting us," Fenton continued. "We were presented with Mead's vague plan at the same time it was released to the public. Unlike the other stakeholders, we bear the brunt of living in the toxic mess that has become our community, but our input has been thrown out with EPA's investigation. This is a sad day for our country."
This decision continues a nationwide pattern of Obama Administration walkbacks of the EPA investigations whose preliminary results indicate fracking-enabled oil and gas development presents real risks to public health and water. Similar actions have occurred in Parker County, TX, and Dimock, PA.
"It seems clear that the White House's 'all of the above' energy policy means fracking's impacts on communities are being ignored," said Earthworks' energy program director Bruce Baizel. "All across the country, whether it's Wyoming, or Texas or Pennsylvania, it appears the EPA is being politically pressured to back off sound science that shows fracking-enabled oil and gas development is a risk to public health. With these decisions, the Obama administration is creating more opposition to fracking, not less."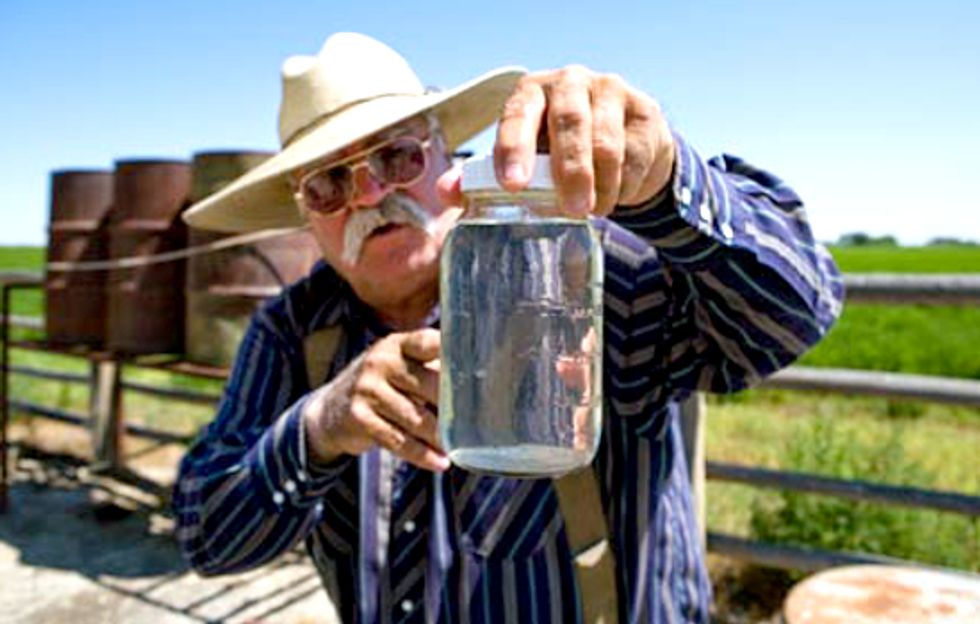 "Gov. Mead said earlier this week that change should be driven by elected officials and agencies, not the people," said Don Nelson, a farmer and rancher near Keene in western North Dakota, on behalf of the Western Organization of Resource Councils.
"This attitude is exactly why those of us who have to live with drilling and fracking have so little confidence in our regulatory agencies and elected officials. They only listen to the oil and gas industry, not to the local people. The same is true in North Dakota. And now EPA is backing down too and another investigation into groundwater contamination from oil and gas development is being swept under the rug. Why would anyone believe the oil and gas industry or the state regulatory agencies when they say drilling and fracking are safe?"
Governor Mead's announcement indicates that the state would cease peer review of EPA's investigation, essentially ignoring it.
"The state of Wyoming is already on record, through action and inaction, as denying that Pavillion's groundwater contamination is a cause for concern," said area ag-producer Jeff Locker. "They are throwing out a conscientious science based study by EPA that cost the taxpayers millions of dollars. The Governor's plan postpones any conclusions for at least another year. It's hard to believe that they're trying to get to the bottom of the problem, they're hoping this whole thing just goes away."
Visit EcoWatch's FRACKING page for more related news on this topic.
——–
Sign the petition today, telling President Obama to enact an immediate fracking moratorium:

By Kati Lawson, Pennsylvania Legislative Service
Clean water activists and representatives from Clean Water Action, Sierra Club, Delaware Riverkeeper Network and Berks Gas Truth gathered in the Capitol Wednesday to call on Gov. Corbett (R-PA) to speak publicly on the extent of water contamination from fracking for natural gas in Pennsylvania.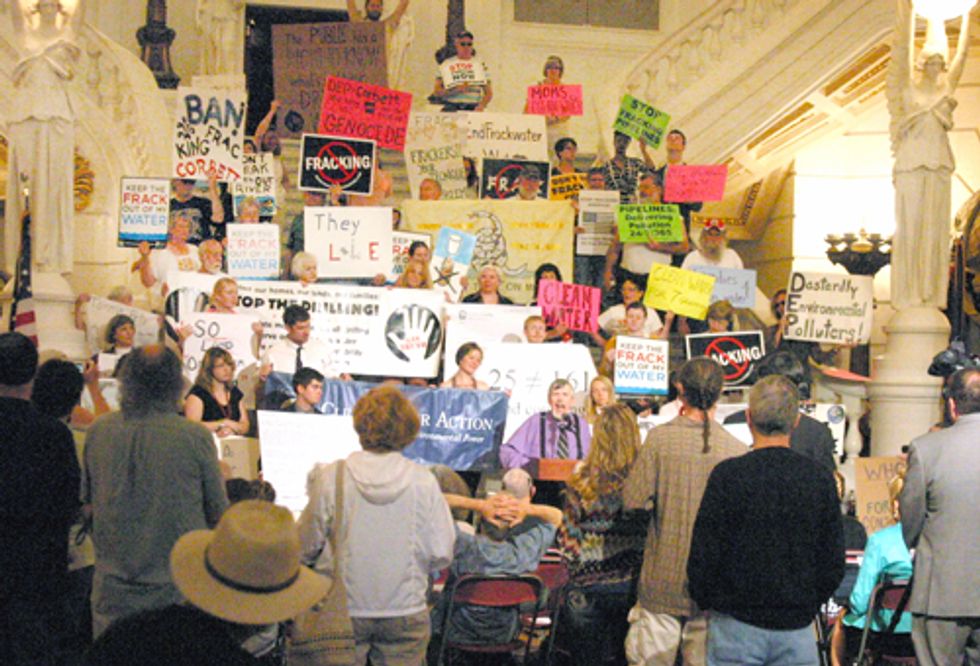 Pennsylvania State Director of Clean Water Action, Myron Arnowitt, said the rally was being held because many activists know that Pennsylvania will end up with dirty water if gas companies continue to work without regulations. He pointed to some of the large signs carried by attendees on the steps and explained that they received a letter from the Department of Environmental Protection (DEP) that told homeowners that their water had been contaminated due to gas drilling.
"It's time for Gov. Corbett to tell the public what happened and how many people have been affected by fracking," said Arnowitt. "We want a little truth from our government and some justice for the folks who have had their water contaminated by fracking."
Tracy Carluccio, deputy director at Delaware Riverkeeper Network, said that the rally was scheduled to make the government listen to the people saying "no" to drilling for natural gas in Pennsylvania. "We are as important as the gas development companies," said Carluccio. "Democracy is eroding and we will bring it back by showing the truth about gas drilling."
Carluccio said DEP has failed Pennsylvanians, and because Gov. Corbett is the man behind DEP, he too has failed his constituents. She said that DEP has not been transparent about drilling incidents and does not even have a database of the water affected by natural gas drilling.
"This administration is working for the gas drillers and developers, not for the people," stated Carluccio. "We demand that the truth come out and we want a DEP that cares and works for the people."
Karen Feridun, founder of Berks Gas Truth, said that all of Pennsylvania is in danger because of fracking, not just the areas of the state that host drilling wells. She explained that a compressor station 100 miles away from a Berks County Residence was affected during Hurricane Sandy and sent tons of gas and compounds into the air. Feridun said that people in the area who smelled gas tried to contact the gas company, the media and DEP with no success.
Feridun said that it took her personally contacting DEP representatives to get any answers about the compressor station incident. "Nothing has been done to the company who caused the leak and this kind of thing happens all the time," said Feridun. "It's almost guaranteed that when these companies violate the rules that nothing will happen; the recidivism rate is ridiculous."
Feridun stated that she knows many wonderful hardworking people who would love to do their jobs in the DEP, but as long as Gov. Corbett is in charge the state is stuck with a dangerous industry in command. "There are lots of things in life that are more important than money," said Feridun. "Our environment, health, safety and community are more important than money."
Craig Stevens, a Susquehanna County resident affected by gas drilling, said that his message to the naysayers is to go see the destruction caused by fracking firsthand. He stated that DEP has been claiming that there is no problem, then he held up hundreds of determination letters from DEP released through Right-to-Know requests.
"This isn't about fracking the ground for gas," said Stevens. "This is about fracturing a community."
Stevens said that he and other activists have offered the dirty drinking water of wells considered "safe" by DEP standards to DEP officials who refuse to drink. "There might be money in the ground for this, but I need water more than I need gas," proffered Stevens.
Ray Kemble, a resident of Dimock, PA, brought with him a jug of his well water, which was a medium brown color. "The DEP and EPA [Environmental Protection Agency] came to my house and said there was nothing wrong with my water at first," said Kemble. "Then a few months later I got a letter than said my well water is undrinkable."
Kemble explained that he used to work within the natural gas industry, but now that he is a whistleblower he no longer has a job.
Nathan Sooy, Harrisburg director of Clean Water Action, called Harrisburg the "Capital of Un-Reality." He demanded that Gov. Corbett direct DEP to protect the environment of Pennsylvania by implementing strong policies and practices, help all of the families whose water is impacted by natural gas drilling, and appoint a DEP Secretary who has experience in environmental protection.
Sooy said that a recent poll showed that almost two-thirds of Pennsylvanians are in favor of a full moratorium on drilling. He said that Gov. Corbett has accepted $1.8 million in contributions from the oil and gas industry since 2004 and called for Pennsylvanians to make the change in the Commonwealth through grassroots efforts.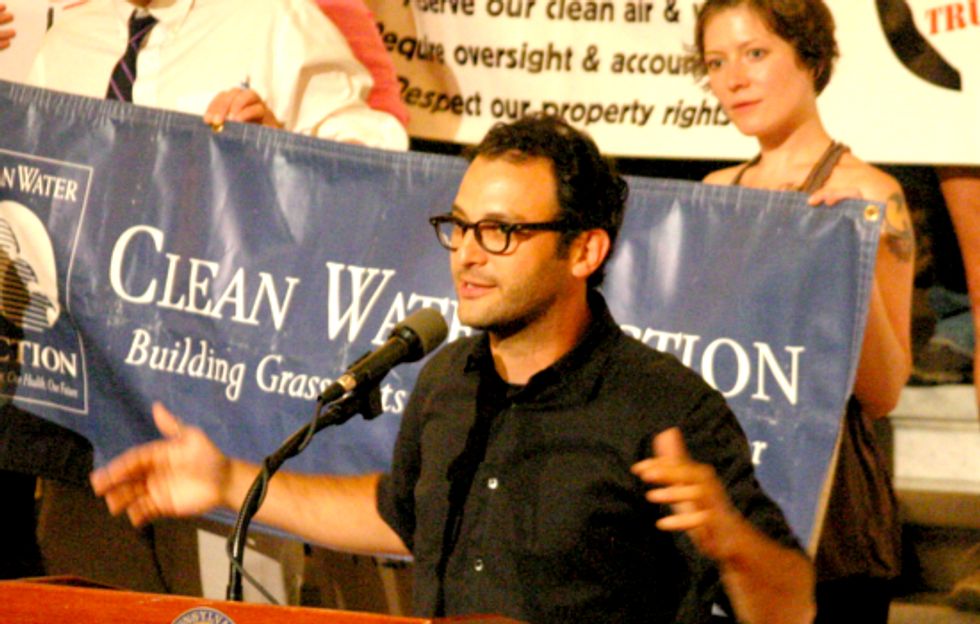 Filmmaker Josh Fox, creator of the movie Gasland, called Harrisburg the biggest fracking site in the Commonwealth. He said that the past three governors have accepted funds from natural gas drillers, but that Act 13 is the greatest affront to Pennsylvania's environment.
"Corbett sponsored and signed Act 13 which [sought] to overturn local and municipal bans because of Pennsylvania oil and gas laws," said Fox. "Another law above Pennsylvania oil and gas law, which is the Constitution of Pennsylvania, guarantees Pennsylvanians our rights to clean air and water."
Fox said that Act 13 also steps in between doctors and patients. He explained that if doctors think that their patient is suffering of a drilling-related illness they have to sign non-disclosure agreements.
"In New York, the government did environmental studies and then kept the natural gas industry out of the state because they had the democratic opportunity to do that," said Fox.
He said that the democracy of every Pennsylvanian is in jeopardy because of the gas industry's stranglehold on the elected government. Fox further explained that studies show that after thirty years, 50 percent of gas wells will leak in Pennsylvania. "With the projected 180,000 gas wells that are supposed to be built in Pennsylvania, there could be 90,000 leaky gas wells across Pennsylvania," said Fox. "There is a clear possibility of contaminating the entire state of Pennsylvania."
Fox said that Pennsylvanians have several reasons to be hopeful. "Nearly two-thirds of Pennsylvanians want a moratorium and Nate Silver said that Gov. Corbett is the most endangered governor in the United States of America," stated Fox. He said it is important to share information from neighbor to neighbor in order to vote Gov. Corbett out of office in 2014 and make sure the Democrat running for governor embraces a full moratorium on gas drilling.
Visit EcoWatch's FRACKING page for more related news on this topic.
——–

Sign the petition today, telling President Obama to enact an immediate fracking moratorium:

By Katherine Cirullo
It's officially wildfire season in Colorado; last Tuesday, a fire ignited the Black Forest area of Colorado Springs. It burned 22 square miles, destroyed 422 homes and is still raging a week later. In just half the time, it has surpassed last year's Waldo Canyon wildfire as the worst in Colorado history. While wildfires in Colorado and throughout the west are nothing new, the magnitude of this year's Black Forest fire serves as a haunting reminder of the worsening crisis climate change poses. Throughout all this, we can't help but draw attention to the oil and gas industry's use of fracking and its impact on climate change, drought and natural disaster. Residents are watching their backyards burn while the oil and gas industry is using up Colorado's most precious resource—water.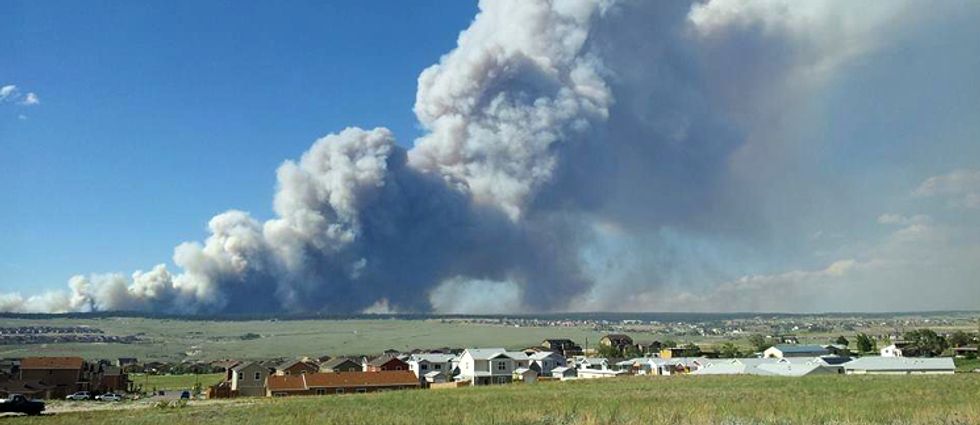 The fire affects not just Colorado residents, who face water restrictions that accompany drought; emergency relief teams also feel the squeeze. Colorado Springs fire chief Mike Myers spoke last week of the difficulties fighting the flames: "Once the fire's up in the trees and you've got a 200 foot wall of flames coming at you, there's not much you can do with a thousand gallons of water."
In the same state that has limited water to fight off these fires, fracking uses millions of gallons of water to frack a single well. Furthermore, the oil and gas industry neglects water restrictions and often out-competes farmers and municipalities for the resource.
Fracking also poses a threat to climate change as it emits harmful greenhouse gases. As climate change worsens, wildfires will continue to plague Colorado's drought-parched forests and spread into residential neighborhoods.
We must stand up for the people of Colorado. We can no longer allow fracking, which abuses water regulations in drought ridden areas, leaks harmful pollutants back into the water supply and contributes to the depletion of the ozone layer, to exacerbate Colorado's drought.
Visit EcoWatch's FRACKING page for more related news on this topic.
——–

Sign the petition today, telling President Obama to enact an immediate fracking moratorium: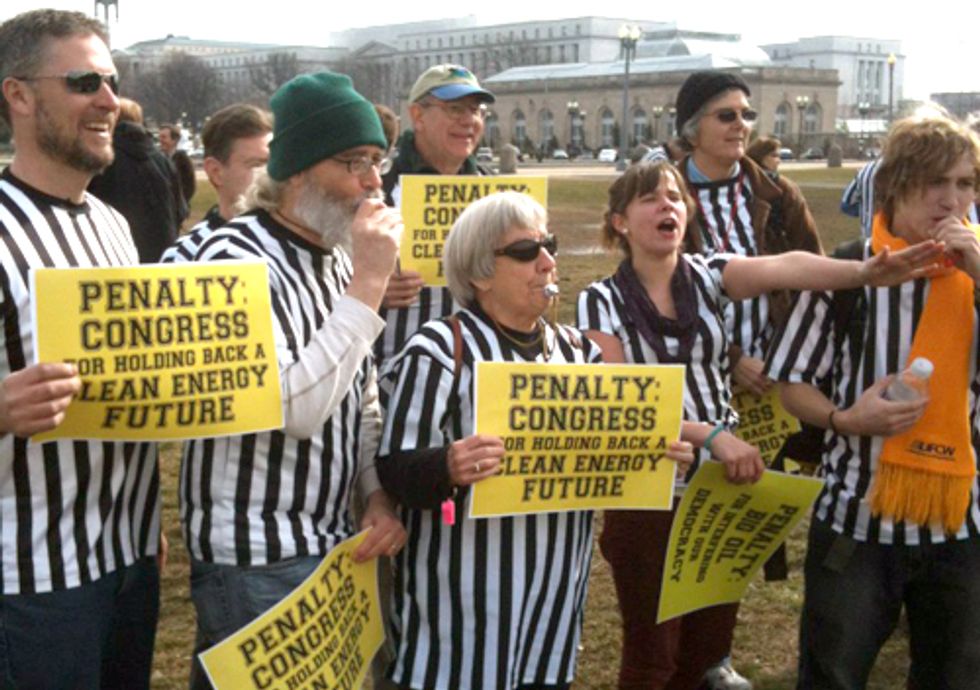 By Steve Kretzmann
On Tuesday, Jan. 24, as Washington readies for the annual State of the Union address, more than 500 people in referee outfits are converging on Capitol Hill to "blow the whistle" on Congress. Why? Consider these two facts:
1. The American people believe (rightly) that Members of Congress are more responsive to their campaign donors than to their own constituents.
2. Americans of all affiliations clearly favor ending fossil fuel industry handouts.
Americans are sick of watching Congress receive bribes from the fossil fuel industry to vote for scams like the Keystone XL pipeline and fossil fuel subsidies.  We see what's happening, and we're declaring it out of bounds and unsportsmanlike from this point forward.
The five biggest oil companies alone have made more than $1 trillion in profits over the last decade. It's absurd that these companies still demand, and still receive, handouts from Congress paid for by taxpayers. This isn't about energy or jobs—it's about greed and corruption.
Listed below is some useful information about the cycle of dirty energy money corruption going on in Congress.
Money In—Campaign Finance
(All data is from Oil Change International's Dirty Energy Money campaign which uses public data made available by the Center for Responsive Politics.)
Since 1999, the coal, oil and gas industries have shelled out more than $93 million to current members of Congress.
The trend is increasing with each election cycle, and current members of Congress took more than $25 million in campaign contributions from the oil, coal and gas industries in 2009-2010.
Through October of 2011, dirty energy interests had given this Congress $7.8 million in this cycle alone.
Speaker Boehner has received the most money from the fossil fuel industry during this term, with more than $287,000 received from the oil, gas and coal industries.
It is worth noting that direct contributions to candidates are only one way that the fossil fuel industry exerts influence. Substantially larger sums of money are mobilized by SuperPacs and other entities.
Money Out—Subsidies
Each year that the president has submitted a budget, it has included eliminating $4 billion in annual subsidies to the dirty energy industry. Each year Congress has been unable to eliminate the subsidies.
In a vote in May of 2011, the reason was clear. Senators who voted to preserve subsidies took an average of five times more dirty energy money than those who voted to stop handouts to the oil industry.
In October of 2011 a large coalition called on the Super Committee to eliminate $12 billion annually in fossil fuel subsidies.
Our tax dollars also fund billions in fossil fuel projects around the world, via institutions like the World Bank and the US Export-Import Bank.
Dirty Energy Money and the Keystone XL Pipeline
Earlier this month, American Petroleum Institute President Jack Gerard threatened President Obama with "huge political consequences" if he rejected the Keystone XL pipeline. This threat was unusual only because it was public, but the industry clearly continues to implicitly threaten all of our elected Representatives.
In July, the House of Representatives voted on the Keystone XL pipeline. Those Representatives who voted for the pipeline received 513 percent more from the oil and gas industry than those who voted against it.
In total, those who voted for the pipeline have received $10,922,161 from the oil and gas industry while those who voted against the pipeline have received only $717,552. In other words, those that voted for the pipeline have received 15 times more money from the oil and gas industry.
In December, the House held another vote with similar results. Members of Congress who supported the measure have received $41 million from the fossil fuel industry, while those who voted against the bill have received only about $8 million from oil, gas and coal interests.
An analysis by ThinkProgress of lobbying disclosure records for the first, second, and third quarters of 2011 suggests that the lobbying expenses of the 20 or more business and labor interests who backed the project was $60 million compared to $1 million by the seven organizations that actively opposed the measure.
TransCanada's lobbying efforts alone over the first three quarters of 2011 totalled $920,000, just under the total amount spent by its opponents..
Political Return on Investment
Buying Congress is a great investment for the oil, gas and coal industries.  During the last two year cycle, they put in $25 million, and they got out at least $4 billion annually—$8 billion. In other words, for every $1 that the fossil fuel industry invests in Congress, they get at least $320 back.
For more information, click here.