The Ohio EPA finalized its general permit for production operations at shale gas well sites. The Ohio Environmental Council, Buckeye Forest Council, and Center for Health, Environment and Justice are calling for further protections for health and environment.
The Missing
"The Agency seemed to forget there are two other phases of oil and gas operations," states Nathan Johnson of Buckeye Forest Council. "The drilling/fracturing and completion phases have been ignored. Left unchecked, these phases will put tons of harmful air pollutants into our communities."
The groups also state that it is not uncommon for the drilling/fracturing phase to use nearly 30,000 gallons of fuel in a two-week time frame.
"That 1980s-era construction vehicle could stay in one county for weeks or months at a time, burping out dangerous pollution," states David R. Celebrezze of Ohio Environmental Council. "It may be considered 'temporary,' but the health impacts of diesel pollution can be life-long."
Medical researchers have linked diesel pollution to asthma attacks, painful breathing, heart and lung disease, cancer and early death.
"These oil and gas operations have a responsibility to the local community to use all technologies to reduce every aspect of air pollution from each phase," states Teresa Mills of Center for Health, Environment and Justice. "If they do not install best emissions reduction technology, it tells us they prioritize making money over the health of our communities."
Although it is difficult to gauge the exact amount of pollution that will be generated as a result of oil and gas operations in regard to the Marcellus and Utica Shales, the groups calculated emissions from existing operations in West Virginia and Pennsylvania that are drilling in the Marcellus Shale.
Phases not covered under the General Permit include the drilling/fracturing phase and the completion phase.
    Drilling phase (range)*
       NOx: 80lbs-14,600lbs
       VOCs: 106lbs-1,440lbs
       PM: 80lbs-680 lbs
    Fracturing phase
       NOx: 1.4 tons
       VOCs: .06 tons (120 lbs)
       PM: .05 tons (89 pounds)
    Completion phase
       NOx: 2.26 tons (4,512 pounds)
       VOCs: 2.51 tons (5,011 pounds)
       PM: .29 tons (571 pounds)
*emissions amounts depend on the type of diesel engines being used [tier 0 (dirtiest) to tier 4 (cleanest)]. There is nothing that prevents a contractor from using 30 or 40 year old, inefficient, highly polluting diesel engines on an oil and gas operations.
The Bad
A general permit improves the efficiency of the permitting process by setting out all of the terms and conditions in advance. However, environmental and community groups have serious concerns with the local implications of this general permit.
"This general permit short-circuits the public input on these operations," states Mills. "If a large operation comes to your community and they already have a general permit, you have little recourse but to get a gas-mask and hold on for the ride."
According to the Ohio EPA "a summary of the potential emissions expected from this source is as follows:

 
The Good
Generally, the groups are praising the Ohio EPA for being proactive in regulating the production phase of oil/gas operations. The groups credit the agency for requiring frequent inspections of unpaved roads to ensure dust emissions are kept to a minimum.
Additionally, they compliment Ohio EPA for revising a section of the permit to include limitations on the total volume of material to be stored rather than limiting the size of the tanks (which would have allowed a loophole for industry to exploit).
Another positive point: the General Permit does require at least tier 3 engine standards for engines installed at the production facility. Tier 3 engines have a 71 percent reduction in PM and 53 percent reduction in NOx compared to tier 0 engines.
As the Ohio EPA moves forward with these rules, the groups encourage the Agency to stringently track air emissions for all three phases and revisit this permit in one year.
--------
The mission of the Ohio Environmental Council (OEC) is to secure healthy air, land, and water for all who call Ohio home. The OEC is Ohio's leading advocate for fresh air, clean water, and sustainable land use. The OEC has a 40-year history of innovation, pragmatism, and success. Using legislative initiatives, legal action, scientific principles, and statewide partnerships, the OEC secures a healthier environment for Ohio's families and communities.
EcoWatch Daily Newsletter
Thanks to The Plain Dealer's Rich Exner for providing an interactive map of Eastern Ohio well permits.
According to The Plain Dealer, permits have been issued for more than 100 wells in Eastern Ohio for the purpose of drilling into Utica or Marcellus shale 3,000 feet or more below the surface. Most of these well sites still are not active, but at least 34 either have been drilled or are the site of current drilling, a state update on the permits from early January shows. Permits were issued, but not yet active, for 75 locations. The largest share of the well locations is in Carroll County, with 38 permitted locations. There were 15 in Jefferson County and 10 in Columbiana County, in the latest update.
This interactive map is provided to find the locations of permits on record with the Ohio Department of Natural Resources in early January 2012.
This map is a great resource to Eastern Ohioans to identify the locations of well sites in their area.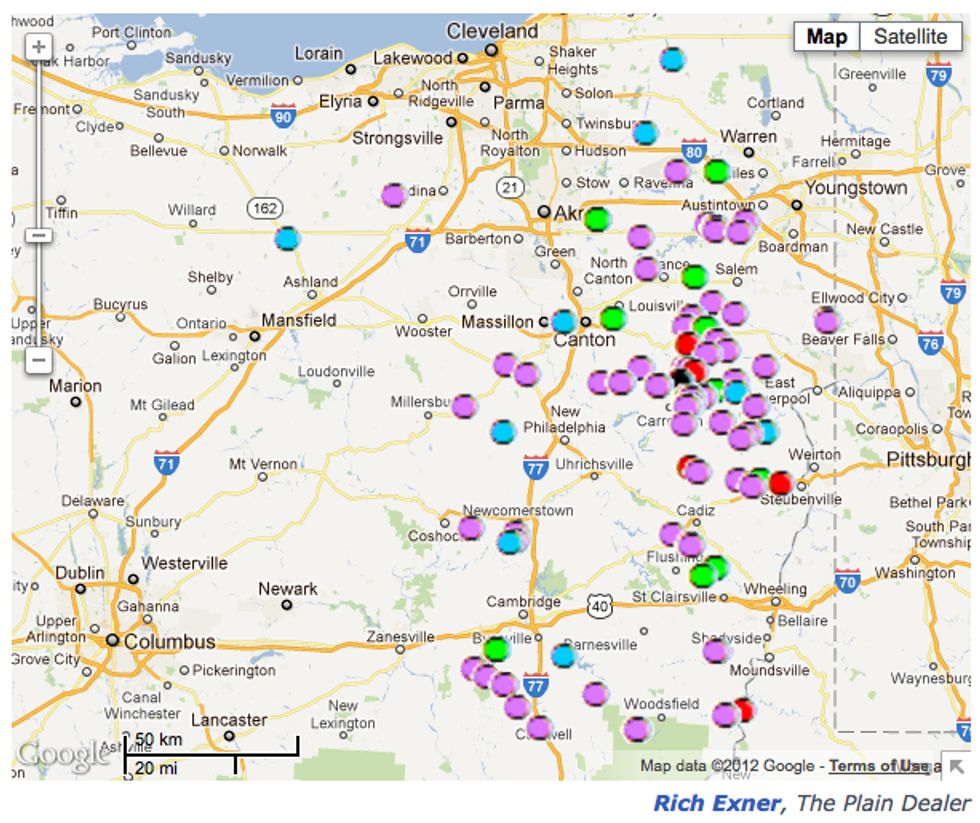 waterlust.com / @tulasendlesssummer_sierra .
Each product featured here has been independently selected by the writer. If you make a purchase using the links included, we may earn commission.
The bright patterns and recognizable designs of Waterlust's activewear aren't just for show. In fact, they're meant to promote the conversation around sustainability and give back to the ocean science and conservation community.
Each design is paired with a research lab, nonprofit, or education organization that has high intellectual merit and the potential to move the needle in its respective field. For each product sold, Waterlust donates 10% of profits to these conservation partners.
Eye-Catching Designs Made from Recycled Plastic Bottles
waterlust.com / @abamabam
The company sells a range of eco-friendly items like leggings, rash guards, and board shorts that are made using recycled post-consumer plastic bottles. There are currently 16 causes represented by distinct marine-life patterns, from whale shark research and invasive lionfish removal to sockeye salmon monitoring and abalone restoration.

One such organization is Get Inspired, a nonprofit that specializes in ocean restoration and environmental education. Get Inspired founder, marine biologist Nancy Caruso, says supporting on-the-ground efforts is one thing that sets Waterlust apart, like their apparel line that supports Get Inspired abalone restoration programs.
"All of us [conservation partners] are doing something," Caruso said. "We're not putting up exhibits and talking about it — although that is important — we're in the field."
Waterlust not only helps its conservation partners financially so they can continue their important work. It also helps them get the word out about what they're doing, whether that's through social media spotlights, photo and video projects, or the informative note card that comes with each piece of apparel.
"They're doing their part for sure, pushing the information out across all of their channels, and I think that's what makes them so interesting," Caruso said.
And then there are the clothes, which speak for themselves.
Advocate Apparel to Start Conversations About Conservation
waterlust.com / @oceanraysphotography
Waterlust's concept of "advocate apparel" encourages people to see getting dressed every day as an opportunity to not only express their individuality and style, but also to advance the conversation around marine science. By infusing science into clothing, people can visually represent species and ecosystems in need of advocacy — something that, more often than not, leads to a teaching moment.

"When people wear Waterlust gear, it's just a matter of time before somebody asks them about the bright, funky designs," said Waterlust's CEO, Patrick Rynne. "That moment is incredibly special, because it creates an intimate opportunity for the wearer to share what they've learned with another."
The idea for the company came to Rynne when he was a Ph.D. student in marine science.
"I was surrounded by incredible people that were discovering fascinating things but noticed that often their work wasn't reaching the general public in creative and engaging ways," he said. "That seemed like a missed opportunity with big implications."
Waterlust initially focused on conventional media, like film and photography, to promote ocean science, but the team quickly realized engagement on social media didn't translate to action or even knowledge sharing offscreen.
Rynne also saw the "in one ear, out the other" issue in the classroom — if students didn't repeatedly engage with the topics they learned, they'd quickly forget them.
"We decided that if we truly wanted to achieve our goal of bringing science into people's lives and have it stick, it would need to be through a process that is frequently repeated, fun, and functional," Rynne said. "That's when we thought about clothing."
Support Marine Research and Sustainability in Style
To date, Waterlust has sold tens of thousands of pieces of apparel in over 100 countries, and the interactions its products have sparked have had clear implications for furthering science communication.
For Caruso alone, it's led to opportunities to share her abalone restoration methods with communities far and wide.
"It moves my small little world of what I'm doing here in Orange County, California, across the entire globe," she said. "That's one of the beautiful things about our partnership."
Check out all of the different eco-conscious apparel options available from Waterlust to help promote ocean conservation.
Melissa Smith is an avid writer, scuba diver, backpacker, and all-around outdoor enthusiast. She graduated from the University of Florida with degrees in journalism and sustainable studies. Before joining EcoWatch, Melissa worked as the managing editor of Scuba Diving magazine and the communications manager of The Ocean Agency, a non-profit that's featured in the Emmy award-winning documentary Chasing Coral.