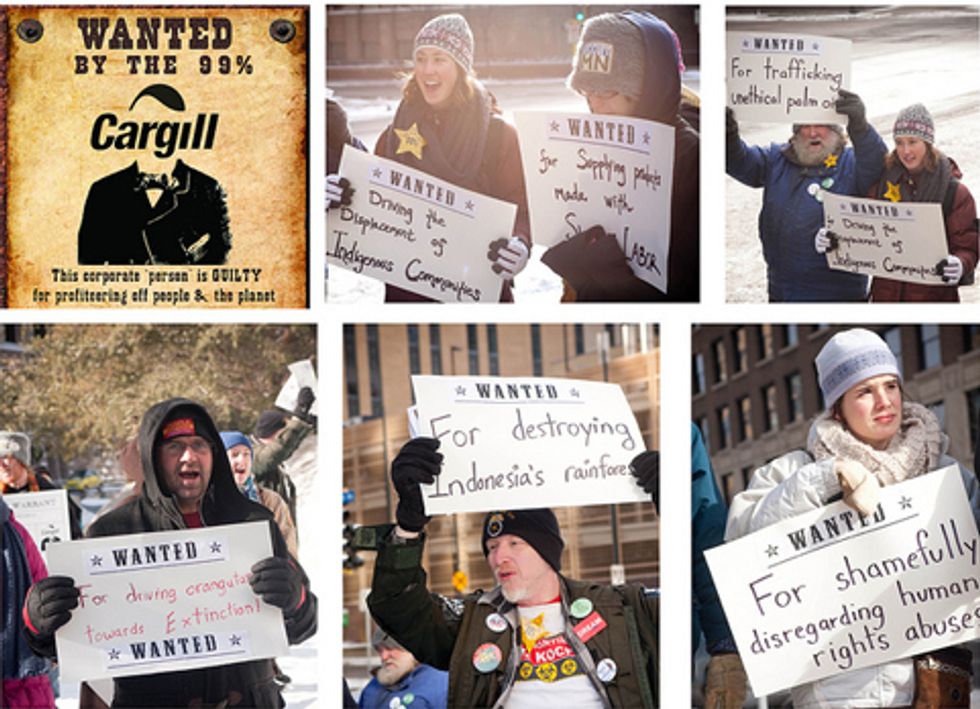 As part of a nationwide day of action protesting the legal doctrine of 'corporate personhood' enshrined by the controversial Citizens United vs. FEC Supreme Court ruling two years ago, a diverse crowd of more than forty Occupy activists and allies staged a rally and march with the Rainforest Action Network (RAN) through downtown Minneapolis on Saturday, Jan. 21. The demonstration began with a rally at the site of the former Occupy Minneapolis encampment, then marched to the Minneapolis Grain Exchange, where Cargill has an office, to post a mock "Citizen's Arrest Warrant" for Cargill Inc.
The colorful group, led by a large banner that read, "WANTED: Cargill Inc., For Profiteering Off People and Planet," then took to the streets waving placards that outlined their grievances with the agribusiness giant. The crowd included environmentalists upset that Cargill, the largest U.S. importer of palm oil, is connected to the destruction of Indonesian rainforests, as well as food justice advocates who say Cargill's support of free trade policies comes at a high price for farmers and food security. Occupy activists pointed out that the family that controls Cargill is the wealthiest in America and uses Cargill's corporate status as a 'person' to exercise political influence in Washington, D.C., where the company spent $1.3 million on lobbying last year alone.
Rainforest Action Network's Agribusiness Campaigner Ashley Schaeffer was among the protesters. She said, "Cargill is an enormously powerful agricultural company that has a dangerous stranglehold on our food supply. This is unhealthy to both people and the planet because Cargill continues to operate with the profits-above-all business mentality of a cutthroat trader." Schaeffer continued, "Cargill has known for many years that its practices are contributing to abuses that include slave labor and rainforest destruction but the company stubbornly continues to operate without basic safeguards that could prevent these violations."
Mark Muller, director of the Food and Justice Program at the Institute for Agriculture and Trade Policy (IATP), said, "We at the Institute for Agriculture and Trade Policy are thrilled by the local food movement. And yet we also recognize that we can only go so far given how far our political and legal system tilts in favor of corporations. Reclaiming our democracy from corporate control is crucial, and we salute all the activists that are working for a better food system and a better democracy."
Hillary Lehr, also with Rainforest Action Network, commented, "Corporations aren't people, everyone knows that. But the infamous Jan. 21, 2010 ruling on the Citizens United vs. FEC Supreme Court case allows corporations unlimited political spending during elections, under a constitutional right equating money with free speech. If corporations have rights like people, shouldn't that mean they can be arrested for their crimes like people, too?"
Cargill is the largest privately held company in the world and is owned by the richest family in America. Cargill's annual revenue ($119 billion) is bigger than 70 percent of the world's countries. Cargill is responsible for 25 percent of all U.S. grain exports, handles 25 percent of global palm oil trade (the world's most used vegetable oil) and supplies about 22 percent of the U.S. domestic meat market.
Paul Sobocinski, a Land Stewardship Project organizer and family farm livestock producer from Wabasso, Minn. said, "Cargill wants to control the livestock industry, they'd like to turn family farmers into modern day serfs who do their bidding while Cargill walks away with the lion's share of the profits. Cargill is fully integrated and one of the largest meatpackers and factory farm hog producers in the country. It's time to hold them accountable. It's time to take back our food and farming system from corporate agribusiness."
The event in Minneapolis was part of a week of coordinated protests nationwide that included Occupy Congress in Washington, D.C., Occupy the Courts and mass demonstrations across the country on Jan. 20.
For more information on Cargill, see RAN's Cargill fact sheet by clicking here.
For more information, click here.
—————
Rainforest Action Network runs hard-hitting campaigns to break North America's fossil fuels addiction, protect endangered forests and Indigenous rights, and stop destructive investments around the world through education, grassroots organizing, and non-violent direct action. For more information, visit www.ran.org.
EcoWatch Daily Newsletter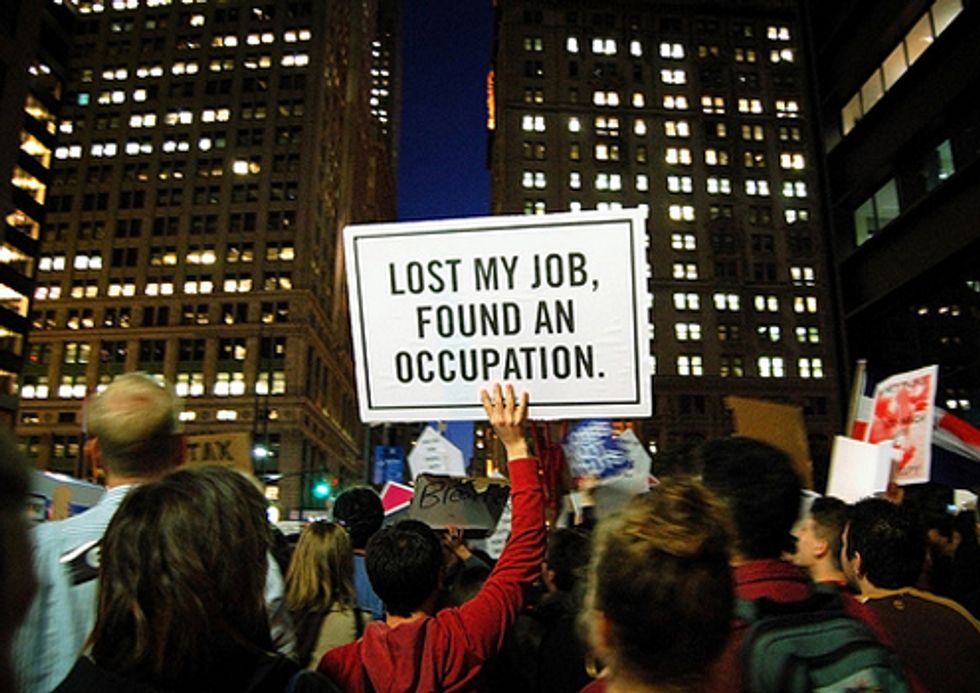 By Michele Simon
Given all the defeats and set-backs this year due to powerful food industry lobbying, the good food movement should by now be collectively shouting—I am mad as hell and I'm not going to take it anymore.
If you feel that way, I have two words of advice—get political.
I don't mean to ignore the very real successes—increases in farmers markets, innovative and inspiring programs such as Food Corps, and an increasingly diverse food justice movement, just to name a few. But lately, at least when it comes to kids' and junk food, we've been getting our butts kicked.
And it's not just because corporations have more money to lobby—of course they do. It's that too often, we're not even in the game. Or, we tend to give up too easily. While I know many food justice advocates who understand this is a political fight over control of the food system, sadly I cannot say the same thing about some of my public health colleagues. Too many nonprofits, foundations and professionals are playing it safe, afraid to take on the harder fights.
A politician from Maine I interviewed for my book was complaining to me about how food industry lobbyists were in his state capital every single day, while public health sent the occasional volunteer. His sage advice to us advocates—"You may be out-gunned, but you have to bring a gun."
Moreover, many groups have shown that you don't always even need a bigger gun. The small but impressive organization, Campaign for a Commercial-Free Childhood, proved that this summer when it won an important victory against Scholastic regarding its corporate-sponsored materials. How did they do it? A combination of smart campaigning and effective media. Not by playing nice.
Many public health folks I know are more comfortable with research and data than politics and lobbying. But if we are to make real progress, that has to change. Back in May, after a series of defeats, my colleague Nancy Huehnergarth wrote a great call-to-action. She noted how public health advocates and its funders are "very genteel" and that when industry lobbying beats us back, advocates just want more science, believing that the new data "will finally convince policymakers and the public to take action." But it doesn't work that way, as she explains:
The reality is that when going up against deep-pocketed, no-holds barred opponents like Big Food, Big Beverage and Big Agriculture, public health's focus on science and evidence is easily trumped by money and messaging. If public health advocates don't start rolling up their sleeves and using some of the same tactics used by industry, progress in this fight to create a safe, healthy, sustainable food system is going to move very slowly.
Now for some good news. We are already seeing positive signs that indeed, the food movement is getting more political. Recent defeats are helping to mobilize people even more, as folks realize the food industry is not playing nice, so we can't either. Here then, are just a few signs of hope for 2012:
1) The growing political movement opposing genetically-engineered foods, which includes a huge Just Label It campaign with an impressive list of supporters. Stay tuned also for the 2012 ballot initiative in California to label GMOs.
2) Powerful nonprofit organizations (who don't shy away from politics) getting involved for the first time in nutrition policy. For example, the Environmental Working Group's (EWG) recent report on sugary cereals called out the utter failure of Big Food's voluntary nutrition guidelines on marketing to children. Given EWG's one million-plus supporters, I can't wait to see where they go with this issue in 2012.
3) Increasing coverage in mainstream media that food industry marketing (and not just personal responsibility) bears much of the blame for the nation's public health crisis. Examples include a front page story in a recent Sunday edition of the San Francisco Chronicle and Mark Bittman's weekly Opinionator column in the New York Times, which is consistently smart and hard-hitting.
4) Speaking of media, as traditional investigative journalism outlets have become more scarce, a new breed of reporters may be born from an innovative project just launched in November—Food and Environmental Reporting Network. Its mission is to "produce investigative journalism on the subjects of food, agriculture, and environmental health in partnership with local and national media outlets." Judging from its first in-depth report on dairy CAFOs (concentrated animal feeding operations) in New Mexico, I am looking forward to more in 2012.
5) Finally, the Occupy movement, while still very young, has already inspired a number of food politics offshoots. As I wrote after Food Day, several others have penned calls to action showing the deep connections between corporate control of the food supply and economic injustice. (If you read just one, Tom Philpott's Foodies, Get Thee to Occupy Wall Street should convince you.) Also, the amazing grassroots organization Food Democracy Now (based in Iowa) recently organized an "Occupy Wall Street Farmers' March" to bring the message that family farmers are also the 99 percent. (Read organizer Dave Murphy's moving account of the successful event and watch the videos of the passionate speakers.)
There are many other amazing groups, farmers and eaters organizing all over the country (and the world) to take back our food supply from corporate profiteers. We've got plenty of challenges ahead, with the farm bill up for renewal and more school food nutrition standards to fight for, just for starters. I am hopeful that next year we will see the food movement get even more political. I just hope I can also say, by the end of 2012, that it was the year more of my public health colleagues joined in.
For more information, click here.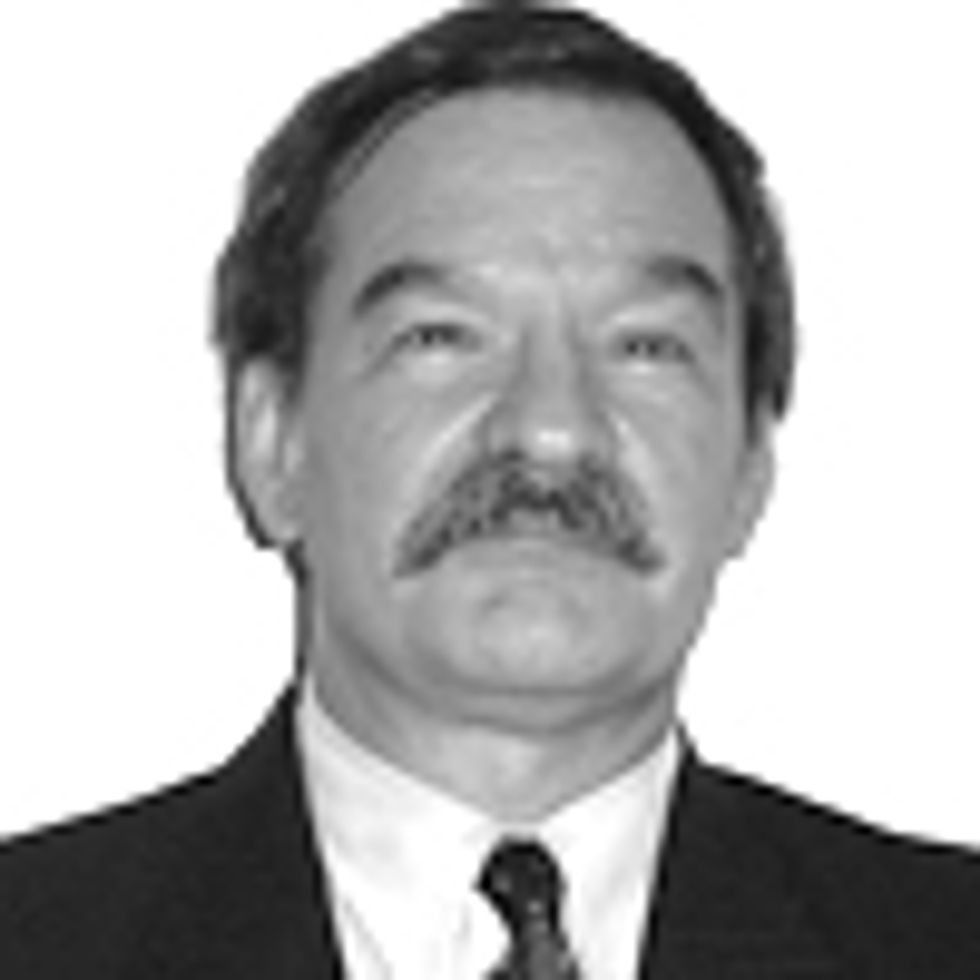 Amazing, just amazing. We win one a week ago on the tar sands pipeline—not a final victory but a big one—and then yesterday, the young (and older) people of Occupy Wall Street pull off a tremendously powerful day-long series of actions in response to the Bloomberg/police, middle-of-the-night Tuesday eviction at Liberty Park. It began with nonviolent disruption of Wall Street, continued with organized outreach, education and movement-building on the NYC subways and concluded with a massive march and rally of tens of thousands across the Brooklyn Bridge and into Brooklyn.
But not just this. Yesterday was also the day that the Delaware River Basin Commission, in response to the aggressive and effective organizing of the mid-Atlantic no-fracking movement, announced that it was canceling its planned meeting for this Monday. At this meeting they were likely going to lift a moratorium on fracking in the Delaware River basin area.
I can't remember ever in my life a week so full of concrete actions and victories which presage hope for the future.
Why is this happening? What is it in the air, over the internet, in the world, that is driving not just a popular upsurge for justice and democracy but actual victories, here in the U.S., in North Africa and elsewhere?
The movement of history. And the speed of communications today. These are two primary reasons.
Here is an edited version of something I wrote 11 years ago, at a point where the global justice movement had pulled off successful actions against the World Trade Organization in Seattle and the International Monetary Fund and World Bank in Washington, D.C. The words ring true for what is happening today:
"I recently received a letter from someone who quoted Karl Marx as having once said, 'History moves with the speed of communication.' This quote struck me.
"We are living in a time when communications are both near-instantaneous and potentially worldwide for an ever-growing number of people. Something which happens in one part of the world can be reported on or learned about at the same time it is happening all over the world.
"More significantly, with the advent of the internet, grassroots, labor, progressive, revolutionary and people's movements can be in direct, immediate contact, in an interactive way, with millions of people involved. The internet, through email lists, web sites, twitter, facebook and more, because it is not controlled by the ruling corporate elite, is becoming an increasingly powerful tool for the building of massive movements for progressive change. Without it, it is highly unlikely that the actions in Seattle last November and Washington, D.C. this past April would have attracted the numbers and had the immense political impact that they did.
"It seems to me that this makes it possible for positive change to take place much more rapidly than many of us might think. If it is true that the year 2000 is witnessing a rebirth of the kind of popular, activist, multi-issue movement that we haven't seen in 30 years in this country, and if history does indeed move 'with the speed of communication,' this first decade of the 21st century could well become a time of great historical significance.
"After all, it is a law of physics that 'things in motion tend to stay in motion.' If the new people's movement of the 21st century can hold together and keep building and interconnecting, there is no way to forecast how much we can do in a relatively short period of time."
What happened to that movement? It was overwhelmed by the 9-11-01 terrorist attacks and the government's wars in Afghanistan and Iraq. Many of those part of that movement shifted their focus to anti-war activism and, years later, the Obama Presidential campaign.
Another Obama Presidential campaign is getting underway, but I don't expect the people's power movement and the climate movement to repeat what happened in 2008. Instead, I expect, and will be doing what I can to build, a continuation of the kind of strategic nonviolent direct action and independent movement building we have been seeing in the U.S. since late August and the arrest of over 1250 people at the White House.
Some of those active in this movement will be critical supporters of Obama, others will support the Green Party, others won't have anything to do with elections, and that's all just fine. We can agree to disagree on tactics as far as our corporate- and two-party-dominated, undemocratic electoral system while we join forces to build the people's movement in the streets, in the schools, in the workplaces and communities.
While we keep making history in 2012.