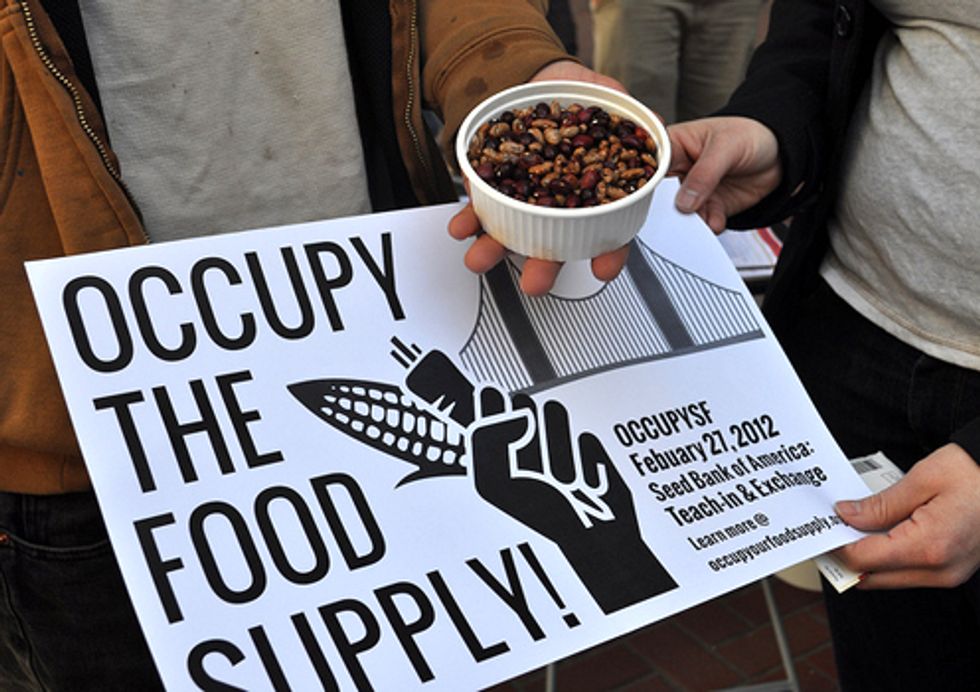 Organizers called the Feb. 27 Occupy our Food Supply day of action a resounding success. The day included more than 100 events across the globe, united an unprecedented alliance of more than 60 Occupy groups and 30 environmental, food and corporate accountability organizations, and featured prominent voices including Indian environmentalist Vandana Shiva, music legend Willie Nelson, actor Woody Harrelson, authors Raj Patel, Anna Lappe, Gary Paul Nabhan, author Michael Ableman and Marion Nestle, among others.
"At this point, we can barely keep up with all the events and blog postings," said Hillary Lehr, an organizer for Rainforest Action Network, which helped facilitate the day of action. "From mommy bloggers to Occupy groups, we are seeing an enormous spectrum of people respond to Occupy our Food Supply's call to resist corporate consolidation of our food systems and create socially and environmentally just local solutions. Plain and simple, it is clear that getting big food giants like Cargill and Monsanto out of our food system is an idea whose time has come."
Across the globe, online and offline, thousands participated in the events. Events included a 40 person seed exchange at the New York Stock Exchange hosted by Occupy Wall Street; the building of a community garden in Oakland hosted by Occupy the Food System Oakland; the 'stickering' of genetically modified foods at more than 20 Safeway and Whole Foods grocery stores across the country; more than 100 people in Wayzata, Minn. convening a Cargill call-in day to CEO Greg Page; and an 'evict Monsanto' protest is planned for Feb. 29 at the Monsanto offices in Lockhart, Texas.
"Every stage of the food system involves some sort of destructive or exploitive practice, and we really need to change that," said Alec Higgins with Occupy Wall Street Food Justice, which organized the seed exchange at the New York Stock Exchange. "Food is at the core of OWS values. We are coming together around this one thing that is so essential to our well being. It's what we eat."
Occupy our Food Supply also had an online face with a blogger and social media day of action, asking influential bloggers, social media users and blog sites to write on the corporate control of food. More than 75 blogs covered the day, from the prominent Huffington Post to the niche CivilEats and Curvy, Foody, Hungry. On Twitter, the event reported two to three posts per minute using the #F27 hasthtag.
Never have so few corporations been responsible for more of our food chain. Of the 40,000 food items in a typical U.S. grocery store, more than half are now brought to us by just 10 corporations. Today, three companies process more than 70 percent of all U.S. beef, Tyson, Cargill and JBS. More than 90 percent of soybean seeds and 80 percent of corn seeds used in the U.S. are sold by just one company—Monsanto. Four companies are responsible for up to 90 percent of the global trade in grain. And one in four food dollars is spent at Walmart.
The overwhelming support for Occupy our Food Supply underscores the unity between farmers, parents, health care professionals, human rights activists, food justice advocates and food lovers around the world who are increasingly viewing their concerns as different manifestations of the same underlying problem—a food system structured for short term profit instead of the long term health of people and the planet.
Supporting groups included: Bay Localize, Berkeley Association for Animal Advocacy, Biosafety Alliance, California Food and Justice Coalition, Chiapas Support Committee, Family Farm Defenders, Food Democracy Now, Food First, Foodchain Workers Alliance, Indigenous Environmental Network, National Family Farms Coalition, PAN (Pesticide Action Network), Pesticide Watch, Planting Justice, Occupy Big Food, Occupy Claremont, Occupy Cargill, Occupy DC, Occupy Denver, Occupy Farms, Occupy Fort Lauderdale, Occupy Food, Occupy Gardens Toronto, Occupy Jacksonville, Occupy MN/Seeds of Change, Occupy London, Occupy Monsanto, Occupy Philly Occupy Vacant Lots),  Occupy Porto Alegre (Brazil), OWS-Food Justice, OWS Puppets, OWS Sustainability, Occupy Santa Cruz, Occupy SF Environmental Justice Working Group, and Occupy the Food System-Oakland, Organic Consumer Association and many others.
See the full list of supporting organizations and events by clicking here.
For more information, click here.
EcoWatch Daily Newsletter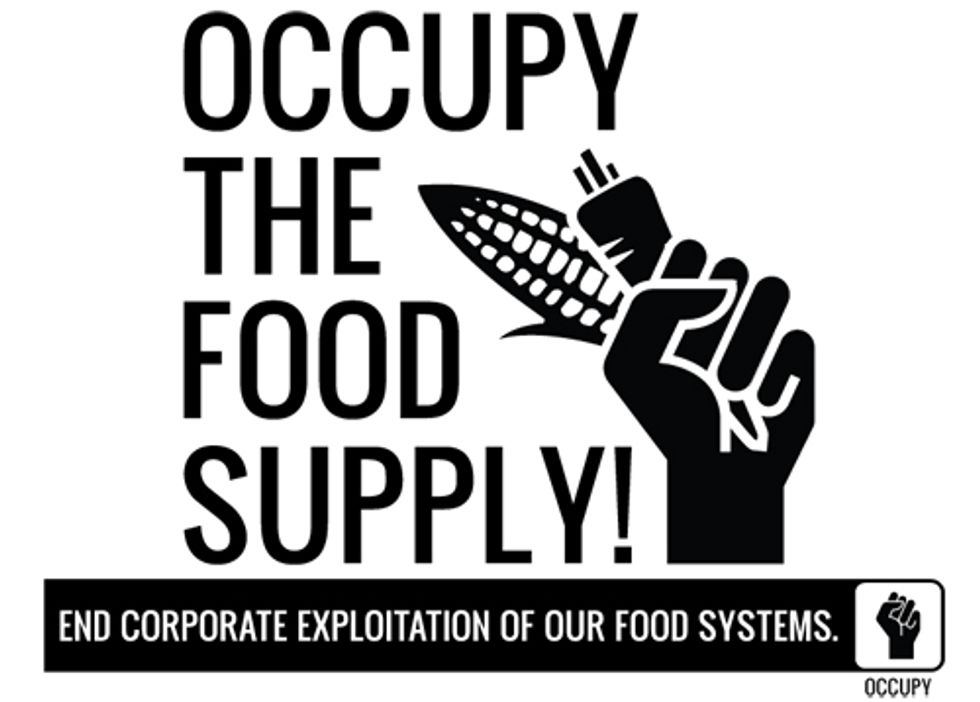 Occupy Our Food Supply is bringing together the Occupy, sustainable farming, food justice, buy local, slow food, and environmental movements for a global day of action on Feb. 27, 2012. Inspired by the theme of CREATE/RESIST, thousands will come together to creatively confront corporate control of our food supply and take action to build healthy, accessible food systems for all.
Industrial agribusiness corporations like Cargill, Monsanto, ADM and Dupont have gained runaway control of our food systems and to take them back, we'll need all the collective power we can manifest around the world. There are few things more personal than the food we put into our bodies every day. Let's ensure that we can stand by the food we eat from farm to fork.
Occupy Our Food Supply will be a major decentralized global day of food action and solidarity. Act locally to affect massive change globally—from hosting a sustainable potluck to planning a community garden to organizing a Tour of Shame featuring corporate food polluters in your area.
Register your event to stand up and be counted in the movement to Occupy Our Food Supply, or click the map to find an event near you and email the organizer to get involved.
Sign up to take action on Feb. 27 to Occupy Our Food Supply.
For more information, click here.
Like many other plant-based foods and products, CBD oil is one dietary supplement where "organic" labels are very important to consumers. However, there are little to no regulations within the hemp industry when it comes to deeming a product as organic, which makes it increasingly difficult for shoppers to find the best CBD oil products available on the market.
<p>Here you can learn about the importance of organic hemp oil, why it's better for the environment, and which CBD companies actually make trustworthy products with sustainable farming processes. origins which weigh heavily on many consumers who want to buy a product that's produced in the best way possible for not only themselves to ingest, but for the environment as well through sustainable farming methods. </p><h2>What Is CBD Oil?</h2><p>First things first, CBD stands for cannabidiol, and it's a cannabinoid found within cannabis sativa plants. This plant compound is believed to have many potential benefits, and it is primarily derived from hemp plants via a CO2 extraction process. </p><p>Since CBD is extracted from industrial hemp, which contains only trace amounts of THC (the psychoactive component in cannabis plants), this means that CBD won't make you feel high like marijuana, which has much higher levels of THC that causes psychoactive effects. Instead, the effects of CBD are much more subtle and promote a general sense of calm and relaxation in most users.</p><h2>What Makes a CBD Oil Organic?</h2><p>In terms of organic labels, perhaps the most important (and prominent) certification comes from the United States Department of Agriculture (USDA). This government organization has been labeling foods as "organic" for many years, but what exactly does this certification entail? Essentially, a label indicating that a product is "USDA Organic" or "Certified Organic" means that at least 95% of the ingredients are obtained from organic sources.</p><p>For a crop to be considered organic by the USDA, it must be grown without the use of industrial solvents, irradiation, genetic engineering (GMOs), synthetic pesticides, or chemical fertilizer. Instead, farmers rely on natural substances and <a href="https://www.usda.gov/media/blog/2012/03/22/organic-101-what-usda-organic-label-means" rel="noopener noreferrer" target="_blank">mechanical, physical, or biologically based farming</a> techniques to cultivate healthy and organic crops.</p><p>Before the passage of the 2018 Farm Bill, no hemp-derived products could be dubbed as "certified organic" since the hemp plant and its extracts were still categorized as a Schedule I Controlled Substance. However, it's still difficult for CBD companies to obtain a USDA certified organic label for their products due to the legal grey area that still surrounds CBD extracts. </p><p>Because of these challenges, and due to the fact that industrial hemp has only recently become an agricultural crop, very few CBD oils are USDA certified organic. Rather, many CBD products contain hemp extracts from plants that were grown in organic conditions but may not be federally certified.</p><h2>What are the Best Organic CBD Oil Brands?</h2><p><em>Each product featured here has been independently selected by the writer. If you make a purchase using the links included, we may earn commission.</em></p><em><br></em>