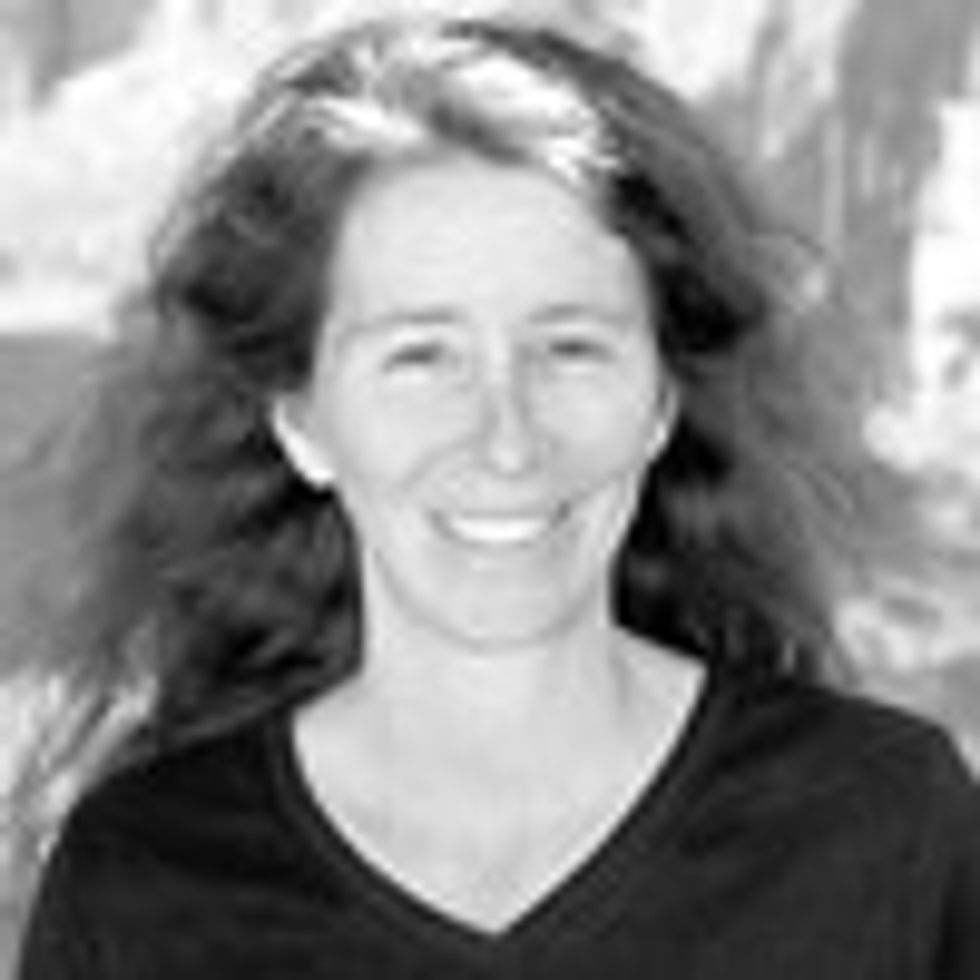 I'm honored to introduce David Orr, visionary leader of The Oberlin Project and Paul Sears Distinguished Professor of Environmental Studies and Politics at Oberlin College, at The City Club of Cleveland's Friday Forum on May 16 at Noon.
The Oberlin Project is a joint effort of the City of Oberlin, Oberlin College, and private and institutional partners to improve the resilience, prosperity and sustainability of this northwestern Ohio community with nearly 9,000 residents and 3,000 college students. The Oberlin Project, which launched in the summer of 2009, is revitalizing the local economy; eliminating carbon emissions; restoring local agriculture, food supply and forestry; and creating a new, sustainable base for economic and community development.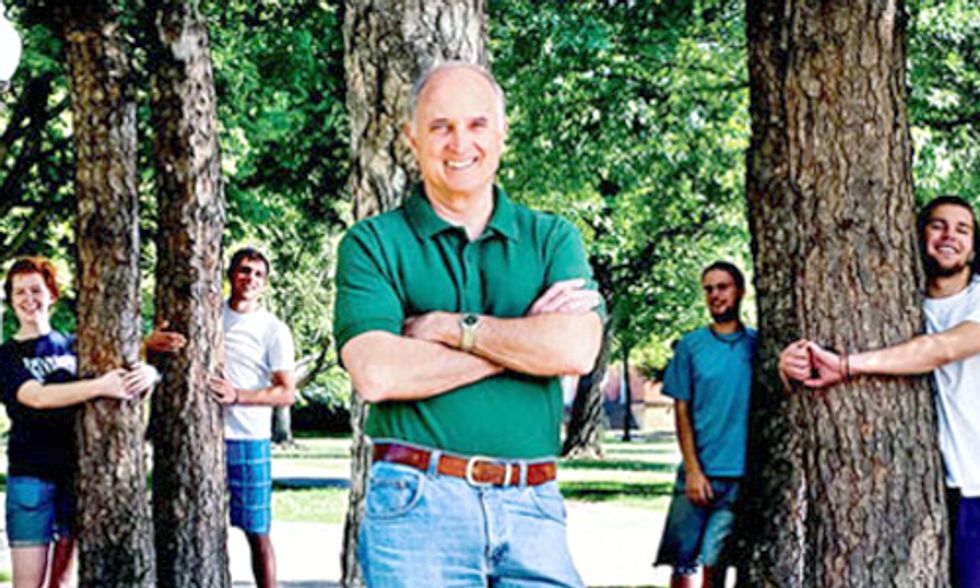 Orr is the recipient of six honorary degrees and other awards including the Millennium Leadership Award for Global Green, Bioneers Award and National Wildlife Federation National Conservation Achievement Award. His career as a scholar, teacher, writer, speaker and entrepreneur spans fields as diverse as environment and politics, environmental education, campus greening, green building, ecological design and climate change. He is the author of seven books and co-editor of three others.
Orr's vision for the Oberlin Project was first to ignite an all-encompassing joint venture by the town and Oberlin College that would then create a thriving, sustainable and environmentally friendly community.
The project goals include:
Creating one of the first climate positive cities in America by shifting the city and college to renewable energy sources, radically improving efficiency, sharply reducing carbon emissions and improving the economy in the process.
Creating new and supporting existing business ventures in energy efficiency and solar deployment, food and agriculture, and the sustainable use of local resources.
Conserving 20,000 acres of green space and developing a robust local foods economy to meet 70 percent of the community's consumption.
Creating an educational alliance between Oberlin College, Oberlin schools, Joint Vocational School and Lorain County Community College, focused on integrating sustainability into education at all levels.
Developing a 13-acre Green Arts District certified at the U.S. Green Building Council's LEED Platinum level.
Serving as a model that can be replicated in other communities.
Oberlin and Oberlin College are global leaders in sustainability. Oberlin is one of 18 Clinton Foundation Climate Positive Development Program cities (one of only three in the U.S.) that have committed to reducing its greenhouse gas emissions below zero. The city is on target to reduce its emissions by 50 percent of 2007 levels by 2015, with 90 percent of its electricity coming from renewable sources. To compliment those goals, the Climate Action Committee, a community-based group created by Oberlin City Council, developed a 2013 Climate Action Plan as a roadmap for transitioning to a climate positive community.
——–
YOU ALSO MIGHT LIKE
Samso: World's First 100% Renewable Energy-Powered Island Is a Beacon for Sustainable Communities
Which States Have the Most Solar Jobs?
Stanford Professor's 50-State Plan For 100-Percent Renewable Energy
——–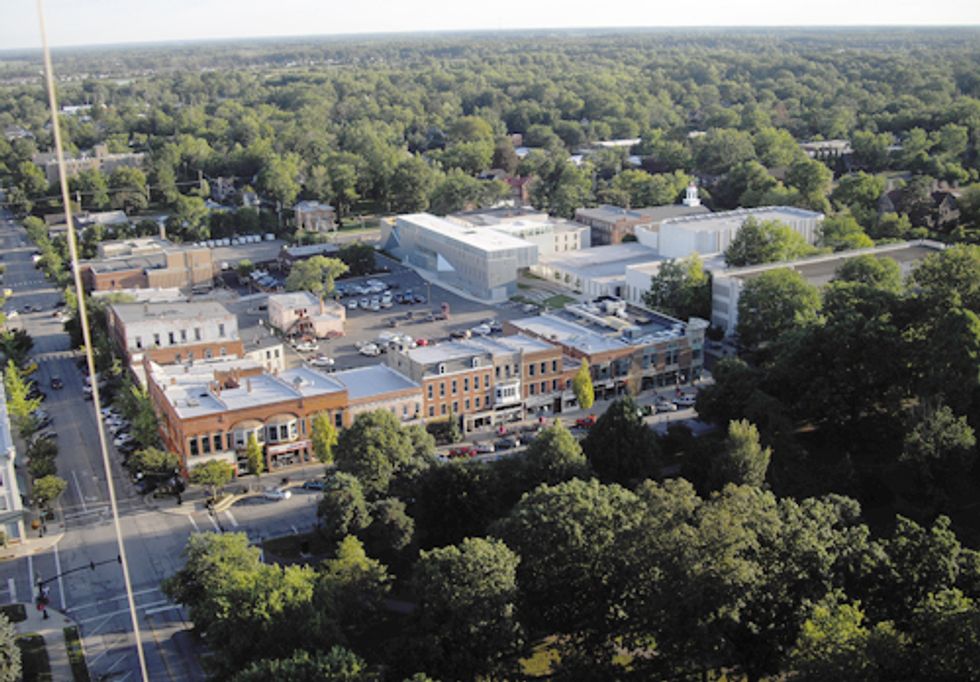 Despite the demise of federal climate change legislation, cities across the nation continue efforts started under the 2009 federal stimulus act to revitalize their communities and make them sustainable. One of the most inspiring examples is right here in Ohio.
The Oberlin Project is a collaboration among the City of Oberlin, Oberlin College, the city's municipal electric utility, as well as community and business stakeholders, to make Oberlin, Ohio the greenest little city in the U.S. and a national model for sustainable economic development. In the process, the project hopes to revitalize the ailing local economy, equip local residents with the green skills needed to do the work and create an educational laboratory for younger generations.
This effort builds off nationally-renowned environmental educator David Orr's past success in creating the first-of-its-kind "living building" that still wins architectural and sustainability awards a decade later. The Adam Joseph Lewis Center was designed by nearly 250 students and 20 design-group members charged to do no harm in the world.
The Oberlin Project applies this same high-road approach to community-wide green development. It recognizes that past practices of the conventional energy economy and low-road economic development strategies that produce vast amounts of waste, leave workers unemployed or earning low wages, communities impoverished, residents dependent on fossil fuels imported from out of state and the environment polluted. This project seeks to forge a new way forward. An approach that balances the three E's of sustainable development— economic development, environmental integrity and social equity—by driving demand for clean energy while leveraging green investments in a way that maximizes their value to the community.
The aggressive goals of the Oberlin Project require a holistic approach that addresses all energy-using and emissions-producing sectors. An inventory of the city's energy use and greenhouse gas emissions identified the need to reduce emissions from electric power generation, green the community's commercial and industrial sector, develop a more sustainable transportation system and promote energy saving opportunities for residents. Participating stakeholders are divided into working groups and challenged to develop sustainability strategies to achieve these goals.
In Ohio, half of all carbon emissions come from the electric power sector. One of Oberlin's greatest assets, however, is its community-owned electric utility that operates in the best interest of its citizenry rather than for profit maximization. Oberlin Municipal Light & Power is on track to secure 90 percent of its energy from local renewable energy resources by 2015—largely from landfill gas captured and turned into useful energy.
Doing so will not only significantly reduce the community's emissions, it will also stabilize customer rates, promote greater self reliance on local energy sources, keep the community's energy dollars in the region, and supply green power to local residents and businesses. Manufacturers located in Oberlin can tout that products are made with green power and a low carbon footprint. It's this kind of commitment to sustainability that convinced GreenField Solar, a designer of high-tech solar photovoltaic cells that also capture solar thermal energy, to move to Oberlin.
The local government and its anchor institution, Oberlin College, also plan to lead by example. The city and the college are analyzing their energy usage, setting goals to increase renewable energy generation, promoting energy efficiency, and developing green, local and efficient purchasing standards. The City of Oberlin completed a climate action plan, the Oberlin public school district is studying the concept of a consolidated, green school building and the Oberlin public library has undergone a green retrofit. Oberlin College is hoping to secure two megawatts of solar energy, has adopted campus building standards and is investigating geothermal heat pumps to replace the college's coal-fired heating plant, among other things.
To promote greater sustainability of Oberlin's transportation system, Oberlin College is developing a13-acre green arts district in the town square and planning a 20,000 acre greenbelt around the community to grow the market for local foods and explore other agricultural opportunities such as biogas. This effort is based on two key smart-growth principles— reinvestment in downtown, Main Street and existing infrastructure to create a vibrant town center, and preservation of natural land, in part by promoting agricultural activities and supporting efforts to process rural resources.
Visions of a multi-modal transportation system that could include electric vehicle infrastructure, light rail, street cars, bike- and pedestrian-friendly streets and car-sharing services are being discussed. Innovative ideas to green the commercial and industrial sector, such as ecoindustrial parks, are on the table, as is a city-scale home retrofit program to promote energy savings for residents.
Keep your eye on this exciting project as it develops. If it can be done in a small town of 8,000 residents, where resources are limited, it can be done anywhere.
For more information, contact Amanda Woodrum at awoodrum@policymattersohio.org.
EcoWatch Daily Newsletter