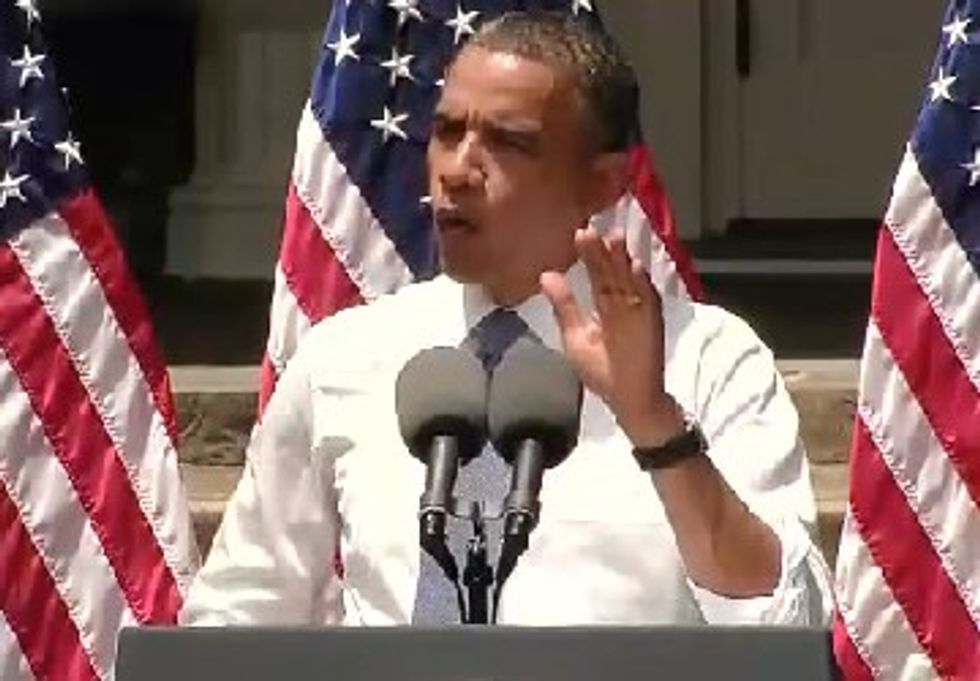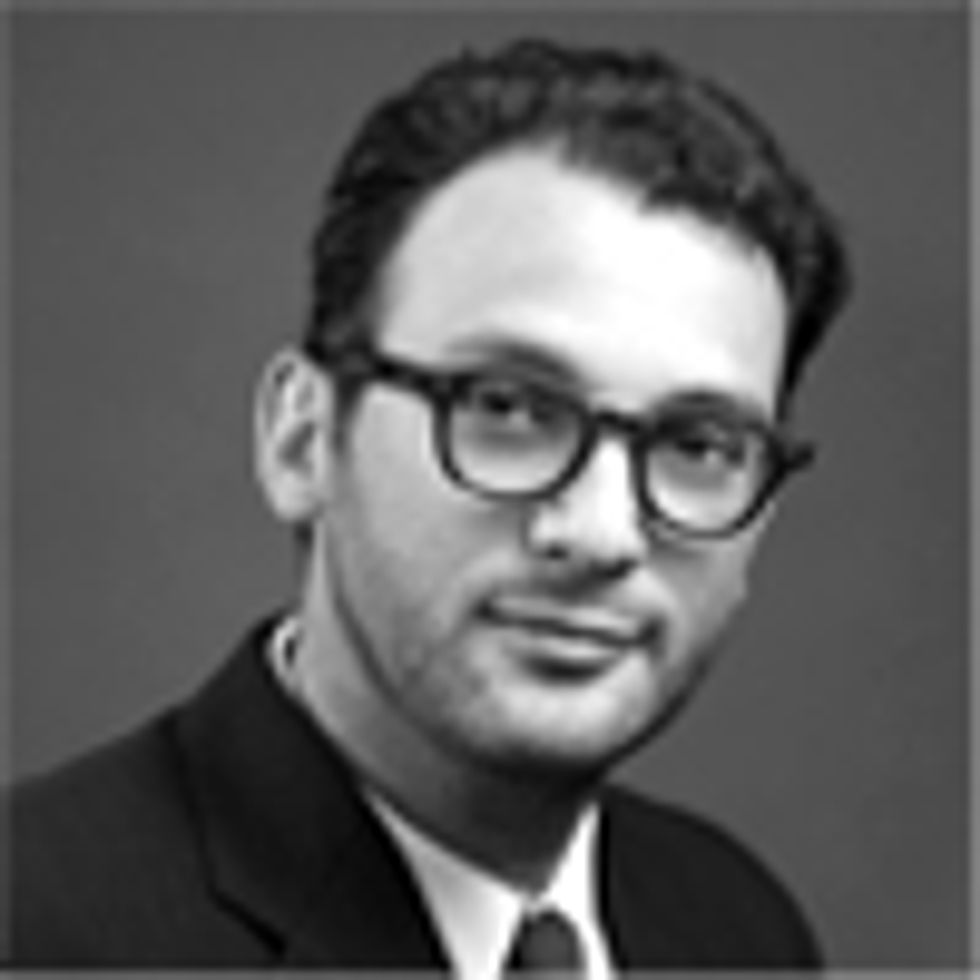 It's amazing to watch the bully pulpit, with all the power of this president's ability to command words, focus on the greatest crisis of our generation. I applaud the President for tackling climate change in his speech today. It's the most important issue we face. Reducing coal pollution, increasing energy efficiency, stimulating more renewable energy—it's about time. Especially because Dr. Hansen and other climate scientists have shown that time is running out.
However, all the good that President Obama will do with his reductions in CO2 from power plants will be undone by his embrace of fracked gas. It is clear that he does not have the right information on fracked gas. His administration has allowed the gas industry to influence far too much of this process. In March, the President called a meeting to discuss his pending climate plan. The group of 14 energy-industry leaders—nine were CEOs of energy companies—included the head of the oil and gas giant Anadarko; Southwest Gas; Edison Electric Institute; FedEx, which pushes a switch to gas vehicles; and former Colorado Gov. Bill Ritter, a longtime booster of gas.
 
As a result, this plan has become a wholesale endorsement of increased natural gas use in America and abroad. For all the correct emphasis on the dangers of climate change, the plan is: frack now, frack here and frack all over the world. Fracked gas isn't a bridge fuel—it's a gangplank.
The President's Climate Action Plan says methane is 20 times more powerful a greenhouse gas than carbon dioxide (CO2). This is incorrect, it's far more than that—for the first 20 years, methane is 80 to 105 times more powerful, than CO2 as a warming agent in the atmosphere. This means you need between 80 to 100 pounds of CO2 to equal the warming potential of 1 pound of methane. So even limited methane leaks from fracked wells (not to mention compressors and pipelines) can make fracked gas worse for climate than coal. And the leaks aren't minimal or easily solvable. And methane is leaking like crazy. A series of peer reviewed studies have now put the leakage rates at between seven and 17 percent. Above one to three percent, the science tells us that developing fracked gas is worse than coal for the atmosphere.
 
Additionally there is the large problem of water contamination from drilling and fracking. A large percentage of the wells leak—as industry's own documents and other studies show. These documents come from drilling giant Schlumberger, Archer Oil & Gas, Southwestern Energy and Society of Petroleum Engineers, to name just a few. A leaking well can't be prevented, and it can't usually be repaired thousands of feet below the earth. The great pressures under the earth, shrinkage, vibrations from nearby drilling, temperature changes—these all crack the cement that protects the well from leakage.
 
Coal is abhorrent. Coal production and use needs to be curtailed immediately, no new coal plants should be built and those that exist now need to be shut down. But the same is true for natural gas fired power plants. We do not want to see greenhouse gas emissions go down in the coal sector at the power plants only to rise from leaking gas in the gas fields, in the transmissions systems and the delivery systems in our major cities.
 
I'm glad the President is going to study methane leakage—what he will find will make fracking impossible. See Gasland Part II if you want to see huge clouds of methane billowing out from fracked wells. It airs on HBO July 8.
Exporting fracked gas is even worse. It takes more energy to convert the gas to liquid for shipment, negating any greenhouse advantage even more. And meanwhile, with the high percentage of well cement that cracks and leaks, and no way to prevent it given the pressures under the earth, the President's plan will ruin drinking water for many families without any climate advantage. What's the sense of that?
 
I am glad the President is increasing energy efficiency investments. But the scale could be so much larger. We could save far more energy than we will ever produce with fracking by just insulating all the buildings in America. This will create far more jobs than fracking, and save consumers money forever. Let's do this instead of fracking hundreds of thousands of leaky wells in populated areas.
The President should meet with the families whose lives have been ruined by fracking, as depicted in Gasland Part II. He should meet with Dr. Tony Ingraffea of Cornell and other long-time oil and gas experts not currently in the pay of industry to learn the truth. We respect his sincere desire to do something about climate change. Fracking for gas will not help and it may just make the accelerate climate change beyond the current status quo.
Visit EcoWatch's FRACKING page for more related news on this topic.
——–
Sign the petition today, telling President Obama to enact an immediate fracking moratorium:

EcoWatch Daily Newsletter
[Editor's note: This op-ed by Josh Fox is in response to an op-ed by Thomas Pyle—president of the Institute for Energy Research, a pro-industry nonprofit organization—on Real Clear Energy.]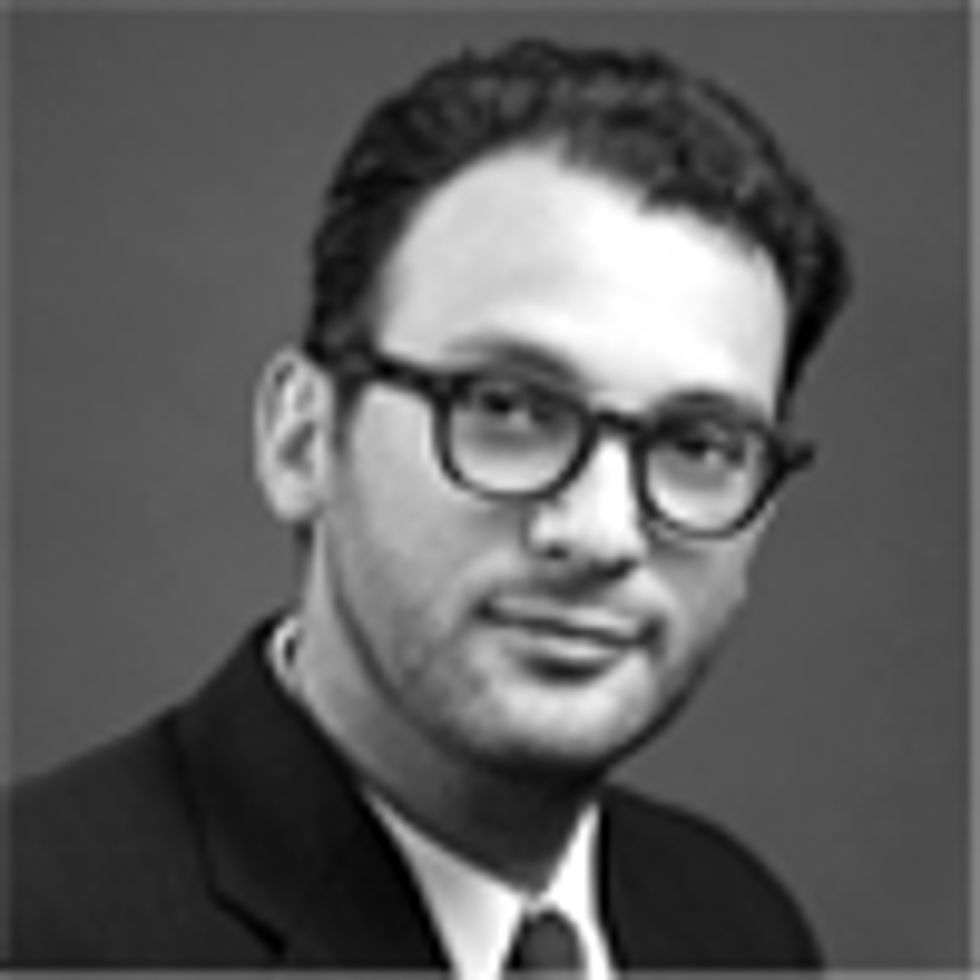 Industry's denial of the dark side of natural gas fracking shouldn't fool anyone. Thomas Pyle's claim on Real Clear Energy that there is not one "confirmed case of groundwater contamination" from fracking is the big lie, repeated often. It's like saying cigarettes don't cause cancer. And industry's intentional disinformation campaign comes from the same tobacco playbook (it even uses the same PR firm).
After spending the past four years traveling the country and meeting people whose lives were wrecked by fracking operations at their doorstep, I've learned the oil and gas industry is willfully misleading the public. Let's look at each of Pyle's misrepresentations one by one:
"Hydraulic fracturing has been in use for more than 60 years without any confirmed cases of groundwater contamination."
Fracking—when taken to mean the entire process of developing an oil or gas well—has conclusively been linked to water contamination by federal and state environmental authorities many times. In Dimock, Pennsylvania, for example, the PA Department of Environmental Protection's (DEP) determined that methane contamination of the local water supply was due to gas drilling, specifically finding that 18 drinking-water wells in the area were affected by the operations of Cabot Oil & Gas.1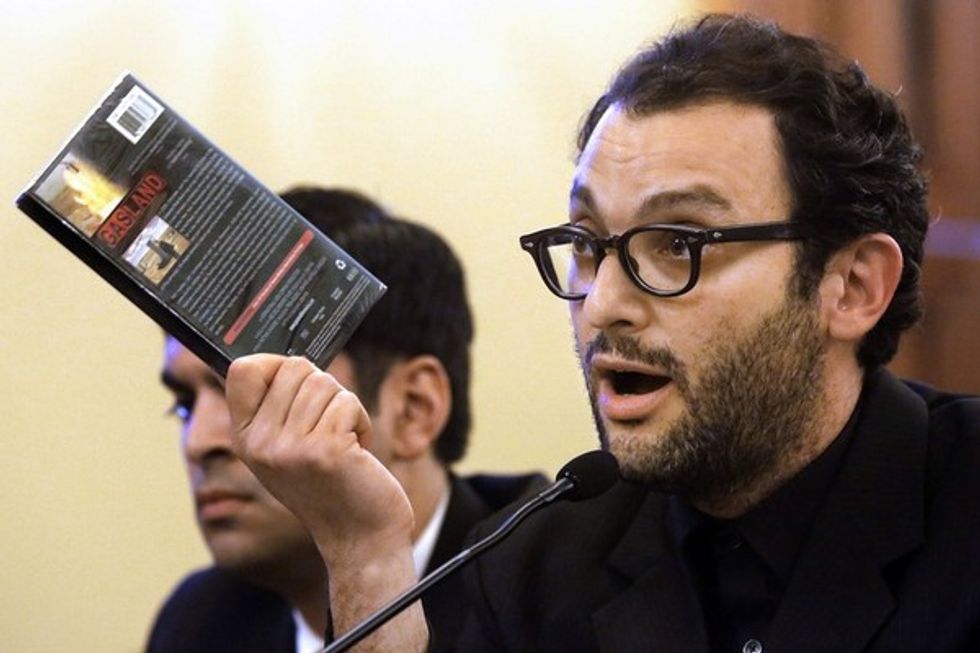 The U.S. Environmental Protection Agency (EPA) tests of Dimock water also clearly showed contaminants that could be traced to the fracking activities of Cabot Oil & Gas. Independent expert Dr. Rob Jackson from Duke University also analyzed EPA's data and concluded that the water was contaminated by Marcellus shale gas fracked by Cabot.2
When oil industry spokespeople say "not one well" has been contaminated by fracking, it's deeply and dangerously misleading. The claim itself requires the parsing of language so that "fracking" only refers to one step in the process, namely the point when a toxic slurry of water and chemicals is pumped at enormous pressure into the ground to fracture the shale rock and free the gas within.
Industry knows it's the drilling and well construction stages where it all breaks down—literally. As the drill penetrates deep into the earth, it punctures different gas pockets that can mix together. The well around the hole is generally sealed with cement. But this thin layer of cement—the supposed barrier to gas and chemical migration into drinking water supplies—is notorious for cracking and leaking.
Industry's own documents show that 5 percent of oil and gas wells leak immediately and up to 60 percent of them fail over a 30-year time period. Industry estimates that about 35 percent of all oil and gas wells are leaking now. These conclusions aren't my own: They come from drilling giant Schlumberger, Archer Oil & Gas, Southwestern Energy, Society of Petroleum Engineers, and Colorado Oil and Gas Conservation Commission, to name just a few.3
Why do so many wells leak? Pressures under the earth, temperature changes, ground movement from nearby wells and shrinkage all crack and damage the thin layer of brittle cement that seals the wells. And getting the cement right as drilling goes horizontal is extremely challenging. Meanwhile, once the cement leaks, no one can go thousands of feet under the earth to repair it.
And it is not a question of stronger cement or better technology. Industry's own documents say that "strength is not the major issue in oil well cementing under any circumstances … cement clearly cannot resist the shear stress that is the most common reason for oil well distortion and rupture during active production."4 In other words, the great pressure underground will cause a significant proportion of wells to fail no matter what.
Fracking has got to be seen as the sum of all parts of the operation. While the gas industry is busy playing semantics, people's health, lives and property is being compromised.
 "[W]hen water from a kitchen faucet is set ablaze … the stunt is completely unrelated to drilling; rather it's the result of naturally occurring methane."
The flaming faucets documented in Gasland I and II are the product of natural gas migration into water supplies due to fracking right next door. Numerous investigations have confirmed this fact, including studies by the U.S. Environmental Protection Agency, the Pennsylvania Department of Environmental Protection, and many others.5 When industry says no, that's not true, it's telling you to believe in some giant conspiracy theory—that families all across the country are lying in reporting that their wells never flamed before fracking.
Piling on the evidence, Duke University recently conducted a peer-reviewed study that links water contamination with nearby drilling and fracking, concluding that water wells near drilling and fracking operations were 17 times more likely to contain elevated levels of methane.6 Seventeen times!
"[S]hale gas drilling stands accused of methane contamination. But in April, Pennsylvania's Department of Environmental Protection concluded that naturally occurring shallow gas was responsible for contaminating well water of the three private homes in question."
The Pennsylvania Department of Energy issued a consent order specifically concluding that 18 drinking-water wells in the area were affected by the drilling and fracking operations of Cabot Oil & Gas.7
"Even the Environmental Protection Agency's groundwater studies cited by Fox were so deeply flawed that then-EPA administrator Lisa Jackson publicly disputed them."
Here's what Lisa Jackson really said, as captured in an on-camera interview with her for Gasland II: "We do have cases where we believe we see many cases of groundwater contamination and drinking water contamination that are, if not brought on entirely by natural gas production, were exacerbated by it. Not just methane, which is natural gas, but other contaminants as well."
"Domestic energy production is leading to a more secure energy future and economic prosperity here at home."
First, we don't use gas to power cars—save a few niche city bus fleets—nor oil to generate electricity, so the "energy independence" hype is truly misleading. Much of the gas fracked in the U.S. will end up overseas. Currently gas in Europe costs about 3 times more per unit than it does in the U.S. Prices in Asia are even higher. These realities are leading to an explosion of permitting requests for the construction of Liquefied Natural Gas terminals on our coasts for the purpose of transporting gas overseas.
What's more American prosperity will be gutted anyway if we continue to flood the atmosphere with heat-trapping gases like carbon dioxide and methane. Some say gas is a bridge to get us over the climate hump because it's cleaner than coal. But this ignores the leakage of methane—a heat-trapping gas up to 105 times as potent as carbon dioxide over 20 years. Experts have said anything more than a 2 percent leakage rate of methane means any climate benefits of gas over coal are voided.8 Results now coming in from the field show leakage rates between 7 and 17 percent9—making natural gas from fracking way worse than coal as far as climate is concerned.
The explosion of fracking across the American landscape is being painted by industry as a blessing to us all. But for the families I've met with, it's the worst kind of curse. Lives upended, forced to move, health hanging in the balance—these are the "blessings" families I now know well are experiencing. Don't believe the hype. See the film and judge for yourself.
This op-ed originally appeared in Real Clear Energy.
Visit EcoWatch's FRACKING page for more related news on this topic.
--------
waterlust.com / @tulasendlesssummer_sierra .
Each product featured here has been independently selected by the writer. If you make a purchase using the links included, we may earn commission.
The bright patterns and recognizable designs of Waterlust's activewear aren't just for show. In fact, they're meant to promote the conversation around sustainability and give back to the ocean science and conservation community.
Each design is paired with a research lab, nonprofit, or education organization that has high intellectual merit and the potential to move the needle in its respective field. For each product sold, Waterlust donates 10% of profits to these conservation partners.
Eye-Catching Designs Made from Recycled Plastic Bottles
waterlust.com / @abamabam
The company sells a range of eco-friendly items like leggings, rash guards, and board shorts that are made using recycled post-consumer plastic bottles. There are currently 16 causes represented by distinct marine-life patterns, from whale shark research and invasive lionfish removal to sockeye salmon monitoring and abalone restoration.

One such organization is Get Inspired, a nonprofit that specializes in ocean restoration and environmental education. Get Inspired founder, marine biologist Nancy Caruso, says supporting on-the-ground efforts is one thing that sets Waterlust apart, like their apparel line that supports Get Inspired abalone restoration programs.
"All of us [conservation partners] are doing something," Caruso said. "We're not putting up exhibits and talking about it — although that is important — we're in the field."
Waterlust not only helps its conservation partners financially so they can continue their important work. It also helps them get the word out about what they're doing, whether that's through social media spotlights, photo and video projects, or the informative note card that comes with each piece of apparel.
"They're doing their part for sure, pushing the information out across all of their channels, and I think that's what makes them so interesting," Caruso said.
And then there are the clothes, which speak for themselves.
Advocate Apparel to Start Conversations About Conservation
waterlust.com / @oceanraysphotography
Waterlust's concept of "advocate apparel" encourages people to see getting dressed every day as an opportunity to not only express their individuality and style, but also to advance the conversation around marine science. By infusing science into clothing, people can visually represent species and ecosystems in need of advocacy — something that, more often than not, leads to a teaching moment.

"When people wear Waterlust gear, it's just a matter of time before somebody asks them about the bright, funky designs," said Waterlust's CEO, Patrick Rynne. "That moment is incredibly special, because it creates an intimate opportunity for the wearer to share what they've learned with another."
The idea for the company came to Rynne when he was a Ph.D. student in marine science.
"I was surrounded by incredible people that were discovering fascinating things but noticed that often their work wasn't reaching the general public in creative and engaging ways," he said. "That seemed like a missed opportunity with big implications."
Waterlust initially focused on conventional media, like film and photography, to promote ocean science, but the team quickly realized engagement on social media didn't translate to action or even knowledge sharing offscreen.
Rynne also saw the "in one ear, out the other" issue in the classroom — if students didn't repeatedly engage with the topics they learned, they'd quickly forget them.
"We decided that if we truly wanted to achieve our goal of bringing science into people's lives and have it stick, it would need to be through a process that is frequently repeated, fun, and functional," Rynne said. "That's when we thought about clothing."
Support Marine Research and Sustainability in Style
To date, Waterlust has sold tens of thousands of pieces of apparel in over 100 countries, and the interactions its products have sparked have had clear implications for furthering science communication.
For Caruso alone, it's led to opportunities to share her abalone restoration methods with communities far and wide.
"It moves my small little world of what I'm doing here in Orange County, California, across the entire globe," she said. "That's one of the beautiful things about our partnership."
Check out all of the different eco-conscious apparel options available from Waterlust to help promote ocean conservation.
Melissa Smith is an avid writer, scuba diver, backpacker, and all-around outdoor enthusiast. She graduated from the University of Florida with degrees in journalism and sustainable studies. Before joining EcoWatch, Melissa worked as the managing editor of Scuba Diving magazine and the communications manager of The Ocean Agency, a non-profit that's featured in the Emmy award-winning documentary Chasing Coral.
By Jennifer Kril
Increased natural gas and oil development is part of the climate change problem, not the solution.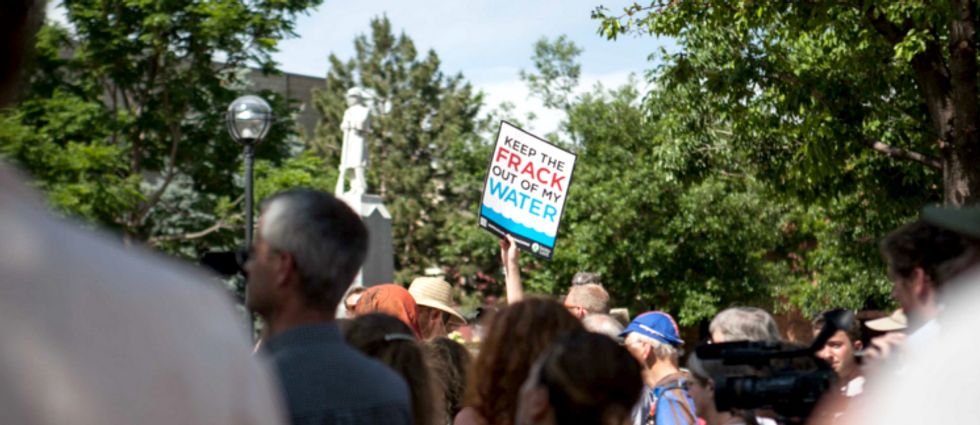 President Obama should know this. His own agencies are effectively telling him so. 
NOAA studies based on actual measurements of methane emissions from natural gas development, transport and consumption, report that the methane leakage rate is much higher than commonly assumed. It's so high, in fact, that natural gas—from gas well to consumption—is more harmful to climate than coal because methane is a much more powerful greenhouse gas than carbon dioxide.
And the President's Climate Action Plan reads, "Curbing methane emissions is critical to our overall effort to address global climate change."
Yet, later in the same plan the President promotes the increased use of natural gas—mentioning it in the same breath as renewables.
The recent shale gas boom is made possible by hydraulic fracturing. And at the same time shale gas' methane leakage problem is increasing climate change, this boom is also depleting the precious water resources that are being made increasingly scarce by climate change. And communities are paying the price. For example, drilling-impacted Texans are increasingly concerned about the millions of gallons of water necessary to frack each well, with some towns starting to run dry.
"All of the above" may have been a winning energy campaign strategy. But climate change doesn't answer to campaign contributors.
Instead of pushing for more oil and gas drilling, the solution to catastrophic global warming is as obvious as the problem: encourage the use and development of conservation and renewables, and discourage the use and development of fossil fuels.
And it's not just environmentalists that think so. A recent report by U.S. military advisors stated our choice clearly:
Our consumption of oil and other fossil fuels contributes to climate change, which poses growing risks to our infrastructure, livelihoods, and national security. Using more natural gas and oil, even if domestically produced, neither frees our economies from global oil prices nor checks the greenhouse gas emissions that threaten future generations. The only sustainable solution to this dual challenge is to improve our energy efficiency and diversify our energy sources to include cleaner and renewable power.
The President has an important choice to make. He can choose to ignore science—as climate change deniers still do—and support dirty fossil fuels like fracking-enabled oil and gas development, and the Keystone XL tar sands pipeline. Or he can follow common sense, and his own scientists, and shift the resources and brainpower that have supported dirty energy to instead encourage the use of conservation and renewables.
The right choice is clear as the clean energy future we all are looking for.
Visit EcoWatch's CLIMATE CHANGE page for more related news on this topic.
——–
Click here to tell Congress to Expedite Renewable Energy

Watch live today at 1:55 EST as President Obama unveils his climate action plan:
Visit EcoWatch's CLIMATE CHANGE page for more related news on this topic.
——–
Click here to tell Congress to Expedite Renewable Energy