By Steve Horn
A recent DeSmogBlog investigation reveals that Robert Bauer, former White House Counsel and President Obama's personal attorney, works at the corporate law firm Perkins Coie LLP, which does legal work for TransCanada's South Central Liquified Natural Gas (LNG) Project, formerly known as Alaska Gas Pipeline Project.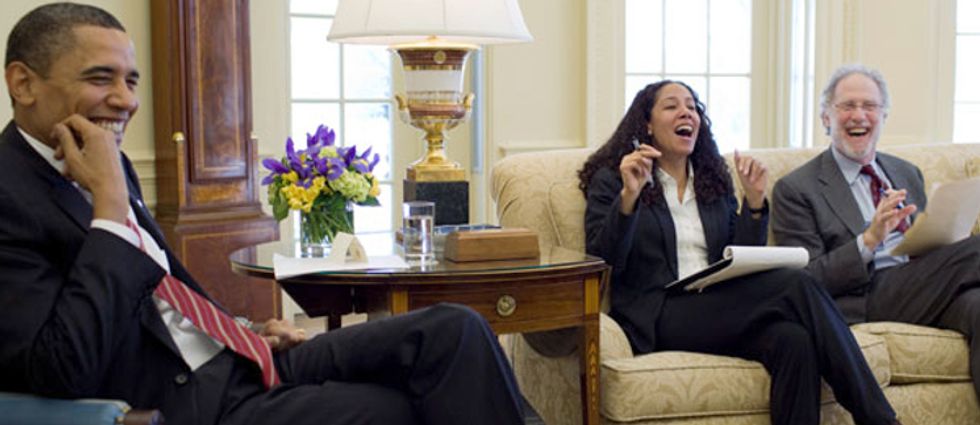 Furthermore, Dan Sullivan, current Commissioner of Alaska's Department of Natural Resources, and former Alaska Attorney General and former Assistant Secretary of State in the Bush Administration, is also a former Perkins attorney. 
These findings come in the immediate aftermath of a recent investigation revealing the contractor hired by Obama's U.S. State Department to do the Supplemental Environmental Impact Statement for the northern half of TransCanada's Keystone XL tar sands export pipeline—Environmental Resources Management, Inc. (ERM Group) —lied on its June 2012 conflict-of interest filing. ERM Group checked the box on the form saying it had no current business ties to TransCanada.
In fact, ERM—a member of the American Petroleum Institute, which has spent more than $22 million lobbying on tar sands and Keystone XL since 2008—does maintain business ties to TransCanada, the investigation revealed. This includes an ongoing consulting relationship with South Central LNG, co-owned by TransCanada, ExxonMobil, BP and ConocoPhillips.
Under 18 U.S.C. § 1001, making a "materially false, fictitious, or fraudulent statement or representation...[to the] executive, legislative or judicial branch of the Government of the U.S." is a crime punishable by up to five years in jail. 
On top of his job at Perkins Coie, Bauer—a well-known architect of bending campaign finance law to allow more corporate money to flood into electoral races—served as general counsel to President Obama's 2012 re-election campaign. He also serves as general counsel to the Democratic National Committee and did electoral law work for John Kerry's 2004 presidential campaign. 
His wife, Anita Dunn is the co-owner of SDKnickerbocker, and former Obama Communications Director, was senior advisor for Obama's 2012 re-election campaign and is the former communications director for the Democratic Senatorial Campaign Committee under then-Senator Kerry. She's met with top Obama administration officials more than 100 times since leaving in 2009, according to a recent New York Times investigation. 
Dunn currently does public relations work on behalf of TransCanada and freight rail industry lobbying group, American Association of Railroads. The tar sands pipeline boom comes alongside a freight rail boom to carry tar sands crude and fracked oil from North Dakota's Bakken Shale.
"ERM lied on its conflict of interest disclosure form, and State was either asleep at the wheel or chose to look the other way," Friends Of the Earth's Ross Hammond told The Washington Post in a recent piece commenting on ERM's "Pinocchio moment."
Given the myriad ties that bind, "looking the other way" appears more plausible. 
Perkins Coie's Legal Bidding for Democrats, TransCanada Alaska Gas Pipeline Project
Perkins Coie is a global firm with 19 offices worldwide and maintains close ties to the Democratic Party above and beyond Bob Bauer. Bauer's colleague Mark Ellis, for example, does legal work on behalf of the "Democratic Senatorial Campaign Committee, the Democratic Congressional Campaign Committee, the Democratic Governors Associations and numerous U.S. senators and representatives and their campaigns," according to his Perkins Coie biography.
The Oil and Gas legal work portion of Perkins' website highlights its legal work in Alaska, "in Alaska, our lawyers have long represented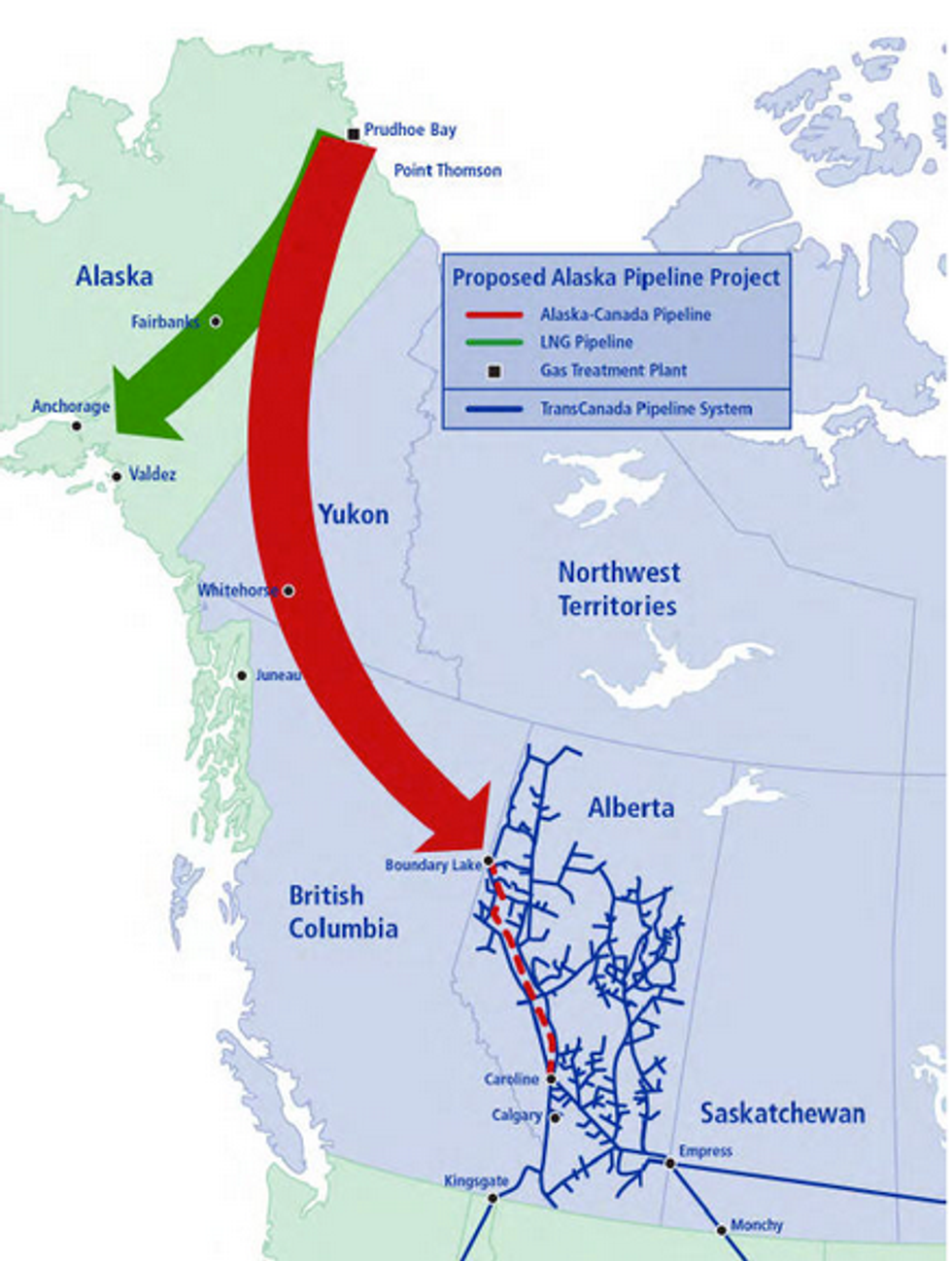 leading oil and gas companies on the North Slope and the Cook Inlet...We are extensively involved in efforts to develop the Point Thomson field and commercialize Alaska's natural gas resources with a pipeline to Lower 48 markets." 
The "efforts to...commercialize Alaska's natural gas resources with a pipeline to Lower 48 markets" that Perkins' website refers to is the South Central LNG Project co-owned by TransCanada.
"The project is designed to connect Alaska's North Slope natural gas resources to new markets and deliver a reliable and secure source of clean burning energy for decades to come," explain TransCanada and ExxonMobil on the original Alaska Gas Pipeline Project website. "TransCanada and ExxonMobil have the expertise, experience and financial capability to develop what would be one of the largest privately funded energy projects in the history of North America."
Before providing legal aide to South Central LNG, Perkins helped the Trans-Alaska Pipeline System (TAPS)—co-owned by Koch Industries, ExxonMobil, BP, ConocoPhillips and Chevron and often referred to as the Alyeska Pipeline—get up and running. TAPS takes oil from the Alaska North Slope to the Valdez Marine Terminal, home of the Exxon Valdez spill. 
Perkins' legal aide, in fact, made TAPS a reality according to an interview appearing online with Perkins' veteran attorney Guy Martin. Martin was instrumental in opening Perkins' office focusing on Alaska in Washington DC. 
"I actually took a little, first-floor townhouse on Capitol Hill, and opened what was really a two-or three-person office. It was the first state office, and we worked pretty much exclusively on the pipeline," said Martin. "The Trans-Alaska Pipeline Act was passed as the direct result of the passing of the Settlement Act." 
Perkins Coie attorney L. John Iani—former Region 10 (which includes Alaska) Environmental Protection Agency administrator from 2001-2004 under President George W. Bush—also formerly lobbied for the Alaska Gas Pipeline Project working for TransCanada from 2005-2008, Congressional lobbying disclosure records show. He did so while working for Van Ness Feldman from 2004-2010, a firm that today lobbies on behalf of TransCanada's Keystone XL. 
Perkins still does legal work on behalf of TAPS and defended it in the 2010 case Alyeska Pipeline Service Company v. Pipeline and Hazardous Materials Safety Administration. 
Alaska Department of Natural Resources Run by Former Perkins Attorney 
Alaska Department of Natural Resources (DNR) Commissioner Dan Sullivan formerly worked at Perkins Coie from 1996-2006. His task as head of Alaska's DNR, by law, is to serve as an oil and gas industry watchdog. As such, he will aid in overseeing whether South Central LNG becomes a reality. Sullivan—it's important to remember—was named Attorney General by former Alaska Republican Gov. Sarah Palin of "drill baby, drill" fame in June 2009.
Prior to his appointment as Attorney General, Dan Sullivan served as Assistant Secretary of State during the Bush administration, reporting to Secretary of State Condoleezza Rice. Sullivan's full title was Assistant Secretary for Economic, Energy and Business Affairs. 
Wikileaks diplomatic cables reveal that while at the State Department, Sullivan helped negotiate oil and gas deals with Kazakhstan, Azerbaijan, Turkey, Norway, the United Arab Emirates, Pakistan, Turkmenistan and France.    
It was also under Bush and during Sullivan's time at the State Department that the original TransCanada Keystone tar sands pipeline was approved in March 2008. Three months later, in June 2008, TransCanada proposed Keystone XL to the State Department. 
In March 2012, President Obama issued an Executive Order to expedite the building of Keystone XL's southern half from Cushing, OK to Port Arthur, TX. It is the northern, border-crossing half whose final destiny is now in the hands of President Obama and Secretary of State John Kerry.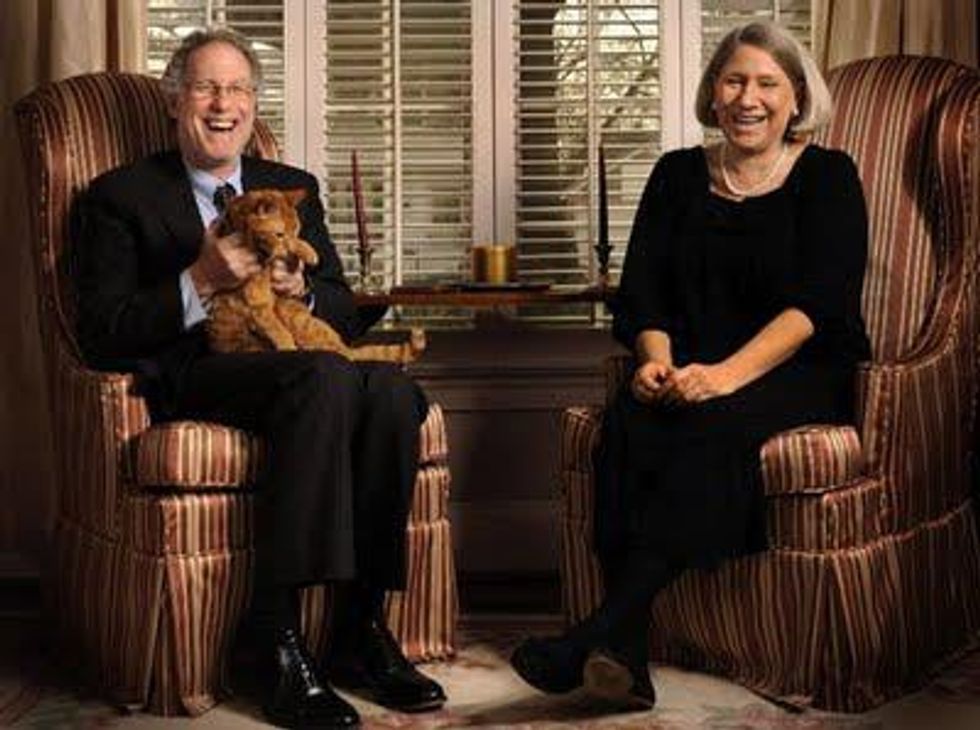 "Americans Know a Rat When They Smell One" 
Anita Dunn will likely be working overtime in the coming weeks and months using her insider/outsider status to ensure its approval on behalf of the client she shares with her husband's law firm, TransCanada. 
"Only in the ethically-challenged world of K Street lobbyists could it be considered OK for a power couple like Dunn & Bauer to exploit their White House connections to promote the interests of a foreign corporation like TransCanada," Hammond told DeSmogBlog in an interview.
"Beltway insiders may yawn at the fact that TransCanada has hired people so close to President Obama and Secretary Kerry to push their dirty and dangerous pipeline, but ordinary Americans know a rat when they smell one."
Visit EcoWatch's PIPELINES and KEYSTONE XL pages for more related news on this topic.
——-
EcoWatch Daily Newsletter
By Jennifer Morgan and Kevin Kennedy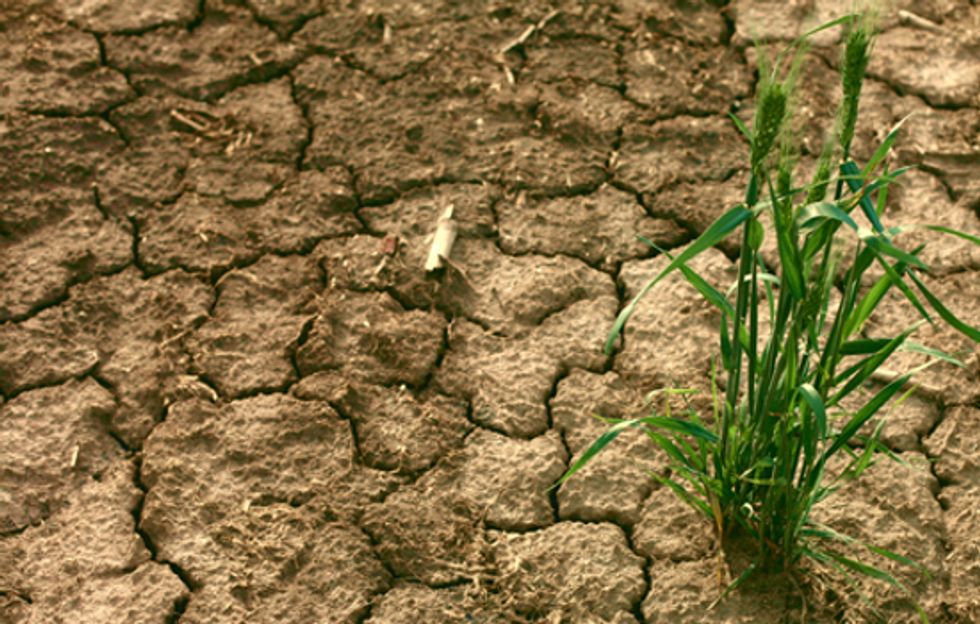 Photo courtesy of Shutterstock
With today's announcement of a national climate action plan, President Obama is pushing forward to tackle the urgent challenge of climate change. This is the most comprehensive climate plan by a U.S. president to date. If fully and swiftly implemented, the Obama Administration can truly reset the climate agenda for this country.
The plan looks to reduce harmful greenhouse gas emissions in a comprehensive way and takes on the question of how to protect the country from the devastating climate-related impacts we are already seeing today. With a clear, national strategy in place—and concrete steps to implement it—the administration can protect people at home and encourage greater ambition internationally.
Importantly, the president is recommitting the U.S. to meet its target of reducing greenhouse gas emissions by 17 percent below 2005 levels by 2020. World Resources Institute's (WRI) recent analysis demonstrates that meeting this target is achievable, but requires ambitious action across many sectors of the economy. WRI identifies four areas with the greatest opportunity for emissions reductions—power plants, energy efficiency, hydrofluorocarbons (HFCs) and methane—which are all specifically included in the plan.
The plan is also notable for addressing climate impacts and encouraging increased international engagement. Together, these steps can help the U.S. reclaim lost ground on climate change. While there are many details to be worked out, this plan is a welcome step to putting the U.S. on a pathway to a safer future.
Reducing Carbon Pollution from Power Plants
First off, the president's plan commits the U.S. to address carbon pollution in existing power plants. Power plants currently represent one-third of all U.S. greenhouse gas emissions, the largest source of carbon dioxide (CO2) pollution in the U.S. The president also directs the U.S. Environmental Protection Agency (EPA) to move quickly to finalize the proposed CO2 pollution standards for new power plants.
These actions will be important for protecting people's health and the planet—and WRI analysis finds that they can be implemented in a way that is flexible and cost effective. It will be important for the EPA to act with a sense of urgency in order to meet the U.S. emissions target. Just as important as the time frame for finalizing these standards is their stringency. Without sufficient ambition, the U.S. will not be able to achieve the reductions it needs by 2020 and in the years beyond.
Increasing Renewable Energy and Energy Efficiency
The additional actions and goals that the President has laid out in the plan for renewable energy and efficiency will be important in allowing stringent power plant standards to be achieved in a cost-effective manner.
On energy efficiency, the president announced a new goal to reduce CO2 pollution by a total of 3 billion metric tons through 2030 through new and existing efficiency standards for appliances and federal buildings. This would be a significant reduction, the equivalent of eliminating nearly two years' worth of emissions from coal power plants.
Energy efficiency is one of the most cost-effective ways to reduce emissions, as more efficient equipment uses less energy and therefore saves consumers money. There are dozens of products that are excellent candidates for new and updated efficiency standards—some of which are awaiting approval—and many more ways to capture this low-hanging fruit in the residential, commercial and industrial sectors. A recent analysis finds that there are a total of six standards that are waiting for approval. Each additional month of delay on these costs consumers $200 million in lost savings and pumps an additional 3 million metric tons of CO2 into the atmosphere.
The plan also calls for doubling renewable energy in the U.S. by 2020 and opening public lands for renewable energy development, to the tune of an additional 10 gigawatts of installed renewable capacity on those lands by 2020. This would be enough energy to power 2.6 million American homes.
This policy is a strong complement to the forthcoming emissions standards, as it could make compliance easier for utilities. The federal government owns roughly 28 percent of land in the U.S.; selectively opening up some public lands for clean energy projects should help ease siting concerns for utilities and project developers.
Reducing HFCs and Methane
The U.S. has been working for years to phase down the production and consumption of HFCs under the auspices of the Montreal Protocol. The recent agreement between the U.S. and China to work together toward this end is an important development in reducing emissions of this potent greenhouse gas. Both chemical and consumer product manufacturers support a planned global phasedown of HFC production and consumption. The plan also acknowledges that there is more the U.S. can and should be doing to eliminate its domestic emissions of HFCs under the Significant New Alternatives Policy Program. The plan also recognizes the importance of curbing emission of methane, another potent greenhouse gas. The President calls for development of an interagency methane strategy that improves data on methane emissions and identifies opportunities to reduce those emissions.
Preparing for Climate Impacts
Climate impacts are already happening globally. The U.S. is experiencing rising sea levels along our coasts, droughts in the Midwest, wildfires in Colorado and torrential rains in the Northeast. These impacts are taking a toll on our homes and our businesses. Drought impacts energy production and agriculture. Sea level rise threatens critical infrastructure and clean water supply. These risks are becoming a reality for people across the country.
In response, the plan aims to help Americans prepare for climate change impacts. Adapting to climate change will require striking the right balance between support and direction from the federal government and locally appropriate solutions. The plan focuses on reducing people's vulnerability by identifying barriers and reforming policies. These actions can empower states and localities to tailor their adaptation actions to their location-specific climate challenges. It should also help create incentives for businesses to contribute to solutions. As the country rebuilds from Hurricane Sandy and other extreme weather events of recent years, it will be important to systematically learn what is working and what needs improvement.
International Climate Action
The president calls for greater engagement internationally—and this, too, is critically important. The U.S. can—and should—be a leader on this global challenge. Climate change will bring significant impacts that will affect our economy and our security.
The U.S. should re-engage in a purposeful and constructive way, working with the international community to rally toward an effective and ambitious international climate agreement by 2015. Cooperation on climate change—as signified by the recent announcement between the U.S. and China on HFCs—shows this is an area where collaboration is both necessary and possible. Enhanced U.S. action will catalyze other countries to come forward with a greater sense of ambition and urgency.
Moving Forward with Ambitious Climate Action
Today's announcement marks a major milestone in the creation of a durable and far-ranging climate plan for the U.S. The details matter, of course, so we'll be watching for more specific information about what the various agencies will do—and how quickly and strongly they take up this challenge.
This plan puts a marker in the ground that the Obama Administration is ready to take climate change seriously. It is a strong and broad approach—one that stakes new ground, but also builds on existing common-sense actions.
The plan makes clear the responsibility that we all have to take action for today's communities and for future generations.
Visit EcoWatch's CLIMATE CHANGE page for more related news on this topic.
——–
Click here to tell Congress to Expedite Renewable Energy.
Pavillion-area citizens, landowners and environmental groups today condemned Gov. Mead's (R-WY) announcement that the state is assuming control from the U.S. Environmental Protection Agency (EPA) of the investigation into groundwater contamination by fracking-enabled oil and gas development near Pavillion, WY.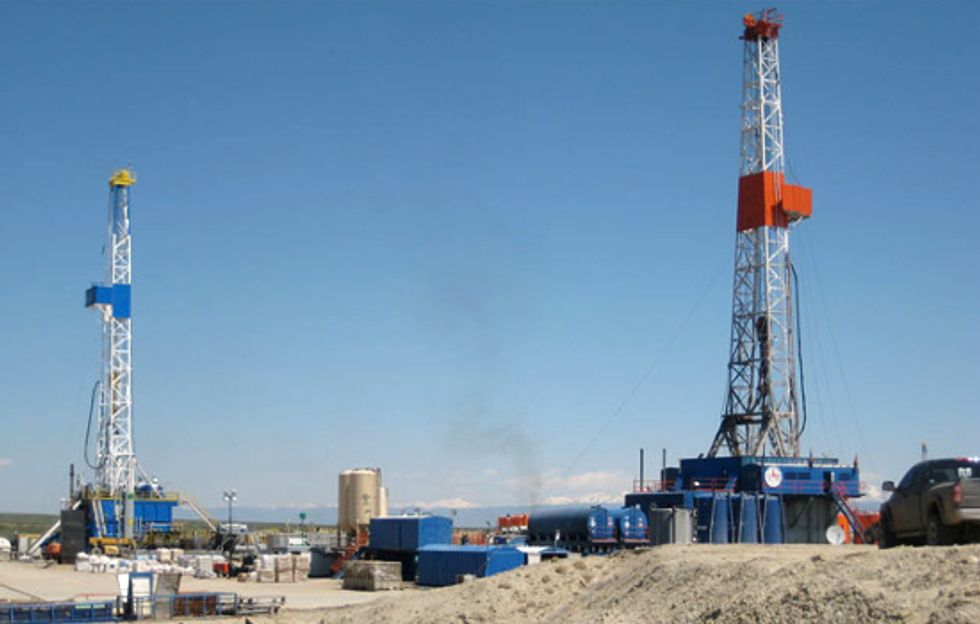 In the announcement, the Governor congratulated EPA and Encana—the company operating in the Pavillion area—for working with him to "chart a positive course" for the investigation.
"We went to the EPA for help after the State of Wyoming and Encana refused to address the public health impacts of unbridled development in the Pavillion area," said Pavillion farmer John Fenton. "Now Encana has bought its way back in and is working with the state on a strategy to cover up the mess they've created."
"Our government's priority is clearly to protect industry rather than Wyoming citizens, our health and our property values. Gov. Mead, the Obama administration and Encana have decided what is best for our community without consulting us," Fenton continued. "We were presented with Mead's vague plan at the same time it was released to the public. Unlike the other stakeholders, we bear the brunt of living in the toxic mess that has become our community, but our input has been thrown out with EPA's investigation. This is a sad day for our country."
This decision continues a nationwide pattern of Obama Administration walkbacks of the EPA investigations whose preliminary results indicate fracking-enabled oil and gas development presents real risks to public health and water. Similar actions have occurred in Parker County, TX, and Dimock, PA.
"It seems clear that the White House's 'all of the above' energy policy means fracking's impacts on communities are being ignored," said Earthworks' energy program director Bruce Baizel. "All across the country, whether it's Wyoming, or Texas or Pennsylvania, it appears the EPA is being politically pressured to back off sound science that shows fracking-enabled oil and gas development is a risk to public health. With these decisions, the Obama administration is creating more opposition to fracking, not less."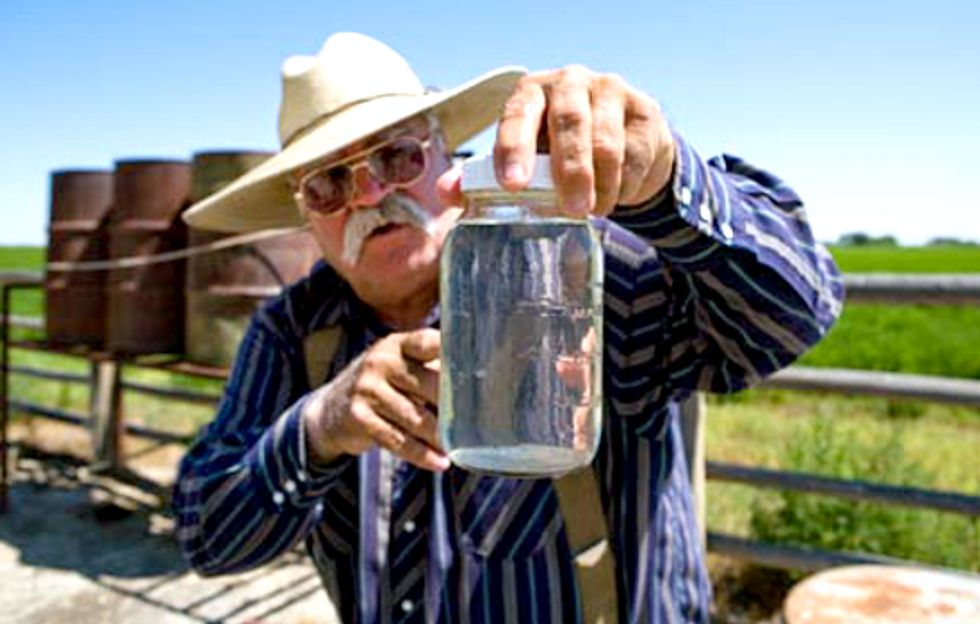 "Gov. Mead said earlier this week that change should be driven by elected officials and agencies, not the people," said Don Nelson, a farmer and rancher near Keene in western North Dakota, on behalf of the Western Organization of Resource Councils.
"This attitude is exactly why those of us who have to live with drilling and fracking have so little confidence in our regulatory agencies and elected officials. They only listen to the oil and gas industry, not to the local people. The same is true in North Dakota. And now EPA is backing down too and another investigation into groundwater contamination from oil and gas development is being swept under the rug. Why would anyone believe the oil and gas industry or the state regulatory agencies when they say drilling and fracking are safe?"
Governor Mead's announcement indicates that the state would cease peer review of EPA's investigation, essentially ignoring it.
"The state of Wyoming is already on record, through action and inaction, as denying that Pavillion's groundwater contamination is a cause for concern," said area ag-producer Jeff Locker. "They are throwing out a conscientious science based study by EPA that cost the taxpayers millions of dollars. The Governor's plan postpones any conclusions for at least another year. It's hard to believe that they're trying to get to the bottom of the problem, they're hoping this whole thing just goes away."
Visit EcoWatch's FRACKING page for more related news on this topic.
——–
Sign the petition today, telling President Obama to enact an immediate fracking moratorium: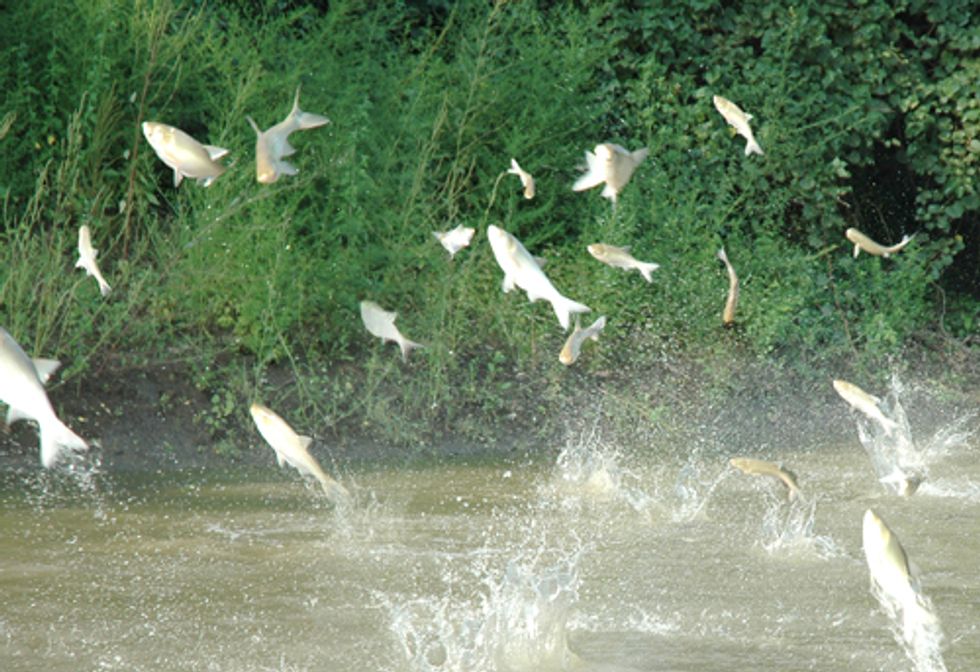 By Jeff Alexander
The federal government is winning the battle to keep Asian carp from reaching the Great Lakes, according to an Obama administration official.
Cameron Davis, the Obama administration's point person on Great Lakes issues, told a group of conservation leaders this week that the government has stopped the advance of Asian carp, which—depending on whom you believe—are either 50 miles from Lake Michigan or already in the lake.
"We're winning the war on Asian carp," Davis said on Feb. 29 during a White House Great Lakes Summit, which was held in conjunction with Great Lakes Days in Washington, D.C.
Government crews are "beating back" the advance of Asian carp in the Chicago Waterway System, the network of manmade canals that form an artificial link between the Mississippi River and Lake Michigan, Davis said.
His claim was met with a stunned silence from the group of scientists and conservation leaders (including several from National Wildlife Federation) who were invited to participate in the Great Lakes Summit.
The reason—Researchers have repeatedly found traces of Asian carp DNA in Chicago-area waters with direct connections to Lake Michigan. Those findings suggest Asian carp have breached an electric fish barrier in the Chicago Waterway System and reached the southern fringe of Lake Michigan.
Faster action needed on separating Great Lakes, Mississippi River basins
The Obama administration has spent more than $100 million over the past two years to fight Asian carp and plans to spent another $50 million this year. That level of support is commendable.
Asian carp—which eat like hogs, breed like mosquitoes and leap out of the water when disturbed by the sound of boat motors—could decimate the $7 billion Great Lakes fishery and pose potentially lethal hazards to boaters in the region.
If the president wants to pull out all the stops in the fight against Asian carp, he must speed up efforts to separate Lake Michigan from the Mississippi River basin.
The U.S. Army Corps of Engineers is currently moving at a snail's pace as it studies how best to prevent Asian carp in the Mississippi River system from invading the Great Lakes. The Corps plans to study the issue for at least three more years before recommending solutions.
Experts have said that separating Lake Michigan from the Mississippi River is the only sure way to prevent Asian carp and other harmful invasive species from moving between the two basins.
The Great Lakes Commission produced a report in January that offered three options for breaking the artificial connection between Lake Michigan and the Mississippi River basin.
The looming threat
Currently, there are no reproducing populations of Asian carp in the Great Lakes. But individual Asian carp have been found in Lake Erie, Lake Huron and Chicago-area waters connected to Lake Michigan.
Given the mounting evidence of Asian carp lurking in southern Lake Michigan, it's premature for government officials to claim they are winning the war against this menacing species of fish. Worse, it's tempting fate.
For more information, click here.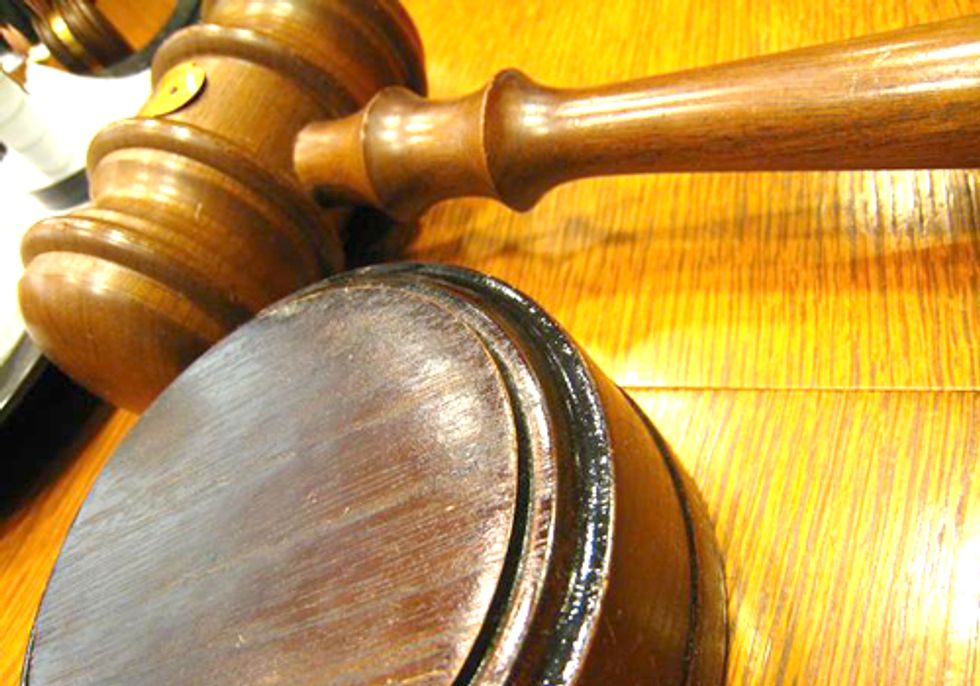 When the massive trial over liability in the 2010 BP Gulf of Mexico oil spill begins in New Orleans on Feb. 27, teams of lawyers will debate what led to the deaths of 11 workers and an oil spill that spewed into the ocean for 86 days. But there's an ugly truth they won't be discussing—Very little has changed regarding governmental oversight of offshore drilling.
Twenty-two months after the start of America's worst environmental catastrophe, which spilled more than 4 million barrels of oil, offshore drilling in the U.S. is essentially as dangerous as it was before BP's Deepwater Horizon exploded. The federal government has since issued only a small number of new safety requirements. The vast majority of recommendations from the various investigative commissions organized following the spill have not been enacted according to a new report by engineer and Arctic Program Director Lois Epstein, P.E., of The Wilderness Society.
Despite this lack of progress, the Bureau of Ocean Energy Management plans to oversee extensive new drilling in the Gulf of Mexico and the Arctic Ocean during the next five years, even though drilling safety has not significantly improved.
"It could take up to a decade to put in place the laws, regulatory structures, transparency, staffing and effective enforcement necessary for the Bureau of Ocean Energy Management and its sister agency, the federal Bureau of Safety and Environment Enforcement, to prevent major oil spills," said Epstein, who advised the federal Office of Pipeline Safety for 12 years. "Since Congress has not passed a single law remedying any of the problems that resulted in the BP spill, a decade for significant safety improvements may be optimistic."
Epstein's report compiles the key recommendations of the Department of the Interior's 30-day safety report for which she served as an expert advisor, the National Commission on the BP Deepwater Horizon Oil Spill and Offshore Drilling report, the National Academy of Engineering/National Research Council report, and the Joint Investigation Team report by the U.S. Coast Guard and the federal Bureau of Ocean Energy Management, Regulation and Enforcement.
Epstein cites the need for new blowout preventer design requirements for new and existing wells, identified by the National Academy of Engineering, as an example of key changes needed. "Congress and the Obama administration need to get moving on the many excellent recommendations from the various post-spill investigative commissions. Until that is done, more significant and devastating spill events are inevitable."
For more information, click here.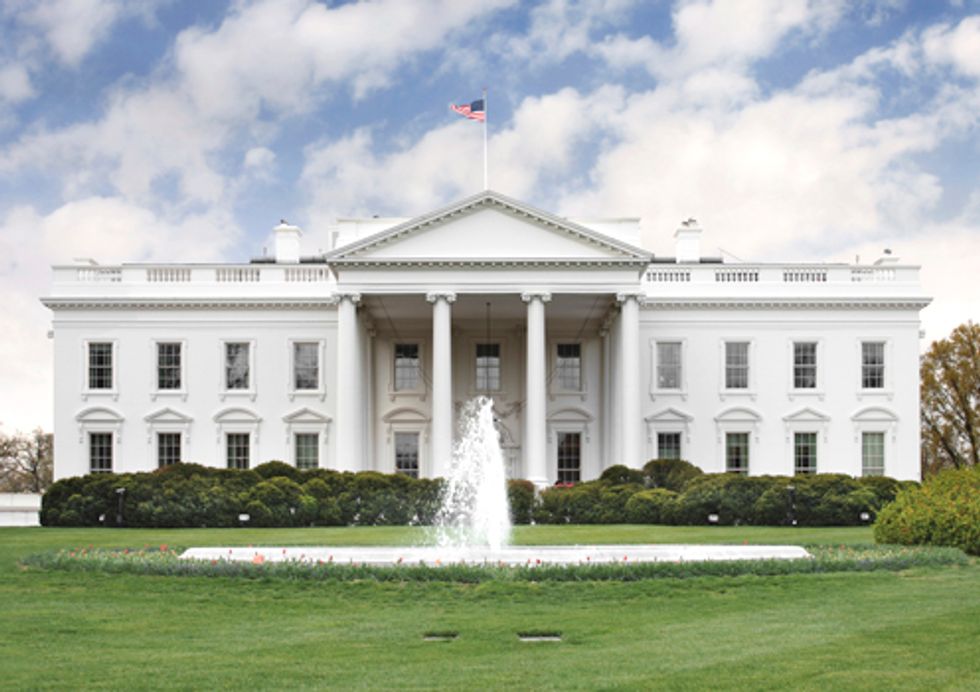 From the Chesapeake Bay to the Puget Sound to the many smaller waters in between, America's waterways are today one step closer to protection under the Clean Water Act, as the Obama administration is now in the final stage of issuing guidelines to restore critical Clean Water Act protections to the nation's waterways.
"This is an important step forward for America's waters and the people who depend on them and enjoy them," said Shelley Vinyard, federal clean water advocate for Environment America. "Once these guidelines are final, everyone from the Great Lakes fisherman to the family visiting the shores of the Narragansett Bay will be able to reap the rewards of cleaner water."
The guidelines come at a time when nearly 60 percent of the country's streams, 20 million acres of wetlands, and 117 million Americans' drinking water is at risk of pollution, thanks to two polluter-friendly Supreme Court decisions in the last decade. The guidelines, which were proposed last April, received overwhelming support from ordinary citizens, thousands of public health professionals, and hundreds of farmers, local elected officials, and recreational businesses—from Confluence Kayaks in Colorado to Angus Murdoch, a farmer from central Virginia.
The proposed guidelines are expected to be finalized by early spring, and were sent to the Office of Management and Budget on Feb. 22.
The industries primarily responsible for this pollution—mega-agribusiness, the coal industry, Big Oil and big developers, are fighting to block these guidelines. In fact, Sen. Rand Paul (R-KY) introduced a bill Feb. 16 that, if passed, would block the president and his administration from ever finalizing these guidelines, and would leave as many as 2.5 million miles of streams nationwide permanently unprotected.
"We are excited that the administration has taken this step toward restoring the Clean Water Act and has reiterated its commitment to protecting America's waterways from pollution," Vinyard said. "We are counting on the Obama administration to continue to stand up to big polluters, and look forward to working with them to ensure all Americans have clean water in which to swim, fish, recreate, and drink."
For more information, click here.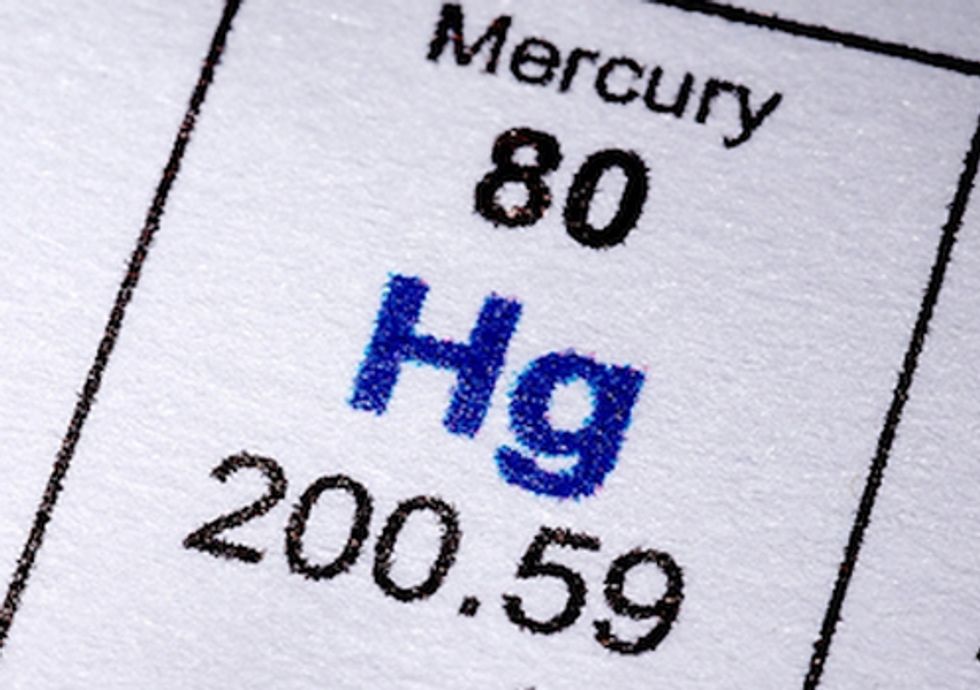 On Feb. 16 representatives of the nation's dirtiest polluters and their friends at special interest groups like the National Mining Association, filed the first lawsuits to block long overdue action to clean up toxic mercury pollution, acid gases and other hazardous air toxics. Toxic mercury is a potent brain poison that threatens prenatal babies and young children, and is linked to severe learning disabilities, deafness, blindness, cerebral palsy and other life-threatening illnesses.
These landmark protections, issued by the Obama administration in December, were published in the Federal Register on Feb. 16. The protections will cut toxic mercury pollution from dirty power plants by more than 90 percent. The vast majority of Americans support these protections, which will ensure a safer, cleaner nation and healthier kids.
But the polluter lobby and their friends in Congress are ignoring this immense public support and the health benefits of mercury protections—opting instead to continue their quest to block life-saving public health protections. In addition to the legal attack, Sen. Jim Inhofe (R-OK) introduced an obscure legislative maneuver to nullify these protections.
In response, a coalition on environmental and clean air advocacy groups issued the following statements:
"Today's attack by corporate polluter front groups on the health of American families and the safety of prenatal babies and young children is outrageous and contemptible, but it's no surprise. The country's dirtiest polluters want to keep their license to pollute the air we breathe and the water we drink without limits or consequences. It's time to put an end to that pollution spree, and protect American children from toxic mercury pollution." – Michael Brune, executive director, Sierra Club
"Earthjustice and our allies have fought a long time to bring these protections about, and we've no intention of stopping now. We will defend them from polluters' attacks in Congress and in the courts, and we will keep working to make sure the safeguards are enforced at coal-burning and oil-fired power plants across the country." – Trip Van Noppen, president, Earthjustice
"The Mercury and Air Toxics Standards are one of the most important public health measures we've seen in a generation. They'll save thousands of lives every year and protect the developing brains and nervous systems of countless American children. Unfortunately, a few utility companies will probably spend lots of money on lobbyists and lawsuits to stop these standards. I would hope that, instead, they'd spend that money to reduce the mercury emissions from their plants and protect the health of their customers." – Fred Krupp, president, Environmental Defense Fund
"On behalf of our clients Conservation Law Foundation, Natural Resources Council of Maine, Environment America, Izaak Walton League of America and the Ohio Environmental Council, Clean Air Task Force will strongly oppose industry attempts to delay or deny the powerful health and environmental benefits of this landmark rule." – Ann Brewster Weeks, senior counsel, Clean Air Task Force
"These long-overdue mercury standards are likely to be among the Obama administration's most significant environmental accomplishments—part of the historic progress America is making toward curbing harmful pollutions that contaminate our air, water, lands and wildlife, and contribute to asthma attacks, heart attacks and even premature deaths." – Frances Beinecke, president, Natural Resources Defense Council
"Industry groups that have had more than a decade to prepare for today's rule to reduce toxic air pollution have, instead, chosen protect higher profits over public health. We will continue the fight to secure these vital and long overdue public health protections." – John Suttles, senior attorney, Southern Environmental Law Center
For more information, click here.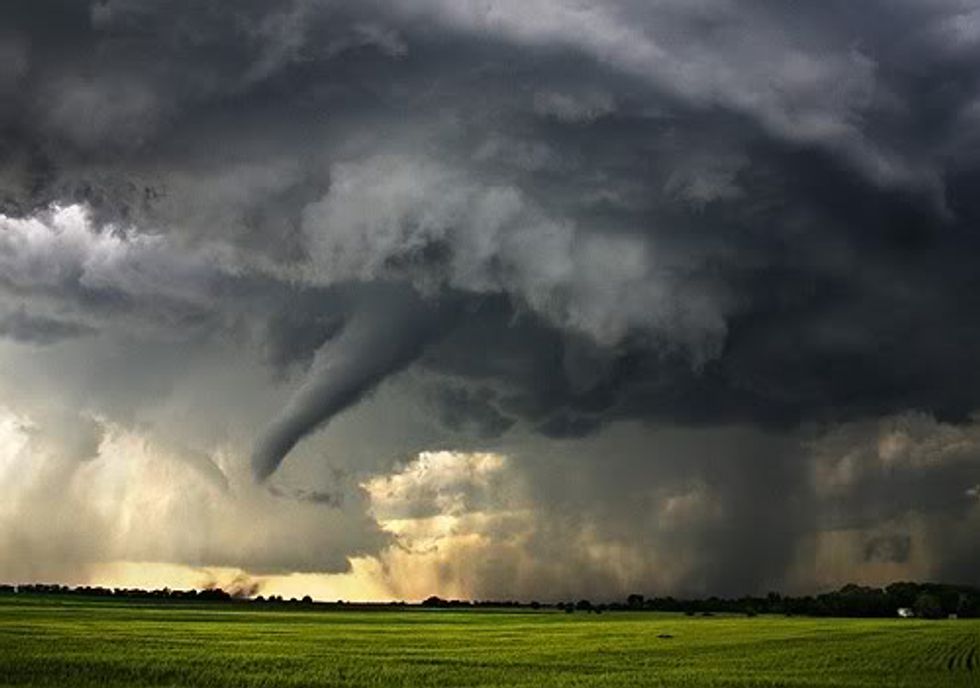 After a year that saw many parts of the country hit by scorching heat, devastating wildfires, severe storms and record flooding, a new Environment America report documents how global warming could lead to certain extreme weather events becoming even more common or more severe in the future. The report found that, already, 4 out of 5 Americans live in counties affected by federally declared weather-related disasters since 2006. Last year's Hurricane Irene, which resulted in the death of 45 people in the 13 states hit by the storm, and an estimated $7.3 billion in damage, is one of the extreme weather events highlighted in the report.
"Millions of Americans have lived through extreme weather causing extremely big problems for our economy and our public safety," said Nathan Willcox, Environment America's federal global warming program director. "Given that global warming will likely fuel even more extreme weather, we need to cut dangerous carbon pollution now."
The new report, entitled In the Path of the Storm: Global Warming, Extreme Weather, and the Impacts of Weather-Related Disasters in the United States, examined county-level weather-related disaster declaration data from the Federal Emergency Management Agency for 2006 through 2011 to determine how many Americans live in counties hit by recent weather disasters. The complete county-level data can be viewed through an interactive map available here. The report also details the latest science on the projected influence of global warming on heavy rain and snow; heat, drought and wildfires; and hurricanes and coastal storms. Finally, the report explores how the damage from even non-extreme weather events could increase due to other impacts of global warming such as sea level rise.
Key findings from the Environment America report include:
Since 2006, federally declared weather-related disasters affected 2,466 counties across the U.S. which house more than 242 million people.
2011 set a record with at least 14 weather disasters across the country inflicting more than $1 billion each in damage, the total cost in damages from these disasters amounted to $55 billion.
Other research shows that the U.S. has experienced an increase in heavy precipitation events, with the rainiest 1 percent of all storms delivering 20 percent more rain on average at the end of the 20th century than at the beginning. The trend towards extreme precipitation is projected to continue in a warming world, even though higher temperatures and drier summers will likely also increase the risk of drought in between the rainy periods and for certain parts of the country.
Records show that the U.S. has experienced an increase in the number of heat waves over the last half-century. Scientists project that the heat waves and unusually hot seasons will likely become more common in a warming world.
Other research predicts that hurricanes are expected to become even more intense and bring greater amounts of rainfall in a warming world, even though the number of hurricanes may remain the same or decrease. 
Environment America was joined by Sens. Bernie Sanders (I-VT) and John Kerry (D-MA) in releasing their report.
"Global warming is real and we are seeing significant impacts today. We must cut greenhouse gas emissions and move to energy efficiency and sustainable energy. If we move in that direction we can create, over a period of years, millions of good-paying jobs," said Sen. Sanders.
"Years and years of peer reviewed scientific studies should've been motivation enough for Washington to get serious about climate change instead of denying its consequences and ducking tough choices. This study is the latest and the last red alert that inaction is risking lives here at home. This is not business as usual for Mother Nature. I've never in my life seen the extreme weather patterns I've witnessed with my own eyes the last years in New England, and I'm sick and tired of politicians ducking the issue and finding excuses for inaction or worse. At this point, you're either on the side of dealing with reality or you're against it," Sen. Kerry added.
Willcox noted that global warming is expected to have varying impacts on different types of extreme weather events. While the Intergovernmental Panel on Climate Change recently concluded that it is "virtually certain" that hot days will become hotter and "likely" that extreme precipitation events will continue to increase worldwide, there is little scientific consensus about the impact of global warming on events such as tornadoes. In addition, every weather event is now a product of a climate system where global warming "loads the dice" for extreme weather, though in different ways for different types of extreme weather.
"The bottom line is that extreme weather is happening, it is causing very serious problems, and global warming increases the likelihood that we'll see even more extreme weather in the future," said Willcox. "Carbon pollution from our power plants, cars and trucks is fueling global warming, and so tackling global warming demands that we cut emissions of carbon pollution from those sources."
The report was released as the Obama administration is finalizing historic new carbon pollution and fuel efficiency standards for cars and light trucks, and as the U.S. Environmental Protection Agency is poised to develop carbon pollution standards for coal-fired power plants—the largest single source of the carbon pollution that is fueling global warming. At the same time, some polluting industries and their allies in Congress are working to block these and other clean air standards. Environment America applauded those members of the U.S. Senate who have continued their efforts to hold polluters accountable by rejecting attacks on clean air standards.
"We applaud the Obama administration for the clean car standards they are finalizing, and urge EPA to move ahead with strong carbon pollution standards for coal-fired power plants," said Willcox. "The extreme weather we suffered through in 2011 is a frightening reminder of why we must do everything we can to cut the dangerous carbon pollution that is fueling global warming, and lessen the threat of even worse extreme weather in the future."
For more information, click here.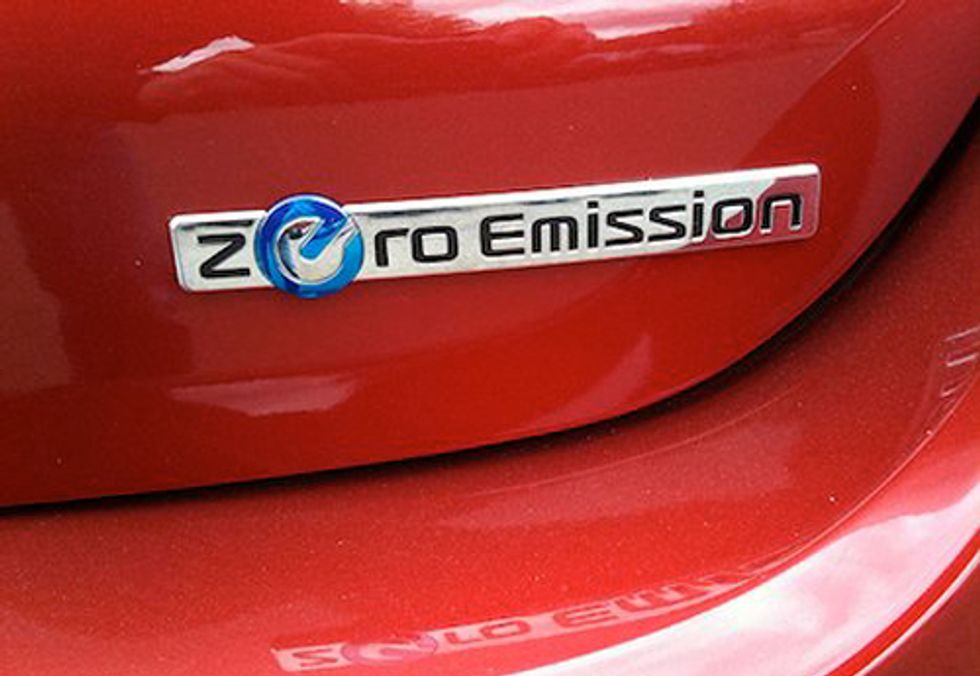 With the help of our supporters, the Union of Concerned Scientists (UCS) has long led the fight to break our dangerous oil dependence and address global warming by strengthening fuel efficiency and pollution standards for cars and trucks. We stand on the verge of historic progress with the Obama administration's recently proposed fuel efficiency and global warming emissions standards for vehicles sold between 2017 and 2025. These standards would save consumers billions of dollars at the gas pump, prevent millions of tons of global warming emissions, and save as much oil in 2030 alone as we currently import from Saudi Arabia and Iraq.
Automakers have the technology to make all new cars, trucks and SUVs cleaner. But just as opportunity knocks, automakers and their allies are working behind the scenes to weaken the standards with loopholes that could increase pollution and oil dependence.
The U.S. Environmental Protection Agency (EPA) and the Department of Transportation (DOT) are currently accepting public comments on the proposed standards, and they need to hear from citizens like you, not just industry lobbyists.
Take action today and tell the Obama administration to move forward with strong clean car standards and oppose harmful industry-backed loopholes. The comment period expires on Feb. 13, 2012.
Click here to learn more about the new clean car standards and about the UCS Clean Car Standards Resource Center.
For more information, click here.
Two years ago this month, the Deepwater Horizon drilling rig began drilling on the Macondo Prospect, an operation that would result in one of the worst environmental disasters in U.S. history. Now, as we contemplate exploratory drilling in the Arctic, the Center for American Progress released Putting a Freeze on Arctic Ocean Drilling: America's Inability to Respond to an Oil Spill in the Arctic, detailing the lack of resources and existing infrastructure to respond to an environmental disaster off Alaska's North Slope.
Even the well-developed infrastructure and abundance of trained personnel in the Gulf of Mexico didn't prevent the Deepwater Horizon tragedy. Our Arctic response capabilities pale by comparison. Some in the U.S. are eager to keep pace with other Arctic nations by tapping into the "great opportunity" for economic gain they believe lies beneath the pristine Arctic waters, despite the dangerous dearth of response resources illustrated in the map below.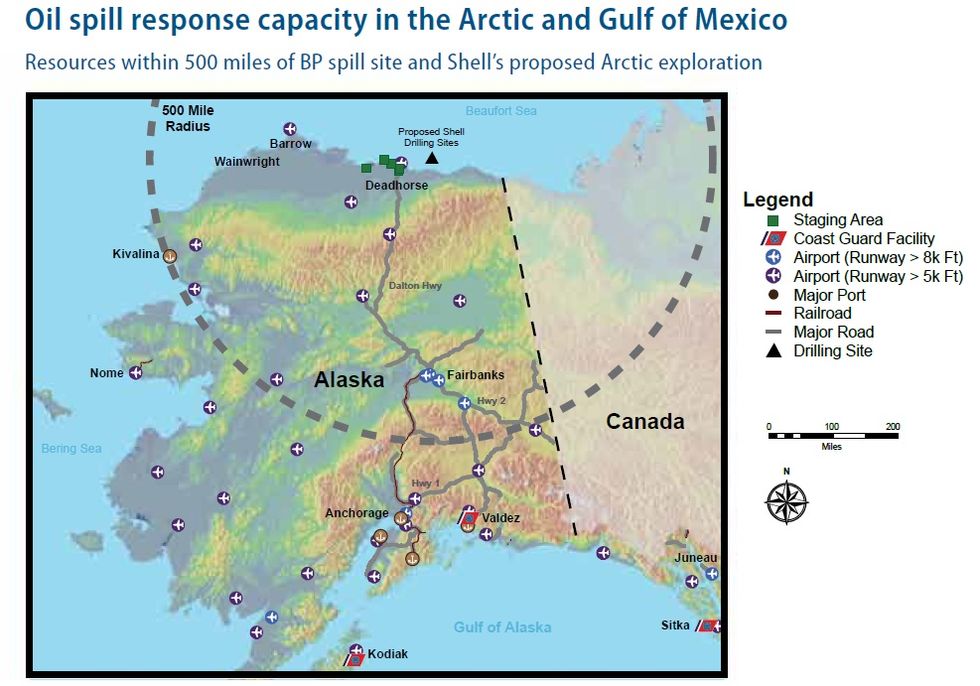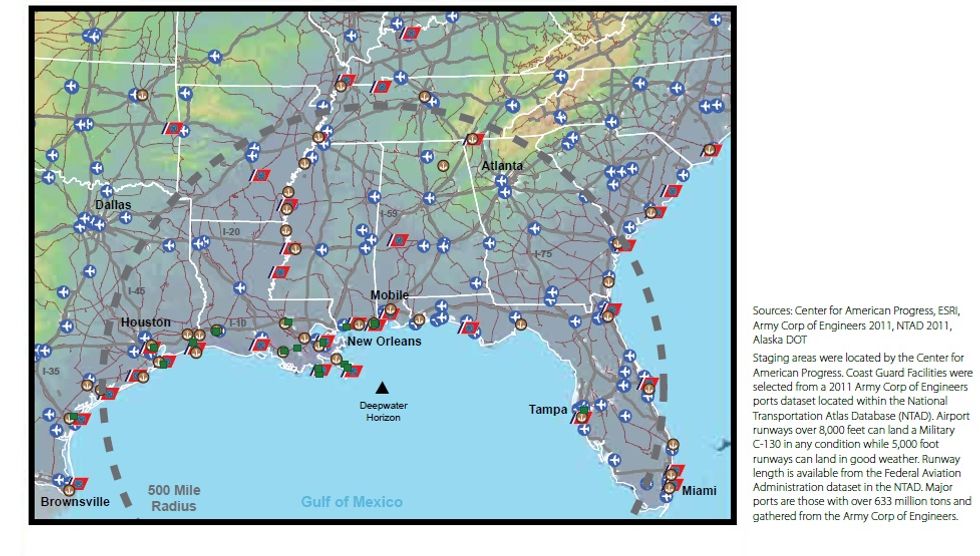 Drilling for oil in this fragile region, however, should not be pursued without adequate safeguards in place. If we've learned anything from the Deepwater Horizon tragedy, it's that the importance of preparedness cannot be overstated. That is why we strongly recommend specific actions be taken by the federal government, by Congress, and by Shell and other companies before beginning exploratory drilling in the Arctic. Recommendations include:
Ensure adequate response capabilities are in place before drilling operations commence
Require and oversee oil spill response drills in the Arctic that prove the assertions made in company drilling plans prior to plan approval
Engage other Arctic nations in developing an international oil spill response agreement that includes an Arctic Ocean drilling management plan
Appropriate adequate funds for the Coast Guard to carry out its mission in the Arctic, including increasing our icebreaking capability
Significantly increase the liability cap (currently $75 million) for oil companies in violation of drilling safety rules
Certainly, meeting our nation's energy needs in the near term means maintaining access to domestic offshore oil and gas resources, but it is imperative that we do so in the most prudent, responsible, and environmentally safe manner. And while we applaud the critical reforms implemented by the Obama administration in the aftermath of the Deepwater Horizon tragedy, more must be done. Until the oil and gas industry and its federal partners meet the recommendations we lay out in this report and demonstrate the ability to identify and immediately respond to a blowout or oil spill, the Arctic region of the U.S. should remain off-limits to exploration and drilling.
For more information, click here.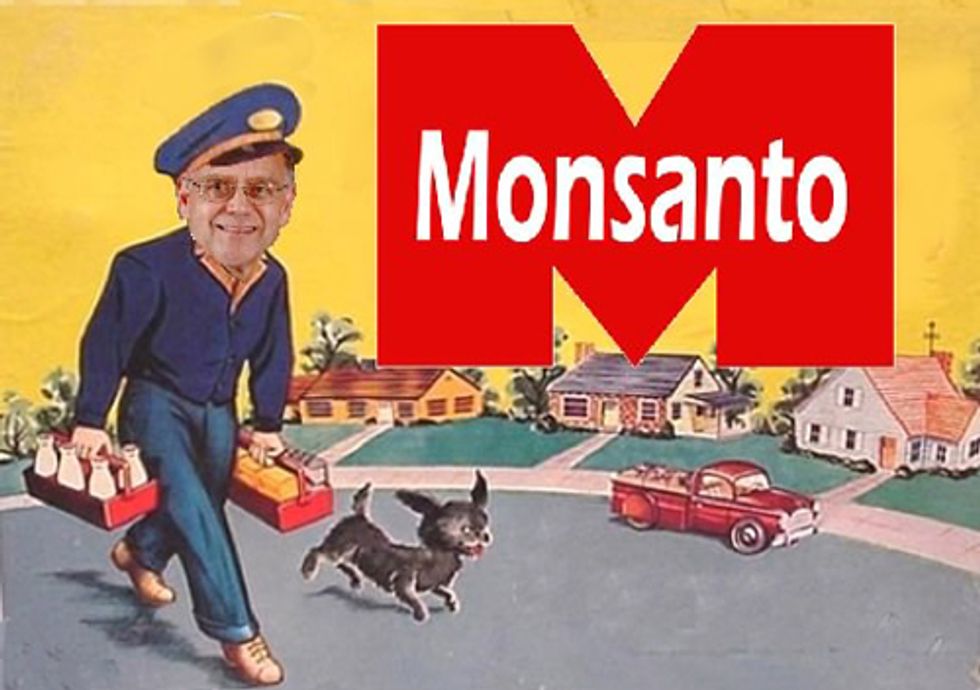 Why is a former Monsanto lobbyist currently serving as the U.S. Food and Drug Administration's (FDA) food safety czar waging war on small dairy farms that produce fresh milk?
While factory farm operators are getting away with serious food safety violations, raw milk dairy farmers and distributors across the country have been subjected to armed raids and hauled away in handcuffs.
The FDA is running sting operations followed by "guns-drawn raids usually reserved for terrorists and drug lords" as part of a crackdown on unpasteurized milk.1 Meanwhile, the FDA is letting the highly consolidated industrial meat and factory farm industry off the hook despite growing problems.
Not surprisingly, the person responsible for prioritizing armed raids on small dairies over holding agribusiness accountable is a former Monsanto attorney and chief super lobbyist. Monsanto's Michael Taylor is the second highest-ranking official at the FDA, and as food safety czar is responsible for implementing the day-to-day policies that govern the food safety laws for the U.S. 2
Tell President Obama to fire Monsanto's Michael Taylor from his job as food czar at the FDA.
Whether or not you think unpasteurized milk is a good idea, it's clear that the FDA under Michael Taylor has its priorities wrong. When industrial agribusiness sickens thousands of people, it's absurd for the FDA to target Amish farmers producing fresh milk, much less to engage in "guns drawn" enforcement raids.
CREDO is joining our allies at Food Democracy Now! in calling on the president to fire Monsanto's Michael Taylor from the FDA. Midwestern farmers will play an important symbolic role in President Obama's reelection campaign. We need to let the president know that we stand with small farmers and not Monsanto.
Michael Taylor seems focused on entirely the wrong aspects of food safety enforcement. Rather than making sure that food safety inspections are done properly at our nation's largest factory farms, where antibiotic resistance has run amuck, Taylor has been leading a departmental crusade against small raw milk dairy producers. So far several dairy farmers have been subject to a year-long undercover sting operation from the East Coast to California.
Incredibly, Michael Taylor and FDA inspectors have not arrested or fined the Iowa agribusinessman—Jack DeCoster—who was wholly responsible for the more than 500 million eggs that were recalled in 2010 salmonella-tainted egg recall.3 Though this industrial agribusinessman endangered the health of millions, Michael Taylor thinks Amish farmers producing fresh milk are more deserving targets of his FDA enforcement raids with guns drawn.
While CREDO recognizes the inherent risks that are involved in food production, it's time that the U.S. government start responsibly looking into the real origins of our nation's largest food safety recalls and stop harassing family farmers trying to survive in the excessively consolidated food and agricultural sectors.
Thanks for standing up for small farmers and taking our government back from Monsanto.
For more information, click here.
—————
1. Food Safety Chief Defends Raw Milk Raids, San Francisco Chronicle, June 7, 2011
2. Monsanto's Man Taylor Returns to FDA in Food-Czar Role, Grist, July 8, 2009.
3. DeCoster Gets Warning, Hillandale Sales OK'd, Food Safety News, October 19, 2010.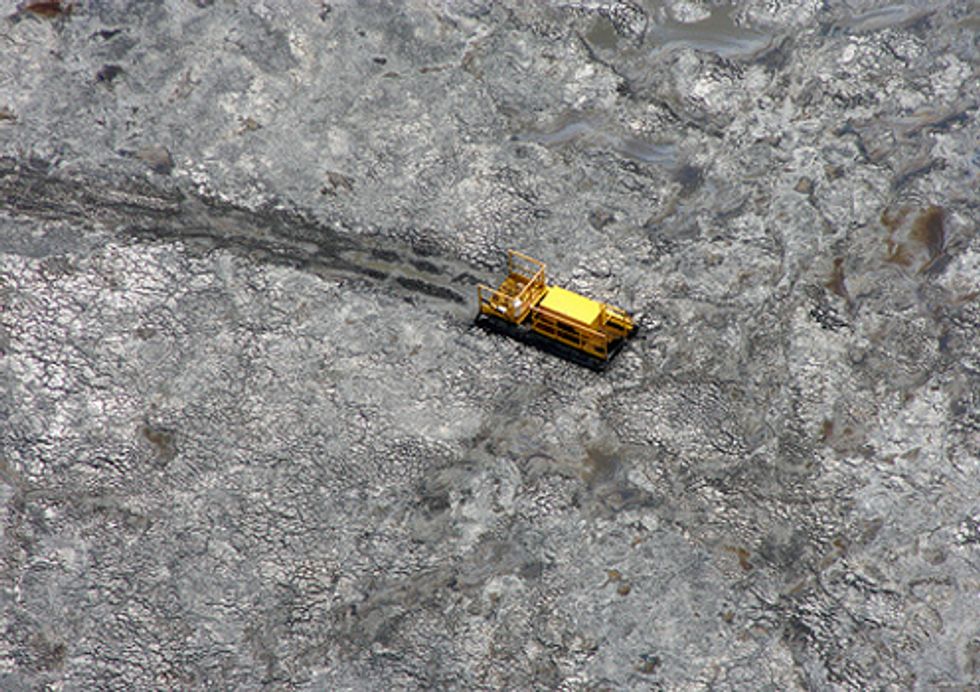 By Nathan Lemphers
As the news broke on the afternoon of Jan. 18 that the U.S. government had denied the application of the proposed Keystone XL pipeline, speculation quickly followed about the future of the proposed Northern Gateway pipeline—a controversial and risky project that would see oilsands crude piped to the craggy northwest coast of British Columbia, then shipped by tanker to overseas markets.
The speculation was no-doubt driven by Prime Minister Stephen Harper's response to the decision, in which he reiterated Canada's intentions to find new customers for oilsands outside the U.S. (Harper had, until recently, called the approval of the Keystone XL pipeline a 'complete no-brainer' and his government has become a vocal proponent of the Northern Gateway project as well.)
As the pipeline debate on this side of the border shifts to the fate of the Northern Gateway proposal, the U.S. government's rejection of the Keystone project shows that Canada faces real barriers in getting oilsands to market—and, despite what some pundits say, those barriers are not just political.
Not just an issue of access
Access to markets isn't the only challenge facing the oilsands. Access to investment capital is a critical component to an industry with incredibly high start-up costs. Imperial Oil's Kearl Mine is a case in point, with the total budget now ballooning to a record $28.5 billion.
In a 2010 report by the Fraser Institute on barriers to energy development in North America, the authors concluded that uncertainty around environmental regulations is very likely to cause some investors to be cautious about investing in the oilsands.
Businesses thrive when they have a predictable regulatory environment, and the oilsands industry is no different. The heads of companies need to know, for example, what royalties will need to be paid, what labour laws they must consider, and what accounting standards they will be required to follow.
The problem for the oilsands industry is there are many environmental aspects of operations that do not yet have clear regulations, such as tailings management, greenhouse gas emissions, reclamation, species at risk, wetlands and regional planning. This lack of regulation, and the resultant environmental challenges, is the driving factor behind the poor reputation Canada has internationally when it comes to energy development. Meantime, federal-provincial jurisdictional battles add to the lack of clarity.
Rather than constantly playing defense, Canada could proactively address our customers' concerns about the impacts of oilsands development by improving how environmental issues are regulated. If the federal and Alberta governments could provide more certainty about their expectations of how the oilsands are to be managed environmentally—and ensure those standards are being met—then the oilsands may start to look like a more attractive investment, and a more attractive product.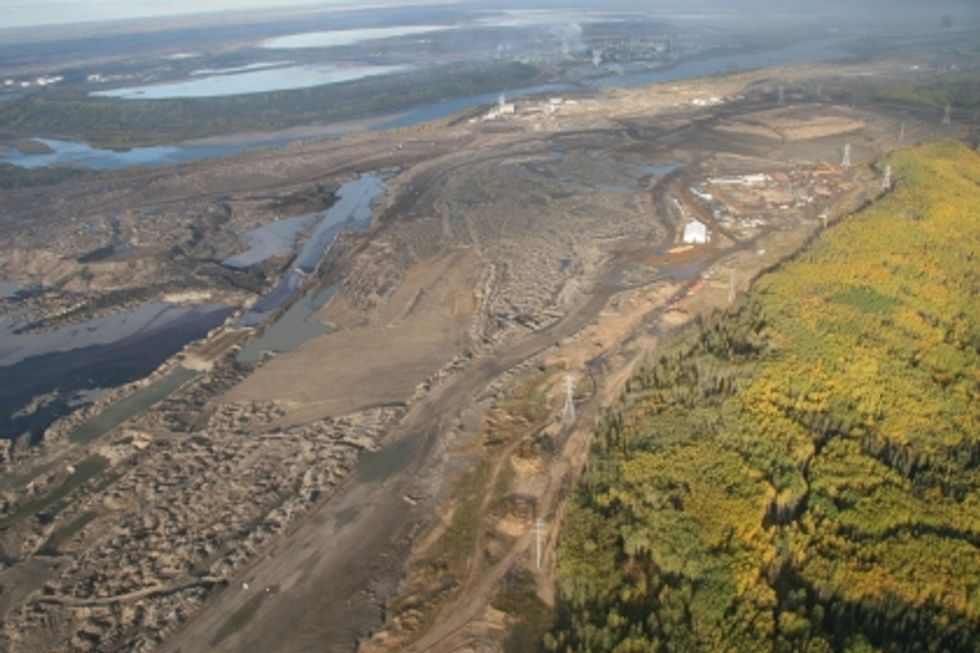 The Harper government's efforts to wield the threat of shipping to Asia as a political club against the U.S. is not new—although, following the Jan. 18 surprise decision, the Premier of Alberta also played up the prospects of taking oilsands elsewhere. A steady increase in Chinese demand for oilsands crude in the future is taken as a given among energy circles in Calgary, and to question otherwise is to challenge orthodoxy.
Playing China as an economic trump card appears rather presumptuous, however, given increasing concern that the oilsands are losing fashion in China. And it's likely the current challenges facing the development of oilsands pipelines are not increasing optimism among potential customers in Beijing.
Compared to what we have to offer in Canada, China has access to higher-quality hydrocarbons from much closer sources. Even the chief energy researcher for a state-owned Chinese oil company agrees—"The oil sands are too costly and too polluting. Gas has a brighter future…Shale gas is much cheaper and cleaner."
What's the rush?
The denial of Keystone XL "only will embolden those opposed to Gateway and other new project developments," said Enbridge CEO Pat Daniels. Despite the long faces from some proponents of oilsands pipelines, there's no rush to push these projects ahead. Alberta will not be landlocked in bitumen for at least another eight years, given industry production forecasts and current pipeline capacity. Moreover, some of the existing pipelines can be twinned or additional pump stations built to increase throughput.
From a capacity perspective, the argument for Gateway in a world without Keystone XL is weak.
Economic arguments in perspective
It is hard to miss the drumbeat of the economists in favour of Gateway these days, most of whom cite the benefits of diversifying export markets. Indeed, many Canadian and foreign-owned oilsands companies stand to benefit from the project.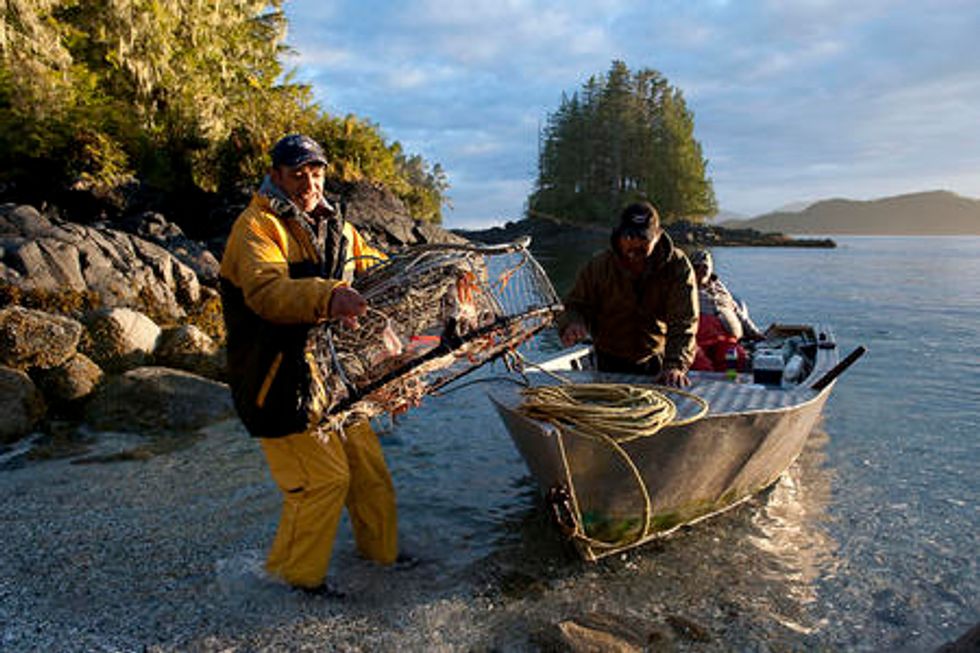 But while economic diversification on its own is a sound and prudent economic principle, it is critical to consider the broader picture.
The Obama administration considered more than simply the economic aspects of the Keystone XL pipeline. They also listened to and considered the perspectives of a host of Americans that had real concerns about the pipeline and the oil that it would be shipping.
In the same way, the Harper government would be wise to learn from Keystone XL and consider multiple perspectives, including those labeled as 'radical'. First Nations, British Columbians and environmental organizations are not radical for wanting to have a balanced and credible review process that is informed by more than the private economic interests of a handful of oil companies.
Due public process is critical to making an informed decision. For one thing, the process for Keystone XL showed that energy companies are capable of responding to public concerns and adjusting their plans when required to by a government that takes those concerns seriously.
The Obama administration's decision to reject the Keystone XL application ought to be a clarion call for the Canadian government to ensure due process is respected for the Gateway hearings. Only by thoroughly examining the risks, along with the benefits, of the proposed Gateway pipeline can the government arrive at a decision that will be in the interest of Canadians.
For more information, click here.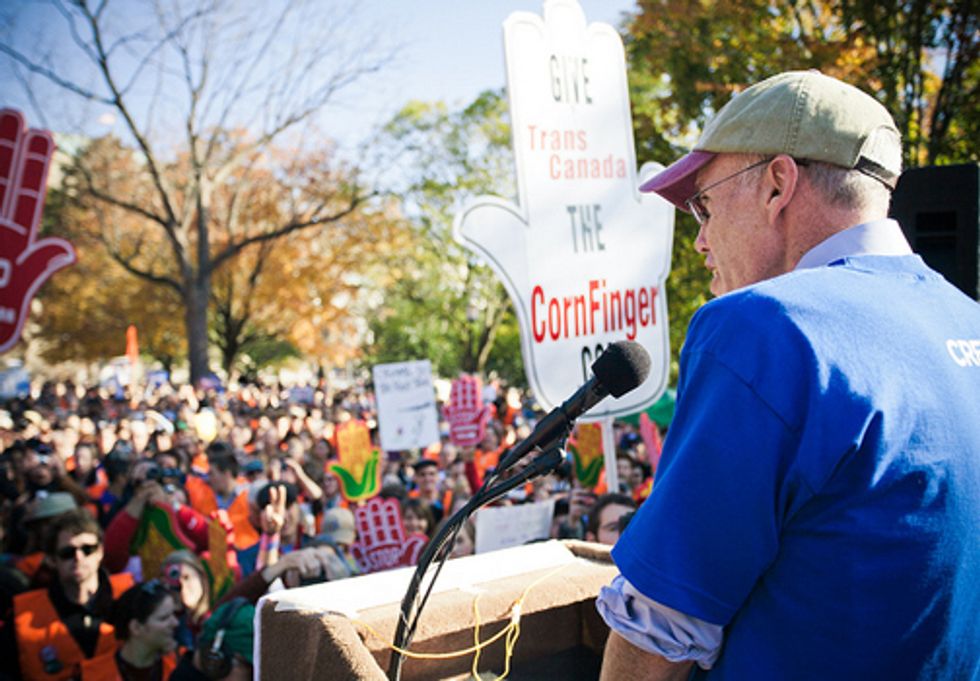 By Jamie Henn
350.org founder and Keystone XL protest leader, Bill McKibben, had the following reaction to the news that the State Department is expected to reject the permit for the Keystone XL pipeline later this afternoon:
"Assuming that what we're hearing is true, this isn't just the right call, it's the brave call. The knock on Barack Obama from many quarters has been that he's too conciliatory. But here, in the face of a naked political threat from Big Oil to exact 'huge political consequences,' he's stood up strong. This is a victory for Americans who testified in record numbers, and who demanded that science get the hearing usually reserved for big money.
"We're well aware that the fossil fuel lobby won't give up easily. They have control of Congress. But as the year goes on, we'll try to break some of that hammerlock, both so that environmental review can go forward, and so that we can stop wasting taxpayer money on subsidies and handouts to the industry. The action starts mid-day Tuesday on Capitol Hill, when 500 referees will blow the whistle on Big Oil's attempts to corrupt the Congress."
For more information, click here.