By Geoffrey Sea
[Read Part I, Part II, Part III and Part IV of this series]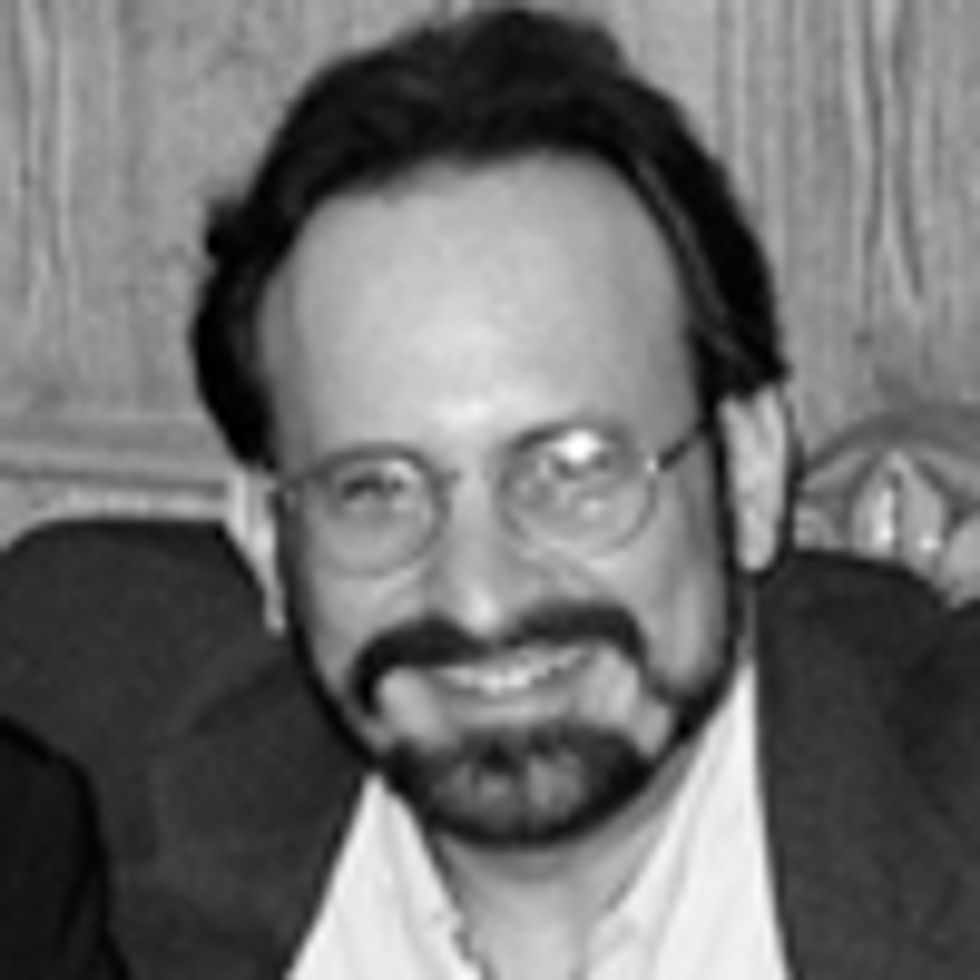 The Commonwealth of Kentucky may sue the federal government to compel cleanup of the now-closing uranium enrichment site at Paducah, according to the governor and the state attorney general. The quasi-privatized operator of the facility, USEC Inc., filed suit against the Department of Energy (DOE) in May. Shareholders and/or bondholders of USEC may sue the company for a third or fourth time over its current financial collapse, and the feds may have to sue USEC if it defaults on its obligation to properly restore the Paducah plant to safe status before it departs.
Whistleblowers allied with the Natural Resources Defense Council have filed suit against Paducah contractors over past fraud and legal violations in waste handling at the site, a new round of litigation after fraud claims joined by the federal government about a decade ago. Paducah workers will likely sue to recover their vanishing pension benefits, and heck, if you don't sue somebody, then you're just not a member of the Paducah nuclear club.
It's a litigious self-sustaining chain reaction, a post-atomic parody of the old Tom Lehrer A-Bomb song "Who's Next?" Yesterday I visited "Future City," an empty developer's dream town adjacent to the hulking Paducah Gaseous Diffusion Plant, and I saw the Paducah mural wall along the lovely Ohio River, which includes one depicting the incoming traffic of the "A-Boom" of 1952. But there's an ominous empty mural space after it, ripe for depiction of the rear-ends of automobiles in the A-Bust of 2013, and it's clear that Future City belongs now only to the lawyers.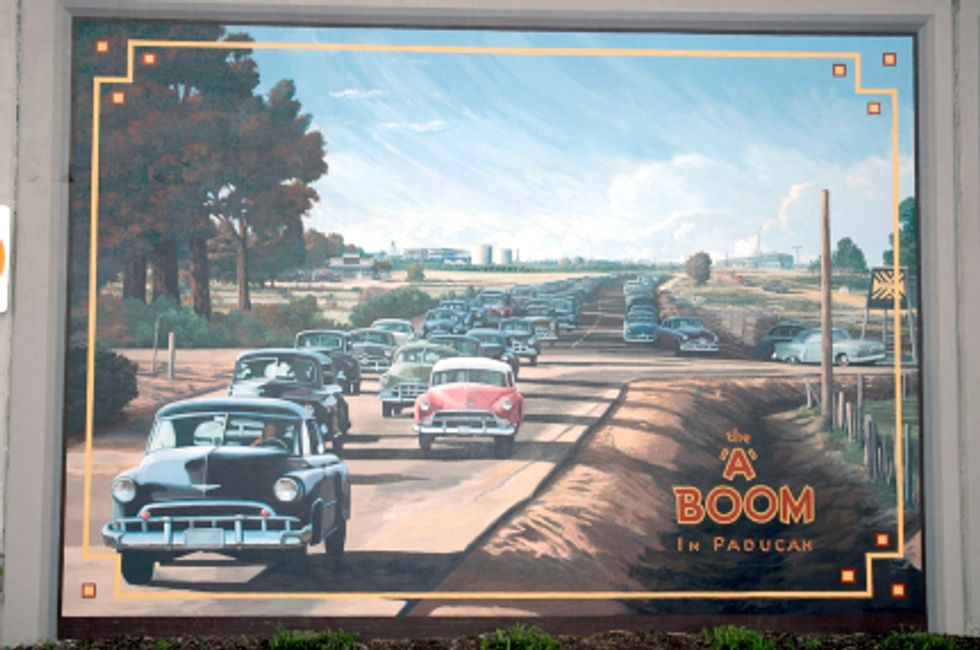 The Week the USEC World Ended
USEC, the company whose bust-up operations and the cessation thereof included no serious planning for impacts on the community, is only midway through a nuclear week of woe.
On Monday, June 24, a special joint session of the Paducah City Council and the McCracken County Fiscal Court, chaired by mayor Gayle Kaler, was called to respond to the crisis of USEC's precipitous departure, resulting in a joint resolution demanding federal insurance of safe power-down and recognizing united community opposition to a planned on-site 100-acre waste cell following plant demolition. 
Representatives of Neighbors for an Ohio Valley Alternative (NOVA) attended, presented comments, and announced the launch of a nationwide petition-drive to transfer responsibility for nuclear cleanup from the Department of Energy to the U.S. Environmental Protection Agency. The NOVA petition also calls for a transfer of federal funds from USEC's failed "American Centrifuge" program to urgent safety and cleanup work at the Paducah and Piketon, Ohio, sites. Media attention has focused on my revelation at the Monday meeting that for years USEC has been moving contaminated equipment from the Piketon site to Paducah, under the rubric of "spare parts," but with many outstanding questions as to why contaminated spare parts would be required for a facility scheduled to be shut down.
On Tuesday, June 25, Kentucky Governor Steve Beshear came to Paducah for meetings with Mayor Kaler and other officials mobilizing community response, after which the governor announced that the state is contemplating a lawsuit against DOE. Such a suit would be modeled on the massive successful litigation brought by the states of Washington and Oregon against DOE, to increase the funding and alter the action plan for cleanup of the Hanford nuclear reservation, near the border of those two states.
At issue in the potential Kentucky case would be DOE's failure to plan for and fund safe power-down at Paducah. Instead, DOE relied on a weak lease provision that requires USEC to accomplish that work, but DOE apparently failed to take cognizance of USEC's financial collapse, rendering the company incapable of incurring additional expenses without pushing itself into bankruptcy. That eventuality would bring a raft of other problems of unanticipated consequence, including the potential disappearance of worker pension benefits at the same time workers lose the remaining value of their USEC stock holdings.
Enron All Under Again
USEC stock value has flat-lined at about 30 cents per share, creating a radioactive penny-stock, making a mockery of USEC's "Stock Up" program of partial employee compensation. It's Enron all under again, with economic impact highly concentrated in the communities of Paducah and Piketon, far less capable of absorbing the impacts than was Houston.
Also on Tuesday, Edward Markey was elected to the U.S. Senate in a special election in Massachusetts. Markey has been USEC's arch-foe in the House, dubbing it "the United States Earmark Corporation," a jab at the House Committee chairmen from Kentucky, Hal Rogers and Ed Whitfield, who claimed credit for the Republican "No Earmark Rule" even as they shoveled new federal subsidies to USEC. In its carefree days, the company would dutifully kick back some of those subsidies in the form of campaign contributions, with Rogers and Whitfield near the top of that list. They, along with Paducah point man Mitch McConnell, will have to explain to constituents, if not the Justice Department, why USEC took the federal money and ran.
This would be a propitious time to review just one of Congressman Markey's prophetic anti-USEC rants in House committee deliberations, this one in opposition to USEC's eligibility for a federal loan guarantee.
Now, Congressman Markey will move to the U.S. Senate, where he will caucus with the majority, just as USEC is preparing to submit a third revision of its loan guarantee application, or so the company says.
Quadruple Back-Flip Split?
But the week is far from over. On Thursday, June 27, USEC shareholders are meeting at the company's beltway-bandit hideout in Bethesda, Maryland. They will stare straight into the double-barrels of doomsday de-listing warnings from the New York Stock Exchange (NYSE), one because USEC's stock price has failed to meet the one-buck minimum for over a year, and another because the company's total market capitalization is only 75% of the $50 million minimum NYSE requirement. If USEC is de-listed for either or both reasons, half a billion dollars of bond debt becomes immediately due.
To ward off that Apocalypse, USEC shareholders will vote on a no-choice proposal for a reverse stock split, whereby current shares will be traded in for new ones at a ratio of between ten-to-one and thirty-to-one. It's a Wikipedia understatement that "a reverse stock split is often an indication that a company is in financial trouble," even when the swap ratio is lower than double-digits. But USEC has a number of additional problems. While the reverse split will likely cure the share price deficiency at least temporarily, it will also likely worsen the market capitalization deficiency, which USEC suggests in a disclosure statement. That's not just because reverse splits have the stench of dead flesh, but because odd shares that cannot be swapped at the selected ratio must be cashed out. (If the swap ratio is thirty-to-one but you only own twenty-nine shares, the company has to buy your shares.)
NYSE just was not cut out for micro-cap companies that make a meager living by extorting illegal subsidy payments from corrupt politicians. Maybe USEC needs a quadruple back-flip split on the balance beam as its final substitution for a legal business plan?
And it gets worse for USEC. The company needed to cut its losses at Paducah, after paying about half a billion dollars each year just in power costs to TVA. However, the company banked on being able to pack-up and leave Paducah cost-free. It had intended to shut out the lights, and "de-lease" the facility, using any threat of nuclear safety calamity from a rapid power-down as a way to extract yet more federal payments for subsidized "extension."
When the Department of Energy said no to that plan in May, according to reliable sources, it also informed USEC that it would hold the company to a lease provision that the plant be returned in "safe condition." The possibility of federal aid for that project is negated by USEC's own scheming that Paducah power-down costs not be included in the 2013 federal budget (even in theory, such funds will not be available until October at the earliest).
There is ongoing wrangling between the litigants even now as to what exactly "safe condition" means. USEC is meeting a minimal standard of its own determination, simply blowing air through the system as diffusion cells are powered down, but leaving substantial residues of solidified uranium and transuranic crap inside the pipes and compressors. That will be a costly nightmare for future cleanup workers. (Workers report about two inches of residue coating the insides of all process equipment). Imagine a gigantic sixty-year-old sewerage installation that's never been Roto-Rooted.
That leaves a horrid legacy for future cleanup workers, as Terra Hays testified at Monday night's governmental meeting. She is the wife of a Paducah worker who became seriously ill after only 23 months of removing and packaging contaminated materials at Paducah, and Ms. Hays cited the statistic that there are now 19,128 active claims for work-related illness compensation at Paducah.
DOE was able to compel USEC to take minimal safety precautions at Paducah because USEC's continuing investment scam is to say that it will apply for and receive a $2 billion loan guarantee from DOE, a loan guarantee that is inexplicably supposed to enable USEC to build a new centrifuge plant with undemonstrated technology that will cost a minimum of $5 billion. Thus, USEC did not terminate its TVA power contract at the end of May as threatened, and to date has shut down about 60 percent of the Paducah cascade, with the remainder to be shut down over the next month or two. Power consumption has been reduced from about 1500 MW per year to about 350 MW or lower.
With USEC's financial situation, however, that creates a whole separate set of issues. USEC did not anticipate having to pay the costs of that work, and so did not disclose those costs to its investors or the SEC. In a Form 8-K filed with the SEC on May 31, USEC says only that "USEC is in discussions with DOE regarding the timing of USEC's de-lease of the Paducah GDP and is seeking to minimize its transition costs, which could be substantial." By my estimation, the unanticipated power costs alone will total in the tens of millions of dollars.
And that raises the question of whether USEC has been forthcoming with its investors and federal regulators headed into its shareholders meeting on June 27. A cornucopia of new potential lawsuits!
Scores of World War II ammunition bunkers cluster around the Paducah plant. I think they may find a new use sooner than the gaseous diffusion plant, warehousing the litigation files about to be generated in a case of uncontrolled nuclear proliferation. As for the massively contaminated plant site itself, how could we do better than a new federal penitentiary for the white-collar perpetrators of these hazmat-orange crimes?
The security fences and guard stations are already in place for the nuclear chain gang, and the plant was prophetically organized by cell-block. Consider the government cost savings on convict transportation alone.
Visit EcoWatch's ENERGY and NUCLEAR pages for more related news on this topic.
——–
Click here to tell Congress to Expedite Renewable Energy.

Michael Leonardi
The Davis Besse nuclear generating station in Oak Harbor, OH, on the western shore of Lake Erie is back in the cross hairs after last weeks announcement that the crippled San Onofre nuclear power plant in southern California will remain permanently shut down and be decommissioned. The decision by Southern California Edison came 17 months after major problems with its replacement generators caused a crack in piping and a release of radioactive steam into the environment. A broad based coalition of citizen's groups, governmental officials and environmental organizations waged an epic battle to keep this threat to the Pacific Ocean and the southwestern U.S. permanently shut down.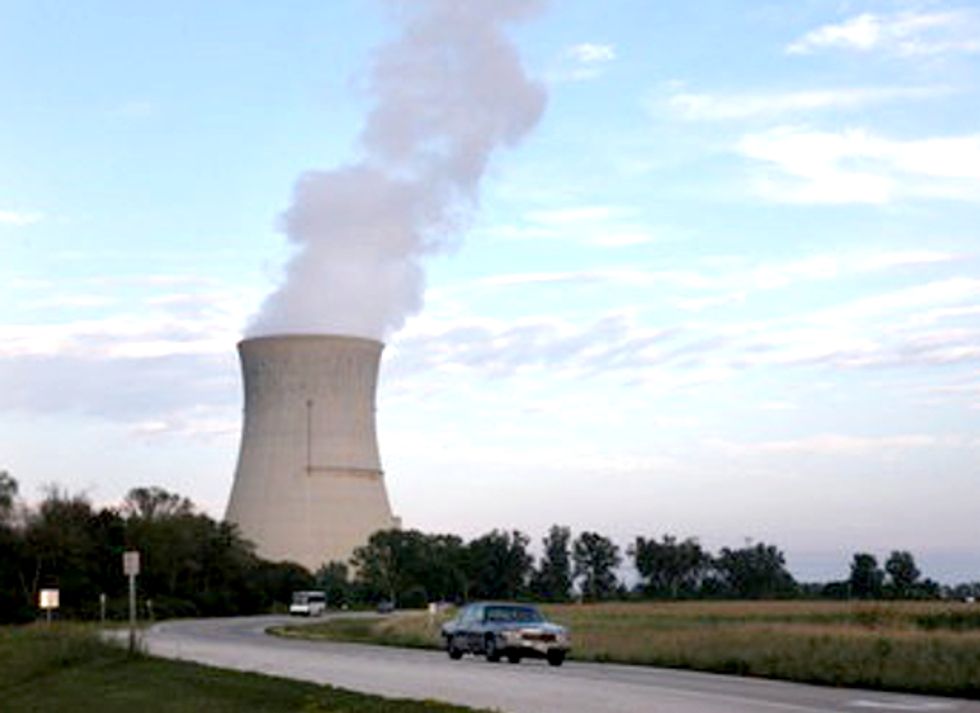 The San Onofre victory has bolstered a coalition of citizen's groups working to shutter the Davis Besse nuclear plant while the plant's owner and operator, First Energy, is planning to replace the plant's steam generators in 2014. Davis Besse has come closer to a catastrophic accident on the shores of the Great Lakes more times than any other reactor in the country. More recently it has been discovered that the shield building that houses the reactor containment structure is riddled with extensive cracking.
The main impetus cited for the closure of San Onofre was the Atomic Safety Licensing Board's decision to hold full public hearings on the license amendment granted for replacement of the generators at plant. The decision to hold these hearings came after national environmental organization Friends of the Earth intervened to call for this important skipped step in public transparency.
"The steam generator disaster at San Onofre, and public attempt to avoid similar bungling at Davis Besse, stem directly from the NRC's [Nuclear Regulatory Commission] 24 year campaign to deregulate the industry," said Terry Lodge, attorney for the coalition of intervenors calling for a public hearing on the replacement of steam generators at Davis Besse.
"At San Onofre and Davis Besse the NRC relied on the utility's self-reporting as to whether there is anything significant about this very major feat of building and installing technologically different pieces of equipment. There has been a fiasco in three out of the last three steam generator replacements. 'Cross my heart and hope to die' regulation is totally unacceptable when it comes to nuclear energy," Lodge concluded.
Arnie Gundersen, chief engineer at Fairewinds Associates, Inc. served as the expert witness for Friends of the Earth in their San Onofre intervention. He is also the expert witness on behalf of Beyond Nuclear, Citizen's Environment Alliance of Southwestern Ontario, Don't Waste Michigan and the Sierra Club intervening on Davis Besse. In the case of Davis Besse, Gunderson has declared that the "data reviewed shows that First Energy should have applied for a license amendment with the requisite public review six years ago when replacement steam generators were originally designed, ordered and purchased."
Gundersen's Davis Besse testimony reported, "The last three steam generator replacement projects orchestrated by licensees sought to avoid the NRC's license amendment process. By avoiding the license amendment processes for Crystal River 3 in Florida and San Onofre 2 and 3 in California, the owners, Progress Energy (Crystal River) and Edison (San Onofre) caused all three units to experience total mechanical failures."
A cascading failure of steam generator tubes can lead to a loss of coolant accident and reactor meltdown.
The failure of the steam generator replacements came about because they were largely experimental—newly designed systems did not mesh well with older equipment. Gundersen has detailed nine significant differences between the replacement and original steam generators at Davis Besse concluding that "each and every one of these changes is significant individually, and when taken together prove that the replacement contains many experimental parameters.
The coalition contends that First Energy's shortcut on safety by its circumvention of an NRC license amendment proceeding, risks repeating the same sort of dangerous mistakes made at San Onofre. It was January 2012 when a steam generator tube rupture at San Onofre released radioactivity and led to the discovery of widespread, unexpected tube degradation in replacement steam generators just over a year old. Thankfully, San Onofre will not operate again.
"Once again, First Energy's indifference to anything but maximum profit dictates the dance," said Lodge. "What if this new, experimental design doesn't work out, just as steam generator replacements in the last three reactors have proven to be failures? For First Energy it's profits first safety last."
The NRC continues to operate like a used car salesman on behalf of the remaining 100 aging and decrepit lemons that threaten millions of Americans living near dangerous nuclear plants in the U.S. Instead of regulating this industry, NRC officials continue to try and paint a rosy picture of this dangerous technology. Just this week in Oak Harbor the NRC held an open house on Davis Besse's annual performance review.
NRC representatives spoke glowingly of First Energy's plans to operate 20 years past its life expectancy after its license expires in 2017. When asked by concerned citizens about the risks posed by replacing the steam generators, an NRC representative just tried to brush the question aside by saying "don't worry, these are the Cadillacs of steam generators." This begs the question, did the NRC settle for Kia's at San Onofre and Crystal River?
"The Japanese parliament has concluded that the root cause of the Fukushima Daiichi nuclear catastrophe was not the earthquake and tsunami, but rather the government-regulator-industry collusion that allowed the atomic reactors to be so vulnerable to a natural disaster," said Kevin Kamps of Beyond Nuclear. "Davis Besse has been the poster child for just such collusion from the very beginning, through the 2002 hole in the reactor head fiasco, and right up to the present."
Visit EcoWatch's ENERGY and NUCLEAR pages for more related news on this topic.
——–
Click here to tell Congress to Expedite Renewable Energy.

EcoWatch Daily Newsletter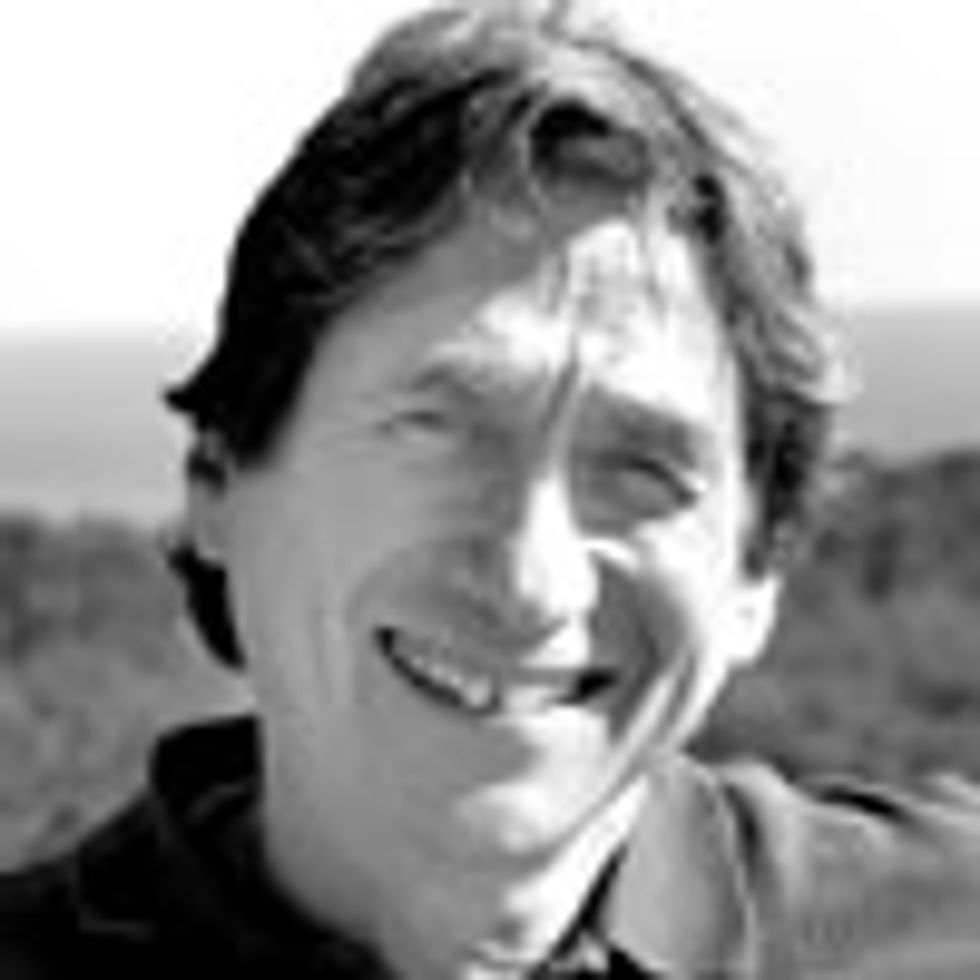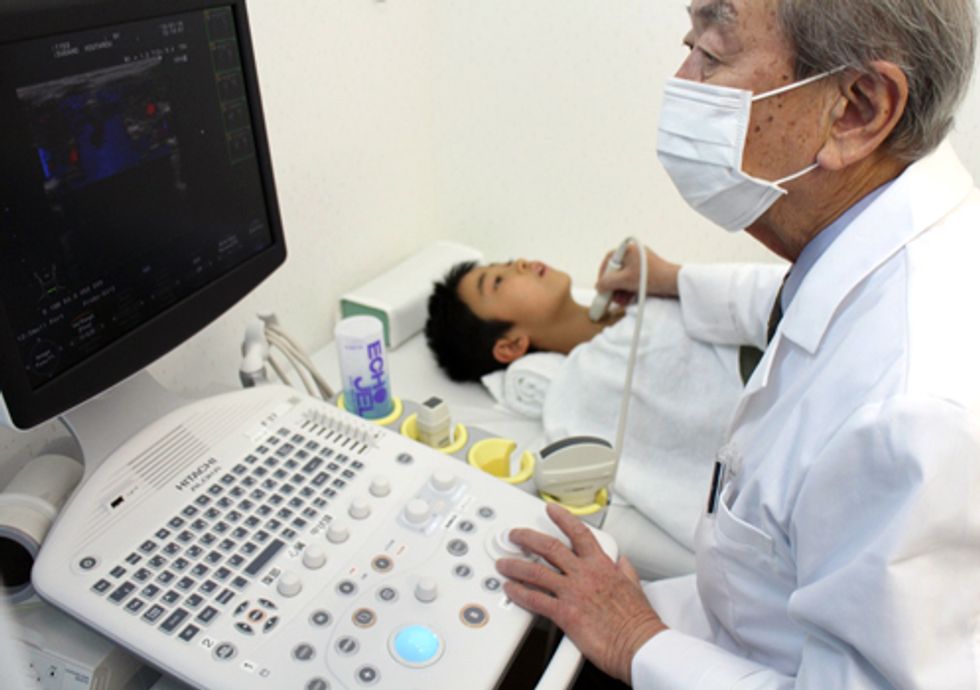 Thyroid abnormalities have now been confirmed among tens of thousands of children downwind from Fukushima. They are the first clear sign of an unfolding radioactive tragedy that demands this industry be buried forever.  
Two years after Fukushima exploded, three still-smoldering reactors remind us that the nuclear power industry repeatedly told the world this could never happen.
And 72 years after the nuclear weapons industry began creating them, untold quantities of deadly wastes still leak at Hanford and at commercial reactor sites around the world, with no solution in sight.   
Radiation can be slow to cause cancer, taking decades to kill.
But children can suffer quickly. Their cells grow faster than adults'. Their smaller bodies are more vulnerable. With the embryo and fetus, there can never be a "safe" dose of radiation. No dose of radiation is too small to have a human impact.   
Last month the Fukushima Prefecture Health Management Survey acknowledged a horrifying plague of thyroid abnormalities, thus far afflicting more than 40 percent of the children studied.  
The survey sample was 94,975. So some 38,000 children are already cursed with likely health problems ... that we know of.  
A thyroid abnormality can severely impact a wide range of developmental realities, including physical and mental growth. Cancer is a likely outcome.
This is the tenth such study conducted by the prefecture. As would be expected downwind from a disaster like Fukushima, the spread of abnormalities has been increasing over time. So has the proportion of children with nodules that are equal to or larger than 5.1 mm. The number of cysts has also been increasing.  
And the government has revealed that three cases of thyroid cancer have already been diagnosed in the area. All have been subjected to surgery.
Fukushima's airborne fallout came to our west coast within a week of the catastrophe. It's a virtual certainty American children are being affected. As health researcher Joe Mangano puts it: "Reports of rising numbers of West Coast infants with under-active thyroid glands after Fukushima suggest that Americans may have been harmed by Fukushima fallout. Studies, especially of the youngest, must proceed immediately."
Untold billions of gallons of unmonitored liquid poisons have poured into the Pacific. Contaminated trash has carried across the ocean (yet the U.S. has ceased monitoring wild-caught Pacific fish for radiation).   
Worldwide, atomic energy is in rapid decline for obvious economic reasons. In Germany and elsewhere, Solartopian technologies—wind, solar, bio-fuels, efficiency—are outstripping nukes and fossil fuels in price, speed to install, job creation, environmental impact, reliability and safety.
No one has yet measured the global warming impacts of the massive explosions and heat releases at Fukushima (or at Chernobyl, where the human death toll has been estimated in excess of a million).   
The nuclear fuel cycle—from mining to milling to enrichment to transportation to waste management—creates substantial greenhouse gases. The reactors themselves convert ore to gargantuan quantities of heat that warm the planet directly, wrecking our weather patterns in ways that have never been fully assessed.
Even in the shadow of Fukushima, the industry peddles a "new generation" of magical reactors to somehow avoid all previous disasters. Though they don't yet exist, they will be "too cheap to meter," will "never explode" and will generate "radiation that is good for you."
But atomic energy is human history's most expensive technological failure, defined by what seems to be a terminal reverse learning curve. After more than a half-century to get it right, the industry has most recently poked holes in the head of a reactor in Florida, and installed $700 million steam generators it knew to be faulty in two more in California. It now wants to open San Onofre Unit Two at a 70 percent level, essentially to see what happens. Some eight million people live within a 50-mile radius.   
This from an increasingly dangerous industry that has brought us four "impossible" explosions—one at Chernobyl, three at Fukushima—clearly with more yet to come. Its radiation has spewed for decades. Its wastes have no place on this planet.
The ultimate death toll among Fukushima's victims may be inescapable. But the industry that's harming them is not.   
Those thyroid-damaged children bring us yet another tragic warning: There's just one atomic reactor from which our energy can safely come.
Two years after Fukushima, it is still 93 million miles away—but more ready than ever to safely, cleanly and cheaply power our planet.
Visit EcoWatch's NUCLEAR POWER page for more related news on this topic.
——–
Click here to tell Congress to Expedite Renewable Energy.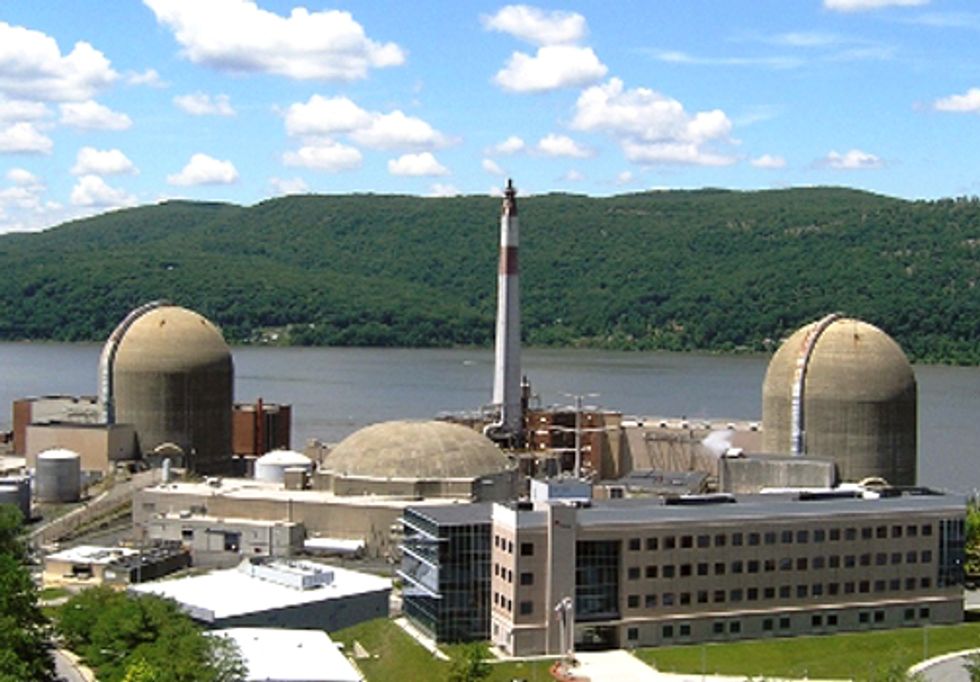 Robert F. Kennedy, Jr.: This 2nd Circuit decision in Brodsky v NRC is a turning point in our long-running struggle to end the collusion between the NRC and the nuclear industry. It will both protect and involve the public in key NRC health and safety decisions. Our primary concern has always been public health and safety, nowhere more important than with an Indian Point reactor with the worst health and safety record in the nation and located 28 miles from New York City.
Brodsky v. NRC is the federal litigation challenging the Nuclear Regulatory Commission's (NRC) practice of issuing "exemptions" to its own health and safety regulations at Indian Point, and to do so in complete secrecy. The plaintiffs argued that Federal law requires the NRC to notify and involve the public before it allows Entergy to violate NRC health and safety requirements.
On Jan. 6, the U.S. 2nd Circuit Court of Appeals issued its' decision on the matters argued last May in New York City. The Court agreed with the plaintiffs, and expressed grave concern about the NRC's ongoing practice of making safety decisions in secret.
The Appeals Court remanded the case to the District Court and required the NRC to appear and explain why public participation was "inappropriate or impracticable."
In other words, the Court has created a new legal standard and legal presumption in favor of public participation in "exemption" decisions. From now on the NRC must permit public participation or explain why it's not going to do so. This is a substantial victory because there are hundreds, if not thousands, of such secret "exemptions" at Indian Point and at other reactors across the country which have weakened or evaded safety and health requirements. It's now possible to seek an accounting of those "exemptions" and challenge many of them.
The particular Indian Point "exemption" challenged in Brodsky v. NRC dealt with fire safety. NRC Rules require that the electric cables that control reactor shutdown in an emergency have fire insulation that lasts one hour. When tested, the insulation at Indian Point (and elsewhere) lasted 27 minutes. Rather than require Entergy to upgrade the insulation to meet the one hour requirement the NRC, at Entergy's request, issued an "exemption" that lowered the requirement to 24 minutes. It did so without notifying the public of its consideration of Entergy's application, or permitting the public to comment, or participate, or attend a public hearing.
By ending the secrecy of the "exemption" process the Court has created two important dynamics. First, it will be difficult if not impossible for the NRC to continue to use secrecy as a shield for decisions that are at best controversial and at worst truly dangerous. Second, we can begin to examine the true extent of "exemptions" at Indian Point and scores of other reactors. Both are important parts of making the NRC a fair and effective regulator.
Plaintiffs had also challenged the Indian Point "exemptions" as violations of other laws as well. While the 2nd Circuit declined to agree on some of those matters, plaintiffs are pleased that the core of their concerns have been favorably addressed. Plaintiffs will continue to vigorously participate in the continuing litigation.
The coalition that brought the litigation included the Sierra Club-Atlantic Chapter and Westchester's Citizens Awareness Network (Westcan), whose steadiness and support were crucial. The plaintiffs are appreciative of the intervention of then Attorney General Andrew Cuomo, whose early concern about this issue was noted by the Court.
Environmental activist Robert F. Kennedy, Jr. said, "This 2nd Circuit decision in Brodsky v NRC is a turning point in our long-running struggle to end the collusion between the NRC and the nuclear industry. It will both protect and involve the public in key NRC health and safety decisions. Our primary concern has always been public health and safety, nowhere more important than with an Indian Point reactor with the worst health and safety record in the nation and located 28 miles from New York City."
Hamilton Fish, a board member of the leading environmental organization Riverkeeper said, "This is a real victory for public safety and transparency in the critical area of nuclear oversight from a court celebrated for its commitment to free speech and the first amendment."
Marilyn Elie, president of Plaintiff WestCan said, "This is a victory for transparency in government and due process.  It makes it possible for people to have a voice in important nuclear decisions in their community and helps hold the NRC accountable for protecting public health and safety, something it hasn't done in years."
Annie Wilson, former chair of the energy committee of Plaintiff Sierra Club-Atlantic Chapter and energy co-chair of Sierra NYC said, "These dangerous 'exemptions' can no longer be handed out in secret.  We're very pleased with the Court decision."
Here are excerpts from the decision:
The NRC must "supplement the administrative record to explain why allowing public input into the exemption request was inappropriate or impracticable."
The failed fire insulation at Indian Point was a "degradation of defense-in-depth fire protection and safe shut down in the event of a significant fire".
The NRC is bound by the requirement that "federal agencies examine and disclose the potential environmental impacts of projects before allowing them to proceed, which process "must involve the public."
"public scrutiny [i]s an "essential" part" of NRC actions, which "must ensure that environmental information is available to public officials and citizens before decisions are made and before actions are taken."
"The record before us fails to provide any agency explanation for why no public participation was deemed practicable or appropriate with respect to the challenged exemption case." and is "devoid of any evidence of public input on Entergy's exemption request, and with no explanation by the NRC of its decision not to afford public participation of any kind."
Richard Brodsky is a former NYS Assemblyman who is currently a senior fellow at the progressive think tank Demos in NYC and at the NYU Wagner School for Public Service.
Visit EcoWatch's NUCLEAR POWER page for more related news on this topic.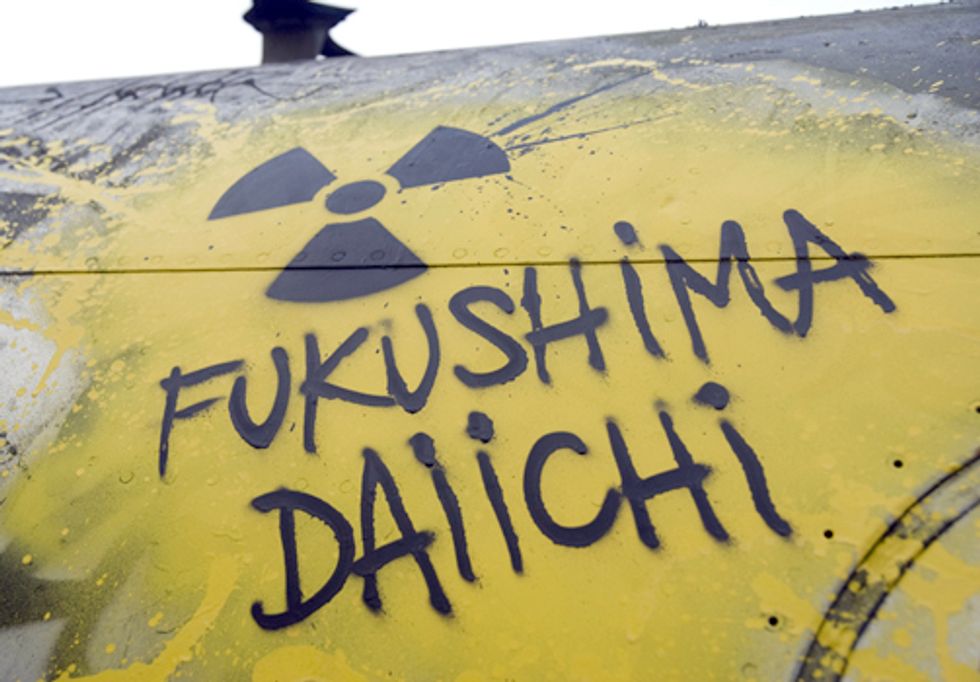 As 2012 draws to a close, evaluating the ongoing effects of the March 2011 Fukushima Daiichi nuclear disaster on the people of Japan is a difficult and depressing task. After having fled their homes due to the tsunami and resulting triple nuclear meltdown, 21 months later an estimated 160,000 citizens still have not returned home.
Reports of illness in humans and livestock continue to underscore the far reaching and difficult to predict impacts that a nuclear accident can cause. In July, 36 percent of Japanese children screened were found to have abnormal thyroid growths. This fall, an illness dubbed the "Fukushima syndrome" was reported to be killing cattle near the Fukushima prefecture. Mutations are already observed in butterflies and other insects, whose shorter life cycles allow genetic disruptions to display more quickly than in mammals or humans.
The World Health Organization downplayed radiation and exposure risks in a report they released last summer, which is being discredited as biased by members of Physicians for the Prevention of Nuclear War. Dr. Alex Rosen, from Germany said, "It is unclear why a report written mainly by the IAEA (International Atomic Energy Agency) and collaborating nuclear institutions would need to be published in the name of the WHO, if not to provide an unsuspicious cover" for the true radiation levels Fukushima residents were exposed to. The United Nations issued a recent report concluding that delaying the release of factual radiation data and exposure risks put residents and workers in greater danger than was necessary. This echoes the findings of an independent panel earlier this year, that called the Fukushima nuclear disaster a "man-made" catastrophe.
The Asahi Shimbun reports the technical details of the reactors here, and the outlook is still grim. In the article, Nuclear Regulatory Authority Shunichi Tanaka Chairman said, "The situation surrounding the decommissioning process is volatile, so there is a need for constant reviews in securing safety." They are running out of room to store radioactive water and, despite reducing the amount of radioactivity being released from the reactors, there are still radioactive plumes being released.
Former chief research scientist at the now-defunct Japan Atomic Energy Research Institute, Fumiya Tanabe, said, "Despite the (officially declared) cold shutdowns of the reactors, the cooling functions have been maintained there with no knowledge of where the melted fuel lies and in what state. There is a risk of unforeseen circumstances arising if another major earthquake hits."
The national Japanese elections earlier this month yielded unexpected results, with the Liberal Democratic Party winning despite it's pro-nuclear platform in a largely anti-nuclear nation. One problem may lie in the belief that eliminating nuclear power could further negatively impact Japan's recovering economy. This is complicated by the reliance nuclear communities have upon the money they receive in taxes, among other incentives, for hosting a reactor, which often translates into a tax base that is double that of non-nuclear communities. Despite this, many Japanese people are concerned that a focus on the economy will undermine safety concerns related to new geologic evidence of fault lines under other reactors.
October was a month of long overdue admissions, as Tokyo Power Electric Company (Tepco) finally admitted fault in the accident, citing a lack of safety culture and long term "bad habits" as exacerbating the accident. Yoshihoko Noda also offered thanks to the "Fukushima 50," saying "Thanks to your dedication, we have managed to preserve Japan." While this expression of gratitude is long overdue, it falls short of the debt owed to these brave people who risked their lives to do their job. The impacts their sacrifices could have on their long-term health will only be known over time.
Fortunately, it's not all doom and gloom. Two high school girls that were affected by the disaster are launching a peace discussion forum devoted to expanding the dialogue about nuclear power and weapons. One of the young women said, "My parents' and grandparents' generations may be to blame for allowing the nuclear power plants, but both adults and children are responsible for thinking together about the problem."
Our wish for the upcoming year is that all of us—all energy users—will step up to this challenge, determine where they fit into this conversation, and take meaningful actions in their daily lives to reduce their energy usage and push for clean, safe energy solutions.
Additional Resources:
Visit EcoWatch's NUCLEAR page for more related news on this topic.
By Jan Beranek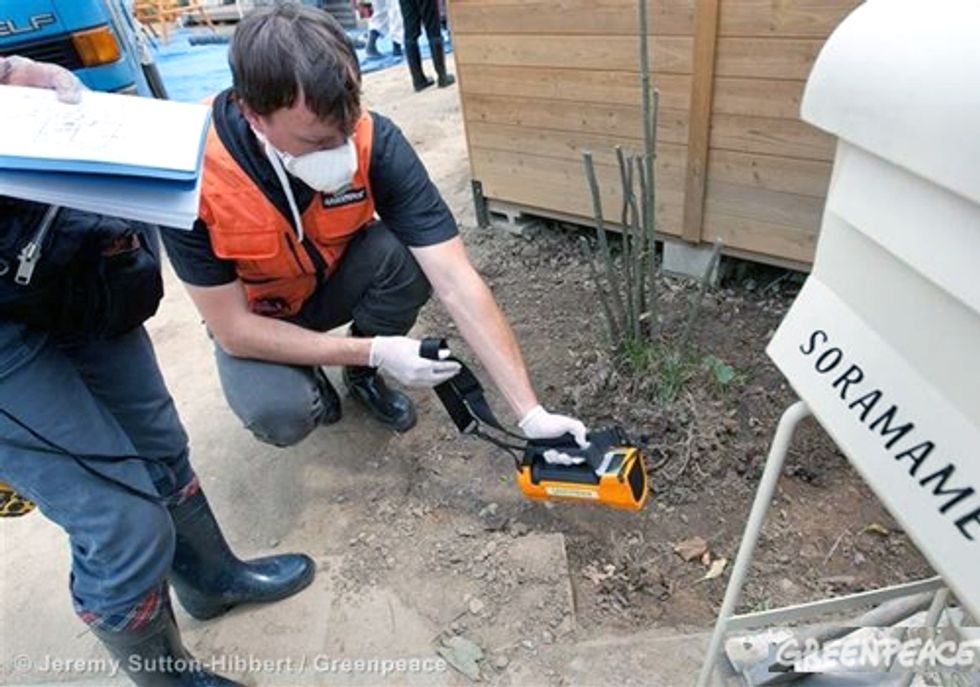 I am at a detention center at South Korea's airport, quickly writing these few words as best I can on a mobile phone. Together with my colleague, Dr. Rianne Teule, I have been denied entry to South Korea.
We have done nothing wrong. That is, unless you agree with the government in Seoul that exposing the risks of nuclear power and calling for better protection of people from radiation is wrong.
This is our second visit to South Korea, but this time we were told that the government would not let us in.
After waiting for hours to fly to Hong Kong we have boarded. From Hong Kong we go on to Japan where we will continue our investigations into the Fukushima nuclear disaster. Teule is an expert in the risks of nuclear radiation and has led Greenpeace operations to independently document radiation contamination near the disaster.
We have been denied access to South Korea today even though we have previously debated the issue of nuclear power here at high-profile conferences and with the media.
Last week, for example, I joined a seminar on nuclear power at the South Korean parliament via a videoconference. Parliamentarians, students and activists attended the event.
I summarized the lessons from the Fukushima disaster that governments should be learning and, ultimately, addressing. I talked about how the transformation taking place now in energy technology is accelerating as the world moves away from risky nuclear reactors to modern, safe, renewable energy technologies.
This transformation is happening in Germany and Japan, where the actions and protests of citizens have forced those governments to change course and phase out nuclear power. We have also begun to see this change elsewhere.
Globally, investments in renewable energy have dwarfed nuclear investments by a factor of 20.
Here in South Korea, these facts seem to be inconvenient today.
But instead of denying entry to those who expose the risks of nuclear energy, South Korea's government would be better off acting swiftly to address those risks rather than the actions it took to try and silence us today.
The South Korean government must act to phase out nuclear power that threatens the safety of millions and join the world's leading economies in switching to a safe and clean future powered by renewable energy.
Teule and I came here to support the Korean people and won't be stopped. The government can't fly the truth back overseas.
Visit EcoWatch's NUCLEAR page for more related news on this topic.

A federal judge has told the people of Vermont that a solemn contract between them and the reactor owner Entergy need not be honored.
The fight will almost certainly now go to the U.S. Supreme Court. At stake is not only the future of atomic power, but the legitimacy of all deals signed between corporations and the public. Chief Justice John Roberts' conservative court will soon decide whether a private corporation can sign what should be an enforceable contract with a public entity and then flat-out ignore it.
In 2003, Entergy made a deal with the state of Vermont. The Louisiana-based nuke speculator said that if it could buy and operate the decrepit Vermont Yankee reactor under certain terms and conditions, the company would then agree to shut it down if the state denied it a permit to continue. The drop dead date: March 21, 2012.
In the interim, Vermont Yankee has been found leaking radioactive tritium and much more into the ground and the nearby Connecticut River. Under oath, in public testimony, the company had denied that the pipes that leaked even existed.
One of Yankee's cooling towers has also collapsed...just plain crumbled.
One of Yankee's siblings—Fukushima One—has melted and exploded (Vermont Yankee is one of some two dozen Fukushima clones licensed in the U.S.).
In the face of these events, the legislature, in partnership with Vermont's governor, voted 26-4 to deny Entergy a permit to continue. But the company is determined to continue reaping huge profits on a 35-year-old reactor—long since amortized at public expense—with very cheap overhead based on slipshod operating techniques where safety always comes second. Along the way Entergy has also tried to stick Vermont Yankee into an underfunded corporate shell aimed at shielding it from all economic liabilities.
To allow Vermont Yankee to continue fissioning, Judge J. Garvin Murtha latched onto Entergy's argument that the state legislature committed the horrible sin of actually discussing safety issues. These, by federal law, are reserved for Nuclear Regulatory Commission. He chose to ignore the serious breach of contract issues involved.
As Deb Katz of the Citizens Awareness Network puts it: "Entergy's lawyers cherry-picked legislators' questions about safety" from a previous debate relating to nuclear waste. "Judge Murtha supported the corporation over the will of the people."
The surreal nature of telling a state it can't vote to shut a reactor because it dared to consider the public health dates to the Atomic Energy Act of 1954. To paint a happy face on the atomic bomb, Congress essentially exempted the nuclear power industry from public accountability. It gave the Atomic Energy Commission sole power to both regulate and promote its "too cheap to meter" technology.
Some 67 years later, Judge Murtha says the legislature's encroachment on the province of safety means Entergy can violate its solemn legal agreement with the people of Vermont.
In practical terms, this could mean that any corporation can bust any public trust on even the flimsiest pretext. Let the corporate lawyers find some pale excuse and the company can skirt its contractual obligations. In the hands of the supremely corporatist Roberts Court, this case could join Citizens United in a devastating one-two punch for the unrestrained power of the private corporation.
It would also put the reactor industry even further beyond control of the people it irradiates.
Thankfully, the judge did not entirely rule out the possibility of the state taking some kind of action. Vermont's Public Service Board still has the right to deny Entergy an extension. Perhaps the commissioners will ban the word "safety" from all proceedings. If they do say Vermont Yankee must be shut, Entergy's legal team will certainly even newer, more creative ways to appeal.
Vermonters will stage a shutdown rally March 21. Local activism against the reactor continues to escalate.
No U.S. reactor has been ordered and completed since 1973. Shutting Vermont Yankee or any of the other 104 American reactors now licensed might well open the floodgates to shutting the rest of them, as Germany is now doing.
Karl Grossman has suggested Vermont use eminent domain to shut Vermont Yankee, as New York did 20 years ago to bury the $7 billion Shoreham reactor, which was stopped from going into commercial operation.
However it happens, the people of Vermont are in a race against time to prevent another Fukushima in their back yard—which is also all of ours.
"When this rogue corporation is again rejected," says Katz, "the will of the people and democracy will be upheld. Lets commit to doing whatever we can to at last make a nuclear corporation keep its word."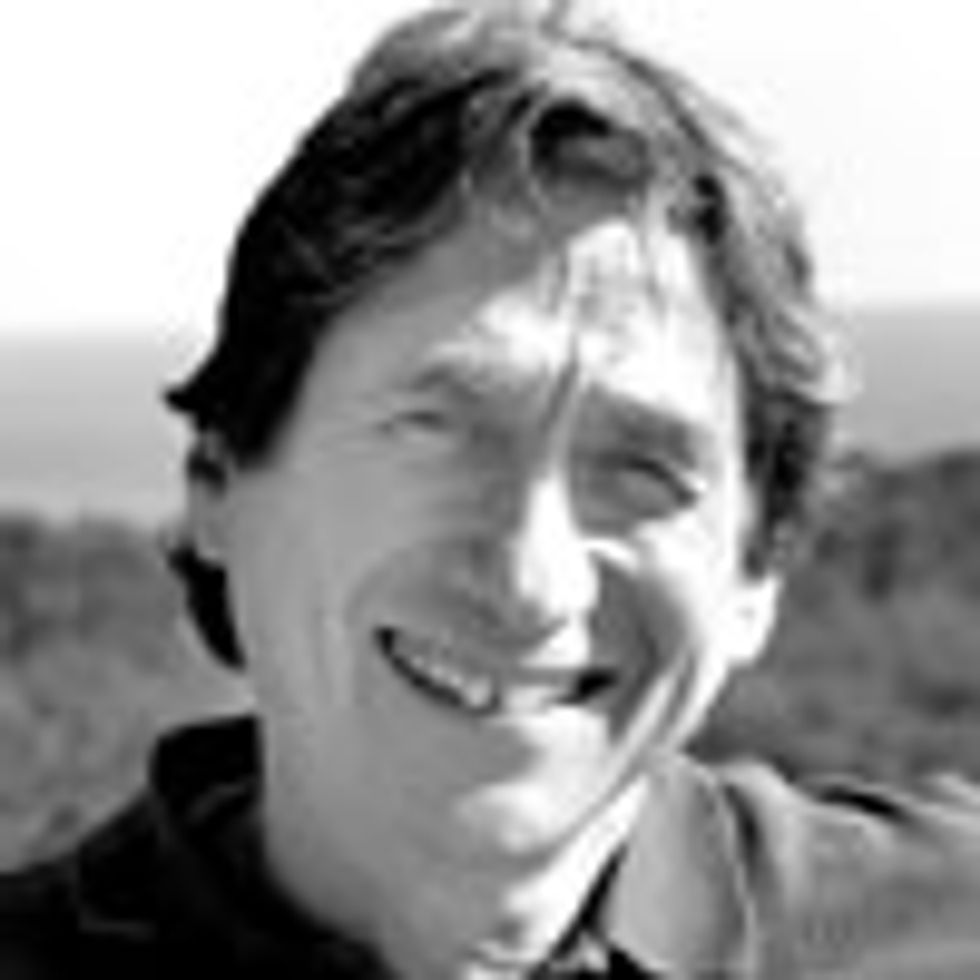 The year 2012 has opened with news that Fukushima's radioactive cloud may already have killed some 14,000 Americans, according to a major study just published in the International Journal of Health Services. 
Some 100 million tons of tsunami trash—much of it radiated by Fukushima fallout—has begun contaminating the beaches of our Pacific coast. 
Germany and Japan, the world's third and fourth largest economies, along with numerous others countries, have definitively turned away from the "Peaceful Atom." 
But it hasn't yet been buried. That's up to us. And 2012 is the year to do it. 
We are already very close. The mythical "Nuclear Renaissance" has been gutted by Fukushima, low gas prices and the escalating Solartopian revolution in green energy. Solar panels, wind turbines, sustainable bio-fuels, geo-thermal, ocean thermal, increased efficiency and much more have simply priced atomic energy out of the market. 
There is virtually no private money to build new reactors—except where there are huge government subsidies and guarantees. In 2012 we must make those all go away. 
Likewise, there are increasingly powerful grassroots movements focused on shutting reactors that still operate. Germany has shut seven, and the rest will be gone by 2022, if not earlier. In Japan, just 11 of more than 50 reactors now operate. Because local governments can prevent reactors from re-opening once they go down for refueling, Japan could emerge from 2012 without a single nuke on line. 
The biggest U.S. battle is at Vermont Yankee. March 21 is D-Day for forcing a nuclear corporation to honor a solemn contract it signed with a sovereign state, agreeing to shut down if the state doesn't approve continued operations. The legislature wants the reactor shut, which Entergy now refuses to do. 
But with some 430 reactors still operating worldwide, and with several score ostensibly on order, here are some of 2012's keys to finally ridding the planet of this radioactive curse:
• The switch to green power has become definitive and is clearly unstoppable. Last year renewables generated more U.S. electricity than nukes. Far more private capital is now being invested in renewables than in nuclear or fossil fuels. General Electric says its photovoltaic solar cells will generate electricity cheaper than coal within five years. Well-funded opponents are making it more difficult to spread green technologies, but they can be beaten.
• The breakdowns in the solar business are far fewer and further between than in the fossil/nuke world. The lead in this technology has shifted to Asia. The much hyped Solyndra failure came not from technological issues, but because the Chinese are underselling its American competitors—and its own costs—by 30-40 percent. Returning at least some of the business to the U.S. is essential to our economic survival.
• A dollar invested in increased efficiency—powered by accelerating breakthroughs such as LED lighting—has long since produced more jobs and saved more energy than one invested in nuclear power.
• In-depth studies from the Union of Concerned Scientists, Rocky Mountain Institute, and a host of others make it clear that investments in solar and wind energy yield better returns than nuclear.
• It takes at very least and optimistic five years to bring a nuclear plant on line assuming all permits are in order, but large-scale wind and solar facilities regularly come on line in half that or less.
• The decisions by Japan and Germany to abandon nuclear power have come from countries long at the core of the industry. Japan manufactures many key reactor components, and maintains ownership stakes in General Electric and Westinghouse, which have designed and/or built most of the world's commercial reactors. Germany's corporate giant Siemens, an industry mainstay, has abandoned the technology to focus on renewables. As other major countries and corporations follow suit, the nuke industry will waste away.
• Those who "support nuclear power" cannot guarantee the reactors they want built will be properly regulated or monitored. The world at large may not hear about the next Fukushimas until long after the radioactive fallout spreads around the planet. Given the dismal state of regulation even in "advanced" countries like Japan and the U.S., will those who support the "Renaissance" be there to monitor the Korean nukes sold to the United Arab Emirates et. al.?
• The U.S. Department of Energy still has some $10 billion in designated loan guarantees for new reactors. Two reactors are technically under construction in South Carolina, and two more at Georgia's Vogtle. Despite $8.33 billion in loan guarantees, Georgia's rates are already soaring. Attempts to get Congress to kick in more money have been blocked by the grassroots No Nukes movement.
• Local resistance to reactor projects has raged wherever reactors operate or are proposed, and has been extremely effective. Richard Nixon promised 1,000 U.S. reactors by the year 2000, but the operable number was 104. Those nearly 900 reactors that went missing were mostly stopped by local grassroots movements. Every proposed or operating reactor not killed financially can be ultimately stopped by local opposition movements geared toward a long, hard struggle against "impossible" odds that ultimately prove beatable.
• As it has been from the start, nuclear power is a ward of the state. Nowhere on Earth are the builders held fully responsible for their mess. The Japanese government has just coughed up a tip-of-the-iceberg $13 billion bailout for Fukushima's owner, the Tokyo Electric Power Company. Hundreds of billions are yet to come. Either the company goes bankrupt, or the government takes it over beforehand. Either way, the public pays financially, and with its health and that of its children. So it will be everywhere nukes are built, including the U.S., where the 1957 Price-Anderson Act still limits owner liability in the wake of a catastrophe.
• Cost estimates for new reactors have already soared 200-300 percent and more over original prices just a few years ago, and will continue go ever higher. By contrast, renewable technology prices continue their rapid, steep decline.
• France's nuclear industry has all but given up on the U.S. market. A reactor under construction in Finland is years behind schedule and billions of Euros over budget, as is another at Flamanville, in France itself. French public opinion has turned strongly toward renewables.
• U.S. war hawks now want an attack on Iran for allegedly using commercial technology to build a Bomb. But it's instructive to remember that the west once tried to sell 36 reactors to the Shah, who was overthrown by religious fundamentalists in 1979, leading to the current crisis. Does the "Renaissance" blueprint mean pushing reactors everywhere, then launching preemptive wars following the inevitable regime changes?
• After more than 50 years, the radioactive waste problem has been nowhere solved. Nevada's Yucca Mountain is not revivable, and there are no usable high-level storage sites anywhere else on the planet.
• Nuclear power makes global warming worse. Greenhouse gases pour out of the mining, milling, enrichment and waste management process. Massive quantities of direct heat threaten our rivers, lakes and oceans. Thus more and more reactors must shut during hot summer months, when they are supposedly fighting global warming.
• The calculations on how much climate changing heat and steam have spewed into the atmosphere during the explosions at Chernobyl and Fukushima remain to be done. Likewise the heat impacts of the liquid emissions into the ocean at Fukushima remain unknown.
• By wasting huge amounts of social capital, nuclear construction slows the conversion to renewables, which are at the real core of defeating global warming.
• Fukushima is not over. Three melted cores remain problematic, and the entire complex is vulnerable to aftershocks which could bring spent fuel pools crashing to the ground and cause other disasters impossible to foresee.
• Nuclear power is killing people in ever-greater numbers. The industry continues to mount its usual personal assaults on those who prove that. But the killing power of radiation has been known since "mountain sickness"—lung cancer—began surfacing among Czech uranium miners in the 1500s. The continuum is unbroken through the introduction of x-rays, the work of the Curies, radium watch dial painting, definitive links to childhood leukemia, and more. The Hiroshima-based "science" used to establish a "safe" dose of radiation has been thoroughly debunked. The medical consensus that there is no such thing is quite firm.
• The nuclear industry never accepted the burden of proving this technology to be safe before being deployed amidst a civilian population. For a half-century reactor backers have done a superb job of simply refusing to maintain or study reliable epidemiological data bases around commercial reactors (as well as weapons production facilities). But as early as 1970 the chief medical officer of the Atomic Energy Commission, Dr. John Gofman, branded commercial atomic power as a form of "premeditated mass murder."
• The largest study so far of the health impacts of Chernobyl, conducted by three Russian scientists, indicates upwards of a million casualties over the past quarter-century. That first study of the U.S. health impacts from Fukushima, indicates that many thousands more deaths are likely to be suffered in the US above what's already apparent.
Does all this add up to the end of nuke power? 
Worldwide, the industry is crumbling. The collapse of its private investment base, and the shutdowns in Japan, Germany, Switzerland, Spain, Mexico, Israel and elsewhere are rapidly shrinking the technology's credible reach. 
In the U.S., we can cut off all subsidies for new reactors, and shut down the old ones in Vermont, New York, Ohio and wherever else they sit. Fierce no nukes campaigns are raging in the UK, India and even China, as massive demonstrations there are starting to erupt. None of these fights will be easy, but all are winnable, especially as the full impacts of Fukushima become known, and as the Solartopian green power revolution renders the nuclear option increasingly uneconomic. 
The movement to shut the old reactors is hitting critical mass. The Vermont Yankee case will go to the U.S. Supreme Court, which must decide if corporations are above even the contracts they sign with the public. Some two dozen Fukushima clones now operate in the U.S. They are old, rickety, cracked and dangerous. Other designs, like Ohio's Davis-Besse, with a cracked containment and an infamous hole eaten through its head, aren't faring much better. Nebraska's Cooper has been flooded. Indian Point, New York is also under attack from the state. Once the first of these are forced shut, the dam will break and the American fleet of 104 licensed reactors will rapidly shrink, along with others around the world. 
Far more money is being invested in renewables worldwide than in nukes or even fossil fuels. Green energy will soon constitute the world's largest industry, financially and in terms of employment. The conversion to a post-fossil/nuclear Solartopian economy based entirely on renewables and efficiency will mark the most important industrial transition in human history. 
Fukushima has taught us that as long as reactors operate, the apocalyptic clock is ticking. 
With that in mind, and with the flow of green money turning into a financial tsunami, we can make 2012 the year nuke power finally dies. 
It will require a serious push from the grassroots. 
But we are ready to win a green-powered earth.