By Arin de Hoog
In France, Greenpeace activists skirted security and climbed the nuclear reactor structures at the Tricastin power plant yesterday. They unfurled a banner that read: TRICASTIN ACCIDENT NUCLÉAIRE: PRÉSIDENT DE LA CATASTROPHE? (Tricastin Nuclear Accident: President of the Disaster?).
Earlier yesterday morning, other activists projected an image of a giant spreading crack onto the side of the plant to illustrate that French President Hollande, needs to shut down 20 nuclear reactors in the country by 2020 to keep his promise to cut nuclear power by 2025.
The projection of the crack is not false foreshadowing. Cracks have been found in the reactor vessels of several plants in France, and throughout the world.
In South Korea, Greenpeace has been hard at work drawing attention to the dangers of nuclear energy. Last Wednesday saw several climbers suspended from the Gwangan Bridge in Busan demonstrated that the Gori power plant poses a grave risk to the people living in its proximity.
Yesterday, the Rainbow Warrior could be seen from the same nuclear plant—the oldest facility in the country—with a very simple message printed on a banner stretched between her masts: CHERNOBYL, FUKUSHIMA, BUSAN? The simple message makes a strong statement: nuclear energy is neither safe, secure or even practical.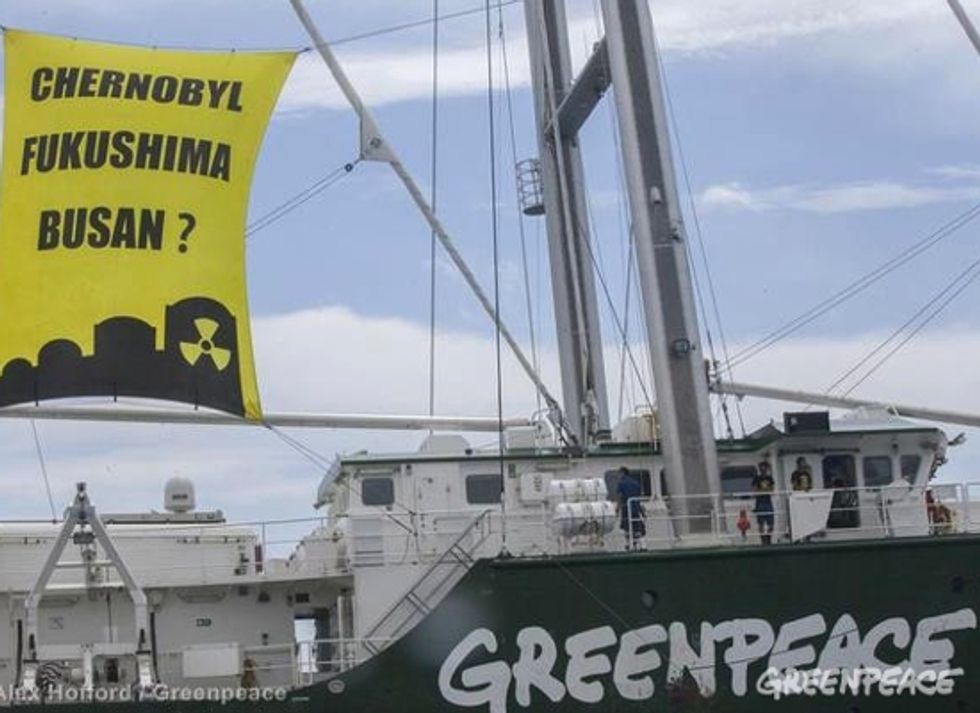 A report released last Thursday spells out not only the health risks associated with nuclear energy, but the economic impracticality of this kind of energy production as a whole. The report finds that facilities peaked a decade ago and have been in decline ever since. It begs the question, what's the point of nuclear energy if demands can be met in a sustainable way?
Although the movement against nuclear power plants in France and South Korea happen to be focused on specific locations, the call to stop generating nuclear energy needs to be heard by everyone. Tricastin is representative of five others' which are decrepit, riddled with cracks and are at high risk of serious accidents.
The Gori plant in Busan, another ticking time bomb, is indicative of a whole other set of problems besides the safety of the plants themselves. It represents the lack of transparency by the nuclear energy industry as it deftly clucks a narrative of efficiency and sustainability while stroking the backs of any policy-makers within reach. In the past few years the nuclear industry in South Korea has been riddled with corruption involving skirting regulation, faking certificates and forging warranties.
The collusion between state officials and nuclear energy mavens is seen as one of the causes of the Fukushima disaster. As former U.S. Nuclear Regulatory Commissioner, Peter Bradford, wrote, "For various reasons in many nations, the nuclear industry cannot tell the truth about its progress, its promise or its perils. Its backers in government and in academia do no better."
There is something else that draws people out of their homes and onto the streets to protest against nuclear power, as they did in Guandong province, China, last week. As long as nuclear power wedges itself into the turnstile though which energy expenditure passes, we won't be able to seriously talk about clean, safe and renewable power. The 37-billion Chinese yuan that would have gone to a uranium processing facility in the Longwan Industrial Park can be put towards a sustainable way to generate energy.
"The gap between nuclear rhetoric and nuclear reality has been a fundamental impediment to wise energy policy decisions for half a century now," wrote Bradford.
Turning the last half-century around to wiser energy policy decisions shouldn't be left to policy-makers, industry leaders or even the small group of French or South Koreans who shine a light on an increasingly dangerous industry. It is up to all of us to push nuclear energy off the table, for the health of ourselves and of our planet.
Visit EcoWatch's ENERGY and NUCLEAR pages for more related news on this topic.
——–
EcoWatch Daily Newsletter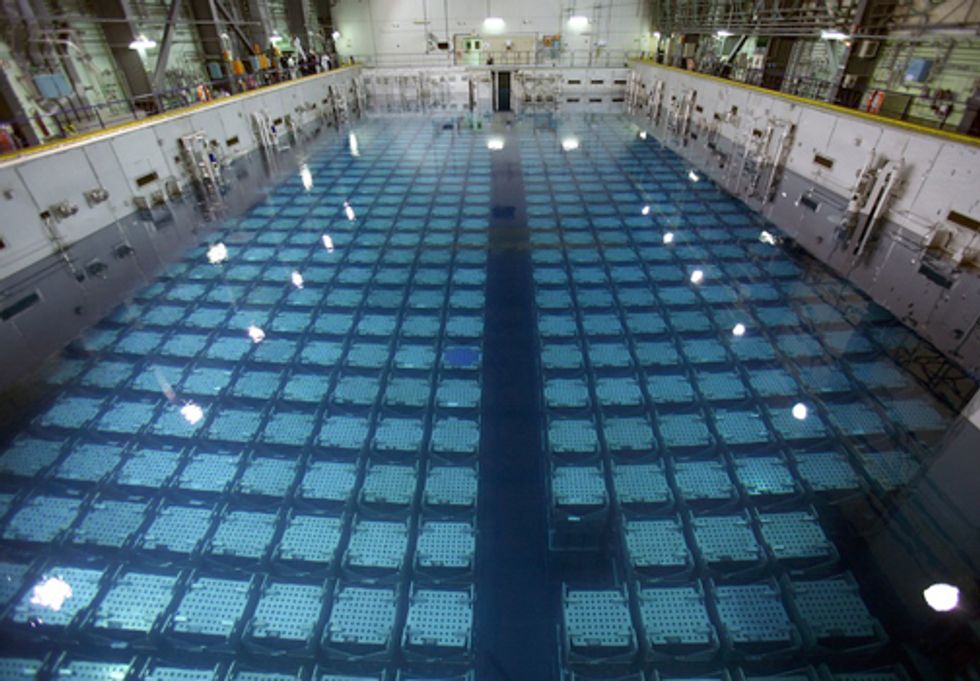 The Blue Ribbon Commission on America's Nuclear Future, created by the Obama administration after it abandoned plans to establish a nuclear waste repository in Nevada, is expected to release its final report Jan. 26 on what to do with commercial "high level" nuclear waste—used, or "spent," fuel—from nuclear reactors.
One of the many contentious issues the commission addressed is reprocessing, a series of chemical operations that separates plutonium and uranium from other nuclear waste in spent fuel to be used again in nuclear reactors. The separated plutonium also could be used to make nuclear weapons.
The Union of Concerned Scientists (UCS) has long opposed reprocessing spent fuel. Not only would reprocessing fail to reduce the volume of nuclear waste requiring permanent disposal, it would increase the risk of nuclear terrorism and proliferation, divert resources from a permanent disposal program, and cost significantly more than disposing of spent fuel directly.
UCS has called on the blue ribbon commission to retain language from its July interim report concluding that "no currently available or reasonably foreseeable" technologies for reprocessing spent fuel have the potential to "fundamentally alter the waste management challenge this nation confronts over at least the next several decades, if not longer." But the science group also has asked the commission to drop the draft report's recommendation to continue taxpayer-funded research and development on reprocessing and plutonium-based reactor fuels.
"Instead of throwing more good money after bad by continuing to fund failed reprocessing projects, the government should encourage research and development to improve the current fuel cycle's efficiency, rebuff industry requests to weaken plutonium storage and transport security standards, and begin a technically sound, politically fair process to site a permanent geologic repository," said Edwin Lyman, a UCS senior scientist. "The tens of billions of dollars that electric utility ratepayers pay into the Nuclear Waste Fund should be spent only on the fund's intended purpose—developing a geologic repository for direct disposal of spent fuel."
The commission also is expected to recommend that the government establish a number of centralized interim high-level radioactive waste sites until a permanent underground geologic repository is built, a major objective of the National Association of Regulatory Utility Commissioners and two industry trade groups, the Nuclear Energy Institute and the Nuclear Waste Strategy Coalition. UCS maintains that until a permanent geologic repository is built, spent nuclear fuel rods should remain on site at operating nuclear plants in hardened dry casks.
"It is not apparent that siting a consolidated interim storage facility would be any easier politically to achieve than siting a [permanent] geologic repository," Lyman said in written comments to blue ribbon commission, "and efforts to site an interim storage facility could distract from the far more important goal of finding a repository site."
"Spent fuel can be managed safely at reactor sites for decades as long as the Nuclear Regulatory Commission (NRC) requires plant owners to minimize safety and security risks," said Lyman. "They can do that by moving spent fuel from vulnerable, overcrowded wet pools to safer dry storage casks, and enhancing security measures to protect the dry casks from terrorist attacks."
In its recommendations to the NRC in light of the Fukushima accident last March, UCS called on the agency to require plant owners to transfer used rods from spent fuel pools to dry casks as soon as the rods are cool enough to move. The NRC is currently conducting a study of this proposal. UCS also has called for the NRC to release more information to the public about classified studies that it has conducted since the 9/11 attacks on the dangers posed by densely packed spent fuel pools.
 For more information, click here.
—————
The Union of Concerned Scientists is the leading U.S. science-based nonprofit organization working for a healthy environment and a safer world. Founded in 1969, UCS is headquartered in Cambridge, Massachusetts, and also has offices in Berkeley, Chicago and Washington, D.C.