Michael Leonardi
The Davis Besse nuclear generating station in Oak Harbor, OH, on the western shore of Lake Erie is back in the cross hairs after last weeks announcement that the crippled San Onofre nuclear power plant in southern California will remain permanently shut down and be decommissioned. The decision by Southern California Edison came 17 months after major problems with its replacement generators caused a crack in piping and a release of radioactive steam into the environment. A broad based coalition of citizen's groups, governmental officials and environmental organizations waged an epic battle to keep this threat to the Pacific Ocean and the southwestern U.S. permanently shut down.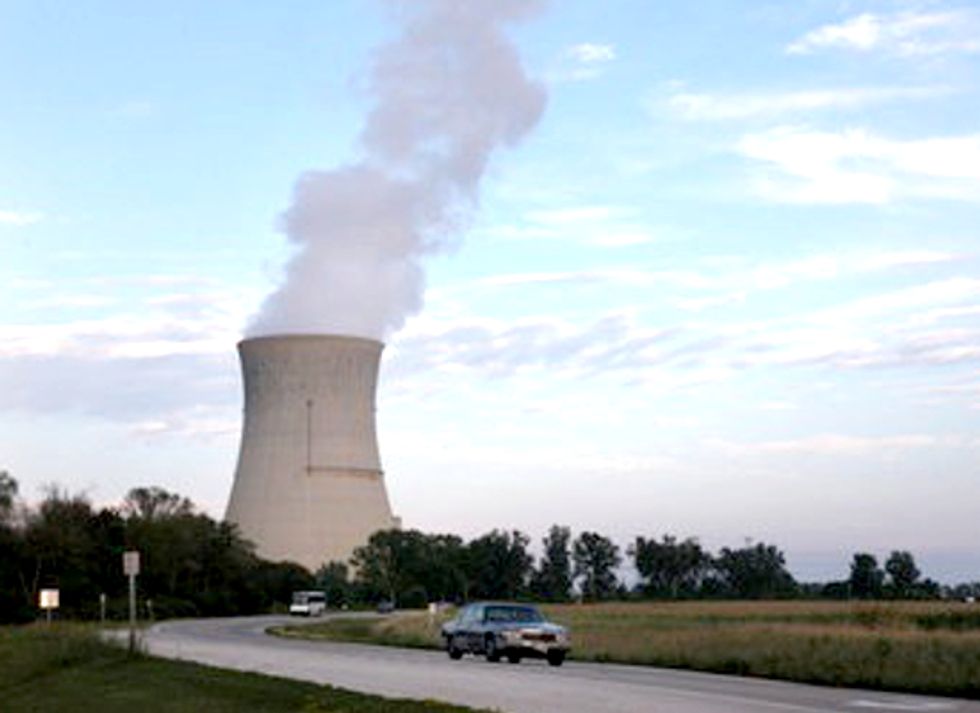 The San Onofre victory has bolstered a coalition of citizen's groups working to shutter the Davis Besse nuclear plant while the plant's owner and operator, First Energy, is planning to replace the plant's steam generators in 2014. Davis Besse has come closer to a catastrophic accident on the shores of the Great Lakes more times than any other reactor in the country. More recently it has been discovered that the shield building that houses the reactor containment structure is riddled with extensive cracking.
The main impetus cited for the closure of San Onofre was the Atomic Safety Licensing Board's decision to hold full public hearings on the license amendment granted for replacement of the generators at plant. The decision to hold these hearings came after national environmental organization Friends of the Earth intervened to call for this important skipped step in public transparency.
"The steam generator disaster at San Onofre, and public attempt to avoid similar bungling at Davis Besse, stem directly from the NRC's [Nuclear Regulatory Commission] 24 year campaign to deregulate the industry," said Terry Lodge, attorney for the coalition of intervenors calling for a public hearing on the replacement of steam generators at Davis Besse.
"At San Onofre and Davis Besse the NRC relied on the utility's self-reporting as to whether there is anything significant about this very major feat of building and installing technologically different pieces of equipment. There has been a fiasco in three out of the last three steam generator replacements. 'Cross my heart and hope to die' regulation is totally unacceptable when it comes to nuclear energy," Lodge concluded.
Arnie Gundersen, chief engineer at Fairewinds Associates, Inc. served as the expert witness for Friends of the Earth in their San Onofre intervention. He is also the expert witness on behalf of Beyond Nuclear, Citizen's Environment Alliance of Southwestern Ontario, Don't Waste Michigan and the Sierra Club intervening on Davis Besse. In the case of Davis Besse, Gunderson has declared that the "data reviewed shows that First Energy should have applied for a license amendment with the requisite public review six years ago when replacement steam generators were originally designed, ordered and purchased."
Gundersen's Davis Besse testimony reported, "The last three steam generator replacement projects orchestrated by licensees sought to avoid the NRC's license amendment process. By avoiding the license amendment processes for Crystal River 3 in Florida and San Onofre 2 and 3 in California, the owners, Progress Energy (Crystal River) and Edison (San Onofre) caused all three units to experience total mechanical failures."
A cascading failure of steam generator tubes can lead to a loss of coolant accident and reactor meltdown.
The failure of the steam generator replacements came about because they were largely experimental—newly designed systems did not mesh well with older equipment. Gundersen has detailed nine significant differences between the replacement and original steam generators at Davis Besse concluding that "each and every one of these changes is significant individually, and when taken together prove that the replacement contains many experimental parameters.
The coalition contends that First Energy's shortcut on safety by its circumvention of an NRC license amendment proceeding, risks repeating the same sort of dangerous mistakes made at San Onofre. It was January 2012 when a steam generator tube rupture at San Onofre released radioactivity and led to the discovery of widespread, unexpected tube degradation in replacement steam generators just over a year old. Thankfully, San Onofre will not operate again.
"Once again, First Energy's indifference to anything but maximum profit dictates the dance," said Lodge. "What if this new, experimental design doesn't work out, just as steam generator replacements in the last three reactors have proven to be failures? For First Energy it's profits first safety last."
The NRC continues to operate like a used car salesman on behalf of the remaining 100 aging and decrepit lemons that threaten millions of Americans living near dangerous nuclear plants in the U.S. Instead of regulating this industry, NRC officials continue to try and paint a rosy picture of this dangerous technology. Just this week in Oak Harbor the NRC held an open house on Davis Besse's annual performance review.
NRC representatives spoke glowingly of First Energy's plans to operate 20 years past its life expectancy after its license expires in 2017. When asked by concerned citizens about the risks posed by replacing the steam generators, an NRC representative just tried to brush the question aside by saying "don't worry, these are the Cadillacs of steam generators." This begs the question, did the NRC settle for Kia's at San Onofre and Crystal River?
"The Japanese parliament has concluded that the root cause of the Fukushima Daiichi nuclear catastrophe was not the earthquake and tsunami, but rather the government-regulator-industry collusion that allowed the atomic reactors to be so vulnerable to a natural disaster," said Kevin Kamps of Beyond Nuclear. "Davis Besse has been the poster child for just such collusion from the very beginning, through the 2002 hole in the reactor head fiasco, and right up to the present."
Visit EcoWatch's ENERGY and NUCLEAR pages for more related news on this topic.
——–
Click here to tell Congress to Expedite Renewable Energy.

EcoWatch Daily Newsletter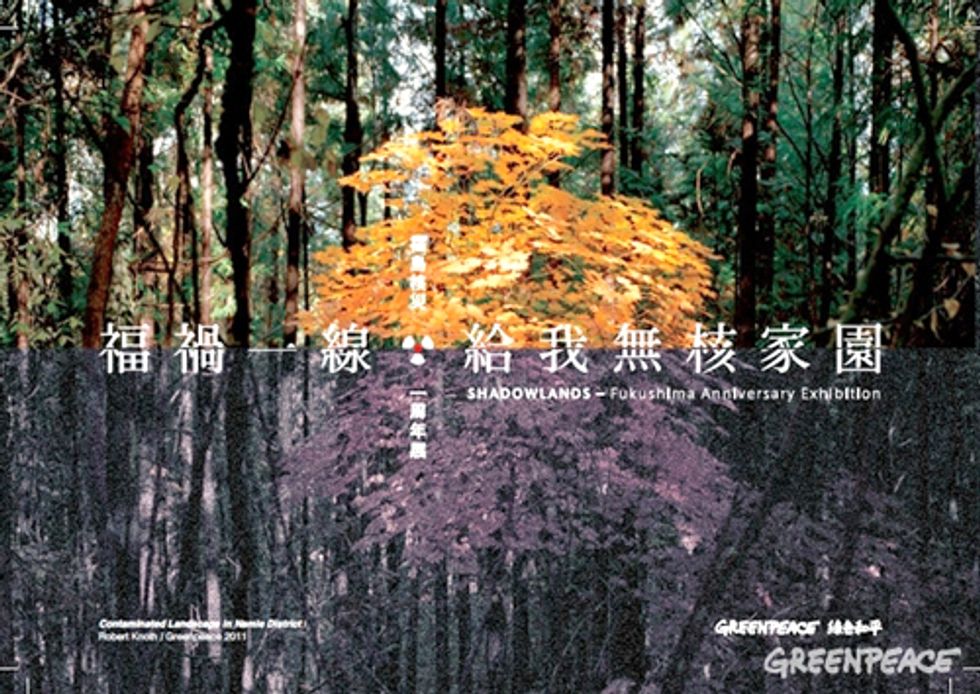 Greenpeace launched 'Shadowlands' on Feb. 20, a presentation of haunting photographs depicting the impacts of the Fukushima nuclear disaster, the plight of people displaced by the crisis, and a warning to others that a serious nuclear accident can happen everywhere there are reactors.
Shadowlands features the work of award-winning photographer Robert Knoth and documentary maker Antoinette de Jong and can be viewed by clicking here. Using social media links and its website, Greenpeace will also collect messages of support for the Japanese people.
"The Fukushima nuclear disaster is having a dramatic impact on the environment and the lives of the people from a wide area around the nuclear plant," said Knoth. "We sought to document this through landscape and portrait photography, as well as interviews with people from the affected region—some of whom may never be able to return to their homes. What we found was a profound sense of loss."
Since the beginning of the crisis on March 11, 2011, Greenpeace radiation specialists have documented the on-going impacts of radiation contamination on the environment, food and seafood to demonstrate that Japanese authorities have consistently underplayed, underestimated and underreported the radiation impacts around Fukushima.
"The underestimation of the disaster by the authorities has exacerbated the suffering of the people of Fukushima," said Junichi Sato, Greenpeace Japan executive director. "Now, the government is rushing to restart reactors against public opinion, and without learning any lessons from Fukushima. We hope our exhibition will give it pause to reflect upon the ramifications of its decisions."
"The Fukushima nuclear disaster happened because the Japanese authorities failed to protect people, instead choosing to protect the nuclear industry. For this reason, people in Japan continue to be exposed to radiation hazards, even a year later. They have not been compensated for all they have lost, and they have not received the support they need to rebuild their lives," said Jan Beránek, head of Greenpeace International's energy campaign. "This reminds us that millions of people living near reactors anywhere in the world are at risk of suffering the same consequences of a major nuclear disaster."
The Shadowlands photos show beautiful landscapes—but something is clearly missing—people. More than 150,000 people had to flee the Fukushima area because of radioactive contamination.
"Nature is already taking over. In the early morning, monkeys look for food on the outskirts of villages, wild boars roam the fields, cranes majestically soar over breath taking scenery, and there is silence," said Knoth.
Greenpeace Japan also launched the first of a series of exhibitions of Knoth's photographs. The Fukushima collaboration by Knoth and De Jong continues their earlier work with Greenpeace on the on-going effects of the Chernobyl nuclear disaster on the Ukrainian people.
Greenpeace is calling on the Japanese government to not restart any nuclear plants and for a global phase out of inherently dangerous nuclear reactors.
For more information, click here.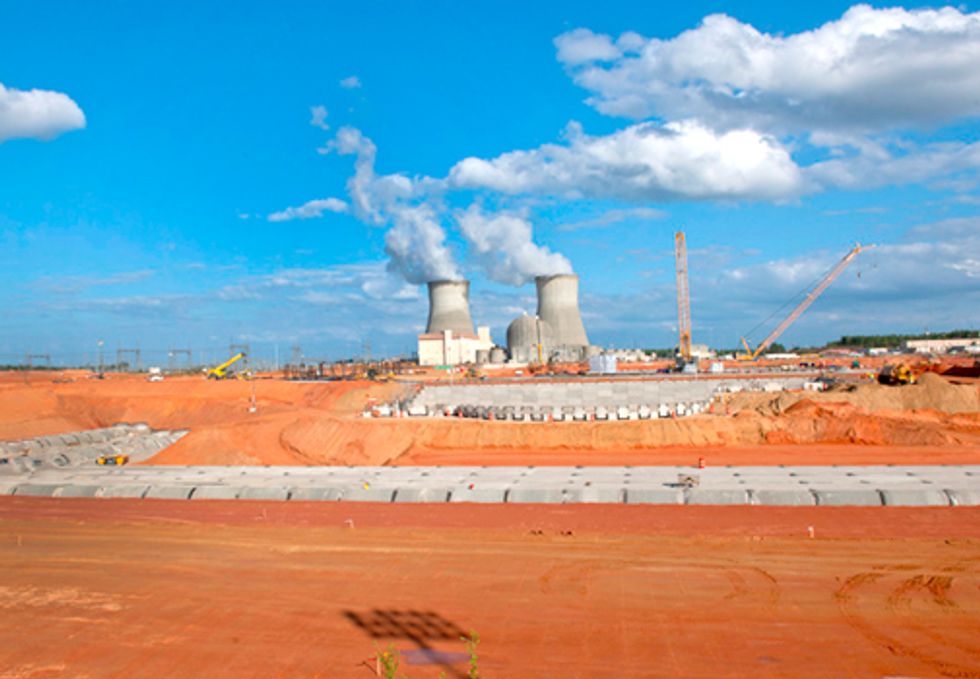 Despite the opposition of its chair, the Nuclear Regulatory Commission (NRC) approved the first new construction of a new design of nuclear reactor on Feb. 9 since the Three Mile Island nuclear disaster in 1979. Friends of the Earth stated on Feb. 14 that the decision to give the green light to building two nuclear reactors at Vogtle, Georgia raises fundamental safety and economic concerns.
The NRC ruling, the first such approval in the U.S. in more than 30 years, will saddle Georgians with higher electricity rates and leave American taxpayers on the hook for billions of dollars—all for a dangerous energy source with a long history of construction delays, cost overruns and safety lapses.
"The license may be granted, but these reactors are far from a done deal. As in the past, expect delays and cost overruns, and rest assured that we will challenge the validity of this license in court," said Damon Moglen, director of Friends of the Earth's climate and energy project.
In a shocking dissent by NRC Chairman Gregory B. Jazcko against the four other commissioners who approved the decision, Jazcko said that the approved designs did not take the lessons of Fukushima into account. "I cannot support issuing this license as if Fukushima never happened," Jazcko told his colleagues.
The approval grants a joint construction and operating license to Southern Energy for two new reactors at its existing plant south of Augusta, Ga. It is the first-ever such combined nuclear construction and operation license. The last construction license issued was in 1978 for a reactor at the Shearon Harris site in North Carolina. That reactor took nine years to complete, and three other units planned for the site were cancelled.
Southern Energy claims that the two Vogtle units will be completed within five years at a cost of $14 billion, but the history of such projects indicates that rosy projections of nuclear construction timelines and costs should not be taken at face value. For example, two French-designed nuclear reactors under construction in western Europe are already years behind schedule and billions of dollars over budget. At the Vogtle site, extensive pre-construction has already led to 12 sizeable construction "change order" requests, while long-running site-specific design and fabrication problems have confounded Westinghouse and its lead contractor for more than two years. At the same time, clean renewable energy has been booming in the U.S., growing 38 percent between 2007 and 2010 according to data from the U.S. Energy Information Administration.
Major safety issues with the design of the planned Vogtle reactors remain unresolved, with the NRC failing to address key vulnerabilities. The safety of the reactor design has been challenged over many years. An engineering study commissioned by Friends of the Earth and other groups opposed to the project identified seven key safety areas, including failure risks for the reactor containment, cooling functions and spent fuel pool integrity. The Fukushima-Daiichi accident highlights the dangers of these oversights as it continues 11 months after it began, with leaks of highly radioactive water and rising temperatures in the molten fuel occurring in recent days.
"This is a valentine sent by the Obama administration to the nuclear industry, but it translates into a nightmare for the public, which gets handed increased nuclear hazards and inflated costs for a dangerous, outdated energy source," said Moglen.
The Vogtle project is entirely dependent on an $8.3 billion pre-emptive bailout promise from the federal government, which comes from the same loan guarantee program as Solyndra's much ballyhooed $535 million. Vogtle's loan guarantee is well over 10 times as large as that of the solar company.
"Contrast the enormous risks in economic and public health terms from nuclear projects with the reality of renewable energy and energy efficiency, which are already cost-competitive with nuclear and continue to fall in price. Furthermore, renewable energy promotes rather than endangers public health by cutting global warming pollution, not dirtying the air and, of course, not producing dangerous radioactive waste," said Moglen.
For more information, click here.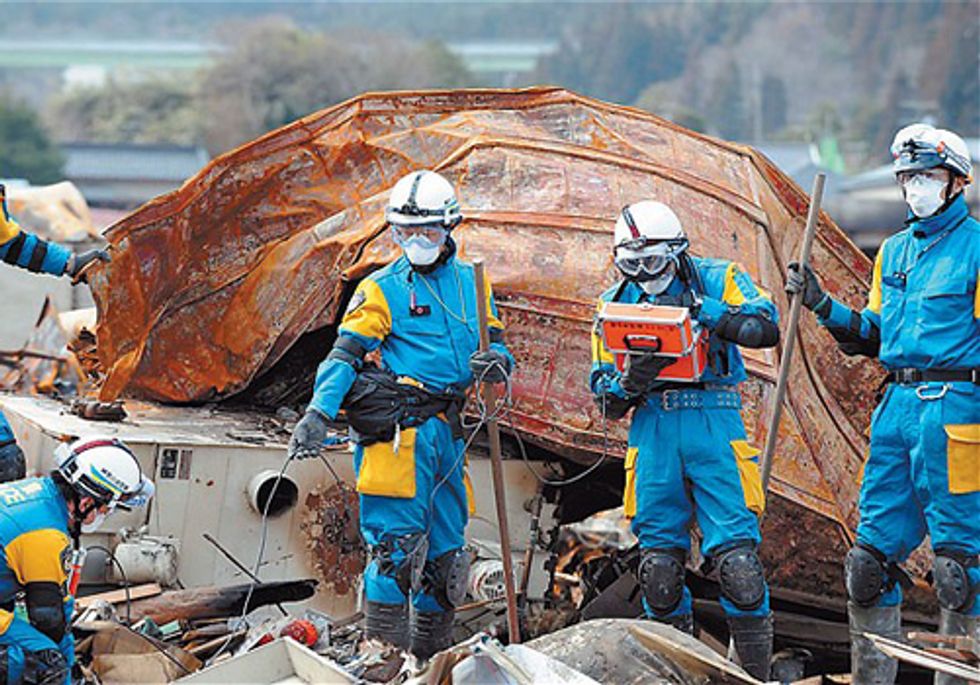 Nine months after the triple meltdown at the Fukushima Daiichi nuclear plant, Greenpeace renewed its demand Dec. 7 for urgent relocation of pregnant women and children living in contaminated areas of Fukushima City, Japan, after finding radioactive hot spots and signs that the official decontamination program is both uncoordinated and thoroughly inadequate.
In early December, the environmental organization conducted radiation monitoring in the Watari and Onami neighbourhoods of Fukushima City, roughly 60km from the stricken nuclear plant, finding hot spots of up to 37 microSieverts per hour in a garden in suburban Watari, and 10.1 microSieverts per hour in bags of dirt, seemingly abandoned, on a road in Onami1.
Greenpeace's mapping of dose rates in Watari shows that people are at risk of being exposed to more than 10 times the 1 milliSievert per year international maximum for radiation doses. The Greenpeace radiation experts found that contamination levels in the Fukushima neighborhoods were comparable to areas designated as evacuation zones, such as Minamisoma. Despite this, authorities have decided only to decontaminate the Fukushima City communities, without giving the residents the right to relocate—including pregnant women and small children, who are at the most risk
"The people of Onami and Watari are facing clear risks to their health and must be given the right to relocate with full support," said Kazue Suzuki, Greenpeace Japan nuclear campaigner. "The government must not discriminate between residents in similar situations2. At very least pregnant women and children must be evacuated from risky areas until sufficient decontamination is completed."
Although official decontamination work has been underway in Onami for two months, only 35 houses out of 370 have reportedly been completed to date, with residents continually exposed to radiation as they wait. In the Watari area, no decontamination work has yet started, and official radiation monitoring is limited to just 1,038 houses out of 6,700. Worried residents wanting rapid decontamination are being left to do the work themselves without clear information about the risks or safety training—further threatening public health.
In August 2011, Greenpeace called on the authorities to urgently organize and deploy thousands of workers to decontaminate areas such as Fukushima City and Koriama, and presented new Prime Minister Yoshihiro Noda with a detailed list of technical demands3. However, these demands have not been met, and the situation for many Fukushima residents has clearly worsened since then.
"Radioactive waste is being buried on the same properties it is removed from, as there are still no proper waste storage sites, and decontamination work is spreading contamination rather than removing it4," said Ike Teuling, Greenpeace International radiation expert. "The situation is rapidly spinning out of control, and the Japanese government seems to have abandoned its responsibility to protect its population as it has left local authorities, who lack the necessary knowledge and equipment, to clean up this mess."
For more information, click here.
—————
1. Hotspots measured at 10cm. The latest raw data and Google maps from this round of radiation monitoring are available by clicking here.

2. Fukushima City levels for decontamination: 2 microSievert per hour at 1m for households with children or pregnant women, 2.5 microSievert per hour at 1m for other households. Minamisoma levels for evacuation: 2 microSievert per hour at 50cm for households with children or pregnant women.
3. A Greenpeace letter to the Japanese national Government calling for stronger protective and decontamination measures is available by clicking here. For a detailed list of demands, click here.

4. Examples of bad decontamination practices:
Decontamination waste (top soil) of one house in Onami buried in an opposite field, risking further contamination spread.
Decontamination run-off water with levels up to 9.8 microSv per hour at 10 cm on the street in Onami. The contamination is not removed but spreads in the environment with this method. * Bags with decontamination waste left on a street in Onami with levels up to 10.1 microSievert/h at 10 cm. 
Sub-contractors decontaminating a house in Onami with high-pressure hoses without wearing face-masks.
Decontamination of houses in Onami is done in two phases: first washing the house, second removing the top soil. In between phases the residents are allowed to return to their houses, increasing the risk of further spreading contamination. 
Inhabitants of Watari are asked to decontaminate their own houses. One resident buried waste in a corner of his garden only one meter away from the house. Radiation levels at that spot were 1.1 microSiever/h at 1 meter.
Greenpeace is an independent global campaigning organization that acts to change attitudes and behavior, to protect and conserve the environment, and to promote peace.