This website uses cookies to ensure you get the best experience while browsing it. By clicking 'Got It' you're accepting these terms.
At least half a dozen nuclear power plants are in the direct path of Hurricane Florence in South and North Carolina. Scribble Maps / Google Maps
By Julia Conley
With 1.5 million residents now under orders to evacuate their homes in preparation for Hurricane Florence's landfall in Virginia, North Carolina and South Carolina, the region faces the possibility of catastrophe should the storm damage one or more of the nuclear power plants which lie in its potential path.
EcoWatch Daily Newsletter
By Arin de Hoog
In France, Greenpeace activists skirted security and climbed the nuclear reactor structures at the Tricastin power plant yesterday. They unfurled a banner that read: TRICASTIN ACCIDENT NUCLÉAIRE: PRÉSIDENT DE LA CATASTROPHE? (Tricastin Nuclear Accident: President of the Disaster?).
Earlier yesterday morning, other activists projected an image of a giant spreading crack onto the side of the plant to illustrate that French President Hollande, needs to shut down 20 nuclear reactors in the country by 2020 to keep his promise to cut nuclear power by 2025.
The projection of the crack is not false foreshadowing. Cracks have been found in the reactor vessels of several plants in France, and throughout the world.
In South Korea, Greenpeace has been hard at work drawing attention to the dangers of nuclear energy. Last Wednesday saw several climbers suspended from the Gwangan Bridge in Busan demonstrated that the Gori power plant poses a grave risk to the people living in its proximity.
Yesterday, the Rainbow Warrior could be seen from the same nuclear plant—the oldest facility in the country—with a very simple message printed on a banner stretched between her masts: CHERNOBYL, FUKUSHIMA, BUSAN? The simple message makes a strong statement: nuclear energy is neither safe, secure or even practical.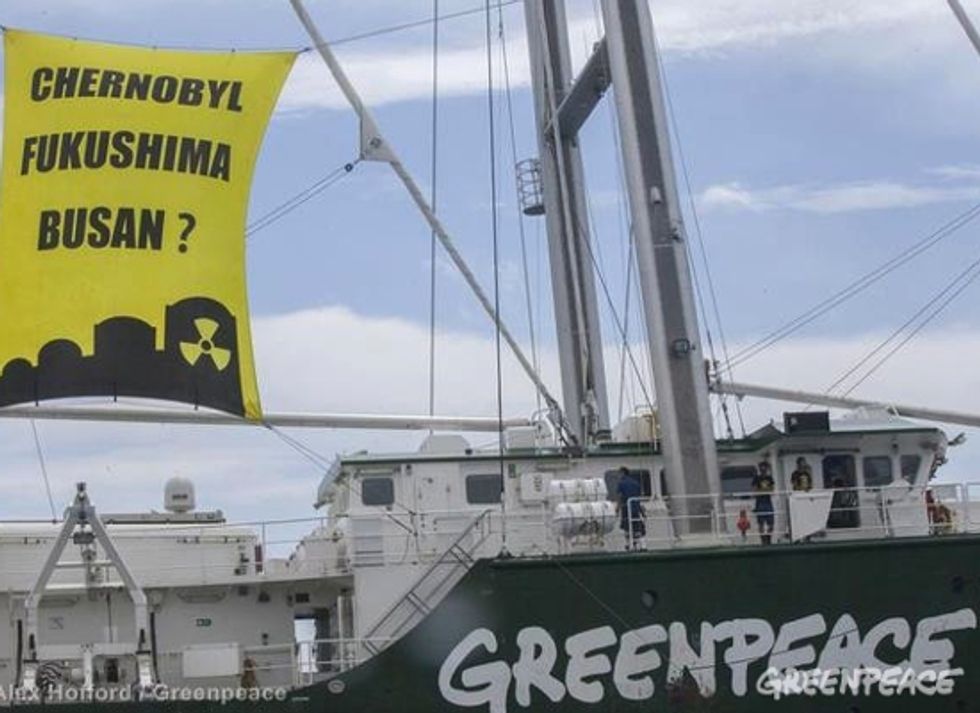 A report released last Thursday spells out not only the health risks associated with nuclear energy, but the economic impracticality of this kind of energy production as a whole. The report finds that facilities peaked a decade ago and have been in decline ever since. It begs the question, what's the point of nuclear energy if demands can be met in a sustainable way?
Although the movement against nuclear power plants in France and South Korea happen to be focused on specific locations, the call to stop generating nuclear energy needs to be heard by everyone. Tricastin is representative of five others' which are decrepit, riddled with cracks and are at high risk of serious accidents.
The Gori plant in Busan, another ticking time bomb, is indicative of a whole other set of problems besides the safety of the plants themselves. It represents the lack of transparency by the nuclear energy industry as it deftly clucks a narrative of efficiency and sustainability while stroking the backs of any policy-makers within reach. In the past few years the nuclear industry in South Korea has been riddled with corruption involving skirting regulation, faking certificates and forging warranties.
The collusion between state officials and nuclear energy mavens is seen as one of the causes of the Fukushima disaster. As former U.S. Nuclear Regulatory Commissioner, Peter Bradford, wrote, "For various reasons in many nations, the nuclear industry cannot tell the truth about its progress, its promise or its perils. Its backers in government and in academia do no better."
There is something else that draws people out of their homes and onto the streets to protest against nuclear power, as they did in Guandong province, China, last week. As long as nuclear power wedges itself into the turnstile though which energy expenditure passes, we won't be able to seriously talk about clean, safe and renewable power. The 37-billion Chinese yuan that would have gone to a uranium processing facility in the Longwan Industrial Park can be put towards a sustainable way to generate energy.
"The gap between nuclear rhetoric and nuclear reality has been a fundamental impediment to wise energy policy decisions for half a century now," wrote Bradford.
Turning the last half-century around to wiser energy policy decisions shouldn't be left to policy-makers, industry leaders or even the small group of French or South Koreans who shine a light on an increasingly dangerous industry. It is up to all of us to push nuclear energy off the table, for the health of ourselves and of our planet.
Visit EcoWatch's ENERGY and NUCLEAR pages for more related news on this topic.
——–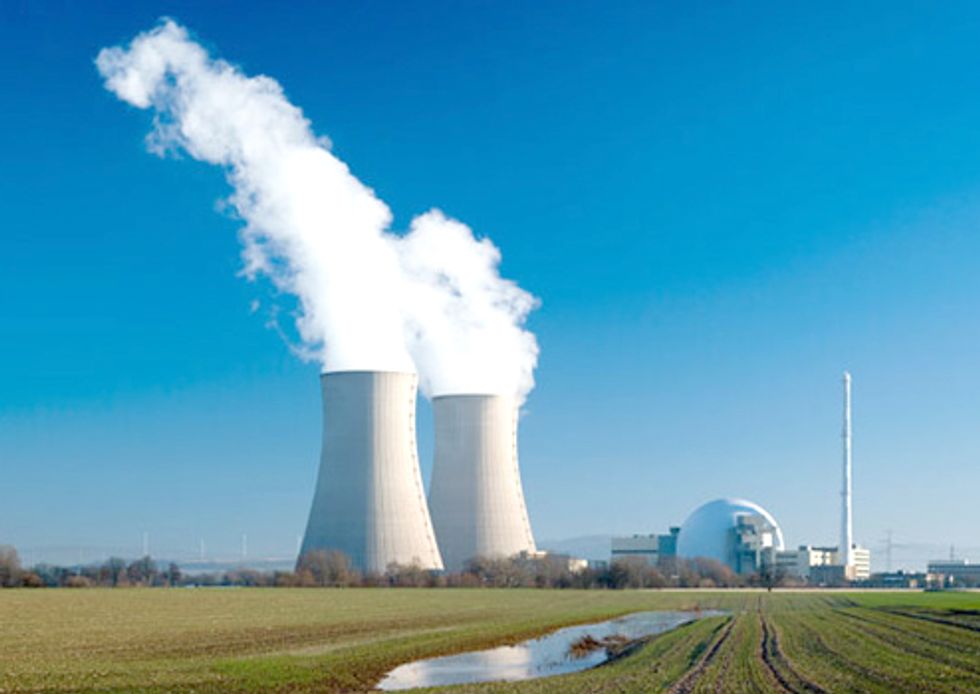 Many of the significant safety lapses at U.S. nuclear power plants in 2011 happened because plant owners—and often the Nuclear Regulatory Commission (NRC)—either tolerated known problems or failed to address them adequately, according to a report released Feb. 28 by the Union of Concerned Scientists (UCS).
The report, The NRC and Nuclear Power Plant Safety in 2011: Living on Borrowed Time, is the second in an annual series on the performance of U.S. nuclear plants and the NRC. This year's report documents the special inspections the NRC conducted in response to safety equipment problems and security shortcomings at 13 plants. None of the 15 "near-misses" that triggered special inspections in 2011 harmed plant employees or the public, but their frequency—more than one a month—is high for a mature industry.
In addition to reviewing the special inspections, the report provides examples of where the NRC did an outstanding job addressing safety problems before they could lead to a potentially dangerous situation. It also covers instances in which NRC negligence has allowed plant owners to flout agency regulations, sometimes for decades.
"Last year's record shows that the NRC is quite capable of being an effective watchdog that protects the public and saves the nuclear industry from its worst tendencies," said Dave Lochbaum, the author of the report and the director of UCS's Nuclear Safety Project. "But the agency too often does not live up to its potential, and we are still finding significant problems at nuclear plants that could too easily trigger a serious accident."
The 13 plants that experienced special inspections last year were Braidwood and Byron in Illinois, Callaway in Missouri, Cooper in Nebraska, Millstone in Connecticut, Monticello in Minnesota, North Anna in Virginia, Oconee in South Carolina, Palisades (two incidents) in Michigan, Perry in Ohio, Pilgrim (two incidents) in Massachusetts, Turkey Point in Florida, and Wolf Creek in Nebraska. The near-misses at Millstone Unit 2 and Pilgrim were the most threatening. Both involved an infrequently performed operation—a test of the valves controlling steam to the turbine at Millstone and a reactor startup at Pilgrim.
Three plants where the NRC nipped a problem before it became serious were Fort Calhoun in Nebraska, which was surrounded by Missouri floodwaters last summer; the Hatch plant in Georgia, where NRC inspectors found that safeguards instituted years before were inadequate; and LaSalle in Illinois, where agency inspectors identified a safety deficiency that had been overlooked for decades.
Conversely, lax NRC oversight has allowed some problems to fester for decades. For example, the report points out that nearly half of the U.S. fleet—47 reactors—still do not comply with a fire regulation the NRC established in 1980 and amended in 2004. Fire represents 50 percent of the risk of reactor core damage. In other words, fire hazards are the equivalent of the risk from all other causes of core damage combined. Likewise, the NRC is aware that 27 reactors are currently operating with inadequate protection against earthquakes. The two reactors at the North Anna plant in Virginia, which sit 12 miles from the epicenter of the 5.8 quake that happened last August, are on that list.
Although UCS reviewed all the special inspections from last year, it did not cover all NRC actions, so the examples in the report do not necessarily represent the best and the worst of 2011. Regardless, these case studies shine a light on patterns of NRC behavior that contributed to both good and potentially dangerous outcomes.
"The serious accidents at the Fermi plant outside Detroit in 1966, Three Mile Island in 1979, Chernobyl in 1986, and Fukushima Daiichi last year happened when a handful of known, uncorrected problems resulted in a catastrophe," said Lochbaum, a nuclear engineer who worked at nuclear plants for 17 years. "The fact that U.S. plant owners could have avoided nearly all the near-misses in 2011 if they had addressed known problems in a timely manner suggests that they and the NRC have not learned the lessons of these accidents. Someday their luck may run out."
Note—For more information about the safety status of each of the 104 operating nuclear power plants across the country, check out the Nuclear Power Information Tracker on UCS's website.
For more information, click here.
—————
The Union of Concerned Scientists is the leading U.S. science-based nonprofit organization working for a healthy environment and a safer world. Founded in 1969, UCS is headquartered in Cambridge, Massachusetts, and also has offices in Berkeley, Chicago and Washington, D.C.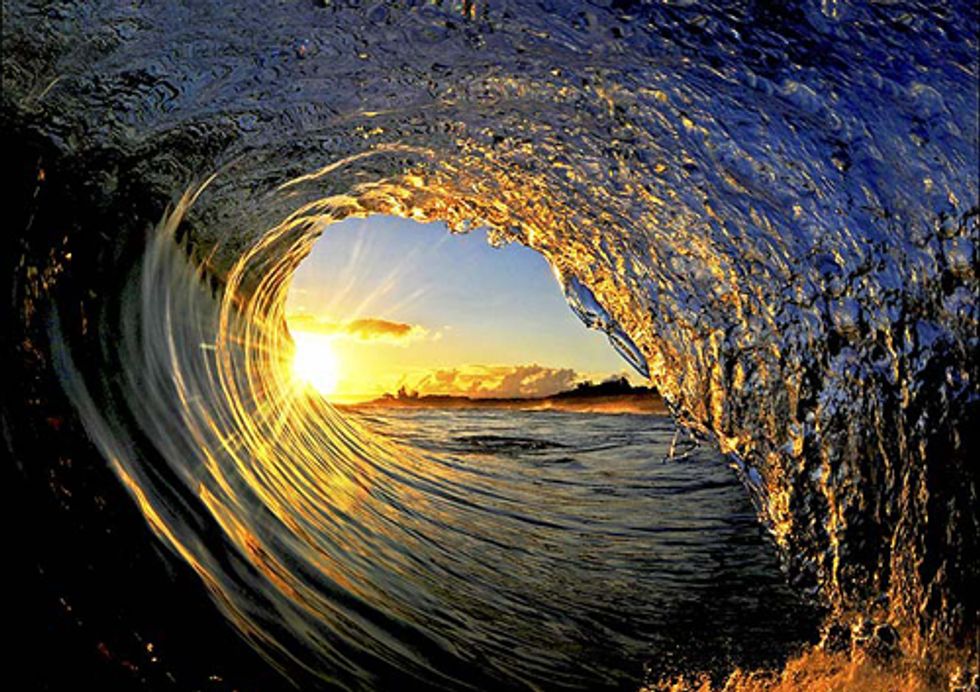 Surfing for Change: J Bay Nuclear Plant is a new short film exploring the dangers of a planned nuclear power plant in the pristine shores of Jeffrey's Bay, South Africa. Made by youth environmental activist, pro-surfer and filmmaker Kyle Thiermann, the film calls attention to the potential for environmental disaster if Eskom—South Africa's national power company—locates the nuclear plant in the waters of one of the most famous surfing destinations in the world.
Featuring interviews with renowned environmental leader Van Jones, 11-time Surfing World champion Kelly Slater, documentarian Foster Gamble and local surfing activists, the film calls attention to the inherent dangers of nuclear power in the wake of the March 2011 Fukushima Daiichi disaster—the largest nuclear failure since the 1986 Chernobyl meltdown.
Underscoring deep concerns about what's at stake, the film also offers a personal perspective from Takayuki Wakita, a Japanese surfer whose family lived 100 kilometers from the meltdown at the Fukushima Daiichi Nuclear power plant and now resides in J Bay.
Surfing for Change: J-Bay Nuclear Plant—available for free through viral web outlets like YouTube—challenges young people to take action and use social media channels to support global opposition to the power plant, encourage exploration of alternative energy sources and points to decisions made by leading European countries to abandon nuclear power plants. Germany will end its nuclear power plant usage in ten years.
Thiermann hopes the film will aid the efforts of local residents who are fighting against a billion dollar initiative that promises employment opportunities in the short term, but risks future environmental catastrophe. "I met amazing people working to stop the plant from being built," Thiermann said. "If it is built, the landscape would be transformed with the building of a power plant. And, the lives of these residents will also be transformed. And not for the good."
The Surfing for Change film series shows people who don't consider themselves activists how to adjust simple daily actions to strengthen their local communities and protect the environment. Thiermann's film Claim Your Change detailed how money kept in multinational banks is used to finance destructive projects worldwide. It inspired people to move hundreds of million of dollars of lending power into local banks and credit unions. Since then, he has made movies ranging from the importance of shopping locally to following a plastic bag to Hawaii.  Kyle has surfed his way across Indonesia, Chile, Peru, El Salvador, Costa Rica, Mexico, Sri Lanka, Australia, Hawaii and throughout the U.S.
For more information, click here.