This website uses cookies to ensure you get the best experience while browsing it. By clicking 'Got It' you're accepting these terms.


The best of EcoWatch, right in your inbox. Sign up for our email newsletter!
Scott Pena / Flickr / CC BY 2.0
By Paul Brown
The latest science shows how the pace of sea level rise is speeding up, fueling fears that not only millions of homes will be under threat, but that vulnerable installations like docks and power plants will be overwhelmed by the waves.
Nuclear Power Plant in Cattenom, Northeastern France. © Allard Schager / Moment / Getty Images
By Paul Brown
Nuclear power is in terminal decline worldwide and will never make a serious contribution to tackling climate change, a group of energy experts argues.
EcoWatch Daily Newsletter
By Paul Brown
There have been three well-documented major nuclear accidents in the last 60 years, each one accompanied by official lies and cover-ups. There have been other less well-known serious accidents that have been so effectively hushed up that decades later there are only the sketchiest details available.
The legacy of these disasters is a deep distrust of the industry by many voters. In some leading industrial countries this has led to governments being forced to abandon nuclear power altogether, while others face such strong opposition to new stations being built that they have abandoned the idea, although they still keep the old ones operating, at least for now.
This checkered history of the industry matters. It has caused a global split. While many scientists and politicians concerned about climate change believe that nuclear power is vital if governments are to meet their commitments to curb dangerous global warming, just as many do not.

The opposition is based on the belief that the industry has lost all integrity and credibility and that renewables are a cheaper, safer and all-round better bet. This view is reinforced by the inability of the industry to deal with its waste. Renewables can easily be recycled, but nuclear waste remains dangerous for thousands of years, leaving future generations to pay for it.
But it is the three major disasters that are at the root of this fierce debate. They happened over a span of 60 years and all had different causes. But all followed a familiar pattern.
The first was at Windscale in north-west England in 1957, when a plutonium-producing reactor caught fire. The second was Chernobyl on the border of Ukraine and Belarus in 1986: the top blew off one of the reactors and there was a serious fire. The third was at Fukushima in Japan in 2011, when an earthquake and a tsunami caused meltdowns at three reactors.
Official Concealment

All three accidents had startling similarities in the official reaction. In each case the governments involved, the nuclear regulators and plant owners tried to hide the scale of the disaster from the public who were most in danger. In each case this resulted in unnecessary exposure of the population to harmful radiation.
Second, the possible long-term health effects to the people involved were hotly disputed. In each case this took the form, both at the time and ever since, of governments and the industry playing down the health risks.
There is still an argument about whether the Windscale fire caused a leukaemia cluster in children in the neighborhood. After Fukushima, governments and the industry claim, very few or no deaths at all resulted. Expect the argument to continue for decades.
Third has been the underplaying of the enormous cost and intractable nature of trying to clean up the mess. For example, people who are evacuated are told the move is only temporary, when it could last for decades, possibly generations.
Again, the official estimate for "compensation" for the Fukushima accident rose from ¥5.4 trillion (£40bn) to ¥8 trillion (£70bn), a fact only slipped out at the end of November 2016, nearly five years after the accident.
Technically Insurmountable
In each case, even after the Windscale accident 60 years ago, the clean-up of the actual nuclear pile that caught fire has several times started and then been abandoned as too difficult. They are not expected to be completed for decades.
There is no hope of cleaning up Chernobyl or Fukushima this century. A new concrete shell over Chernobyl to replace the existing crumbling structure should be in place by 2017 at a cost of €2.1—but this is designed only as a temporary structure, to last 100 years.
Governments tried hard to cover up what happened. At Windscale, the British government subsequently admitted it had deliberately covered up the seriousness of the accidents to keep its nuclear weapons program on track.
In Chernobyl's case it was the sky-high radiation readings from as far away as Scandinavia and Germany that led the Soviets to admit what had happened. Thirty years later the real health effects of the accident are hotly disputed.
Thousands of children have had their thyroids removed and there have been many birth defects and cancers. Belarus, worst hit by the disaster, is anxious to play down the long-term effects to avoid frightening potential foreign investors in the country.
The nuclear industry has been trying hard to put all this in the past. In response to public concerns it has come up with a whole series of "safer" designs for nuclear power stations. As a result, some countries like Finland and Britain are encouraging the building of a new generation of French, Japanese, Chinese and American designs.
This time, however, it is not just safety that is at issue. For the last 35 years not a single nuclear power station in the west has been built to time or on budget. It undermines the claim that nuclear power will be able to compete with other fuels on price. It has repeatedly been shown that, without government subsidy, nuclear power cannot survive.
The latest evidence for this is the two new power stations being built in Finland and France. Both are nearly 10 years behind schedule and have more than doubled in cost.
The original claims that the price of the electricity the stations would produce would be competitive cannot be true. Wholesale prices must already have more than doubled before a single watt of power has been produced.
Yet, despite this track record, the nuclear industry hopes to keep on growing and claims it is expecting to do so—and many governments continue to pour money into research and development. They do so in the hope that one day nuclear power will provide a safe and economically viable method of producing electricity.
So far, however, there is no sign of the long-predicted nuclear renaissance. The costs of a safe design continue to increase as the industry and governments attempt to live down the legacy of misleading the public for the last 60 years. It seems that if the climate is to be saved from overheating, we shall have to do this without the aid of new nuclear power.
Reposted with permission from our media associate Climate News Network.
In a unanimous decision, the New York State Court of Appeals Monday upheld a state agency's right to review applications for renewal of federal licenses to operate two Indian Point nuclear power plants for another 20 years, delivering a setback to the facilities' owner, Mississippi-based Entergy Nuclear.
Indian Point nuclear plants.Daniel Case / Wikimedia
Indian Point's two remaining operating reactors reached the end of their original 40-year operating licenses in September 2013 and December 2015.
New York state Gov. Andrew Cuomo and former Sec. of State Hillary Clinton have argued for closing down the plants due to its proximity to the New York metropolitan area. Twenty million people live within a 50-mile radius of Indian Point, which lies along the east bank of the Hudson River, about 30 miles north of New York City. The Ramapo Fault system, which saw a 3.8-magnitude earthquake in 1985, lies near the plant.
"This is a monumental day," Paul Gallay, president of New York-based Riverkeeper, said. "This decision effectively stops the Nuclear Regulatory Commission from re-licensing Indian Point."
The New York Department of State had asserted its right to review Entergy's applications under the Coastal Management Program. Entergy argued that it was exempt. In its decision, the Court of Appeals wrote, "Entergy's current application for a license to operate the Indian Point nuclear reactors for an additional 20 years is a new federal action, involving a new project, with different impacts and concerns than were present when the initial environmental impact statements were issued over 40 years ago."
"Today's unanimous decision by the Court of Appeals reaffirms the state's authority to review Entergy's federal applications to continue its operation at Indian Point," Gov. Cuomo said. "The Department of State already concluded that the Indian Point relicensing application is inconsistent with New York's long-standing Coastal Management Program requirements and will continue to use this program to protect New York's coastline. Indian Point is antiquated and does not belong on the Hudson River in close proximity to New York City, where it poses a threat not only to the coastal resources and uses of the river, but to millions of New Yorkers living and working in the surrounding community."
In recent years, the aging plants have had their share of trouble. In 2010, 600,000 gallons of radioactive steam were released into the atmosphere and radioactive water leaked into the groundwater earlier this year. A transformer blew up in 2010 and another failed in 2015, causing a shutdown of Reactor 3.
"This is a happy day for New Yorkers, for the Hudson, and for the safety and security of our country," Robert F. Kennedy, Jr, president of Waterkeeper Alliance, said. "Indian Point is the oldest, most dilapidated, mismanaged and dangerous nuclear power plant in America."
Environmental concerns have dogged the Indian Point facility since the first plant, now decommissioned, opened in 1962. Hudson River water cools the reactors, killing about one billion small fish and fish larvae each year as they are sucked into the cooling system.
"Today's decision represents a major victory for the continued health and productivity of our state's environment," New York Attorney General Eric T. Schneiderman said. "Among our most important laws are those that protect sensitive ecosystems, including New York's lower Hudson River and its natural resources. The court has now made it clear that policies protecting New York's critical coastal resources are a necessary factor in considering whether to relicense the Indian Point facility."
According to Gallay, closing Indian Point wouldn't cause a hardship for electricity users. Electric power needs can readily be met by a combination of other regional power plants, existing surpluses and growing solar power installations in the state.
"Indian Point is not needed to provide energy to the New York Metropolitan Area," Gallay told EcoWatch today. "It is not safe to continue operating. And this ruling effectively bars federal relicensing of Indian Point. It's time to close Indian Point and take advantage of the safe, sustainable energy future that awaits New York."
By Paul Brown
A third of France's nuclear reactors have been shut down by industry regulators as revelations emerge about the supply of sub-standard parts.
As investigations into falsified documents and excess quantities of carbon in steel continue, more closures are expected. This is not yet a full-blown crisis for the nuclear industry, but it is putting serious strain on the finances of French nuclear giant EDF and causing electricity price rises across western Europe.
The Chooz nuclear power plant in France, where the industry is being investigated by regulators.
It is also very bad news for the climate. France is reopening mothballed coal plants and burning more coal than it has for 32 years. Neighbors, including Germany, which normally takes cheap nuclear power from the French, are also powering up old fossil fuel plants and exporting the electricity to France at premium prices.

Japan's Nuclear Scandal

France is not the only country affected by the scandal. A Japanese company, the Japan Casting & Forging Corporation, has also allegedly been involved in falsifying quality control documents for parts supplied to reactors both at home and in France.
The Japanese nuclear safety organization is now investigating, but so far no plants in Japan have been ordered to close, partly because most of them have in any case remained shut since the 2011 Fukushima disaster.

This is a drama that has been unfolding slowly for months. But as more forged documents and potentially faulty parts have come to light, the French regulator ASN has begun insisting on shutdowns and inspections to ensure plants are safe.
One problem is that there is too much carbon in the steel components and containment vessels, which will make them brittle. The carbon content is well above specified safety limits, leading to fears that there could be catastrophic failures in plants currently operating.
The second, related, problem is forged, falsified or incomplete quality control reports about the components themselves. Areva, the troubled French state-owned nuclear component manufacturer, is reviewing all 9,000 manufacturing records from its giant forge at Le Creusot dating back as far as 1943. This includes 6,000 parts made for nuclear reactors—some of them outside France.
The anomalies were first discovered in 2014 at the plant being built at Flamanville in northern France. Excess carbon was found in the plant's pressure vessel. This has caused considerable further cost and even longer delays to the completion of the flagship reactor. It has still not been cleared as safe and a final decision will not be taken until next year.
It was the investigations into how this potentially disastrous flaw got through the safety vetting process that led to the discovery in May this year of 400 other sub-standard parts and a mass of falsified quality control documentation. Many of the parts are inside nuclear plants currently operating.
According to Power magazine, an ASN press relations officer, who requested anonymity in line with ASN rules, said more nuclear power plants with suspect parts will be inspected in the next few weeks. "We are now finding carbon segregation problems from components coming from both Le Creusot and Japan Casting & Forging. As for now, there are 20 EDF reactors offline," the official said.
And the Japan Times reported that Japan Casting & Forging Corporation is now also under scrutiny by the country's Nuclear Regulation Authority because it supplied French plants. With most of Japan's nuclear fleet closed since Fukushima, there are moves to reopen some reactors.
Urgent Testing

Shaun Burnie, nuclear specialist at Greenpeace Germany, said: "The nuclear industry in France is now in crisis as a result of the carbon test results, with 11 reactors supplied by Japanese steel ordered shut down and under investigation by the regulator."
"No such testing has been done in Japan … until actual testing is conducted, the NRA and more importantly the communities living near nuclear reactors, will not know what risks the nuclear plants pose," Burnie added.
"The NRA must instruct utilities in Japan to undertake testing as a matter of urgency." He said the priorities are the Sendai-2 and Ikata-3 reactors, the only plants operating.
Reposted with permission from our media associate Climate News Network.
By Sun Day Campaign
Two new reports from the Federal Energy Regulatory Commission (FERC) and the U.S. Energy Information Administration (EIA) confirm that nuclear power is rapidly losing the race with renewable energy sources.
Activ Solar
EIA's latest "Monthly Energy Review" notes that during the first six months of this year, renewable sources—i.e., biofuels, biomass, geothermal, hydropower, solar and wind—accounted for 5.242 quadrillion Btus (quads) of domestic energy production. This includes thermal, liquid and electrical forms of energy. By comparison, nuclear power provided only 4.188 quads. That is, renewables outpaced nuclear by more than 25 percent.

Meanwhile, FERC's latest "Energy Infrastructure Update" states that the total available installed generating capacity in the U.S. from the combination of utility-scale (i.e., greater than 1-MW) hydropower, wind, solar, biomass, and geothermal has grown to 215.82 gigawatts (GW) or 18.39 percent of total generating capacity. Nuclear power's installed capacity is only107.06 GW or 9.12 percent of the total. Thus, renewable energy generating capacity is now more than double that of nuclear.
However, actual electrical generation by nuclear plants for the first seven months of 2016 is 19.9 percent of total generation. That is still higher than that provided by renewable sources which contributed 15.8 percent—a figure which does not include electricity produced by distributed renewables such as rooftop solar.

But while nuclear power's share of net electrical generation has remained essentially flat over the past decade—e.g., it was 19.4 percent in 2006, renewable energy's share is growing rapidly, increasing from 9.5 percent 10 years ago to 15.8 percent today with EIA forecasting continued strong growth in the years ahead.
U.S. Energy Information Administration
"If renewable sources maintain their current growth rates, they could fully eclipse nuclear in the trifecta of not only energy supply and generating capacity but also electricity production within the next five or six years ... or less," Ken Bossong, executive director of the SUN DAY Campaign, concluded.

By Andrea Germanos
While it's been touted by some energy experts as a so-called "bridge" to help slash carbon emissions, a new study suggests that a commitment to nuclear power may in fact be a path towards climate failure.
For their study, researchers at the University of Sussex and the Vienna School of International Studies grouped European countries by levels of nuclear energy usage and plans, and compared their progress with part of the European Union's 2020 Strategy.
That 10-year strategy, proposed in 2010, calls for reducing greenhouse gas emissions by least 20 percent compared to 1990 levels and increasing the share of renewable energy in final energy consumption to 20 percent.
The researchers found that "progress in both carbon emissions reduction and in adoption of renewables appears to be inversely related to the strength of continuing nuclear commitments."
For the study, the authors looked at three groupings. First is those with no nuclear energy. Group 1 includes Denmark, Ireland and Portugal. Group 2, which counts Germany and Sweden among its members, includes those with some continuing nuclear commitments, but also with plans to decommission existing nuclear plants. The third group, meanwhile, includes countries like Hungary and the UK which have plans to maintain current nuclear units or even expand nuclear capacity.
"With reference to reductions in carbon emissions and adoption of renewables, clear relationships emerge between patterns of achievement in these 2020 Strategy goals and the different groupings of nuclear use," they wrote.
For non-nuclear Group 1 countries, the average percentage of reduced emissions was 6 percent and they had an average of a 26 percent increase in renewable energy consumption.
Group 2 had the highest average percentage of reduced emissions at 11 percent and they also boosted renewable energy to 19 percent.
Pro-nuclear Group 3, meanwhile, had their emissions on average go up 3 percent and they had the smallest increase in renewable shares—16 percent.
"Looked at on its own, nuclear power is sometimes noisily propounded as an attractive response to climate change," said Andy Stirling, professor of science and technology policy at the University of Sussex, in a media statement. "Yet if alternative options are rigorously compared, questions are raised about cost-effectiveness, timeliness, safety and security."
"Looking in detail at historic trends and current patterns in Europe, this paper substantiates further doubts," he continued. "By suppressing better ways to meet climate goals, evidence suggests entrenched commitments to nuclear power may actually be counterproductive."
The new study focused on Europe and Benjamin Sovacool, professor of energy policy and director of the Sussex Energy Group at the University of Sussex, stated, "If nothing else, our paper casts doubt on the likelihood of a nuclear renaissance in the near-term, at least in Europe."
Yet advocates of clean energy over on the other side of the Atlantic said the recent plan to close the last remaining nuclear power plant in California and replace it with renewable energy marked the "end of an atomic era" and said it could serve as "a clear blueprint for fighting climate change."
Natural Resources Defense Council President Rhea Suh wrote of the proposal: "It proves we can cut our carbon footprint with energy efficiency and renewable power, even as our aging nuclear fleet nears retirement. And it strikes a blow against the central environmental challenge of our time, the climate change that threatens our very future."
The new study was published in the journal Climate Policy.
This article was reposted with permission from our media associate Common Dreams.
By Wendy Sol
Environmentalists see a devil and an angel on Gov. Cuomo's shoulder and it appears both are getting their way when it comes to New York's energy future—although one will have to be more patient than the other.
At the behest of state energy regulators in July, the Long Island Power Authority (LIPA) delayed plans to approve a wind farm expected to be built 30 miles off the shore of Montauk at the far northern end of Long Island. With 15 turbines producing 90 megawatts (MW) of electricity, the project, built by Deepwater Wind LLC, would be the most sizable of its kind in the U.S., which has lagged significantly behind Europe in developing offshore wind resources.
"We're looking at this and seeing a tremendous offshore wind resource that will be developed and it's not the last," Thomas Falcone, the utility's chief executive officer told the Associated Press a week ahead of the scheduled vote. "[T]his is a very big step for New York, but also for the U.S."
From Virginia to Maine, the Eastern seaboard has the potential to harness 240,000 MW of offshore wind, nearly 40,000 MW of which blows off Long Island's coast, according to research by the New York Energy Policy Institute and Stony Brook University. Deepwater Wind's farm will only generate a fraction of what is possible but environmentalists see the plan as an important move toward weaning New York off of polluting energy sources like gas, coal and nuclear.
"It's going to help to open the door here to offshore wind power," said Kim Fraczek, of the New York-based Sane Energy Project. The group hopes the project will lead to more turbines, including some off of Long Island's southeastern shore, where Sane Energy won a hard-fought campaign last year to block a natural gas terminal and is now advocating for construction of a 750 MW wind farm in its place.
The state's Energy and Research Development Authority, chaired by Cuomo-appointed energy czar Richard Kaufman, intervened last month and requested that the LIPA delay approving the Montauk wind farm until the state releases an offshore wind master plan in August. It was the second time this summer the LIPA put off voting on the wind farm, which was originally expected to be greenlit in June.
The Deepwater Wind farm might be in need of CPR after the bureaucratic hold up, but Cuomo is breathing new life into geriatric nuclear reactors upstate, currently hemorrhaging money for their operators.
When the New York Public Service Commission approved new clean energy standards on Aug. 1, it included a provision that will force the state's power utilities to purchase $7.6 billion worth of electricity over the next 12 years from the R. E. Ginna and Nine Mile Point nuclear plants operated by Exelon Corp, as well as Entergy's James A. FitzPatrick nuclear facility.
Cuomo, who sought the bailout for the struggling plants and tied it to plans for New York to receive 50 percent of its energy from renewable sources by 2030, praised the commission's decision. Electrical providers, forced to buy nuclear power at above-market rates, are going to "pay for the intrinsic value of carbon-free emissions," Cuomo said in a statement.
Ratepayers will ultimately be the ones picking up the tab, however, as utilities pass on the cost of electricity from nuclear power to consumers.
Critics also observe that while carbon emissions from nuclear plants are minimal compared to those burning fossil fuels, the process of mining and enriching uranium required to power reactors is carbon-intensive. The plants emit radioactive chemicals into the environment as a matter of daily operation, produce large amounts of toxic waste and present a safety risk to the public, as evidenced by the 2011 Fukushima disaster, which only increases as they age.
"These plants are old and decaying," said Fraczek. "[The bailout] is a giant slap in the face to the public."
Her hope is that plans for the wind farm off the coast of Montauk will eventually move forward and pave the way for more ambitious projects, including the 750 MW wind farm Sane Energy wants built off the coast of the Rockaways in Queens.
"The only way our state is going to truly meet its renewable energy goals is with offshore wind," she said.
This article was reposted with permission from our media associate The Indypendent.

To mark anniversary of atomic bombing, mayor and survivors urge world leaders to visit and push for disarmament
Energy
By Nadia Prupis
To mark the grim anniversary of the U.S. atomic bombing of Nagasaki and Hiroshima 71 years ago, the mayor of Nagasaki on Tuesday urged leaders of nuclear powers to visit the cities and see what their weapons are capable of.
"I appeal to the leaders of states which possess nuclear weapons and other countries and to the people of the world: Please come and visit Nagasaki and Hiroshima," Mayor Tomihisa Taue said during a ceremony for the occasion.
Greenpeace / Jeremy Sutton-Hibbert
"Find out for yourselves what happened to human beings beneath the mushroom cloud," Taue said. "Knowing the facts becomes the starting point for thinking about a future free of nuclear weapons."

The mayor also delivered a Peace Declaration calling for global communities to use their "collective wisdom" to work for disarmament.
The Asahi Shimbun reports:
Taue also urged the Japanese government to depart from its reliance on the U.S. nuclear deterrence.

He proposed that Japan enshrine into law the nation's longstanding non-nuclear principles of not producing, not possessing and not allowing the entry of nuclear weapons into the country.

In addition, the mayor called for the establishment of a Northeast Asia nuclear weapons-free zone, in which nuclear powers promise not to use nuclear weapons for intimidation or attacks.
In May, President Barack Obama became the first sitting U.S. president to visit Hiroshima, which Taue said "showed the rest of the world the importance of seeing, listening and feeling things for oneself."
But the mayor spent much of his address outlining the challenge of building a nuclear-free world, particularly if other global leaders refuse to participate in the process. He criticized representatives of nuclear states who did not attend a recent United Nations working group on disarmament, held in Geneva.
Wishes in Nagasaki Peace Park. Kanko / Flickr
"Now is the time for all of you to bring together as much of your collective wisdom as you possibly can and act so that we do not destroy the future of mankind," he said Tuesday.
During the ceremony, one survivor called on the government not to rely on the U.S. "nuclear umbrella"—a guarantee by a nuclear state to protect a non-nuclear ally state—and for weaponized nations to adopt a "no first use" policy.
"It is our hope that Japan will establish an honorable position for itself in the movement to prohibit nuclear weapons," said the survivor, 80-year-old Toyokazu Ihara, who was nine at the time of the bombing and lost his mother, sister and brother to illnesses stemming from radiation.
Another survivor, Miyako Takashim, 88, who lost her mother, sister and brother in the bombing, said, "I am praying for world peace. I believe nuclear weapons will be eliminated if people around the world imagine what damage an atomic bomb attack would cause them."
The ceremony included a moment of silence at 11:02 a.m., the time at which the atomic bomb was dropped on Nagasaki 71 years ago. An estimated 74,000 people died by the end of 1945 as a result of the attack.
The New York Times published an astonishing article last week that blames green power for difficulties countries are facing to mitigate climate change.
The article by Eduardo Porter, How Renewable Energy is Blowing Climate Change Efforts Off Course, serves as a flagship for an on-going attack on the growth of renewables. It is so convoluted and inaccurate that it requires a detailed response.
Our planet is burning up from fossil fuels and being irradiated by decrepit money-losing reactors that blow up. Blaming renewable energy for all that is like blaming the peace movement for causing wars.
As Mark Jacobson, director of Atmosphere/Energy Program at Stanford University, pointed out to me via email:
The New York Times article "suffers from the inaccurate assumption that existing expensive nuclear that is shut down will be replaced by natural gas. This is impossible in California, for example, since gas is currently 60 percent of electricity supply but state law requires non-large-hydro clean renewables to be 50 percent by 2030. This means that, with the shuttering of Diablo Canyon nuclear facility be 2025, gas can by no greater than 35-44 percent of California supply since clean renewables will be at least 50 percent (and probably much more) and large hydro will be 6-15 percent. As such, gas must go down no matter what. In fact, 100 percent of all new electric power in Europe in 2015 was clean, renewable energy with no new net gas, and 70 percent of all new energy in the U.S. was clean and renewable, so the fact is nuclear is not being replaced by gas but by clean, renewable energy.
"Further, the article fails to consider the fact that the cost of keeping nuclear open is often much greater than the cost of replacing the nuclear with wind or solar. For example, three upstate New York nuclear plants require $7.6 billion in subsidies from the state to stay open 12 years. To stay open after that, they will need an additional $805 million/year at a minimum, or at least $17.7 billion from 2028-2050, or a total of $25.3 billion from 2016 to 2050. If, on the other hand, those three plants were replaced with wind today, the total cost between now and 2050 would be $11.9 billion. Thus, keeping the nuclear plants open 12 years costs an additional $7.6 billion; keeping it open 34 years costs and additional $25.3 billion, in both cases with zero additional climate benefit, in comparison with shuttering the three plants today and replacing them with onshore wind."
Gideon Forman, climate change and transportation policy analyst at David Suzuki Foundation, also shared his dismay on the Times piece:
"The notion that non-renewable power sources are necessary is questionable at best. Some scientists believe that, over the next few decades, renewables could provide all our power. One is Stanford Prof. Mark Jacobson. He has done modeling to show the U.S. could be entirely powered by renewables by 2050.
"Porter is wrong to claim that nuclear produces 'zero-carbon electricity.' If we look at the full nuclear cycle, including production of uranium fuel, we find it involves considerable carbon emissions. Jacobson and his co-author, Mark A. Delucchi, have written, 'Nuclear power results in up to 25 times more carbon emissions than wind energy, when reactor construction and uranium refining and transport are considered.'
"Porter says if American nuclear plants were replaced with gas-fired generators it would lead to 200 million tons of additional CO2 emissions annually. But it's wrong to suggest that nuclear could only be replaced by natural gas. A full suite of renewables—along with energy storage and conservation programs—could meet demand, certainly in the not very distant future.
"Porter suggests that nuclear power can 'stay on all the time.' But of course, nuclear plants, like all generators, are sometimes out of service for maintenance. This downtime can be considerable. For example, it is expected that from 2017 to 2021, Ontario's Pickering nuclear station will require back-up almost 30 percent of the time."
Karl Grossman, professor of journalism at State University of New York/College at Old Westbury, called the Times piece "outrageous." He told me:
"The Times piece continues the paper's long record of minimizing and downplaying—not recognizing and indeed often denying—the deadly impacts of nuclear power. It's been a shameful journalistic dysfunction. As Alden Whitman, a Times reporter for 25 years, told me, 'there certainly was never any effort made to do' in-depth or investigative reporting on nuclear power. 'I think there stupidity involved,' he said, and further, 'The Times regards itself as part of the establishment." Or as Anna Mayo of The Village Voice related: 'I built a full-time career on covering nuclear horror stories that the New York Times neglected.'"

So where do I stand on the Porter piece? Here are my eight biggest complaints:
1. Though viewed as the "journal of record," the Times has been consistently pro-nuclear. Its slanted coverage has served as an industry bulwark for decades. A long-time atomic beat reporter, Matt Wald, went straight from the Times to a job with the Nuclear Energy Institute, the primary public relations front for the reactor industry. The Times has a long history as a cheerleader for nuclear power dating back to the atomic bomb era, when it consistently denied health problems from radioactive fallout. It also denied health problems resulting from radiation releases at Three Mile Island, and much more. Now it has taken a major role in defending the nuclear industry from the renewable energy revolution that is driving it to bankruptcy while bringing a tsunami of reactor shut downs. It's these shut downs that now seem to worry the paper.
2. The primary technological transition in the world of electric power today is from fossil and nuclear fuels (King CONG: Coal, Oil, Nukes, Gas) to a Solartopian system based on green power. But there's a deeper shift going on: from centralized, grid-based corporate control to decentralized citizen-based community control. When nuclear power and its apologists defend continued operations at dangerously deteriorated reactors, they are more broadly defending the power and profits of huge corporations that are completely invested in a centralized grid. When they argue that renewables "can't do the job," they're in fact working to prolong the lives of the large generators that are the "base load" basis of a corporate grid-based supply system.
3. But that grid is now obsolete. What strikes the ultimate terror in utility boardrooms is the revolutionary reality of a decentralized power supply, free of large generators, comprised instead of millions of small photovoltaic (PV) panels owned by individuals. Industry sources have widely confirmed that this decentralized, post-grid model means the end of big utilities. Thus when they fight against PV and for nuclear power, they are fighting not for the life of the planet, but for the survival of their own corporate profits.
4. Some utilities do support some renewables, but primarily in the form of large centralized grid-based solar and wind turbine farms. Pacific Gas & Electric said it will replace the power from the Diablo Canyon nuke plant with solar energy. But PG&E is simultaneously fighting rooftop solar, which will allow individual homeowners to disconnect from the grid. Germany's transition from fossil-nukes to renewables has also been marked by conflict between large grid-based wind farms versus small community-based renewables.
5. PG&E and other major utilities are fighting against net metering and other programs that promote small-scale renewables. The Koch Brothers' American Legislature Exchange Council (ALEC) has spread a wide range of taxes and disincentives passed by the states to make it ever-harder to go solar. All this is being done to preserve the grid-based monopolies that own large fossil/nuclear facilities.
6. The idea that nuclear power might fight climate change, and that environmentalists might support it, is a recent concoction, a disgraceful, desperate load of utility hype meant to defend the status quo. Fukushima, unsolved waste problems and the plummeting price of renewables have solidified the environmental community's opposition to nuke power. These reactors are dirty and dangerous. They are not carbon-free and do emit huge quantities of heated water and steam into the ecosphere. The utility industry can't get private liability insurance for them, and relies on the 1957 Price-Anderson Act to protect them from liability in a major catastrophe. The industry continually complains about subsidies to renewable energy but never mentions this government protection program without which all reactors would close.
7. Not just nuke power but the entire centralized fossil/nuke-based grid system is now being undermined by the massive drops in the price of renewable energy, and massive rises in its efficiency and reliability. The critical missing link is battery technology. Because the sun and wind are intermittent, there needs to be energy storage to smooth out supply. Elon Musk's billion-dollar Tesla Gigafactory in Nevada and many other industrial ventures indicate major battery breakthroughs in storage is here today.
8. Porter's NY Times piece correctly says that the massive amounts of cheap, clean renewables flooding the grid in Europe and parts of the U.S. are driving nuclear power plants into bankruptcy. At least a dozen reactor shut downs have been announced in the U.S. since 2012 and many more are on their way. In Japan 52 of the 54 reactors online before the Fukushima disaster are now closed. And, Germany has pledged to shut all its reactors by 2022.
But Porter attacks this by complaining that those nukes were supplying base load power that must be otherwise—according to him—shored up with fossil burners. Here's his key line:
"Renewable sources are producing temporary power gluts from Australia to California, driving out other energy sources that are still necessary to maintain a stable supply of power."
But as all serious environmentalists understand, the choice has never been between nukes versus fossil fuels. It's between centralized fossil/nukes versus decentralized renewables.
Porter's article never mentions the word "battery" or the term "rooftop solar." But these are the two key parts in the green transition already very much in progress.
So here is what the Times obviously can't bring itself to say: "Cheap solar panels on rooftops are now making the grid obsolete." The key bridging element of battery back-up capability is on its way. Meanwhile there is absolutely no need for nuclear power plants, which at any rate have long since become far too expensive to operate.
Spending billions to prop up dying nuke reactors for "base load" generation is pure corporate theft at the public expense, both in straight financial terms and in the risk of running badly deteriorated reactors deep into the future until they inevitably melt down or blow up.
Those billions instead should go to accelerating battery production and distribution, and making it easier, rather than harder, to gain energy independence using the wind and the sun.
All this has serious real-world impacts. In Ohio, for example, a well-organized shift to wind and solar was derailed by the Koch-run legislature. Some $2 billion in wind-power investments and a $500 million solar farm were derailed. There are also serious legal barriers now in place to stop homeowners from putting solar shingles and panels on their rooftops.
Meanwhile, FirstEnergy strong-armed the Ohio Public Utilities Commission into approving a huge bailout to keep the seriously deteriorated Davis-Besse nuke operating, even though it cannot compete and is losing huge sums of money. Federal regulators have since put that bailout on hold.
Arizona and other Koch-owned legislatures have moved to tax solar panels, ban solar shingles and make it illegal to leave the grid without still paying tribute to the utilities who own it. Indeed, throughout the U.S. and much of the western world, corporate-owned governments are doing their best to slow the ability of people to use renewables to rid themselves of the corporate grid.
For an environmental movement serious about saving the Earth from climate change, this is a temporary barrier. The Times and its pro-nuke allies in the corporate media will continue to twist reality. But the Solartopian revolution is proceeding ahead of schedule and under budget. A renewable, decentralized energy system is very much in sight.
The only question is how long corporate nonsense like this latest NY Times screed can delay this vital transition. Our planet is burning up from fossil fuels and being irradiated by decrepit money-losing reactors that blow up. Blaming renewable energy for all that is like blaming the peace movement for causing wars.
The centralized King CONG grid and its obsolete owners are at the core of the problem. So are the corporate media outlets like the New York Times that try to hide that obvious reality.
Harvey Wasserman's SOLARTOPIA! OUR GREEN-POWERED EARTH is at www.solartopia.org, where his
AMERICA AT THE BRINK OF REBIRTH: THE ORGANIC SPIRAL OF US HISTORY is soon to arrive. He edits www.nukefree.org and hosts the Solartopia Green Power & Wellness Show at www.prn.fm.
By Jan Beranek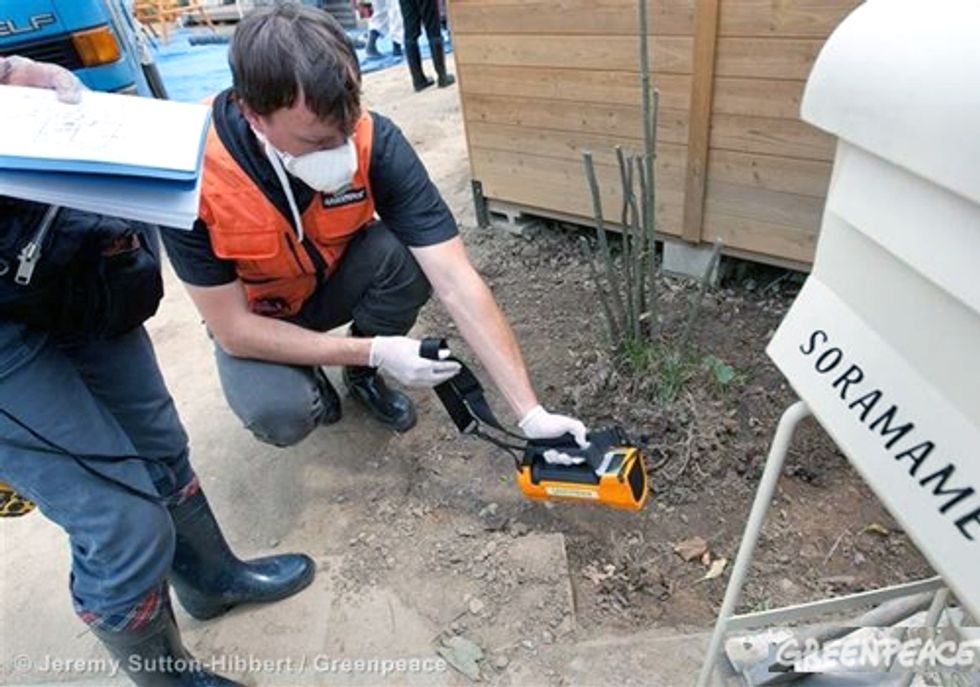 I am at a detention center at South Korea's airport, quickly writing these few words as best I can on a mobile phone. Together with my colleague, Dr. Rianne Teule, I have been denied entry to South Korea.
We have done nothing wrong. That is, unless you agree with the government in Seoul that exposing the risks of nuclear power and calling for better protection of people from radiation is wrong.
This is our second visit to South Korea, but this time we were told that the government would not let us in.
After waiting for hours to fly to Hong Kong we have boarded. From Hong Kong we go on to Japan where we will continue our investigations into the Fukushima nuclear disaster. Teule is an expert in the risks of nuclear radiation and has led Greenpeace operations to independently document radiation contamination near the disaster.
We have been denied access to South Korea today even though we have previously debated the issue of nuclear power here at high-profile conferences and with the media.
Last week, for example, I joined a seminar on nuclear power at the South Korean parliament via a videoconference. Parliamentarians, students and activists attended the event.
I summarized the lessons from the Fukushima disaster that governments should be learning and, ultimately, addressing. I talked about how the transformation taking place now in energy technology is accelerating as the world moves away from risky nuclear reactors to modern, safe, renewable energy technologies.
This transformation is happening in Germany and Japan, where the actions and protests of citizens have forced those governments to change course and phase out nuclear power. We have also begun to see this change elsewhere.
Globally, investments in renewable energy have dwarfed nuclear investments by a factor of 20.
Here in South Korea, these facts seem to be inconvenient today.
But instead of denying entry to those who expose the risks of nuclear energy, South Korea's government would be better off acting swiftly to address those risks rather than the actions it took to try and silence us today.
The South Korean government must act to phase out nuclear power that threatens the safety of millions and join the world's leading economies in switching to a safe and clean future powered by renewable energy.
Teule and I came here to support the Korean people and won't be stopped. The government can't fly the truth back overseas.
Visit EcoWatch's NUCLEAR page for more related news on this topic.