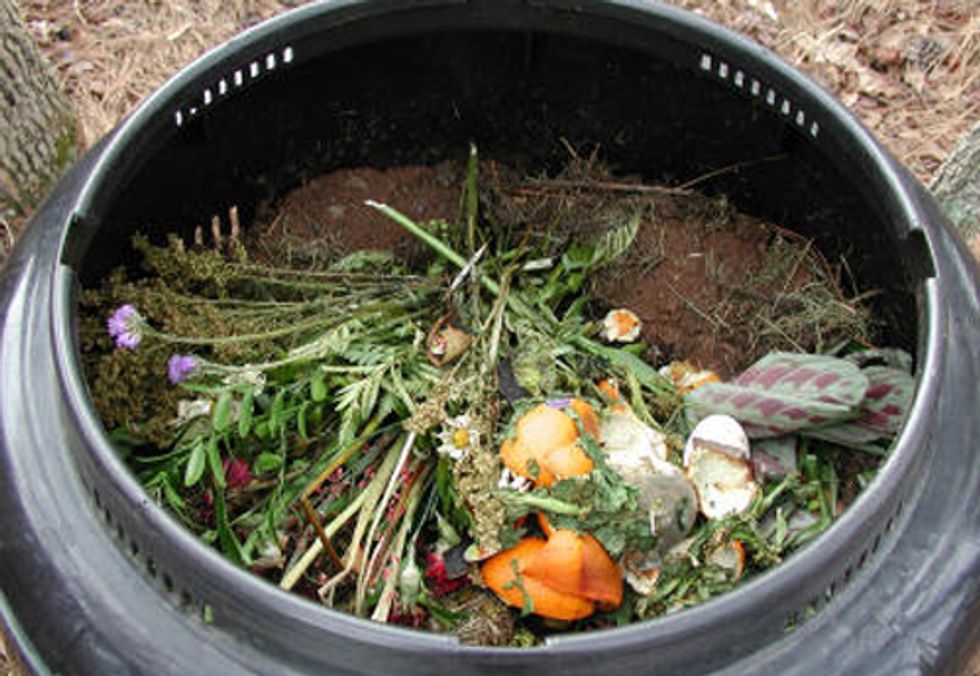 By Graham Salinger
The United Nations Food and Agriculture Organization (FAO), reports that an estimated one-third of the food produced worldwide for human consumption is wasted annually. In the U.S., an estimated 40 percent of edible food is thrown away by retailers and households. In the United Kingdom, 8.3 million tons of food is wasted by households each year. To make the world more food secure consumers need to make better use of the food that is produced by wasting less.
Today, Nourishing the Planet presents five ways that consumers can help prevent food waste.
1. Compost—In addition to contributing to food insecurity, food waste is harmful to the environment. Rotting food that ends up in landfills releases methane, a potent greenhouse gas, that is a major contributor to global climate change and can negatively affect crop yields. Composting is a process that allows food waste to be converted into nutrient rich organic fertilizer for gardening.
Compost in Action—In Denver, the city contracts with A1 Organics, a local organic recycling business, to take people's waste and turn it into compost for local farmers. Similarly, a new pilot program in New York City allows patrons to donate food scraps to a composting company that gives the compost to local farmers.
2. Donate to food banks—Donating food that you don't plan to use is a great way to save food while helping to feed the needy in your community.
Food Banks in Action—In Atlanta, Ga., the Atlanta Community Food Bank relies on food donations to supply 20 million pounds of food to the poor each year. In Tennessee, the Second Harvest Food Bank works to reduce waste resulting from damaged cans by testing the cans to make sure that they don't have holes in them that would allow food to spoil. For more on how you can donate food that would otherwise go to waste, visit Feed America, a national network of food banks.
3. Better home storage—Food is often wasted because it isn't stored properly, which allows it to mold, rot or get freezer burn. By storing food properly, consumers can reduce the amount of food they waste.
Better storage in Action—The National Center for Home Food Preservation is a great resource for consumers to learn a range of techniques to increase the shelf life of food. For example, they recommend blanching vegetables—briefly boiling vegetables in water—and then freezing them. They also stress canning fruits and vegetables to protect them against bacteria.
4. Buy less food—People often buy more food than they need and allow the excess food to go to waste. Reducing food waste requires that consumers take responsibility for their food consumption. Instead of buying more food, consumers should buy food more responsibly.
Buying Less Food in Action—Making a shopping list and planning meals before shopping will help you buy the amount of food that is needed so that you don't waste food. There are a number of services that help consumers shop responsibly—Mealmixer and e-mealz help consumers make a weekly shopping list that fits the exact amount of food that they need to buy. Eating leftovers is another great way to reduce the amount of food that needs to be purchased. At leftoverchef.com, patrons can search for recipes based on leftover ingredients that they have.  Similarly, Love Food Hate Waste offers cooking enthusiasts recipes for their leftovers.
5. Responsible grocery shopping—Consumers should make sure that they shop at places that practice responsible waste management. Many grocery stores are hesitant to donate leftovers to food banks because they're worried about possible liabilities if someone gets sick. But consumers can encourage grocery chains to reduce food waste by supporting local food banks in a responsible manner.
Responsible grocery shopping in Action—Safeway and Vons grocery chains donate extra food to Feeding America. Additionally, Albertsons started a perishable food recovery program that donates meat and dairy to food banks. The Fresh Rescue program, which partners with various national supermarkets, has also helped food banks with fundraising in 37 states.
For more information, click here.
EcoWatch Daily Newsletter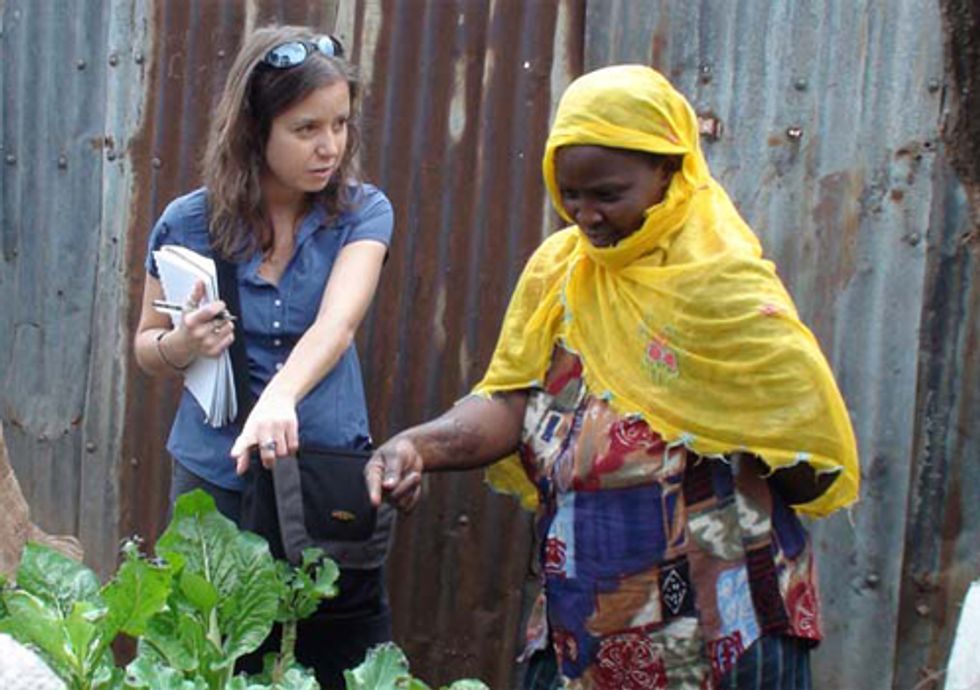 By Dana Drugmand
At a time when world resources are dwindling and global population is growing rapidly, finding sustainable solutions to nourish people and the planet is more important then ever. Research has shown that women may play a key role in the fight against global hunger and poverty. Worldwide, roughly 1.6 billion women rely on farming for their livelihoods, and female farmers produce more than half of the world's food.
Although women comprise 43 percent of the agricultural labor force in developing countries, they typically aren't able to own land. Cultural barriers also limit women's ability to obtain credit and insurance.
Strengthening women's rights can help strengthen the global food system. According to the World Food Programme, allowing women farmers access to more resources could reduce the number of hungry people in the world by 100-150 million people.
Today, Nourishing the Planet highlights five innovations that are helping empower women farmers around the world:
1. Vertical Farming—Although most farming is mostly associated with rural areas, more than 800 million people globally depend on food grown in cities for their main food source. Considering that women in Africa own only 1 percent of the land, a practice called vertical farming gives these women the opportunity to raise vegetables without having to own land. Female farmers in Kibera, Nairobi's largest slum, have been practicing vertical farming using seeds provided by the French NGO (non-governmental organization) Solidarites. This innovative technique involves growing crops in dirt sacks, allowing women farmers to grow vegetables in otherwise unproductive urban spaces. More than 1,000 women are growing food in this way, effectively allowing them to be self-sufficient in food production and to increase their household income. Following the launch of this initiative, each household has increased its weekly income by 380 shillings (equivalent to 4.33 U.S. dollars).
Vertical Farming in Action—This innovation has already proven successful in providing food for urban residents during a time of dire need. During the food crisis that hit Kenya in 2007-2008, there was a blockade of food supplies coming into the Nairobi slums. People in Kibera who grew their own food with the vertical farming technique were self-sufficient and did not go hungry.
2. FANRPAN's Theatre—Women comprise 80 percent of small-scale farmers in some parts of sub-saharan Africa, and female labor accounts for a majority of food production across the continent. Despite the fact that women make up such a large percentage of the agricultural workforce, they still lack access to important resources and inputs. Men control the seed, fertilizer, credit and technology and have the access to policymakers that women lack. The Food, Agriculture & Natural Resources Policy Analysis Network's (FANRPAN) WARM Project seeks to advocate for agricultural policies in the two focus countries of Malawi and Mozambique. FANRPAN hopes to later extend the program to other Southern and East Africa countries. WARM (Women Accessing Realigned Markets) uses theater to engage communities to meet the needs of women farmers. FANRPAN's Sithembile Ndema, the programme manager in charge of the WARM Project, explains that the aim of the project is to empower women who lack resources and a voice in farming communities. "What we're doing is we're using theater as a way of engaging these women farmers, as a way of getting them involved and getting them to open up about the challenges that they're facing."
FANRPAN's Theater in Action—After each performance, community members engage in a moderated discussion about issues raised in the performance. This gives them an opportunity to raise their concerns, especially the women farmers who typically do not have access to policymakers.
3. Self Employed Women's Association (SEWA)—In developing countries like India, women are commonly disenfranchised and not afforded the same opportunities and rights as men, such as access to credit and land ownership, for example. The Self Employed Women's Association, a female trade union in India that began in 1992, works with poor, self-employed women by helping them achieve full employment and self reliance. SEWA is a network of cooperatives, self-help groups and programs that empower women. Small-scale women farmers in India have particularly benefited from this network that links farmers to inputs and markets. "We organize the women as workers, try to build their collective strength, their voice, their visibility, explains Reema Nanavanti, director of Economic and Rural Development at SEWA.
SEWA in Action—SEWA not only provides organizational support, but also brings resources to women who lack access to them. By building what Nanavanti calls "capitalization," SEWA is providing tools and equipment, as well as access to licenses and to land. Furthermore, SEWA empowers women by building their leadership capacity, giving them a voice that otherwise might go unheard.
4. Women's Collective—Also in India, women's subordinate position in society makes them easy targets for domestic and sexual violence. For example, landless women who rely on agricultural landlords for employment, for example, are often sexually harassed. Poor rural women additionally face issues with food and water insecurity. The Tamil Nadu Women's Collective (WC) focuses on advocating for women's rights and improving food and water security. The collective reaches over 1,500 villages spread across 18 districts in India's Tamil Nadu state. Environmental protection, alternative farming for food security, and women's rights, including protection against domestic violence, are some of the major focus areas the WC has undertaken. In addressing violence against women, for example, the WC provides counseling and support for female victims. Women's participation in local government is another initiative the WC has taken up. By empowering women, giving them a voice at the household and political level, and helping women strengthen local food systems and employ natural farming methods, the Tamil Nadu Women's Collective is actively addressing issues of food and water insecurity and improving rural livelihoods.
Women's Collective in Action—Beginning in 1998-1999, Women's Collective members were educated about natural farming techniques. The concept of natural farming maximizes natural inputs, or inputs derived from the farm itself. Natural farming can increase soil water retention, leading to better yields under rain-fed conditions. Shanta, a single mother from the Vellanikkottam village, started practicing natural farming with help from the Women's Collective. Since transitioning to natural farming, Shanta has benefited from increased crop yields.
5. GREEN Foundation—Studies have shown that women farmers typically have lower crop yields than their male counterparts. A study conducted in Burkina Faso, for example, has found that women's yields were 20 percent lower for vegetables and 40 percent lower for sorghum. Rural women farmers' lower productivity compared to male farmers may be due to women lacking access to high-quality seeds and agricultural inputs. The GREEN Foundation has partnered with NGOs including Seed Saver's Network and The Development Fund to create community seed banks in India's Karnataka state. Women run these seed banks, thereby gaining leadership skills and acquiring quality, organic seeds that yield profitable crops. Landless women farmers are encouraged to grow indigenous vegetables in community gardens. The gardening project, which improves women small-scale farmers' food security and economic status, involves training women in agricultural methods and encouraging them to grow a variety of fruits, vegetables and medicinal plants for their families. Part of the GREEN Foundation's mission is to empower women and enhance women's leadership skills. The foundation has successfully touched upon different dimensions of sustainable agriculture that have helped farmers secure seed, food and better livelihoods.
GREEN Foundation in Action—The Foundation's kitchen gardening project is an important innovation that promotes agricultural biodiversity while empowering women. Mahadevamma is one example of a rural Indian woman who has improved her food security and her family's income by growing crops in a kitchen garden. She uses waste water from her house to irrigate the crops and employs vermicompost for manure and fermented plant extract for pest control. She has gotten good yields and any excess vegetables and seeds she sells to make a profit. Mahadevammma has earned 2000 rupees (44.61 U.S. dollars) just from her kitchen garden.
For more information, click here.
—————

Dana Drugmand is a research intern with the Nourishing the Planet Project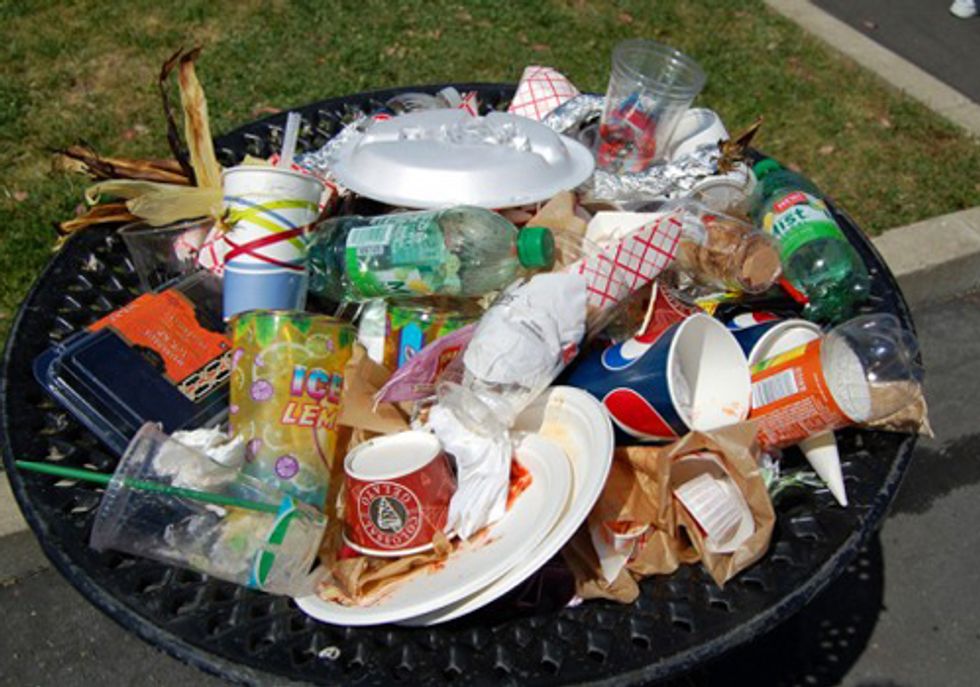 The holidays are a time for putting others before ourselves. And with the recent news that the world's population has surpassed 7 billion, there are a lot more "others" to consider this year. Nearly 1 billion people in the world are hungry, for example, while almost the same number are illiterate, making it hard for them to earn a living or move out of poverty. And 1 billion people—many of them children—have micronutrient deficiencies, decreasing their ability to learn and to live productive lives.
"As our global community continues to grow, so does the need to consider—and act on—the challenges we all face," says Robert Engelman, president of the Worldwatch Institute. "Far too many women, children and men are living with less than they need and deserve."
Fortunately, there are thousands of organizations working tirelessly in communities at home and abroad to fix these problems.
One Billion Hungry
"Although the number of undernourished people worldwide has decreased since 2009, nearly 1 billion people go to bed hungry each night, a number that is unacceptably high," according to Danielle Nierenberg, director of Worldwatch's Nourishing the Planet project. Malnutrition contributes to the death of 500 million children under the age of five every year, and in Africa, a child dies every six seconds from hunger.
But more and more organizations, such as the United Nations' World Food Programme, are using homegrown school feeding (HGSF) initiatives to alleviate hunger and poverty. HGSF programs in Brazil, India, Thailand, Kenya and elsewhere work to connect local producers with schools, helping to provide children with nutritious and fresh food while providing farmers with a stable source of income.
One Billion Tons of Food Wasted
Roughly 1.3 billion tons of food—a third of the total food produced for human consumption—is lost or wasted each year. Within the U.S., food retailers, food services and households waste approximately 40 million tons of food each year—about the same amount needed to feed the estimated 1 billion hungry people worldwide.
Organizations around the world are working to educate people on the importance of conserving food. In New York City, City Harvest collects surplus food from food providers and distributes it to more than 600 shelters and other agencies. And in West Africa, farmers are using the power of the sun to dehydrate fruits such as mangos and bananas. Experts estimate that, with nearly all of their moisture removed, the fruits' nutrients are retained for up to six months, allowing farmers to save the 100,000 tons of mangos that go to waste each year.
One Billion Micronutrient Deficient
Nearly 1 billion people worldwide suffer from micronutrient deficiencies, including a lack of vitamin A, iron and iodine. Each year, between 250 million and 500 million children with vitamin A deficiencies become blind, and half of these children die within 12 months of losing their sight.
These problems could be alleviated by improving access to nutritious foods. In sub-Saharan Africa, AVRDC–The World Vegetable Center works to expand vegetable farming across the region, boosting access to nutrient-rich crops. And Uganda's Developing Innovations in School Cultivation (Project DISC) educates youth about the importance of agriculture and nutritious diets. Students learn about vegetables and fruits indigenous to their communities, as well as how to process and prepare these foods for consumption. "If a person doesn't know how to cook or prepare food, they don't know how to eat," says Project DISC co-founder Edward Mukiibi.
One Billion Overweight
Lack of access to healthy food doesn't result only in hunger. More than 1 billion people around the world are overweight, and nearly half of this population is obese. Nearly 43 million children under the age of five were considered overweight in 2010. Surging international rates of heart disease, stroke, diabetes and arthritis are being attributed to unhealthy diets, and 2.8 million adults die each year as a result of overweight or obesity.
The United Nation's Special Rapporteur on the Right to Food, Olivier De Schutter, has urged countries around the world to make firm commitments to improving their food systems. In Mexico, where 19 million people are food insecure yet 70 percent of the country is overweight or obese, De Schutter has called for a "state of emergency" to tackle the problem. He attributes the hunger-obesity combination to the country's focus on individual crops and export-led agriculture, and argues that a change to agricultural policies could tackle these two problems simultaneously.
Nearly One Billion Illiterate
More than three-quarters of a billion people worldwide—793 million adults—are illiterate. Although the number of people unable to read has decreased from 1 billion in 1990, illiteracy continues to prevent millions of people from moving out of poverty. For farmers in particular, being illiterate can limit access to information such as market prices, weather predictions and trainings to improve their production.
New communications technologies are providing part of the solution. A team of researchers known as Scientific Animations Without Borders is helping illiterate farmers around the world learn how to create natural pesticides or prevent crop damage using solar treatments, by producing short animated videos accessible on mobile phones. In India, farmers can receive daily updates via text or voicemail on weather and crop prices through subscription services set up by major telephone companies. Kheti, a system operated by the U.K.'s Sheffield Hallam University, even allows farmers to take pictures of problems they are having with their crops and to send them in for advice. With more than 4.6 billion mobile phone subscriptions globally, projects such as these have the potential to reach and improve the lives of many around the world.
As we gather together this holiday season to reflect on the things most important to us, let us also take the time to remember the billions of others who share our planet. Too many of the world's neediest people will start the new year without sufficient food, nutrition or education. But by acknowledging and supporting those organizations around the world that are finding ways to nourish both people and the planet, we can all make a difference.
For more information, click here.